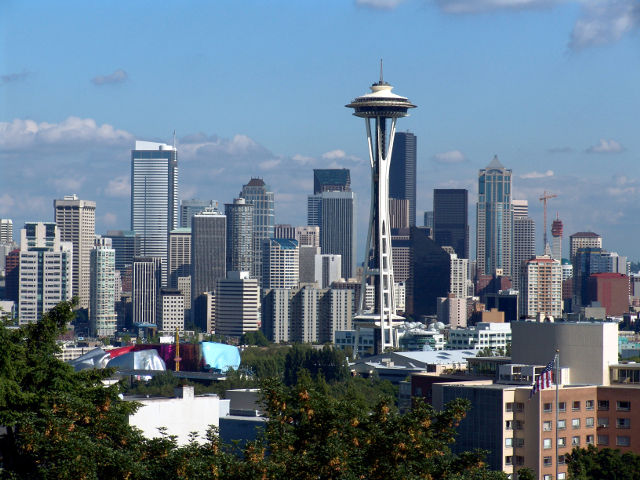 The New York football Giants are, as New York Jets quarterbacking legend Joe Namath would say, "Strugg-a-ling." And now, this Sunday, they have to play away to the defending Super Bowl Champions, the Seattle Seahawks.
It could be worse: They could be the New York Jets. As if things couldn't look worse for the Jets, the quarterback they messed up, Mark Sanchez, saved the Philadelphia Eagles' bacon last week, filling in for an injured Nick Foles, and proving that he was never the problem on Green days in East Rutherford.
Yes, the city in that picture really is Seattle. Yes, that really is a nice blue sky overhead. When the clouds part, and you can see Lake Washington and the Cascadia Mountains, including Mount Rainier, it's actually a beautiful city. It's just that it rains so much, such a sight isn't all that common.
Note also that some of what's being posted here is too late, i.e. getting there by any way other than by plane. I'm sorry, but I got backed up.
Before You Go.
Seattle is notorious for rain, but
Safeco Field has a retractable roof, so you wouldn't be getting wet during the game at any rate. C
heck the websites of the Seattle Times and the Seattle Post-Intelligencer for the weather forecast. Right now, they're saying that Saturday night (by which time you should have arrived, if you're flying) will be in the low 50s, while Sunday afternoon will be in the high 50s, and Sunday night in the high 40s, with a chance of rain.
Seattle is in the Pacific Time Zone, 3 hours behind New York. Adjust your timepieces accordingly.
There is high-speed passenger ferry service from Seattle to the Canadian city of Victoria, the capital of the Province of British Columbia. It costs a bundle, though: $92.50 each way. (The scenery in Washington State and British Columbia is spectacular, and this is clearly part of what you're paying for.) From there, you can easily get to Vancouver. If you want to make this trip, you will have to give confirmation within 48 hours of booking. And it's a passenger-only ferry service: No cars allowed. If you'd like to make a side trip to Vancouver, you're better off driving or taking the train. But any way you go over the border, you should have your passport with you. And, of course, you'll have to change your money.
(Vancouver does have a baseball team, a farm club of the Toronto Blue Jays, and they've won their league's last 3 Pennants. The 5,157-seat Nat Bailey Stadium is a classic, built in 1951 with support poles holding up an overhanging roof like old-time parks. But the team is no longer Triple-A: It's in the Northwest League, short-season Class A like the Staten Island Yankees and the Brooklyn Cyclones.)
Tickets.
The Seahawks are averaging 68,434 fans per home game this season. That's a sellout. Not surprising, considering they're the defending World Champions. Getting tickets might be next to impossible, unless you use the NFL Ticket Exchange.
Sideline seats in the lower level are $210 to $425. End zone seats are $160 to $200. Seats in the upper level are $149 to $300.
Getting There.

It's 2,847 miles from MetLife Stadium, where the Seahawks got their 1st Super Bowl win, to CenturyLink Field, where the Seahawks play their home games. In other words, if you're going, you're going to want to fly.
After all, even
if you get someone to go with you, and you take turns, one drives while the other one sleeps, and you pack 2 days' worth of food, and you use the side of the Interstate as a toilet, and you don't get pulled over for speeding, you'll still need over 2 full days to get there. One way.
But, for future reference, if you really, really want to drive... Get onto Interstate 80 West in New Jersey, and stay on that until it merges with Interstate 90 west of Cleveland, then stay on 90 through Ohio, Indiana, and Illinois, into Wisconsin, where it merges with Interstate 94. Although you could take I-90 almost all the way, I-94 is actually going to be faster. Stay on I-94 through Minnesota and North Dakota before re-merging with I-90 in Montana, taking it through Idaho and into Washington, getting off I-94 at Exit 2B.
Not counting rest stops, you should be in New Jersey for an hour and a half, Pennsylvania for 5:15, Ohio for 4 hours, Indiana for 2:30, Illinois for 2 hours, Wisconsin for 3:15, Minnesota for 4:30, North Dakota for 6 hours, Montana for a whopping 13 hours (or 3 times the time it takes to get from New York to Boston), Idaho for 1:15 and 6:45 in Washington. That's 50 hours, and with rest stops, you're talking 3 full days.
That's still faster than Greyhound (70 hours, changing in Pittsburgh, Chicago, Minneapolis and Missoula, $488 round-trip) and Amtrak (67 hours, changing in Chicago, $700 before booking sleeping arrangements).
On Amtrak, you would leave Penn Station on the
Lake Shore Limited
at 3:40 PM Eastern Time on Thursday, arrive at Union Station in Chicago at 9:45 AM Central Time on Friday, and board the
Empire Builder
at 2:15 PM, and would reach King Street Station at 11:55 AM Pacific Time on Sunday. (NOTE: This is one of the problems I had with not doing this until now.)
King Street Station is just to the north of the stadium complex, at S. King Street & 3rd Avenue. S., and horns from the trains can sometimes be heard as the trains go down the east stands of CenturyLink Field and the right-field stands of Safeco Field. The
Greyhound station is at 811 Stewart Street at 8th Avenue, in the Central Business District, about halfway between the stadiums and the Seattle Center complex.
A round-trip flight from Newark to Seattle, if ordered now, could be had, although not nonstop (changing in Chicago outbound and Dallas back in), for around $700. More likely, it'll cost close to $1,100.
Link Light Rail can get you out of Seattle-Tacoma International Airport (Sea-Tac), and the same system has Stadium Station to get to Safeco and CenturyLink Fields. The fare is $2.75.
Once In the City.
Founded in 1853, and named for a Chief of the Duwamish Indians,
Seattle is easily the biggest city in America's Northwest, with 635,000 people within the city limits and 3.6 million in its metropolitan area. Just as Charlotte is called the Queen City of the Southeast, and Cincinnati the Queen City of the Midwest, Seattle is known as the Queen City of the Northwest. All its greenery has also gotten it the tag the Emerald City. With Lake Washington, Puget Sound, and the Cascade mountain range nearby, including Mount Rainier, it may be, on those rare clear days, America's most beautiful metro area.
East-west street addresses increase from Puget Sound and the Alaskan Way on eastward. North-south addresses are separated by Yesler Way. At 967 feet high, Columbia Center, a.k.a. The Black Tower, is the tallest building in the Northwest, and, for the moment, the tallest building in North America west of the Rocky Mountains except for the U.S. Bank Tower in Los Angeles. (A building going up in San Francisco, and another in Los Angeles, are both expected to top the Black Tower by 2017.) If you're wondering about Seattle's most famous icon, the Space Needle, it was once the tallest structure west of the Mississippi River, but at 605 feet it is well short of the Black Tower.
The
Time
s is Seattle's only remaining daily print newspaper. The
Post-Intelligencer
is still in business, but in online form only. This is mainly due to the high cost of both paper and ink, and has doomed many newspapers completely, so Seattle is lucky to still, sort of, have 2 daily papers.
Sales tax in the State of Washington is 6.5 percent, but in the City of Seattle, it's 9.5 percent. Off-peak bus fare in Seattle is $2.25. In peak hours, a one-zone ride (either totally within the City of Seattle or in King County outside the city) is $2.50 and a two-zone ride (from the City to the County, or vice versa) is $3.00. The monorail is $2.25. The light rail fares, depending on distance, are between $2.00 and $2.75. Fares are paid with a farecard, or, as they call it, an ORCA card: One Regional Card for All.
Although Seattle is the largest city in the State of Washington, the State Capitol is Olympia, 60 miles to the southwest. It can be reached by public transportation, taking Bus 594 Lakewood, and then transferring to Bus 620. It takes about 2 1/2 hours.
The Washington State House in Olympia
Going In.
The official address of CenturyLink Field, which opened in 2002 as Seahawks Stadium on the site of the Kingdome, is 800 Occidental Avenue South. It is in a neighborhood called SoDo, for "South of Downtown." (CenturyLink is an Internet provider. It bought out telecommunications carrier Qwest, which had naming rights from 2004 to 2011.)
Occidental
Avenue is the west sideline, the north side is King Street, the south side is Royal Brougham Way (Royal Brougham was not a car or a brand of booze, but the name of a Seattle sportswriter who championed the city as a site for major league sports), and the east sideline is the railroad.
Parking is $20.
With CenturyLink being at the southern edge of downtown, you're likely to enter on the north or west side. Tailgating is permitted in the north parking lot only. The Seahawks prohibit ball tossing, charcoal barbecues, open fires and deep fat fryers -- propane only.
CenturyLink Field is often cited as the loudest stadium in the NFL. This is in dispute, as Arrowhead Stadium in Kansas City claims to have set decibel records. But the way the stadium is built certainly gives the fans' noise less distance to travel:
The upper levels were cantilevered over the lower sections, to fit within the limited space available for construction. Along with the angle of seats and the placement of the lower sections closer to the field, this provided a better view of the field than typically seen throughout the country and allowed for a 67,000 seat capacity. Space is available to increase the total capacity to 72,000 for special events. The city's impressive skyline can be seen through the north end, beyond the triangular end zone "Hawks Nest" stand.
The playing surface is FieldTurf, and is laid out north-to-south. College games have been played there. The University of Washington has played games there, including their entire 2012 season, when their home across town, Husky Stadium, was being renovated. Their arch-rivals, Washington State, opened their current season there against New Jersey's Rutgers, who won a thriller.
(Wazzu's campus is nearly 300 miles to the southeast, so this wasn't exactly a home game for them. It may have been in the same State, but, distance-wise, it would have been like Rutgers playing them at Syracuse or Virginia Tech.)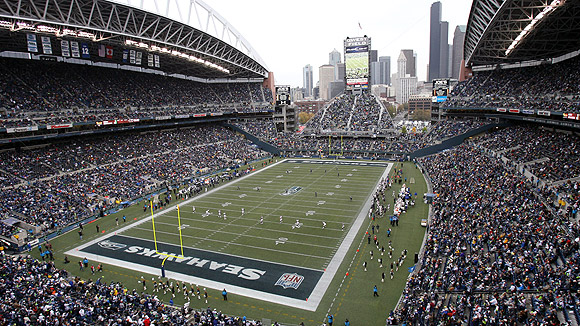 The Seattle Seahawks were an irrelevant franchise until the early 2000s. Build this place? All of a sudden they've made three Super Bowls, and brought Seattle its first pro sports championship since 1979. And it's not because of their bold use of lime green. The stadium -- and the rabid fans inside -- can get as much, if not more credit for Seattle's success as Pete Carroll. The Seahawks have won 70% of their home games since CenturyLink opened.
Plus, it's just a hell of a place to blow a Sunday -- and a few hundred bucks. The concourses are huge, with varied food options that include salmon and gourmet coffee, all at prices designed for Amazon transplants. OK, so the Hawks have priced out many of their loyal fans, but they can still tailgate outside, right? Notsomuch. The rules and regulations in the stadium lots and surrounding city lots have, as one Seattle fan put it "pretty much banned fun." So it'll be interesting to see how enjoyable a game experience this is if the team shuffles back to mediocrity.
It also hosts high school games, including a 2004 game in which Bellevue High, of the Seattle suburbs, beat De La Salle of the San Francisco Bay Area, ending the latter's national record 151-game winning streak, which had lasted 12 years. An art piece called
The State of Football
is on the grounds, as a tribute to high school football in the State of Washington.
It's also one of the best soccer facilities in the country, home to the revived version of the Seattle Sounders, one of the few teams in Major League Soccer that has a fan base that has proven it can regularly fill an NFL stadium. Their "Cascadia Derby" games against the Portland Timbers and the Vancouver Whitecaps are spectacular events. The U.S. soccer team has played at CenturyLink 4 times, and won them all. The stadium hosted the 2009 MLS Cup Final, in which Real Salt Lake beat the Los Angeles Galaxy on penalties.
Food.

As a waterfront city, and as the Northwest's biggest transportation and freight hub, it is no surprise that Seattle is a good food city, with the legendary Pike Place Market serving as their "South Street Seaport."
Fortunately, CenturyLink lives up to this. Unfortunately, they serve Coca-Cola as opposed to Pepsi, Budweiser as opposed to good beer, and, thumbing their noses in Seattle's history as a great labor-union city (not to mention the Seahawks' demolition of company spokesman Peyton Manning in the Super Bowl), Papa John's Pizza. They do have Seattle institution
Starbucks, and I suppose there must be some Wisconsin people involved with Seahawk concessions, because they also serve Johnsonville Brats.
Don't want to make "Papa" John Schnatter any richer? Good for you! "Pizza of Seattle" stands are at Sections 107, 122, 307 and 333. Pioneer Square International District, specializing in Asian food, is at 105, 139, 309 and 323. Loud & Proud Fan Raves and Craves is at 109, 116, 313, 323 and 331. Kidd Valley, specializing in burgers and fries, is at 111, 147 and 311. The Cantina, specializing in Mexican food, is at 113, 131, 305 and 339. "Grounders World Famous Garlic Fries" is at 118. Kinder's BBQ is at 120 and 335. Seattle Dogs (hot dogs) is at 124, 135, 149 and 324. Grid Iron Grill is at 126 and 321. Brougham Beer Hall is at 128. Ivar's, specializing in chicken and chowder (including bread bowls), is at 133 and 337.
Pioneer Square Butcher is at 204 and 240. 360 Sizzle, specializing in Asian food, is at 208 and 236. Ciao Down! Italian food is at 210 and 234. Seafood stand Catch! is at 214 and 230. Oh Boy! Oberto sausage stands are at 300 and 344. Seafood stand 12th & Clam and Big Foot Hot Dogs are at 303 and 341. Blu Haus Brews, serving sausages and beer, are at
315 and 330.
Team History Displays.
Seattle is an underachieving city in sports. Until the Seahawks won the Super Bowl this past February, the city had won only 2 World Championships, ever: The 1917 Stanley Cup (I'll get to that in "Sidelights") and the 1979 NBA Championship. And since the SuperSonics' back-to-back Finals appearances in 1978-79, the city's only trips to the Finals had been the 1996 Sonics and the 2005-06 Seahawks, until the recent Seahawk Super Bowl.
Yet the Seahawks have gotten good at celebrating the history that they crowned this past February. In 1984, they became the 1st NFL team to retire uniform Number 12 for their fans, "The 12th Man." Many college teams have done this, but the Hawks remain the only NFL team to do so.
From 1996 to 2010, the only player whose number they'd retired was Steve Largent, the 1980s Hall-of-Fame receiver who once held the NFL career records for receptions and receiving yards. In 2004, with his permission, the Hawks gave his Number 80 to Jerry Rice, the man who broke his records, who was playing out the string. Largent was also the only Seahawk named to
The Sporting News
' 100 Greatest Football Players in 1999.
They've since retired Number 71 for 2000s offensive tackle Walter Jones, Number 96 for 1990s defensive tackle Cortez Kennedy, and, just this season, Number 37 for 2000s running back Shaun Alexander. These numbers are along the west sideline. Alexander is the only one who, so far, has not yet been elected to the Pro Football Hall of Fame. (He is now eligible.) These banners are hung on the west side of the stadium.
The team also has the Seahawks Ring of Honor, on the mezzanine of CenturyLink Field. Kennedy is the only player thus far elected from the 1990s, and no 2000s players -- not even Jones and Alexander -- have yet been inducted.
Aside from Kennedy, the only inductees are from their 1983 team that reached the AFC Championship Game, and their 1988 team that won the AFC Western Division (before they were switched to the NFC in 2002): Largent, Head coach Chuck Knox, quarterbacks Jim Zorn (their 1st starter) and Dave Krieg, running back Curt Warner (not to be confused with later St. Louis and Arizona quarterback Kurt Warner), defensive end Jacob Green, cornerback Dave Brown, safety Kenny Easley and broadcaster Pete Gross.
The Hawks also hang banners on the east side, for their 1988 and 1999 AFC West titles; their 2004, 2005, 2006, 2007, 2010 and 2013 NFC West titles; their 2005 and 2013 NFC Championships, and their 2013 World Championship. The Sounders' banners are also on that side.
Stuff.
The main Seattle Seahawks Pro Shop is located at Suite 300 at CenturyLink Field. Others are located at 410 Pike Street downtown, Renton Landing, Bellevue Square, and at the Lynnwood and Tacoma malls. Lots of Super Bowl Champion merchandise still available.
Needless to say, winning the 1st title in team history led to several books being published. Team owner and computer mogul Paul Allen, and quarterback Russell Wilson, are listed as the authors of
World Champion Seattle Seahawks: We Are 12
. (The number refers to The 12th Man.) Covering the entire history of the team until its publication in 2009, comedian Mark Tye Turner wrote
Notes from a 12th Man: A Truly Biased History of the Seattle Seahawks
. The DVDs
Seattle Seahawks: Road to Super Bowl 48
and the official Super Bowl highlight film are also available.
During the Game.
The Seahawks' recent success had made their fans a little cocky. But w
earing Giants or Jets gear in Seattle, including inside CenturyLink Field, will not endanger your safety. Although Mariner fans hate the Yankees more than any other team, Seahawk fans have no reason to dislike either of the New York football teams beyond merely being that game's opponent who must be defeated. (Okay, there was that bad call that gave Vinny Testaverde a "phantom touchdown" for the Jets, but they're over that.)
UPDATE:
From September 1 to 7, 2017, during the NFL National Anthem protest controversy,
FiveThirtyEight.com
polled fans of the 32 NFL teams, to see where they leaned politically. Not surprisingly, Seattle, a multicultural West Coast city, ranked 5th among the most liberal fanbases, 14.8 percent more liberal than conservative.
The Seahawks enter the field for pregame introductions to "The Bitter Sweet Symphony" by The Verve. Just before kickoff at every home game, a giant flag is raised in honor of "the 12th Man": Light blue with a white 12 on it. In addition to local sports heroes, flag-raisers have included original 1976 season-ticketholders, Seahawk players' mothers, Olympians from Washington State, fan favorite vendor "Bill the Beerman," actor-comedian and Sounders part-owner (though Cleveland native and huge Browns fan) Drew Carey, and Seattle-based actor Tom Skerritt (originally from Detroit).
How strong is the Hawks' "12th Man"? According to their team website, CenturyLink is so loud, the Seahawks benefit from an average of 2.36 false-start penalties per game.
Their cheerleaders are known as the Sea Gals, probably a play on "seagulls" and the expressions "chicks" or (the more popular version in Britain) "birds.") Their mascot is a big blue bird named Blitz, who recently got a makeover, as his previous look was scaring children. He wears Number 0. A sidekick mascot, Boom, has been added, apparently a kid version of Blitz (he wears a backwards Seahawks cap) wearing Number 00. They also have a live mascot, Taima, who is said to be an osprey.
After the Game.

SoDo is not an especially high-crime area, and, as I said, Seahawk fans generally do not get violent. You might get a little bit of verbal if you're wearing New York gear, but it won't get any worse than that.
Two bars are usually identified with Mariners and Seahawks games. Sluggers, formerly known as Sneakers (or "Sneaks" for short), is at 538 1st Avenue South, at the northwest corner of CenturyLink Field. A little further up, at 419 Occidental Avenue South, is F.X. McRory's. Keep in mind, though, that these will be Mariner-friendly bars.
Buckley's in Queen Anne, 2 blocks west of Queen Anne Avenue N. ,at 232 1st Avenue W. at Thomas Street, just to the west of Seattle Center, near the waterfront, is the local Giants fan hangout. The Magnolia Village Pub, at 3221 W. McGraw Street at 33rd Ave. W., is also considered a Giants bar, but it's 5 miles northwest of downtown. The Ram at Kent Station, at 512 Ramsay Way in Kent, is the local Jets center, but it's 20 miles south of downtown.
If you visit during the European soccer season, which we are now in, the leading "football pub" in the Pacific Northwest is The George and Dragon Pub, 206 N. 36th Street, 5 miles north of downtown. Bus 40.
Sidelights.
Aside from the KeyArena and the Safeco/CenturyLink complex, Seattle doesn't have a lot of sports sites worth mentioning.
UPDATE: On February 3, 2017, Thrillist made a list ranking the 30 NFL cities

(New York and Los Angeles each having 2 teams), and Seattle came in 3rd. They said:
If Seattle just had, like, six more weeks of nice weather, it would be the most desirable city to live in in quite possibly the world. But alas, Seattle does not have those extra weeks, and so you're left with a choice: do I make my home in a city that is going to give me the best seafood, and
teriyaki
, and cool ferry rides to islands, or do I never go to Seattle outside of the summer because too much time in a depressing perpetual light drizzle will give me seasonal affective disorder and force me to start listening to Stone Temple Pilots albums backwards looking for clues to the meaning of life?
But these places should be mentioned:
* Sick's Stadium. The Pacific Coast League team that preceded the Mariners, known at various times as the Indians, the Rainiers and the Angels (when they were a farm team of the Anaheim club), played 2½ miles southeast of the future sites of Safeco & CenturyLink, first at Dugdale Field (1913-1932) and then, after a fire required rebuilding, at Sick's Stadium (1938-68 and 1972-76, built by Rainiers' owner Emil Sick).
The Seattle Pilots also played at Sick's, but lasted only one year, 1969, before being moved to Milwaukee to become the Brewers, and are now chiefly remembered for ex-Yankee pitcher Jim Bouton's diary of that season, Ball Four.
The book gives awful details of the place's inadequacy: As an 11,000-seat ballpark, it was fine for Triple-A ball in the 1940s, '50s and '60s; expanded to 25,420 seats for the Pilots, it was a lousy place to watch, and a worse one to play, baseball in anything like the modern era.
Elvis Presley sang at Sick's on September 1, 1957 (since it had more seats than any indoor facility in town). Supposedly, a 15-year-old Seattle native named James "Jimi" Hendrix was there. A few days prior, Floyd Patterson defended the heavyweight title there by knocking out fellow 1956 Olympic Gold Medalist Pete Rademacher.
Demolished in 1979 after the construction of the Kingdome (whose inadequacies were very different but no less glaring), the site of Sick's Stadium is now occupied by a Lowe's store.
2700 Rainier Avenue South, bounded also by McClellan & Bayview Streets & Martin Luther King Jr. Way.
Mount Baker station on the Link light rail system.
*
Husky Stadium. The home of the University of Washington football, the largest stadium in the Pacific Northwest (including Canada) is right on Lake Washington, and is one of the nicest-looking stadiums in college football. A rare feature in major college football is that fans can dock right outside and tailgate by boat. (The only others at which this is possible: Neyland Stadium at the University of Tennessee, and Heinz Field for University of Pittsburgh games.)
It opened in 1920, making it the oldest stadium in the Pacific-12 Conference. The Seahawks played a few home games here in 1994, after some tiles fell from the Kingdome roof, and played
their games here in 2000 and 2001 between the demolition of the Kingdome and the opening of what's now CenturyLink Field. In 1923, it was the site of the last public speech given by President Warren G. Harding before his death in a San Francisco hotel. Sadly, The Wave was invented here in 1981, by university yell leader (think male cheerleader) Robb Weller, later one of Mary Hart's co-hosts on Entertainment Tonight.
A major renovation was recently completed,
necessary due to age and the moisture from being on the water and in Seattle's rainy climate. Pretty much everything but the north stand of the east-pointing horseshoe was demolished and replaced. The Huskies played the 2012 season at CenturyLink, and moved into the revamped, 70,138-seat Husky Stadium
for the 2013 season.
3800 Montlake Blvd. NE, at Pacific Street. Bus 545 to Montlake & Lake Washington Blvd., then walk half a mile across Montlake Cut, a canal that connects Lake Washington with Lake Union. Or, Bus 511 to 45th St. & 7th Ave., then Bus 44 to Pacific & Montlake, outside UW Medical Center, then walk a quarter of a mile.
UW is 4 miles northeast of downtown Seattle. Washington State University, their big "Apple Cup" rivals, have a downtown campus, but their main campus is in Pullman, all the way across the State, 286 miles away. "Wazzu" is actually close to the State Line, and not far from Moscow, Idaho, where the University of Idaho is located.
In their 1982 College Football Preview issue,
Sports Illustrated
listed Austin, home of the University of Texas, as the best college town. The worst? It named 2: 1. Pullman, Washington, home of Washington State. To party, students must drive 10 miles to Moscow, Idaho. 2. Moscow, Idaho." (It's actually 7 miles.)
* Edmunson Pavilion.
Adjacent to Husky Stadium, at 3870 Montlake, is Alaska Airlines Arena at Clarence S. "Hec" Edmundson Pavilion, the home of "U-Dub" basketball since 1927. Hec was the school's longtime basketball and track coach, and "Hec Ed" hosted the NCAA Final Four in 1949 (Kentucky over Oklahoma State) and 1952 (Kansas over New York's St. John's). It has also hosted the State of Washington's high school basketball finals.
UW has been to the Final Four only once, in 1953, although they've won the regular-season title in the league now called the Pac-12 11 times, including 2012; and the Conference Tournament 3 times, most recently in 2011. Washington State, across the State in Pullman, reached the Championship Game in 1941, but hasn't been back to the Final Four since.
The Kingdome hosted the Final Four in 1984, Georgetown over Houston; 1989, Michigan over Seton Hall; and 1995, UCLA over Arkansas. It also hosted 3 U.S. soccer team matches: A win, a loss, and a draw.
* Tacoma Dome. The Sonics used this building during the 1994-95 season, as the Seattle Center Coliseum was demolished and the KeyArena put up in its place. Opening in 1983, it seats 17,100, and its most common use has been for minor-league hockey and concerts. 2727 East D Street, about 32 miles south of downtown Seattle. It can be reached from downtown Seattle by Bus 590, 592, 594 or 595, and it would take about 45 minutes.
The night Elvis sang at Sick's Stadium, September 1, 1957, he gave an afternoon concert in Tacoma, at the Lincoln Bowl, the football stadium of Lincoln High School. 707 S. 37th Street. The day before, he sang across the State, at Memorial Stadium in Spokane. He returned to Spokane to sing at their Coliseum on April 28, 1973, and again on April 27, 1976.
The Spokane Coliseum, at Boone Street and Howard Avenue, seated 5,400, lasted from 1954 to 1995, and was replaced by the 12,200-seat Spokane Veterans Memorial Arena, across the street. It's home to minor-league hockey's Spokane Chiefs, who, despite not being in Canada, won their junior hockey championship, the Memorial Cup, in 1991 and 2008. 720 W. Mallon Avenue. Spokane is 280 miles east of Seattle.
* Seattle Ice Arena. The Seattle Metropolitans played in the Pacific Coast Hockey Association from 1915 to the league's folding in 1926, and won 5 league championships: 1917, 1919, 1920, 1922 and 1924. In 1917, they defeated the National Hockey Association champion Montreal Canadiens, and became the first American team to win the Stanley Cup. This would be Seattle's only world title in any sport for 62 years.
They played at the Seattle Ice Arena, which seated only 4,000 people, and was demolished in 1963. The IBM Building, a typically tacky piece of 1960s architecture, now stands on the site. 1200 Fifth Avenue at University Avenue, downtown.
Seattle has been trying to get an NHL team. For now, the closest one is the Vancouver Canucks, 143 miles away. The probably could support one, and maybe an NBA team, too: The metro area's population would rank it 16th in the NBA and 15th in the NHL.
* Seattle Center. Erected for the 1962 World's Fair, as seen in the Elvis Presley film
It Happened At the World's Fair
, Seattle Center, north of the sports complex at 400 Broad Street at John Street, includes the city's trademark, the Space Needle. Admission is $11, half the cost of the Empire State Building, and it's open 'til 11:00 PM, with great views of the region's natural splendor.
Seattle Center also has the Pacific Science Center (think of it the Northwest's version of the American Museum of Natural History and its Hayden Planetarium), and the Science Fiction Museum and Hall of Fame (not sure why Seattle was chosen as the Hall's location, although the city is a major aerospace center).
Also in this complex is Memorial Stadium, a high school football stadium built in 1946. It used to host the old North American Soccer League version of the Sounders, and now hosts the women's soccer team, the Seattle Reign. On June 24, 1975, it hosted a game between the national teams of the U.S. and Poland, ending in a draw.
Also in this complex is
the KeyArena, home of the WNBA's Seattle Storm and formerly the SuperSonics. The Storm won the 2004 and 2010 WNBA titles there, and their Sue Bird and Lauren Jackson were named to the NBA's 15th Anniversary 15 Greatest Players in 2012. A high school football stadium is also on the site. Number 33 bus, although the nearest Link station is several blocks' walk away.
The KeyArena was built on the site of the Sonics' previous home, the Seattle Center Coliseum, which stood from 1962 to 1994. Elvis sang there on November 12, 1970; April 29, 1973 (2 shows); and April 26, 1976.
On May 12, 2014, The New York Times printed a story that shows
NBA fandom by ZIP Code
, according to Facebook likes. (As yet, there is no hockey version.) With the loss of the Sonics, Seattle fans not only refused to accept their former heroes as Oklahoma City Thunder (Thunders? Thundermen?), but also refused to accept the next-closest team, their former arch-rivals, the Portland Trail Blazers, 172 miles away, as their new team. They seem to divide their fandom 4 ways, none of which should surprise you: The Chicago Bulls, the Los Angeles Lakers, the Boston Celtics and the Miami Heat. But if Seattle should ever get another team, these fans would certainly get behind the new Sonics.
Aside from Seattle Center and its Space Needle, and the stadiums, Seattle's best-known structure is the Pike Place Market. Think of it as their version of the South Street Seaport and Fulton Fish Market. (Or Philadelphia's Reading Terminal Market, Baltimore's Harborplace, or Boston's Quincy Market/Faneuil Hall.) It includes the first-ever Starbucks store, which is still open.

Downtown, 85 Pike Street at Western Avenue.
Aside from the Pacific Science Center and the Science Fiction Museum, Seattle isn't a big museum city, although the Seattle Art Museum, at 1300 1st Avenue at University Street, might be worth a visit.
The State of Washington has never produced a President, so there's no Presidential Library. Senator Henry M. "Scoop" Jackson ran for the Democratic nomination in 1972 and 1976, but didn't get particularly close. The State's never produced a Vice President, either. Thomas S. Foley served a District centered on Spokane in Congress from 1965 to 1995, and was Speaker of the House of Representatives from 1989 to 1995.
Not many TV shows have been filmed in Seattle. Northern Exposure was filmed in the State of Washington, and
Twin Peaks
was both filmed and set there,
but not in the City of Seattle. The science-fiction series Dark Angel, which vaulted Jessica Alba and NCIS' Michael Weatherly to stardom, was set in a dystopian future Seattle, but was filmed in Vancouver. So was Millennium. So was Smallville, but that wasn't meant to be Seattle. Arrow, about another superhero, is filmed in Vancouver, and, perhaps due to Green Arrow wearing a green costume, I've often thought of his hometown of Star City (renamed Starling City on the show) as being DC Comics' analogue for Seattle. While Frasier was set in Seattle, and Grey's Anatomy still is, there were hardly any location shots.
Nor have there been very many movies set in Seattle. The most obvious is
Sleepless in Seattle
, and the city was home to Matthew Broderick's and Ally Sheedy's characters in
WarGames
(in which Broderick's computer hacking has much greater consequences than it would 3 years later in the Chicago-based
Ferris Bueller's Day Off
).
Singles
came along in 1992, at the height of grunge and the rise of Starbucks, which helped make Seattle the hippest city in the country in the years of George Bush the father and Bill Clinton's 1st term -- or, as Jason Alexander put it on
Seinfeld
, "It's the pesto of cities." It also reminded us of how good an actor Matt Dillon is, how gorgeous Kyra Sedgwick is, and that Bridget Fonda (daughter of Peter, niece of Jane and granddaughter of Henry) and Campbell Scott (son of George C. and Colleen Dewhurst) were worthy of their genes.
*
So, if you can afford it, go on out and join your fellow Giants Fans in visiting the Seahawks' nest. Be advised, though, that it will be a lot harder than being Yankee Fans taking over the Mariners' ballpark. And when they mention that they won the Super Bowl at your place, gently mention that you've won 4, and that they've never hosted one.