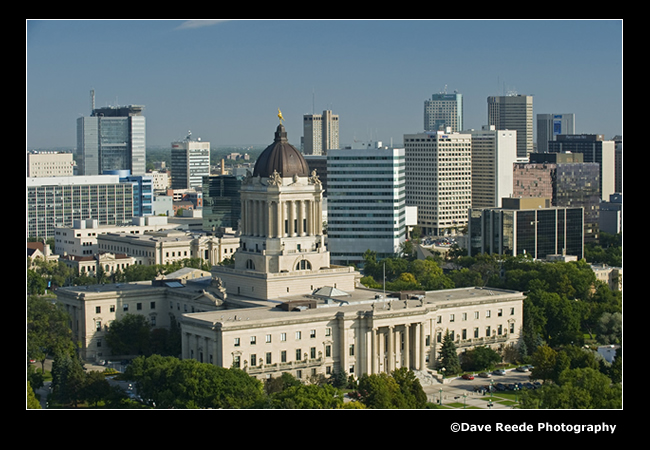 Yet again, I waited too long to do one of these. Unless you get a flight that leaves this morning, or you're already heading out, this won't help you this season. I'm sorry.
The Devils are on the road, and heading to the capital of the Province of Manitoba to play the reborn Winnipeg Jets. If this were a World Hockey Association game in the 1970s... well, it wouldn't be that big, since we'd be the New York Raiders and we'd stink.
Before You Go.
Winnipeg is in Manitoba. Manitoba is in Canada. In the entire National Hockey League, only Edmonton and Calgary have arenas further north. It's mid-November. It's going to be cold. The website for the
Winnipeg Free Press
is predicting -8 degrees for daylight and -14 for night. That's Celsius. In Fahrenheit, it's 18 and 7 above. That is cold. Bundle up.
Winnipeg is in Canada, so you're going to need to have, and bring, a valid passport. It's also in the Central Time Zone, 1 hour behind New York and New Jersey. Adjust your timepieces accordingly.
Do yourself another big favor: Change your money before you go. There are plenty of currency exchanges in New York City, including one on 42nd Street between 7th and 8th Avenue.
Leave yourself $50 in U.S. cash, especially if you're going other than by plane, so you'll have usable cash when you get back to your side of the border. At
this writing, the exchange rate is US$1.00 = C$1.13, while C$1.00 = US 89 cents.
Tickets.
At 15,016, the MTS Centre has the smallest capacity of any current NHL arena. But the fans in Winnipeg are so thrilled to have their Jets back that they've sold out every seat since the re-premiere. Getting tickets might be tough.
The prices I'm citing are in Canadian dollars. Seats in the lower bowl, the 100 sections, are $123 and $139 between the goals, $101 behind them. Seats in the mezzanine, the 200 sections, are $123 between the goals and $85 behind them. Seats in the upper level, the 300 sections, are $69 between the goals and $58 behind them, with the last few rows behind the goals going for $42.
Getting There.
Once again, I must apologize: If, at this point, you want to see tomorrow night's game live, you're going to have maybe 18 hours to book a flight and get to the airport. (If, that is, you haven't already done so.)
It's also an expensive flight. If you're lucky, you can get a round-trip flight for under $2,300. Most likely, it'll be closer to $4,000. And you'll have to change planes in Toronto. Yeah, again, I'm sorry, but you'd have been better off driving, or taking the train or the bus, if I'd been able to give you the details sooner. So the following can only be used for next season.
You can't get from New York to Winnipeg directly. You have to change trains in Toronto.
Amtrak, however, runs just one train, the Maple Leaf, in each direction each day between New York and Toronto, in cooperation with Canada's equivalent, VIA Rail. This train leaves Pennsylvania Station at 7:15 AM and arrives at Union Station at 7:42 PM, a trip of 12 hours and 22 minutes – 9:10 of it in America, 32 minutes of it at Customs (4:25 to 4:57 PM) and 2:45 of it in Canada. The return trip leaves Toronto at 8:20 AM, reaches the border at 10:22, and gets back to Penn Station at 9:45 PM.
Likewise, VIA Rail has just 1 train a day from Toronto to Winnipeg, leaving Toronto at 10:00 PM (giving you 2 hours and 18 minutes to make the change) and taking 35 hours to get to Winnipeg, arriving at 8:00 AM. It then leaves Winnipeg at
10:30 PM and arrives in Toronto at
9:30 AM 2 days later. In other words, had I done this properly, this would have been your itinerary (all times local):
Leave New York 7:15 AM Sunday
Arrive Toronto 7:42 PM Sunday (2 hour, 18 minute layover)
Leave Toronto 10:00 PM Sunday
Arrive Winnipeg 8:00 AM Tuesday
Game in Winnipeg 7:00 PM Tuesday
Game ends around 9:30 PM Tuesday (1 hour to make train)
Leave Winnipeg 10:30 PM Tuesday
Arrive Toronto 9:30 AM Thursday (22 hour, 50 minute layover)
Leave Toronto 8:20 AM Friday
Arrive New York 9:45 PM Friday
Winnipeg's Union Station is at 123 Main Street at Broadway.
And the price? From Toronto to Winnipeg and back, a mere C$577.43. Or US$513.34. With the New York to Toronto fare of $252 added on, the total is almost $766. Plus, you're going to want to get a hotel after a long train ride, and do you really want to have only around an hour to get from the arena to the station -- especially when the game could go to overtime or a shootout? So you'll need to pay for the equivalent of 2 nights in a hotel. So unless you're rich, both the plane and the train are out.
How about the bus?
Greyhound does serve Canada. You could start out from Port Authority at 11:30 AM Sunday; get a snack during a 40-minute layover in Syracuse, starting at 4:40 PM; arrive at Buffalo at 8:55 PM, and use the 40-minute layover for a late, quick dinner; cross the border at Fort Erie, outside Buffalo, at 9:55 PM; reach Toronto at 12:15 AM Monday; transfer to your Winnipeg-bound bus at 1:00 AM; have breakfast at Sudbury, Ontario at 6:00 AM; have lunch at Sault Ste. Marie, Ontario at 11:30 AM; grab a quick dinner at Schreiber, Ontario at 7:30 PM; get a snack at Thunder Bay, Ontario at 10:25 PM; and finally reach Winnipeg, the only stop in Manitoba, at 7:35 AM Tuesday.
That's 45 hours: Not only is Ontario huge, but you'll be going around 3 of the 5 Great Lakes: Ontario, Huron and Superior. At least it'll only cost you $438, $373 with advanced-purchase. You could, theoretically, get the 10:00 PM bus back to Toronto on Tuesday night, Wednesday breakfast in Thunder Bay, Wednesday lunch in Schreiber, Wednesday dinner in Sault Ste. Marie, reach Toronto at 5:50 AM Thursday, have breakfast, get on the 8:00 AM bus back to New York, have lunch in Buffalo, have a snack in Syracuse, and be back at Port Authority in time for dinner at 7:50 PM Thursday -- beating the train by nearly 2 hours and $400.
Or maybe driving would be better. Keep in mind, it's better to do this with 2 people, so 1 can drive while the other sleeps. And you'll both need passports. And make sure your companion isn't someone who would say or do some wiseass thing at Customs, like answer the question, "Do you have anything to declare?" with, "I declare that I'm proud to be an American."
It's 1,654 miles from Times Square to the Manitoba Legislative Building (the Province's capitol building). The most direct route bypasses Buffalo, Hamilton and Toronto -- in fact, it doesn't go through Ontario at all.
You'll need to get into New Jersey, and take Interstate 80 West. You'll be on I-80 for the vast majority of the trip, through New Jersey, Pennsylvania and Ohio. In Ohio, in the western suburbs of Cleveland, I-80 will merge with Interstate 90. From this point onward, you won't need to think about I-80 until you head home; I-90 is now the key, through the rest of Ohio and Indiana.
Just outside Chicago, I-80 will split off from I-90, which you will keep, until it merges with Interstate 94. For the moment, though, you will ignore I-94. Stay on I-90 through Illinois, until reaching Madison, Wisconsin, where you will once again merge with I-94. Now, I-94
is
what you want, taking it into Minnesota and the Twin Cities.
However, unless you want to make a rest stop actually in Minneapolis or St. Paul, you're going to bypass them entirely. Take Exit 249 to get on Interstate 694, the Twin Cities' beltway, until you merge with Interstate 494 to reform I-94. Crossing Minnesota into North Dakota, you'll take Exit 349B to get on Interstate 29 North. At Pembina, North Dakota, you'll reach Customs. Assuming you have everything in order and don't do anything stupid, you'll be allowed to cross over into Emerson, Manitoba, and your highway will continue as Manitoba Route 29. This will soon flow into Manitoba Route 75, the Lord Selkirk Highway. Upon crossing Route 300, it will become Manitoba Route 42. Take that to Manitoba Route 62, and that will take you into downtown Winnipeg.
If you do it right, you should spend about an hour and a half in New Jersey, 5 hours and 15 minutes in Pennsylvania, 4 hours in Ohio, 2 and a half hours in Indiana, an hour and a half in Illinois, 2 and a half hours in Wisconsin, 4 and a half hours in Minnesota, 2 hours and 45 minutes in North Dakota, and a shade over an hour in Manitoba. That's 24 hours and 30 minutes. Counting rest stops, preferably halfway through Pennsylvania and just after you enter both Ohio and Indiana, outside Chicago, halfway across Wisconsin, outside the Twin Cities, outside Grand Forks, and counting Customs, which should have a bathroom and vending machines, it should be no more than 33 hours, which would save you time on both Greyhound and Amtrak, if not on flying.
Once In the City.
The name Winnipeg comes from the Western Cree words for "muddy waters." The region was a trading center for aboriginal peoples (usually called "First Nations" in Canada, rather than "Indians" or "Native Canadians") before the arrival of Europeans. French traders built the first fort on the site in 1738. A settlement was later founded by the Selkirk settlers in 1812, the nucleus of which was incorporated as the City of Winnipeg in 1873.
According to the figures I have, Winnipeg has a population of 663,000, more than fellow NHL cities Denver, Boston, Washington, Nashville, Vancouver, Raleigh, Miami, Minneapolis, Tampa, Anaheim, St. Louis, Pittsburgh, Newark and Buffalo -- but only 730,000 in its metropolitan area, meaning their "suburbs" add up to only 67,000 people. Nevertheless, with all the fuss over having its team taken away once, plus the sellouts since they got their team back, the chances of having its team taken away twice are very long.
Since Canada is in the British Commonwealth, there are certain subtle differences. Every measurement will be in the metric system. Dates are written not as Month/Day/Year, as we do it, but as Day/Month/Year as in Britain and in Europe. So the game is played for us on "November 18, 2014" but for them on "18 November 2014" -- we write it as 11/18/14, they write it as 18/11/14. They also follow British custom in writing time: A game starting at 7:00 PM would be listed as 1900. (Those of you who have served in the military, you will recognize this as, in the words of
M*A*S*H
's Lt. Col. Henry Blake, "all that hundred-hours stuff.")
And every word we would end with -or, they will end with -our; and some (but not all) words that we would end with -er, they end with -re, as in "MTS Centre."
Another thing to keep in mind: Don't ask anyone where the "bathroom" is -- ask for the "washroom." This difference was a particular pet peeve of mine the first time I visited Toronto, although it wasn't a problem in Montreal as I knew the signs would be in French.
Every measurement will be in the
metric system
: Temperatures will be in Celsius, not Fahrenheit; distances will be in "kilometres," not miles (including speed limits, so don't drive 100 thinking it's miles); and gas prices will be per "litre," not per gallon (so don't think you're getting cheap gas, because a liter is a little more than a quart, so multiply the price by 4, and you'll get roughly the price per gallon, and it will be
more
expensive than at home, not less). Better to get gas at one of your rest stops before going into Canada.
Manitoba
's sales tax is 13 percent -- in 2010, this replaced the former Provincial sales tax of 5 percent and the federal GST (Goods & Services Tax) of 8 percent. In other words, the Conservative Party government of Prime Minister Stephen Harper wanted Canadians to think he'd killed the hated GST, when, in fact, Manitobans are paying pretty much the same taxes that they did before. See how stupid it is to vote for conservative candidates? It doesn't work in any country.
The Red River divides street addresses into east and west, and the Assiniboine River divides the city into north and south. Winnipeg doesn't have a subway, and its buses are $2.50 cash and $2.15 for a prepaid ticket.
Going In.
The MTS Centre is downtown. The official address is 300 Portage Avenue, at Donald Street. If your hotel is downtown, you can walk there, and you won't need a bus. If you drove all the way in, and aren't staying in Winnipeg overnight, most parking in downtown Winnipeg is $10 or less.
The arena is named for Manitoba Telecom Services, and yesterday, November 16, 2004, was its 10th Anniversary, having been built in the hopes of attracting a moved or expansion team to the former city of the team now known as the Arizona Coyotes. In the meantime, the minor-league Manitoba Moose played at the old Winnipeg Arena from 1996 to 2004, and at the MTS Centre from 2004 to 2011. One of the first events held there was the 2005 Juno Awards, Canada's equivalent of the Grammys. After a few preseason exhibition games, including one by the ex-Jets (then named the Phoenix Coyotes), the Atlanta Thrashers made the move, and played their 1st regular-season home game as the new Winnipeg Jets on October 9, 2011.
The rink is laid out north-to-south. The Jets attack twice toward the south end.
Food.
Centerplate operates the arena's concessions. Among the chains with stands there are Subway and that hockey-connected must-have of Canada, Tim Hortons. The arena also has The Exchange Restaurant & Beer Market, and the Observation Deck Bar & Buffet.
Team History Displays.
In their 1st 3 seasons, the new Jets haven't made the Playoffs. But they do hang banners for the old Jets' WHA Championships of 1976, 1978 and 1979. The old Jets won nothing in the NHL, so there's nothing to hang.
Along the side of the east stands, in front of the luxury boxes, the Jets show the retired numbers of the old Jets: 9, left wing Bobby Hull; 10, center Dale Hawerchuk; 25, right wing Thomas Steen; and 27, defenseman Teppo Numminen. Wayne Gretzky's universally-retired 99 is also up there.
These numbers were kept retired by the Arizona Coyotes, who also added the 7 of center Keith Tkachuk, whose number, as yet, isn't shown at the MTS Centre. (They also added the 97 of center Jeremy Roenick, who never played for the Jets/Coyotes franchise in Winnipeg.)
Left wing Evander Kane wore 9 with the Atlanta Thrashers, and, when they became the new Jets, he asked Hull for permission to continue wearing it. He got it. While the Thrashers didn't have any officially retired numbers, they had withdrawn 37 from circulation following the car crash death of Dan Snyder. The Thrashers/Jets franchise doesn't have it retired, but neither is it currently being worn.
Oddly, True North Enterprises, which had owned the Moose, have kept the Moose's banners up: The retired Number 12 of Mike Keane, a Winnipeg native whose first pro team was the Winnipeg Monarchs of junior hockey, and played the last 5 seasons of his career after 16 years in the NHL, Stanley Cups in 1993 with the Montreal Canadiens, 1996 with the Colorado Avalanche, and 1999 with the Dallas Stars; Division Championships in 2007 and 2009, the 2009 regular-season league title and the 2009 Conference Championship.
The Manitoba Hockey Hall of Fame is located at the MTS Centre. Its inductees include original Jets founder Ben Hatskin; old Jets Hull, Hawerchuk, Anders Hedberg, Ulf Nilsson and Randy Carlyle; and Manitoba-born NHL legends such as 1950s Rangers star Andy Bathgate, and Terry Sawchuk, the goaltending legend whose records, once considered unbreakable, were later broken by Patrick Roy and our own Martin Brodeur.
Stuff.
According to the team website, "Jets Gear Authentic Team Store is the best place in Winnipeg to pick up authentic
Winnipeg Jets
merchandise. With 3
locations
to serve you, and open year-round, we're looking forward to outfitting every Winnipeg Jets fan."
During the Game.
You do not need to fear wearing Devils gear to a Jets game at the MTS Centre. Their rivals are the Toronto Maple Leafs, the Ottawa Senators, the Edmonton Oilers (due to the WHA connection) and, to a lesser but understandable extent, the Arizona Coyotes. They don't care any more about the Devils than they would about any other team. You will be safe.
The Winnipeg White Out is a hockey tradition that dates back to 1987, when fans were asked to wear white clothing to home Playoff games, creating a very intimidating effect and atmosphere. It was created as a response to the "C of Red" created by fans of the Calgary Flames, who the Jets were facing in the 1st round of the Playoffs. The Jets eliminated the Flames in 6 games, and fans wore white for every home playoff game thereafter. Fans called it the "White Out." Marketing for the team during the Playoff referred to the "charge of the white brigade." Fans of the now relocated AHL Manitoba Moose (now the St. John's Ice Caps in St. John's, Newfoundland) also continued this tradition, as did fans of the continuing Jets/Coyotes franchise in Phoenix.
True North Enterprises, which owns the Jets and the MTS Centre, kept the Moose' mascot, Mick E. Moose. Obviously a play on "Mickey Mouse," he had averaged over 100 community appearances per season for the past 15 years in Winnipeg and rural Manitoba. Slight modifications to the costume were made, including a new vintage leather aviator helmet.
After the Game.
Winnipeg is a city, but it's a Canadian city. You're going to be safer than in most American cities. And while Canadians like to drink, the fact that the Devils and the Jets have no rivalry means that, if you behave yourself and don't antagonize anyone, the home fans will do the same.
The MTS Centre is downtown, so there are plenty of places to get a postgame meal or drink. A bar named Tavern United and a Japanese restaurant named Samurai are across Hargrave Street on the arena's west side. A restaurant called The Allen is across Donald Street on the arena's east side, although it looks more like "fine dining" than "postgame meal" territory.
There is unlikely to be a bar in Winnipeg that caters to expatriate or visiting New Yorkers and New Jerseyans. Your best bet is to look for red or white Devils jerseys, see which fans look like they've been there before, presume that they know what they're doing, and follow them.
Sidelights.
Despite Winnipeg's hockey struggles after leaving the WHA, they've actually got a decent sports history.
There was a 3-building complex at 1430 Maroons Road, at the corner of Empress Street. This included the Winnipeg Arena, Winnipeg Stadium and the Polo Park horse racing track.
The Arena was home to the Winnipeg Warriors of the Western Hockey League from its opening in 1955 until 1961, the Winnipeg Jets of the Western Canada Hockey League from 1967 to 1972, the orginal WHA/NHL Jets from 1972 to 1996, and the Manitoba Moose of the International Hockey League and the American Hockey League from 1996 to 2004, when the MTS Centre Opened.
It also hosted Game 3 of the 1972 Canadian-Soviet "Summit Series," even though Winnipeg was, at the time, not an NHL city, and was, in fact, pandering to the WHA. This was awkward because Team Canada only included players from the NHL, barring defectors to the WHA like Bobby Hull, Bernie Parent and Gerry Cheevers. That, plus Bobby Orr's injury, made the series a down-to-the-last-minute-of-the-last-game affair; had Hull been allowed and Orr able to play, the legend of the great Red Army team might have been strangled in the crib.
Like the Colisee de Quebec, 10,000 seats was enough for the WHA, but not for the NHL. So, like their WHA bretheren the Nordiques, they expanded their Louis St. Laurent-era arena to 15,000 seats. Unfortunately, also like the Nords, the Jets found the NHL rough going from 1979 onward, losing the core of their WHA dynasty in a dispersal draft, and setting a league record in 1980-81 for longest winless streak: 30 games (23 losses, 7 ties), and earning the nickname "Loseipeg." Also like the Nords, they got better in the 1980s, and made the Playoffs again in the 1990s. But, again, like the Nords, it was too late, as the combination of a bad exchange rate and an outdated arena led to them moving. Like Winnipeg, Quebec City now has a new arena, too, so, like the Jets, the Nords could come back, too.
Winnipeg Stadium stood at 1465 Maroons Road, and was home to the Canadian Football League's Winnipeg Blue Bombers from 1953 to 2012. The Bombers have won 10 Grey Cups, 7 of them on Maroons Road: 1958, 1959, 1961, 1962, 1984, 1988 and 1990. It was also home to baseball's Winnipeg Whips in 1970 and '71. Another baseball team, the Winnipeg Goldeyes, played there from 1954 to 1964, as a farm team of the St. Louis Cardinals, winning Northern League Pennants in 1957, 1959 and 1960. The new version of the Goldeyes played there from 1994 to 1998.
The Stadium seated about 33,000 at its peak, although temporary seating for the 1991 Grey Cup raised it to 51,985. In 2000, a hotel chain bought the naming rights, and it became Canad Inns Stadium for the rest of its existence.
The Arena and the Stadium did not share space with Polo Park for long. Polo Park hosted thoroughbred racing from 1925 to 1956, and was demolished shortly thereafter. The Polo Park Mall opened in 1959. Today, an industrial site sits across Maroons Road from the mall, where the Arena and the Stadium once stood. Bus 11 from downtown.
Today, the Blue Bombers play at Investors Group Field. Opening in 2013 on the campus of the University of Manitoba, it is a 33,500-seat facility that can be expanded to 40,000. It is scheduld to host the 2015 Grey Cup, and 7 games of the 2015 Women's World Cup soccer tournament.
Taylor Swift played its 1st concert, but its 1st sold-out concert was by then 71-year-old Paul McCartney. (For comparison's sake: When Taylor Swift was born in 1989, Paul was 47, on one of his biggest tours and was still making the U.S. Top 40. Taylor should be so lucky in 2036.) The King and Queen of recent pop music, Jay-Z and Beyonce, played it in 2014, 1 of only 2 Canadian venues on their tour (the other being the Rogers Centre in Toronto).
315 Chancellor Matheson Road at University Crescent, about 6 miles south of downtown. Number 60 bus.
Prior to the construction of Winnipeg Stadium, the Blue Bombers played at Osborne Stadium from 1935 to 1952, winning the Grey Cup in 1935, 1939 and 1941. A baseball team called the Winnipeg Reo Rods also called it home. Opened in 1932, with just 7,800 seats it was too small for CFL play. It was demolished in 1956, and the Great-West Life Assurance Building now stands on the site. 60 Osborne Street at Granite Way, across from the Manitoba Legislative Building.
The current version of the Winnipeg Goldeyes has played at Shaw Park since it opened in 1999. Formerly named CanWest Global Park, it seats 7,461, making it ideal for independent leagues like the current version of the American Association (not to be confused with the longtime Triple-A league or the 1880s major league of the same name).
These Goldeyes have won 9 division titles, and Pennants in 1994 and 2012, making for 5 Pennants for Winnipeg baseball teams. "The Fishbowl" stands at 1 Portage Avenue East, at Waterfront Drive along the Red River. Number 1 or 10 bus from downtown.
From 1909 to 1955, Winnipeg's hockey center (or, should I say, "centre") was Shea's Auditorium. For many years, it held Canada's only artificial ice surface between Toronto and Vancouver. The University of Winnipeg Library now stands on the site, although their hockey rink, the Duckworth Centre, is adjacent. 515 Portage Avenue, 6 blocks west of the MTS Centre. In other words, when the new arena opened in 2004, Winnipeg hockey was coming home, even if it took the Jets a little longer.
Winnipeg has won the Stanley Cup 3 times. Did you know that? But it was a really long time ago. In fact, they've gone longer without winning the Cup than any city that has actually won it: 114 years. The Winnipeg Victorias won it in 1896, 1901 and 1902. The Victorias played at the Winnipeg Auditorium, at Garry Street and York Avenue, downtown. The Auditorium was destroyed by a fire in 1926. A bank and a parking deck now stand on the site of the greatest achievement in the history of Manitoba sports.
The Manitoba Sports Hall of Fame is at 145 Pacific Avenue at Lily Street. Number 20 bus.
Minneapolis is both the closest MLB city and the closest NBA city to Winnipeg: 456 miles away. Don't count on Winnipeg ever getting a team in either league: It would rank dead last in metropolitan area population. It already ranks last in the NHL, and still would if Quebec City returns, although not if Hamilton, Ontario gets a team as it has tried to do for the last 30 years. Even in the CFL, the Blue Bombers, at least in terms of metro population, have a "Borg ranking": 7 of 9, ahead of only the Hamilton Tiger-Cats and the Regina-based Saskatchewan Roughriders.
Like most major (or major-wannabe) cities, Winnipeg has museums. The Canadian Museum for Human Rights is at 85 Israel Asper Way, at York Avenue, across Pioneer Avenue from Shaw Park. Number 1 or 10 bus. Across Asper Way and the railroad tracks is the Winnipeg Railroad Museum. The Manitoba Planetarium and Science Gallery is at 190 Rupert Avenue at Main Street. Number 20 bus.
Adjacent to the Museum for Human Rights is The Forks, named for the splitting of the Red and Assiniboine Rivers. Because of this confluence, it was a meeting place for early Aboriginal peoples (Indians/Native Canadians/First Nations), European fur traders, hunters, riverboat and railway workers, and Manitoba's immigrants.
The complex now includes the Forks Market, in effect Winnipeg's South Street Seaport, Reading Terminal Market, Harborplace or Faneuil Hall/Quincy Market. 1 Forks Market Road, at Israel Asper Way. The Manitoba Children's Museum is also part of the complex, at 45 Forks Market Road. Number 1 or 2 bus.
Arthur Meighen, who served briefly twice (1920-21 and for a few weeks in 1926), is the only Prime Minister of Canada to have represented a riding (district) in Manitoba, in his case the nearby town of Portage La Prairie. There is no historical site in his honor, though.
The tallest building in Winnipeg is 201 Portage, standing a mere 420 feet at the intersection of Portage Avenue and Main Street, 3 blocks from the MTS Centre. It looks nice, but it's no skyscraper.
Any TV shows set in Winnipeg would only be shown on Canadian television, and wouldn't be familiar to Americans. There have, however, been major films that you would recognize shot in and around Winnipeg. Many of these have been westerns or more recent period pieces that take advantage of the surrounding prairies, such as
The Assassination of Jesse James by the Coward Robert Ford
(set in 1882 Missouri) and
Capote
(set in 1959 Kansas while Truman Capote was researching the murders that became the basis of his book
In Cold Blood
). Other movies with scenes filmed in Winnipeg include
K-19: The Widowmaker, Shall We Dance, The Constant Gardener
and
The Haunting in Connecticut
(despite the title).
*
Winnipeg is not very big city, far away, with little to attract the local hockey fan besides hockey. But once you're there, it turns out to be a much more interesting place.