November 17, 1944, 70 years ago today:
George Thomas Seaver is born in Fresno, California.
Yes, Met fans, Tom Terrific, The Franchise, is 70 years old.
He's probably the greatest player ever to come out of the greatest college baseball program, the University of Southern California. He made his major league debut for the Mets on April 13, 1967. A mere 5,005 fans came out on a Thursday afternoon to see the Mets play the Pittsburgh Pirates at Shea Stadium. Wearing Number 41, the only number he would wear in his 20 seasons in the majors, Seaver started against Woodie Fryman, went 5 1/3 innings, struck out 8, but walked 4, allowing 6 hits and 2 runs, and did not factor in the decision. Chuck Hiller drove in all the Met runs with a home run and an 8th-inning double, and the Mets won, 3-2.
Seaver drew a walk in the 2nd in his 1st plate appearance, and singled in the 4th in his 1st official at-bat. He remained a good hitter for a pitcher, batting just .154, but hitting 12 home runs.
Seaver's landmarks are well-known to New York baseball fans:
July 9, 1969: Comes within 2 outs of a perfect game against the Chicago Cubs.
October 15, 1969: Pitches 10 innings in Game 4 of the World Series and gets the win over the Baltimore Orioles, to bring the Mets to within 1 win of their "Miracle," which they achieved the next day. (People do tend to forget that he started, and lost, Game 1 of the Series.) And wins the National League Cy Young Award.
April 22, 1970: Strikes out a record-tying 19, including a new record of 10 straight, the last 10 of the game against the San Diego Padres.
1971: Wins his 2nd Cy Young Award.
1973: Helps the Mets win another Pennant, but loses Game 7 of the World Series to the Oakland Athletics.
1975: Wins a 3rd Cy Young Award.
June 15, 1977: The Midnight Massacre, as team president M. Donald Grant and New York
Daily News
columnist Dick Young conspire to drive him out of town, due to the gall he has, as the best player on the team, to ask for more money.
June 16, 1978: Pitches a no-hitter for the Cincinnati Reds, something he never did with the Mets.
April 19, 1981: Records his 3,000th strikeout, fanning Keith Hernandez of the St. Louis Cardinals -- who would go on to become the 2nd-most important player in Met history, behind Seaver.
April 5, 1983: Returns to the Mets, and wins on Opening Day at Shea, before they foolishly let him go again at the end of the season.
August 4, 1985: Wins his 300th game, and in New York, no less, beating the Yankees 4-1 for the Chicago White Sox at Yankee Stadium. (I was there. Next year, on the 30th Anniversary, I'll repeat the piece I did on the 25th, as the entire day was a doozy -- if you don't mind me using a technical term.)
October 18, 1986: Running out the string with the Boston Red Sox, is introduced before Game 1 of the World Series at Shea Stadium, and gets another standing ovation. (He did not appear in the Series.)
June 24, 1988: His number is retired, the only Met player so honored. (Gil Hodges did play for the Mets, but his Number 14 was retired in recognition of his managing.)
January 7, 1992: Elected to the Baseball Hall of Fame with 98.83 percent of the vote, the highest ever. (He recently said that Derek Jeter should be the first unanimous selection, thus breaking his record.)
September 28, 2008: Throws out the ceremonial last pitch at Shea Stadium.
April 4, 2009: Throws out the ceremonial first pitch at Citi Field.
July 16, 2013: Throws out the ceremonial first pitch at the 2013 All-Star Game at Citi Field, as seen in the photo below.
He finished his career with 311 wins, a record 199 of them as a Met, and 3,640 strikeouts. He is 1 of 10 men to be a member of both the 300 Wins Club and the 3,000 Strikeouts Club. When he retired, he was 3rd on the all-time strikeout list.
More than that, he was, and remains, one of the most admired pitchers who has ever lived. He was a thinking man's pitcher: Although he had a good fastball, it wasn't overwhelming, and he knew enough to compensate for this by developing an array of pitches that, when mixed together, made him very hard to hit. Reggie Jackson once said, "Blind people come to the ballpark just to listen to him pitch." When Seaver wrote a book listing his choices for the 10 greatest pitchers who ever lived, the only complaints it got was from people saying he forgot to include himself.
And, while Roger Bannister wore it when he became the 1st man to break the 4-minute mile at Oxford in 1954, to nearly every other sports fan, the Number 41 is universally identifiable with Tom Seaver.
I was once the scorekeeper for my hometown's American Legion baseball team, and our best pitcher was a Met fan who idolized Seaver to the point where he not only wore 41, but copied Seaver's overhand, right knee touching the ground follow-through. In one game, the opposing pitcher also wore 41, and he had nothing that day, and our 41 said, "This guy's making Seaver look like an asshole." He was replaced by a pitcher who wore Number 36, and he was no better. This was before David Cone came to the Yankees, so he wasn't yet identified with that number. I said, "Now, this guy's making Robin Roberts look bad." Roberts hadn't pitched since before Seaver arrived, and nobody knew who I was talking about.
Seaver and his wife Nancy have been married for 48 years, and have 2 daughters, Sarah and Annie. They live in Calistoga, California, north of San Francisco, where they have a winery. I believe they also still own a home in Connecticut, where they lived during his playing days.
*
Seaver remains the greatest Met player ever, and it's not even close, as legends like Hernandez, Gary Carter, Darryl Strawberry, Dwight Gooden, and "legends" Jose Reyes and David Wright couldn't match him for longevity. In 1999,
The Sporting News
listed him at Number 32 on their list of the 100 Greatest Baseball Players. But where does he rank among New York pitchers?
Top 10 New York Pitchers
To make this easier, I'm only going to count starting pitchers. So, no Mariano Rivera, no Goose Gossage, no Sparky Lyle. And no Hoyt Wilhelm, who began with the New York Giants. And no Met relievers -- then again, who would they pick? Jesse Orosco? Armando Benitez? Please.
Honorable Mention. Jack Chesbro
, Yankees (then still the Highlanders) 1903-08. Though he pitched in a very different era, he was the Yankees' 1st great pitcher. His 41 wins in 1904 were the most in the 20th Century.
Honorable Mention. Allie Reynolds
, Yankees 1947-54. The Yankees traded away Hall-of-Fame 2nd baseman Joe Gordon to get him from the Cleveland Indians. They originally wanted another pitcher, but Joe DiMaggio said to get Reynolds, as he had so much trouble with him. So did everyone else, as he anchored a staff that won 6 World Series in 7 seasons.
The "Superchief," nicknamed not only after his Native American heritage but a famous fast train of the era, he went 182-107 for his career, and he probably would have won a lot more if manager Casey Stengel hadn't frequently used him as a reliever. Had he come along 30 years later, with relief pitching better understood, and with his mentality, build and speed, he could have been one of the greatest relievers ever. He was honored in Monument Park at Yankee Stadium.
Honorable Mention. Don Newcombe
, Dodgers 1949-57. Newk also pitched in the Negro Leagues for the Newark Eagles. But he lost 2 prime seasons to serving in the Korean War, and injuries and drinking affected his career, and the move of the Dodgers from Brooklyn to Los Angeles cut his New York tenure off in any event.
He should have been a Hall-of-Famer -- and if Monte Irvin of the Giants got into the Hall due in part to his Negro League service (including as Newk's teammate in Newark), then Newk should be considered as well.
Honorable Mention. Jim "Catfish" Hunter
, Yankees 1975-79. He only pitched 5 seasons for the Pinstripes, and only adding up to 3 -- 1975, 1976, the 1st half of 1977 and the 2nd half of 1978 -- could he pitch without pain in his shoulder. But from 1970 to 1978, first in Oakland and then in The Bronx, he was as good a big-game pitcher as there has ever been. Hall of Fame.
Honorable Mention. Dwight Gooden
, Mets 1984-94, Yankees 1996-97 and 2000. If we're talking talent alone, he might have been the best. But drugs, drinking and injuries meant that his career, while having fine numbers, wouldn't be the Hall of Fame career it should have been. Still, there are a few pitchers in the Hall of Fame with fewer career wins than his 194.
Honorable Mention. Andy Pettitte
, Yankees 1995-2013 (with layovers in Houston in 2004-06 and away from the team in 2011). Although he won more games as a lefthanded pitcher in New York than anyone except the man at Number 2 on this list, and made more postseason starts than any pitcher ever, did you ever really get the idea that he was dominant? The guys on this list were dominant. Still, he should get into the Hall of Fame and Monument Park.
Honorable Mention. Al Leiter
, Yankees 1987-89, Mets 1998-2004, with a brief return to the Yankees in 2005. The closest thing the Mets have had to a real ace since Gooden was forced out -- and if you think I'm forgetting The Great Johan Santana, I assure you, I'm not. And, no, that wasn't a legitimate no-hitter.
Dishonorable Mention. Roger Clemens
, Yankees 1999-2003 with a return in 2007. I don't have to tell you why he was considered. I also don't have to tell you why his mention is "dishonorable."
10. David Cone
, Mets 1987-91, Yankees 1995-2000, with a brief return to the Mets in 2003. He didn't win a Pennant with the Mets, but he did tie Seaver's NL record (since broken) with a 19-strikeout game, and won 5 World Series, 1 with the Toronto Blue Jays and 4 with the Yankees. Memorably, his last pitch for the Yanks was inducing a popup to Mike Piazza to, as Flushing native Archie Bunker would say, stifle a Met rally in Game 4 of the 2000 World Series.
As yet, he hasn't been honored at either Monument Park or the Mets Hall of Fame at Citi Field. I don't know what either team is waiting for. Nor has either team retired his number, 36 for the Yankees; 44, 17 and 16 in his return, for the Mets.
9. Waite Hoyt
, Giants 1918, Yankees 1921-30, Dodgers 1932, Giants 1932, Dodgers 1937-38. The Brooklyn native was the ace of the "Murderer's Row" Yankee teams of the Roaring Twenties, and was, along with the man at Number 5 on this list, 1 of the 2 fastest pitchers of the era. He hasn't gotten a Plaque in Monument Park, but should. Hall of Fame. Numbers were adopted while he was with the Yankees, and he wore both 11 and 12, neither of which has been retired, for him or for anyone else.
8. Vernon "Lefty" Gomez
, Yankees 1930-42. "I'd rather be lucky than good," he said. He was both. He won 189 games against just 102 losses, and was 6-0 in World Series play. In 1987, he and the man at Number 2 on this list were the 1st 2 pitchers honored with Plaques in Monument Park, although his Number 11 is still available (and is currently worn by Brett Gardner). Hall of Fame.
7. Charles "Red" Ruffing
, Yankees 1930-46. He won 273 games, 231 of them as a Yankee -- still 3rd among all New York-based pitchers. Monument Park honoree, although his Number 15 has been retired for someone else, Thurman Munson. Hall of Fame.
6. Ron Guidry
, Yankees 1975-88. Went 170-91 in a career that should have lasted longer. I still say he ruined his arm making so many pickoff throws -- and, unlike Pettitte and Jerry Koosman (who didn't quite make this list), who had great pickoff moves, Louisiana Lightning had possibly the worst pickoff move ever. But he also had a 98 miles-an-hour fastball and a wicked slider.
He still holds the Yankee records for strikeouts in a game (18, against the California Angels on June 17, 1978) and in a season (248, also in 1978). His 1978 season, 25-3, 1.74 ERA, is the greatest season any New York pitcher has had in the post-1920 Lively Ball Era, and, to hell with Jim Rice's stats, that year, he was the most valuable player any baseball team has ever had. With an average pitcher, going 11-11, the Yankees would have been in 4th place; with Guidry, the Yankees won the World Series. Number 49 retired, Monument Park honoree.
5. Charles "Dazzy" Vance
, Dodgers 1922-32, plus "cups of coffee" with the Yankees in 1915 and 1918, although it's hard to say the Yankees would have been appreciably better in the Twenties with him. His nickname came from dazzling hitters. He didn't stick in the majors until he was 31, or else he might be as high as Number 2 on this list.
He went 197-140, at a time when the Dodgers were sometimes decent (finishing 2nd in 1924 after Pennants in 1916 and 1920 before he got there), but more often worthy of the nicknames "Dem Bums" and "the Daffiness Boys." He pitched a no-hitter in 1925, and led the NL in strikeouts 7 straight times, 1922 to 1928. Hall of Fame.
4. Carl Hubbell
, Giants 1928-43. "King Carl," indeed: Best remembered for striking out 5 straight Hall-of-Famers in the 1934 All-Star Game, he helped the Giants win the 1933 World Series and the 1936 and 1937 NL Pennants. Across those 2 seasons, he tied a major league record by winning 24 straight decisions. His Number 11 was the 1st ever retired for an NL player. Hall of Fame.
3. Tom Seaver
, Mets 1967-77, plus a return in 1983. "The Franchise." He was the difference between the Mets being a mildly interesting team from April 1967 to June 1977, and the Mets being a World Champion, a 2-time Pennant winner, and New York's most popular sports team at the time -- ahead of the Yankees, ahead of the Super Bowl-winning Jets, ahead of the Knicks with their 2 NBA titles. He made the Mets matter. He, along with manager Gil Hodges, turned them from a joke into a Champion. That they became a joke again after he left, in part because he left, isn't his fault. Number 41 retired, Hall of Fame.
So there are 2 pitchers who played the bulk of their career in New York that were better than Tom Seaver? You're entitled to your opinion, and this is mine:
2. Whitey Ford
, Yankees 1950-67. I take the Chairman of the Board over Tom Terrific due in part to longevity, but also due in part to his postseason success. His 236 wins are the most for any Yankee pitcher, his 2.75 ERA is the lowest of any retired starting pitcher in the Lively Ball Era, and his .690 winning percentage -- that 236-106 record gives him a percentage higher than that of the Yankees' other pitchers combined over the same stretch -- is the highest of any pitcher with at least 300 decisions.
He appeared in 11 World Series, winning 6 (and missing 2 other titles due to serving in the Korean War). His 10 wins in World Series play are unlikely to be topped; for all the ballyhoo about him this October, Madison Bumgarner has 4, and, while he's just 25 and has already been to 3 World Series, the odds are seriously against him reaching 10 such wins. Number 16 retired, Monument Park honoree, Hall of Fame.
1. Christy Mathewson
, Giants 1900-16. It's hard to argue against a man who won 373 games, especially since he only lost 188. "Big Six" had a career ERA of 2.13. Yes, that was in the Dead Ball Era, but, still, for a career! His 2,502 strikeouts were 2nd to Cy Young at the time he retired. With Matty, the Giants won 4 Pennants and probably should have won at least 2 more, but only 1 World Series. Still, in that Series, in 1905, he pitched 3 shutouts, a feat that will almost certainly never be topped.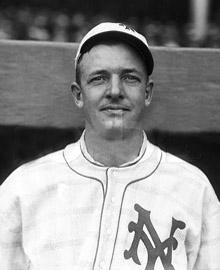 He and Walter Johnson were the 1st 2 pitchers elected to the Hall of Fame. In 1999, 83 years after his last big-league appearance, fan balloting put him on the All-Century Team.