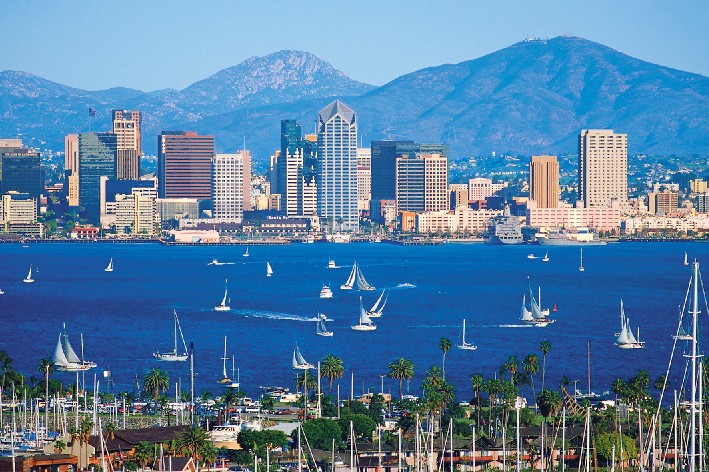 Between things happening in the real world, and the distractions of the World Cup and the All-Star Break, I neglected to do this one until it was nearly too late: The beginning of the Mets' next roadtrip, to San Diego, then Seattle, then Milwaukee, is tomorrow night.
Unlike the San Francisco Giants and the Los Angeles Dodgers, the Padres are an expansion team with no connection to New York. They've never even played the Mets in the Playoffs -- but they have played the Yankees in the World Series. (The Chargers have played the Jets in the Playoffs. San Diego has no NHL team, and have only had an NBA team briefly and not currently.)
DISCLAIMER: I have never been to the Pacific Coast, so all of this information is secondhand at best, but much of it does come from the opposing team's website.
Before You Go.
Unlike the Seattle and San Francisco Bay Areas, but like the Los Angeles area, the San Diego area has very consistent weather. It's a nice place to visit, and there's little threat of earthquakes, mudslides and smog -- but there have been wildfires, including one that led to a Chargers home game being moved to Phoenix a few years ago.
The website of the
San Diego Union-Tribune
(yet another paper that, not that long ago, used to be two separate papers), is predicting mid-70s by day, high 60s by night, and, as you might expect for San Diego, no precipitation for the entire weekend. A short-sleeve shirt should be enough, no jacket necessary. Just in case, you may want to bring sunscreen.
San Diego is in the Pacific Time Zone, 3 hours behind New York. Adjust your timepieces accordingly.
If you're planning on making a side trip to Tijuana, Mexico, 25 miles south of downtown San Diego, be sure to bring your passport. If you don't have a passport, it's too late to get one for this trip, so if you're going to San Diego, do not attempt to cross the Border. Also, the crossing cannot be done by public transportation: You'll need a car.
Getting There.
It's 2,803 miles from Times Square in New York to downtown San Diego, including Petco Park. In other words, if you're going, you're flying. And not just because I waited too long to post this to make driving, Amtrak or Greyhound possible.
After all, even if you get someone to go with you, and you take turns, one drives while the other one sleeps, and you pack 2 days' worth of food, and you use the side of the Interstate as a toilet, and you don't get pulled over for speeding, you'll still need over 2 full days. Each way.
But, if you really, really want to, well, in order to get there in time for this series, you're too late to see the whole thing. So, for future reference...
You'll need to get on the New Jersey Turnpike. Take it to Exit 14, to Interstate 78. Follow I-78 west all the way through New Jersey, to Phillipsburg, and across the Delaware River into Easton, Pennsylvania. Continue west on I-78 until reaching Harrisburg. There, you will merge onto I-81. Take Exit 52 to U.S. Route 11, which will soon take you onto I-76. This is the Pennsylvania Turnpike, the nation's first superhighway, opening in 1940.
The Turnpike will eventually be a joint run between I-76 and Interstate 70. Once that happens, you'll stay on I-70, all the way past Pittsburgh, across the little northern panhandle of West Virginia, and then across Ohio, Indiana and Illinois, into Missouri.
At St. Louis, take Exit 40C onto Interstate 44 West, which will take you southwest across Missouri into Oklahoma. Upon reaching Oklahoma City, take Interstate 40 West, through the rest of the State, across the Texas Panhandle and New Mexico, into Arizona. At Flagstaff, take Interstate 17 South, which will take you into Phoenix. Take Interstate 10 West to Exit 112 for Arizona Route 85 South, to Gila Bend, right on Arizona route 238 West, which will flow into Interstate 8 West. This will take you across Arizona and California to San Diego.
If you do it right, you should spend about an hour and 15 minutes in New Jersey, 5 hours and 30 minutes in Pennsylvania, 15 minutes in West Virginia, 3 hours and 45 minutes in Ohio, 2 hours and 45 minutes in Indiana, another 2 hours and 45 minutes in Illinois, 5 hours in Missouri, 6 hours in Oklahoma, 3 hours in Texas, 6 hours and 15 minutes in New Mexico, 6 hours in Arizona, and 3 hours in California.
That's about 45 hours and 30 minutes. Counting rest stops, you're probably talking about 57 hours.
That's still faster than Greyhound (about 70 hours, changing buses anywhere from 2 to 4 times, $570 round-trip, station at 1313 National Avenue at Commercial Street -- 3 blocks from the ballpark!) and Amtrak
(71 hours, 40 minutes, $776 round-trip, Santa Fe Depot at 1050 Kettner Blvd. at Broadway). But flights to San Diego International Airport, also known as Lindbergh Field, will be a lot more expensive, and will usually involve changing planes in Chicago.
Public transportation in San Diego is pretty good, with buses, trolleys and light rail readily available. Petco Park is accessible on the Orange Line at Gaslamp Quarter station, and on the Orange and Blue Lines at 12th & Imperial Transit Center station. The fare is $2.50.
Tickets.
The Padres are averaging 26,419 fans per home game, at a park with a seating capacity of 42,524. They get that many despite the Padres being well out of the Playoff hunt already. So getting tickets could be tough.
The most expensive seat in the house is a Field VIP for $105. Most tickets are a lot cheaper. Aside from the preceding, you can probably get in the lower level for $63 or less, and $34 or less will get you into the upper level.
Once In the City.
San Diego was founded by Spain as a mission, San Diego of Alcalá (Saint Didacus in Latin), in 1769, and well into the 19th Century was larger than San Francisco, and even at the dawn of the 20th Century was larger than Los Angeles. Being (just about literally) tucked away in a corner of the country, it was pretty much bypassed, but World War II led to the U.S. Navy base being built there, and its population took off again, to where it was major-league capable by the 1960s.
Today, 1.3 million people live within the city limits, and 3.2 million in the metro area. Front Street is the delineator between streets with East and West as prefixes, while Broadway is that for those running North and South.
Sales tax is a minimum 7.5 percent in the State of California, and 8 percent in San Diego County, which includes, but is not contiguous with, the City of San Diego.
Going In.
Petco Park (sometimes listed incorrectly in ALL CAPS), named for the San Diego-headquartered chain of pet and pet supplies stores, has an official address, with the name and uniform number of the greatest Padre of them all (so far), of 19 Tony Gwynn Drive. It is bounded by 7th Avenue/Gwynn Drive on the 3rd base and home plate sides, Park Blvd. on the 1st base side, 10th Avenue on the right field side, and K Street on the center field side. It points north, with a good view of the downtown skyscrapers.
Parking is available at Petco Park, although I can't find a mention of its cost. Padre fans living north of downtown can also do what they used to do, and park at Qualcomm Stadium (except when it's also hosting an event), and take the Trolley in.
The Gaslamp Gate and the Downtown Gate are in left field. he Balboa Park Gate, the East Village Gate (not to be confused with Lower Manhattan's East Village or the Broadway's Village Gate Theater) and the Park Blvd. Gate are in right field. And the Home Plate Gate is, well, you can probably guess.
Being in the California sunshine, the field has nearly always looked good. The left-field corner has the former Western Metal Supply Company warehouse, built into the stadium complex, as was the Baltimore & Ohio Railroad warehouse into Camden Yards in Baltimore. Unlike Baltimore, however, seating sections were built into this warehouse.
As with most of the "retro ballparks" built in the 1990s and 2000s, the field is not symmetrical. The left field pole is 334 feet from home plate, straightaway left is 367, left-center is 390, center is 396, right-center is 391, straightaway right is 382, and the right-field pole is a deceptive 322. This is a pitcher's park, although a placement hitter like Gwynn or Dave Winfield would have been fine with it. The longest home run at the park is 458 feet, by Adrian Gonzalez, then with the Padres, in 2009.
Food.
Being just 15 miles from the Mexican border, you might expect Petco Park to feature Mexican and Southwestern-style food. Your expectations would be fulfilled: Behind home plate, on the Field Level, there is Bull Taco and La Cantina Bar; in the Upper Level, another La Cantina Bar is in left field and the Padres Mexican Cafe is in right field.
Team-themed stands abound: Friar Franks are all over, a health-food Friar Fit stand is at Field Level behind home plate, and the PCL Club (named for the city's old-time home, the Pacific Coast League) is at Field Level behind 1st base. On Terrace Level, behind 1st base, are Club 19 (for Gwynn) and Randy Jones BBQ (a variation of the Baltimore Boog Powell and Philadelphia Greg Luzinski theme). And the Hall of Fame Bar & Grill is on Terrace Level in left field.
There are also stands with local flavor: Anthony's Fish Grotto, home of the Padres' famed fish tacos, is behind home plate on both the Field and Terrace Levels. The Brickhouse Deli is on Field Level in left field, inside the warehouse. The Harbor Grill is on Terrace Level behind home plate, the Trolley Station Grill is on Terrace Level behind 1st base, and the Bayview Grill is on Upper Level behind home plate.
Team History Displays.
The Padres have 5 retired numbers, displayed in center field, atop the batter's eye wall. They are: 6, Steve Garvey, 1st base 1983-87; 19, Tony Gwynn, right field 1982-2001; 31, Dave Winfield, right field 1973-80; 35, Randy Jones, pitcher 1973-80; and 51, Trevor Hoffman, pitcher 1993-2008. Also mounted on top of the wall is Jackie Robinson's universally-retired Number 42.
The team has also honored, with notations painted in gold on the front of the press box, former owner Ray Kroc (1974-84) with his initials RAK, and broadcaster Jerry Coleman, the former Yankee 2nd baseman and broadcaster who called games for the team from 1972 to 2013 -- except for 1980, when he served as manager, with unsatisfying results, and returned to the booth in 1981. Instead of retiring a number for him, or mounting an "SD" for San Diego or his initials JC (or GFC for Gerald Francis Coleman), they've hung a star, for his catchphrase for a home run or a great defensive play: "Oh, doctor! You can hang a star on that baby!"
Sadly, the Padres have lost both Coleman and Gwynn, the 2 most beloved figures in franchise history and recipients of statues outside the park, in this calendar year.
The Padres have a team Hall of Fame. I do not know if it is on display anywhere in the park.
In addition to Gwynn, Winfield, Jones, Kroc and Coleman (but not, as yet, Garvey and Hoffman), it includes Emil "Buzzie" Bavasi, the team's first president (1969-77, previously general manager of the Dodgers), 1st baseman Nate Colbert (1969-74), and manager Dick Williams (1982-85). Why Colbert's Number 17 and Williams' Number 23 have not been retired, I don't know.
In addition to Gwynn, Winfield, Williams and Coleman, the players who have played for the Padres and been elected to the Baseball Hall of Fame in Cooperstown, New York (but not based on what they did as Padres) are Roberto Alomar, Rollie Fingers, Goose Gossage, Rickey Henderson, Greg Maddux, Willie McCovey, Gaylord Perry and Ozzie Smith.
The Padres have won National League Pennants in 1984 and 1998, and NL Western Division titles in those years, plus 1996, 2005 and 2006. They have never reached the Playoffs by way of the Wild Card, although they lost a play-in game for the Wild Card to the Colorado Rockies in 2007. I don't know if there is a notation (such as flagpoles with pennants or stanchions on the outfield wall) for these achievements anywhere in the ballpark.
The original Padres, Ted Williams' first pro team, won Pacific Coast League Pennants in 1937 (with Williams), 1954, 1962, 1964 and 1967. There is no notation for them at Petco Park.
Of note is the fact that, assuming you count Johan Santana's highly asteriskable performance in 2012 as a "Met No-Hitter," the Padres are now the only team among MLB's 30 current that have never pitched a no-hitter.
Gwynn, Winfield, Fingers and Smith were named to The Sporting News' 100 Greatest Baseball Players in 1998.
Stuff.
The Padres have a number of team stores, including their main one at the Gaslamp Gate in left field. The good news is, they sell all kinds of Padres merchandise. The bad news is, they sell all kinds of Padres merchandise, including the various uniforms the Padres have worn, ranging from the mustard-yellow and brown uniforms of the 1970s to the "camouflage" jerseys they wear on home Sundays in honor of San Diego's tradition as a military city. Actually, it's a Navy city, not an Army city, so while wearing and selling jerseys that are navy blue in color makes sense, camouflage jerseys make no sense at all.
As far as I know, Padres merchandise does not include monks' (friars') robes with team logos, or a fake "monk wig" simulating a ring of hair around a bald head.
Although the Padres have been around for over 40 years now, and have some history, there aren't very many good books about the team. Baseball in San Diego: From the Plaza to the Padres by Bill Swank, in cooperation with the San Diego Historical Society, is probably the best one, covering the history of professional baseball in the city from the 1899 San Diego Fullers of the Southern California League to the 2004 opening of Petco Park.
Since the Padres have not yet won a World Series, there is no DVD collection of World Series highlight films; you'd have to, separately, get the 1984 (won by the Detroit Tigers) and 1998 (by the Yankees) films. As of yet, the only
team-history video available is Nineteen Summers: Padres 1969-1988 (which would actually be 20 summers), and if you want that, it's only available on Amazon.com on VHS, not DVD. There's also a VHS tape titled Tony Gwynn: Mr. Padre that covers his entire playing career. As yet, there is no
Essential Games of the San Diego Padres
DVD.
During the Game.
The Padres' greatest rivals, as you might guess, are the closest NL team, the Los Angeles Dodgers. (The AL's Angels are 30 miles closer, but Padres and Angels fans don't seem to care about each other or their teams -- or maybe they just band together and consider the Dodgers a common enemy.) But due to Fernando Valenzuela having made his name as a Dodger before his brief stopover with the Padres, when Mexican fans come over the border for Padres-Dodgers games, the cheering is about even when the Bums come to San Diego. The Padres also have a budding rivalry with the next-closest team, the Arizona Diamondbacks. But the locals do fit the reputation of the laid-back Southern Californian. No one is going to fight you.
Ted Giannoulas, known in costume as The Famous Chicken, began as the KGB Chicken. No, he wasn't a Russian spy, he was a student at San Diego State University, working for a San Diego radio station, KGB-FM. (He can be seen in his original costume on NFL Films' production of the 1978 Charger-Raider "Holy Roller" game, passing out at the successful result of the Raiders' blatant cheating.) Following a contract dispute with the station, he got a new costume (one
not
copyrighted by the station) and was reborn, or rather hatched out of a giant egg, on the field at San Diego Stadium in June 1979 as "the San Diego Chicken."
Starting in 1981, he was part of the cast of NBC's Saturday pregame show
The Baseball Bunch
, starring Johnny Bench, where he was referred to as simply "The Chicken." He became so much in demand that he could no longer belong only to his hometown, and now goes everywhere. He and the Phillie Phanatic have done more to elevate the baseball mascot to icon status than anyone -- even if they weren't the first guys in silly costumes to entertain at baseball games. (Mr. Met was the first official such mascot, but even he was unofficially preceded by the Brooklyn Dodger Sym-Phony Band.)
Since 1996, the Padres have made their Swinging Friar logo a live-action mascot, and he (sans bat) is the official mascot. As I said earlier, like many cities in California, San Diego was founded by Spanish missionaries -- hence "Padres," Spanish for "Fathers," or priests, monks, friars.
The Padres don't have a special song to play along with "Take Me Out to the Ballgame" during the 7th Inning Stretch, or a postgame victory song. This could be due to the relative lack of songs about the city, or famous singers or bands from the city. However, with the city's nautical tradition, a foghorn sounds after every Padre home run -- not common, as Petco is one of the best pitcher's parks in the majors.
After the Game.
San Diego's Gaslamp District has plenty of nightspots, so finding a good place for a postgame meal or drink shouldn't be too hard. And although the city has a reputation for gang violence -- as Met fans, you may have heard San Diegan Kevin Mitchell tell horror stories about it -- downtown is very safe.
If you're looking for New Yorker-friendly establishments, Henry's Pub, at 618 5th Avenue between G & Market Streets, is the home of the local New York Jets fan club. It is 6 blocks from the ballpark. I have heard of 2 separate bars as being home of local Giants fan clubs. The Knotty Barrel is at 844 Market Street at 9th Avenue, 5 blocks from PETCO. And t
he U-31 Cocktail Lounge is at 3112 University Avenue at 31st Street, however, it is 6 miles northeast of the ballpark. Even if the Knotty Barrel is not a Big Blue hangout, you'd be advised to choose that over the U-31.
Sidelights.
San Diego has produced more native sons (and daughters) who were great athletes than its teams have. As a result, there isn't a lot of glory associated with these teams. Some have suggested that there's a curse on the city, with the most common story being the selling of the city's first great major league star, Chargers receiver Lance Alworth, to the Dallas Cowboys. Alworth, a.k.a. Bambi, won Super Bowl VI with the Cowboys, but no San Diego major league team has gone as far as the rules allowed them to do since Alworth and the 1963 Chargers, AFL Champions, who did not get to play that year's NFL Champions, the Chicago Bears, in a Super Bowl.
* Lane Field. Home to the PCL Padres from 1936 to 1957, including the 1937 PCL Pennant that featured a 19-year-old San Diego kid named Ted Williams. By the time the Padres won another Pennant in 1954, the 8,000-seat pitcher's park, on the waterfront, with a Spanish-style entrance and faraway fences except at the right field pole, was termite-ridden and had to be abandoned.
Broadway, Harbor Drive and Pacific Highway. The Santa Fe Depot and the USS
Midway
Museum (a retired WWII-era aircraft carrier) are adjacent to the site. Number 7 bus. The Maritime Museum of San Diego is 3 blocks to the north.
* Westgate Park. The PCL Padres' next home was in Mission Valley, at (appropriately enough) Friars Road and the Cabrillo Freeway. This park seated only a few more than Lane Field, but unlike its predecessor, which had no roof to protect fans from the hot, nearly-Mexican sun, Westgate had a roof covering the entire seating area.
Supposedly, it was expandable to 40,000, in the event that San Diego could do what Los Angeles and San Francisco had done, and bring in a major league team, through move or expansion. But the Chargers wanted a modern stadium, too, so one stadium was built for both teams. The Padres won Pennants at Westgate in 1962, 1964 and 1967, their last season there. The Fashion Valley Mall is now on the site.
Fashion Valley Transit Center station on the Green Line.
* San Diego/Jack Murphy/Qualcomm Stadium. Since 1967, this has been the home of the Chargers and the San Diego State University football team, the Aztecs. It was built to the east of Westgate, at 9449 Friars Road at Mission Village Drive, just off Interstate 15,
5 Green Line stops away from Westgate/Fashion Valley at what's now Qualcomm Stadium station.
Met fans, take note: It was beloved broadcaster Bob Murphy's brother, Jack Murphy, sports editor of the old San Diego Union newspaper, who advocated for the city as a major league sports site, and when he died in 1980, the stadium was named for him -- at least, until the city sold off the naming rights. Statues of Jack and his dog Abe remain outside the stadium. It's hosted the Holiday Bowl and the Poinsettia Bowl, and has hosted 3 Super Bowls: XXII (won by the Washington Redskins), XXXII (Denver Broncos) and XXXVII (Tampa Bay Buccaneers).
The Chargers have only reached the Super Bowl once, in the 1994-95 season, although they are usually in the Playoff hunt. The PCL Padres played their last season here, 1968, and then in 1969 the NL Padres came in. Holding 47,000 for baseball for most of its history, it was expanded to 65,000 by 1996, and during the 1998 World Series between the Padres and Yankees, the noise was remarkable for an open-air facility -- not that it helped the Padres.
The Padres moved out after the 2003 season, and the Chargers are looking to get out, hopefully into a downtown stadium. If they can't, they may well move, possibly up the Coast to Los Angeles, from whence they came.
* Balboa Park and the San Diego Zoo. After starting in the AFL at the Los Angeles Coliseum in 1960, the Chargers moved to San Diego for 1961. Barron Hilton, son of hotel magnate Conrad Hilton -- and the first brother-in-law of Elizabeth Taylor, and the grandfather of Paris and Nicky Hilton -- ran the Carte Blanche credit card company, and named the team after the card, sort of: The Chargers, although a horse (also a "charger") and a lightning bolt (which gives off a "charge") has always been the team's logo. He's still alive, now 86, and although he no longer has anything to do with the team, he is the last surviving member of "The Foolish Club," the 8 original AFL owners, following the recent deaths of Ralph Wilson of the Buffalo Bills and Bud Adams of the Houston Oilers/Tennessee Titans.
The existing Balboa Stadium, built in 1914 in Balboa Park (named for the Spanish explorer), was expanded to 34,000 seats for the Chargers. While it had a lot of atmosphere, including a columned front gate, and was home to the Chargers' 1963 AFL Championship team, it was too small for the proposed AFL-NFL merger, so what's now Qualcomm Stadium was built.
In 1965, at Balboa Stadium, Jim Ryun became the first American high schooler to break the 4-minute mile. On August 28, 1965, the Beatles played there. The old stadium was demolished and replaced in 1978, and now hosts high school football and track. Russ Blvd. & 16th Street.
Balboa Park is also home to the famed San Diego Zoo.
My mother says her favorite day in her life was the day she spent at the Zoo. Park Road & Zoo Place. The Park is also home to the Timken Museum of Art, and the Reuben H. Fleet Science Center. The
Number 7 bus takes you to the Park and places you within a short walk of all its sites.
Adjacent is the Federal Building, which hosts the San Diego Hall of Champions, honoring area natives such as Ted Williams, Bill Walton and 1970s Yankee star Graig Nettles, as well as stars from area teams. Padres honored are Nettles, Jones, Winfield, Fingers, Gwynn, Bavasi and Gossage. Of additional interest to Yankee Fans might be Don Larsen, and the father-and-son combo of Ray and Bob Boone -- grandfather and father, respectively, of Aaron (and Bret). But not, as yet, Larsen's fellow graduate of nearby Point Loma High School, and fellow pitcher of a perfect game for the Yankees, David Wells.
* San Diego Sports Arena. Built in 1966, this was the home of the NBA's San Diego Rockets from 1967 to 1971, until they moved to Houston; the NBA's San Diego Clippers from 1978 to 1984, until they moved to Los Angeles; and the World Hockey Association's San Diego Mariners from 1974 to 1977. It hosted the 1975 NCAA Final Four, which included John Wooden's last 2 games as head coach at UCLA, winning his 10th and final National Championship, beating Kentucky. Elvis Presley sang here on November 9, 1970; April 26, 1973; and April 24, 1976.
The Arena was recently renamed the Valley View Casino Center, although it is not a casino. 3500 Sports Arena Blvd. at Kemper Street. Blue Line light rail to Old Town, then transfer to the Number 9 bus, which drops off outside.
San Diego seems not to have forgiven the Clippers for leaving, and after 30 years of the Lakers nearly always the better team, they are easily the most popular NBA team in town. The Los Angeles teams remain the closest NBA teams, 127 miles from downtown San Diego, while the Anaheim Ducks are the closest NHL team, 93 miles away.
Despite its size, San Diego has already lost teams in 2 sports, and the Chargers might soon make it 3, so don't expect them to get an NBA team (they'd rank 20th in the league's markets by population) or an NHL team (19th).
San Diego isn't known for its skyscrapers, not for height (as is L.A.) nor for style (as is San Francisco).
The tallest building in town, and then just barely (2 others are within 3 feet of it) is One America Plaza, 500 feet even, at 600 West Broadway at Keltner Blvd. downtown.
There haven't been a lot of TV shows set in San Diego. Most notable is probably Veronica Mars, unless you're a big Simon & Simon fan. Because of the naval base and the Marines' Camp Pendleton in not really all that near Oceanside, San Diego has been the closest major city to Gomer Pyle, U.S.M.C. and Major Dad (which, like Simon & Simon, had Gerald McRaney, but it transferred to Quantico, Virginia after just one season). Fox tried to copy the success of the Wisconsin-based That '70s Show by setting That '80s Show in San Diego in 1984, the year the Padres first won the Pennant, but it bombed, worse than the Padres did in the World Series.
San Diego has been much more successful as a location for movie settings, especially military-themed ones:
Sands of Iwo Jima (John Wayne's troops train at Pendleton),
Hellcats of the Navy (the one and only film that Ronald Reagan and his wife, still billed as "Nancy Davis," ever made together),
Top Gun and its parody Hot Shots!,
Flight of the Intruder and
Antwone Fisher. But the movie most associated with the city is
Anchorman: The Legend of Ron Burgundy, with Will Ferrell's signoff: "Stay classy, San Diego!"
If the Zoo wasn't enough for you, San Diego, like Orlando and San Antonio, has a Sea World. 500 Sea World Drive at Mission Bay Drive. Green Line to Old Town Transit Center, then transfer to the Number 9 bus.
San Diego hasn't had a lot of history, good or bad, happen within its limits. No President has come from the area, so there's no Presidential Birthplace or Library nearby. The closest you can come is Richard Nixon's La Casa Pacifica, a.k.a. the Western White House, 57 miles up the coast in San Clemente. It's still a private residence, and not open to tours, so if you're interested, just take a glance (and/or a picture), and leave them alone.
There are 3 Presidential connections to the city, and they all came in 1996. Sort of: Pete Wilson, Governor of California, former Senator, and the city's former Mayor, launched his campaign in 1995, but he barely made it into 1996. The Republican Convention nominated Senator Bob Dole for President, and former pro quarterback, former Congressman from Buffalo, and former Secretary of Housing & Urban Development Jack Kemp for Vice President. That Convention was at the San Diego Convention Center, at 111 W. Harbor Drive, across the railroad and Harbor Drive from the ballpark. And Dole had his 2nd and last debate with President Bill Clinton at the Shiley Theatre on the campus of the University of San Diego. 5998 Alcala Park Way at Marian Way. Green Line to Morena Vista station.
*
So, if you can afford it, go on out and join your fellow Met fans in going coast-to-coast, and enjoy the matchup with the Padres matchup, and enjoy the sights and sounds of what Pete Wilson, while he was Mayor, called "America's Finest City." Even if the games aren't good, the weather will be.