I hate losing. I especially hate losing in extra innings. The Yankees did both on Friday night, against the Baltimore Orioles at Camden Yards.
Yet again, the Yankees wasted a nice start by Hiroki Kuroda. He went 7 innings, allowing just 2 runs on 3 hits and (I love these words in connection with a Yankee pitcher) no walks. And Dellin Betances pitched 2 perfect innings. Should have been good enough to win. (And, in Betances' case, to save.)
But the Yankees got only 2 runs. Ex-Oriole Brian Roberts (who was heavily booed) hit a home run in the 2nd inning, his 5th of the season. Kelly Johnson added a home run in the 3rd, his 6th. (Robinson Cano? He has 7.)
But both were solo home runs. Hall of Fame manager Earl Weaver said, "The Oriole Way is pitching, defense, and three-run homers." As in, not just home runs, but with men on base. It must have ticked him off to have Gary Roenicke in his outfield: In 1979, Roenicke's first full season, he hit 25 home runs (quite a feat for someone playing his home games at Baltimore's Memorial Stadium), but only had 64 RBIs. Only 6 of the 25 homers had a man on base, and only 2 had as many as 2 on. Roenicke was nicknamed "Solo." He lasted in the major leagues until 1988, hitting 121 homers, including 3 with the Yankees in 1986.
Miguel Gonzalez otherwise shut the Yankees down. The Bronx "Bombers" were 0-for-4 with runners in scoring position. Yankee RISPfail again.
Joe Girardi sent Adam Warren out to pitch the 10th inning, when he had a choice of who to send in: Either A, leave Betances in, or B, bring in anybody but Warren. Warren pitched to 3 batters: Manny Machado doubled, Ryan Flaherty struck out, and Nick Hundley -- no relation to ex-big league catchers Randy and Todd -- singled Machado home.
Orioles 3, Yankees 2. WP: T.J. McFarland (3-2). No save. LP: Warren (1-5).
*
So the Yankees fell back to .500, at 46-46. They needed a win yesterday. Actually, they need a lot of wins the rest of the way.
Girardi sent rookie Shane Greene to the mound, and while I won't say it was easy being Greene, the kid had very good stuff. He pitched into the 8th inning, allowing no runs on 4 hits and just 2 walks, adding 9 strikeouts.
But, again, you need to give your pitchers some runs. A Mark Teixeira double in the 3rd drove home a run. In the 7th, Derek Jeter singled to drive in Johnson, and advanced to 2nd on the play at the plate. Then Jacoby Ellsbury singled Jeter home.
Given this cushion, the bullpen did the job. Yankees 3, Orioles 0. WP: Greene (2-0). SV: David Robertson (23). LP: Chris Tillman (7-5).
The Yankees close out the symbolic, though not numerical, first half of the season tonight, the Sunday night ESPN game. Chase Whitley starts for the Yankees, Kevin Gausman for the O's.
Then begins the All-Star Break. The All-Star Game will be on Tuesday night, at Target Field in Minneapolis. Derek Jeter will start at shortstop for the American League. Dellin Betances will be available for the bullpen, and Masahiro Tanaka would likely have been the AL's starting pitcher had he not gotten hurt; it's as yet unknown if he will make the trip anyway.
This will be the 3rd time the Minnesota Twins have hosted the game, and in their 3rd different ballpark: Metropolitan Stadium in 1965, and the Metrodome in 1985.
The regular schedule resumes on Friday, with an Interleague series against the Cincinnati Reds.
*
Today is the World Cup Final, between Germany and Argentina. Argentina will be playing in the shadow of perhaps their greatest all-time player having been lost.
Alfredo Stéfano Di Stéfano Laulhé was born on July 4, 1926 in Buenos Aires. Despite being a Spanish-speaking nation, Argentina's largest ethnic group, especially in the largest city and capital of Buenos Aires, is Italian, and
Alfredo was in the 2nd generation of Di Stéfanos born there.
In most countries, there are 2 dominant soccer teams. It's usually either teams from the 2 largest cities, or the largest city and the capital (if it's not the same city), or the same dominant city. Although there are many clubs in Argentina with large followings, the 2 biggest are the big Buenos Aires rivals, River Plate and Boca Juniors. In 1943, just 17,
Di Stéfano played his 1st senior match, as a forward for River. He won the league title with them in 1945 and 1947, as the leading scorer in 1947. That year, he also helped Argentina with the
Copa América, South America's continental trophy for national sides.
In 1949, with Argentina's footballers on strike, he was loaned to
Millonarios of
Bogotá, Colombia. When the strike ended, he remained with Millonarios, who may have been keeping him illegally, and he remained with them through 1953. They won national championships in 1949, 1951 and 1952, and he was the country's leading scorer in the latter 2 years.
Di Stéfano was 27, and the best footballer on his continent.
*
Naturally, the 2 biggest Spanish-speaking clubs on the planet -- not yet the 2 biggest clubs of any language -- both wanted him. The way things worked out, both Real Madrid and Barcelona had to deal with both Millionarios and River Plate, the latter claiming that
Di Stéfano was legally still their player.
Barça appeared to have the initial edge, because they negotiated with both Millionarios and River. But they hired a Catalan living in Colombia, Joan Busquets, who worked for Millionarios' rivals, Santa Fe, and Millionarios began to balk. Then
Barça tried to lowball Millonarios, and they turned down the initial offer. So
Barça decided to work only with River, made a deal with them, and flew the
Di Stéfano family to Barcelona, where he settled in, and even played a preseason friendly -- illegal by any measure. (And you thought
Barça being corrupt was a recent development?)
The Spanish Football Federation (RFEF) refused to allow the transfer based on Millonarios' refusal to go along with it.

Then
Santiago Bernabéu
, Real Madrid's president, f

or whom their stadium would later be named, made a deal with Millonarios. Just before the 1953-54 season began, the RFEF -- which
Barça and their fans always claimed in those days was controlled by the fascist allies of Spain's Real fan dictator, Francisco Franco, who hated Catalonia and everything that stood for it, including
Barça -- ruled a compromise: Over the next 4 seasons,
Di Stéfano would alternate between the teams: Real in 1953-54 and 1955-56,
Barça in 1954-55 and 1956-57.
Barça president Marti Carreto resigned in disgrace, and the interim board made a deal with Real, giving them a sum equal to the one they'd given River, in exchange for dropping out.
Di Stéfano made his Real debut on September 23, 1953, and the next month, scored 4 in a 5-0 win over
Barça.
*
T

he rest is history. Alfredo
Di Stéfano, nicknamed El
Saeta Rubia -- the Blond Arrow --
became the
greatest player for the greatest team in the history of the world's most popular sport. The Number 9 was Spain's leading scorer 5 times. He led them to 8 League titles in 11 seasons. When the European Cup, the tournament now known as the UEFA Champions League (the trophy kept the name "European Cup"), was started in 1955-56, he led them to wins in the 1st 5 tournaments, alongside his fellow Argentine
Héctor Rial, France's Raymond Kopa, Hungary's
Ferenc Puskás,
and Spanish winger Francisco Gento -- now the last survivor of the 1st European Cup winners of 1956, and who would go on to captain Real's 1966 win, making him he only man to win 6 European Cups
. For his efforts,
Di Stéfano was awarded the Ballon d'Or, the Golden Ball, as World Player of the Year in 1957 and 1959.
With Real Madrid's 1st 5 European Cups.
The trophy would later be redesigned.
In addition, Real's influence with FIFA, the governing body of world soccer, enabled him to get Spanish citizenship and, even though he'd already played for the national team of Argentina, become eligible for that of Spain. (Under today's rules, that wouldn't happen: No matter how many countries you start out being eligible to play for, once you play a senior match for one, you can play for no other.) Despite the presence of
Di Stéfano, Spain did not qualify for the 1958 World Cup. They did qualify in 1962, and that was the only one for which he was selected, but an injury prevented him from ever playing in a World Cup match. By the 1964 European Championships (today, we would call it "Euro 64"), he was nearly 38, and not selected, but Spain won -- their last major tournament win for 44 years.
On a tour of South America in the Summer of 1963, Real Madrid went to Venezuela, and a revolutionary group kidnapped

Di Stéfano at gunpoint from the Potomac Hotel in

Caracas, in response to Franco's regime having executed Spanish Communist

Julián Grimau 4 months earlier.

Di Stéfano was released 2 days later, unharmed, and he said he was not mistreated. The next day, he was able to rejoin his teammates in Brazil, and got a standing ovation from the home fans in the match against

São Paulo FC.
In 1964, he was sold to Espanyol, the "other club" in Barcelona, more of a slap to
Barça
than to him. He played 2 more seasons for them, and retired, although he would occasionally play in a charity match.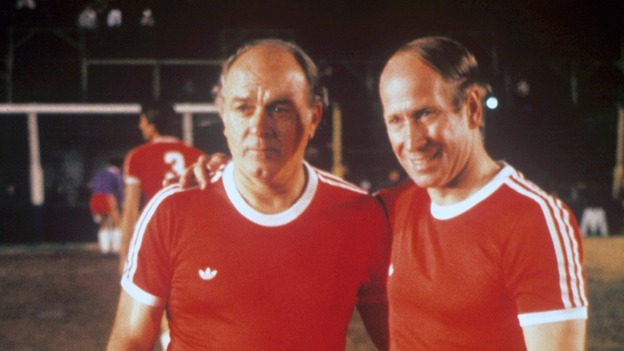 Alfredo Di Stefano and Bobby Charlton at a charity match
*
He went into management, starting with Spanish club Elche CF in 1967. In 1969, he took the helm of River Plate's arch-rivals, Boca Juniors, which must have been a shocking development (though not as shocking as it would have been if he'd been hired by Barcelona). He won the league title with them.
That led Spanish club Valencia to take him back across the Atlantic, winning La Liga in 1971, but he wasn't nearly as successful with them. He bounced around Spain, plus a stop in Lisbon with Sporting Clube de Portugal, before going back to Valencia, winning the 1980 European Cup Winners' Cup, defeating North London's Arsenal on penalties. Then he went back to
to where it all began, winning the 1981 Torneao Nacional with River Plate.
He managed Real Madrid from 1982 to 1984, went back to Boca in 1985, had a 3rd run with Valencia starting in 1986, and managed Real again in the 1990-91 season, before leaving management.
He married Sara Freites in 1950, and they had 6 children; Alfredo, Ignacio, Sofia, Silvana, Helena and Nanette. He remained a consultant with Real Madrid, often being brought back to welcome new superstars, "
Galácticos
" as the club calls them, such as Zinedine Zidane, Luis Figo, David Beckham,
Kaká,
Ronaldo the Brazilian and Cristiano Ronaldo the Portuguese.
On May 9, 2006, the 12,000-seat
Estadio Alfredo di Stéfano was dedicated in Madrid, with a friendly between Real Madrid and Stade de Reims, a rematch of the 1st European Cup Final in 1956.
Real won, 6-1. The stadium now serves as the home of their reserve team, Real Madrid Castilla, and as the big club's main training facility.
Alfredo di Stéfano died of a heart attack in Madrid on July 7, 2014. He was just past his 88th birthday. As is sometimes down with legendary athletes, his coffin was displayed in the team's venue, and thousands viewed him at Estadio
Santiago Bernabéu the day after his death. The following day, when Argentina played the Netherlands in the World Cup Semifinal, a minute of silence was held, and the Argentine team wore black armbands.
A friendly is scheduled for next Wednesday, in
Bogotá, between Millionarios and River Plate. Apparently, 66 years later, all is forgiven.
UEFA President and Juventus legend Michel Platini said that
Di Stéfano "embodied all that is magical about football." Manchester United's icon Bobby Charlton said, "
I think Alfredo Di Stéfano was one of the best players I ever came across and an extremely intelligent footballer. He was somebody I really respected, having watched him from the stands at the Bernabéu and then played against him. I have many fond memories of my time with Alfredo and feel privileged to be able to call him a good friend. The footballing world has lost a great player and a great man."
Former Manchester United manager Alex Ferguson, in attendance as a young player at the 1960 European Cup Final at Hampden Park in Glasgow, said, "He had fantastic balance and poise... He had a fantastic life, and I'm proud to have been associated with him in a small way."
Cristiano Ronaldo, the current icon of Real Madrid: "

Don Alfredo leaves us, but his memory will last forever in our hearts. Legends never die."
Cristiano and Don Alfredo
Johan Cruijff, who did for Dutch club Ajax what
Di Stéfano did for Madrid: "
We have lost a good man and a great footballer. RIP, my friend."
Pelé, along with
Di Stéfano a contender for the title of greatest player who ever lived, and who once -- perhaps as a swipe at another, Diego Maradona -- called him the greatest player ever from Argentina: "
He was a trailblazer, and most of all, he was a legend of the game.
God rest his soul."
Whatever an individual fan thinks of Real Madrid, Alfredo
Di Stéfano was a man who elevated an entire sport, on 2 continents, and yet never acted like a superstar. He earned the world's admiration, on and off the pitch. It is sad that he has passed just as his country is about to play the World Cup Final.
Or maybe its fitting, as the world, which has already come together for the great tournament, can join as one in tribute.
*
Hours until the World Cup Final: 1, a 3:00 Eastern Time, between Germany and Argentina, at the Estadio Maracana in Rio de Janeiro, Brazil.
Days until the Red Bulls play again: 3, this Wednesday night, at 7:00 PM, away to the Philadelphia Union, at PPL Park in Chester, Pennsylvania. This will be a "local" rivalry, known in soccer as a "derby" (and that's pronounced DAR-bee, not DUR-bee). Last night, at home at Red Bull Arena, the Red Bulls beat the Columbus Crew, 4-1.
Days until the Red Bulls next play a "derby": See the previous answer.
Days until Arsenal play again: Officially, not until the new season starts in August. Unofficially, it's this, and I'm just busting about it:
Days until the Arsenal-Red Bulls match at Red Bull Arena: 13, on Saturday, July 26. Under 2 weeks. Just 5 days after that, Red Bull Arena will also host Bayern Munich, perennially and again Champions of Germany, vs. C.D. Chivas of Guadalajara, perhaps the most legendary club of Mexico.
Days until the next Yankees-Red Sox series begins: 19, on Friday night, August 1, at 7:00 PM, at Fenway Park. Under 3 weeks.
Days until the 2014-15 Premier League season begins: 34, on Saturday, August 16, with Arsenal at home to Southeast London club Crystal Palace. Just 5 weeks.
Days until Rutgers plays football again: 46, on Thursday, August 28, away to Washington State, at CenturyLink Field, home of the NFL Champion Seattle Seahawks. (It had been listed as August 30, but was moved up.) Under 7 weeks.
Days until the U.S. national soccer team plays again: 52, on Wednesday, September 3, a friendly, away to the Czech Republic in Prague. The Czechs have given the U.S. trouble before, including a 3-0 humiliation at the 2006 World Cup. But things are different now. There's also discussions about playing Ireland away later in the year.
Days until East Brunswick High School plays football again: 53, on Thursday, September 4, home to Woodbridge. Under 8 weeks. It's on a Thursday night, rather than a Friday night, because of Rosh Hashanah, the Jewish New Year.
Days until Rutgers makes its Big Ten Conference debut: 62, on Saturday, September 13, at 8:00 PM, against old enemy Penn State. Exactly 2 months.
Days until Derek Jeter's last regular-season home game (barring injury): 74, on Thursday, September 25, against the Baltimore Orioles. A little over 10 weeks.
Days until the next North London Derby between Arsenal and Tottenham: 76, on Saturday, September 27, at the Emirates Stadium.
Days until Derek Jeter's last regular-season game (barring injury): 77, on Sunday, September 28, against the Red Sox at Fenway Park. Exactly 11 weeks.
Days until the Devils play again: 88. They open on Thursday, October 9, away to the Philadelphia Flyers. Under 13 weeks. They once again get screwed by Commissioner Gary Bettman and his schedulemakers, this time having to play 4 road games before their home opener, on Saturday, October 18, at 7:00 PM, vs. the San Jose Sharks.
Days until the Devils play another local rival: See the previous answer. The first game against The Scum is Tuesday night, October 21, at the Prudential Center. The first game against the Islanders is Saturday night, November 29, at the Nassau Coliseum. The Devils' last trip to Uniondale, before the Isles move to Brooklyn, is Monday night, December 15.
Days until Game 7 of the 2014 World Series -- the absolute latest you can ever again see Derek Jeter in a competitive game: 108, on Wednesday, October 29. A little over 3 months, and no more Jeter -- not as an active player, anyway.
Days until the next East Brunswick vs. Old Bridge Thanksgiving game: 137, on Thursday morning, November 27, at 10:00 AM. A little over 4 months.
Days until New York City FC make their Major League Soccer debut: Unknown, but a new MLS season usually begins on the 2nd Saturday in March, which would be March 14, 2015. That's 244 days. Just 8 months. Whether it will be a home game, and thus at the new Yankee Stadium, is yet to be determined.
Days until Alex Rodriguez is eligible to play for the Yankees again: 262 -- presuming, that is, that 2015's Opening Day is on April 1, and wouldn't it just work out that way, that A-Rod is again allowed to play a regular-season game for the Yankees on April Fool's Day? Anyway, that's a little over 8 months.
Days until the New York Islanders' last game at the Nassau Coliseum: 272, on April 11, 2015, at 7:00 PM, against the Columbus Blue Jackets. Under 9 months.
Days until the Islanders' first home game at the Barclays Center in Brooklyn: Unknown, but an NHL regular season usually begins on the 1st Friday in October, which would be October 2, 2015. That's 447 days. That's under 15 months. Or, to put it another way, "447 Sleeps Till Brooklyn." Until then, even with their 4 straight long-ago Stanley Cups, they're just a Small Club In Hempstead.
Days until Euro 2016 begins in France: 699, on Friday, June 10. Under 2 years.
Days until the 2016 Olympics in Rio de Janeiro, Brazil: 756, on Friday, August 5. A little over 2 years.
Days until the next World Cup begins in Russia: 1,429, on Friday June 8, 2018. Under 4 years.