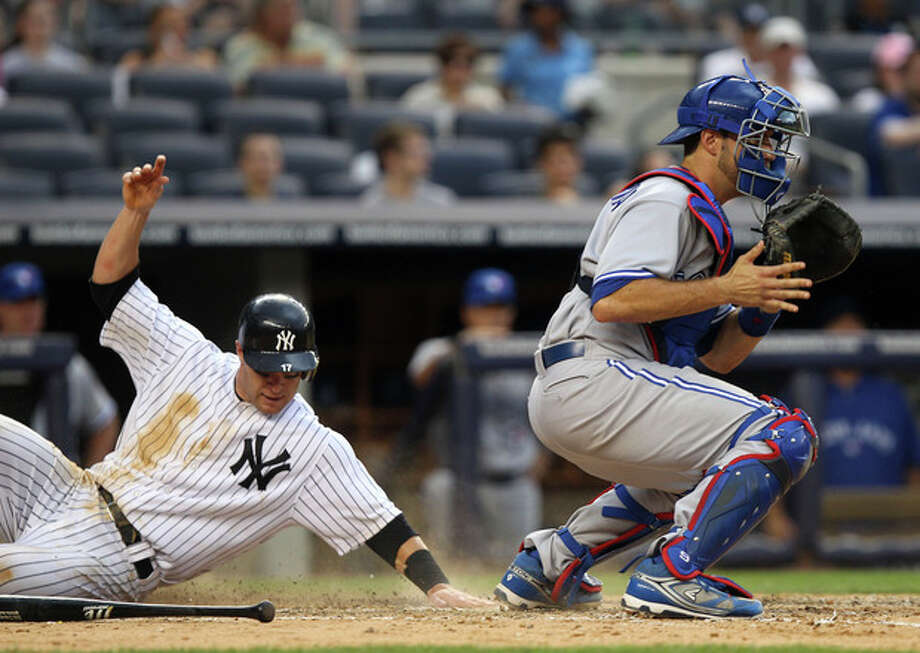 So yesterday's game was shortened to 7 innings due to rain. But the Yankees completed a 3-game sweep of those pesky Toronto Blue Jays, 6-0.
Hiroki Kuroda (9-7) pitched all 7 innings, allowing 4 hits and (I love these words when talking about a Yankee pitcher) no walks, with 5 strikeouts. He hasn't been great, but he's been pretty good, certainly better than A.J. Burnett was last year. (If not this year -- but we aren't exactly in a position where we're missing him.)
Ricky Romero (8-6) was greeted in the 1st inning by 4 runs, including a home run by Mark Teixeira (his 19th). Teix, Derek Jeter, Jayson Nix and Dewayne Wise each got 2 hits. In spite of the nasty weather -- intense heat followed by thunderstorms -- 45,986 came out to the House That Steinbrenner Built.
The Yankees have now won 3 in a row, and 8 of their last 10. They are 10 games ahead of the Baltimore Orioles in the AL East. Elimination numbers: Toronto 58, Boston 60, Tampa Bay 60, Baltimore 61.
*
If baseball's current standings were to hold through the end of the regular season:
Detroit would go to Anaheim to play the AL Wild Card game, the winner would face the Yankees with the Yankees having home-field advantage, and Texas would have HFA over the Chicago White Sox. Atlanta would travel to Pittsburgh (and party like it's 1992?) for the NL Wild Card game, with the winner going to Washington, and San Francisco having HFA over Cincinnati.
If the Pittsburgh Pirates can hang on, it will be their 1st postseason berth in 20 years. But that's not the longest current drought: Kansas City has gone 27 years, and the Montreal/Washington franchise is looking to end a drought of 31 years.
How about this? The Seattle Mariners have a big decision to make, whether to re-sign Ichiro Suzuki, with whom age seems to have finally caught up. They're in the situation the Yankees were with Jeter in the 2010-11 off-season. Without, you know, the 7 Pennants. Or even 1.
The Mariners can't afford to re-sign him, because he's had it, and they need to spend money more wisely. But they can't afford to let him go, because attendance isn't good and he's the face of the franchise.
And Jay Buhner, who is what passes for a baseball legend in Seattle (you'll notice he wasn't good enough to make it as a Yankee), said this, on Seattle's ESPN affiliate, when asked how he would handle Ichiro being re-signed:
I'd vomit. I mean, really, no offense. No offense, we've got to get this organization turned around. You can't be spending all the money on one guy.
He's got a point, but he could have put it more delicately than that.
I think, once you've used the word "vomit," you've crossed the "no offense" line.
It's like the comedian Dom Irrera (pictured above) says: "'May I be honest with you?' Ever hear that? 'May I be honest with you?' No, I want you to be as lying and deceitful as possible, you stupid moron! I don't mean that in a bad way! With all due respect! Your sister's a slut, and I mean that with all due respect!"
*
Yesterday, the New York Red Bulls beat the Chicago Fire on another wonder goal by Thierry Henry. How many of those has he scored? How many can he possibly have left? I'm going to enjoy finding out.
Still no resolution at Henry's former club Arsenal of the Robin van Persie saga. And I'm already pissed that the New Jersey Devils didn't lift a finger to re-sign their Captain, Zach Parise. At least Parise went to his hometown club, Minnesota. I don't see Robin asking to go back to Feyenoord, the Rotterdam, Netherlands club from whence he came.
And now, the Yankees had out to the Pacific Coast, to play Oakland and Seattle. I don't like those clubs. They're pathetic losers. Just like the Pesky Blue Jays.
And I mean that, with all due respect.