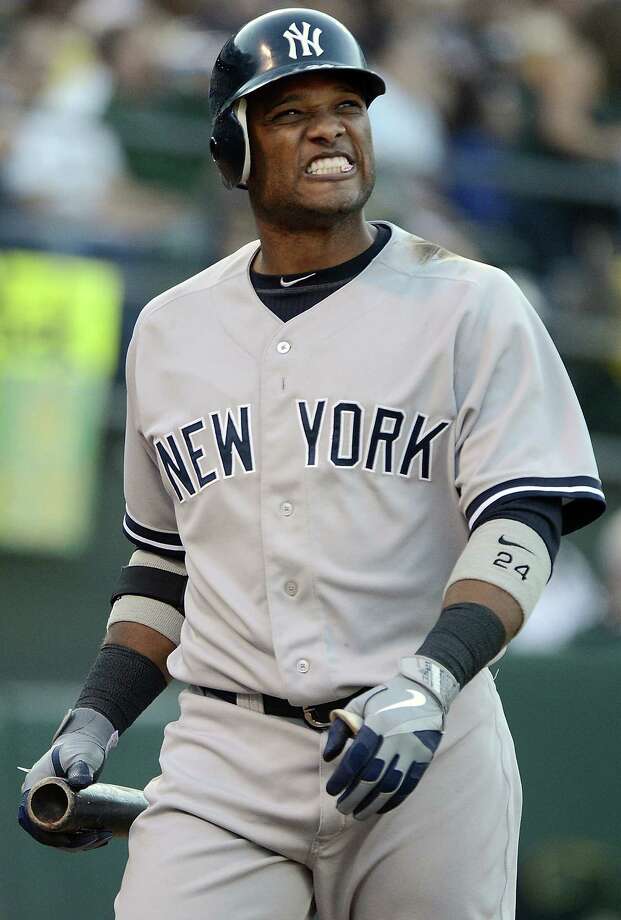 Back in the 1980s and the early 1990s, the Yankees would routinely go on road trips to the Pacific Coast in July and August. If they were in good shape for the American League Eastern Division race at that point, they would get knocked out of it by this trip. If they were struggling, that would be intensified by it.
Years later, after
Star Trek: Voyager debuted and developed a character by the name, I began to retroactively call such roadtrips "Borg roadtrips" --
because the Yankees tended to lose Seven of Nine.
These were the days when Bobby Meacham, Wayne Tolleson, Alvaro Espinoza, Dan Pasqua, Don Slaught, Charles Hudson, Greg Cadaret and Wade Taylor were considered acceptable in Pinstripes. Resistance was futile.
This weekend, the Yankees were swept in 4 straight by the Oakland Athletics. Despite the epic failure of their Moneyball philosophy -- such that, instead of winning Pennants like they did in 1972, '73, '74, '88, '89 and '90, the A's have won none, and are in danger of being moved out of the San Francisco Bay Area entirely -- this weekend, the A's took the Yankees and partied like it's 1989.
I've already detailed the Thursday and Friday games. On Saturday, Phil Hughes and Boone Logan combined to pitch 9 innings, allowing 2 runs on 4 hits and 2 walks. That should have been enough to win.
Except that Jarrod Parker (no, I'd never heard of him before this, either) allowed just 1 run on 5 hits, all singles: 2 by Alex Rodriguez, 1 each by Derek Jeter, Mark Teixeira and Raul Ibanez.
A's 2, Yanks 1. WP: Parker (7-4). SV: Sean Doolittle (1 -- no, I'd never heard of him before, either). LP: Hughes (a hard-luck 9-8).
Hard game. At least the Red Bulls beat the Philadelphia Union 2-0 earlier in the day, with me in the house. Kenny Cooper scored both goals off Thierry Henry assists.
And then yesterday, I thought the Yankees had it. They scored 3 in the 3rd and another in the 4th, the latter on Curtis Granderson's 26th home run of the season. Plus, CC Sabathia, who grew up in nearby Vallejo, California as an A's fan, was on the mound for New York, in what was once his home park. What could go wrong?
Joe Girardi could go wrong. The A's closed to 4-3 by the 7th, so maybe replacing CC with David Robertson for the 8th wasn't a bad idea. Then Girardi went to Rafael Soriano for the 9th.
It was Robertson's injury that made Girardi stick with Soriano for 9th innings when Robertson came back. This may have been a terrible mistake.
Soriano gave up a home run to Seth Smith to send the game to extra innings. (Yet another A's player I'd never heard of.)
As they say in soccer, "Four nil, and we fucked it up."
David Phelps pitched the 10th and most of the 11th. Clay Rapada got the last out in the 11th and the first in the 12th. Then, as he usually does when there's a lefty who must be gotten out, Girardi replaced Rapada with Cody Eppley, ignoring the first rule of pitching: When you've got a pitcher who is pitching well, you leave him the hell in!
Eppley allowed a single to left by Derek Norris. Not Chuck Norris. Not even Mike Norris, the A's pitcher that Billy Martin burned out in the early 1980s. Derek Norris. (No, I'd never heard of him, either.) Jemile Weeks bunted Norris over to 2nd. And Coco Crisp (finally, a name I recognize) singled to right to score the winning run.
A's 5, Yankees 4. WP: Jerry Blevins (3-0). No save. LP: Eppley (0-2).
Jerry Blevins? Isn't that the old-time Philadelphia disc jockey? "The Geator with the Heater"? No, wait, that's Jerry Blavat. Besides, the A's moved out of Philly after the 1954 season, at the dawn of the rock and roll era.
I looked at the A's roster, to see how many names I recognized. There was the aforementioned Coco Crisp. (No, I'm not confusing him with a breakfast cereal.) Fellow outfielders Jonny Gomes, Josh Reddick and the Cuban defector Yoenis Cespedes.
Infielders Brandon Inge (the former Detroit Tiger star) and Chris Carter (although this is a common name that I recognized; the player in question with the name, no).
Catcher Kurt Suzuki (who homered off CC). And pitchers Bartolo Colon (last year's Yankee who started this game for the A's) and Grant Balfour.
That's nine. Eight if you don't count that Chris Carter.
The Yankees lost to these guys? Making it look like one of those old Borg roadtrips?
Captain Kathryn Janeway is looking at this series on his tricorder, and she can't believe it. She demands an explanation for this bullshit!
Well, the character is from Bloomington, Indiana. The closest major league city is Cincinnati (unless Indianapolis one day gets a big-league team), so she probably wouldn't be a Yankee Fan. I doubt that she actually requires such an explanation.
And besides, Rick Berman, Gene Roddenberry's anointed successor, went out of his way to tell us that, in the Star Trek Universe, baseball died in 2042.
And World War III happened just 11 years later. Post hoc, ergo propter hoc... or karma?