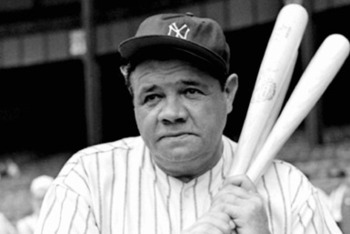 We continue, with the National League leading, 2-1.
Top of the 4th: Mathewson is still pitching for the NL. Gehrig leads off, and singles up the middle. Williams is up.
McGraw looks to see what lefties are still available for him: Carl Hubbell, Warren Spahn, Steve Carlton, Randy Johnson. He decides to trust Matty.
This is a mistake: The Splendid Splinter singles to right. Gehrig is on 2nd with the trying run, Williams on 1st with the go-ahead run.
These men were great hitters, but not especially fleet of foot. Stengel pinch-runs Rickey Henderson for Williams, with the intention of leaving him in to play left field.
Next up are: A-Rod, right; Yogi, left; Cal, right; Carew, left. McGraw sticks with Mathewson.
Stengel plays a hunch... a hunch that A-Rod will pop up, or, worse, ground into a double play. He sends George Brett up to pinch-hit, and take over at 3rd base. That means back-to-back lefties, and McGraw pulls his favorite player of all time, in favor of the last great pitcher he managed, Hubbell.
Brett lines one down the right-field line... just foul. He pops one up foul. Then Hubbell throws a hellacious screwball, and Brett strikes out.
A-Rod turns to Jeter and says, "I could've done that."
Jeter turns to A-Rod and says, "One of our pitchers could've done that."
Yogi comes to bat. Lefty-on-lefty or no, Casey isn't going to pull his favorite player of all time with men on base. He turns on a Hubbell screwgie, and knocks it off the wall in right field. Fortunately, the wall is close, and Aaron has a decent arm. Gehrig scores to tie the game 2-2, but Henderson runs through 3rd base coach Dick Williams' stop sign. Bench takes Aaron's throw, and tags Henderson out.
Stengel mutters something under his breath. Two out, Yogi on 2nd. McGraw decides to intentionally walk the righthanded Ripken, to set up the lefty-on-lefty matchup with Carew. But that makes no sense, since Carew was the best contact hitter of his era.
And Carew proves that it makes no sense, by singling to left. Yogi scores, giving the AL the lead. Ripken on 2nd.
Casey smells blood. He considers sending Jimmie Foxx up to pinch-hit for Cy Young, but remembered that Foxx was one of the guys Hubbell struck out in the 1934 All-Star Game. He sends up Frank Robinson instead. Frank sends a drive deep to left-center, and neither Musial nor Mays can get to it in time. Ripken scores, and Carew scores all the way from 1st.

Robinson on 2nd, 1st base open, DiMaggio up. McGraw angrily pulls a 2nd former Giant pitcher of his in the inning. Bob Gibson comes in, and does something no pitcher in DiMag's generation dared to do: Dust him. Gibson's 1st pitch comes within an inch of the Yankee Clipper's nose.
The two men glare at each other, the 60 feet, 6 inches between them filled with machismo.
Joe composes himself, as only he can, and steps back in. Gibson doesn't want to walk him -- not with the Babe up next. So he throws the filthiest slider imaginable, and Joe can only hit a grounder to 3rd. Schmidt scoops it up, checks Robinson to hold him at 2nd, and throws Joe out. The inning is over, and while a crooked number has been put on the board, a disaster has been avoided. The AL leads, 5-2.

Bottom of the 4th: With 5 seriously bad dudes coming up, all of them righthanded -- the last being Bench, and his 389 career home runs are the least of the 5 -- Casey needs a righthanded pitcher, and not one who would lose his cool. Not the time to bring in Roger Clemens or Pedro Martinez, either of whom could lose his cool. Or "Crybaby Curt" Schilling, for whom "losing his cool" has a very different meaning.
A calm temperament is needed, so Casey brings in Ted Lyons, who won 260 games for the Chicago White Sox in the era after the Black Sox Scandal rendered them punchless at the plate. "If he had pitched for the Yankees," Joe McCarthy said, "he would have won 400 games." Certainly, it would have been well over 300, in which case you would know his name better.

So Casey brings in Lyons, and puts him in the last spot in the order that had been used, DiMaggio's. The double switch leads him to put Tris Speaker in center field and the leadoff spot. Naturally, DiMaggio is once again furious with Stengel, but there's not much he can do.
Aaron leads off, and Lyons gets him to sky one to center, and Speaker gets under it. Mays singles to center. But Lyons strikes out Pujols and Schmidt to end the inning. At the end of 4 innings, AL 5, NL 2.
Top of the 5th: Ruth leads off against Gibson. Gibson figures, he brushed back DiMaggio, I can brush back Ruth. He does. The Babe gets up, and does more than just glare like DiMaggio did: He points at Gibson, and yells, "You do that again, you better not throw a strike after it, or I'll knock it down your goddamned throat!"
Gibson is not afraid: He challenges the Babe immediately. The Babe swings with all his might, and Gibson nearly gives himself whiplash following its flight. Mays turns around, looks up, whips off his cap, and says, "Sheeeeeeee-it... " The ball lands in the upper deck of Ebbets Field's center field bleachers. 6-2 to the AL.

The Babe does his home run trot, gets slapped on the ass by Dick Williams, crosses the plate, shakes hands with Gehrig, walks back to the dugout, and tips his cap to the adoring fans.
Gibson's next pitch is buried in Gehrig's back. Plate umpire Doug Harvey runs him. "You're outta here, Bob!"
"Fuck it," Gibson says, "Whose fantasy was this game, anyway?"
McGraw looks at his lineup card: Henderson, right; Brett, left; Berra, left. He brings in Warren Spahn. Now is not the time to bring in the temperamental Big Unit.
Spahn gets Henderson to ground into a force play, as Gehrig is able to break up a double play. Not wanting the lefty Brett to bat against the lefty Spahn, Casey sends up Jimmie Foxx. But Spahn strikes Double-X out. Yogi pops up to 3rd.

Bottom of the 5th: Considering that Gehrig has been hit in the back with a pitch, Casey leaves Foxx in the game to play 1st base, and bat in the 6th spot. Wade Boggs goes to 3rd base, and will bat 4th. Casey leaves Lyons in, as he would bat 4th in the top of the 6th.
Bench leads off, and grounds to 1st... but Foxx, a big man and perhaps a designated hitter born 60 years too soon, bobbles it. He tries to throw the ball to Lyons, but Lyons can't get over to cover soon enough, and Bench reaches. McGraw sends up the lefty Johnny Mize to bat for Spahn, and the Big Cat singles to center. He's called the Big Cat for a reason, and McGraw sends Tim Raines in to pinch-run.
Casey looks at who's left in his bullpen. The only pitcher he's got who could have faced Honus Wagner is Eddie Plank, a lefty. So he brings in Nolan Ryan. The Express fans Wagner, but walks Musial to load the bases.
It's 6-2 AL, bases loaded, 1 out, and Rogers Hornsby, the career record-holder for batting average for righthanded hitters and National Leaguers, is up.
But
McGraw, who did not get along with Hornsby, pinch-hits the lefthanded Barry Bonds against the righthanded Ryan.
"What's this guy done against the Texas kid?" Casey asks.
Al Lopez checks his laptop: "Five games, 4-for-14. A walk, three strikeouts."
"All right," Casey says, "leave the kid in."
Jeter and A-Rod, who both grew up with Ryan's legend already well underway, and knew him as one of the grand old men of baseball, laugh at someone calling Ryan "the kid." But then, it was Casey Stengel: Everybody's a kid to him.
Ryan throws his best heat, 103 miles per hour.
Bonds slams it to deep right field, but it is ruled just foul by umpire Jocko Conlan. Bonds starts screaming at plate umpire Harvey. Harvey tells Bonds to watch it. Bonds continues screaming. Harvey throws him out of the game.
McGraw, himself a noted hothead, runs out, but instead of arguing with Harvey, he tries to get Bonds away before worse can occur. Mays, thinking Bonds will listen to him, comes out with McGraw. They pull Bonds back to the dugout, still screaming and pointing.
"Man," says Reggie Jackson in the AL dugout. "What would Billy Martin have done with him?"
"You don't want to know," Mickey Mantle tells him. "More like, what would he have done to Billy?"
So now, as play resumes, with an 0-1 count, the bases loaded and 1 out, McGraw needs another lefty hitter. He sends up Tony Gwynn, who singles to left. Bench and Raines score. Tie game. Musial on 3rd, Gwynn on 1st.
McGraw plays another hunch, and pinch-runs Jackie Robinson for the corpulent Gwynn. This makes 4 players who were in this spot: Hornsby, Bonds, Gwynn, Robinson -- none of them pitchers who would ordinarily need a pinch-hitter! And McGraw takes Musial off 3rd, and pinch-runs Lou Brock there. Stengel can only laugh at his mentor's maneuvering.
The batter is Aaron.
With 2nd base open, 1 out, and Ryan, not exactly known for a good pickoff move, on the mound, Jackie does not hesitate to break for 2nd. Yogi, knowing how tricky Jackie is and that Brock would surely break for home, does not throw. Brock stays close to the bag.
Mound conference. With 1st base now open, do they walk Aaron to set up a play at any base? If they do, Mays is up next. Ryan tells Stengel, "Let me pitch to Mays. I can get him out."
"You'd better," Stengel tells him, and trudges back to the dugout.

Ryan gives Aaron the intentional pass. Then he walks Mays. 6-3. Bases still loaded. Still only 1 out. And Pujols is up next.
Stengel trudges back out, waves his right hand, and calls in the man who counted Ryan as his greatest hero, Roger Clemens.
Pujols works the Rocket to a full count. Everyone in Ebbets Field, from the players to the coaching staff to the 31,497 fans who have shoehorned their way in, is sweating.
Clemens throws a split-fingered fastball that Pujols can only foul-tip, and Yogi hangs onto it. Two out.
Clemens then throws another splitter to Mike Schmidt, who breaks his bat. Sure enough, the barrel comes out to Clemens. He knows this is no baseball, but it distracts him from the actual ball. Foxx lumbers down the baseline, and he gets the ball, and he turns to fire to Carew, who has also played 1st base and covers, but it's too late: Schmidt has beaten it out, and another run scores.
Clemens strikes out Bench. At the end of 5 innings, AL 6, NL 4.
Part III will follow.