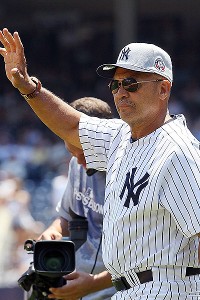 Regular readers of this blog know a little of my background.
I came to sports awareness in the late 1970s.
My touchstones – whether their teams every were, or stayed, my favorites, or not – were guys like Reggie Jackson, Thurman Munson, Catfish Hunter, Goose Gossage, Tom Seaver, Mike Schmidt, Johnny Bench, Pete Rose, Terry Bradshaw & the Steel Curtain, Roger Staubach and his Cowboys, Phil Esposito's Rangers (but not his Bruins, I was too young to see them), Denis Potvin's Islanders (there was no Devils yet), and the Canadiens of Guy Lafleur, Larry Robinson and Ken Dryden.
Because of who he was, where he was, and what he did at that time, Mr. Reginald Martinez Jackson became my first favorite athlete – and no one has ever replaced him as that.
Not Derek Jeter or any other Yankee.
Nor any other baseball player.
Nor any other athlete.
Reggie was a Yankee for 5 years. He helped them reach the postseason 4 times. 3 Pennants. 2 World Championships. For good or ill – and when he was good, he was illin' – he gave us some epic moments. From The Bronx to Chavez Ravine, from Fenway to Kansas City, he didn't just shine when the lights were brightest, he brightened them.
He is in the Baseball Hall of Fame, the 500 Home Run Club, and Yankee Stadium's Monument Park. Deservedly, in all three.
He is also in the current issue of Sports Illustrated:
He believes that the Baseball Writers Association of America, whose members vote for the Hall, have adopted too low a standard.
"I didn't see Kirby Puckett as a Hall of Famer," he says. "I didn't see Gary Carter as a Hall of Famer. I didn't see Don Sutton as a Hall of Famer. I didn't see Phil Niekro as a Hall of Famer. As much as I like Jim Rice, I'm not so sure he's a Hall of Famer." What about Bert Blyleven? "No. No, no, no, no," Jackson says. "Blyleven wasn't even the dominant pitcher of his era — it was Jack Morris."
I disagree with him on most of those.
Sutton and Niekro are in both the 300 Win Club and the 3,000 Strikeout Club.
Only 10 guys are in both.
The others are Nolan Ryan, Randy Johnson, Roger Clemens, Steve Carlton, Tom Seaver, Gaylord Perry, Walter Johnson and Greg Maddux.
If you want to cite Clemens for steroids (even though it still hasn't been proven), or Perry for doctoring the ball, that's understandable; but the rest are legit.
I don't want to hear that Sutton and Niekro "were just guys who hung around a long time amassing a lot of stats." I never liked Sutton, but he's a Hall-of-Famer.
So is Niekro.
Carter is one of the 10 best catchers in history – and that was true before we knew he was dying.
Puckett had to retire early due to his eyes, so he probably shouldn't have been a first-ballot Hall-of-Famer, but he belongs.
As for Rice, well, he's a borderline case.
But if character is what determines whether he falls to the yes or the no side, then he falls to the yes.
Wally Backman, a teammate of Carter's on the 1986 World Champion Mets, is now the manager of the Flushing club's Triple-A team, the Buffalo Bisons.
And he was not happy about Reggie's comments:
He is going a long ways saying something like that. Especially with a guy like Gary and his status. It's not only the player, it's the person, too. That's going overboard. To me, it's a disgrace to the Yankee family with him saying that.
Well, excuse me, Mr. 94 Career OPS+ whose peak year for home runs, 3, was matched by Reggie in one World Series game.
Sure, Backman is entitled to defend his teammate. In fact, if I were another teammate, I'd insist.
But who the hell is Wally Backman to decide what is, or is not, "a disgrace to the Yankee family"? He has never been a part of it. Worry about the Met family, Wally.
He isn't silent on the subject of steroids in baseball either. Jackson makes no secret of his displeasure that since his retirement in 1987, he has been passed on the home run list by seven players, five of whom, Rodriguez, Barry Bonds, Mark McGwire, Rafael Palmeiro and Sammy Sosa, have been linked to performance-enhancing drugs.
"I don't think the fans really count them, and I agree," he says. "I believe that Hank Aaron is the home run king, not Barry Bonds, as great a player as Bonds was." Jackson was a supporter of Bonds (who is a distant cousin) as recently as 2007, when he said, "They tried to get this guy more than anybody ... and they've got nothing on him." But he says now that the volume of evidence against Bonds is so great that he has changed his mind.
And A-Rod? "Al's a very good friend," Jackson says. "But I think there are real questions about his numbers. As much as I like him, what he admitted about his usage does cloud some of his records."
Read the line again: "What he admitted about his usage does cloud his records."
Not "renders his achievements invalid." Not "should keep him out of the Hall of Fame." Not "should make Yankee fans (or anyone else) who admires him stop admiring him."
"
Does cloud his records."
We're not talking about a guy with 10 career home runs (as Backman has) yapping about a guy with 563 career home runs.
We're talking about a guy with 563 analyzing a guy with, at the moment, 642.
To put it another way: If A-Rod's career home runs are prorated to 100, Reggie is at 87.7.
And Backman is at 1.6.
What Reggie said about A-Rod, like it or not, is true.
His achievements are clouded.
This should hardly be controversial, since it's not original. We've known it since Spring Training 2009.
But it was embarrassing, to A-Rod and to the Yankee organization.
As a result, the club, for whom Reggie is a special adviser to owners Hank and Hal Steinbrenner, has effectively suspended him from interacting with Yankee personnel.
Prior to this, Reggie called Alex to apologize and clear the air.
That should do it: If Alex accepts Reggie apology, then that should be the end of it.
Still, I can't help but think that the Yankees are overreacting.
Reggie also starred with the Oakland Athletics.
No team is more identified with steroids, due to Jose Canseco, Mark McGwire and Jason Giambi.
If Reggie were currently employed by the A's, and had said something about them, would they have suspended him?
Would the San Francisco Giants have suspended Willie Mays or Willie McCovey, if one of them had said similar things about Bonds?
Would the Chicago Cubs have suspended Ernie Banks if he'd said it about Sammy Sosa?
Would the Baltimore Orioles have suspended Brooks Robinson, or Frank Robinson, or, Lord have mercy, Cal Ripken, if one of them had said it about Rafael Palmeiro or Brady Anderson?
What if Nolan Ryan had said it about Juan Gonzalez, Ivan Rodriguez, and Palmeiro? What would the Texas Rangers do with him? Almost certainly nothing – even before he became a part-owner.
What about the Boston Red Sox? Suppose Carl Yastrzemski had said, "What David Ortiz and Manny Ramirez did was wrong, and they should have been banned from baseball for life." No, Yaz hasn't said anything like that.
I don't think he would. He's a very private guy.
He hasn't said anything controversial since he retired.
But he has the right.
Then there's Pete Rose.
His former teammates are divided on whether he should be reinstated into baseball, and thus made eligible for the Hall of Fame.
His Cincinnati Reds teammate Johnny Bench says he should not.
His Philadelphia Phillies teammate Mike Schmidt says he should.
There's no need for the Phillies to suspend Schmidt: What Rose did involved that team in no way.
But the Reds have never suspended Bench for his remarks.
Nor should they have done so.
Most likely, this story will be resolved, probably before October, so that Reggie can throw out a ceremonial first ball before a postseason game.
If not then, surely, Reggie will be invited back for next year's Old-Timers' Day, and that will be the end of it.
You don't just tell a Hall-of-Famer for your club that he can't show up on Old-Timers' Day.
I was on Twitter and I saw a conversation between ESPN's Buster Olney, author of The Last Night of the Yankee Dynasty, and Marcos Breton, a writer and a big Giants fan who appeared on the "Tenth Inning" segment of Ken Burns' miniseries Baseball. I asked Breton, point blank: If Mays had said something like that about Bonds, would they have told him to stay away? "No." Plain and simple. (I decided discretion was the better part of valor, accepted Breton's one-word answer, and left it at that. I didn't want to further touch a nerve with a writer I like.)
But I also unfollowed a man I follow on Twitter, for his remarks about Reggie, which were nasty.
(There's no need to identify him; if he's someone you also follow, I won't ask you to unfollow him.)
I really shouldn't take this personally… but it's my guy. The guy whose exploits got me through a childhood that scarred me in ways from which I may never fully recover.
This is the way some guys treated Jim Bouton after he said uncomplimentary – but totally true – things about Mickey Mantle in his book
Ball Four
.
And I don't want to hear that A-Rod is better, or was better at his peak, than Reggie was, or even better than Mickey was.
Even if he was, even without steroids, that's not the point.
The point is, I got a right to defend my guy, every bit as much as A-Rod's fans have a right to defend him, as Backman and Met fans have to defend Carter over Reggie's assessment of Carter's HOF credentials.
While I disagree with Reggie's suggestions about those guys not deserving their HOF elections, I stand by him on the A-Rod question.
If A-Rod didn't want to be embarrassed like this, he never should have used the damn stuff. Simple as that, baby.
And how long does A-Rod get punished for using the stuff? I don't know. Rose admitted his wrongdoing; 23 years later, he's still out. Shoeless Joe Jackson was acquitted of trying to throw a World Series; 91 years after that acquittal, he's still out.
But how much has A-Rod really been punished? He wasn't suspended for his steroid use. Not for one game.
Reggie's being, effectively, suspended from his front-office job with the Yankees, for comments which, while ill-advised, were not defamatory -- we already knew A-Rod's achievements were clouded -- and were never meant to upset him.
And some Yankee Fans are talking about how Reggie's got a big ego? And a big mouth?
Yeah, he does. We already knew that, too. So what?
Without Reggie Jackson, we're talking about that "straw that stirs the drink" not being there to stir it in 1977, and while the Yankees won the American League Championship Series over the Kansas City Royals without Reggie being an especially big factor, it's possible they wouldn't have even gotten that far, as Reggie hit like hell down the stretch, and beat the Red Sox and Orioles by 2 1/2 games each. And if they had still won the Pennant, do they beat the Dodgers in the World Series? I don't think so. He was the reason they won Game 6, and a pretty big reason why they won Game 4; without him, the Dodgers probably win in 6 or 7 games.
Without Reggie, the Yankees don't win it in 1978, either. That great comeback from 14 games down against the Red Sox on the morning of July 20 to catching them on September 10 and then having that Playoff game...
You remember who hit the winning home run? It was Bucky Dent who hit a home run that gave them a lead they would never relinquish, 3-2, but the game ended 5-4 to the Yankees. Who gave them the 5th run? Reggie, on a blast to the camera stand in dead center field at Fenway Park.
He also took Al Hrabosky deep in Game 1 of the ALCS, proving he could hit lefthanders, even in Kansas City, in the postseason. He also put the exclamation point on he World Series by taking Bob Welch very deep in Game 6, revenge for Welch striking him out to end Game 2.
Without Reggie, and his league-leading 41 homers in 1980 -- most by a Yankee between 1961 and 1997 -- they don't win the AL Eastern Division. Granted, Reggie had a bad year in 1981, but he came up big in the strike-forced Division Series against the Milwaukee Brewers, so they wouldn't have won that series without him, and thus they wouldn't have won the Pennant without him.
Without those Pennants, attendance wouldn't have risen much. The Yankees might still have been getting only 14,000 fans per game, as they were before the Stadium was renovated, as the South Bronx neighborhood got worse and worse. Don't forget, 1981 was the year the Paul Newman cop film
Fort Apache: The Bronx
was released. Without Reggie, George Steinbrenner might have made a lot more noise about how the renovation of the Stadium was a waste, and that he wanted out.
Without Reggie Jackson, the Yankees might now be playing in an antiseptic facility out in the Meadowlands. Worse still, they might have to share it with the Mets!
Without Reggie Jackson, and what he added to the Yankee Mystique, the revival of the 1990s might not have happened. Don't forget, it was George's anger over Dave Winfield not measuring up to Reggie (or so he thought) that led George to investigate Dave, which led to George being suspended by Commissioner Fay Vincent, which led to Gene Michael rebuilding the team. Without Reggie, George might have just traded Winfield sooner, and would have died in 2010 without ever having won a World Series.
Without Reggie Jackson, and the ego that allowed him to be one of the biggest sluggers of his time, or any other time, the Yankees would not have won a World Series since 1962.
That's 50 years. Half a century.
He, as much as any other player on the 1977 and '78 World Champions -- Thurman, Catfish, Sparky, Guidry, Nettles, take your pick -- is the difference between the Yankees being the Yankees as we know them today, with 27 World Championships, a sparkling new Stadium, and admiration (and hatred) around the world -- and the Yankees being the Toronto Maple Leafs of baseball. (For all their money, reach and hype, the Leafs haven't won a Stanley Cup, or even reached the Finals, since 1967.)
Without Reggie, we're talking about the Curse of Moose Skowron.
(The Yankees saw Joe Pepitone as the 1st baseman of the future, so they traded Moose to the Los Angeles Dodgers after the 1962 season, for pitcher Stan Williams. The trade backfired, as the Dodgers beat the Yankees in the 1963 World Series, and Moose homered off the Yankees. And while Pepitone was more talented than Moose ever was, he achieved much less.)
To sum up: A, Reggie may have told the truth, when keeping the truth to himself may have been more prudent, but he did tell the truth about A-Rod; and, B, Show some respect.
That goes for you, too, Hank and Hal. Yes, your dad made Reggie a Yankee. But Reggie made your dad a World Champion. (Remember, Reggie already was one, 3 times over, in Oakland.) If it wasn't for Reggie making your dad a World Champion, nobody would give a damn about either of you, or the Steinbrenner name, today.
And you wouldn't have been able to afford A-Rod in the first place.