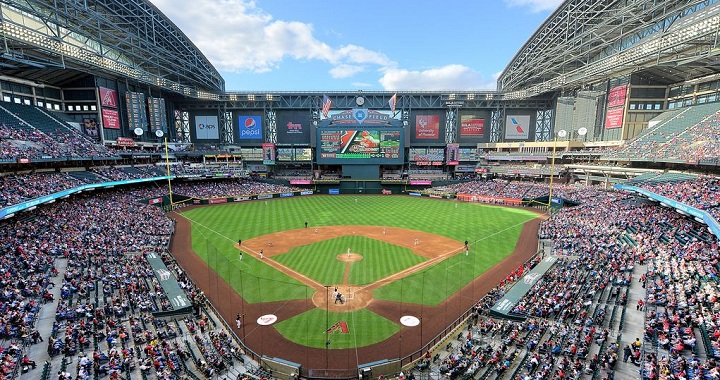 First question: Why would you be a Met fan? Second question: Why would you want to go to Arizona? Third question: Why would you want to go to Arizona, possibly the hottest State in the Union, in July, possibly the hottest month of the year?
Well, if you're that dedicated, I guess I owe it to you. But then, I owed it to you to get this done a few days ago, to give you more time to get there, in case you can't afford to fly there on a few hours' notice.
Before You Go.
The roof will be closed, but all 4 days, the Arizona Republic website is predicting 104 for the day and 85 for night. So if you're going to be outdoors, for God's sake stay hydrated. That means watch your alcohol consumption. It's the worst thing for you if you're dehydrated. I'm not kidding.
Getting There.
It's 2,458 miles from Times Square to Chase Field in downtown Phoenix. In other words, if you're going, you're flying.
You think I'm kidding? Even if you get someone to go with you, and you take turns, one drives while the other one sleeps, and you pack 2 days' worth of food, and you use the side of the Interstate as a toilet, and you don't get pulled over for speeding, you'll still need nearly 2 full days to get there. One way.
But, if you really, really want to...

You'll need to get on the New Jersey Turnpike. Take it to Exit 14, to Interstate 78. Follow I-78 west all the way through New Jersey, to Phillipsburg, and across the Delaware River into Easton, Pennsylvania. Continue west on I-78 until reaching Harrisburg. There, you will merge onto I-81. Take Exit 52 to U.S. Route 11, which will soon take you onto I-76. This is the Pennsylvania Turnpike, the nation's first superhighway, opening in 1940.
The Turnpike will eventually be a joint run between I-76 and Interstate 70. Once that happens, you'll stay on I-70, all the way past Pittsburgh, across the little northern panhandle of West Virginia, and then across Ohio, Indiana and Illinois, into Missouri.
At St. Louis, take Exit 40C onto Interstate 44 West, which will take you southwest across Missouri into Oklahoma. Upon reaching Oklahoma City, take Interstate 40 West, through the rest of the State, across the Texas Panhandle and New Mexico, into Arizona. At Flagstaff, take Interstate 17 South, which will take you into Phoenix. Take Interstate 10 East to Exit 145, which will lead you to North 7th Street. Chase Field is at 7th and East Jefferson St.
If you do it right, you should spend about an hour and 15 minutes in New Jersey, 5 hours and 30 minutes in Pennsylvania, 15 minutes in West Virginia, 3 hours and 45 minutes in Ohio, 2 hours and 45 minutes in Indiana, another 2 hours and 45 minutes in Illinois, 5 hours in Missouri, 6 hours in Oklahoma, 3 hours in Texas, 6 hours and 15 minutes in New Mexico, and
5 hours and 15 minutes in Arizona.
That's about 41 hours and 45 minutes. Counting rest stops, you're porbably talking about 55 hours.
That's still faster than Greyhound (58 hours and 15 minutes, changing buses twice, $436 round-trip) and Amtrak (54 hours, changing in New Orleans, $474
each
way). But flights, usually changing in Dallas, will be a lot more expensive.
Phoenix has a light rail system, but with the ballpark being downtown and thus probably near your hotel, you probably won't need it. But in the heat, you may still want to take a cab.
Tickets.
The Diamondbacks are averaging 28,207 fans per home game this season, and got 25,993 last season. So you can probably show up on the day of the game and get any ticket you can afford.
In the lower level, Infield Boxes will cost $75, Infield Reserve $50, Baseline Boxes $34, Baseline Reserve $25, Bullpen Reserve and Bleachers both $15. In the upper level, MVP Boxes are $23, Infield Reserve $14, and Outfield Reserve $8.
Going In.
The official address of Chase Field is 401 East Jefferson Street, the street bounding center field. Home plate faces a railroad and East Buchanan Street,
South 4th Street is the 3rd base side, and the 1st base side is South 7th Street. With the railroad on the south/home plate side, most of the gates are on Jefferson and 4th.
As a retractable roof stadium, Chase Field -- originally named Bank One Ballpark, and having that name during what remains the Diamondbacks' only World Series thus far, 2001 -- opening in 1998, somewhat resembles Miller Park in Milwaukee, which opened 3 years later. In other words, it looks like a big airplane hangar, without much atmosphere. True, there is that pool in the right-center-field corner... but what's a pool doing at a ballpark? At any rate, you won't get much of a view of downtown Phoenix from inside the place.
Food.
As a Southwestern city, you might expect Phoenix to have a Mexican/Spanish/Southwest food theme. Which is the case: Their "A-Zona Grill" includes burritos, churros, and all kinds of tacos ranging from steak to chicken to shrimp. They also have popcorn named "Catcus Corn."
But they also have Philadelphia-style cheesesteaks, San Francisco's trademark garlic fries, and Los Angeles' Fatburger. They have chain outlets Subway, Panda Express, Mrs. Fields, TCBY and Cold Stone Creamery. And, knowing they have lots of ex-New Yorkers, stands called "Streets of New York" at Sections 104, 113, 125, 138, 306, 326 and 328.
They have 3 bars overlooking the outfield:
The Arizona Baseball Club is above right field, the Sedona Club in center field, and Friday's Front Row (part of the T.G.I. Friday's chain) overlooks left field.
Team History Displays.
The Diamondbacks have won one Pennant, in 2001, and beat the Yankees in the World Series. They've won the National League Western Division 5 times: 1999, 2001, 2002, 2007 and 2011. And they've retired one uniform number, the 20 of Luis Gonzalez, outfielder, 1999-2006. From the pictures I've seen of Chase Field, it's not clear where the notations of these are located.
There is no mention of the 1959 and 1977 Pacific Coast League Pennants won by the Phoenix Giants, or of the Division titles won by their replacements, the Phoenix Firebirds, including in 1996 and 1997, the last 2 seasons before the majors finally arrived in Phoenix.
Although not officially retired, the D-backs have not handed out Randy Johnson's Number 51. But they have handed out Curt Schilling's Number 38, currently worn by pitcher Sam Demel. They do not yet have a team Hall of Fame.
Stuff.
The Diamondbacks have Team Stores all over, oddly having more in the upper level than in the lower level. The 2001 World Series highlight film and a DVD package of that Series are available, although there is, as yet, no
Essential Games of the Arizona Diamondbacks
DVD collection.
As one of baseball's 2 newest franchises -- 3 if you count the Montreal Expos as having started over as the Washington Nationals -- the D-backs don't have many books written about them, but there are 2 you should know about: Len Sherman wrote Big League, Big Time: The Birth of the Arizona Diamondbacks; and Sara Gilbert (not the actress of that name) wrote The Story of the Arizona Diamondbacks, published earlier this year. Buster Olney's The Last Night of the Yankee Dynasty, as you would expect, mentions the Yanks' loss in the 2001 World Series, but is about them, not the Diamondbacks.
During the Game.
Wearing Met gear in Phoenix will not endanger your safety. As a franchise only in their 15th season, the Diamondbacks don't really have a rivalry yet; and if they did, it probably wouldn't be with the Mets, although the Mets did beat them in the 1999 NL Division Series. For the most part, Arizona fans are okay, not making trouble for the NFL Cardinals, NBA Suns or NHL Coyotes, either. In fact, their biggest rivalry is intrastate: The University of Arizona vs. Arizona State University. It's a heated rivalry... but it's a dry heat.
The Diamondbacks don't have a lot to hold your attention during a game. There's no special "Get Loud" device, and no famous fans known for getting people going. No special song during the 7th Inning Stretch or after a win. There is a song titled "Arizona," a 1970 hit for Mark Lindsay, who was the lead singer for the rock band Paul Revere & the Raiders, but it's clear that the title refers to the name of the narrator's girlfriend, and has nothing to do with the State or the ballclub, which, of course, would not exist even on paper for another quarter of a century.
T
he team's mascot is D. Baxter the Bobcat -- named for the team's abbreviation, "D-backs," and for the facts that bobcats are common in Arizona and the stadium was originally known as Bank One Ballpark or "The Bob." Clearly, making the mascot a snake, which is what a diamondback actually is, was out of the question.
After the Game.
Phoenix does have crime issues, but as long as you stay downtown you should be safe. It's incredibly unlikely that Diamondback fans will try to provoke you.
There are, as yet, no bars around Chase Field that have become famous as postgame hangouts. As for anything New York-friendly, the closest I can come at this time is a place called Tim Finnegan's, but that's 11 miles north of downtown, at 9201 North 29th Avenue.
Sidelights.
The US Airways Center, previously known as the AmericaWest Arena for a previous airline,
is 2 blocks west of Chase Field, at 2nd & Jefferson. The NBA's Phoenix Suns have played here since 1992, and the WNBA's Phoenix Mercury since 1997. The NHL's Phoenix Coyotes, formerly the original Winnipeg Jets, played here from 1996 to 2003.
* Arizona Veterans Memorial Coliseum. The Grand Canyon State's first home to big-league sports, opening in 1965, was home to the Suns from their 1968 arrival until 1992, and the World Hockey Association's Phoenix Roadrunners from 1974 to 1977. Elvis Presley sang at the Coliseum on September 9, 1970, and again on April 22, 1973. Early in his career, on June 9, 1956, he sang at a grandstand at the adjoining Arizona State Fairgrounds. (While individual ex-Beatles have performed in Arizona, the band as a whole did not do so on any of their 3 North American tours.)
The Coliseum still stands, and
is part of the State Fairgrounds. 1826 West McDowell Road. Northwest of downtown. Number 15 bus to 15th & McDowell, then 3 blocks west.
* Phoenix Municipal Stadium. This was home to the Phoenix Giants/Firebirds from its opening in 1964 until 1991, and is the current spring training home of the Oakland Athletics, the Diamondbacks' Rookie League team, and Arizona's State high school baseball championship. 5999 E. Van Buren Street. East of downtown, take the Light Rail to Priest Drive/Washington station, then a short walk up Priest.
* Scottsdale Stadium. This was home to the Firebirds in their last years, 1992 to 1997. Its seating capacity of 12,000, 4,000 more than Phoenix Municipal, was meant to showcase the Phoenix area as a potential major league market. It's the San Francisco Giants' spring training site, and replaced a previous stadium on the site that dated to 1956, used as a spring training home for the Giants, A's, Red Sox, Orioles and Cubs.
Because it was the Cubs' spring training home, thus leading to Phoenix becoming "Chicago's Miami," where retirees from the city tend to go, it was where former Cub catcher Randy Hundley hosted the very first baseball fantasy camp.
(As Met fans, you might remember Randy's furious reaction to Tommie Agee scoring on a botched umpiring call in September 1969. You might also remember Randy's son, former Met catcher Todd Hundley.)
7408 E. Osborn Road, at Drinkwater Boulevard. Northeast of downtown. Light Rail to Veterans Way/College station, then transfer to Number 72 bus to Osborn, then walk 2 blocks east.
* Glendale Sports & Entertainment District. There is an actual University of Phoenix, on the ground, not just on the Internet. But that's not here. The University of Phoenix Stadium,
home to the Arizona Cardinals since 2006, is in Glendale, and New York sports fans know it as the place where the Giants derailed the New England Patriots' bid for the NFL's first 19-0 season. The Cardinals defeated the Philadelphia Eagles there in January 2009 to advance to Super Bowl XLIII. The stadium is also home to the Fiesta Bowl.
The neighboring Jobing.com Arena, in spite of the team's financial troubles which could yet lead to it being moved, has been home to the Phoenix Coyotes since 2003. This past season, for the first time since the Jets/Coyotes franchise entered the NHL in 1979, they reached the League's last 4 (now the Western Conference Finals).
The official address of the stadium is 1 Cardinals Drive, and of the arena is 9400 West Maryland Avenue. Number 8 bus from downtown to 7th & Glendale Avenues, then transfer to Number 70 bus, to Glendale and 95th Avenue, then walk down 95th.
* Arizona State University. Although the University of Arizona is 114 miles
away in Tuscon, ASU is just a 24-minute Light Rail ride from downtown. The station is at 5th Street & Veterans Way, and is 2 blocks away from Sun Devil Stadium and the Wells Fargo Arena (formerly the ASU Activity Center), home to their football and basketball teams.
The Cardinals played at Sun Devil Stadium from 1988 to 2005, and the Fiesta Bowl was held there from 1971 to 2006. Packard Stadium, opened in 1974, is home to the ASU baseball program, one of the most successful college baseball teams, east of the stadium and arena, at Rural Road and Rio Salado Parkway. The Sun Devils have won 5 National Championships, most recently in 1981. Their legends include Reggie Jackson, Barry Bonds, and current stars Dustin Pedroia and Andre Ethier.
* Arizona Science Center. Phoenix is not a big museum center -- and no Arizonan has ever become President, although Senators Barry Goldwater and John McCain got nominated, so there's no Presidential Library or Museum. But the Science Center is at 4th & Washington, just a block from the ballpark. And Arizona State has a renowned Art Museum.
*
If you go to Phoenix to see the Mets play the Diamondbacks, be careful of the heat: Inside the ballpark, you should be fine; outside it, it will be as close to hell on Earth as you are ever likely to get. But you should still be able to have a good time in Phoenix. And if worse comes to worse, you can always reminisce about the 2001 World Series -- even if your own club lost to the Yankees the year before.