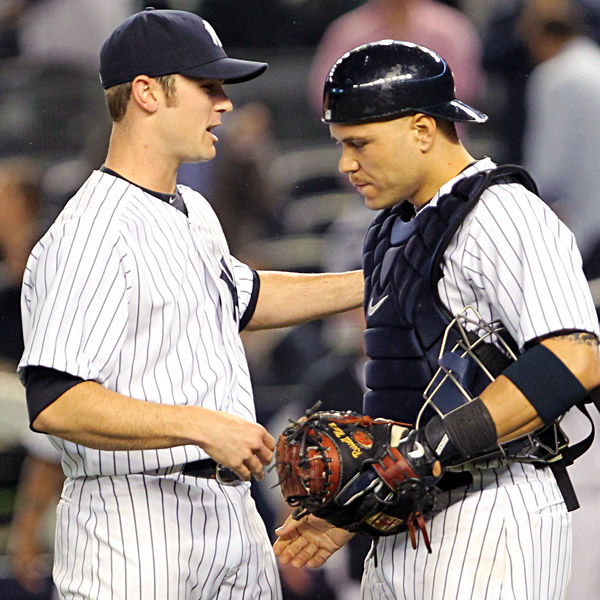 Once again, the interference of real life meant that I couldn't post for 3 days. It also prevented me from doing this year's edition of "How to Be a Met Fan in Miami" in time for the start of that series tonight. It'll have to wait until their next series at the new Marlins Ballpark.
Bye-bye, Flyers! Bring on the Rangers -- if, that is, they can beat the Washington Capitals in Game 7 tomorrow night without choking as usual!
*
The Yankees and the Tampa Bay Rays have played a 3-game series at Yankee Stadium II, and here's how it went:
* Tuesday night: Raul Ibanez hit 2 home runs, his 4th and 5th of the year. Curtis Granderson hit his 10th. James Shields (5-1) gave up the Grandy homer and the 1st of Ibanez'. The Yanks came back from a 2-0 deficit. Ivan Nova (4-1) pitched very well. Rafael Soriano made it interesting in the 8th, but David Robertson (1st save) shut the door in the 9th. Yankees 5, Rays 3.
* Wednesday night: Brutal. The Yankees scored a run on Robinson Cano's double in the 1st, and then Jeff Niemann and reliever Fernando Rodney (2-0) shut them out the rest of the way. The Yanks got 9 hits, but only the 1 run. Somehow, David Phelps, Boone Logan, Cory Wade and Soriano kept the Rays off the board for 8 innings.
But in the 9th, David Robertson (0-1) fell apart in the role that we expect to see filled by Mariano Rivera. He loaded the bases, gave up a game-tying sacrifice fly, and then gave up a 3-run homer to Matt Joyce. Rays 4, Yankees 1.
After the game, D-Rob tweeted, "I expected to be slaughtered tonight on Twitter, but the support y'all have shown reminds me how amazing Yankee fans are." His next tweet: "Tonight sucked, but if there is one thing Mo has shown me it's how important it is to turn the page." And his next: "And look, it's already after midnight, which means it's a new day. Let's take this series tomorrow! #GoYanks"
All of which shows that he knows how to approach this.
* Last night: Again, the Yankees came back from a 2-0 deficit. CC Sabathia settled down after that for some serious dealing (5-0). Granderson hit his 11th homer, Cano his 3rd. CC pitched 8, and Joe Girardi decided not to throw Robertson back out there for the 9th, trusting Soriano -- which worked, for his 1st save. Yankees 5, Rays 3.
*
With this series in the books, the Rays are now tied for 1st in the American League Eastern Division with the Baltimore Orioles. The Toronto Blue Jays are 2 games back. The Yankees are 2 1/2 back, 2 in the loss column. And the Boston Red Sox, now dealing with Josh Beckett's misbehavior, poor form and getting booed, are 7 1/2 games back 7 in the loss column.
Alex Rodriguez now has 2,808 career hits, 192 short of 3,000. He has 634 home runs, 66 short of 700, and 129 short of an all-time record of 763.
Tonight, the Yankees start a 3-game weekend series at home against the Seattle Mariners:
* Tonight, 7:00 on YES: Hiroki Kuroda vs. Felix Hernandez.
* Saturday, 4:00, the Fox Game of the Week: Phil Hughes against ex-Yankee Hector Noesi.
* Sunday, 1:00, on YES: Andy Pettitte returns, against Blake Beavan, a 23-year-old righthander from the Dallas Metroplex with 21 major league appearances thus far. The Yankees have never faced him before. Uh-oh...
The Mariners are not very good right now. We need to sweep these guys.