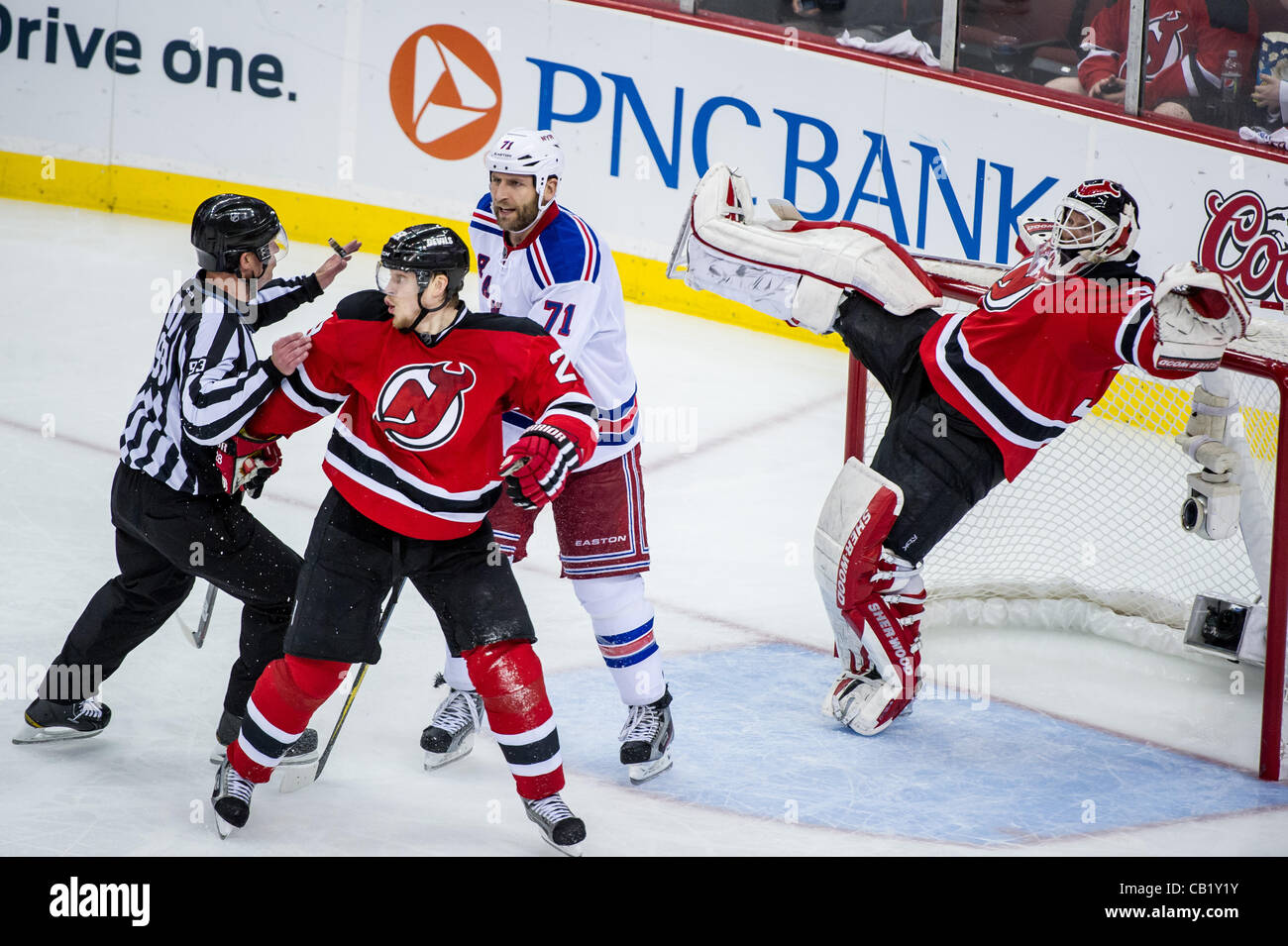 It was the best of times, it was the worst of times.
It was the age of wisdom, it was the age of foolishness.
It was the epoch of belief, it was the epoch of incredulity.
It was the season of Light, it was the season of Darkness.
It was the spring of hope, it was the winter of despair.
We had everything before us, we had nothing before us.
We were all going direct to heaven, we were all going direct the other way.

In short, the period was so far like the present period, that some of its noisiest authorities insisted on its being received, for good or for evil, in the superlative degree of comparison only.
-- Charles Dickens,
A Tale of Two Cities
*
The best of times: Last night, at the Prudential Center, the Devils beat the Rangers 4-1, to tie up the NHL Eastern Conference Finals, 2-2.
In a 4-minute span in the middle of the 1st period, low-scoring defenseman Bryce Salvador and high-scoring Travis Zajac lit the lamp for the Mulberry Street Marauders. After that, The Scum were never truly in the game.
Captain Zach Parise added another early in the 3rd period to make it 3-0, and then things got interesting.
The Rangers became as thuggish as their fans.
Mike Rupp, who scored the goal that won Game 7 of the 2003 Stanley Cup Finals for the Devils, is now a Ranger -- and from last night forward, it will be pretty hard to see him as anything but Ranger Scum. He was assessed a 2-minute minor for roughing Peter Harrold, and as he was being escorted away by a linesman, he punched Martin Brodeur in the chest. Steve Bernier skated over to defend Brodeur, but Rupp knocked him down.
When the dust settled, Rupp was assessed 14 minutes in penalties, teammate Stu Bickel picked up two minutes for roughing, and the Devils' Ryan Carter picked up a 10-minute misconduct and two minutes for roughing.
"I'm a tough guy," Brodeur said. "It stung me a little bit. I didn't know what to do, really. It hurt a little bit in my jaw. He hit me in the chest and his fist kind of went up in my mask. It surprised me more than anything, but now I know I can take a punch. I never got punched like that in my career. I'm just happy I didn't get hurt on it."
The Rangers pulled a goal back, but Parise scored an empty-netter near the end. The Devils fans on Twitter were hoping Brodeur would score on the empty net, just to rub it in. No such luck, but then, no such luck was needed.
This game came after the coaches, Peter DeBoer of the Devils and John Tortorella of The Scum, had been accusing each other's teams of dirty play.
Torts, you're a lying bastard and your mother is a whore.
(This is what watching English soccer has done to me: I've adopted, and adapted, its fans' lexicon.)
Game 5 is tomorrow night at the Garden. The Devils win it, they take the series in Game 6 at the Prudential, and then bring on the Los Angeles Kings in the Finals.
*
The worst of times: The Yankees are now down to .500, 21-21, after losing 6-0 last night.
At home.
To the Kansas City Royals.
No, not the 1976-85 George Brett Royals. (Dirty bastards.) These are the 2012 Royals, whose most notable player is... you don't care.
Felipe Paulino (2-1) shut the Yankees down for the second time in a month. The Yankees left 10 men on base, and were 0-for-13 with men in scoring position.
No, that is not a misprint. Thirteen at-bats with a man on 2nd base, or 3rd, or both... no hits.
Hiroki Kuroda (3-6) wasn't awful, but neither did he make it out of the 6th. It was a manageable 3-0 when he left, but it didn't matter.
Russell Martin is now batting .181. Andruw Jones, .217. Mark Teixeira, .227. Nick Swisher, .245. Curtis Granderson, .255. Alex Rodriguez, .276 -- better than those other guys, and not a bad average, but hardly up to his standards. Even Derek Jeter, who was above .400 for a while, is down to .343.
And the Yankees have lost 6 of their last 7, turning what had been the 1st season since 2004 without a bad start into yet another one with a bad start.
This is unacceptable.
Tonight, Phil Hughes starts against Luke Hochevar. Hughes usually pitches well when the team hits for him. When it doesn't, he has a tendency to unravel. In the immortal words of Harrison Ford, "I've got a bad feeling about this!"
*
Sometimes, sports stings like the Dickens. Right now, there are Great Expectations at the Prudential Center. But Yankee Stadium II is looking like a Bleak House.
Losing to the Royals? Bah, humbug!