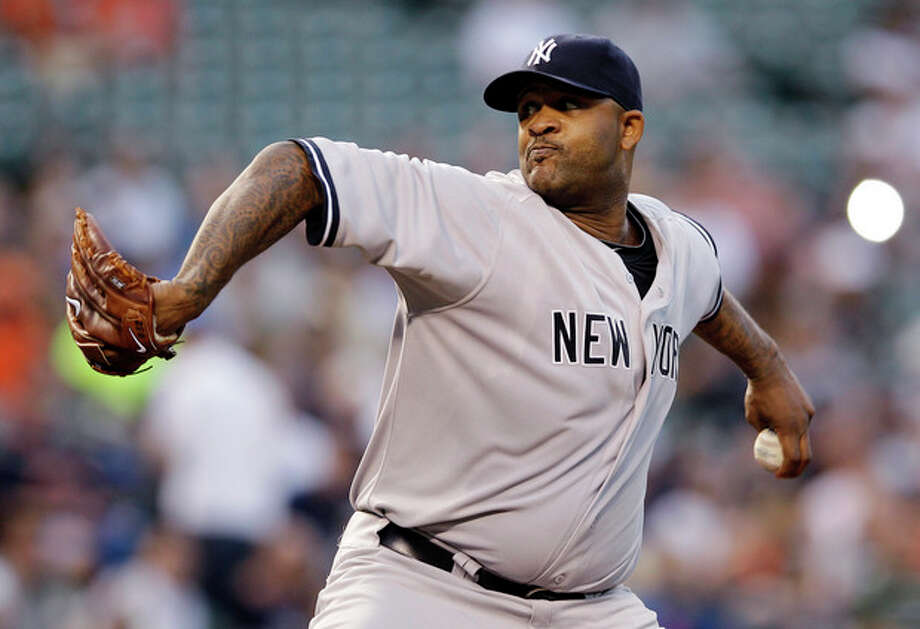 My apologies for not posting again sooner. Real life called.
On Saturday, Phil Hughes once again seemed to be pitching for his job. He was fantastic: He got into the 8th inning, allowing just 1 run on 6 hits and 1 walk. And while Boone Logan allowed a run in the 9th, it ended up not mattering.
Because the Yankees gave Hughes 4 runs in the bottom of the 2nd. With 1 out, Mark Teixiera doubled to right. After a 2nd out, Raul Ibanez came through with a double of his own. Then Russell Martin hit yet another double. And journeyman infielder Jayson Nix hit his 1st Yankee home run.
Ibanez added his 7th homer in the 4th, also off former Yankee Hector Noesi, and Robinson Cano drove home a run with a single in the 8th.
Yankees 6, Mariners 2. WP: Hughes (3-4). SV: Logan (1). LP: Noesi (2-4).
*
On Sunday, Andy Pettitte returned. At first, he looked fantastic, throwing some hellacious breaking stuff. But the Mariners got to him for 2 runs in the 4th and 2 more in the 6th, on home runs by Justin Smoak and Casper Wells, respectively.
Justin Smoak? Sounds like a psychedelic-era rocker. Casper Wells? Sounds like a "fellow" at the right-wing fanatic Heritage Foundation.
Another veteran, Kevin Millwood, pitched for Seattle, and he pretty much shut the Yankees down. The Yankees left 15 men on base: Derek Jeter 5 all by himself, Teixeira and Eric Chavez 3 each, Curtis Granderson 2.
Mariners 6, Yankees 2. WP: Millwood. LP: Pettitte (0-1).
*
On Monday, the Yankees went down to Baltimore for 2 games. Ivan Nova started and got smacked for 5 runs in 5 innings. But the bullpen shut the Orioles out the rest of the way: Clay Rapada, David Phelps, Logan, Cory Wade and Rafael Soriano.
The Yankees clawed their way back, with Granderson tying the game with his 12th homer in the 5th, and a Teix message winning it in the 7th (his 5th homer).
Yankees 8, Orioles 5. WP: Phelps (1-1). SV: Soriano (2). LP: Luis Ayala (1-1).
Unfortunately, Rapada got hurt, and then we found out that David Robertson was also unavailable due to injury. Turns out we now have
both
of our closers out, Mariano Rivera and Robertson. So we've got to rely on Soriano, whose 1st season in Pinstripes (last year) was horrible.
*
And then last night, in the words of ESPN's Tony Reali, the Yankees went veggie: They forgot to bring the meat!
Wei-Yin Chen (4-0) shut the Yankees down, allowing just 2 hits in the 1st 6 innings, singles by Nix and Jeter. In the 7th, Cano doubled and Granderson homered, but that was all the scoring. And CC Sabathia, who had been living dangerously lately, finally got hung with a loss for his less-than-stellar pitching (5-1).
Orioles 5, Yankees 2.
*
As things stand right now, the Yankees are 2 1/2 games, 2 in the loss column, behind the Orioles and the Tampa Bay Rays in the American League Eastern Division. The Toronto Blue Jays are 4 back, and the Boston Red Sox are 5 1/2 back, 5 in the loss column. It's mid-May now, and it's time for the Yankees to make their move: Although this start isn't as bad as some of the starts we've seen since 2005, it still needs to be better.
The Yankees head across the border to play 2 against those pesky Blue Jays, before coming home on Friday and starting -- ugh -- Interleague play against the Cincinnati Reds.
The starters tonight are Hiroki Kuroda and Kyle Drabek, son of former Yankee, Houston Astro and Pittsburgh Pirate pitcher Doug Drabek.
This is the 999th post on this blog. I'll have to think of something special for my 1,000th.