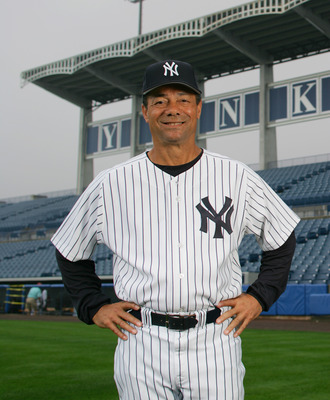 I don't want to make anyone feel old. Least of all, myself.
But today is an anniversary.
Two, actually. One caused the other.
On May 6, 1967, 45 years ago today, my parents got married. They're still together.
On May 6, 1977, 35 years ago today, they wanted to celebrate their 10th without their 7-year-old child (my sister wasn't born yet), so they dropped me off at the Jersey Shore home of my mother's parents.
My Grandma was a Brooklyn Dodger fan turned Met fan from Queens.
My Grandpa was a Yankee Fan from The Bronx.
Yeah, it was a mixed marriage.
Anyway, on May 6, 1977, a Friday night in the New York Tri-State Area (of which their Shore-area retirement community is a part -- barely, it's about equidistant from Midtown Manhattan and Center City Philadelphia), my Grandpa was watching the Yankees play on Channel 11.
Who knows how different my life would have been if, at that moment, it had been my Grandma running the TV, and watching the Mets on Channel 9? (They lost that day.)
Strange, I remember the game between the Yankees and the Oakland Athletics (hardly anybody called them anything other than the A's in those days) being a Saturday afternoon game at the Oakland Coliseum. And yet, records show that the game was on a Friday night at the old Yankee Stadium. If it was at night, and Yankee home night games always started at 8:00 in those days, I wouldn't have been allowed to stay up the whole way, even if it was a Saturday. And yet I was. (This one ended at 10:10 -- making it 2 hours and 10 minutes, quick even by the standards of that time. Michael Kay would have approved.)
But my memory is correct on the result: The Yankees won, 4-1, thanks to 2 home runs for 3 RBIs by Roy White. (That's a recent photo of him, above.)
Ed Figueroa outpitched former Yankee George "Doc" Medich. Thurman Munson doubled home the other run. Attendance that night was a mere 17,780, despite the Yankees being defending American League Champions and being tied for first place in the AL Eastern Division as a result of that night's game.
The A's, having been broken up by cheapskate owner Charlie Finley, were a shell of the team that had finished 2nd in the AL Western Division the season before, and had won the preceding 5 AL West titles, including the 1972, '73 and '74 World Series. Included in the exodus were future Hall-of-Famers Reggie Jackson and Jim "Catfish" Hunter, now on the Yankees.
Batting cleanup for the A's that day was Dick Allen, the former Philadelphia Phillies and Chicago White Sox slugger, who, not completely through his own fault, had burned pretty much all bridges except the one that led to the Oakland Coliseum. (Not surprising: There's something about Oakland, and its teams -- the A's, the Raiders and the Golden State Warriors -- that seems to attract people who don't fit in anywhere else.) Wearing Number 60 that season, instead of his more familiar Number 15, he went 0-for-4. I have no memory of seeing him in that game, and if I did I wouldn't have comprehended what he meant to the Phils' and ChiSox' fans not that much earlier. "Crash" (don't call him "Richie") only played another 28 games in the major leagues and retired.
Here's a link to the box score.
I fell in love with the team in Pinstripes, a love that was cultivated by my Grandpa (who died in 1984) and tolerated (sometimes barely) by everyone else. From that moment onward, I was a Yankee Fan.
It would be another year before I saw my first live big-league game, on May 27, 1978. That was also at the old Stadium, and Ed Figueroa started that one for the Yankees as well. And the final score was also 4-1. But it didn't go so well: The Yankees lost by that score, to the Toronto Blue Jays, then a 2nd-year expansion team.
But I have never lost that bug known as Baseball Fever. My finances have not let me attend as many games as I would have liked, but I've seen some good ones.
*
My Top 10 Favorite Live Yankee Games
Honorable Mention. November 4, 2009.
I was at the new Yankee Stadium the night they won the 2009 World Series. But only
at
it, not
in
it. You know how you come out of the Subway station at 161st Street, and you hear people yelling, "Anybody buying?" and "Anybody selling?" That night,
nobody
was selling tickets. Some people were practically on their knees begging. I must have told a dozen people that I didn't have a ticket, that I was in the same boat they were in. One guy was in tears when he asked me. I felt awful for him, but what could I do? If I'd known a guy -- or if I'd known a guy who knew a guy -- and could have afforded it, would I have sold him the ticket or kept it for myself? Of course, I would have kept it for myself. It would have been a once-in-a-lifetime opportunity.
I tried a backdoor method of getting in -- almost literally. I asked if I could have a table at NYY Steak, so I could at least be in the ballpark. I was told that was for ticketed spectators only. It was worth a shot, however long.
I ended up watching the first half of the game at an Outback Steakhouse on the East Side (so I got my baseball AND my steak), and the second half in Times Square on the big screen, with half a million of my closest friends.
Honorable Mention. August 4, 1985.
The Yankees lost this one, 4-1 to the White Sox, so I can't put it in the Top 10. Tom Seaver pitched for the Pale Hose, and won his 300th career game. The reason I went was because it was Phil Rizzuto Day. His Number 10 was retired, and he was given his Monument Park Plaque. It was also the first time I saw Mickey Mantle in person. He gave the Scooter some golf clubs. But Seaver ended up as the story, and, at age 40, with several thousand Met fans showing up in the Stadium they hated so much and cheering him on, he went the distance. All of us, including Yankee Fans, stood up and applauded. Some, including myself, even tipped our caps.
10. April 12, 1990.
My first Opening Day. I'd won the tickets in a radio contest. Although the Yankees went on to finish last in a season for (so far) the only time in my lifetime, they won this one.
Tied 4-4 with the Cleveland Indians in the bottom of the 8th, '86 Met Jesse Orosco was pitching in relief of future big-league manager Bud Black. After he opened the inning by striking out Mel Hall, Jesse Barfield, the former Toronto Blue Jays slugger (and father of current big league player Josh Barfield) came up, and I yelled, "Come on, Jesse!" Forgetting that the opposing pitcher was also named Jesse. How embarrassing.
Barfield worked Orosco for a walk. Roberto Kelly grounded into a force play. Man on 1st with 2 out. Future big-league manager Bob Geren came up, and singled Kelly over to 3rd. Doug Jones was brought in to relieve, and Luis Polonia singled home Kelly. Steve Sax completed the rally by singling home Geren.
Yanks 6, Indians 4. Eric Plunk, who'd blown a save in relief of starter Dave LaPoint, ended up as the winning pitcher. Attendance: 50,114.
9. April 19, 2009.
My first game at the new Yankee Stadium. The Yanks had gotten off to a bad start there, losing 2 of the first 3, and losing them badly, to the Indians. Nick Swisher had already made 2 pitching appearances thus far.
Outside, for what turned out to be the last time, I saw Pan Man, Freddy Shuman. Somebody told him, "Freddy, don't retire!" And I said, "Retire? At this rate, we may need him to pitch!" (Freddy was great. Kind of scary looking, old with no teeth and a missing eye. But he was a great guy.)
It was a very confusing day. Nobody, no one in the crowd of 43,068, not even anyone on the Stadium staff, was yet sure where everything was. (Good thing they had those pinstriped "HOW MAY I HELP YOU?" signs.) I knew the old Stadium like the back of my hand. The new one? Honestly, it still confuses me. It still doesn't feel like my home park.
(Cue Charlton Heston from the end of
Planet of the Apes
: "You maniacs! You blew it up! Ah, damn you! God damn you all to hell!" Okay, the old Stadium wasn't blown up, just knocked down, and I don't really want them to go to hell... but I hate what they did.)
The Yankees were trailing the Indians again, 3-1, in the bottom of the 7th. To make matters worse, the Indian pitcher was American Idle himself, Carl Pavano. He was relieved after 6 strong innings. Whereas A.J. Burnett was no good: 6 1/3 innings, 3 hits, but 7 walks, and 3 runs (all earned).
But in the 7th, the Yankees struck. Robinson Cano led off with a double. Hideki Matsui singled him home. 3-2 Cleveland. Pitching change. Cody Ransom tried to bunt Matsui over to 2nd, but it backfired as the Tribe got the lead runner. So with Ransom on 1st, Jorge Posada came up. And he hit one deep to right field. It was high, it was far, it was...
Debated. For the first time under the new rule, a potential Yankee homer was reviewed on videotape. It was almost a Jeffrey Maier situation: Did a fan reach out and touch the ball, and bring it over the fence? The umpiring crew, led by Jerry Crawford (a good one, and the son of a good one, Shag Crawford), decided it was legit, and it counted. 4-3 New York.
Ransom hit a bases-loaded double in the 8th, and that made it a 7-3 final in the Yankees' favor. Jonathan Albaladejo was the winning pitcher, in relief. The Yankees had won my first game in the new Stadium, which they hadn't done in my first game at the old Stadium.
8. June 11, 1988.
The first 4 live games I saw, the Yankees lost. Finally, on the 5th try, they won. It was an NBC Game of the Week, against the Baltimore Orioles, and the Yankees were so banged-up that Billy Martin, in his 5th run as manager (soon to come to an unceremonious end), started Rick Rhoden, a good-hitting pitcher, as the designated hitter (but NOT as the pitcher), and batted him 7th. It worked, too: Rhoden drove home a run with a sacrifice fly.
How did the 8 and 9 hitters feel? Well, the 8th was Rafael Santana, the former Met shortstop, and he was batting .213. The 9th was Joel Skinner, a decent catcher who has made a name for himself as a good minor-league manager (but not yet a good major-league one), and he was batting .229. Santana did not get a hit that day, but Skinner got 2.
John Candelaria, the Brooklynite lefty who'd starred for the Pittsburgh Pirates "Family" of the late 1970s, and had pitched for the Mets the year before, had signed a free-agent contract with the Yankees, and outpitched the Orioles' Jeff Ballard.
I was sitting in the right-field stands with my parents and Grandma. In the bottom of the 5th, with the score tied 3-3, the bases loaded and only 1 out, Oriole manager (and Hall of Fame player) Frank Robinson took Ballard out and brought in Doug Sisk. The Mets won the '86 Series despite having Sisk on the roster, and as soon as I saw him come in, I said to my family, "This game is over. The Yankees are going to win."
The first batter Sisk faced was slugger Jack Clark, and he walked him to give the Yankees the lead. The next batter was the Yankee center fielder, a big young prospect wearing Number 54. He cranked a grand slam into the bleachers. Nice opposite-field job, we had a great view of it. (So I was right.) That made it 8-3 Yankees. In spite of future Hall-of-Famer Eddie Murray knocking one out later, the Yanks held on for an 8-6 win. Attendance: 33,826.
That prospect in center field? The Yankees soon traded him to the Seattle Mariners for Ken Phelps. The Mariners made him their right fielder. His name was Jay Buhner. This has been lambasted as one of the worst trades in Yankee history. But if the Yankees had kept Buhner, they probably wouldn't have gotten Paul O'Neill.
7. June 9, 1999.
My first away game as a Yankee Fan. Part of a stretch where I saw the Yankees in 3 away parks within 2 months.
It was the finale of an Interleague 3-game series at Veterans Stadium in Philadelphia. I went to 17 Phillies games there, and while I didn't enjoy all of them (the Phillies were crap for a lot of those years), I was treated well at all of them... except this one. Apparently, Phillies fans hate the Yankees as much as they hate the Mets. I got rougher treatment that night than I got on any of my visits to Fenway. Nothing violent, although I thought it might get that far.
Anyway, the Phils took the first 2 games of the series and the Philly Phaithful smelled blood. But David Cone started. For the first time ever, I saw a Yankee pitcher bat live. I know he batted for the Mets in the National League, but, still, he looked so overmatched, with the helmet and batting gloves looking too big for him. But he doubled down the left-field line (the opposite field, mind you), as part of an 8-run 6th inning that sparked the Yanks to an 11-5 win. Not that it shut the Philly fans up at all.
Tino Martinez homered off Phils starter Chad Ogea. Future Yankee Bobby Abreu homered off Cone. Attendance: 42,047.
6. April 26, 1995.
My 2nd Opening Day -- and, thus far, my last. The opening was delayed by the strike that began the preceding August. When it was settled earlier in the month, I went up to the Stadium to get a ticket, got one, and then, seeing that the seating area was not closed off, I walked out to the seat I'd bought, and just sat there for a few minutes, taking in the majestic, empty House That Ruth Built. I'd never felt so much at peace in my life.
The game began with Joe DiMaggio throwing out the first ball. At age 80, the Yankee Clipper, throwing right in front of the mound, got the ball over the plate. So while I only saw Mickey Mantle, and didn't see Mickey Mantle play baseball, I can truthfully say that I saw Joe DiMaggio throw a baseball.
The opponent was the Texas Rangers, and neither their starter, Kenny Rogers, nor ours, Jimmy Key, pitched well. Bernie Williams and Danny Tartabull homered for the Bronx Bombers, who won, 8-6. (Key ended up as the winning pitcher anyway.) Attendance: 50,425, despite a lot of lingering anger over the strike.
5. September 14, 1991.
The Yankees lost 3 out of 4 in this series to the Boston Red Sox. But not this one, the first live Yanks-Sox game I ever saw. And, yes, the Red Sox fans were just as obnoxious in person as I'd been told they were.
Those visiting Chowdaheads had to watch Scott Sanderson, better known for pitching for the Montreal Expos and Chicago Cubs, pitch 8 shutout innings, while the Yankees got runs home thanks to doubles by Sax and Randy Velarde, and a sacrifice fly by Don Mattingly.
Greg Cadaret almost blew it, though, allowing a run in the 9th, but Steve Farr came in and put it away. Yankees 3, Red Sox 1. Attendance: 45,758.
4. August 2, 1999.
Just 3 days after my glorious night in Fenway (it's at Number 1), it was the 20th Anniversary of the death of Thurman Munson. Something told me that I had to be at Yankee Stadium that night. (It was a time when I had some money. Not a lot, but enough to see 13 major league games that season and a few minor-league ones.)
This was right after the trading deadline. Joe Torre had talked Brian Cashman -- and, more importantly, one G. Michael Steinbrenner III -- out of trading Andy Pettitte. And the aforementioned GMS3 said, "We're going to find out what kind of man Andy is."
This was his first start since, and it was against those pesky Toronto Blue Jays. And who started for them? None other than one of the guys, along with Homer Bush, that we traded to the Jays to get Roger Clemens: David Wells.
Jim Leyritz had just been reacquired, and as John Sebastian's theme from
Welcome Back, Kotter
played, a highlight reel of Leyritz's first tour of Pinstripes played, including his famed '95 and '96 postseason homers. And a similar highlight reel was shown, and a moment of silence held, for Thurman. Diana Munson threw out the ceremonial first ball.
The Yankees honored their former Captain, particularly when their next official Captain, Derek Jeter, took Wells deep -- appropriately, hitting it into Monument Park -- in the bottom of the 8th for a 2-run homer. That, and Mariano Rivera's Cutter of Death in the 9th, made Pettitte, who pitched beautifully for 8 innings, the winning pitcher.
Yankees 3, Blue Jays 1. Attendance: 40,825. After 4 times seeing the Yanks lose to the Jays live, I finally saw us beat the Peskies on the 5th try. (My record against them is now 2-6, including 2 Yankee losses in Toronto.)
3. July 27, 1991.
Not my first Old-Timers' Day, but my best. It was the first time back for my guy, Reggie Jackson. In the Old-Timers' Game, Reggie, by then wearing his age on his back, 44, and never renowned as a good fielder, not only got a hit, but made a shoestring catch in right field, and got a thunderous ovation.
When I got home and ran back the tape of the Channel 11 broadcast, I discovered that Bobby Murcer had a battery pack on his belt while he was batting and playing center field. He was miked up and talking to Seaver in the booth. Ron Guidry was pitching, and I think it was Ron Blomberg at the plate. (It was Yankees vs. Yankees -- or, as they put it on the scoreboard, "Bombers" vs. "Pinstripes.")
Seaver: "I think you're playing him too much to pull, Bobby."
Murcer: "Well, that's where Reggie wants me to play him."
Seaver: "Look where Reggie is: He's practically in the concession stand."
Murcer: "Uh-oh! Dive, Reggie! Dive, dive, dive!"
Reggie dove, and made the catch. He looked as shocked as everybody else.
Before that game, there was a ceremony honoring DiMaggio on the 50th Anniversary of his 56-game hitting streak. Of the 7 surviving members of the 1941 Yankees, other than Joe himself, 5 were on hand. Bill Dickey was ill and only lived another year and a half, and Frank Crosetti never came to Old-Timers' Day. But Phil Rizzuto, Tommy Henrich, Marius Russo, and brief Yankees Johnny Sturm and former National League star French Bordagaray came. (With Henrich's death in 2009, they're all gone now.)
DiMaggio, not a man who made a lot of public statements, said something nice about all of them, including saying, 3 years before the Scooter was finally elected, "Nobody had a better view than I did, in center field, of watching him play shortstop... And, Phil, I just want you to know, that you're my Hall-of-Famer. And I mean that." Biggest cheer I ever heard in that old yard.
This was one of the first times that the Yankee players I grew up watching came out as Old-Timers: Reggie, Murcer, Guidry, Hunter, Figueroa, White, Chris Chambliss, Graig Nettles, Mickey Rivers, Sparky Lyle. (Lou Piniella was managing in Cincinnati, Goose Gossage was pitching in Texas, Willie Randolph was playing in Milwaukee, and of course Munson was dead. I don't know where Bucky Dent was that day, but I don't think he was working in baseball at the moment.)
Mantle and Whitey Ford were also there. Yogi Berra was still in the middle of his feud with George Steinbrenner, and did not come. Former Yankee broadcaster Frank Messer made the introductions.
Another Yankee Legend on hand was Dave Winfield, in the opposing dugout with the team then known as the California Angels. Pat Kelly played 3rd base for the Yankees and hit a rare (for him) home run, and catcher Matt Nokes hit 2. Cadaret started for the Yankees, but Tim Leary and Steve Howe almost blew it for him, turning a 12-4 Yankee lead into a 12-10, before Farr slammed the door. Attendance: 45,647.
2. July 11, 1999.
The 2nd of 3 away games in that summer stretch. The Yankees had lost the first 2 games of this Interleague series at Shea with the Mets, the latter on Matt Franco's umpire-aided (and, as we now know, steroid-aided) single off Mariano in the bottom of the 9th.
My father had asked me to take him to a Yankees-Mets game, and this was the one I could get the tickets for. We sat in the Mezzanine, the 3rd of Shea's 4 decks. One section over from us were the Bleacher Creatures, doing their best imitation of an English soccer end section, singing about how Mike Piazza is a horse's ass. (Which... he is.) And about a perceived sexual habit of his. (Which, as far as I know, is not true.) One section over from that, Jon Stewart -- a big Met fan and not yet a political pundit -- was filming for the talk show he had at the time (not like the one he has now).
The Mets took a 2-0 lead, then the Yankees led 3-2 thanks to a homer by Ricky "Seize" Ledee, then the Mets tied it up.
The veteran Orel Hershiser started for the Mets, and he fell apart in the top of the 5th. O'Neill and Bernie singled, then Hershiser walked Tino to load the bases with nobody out. Scott Brosius singled home O'Neill, it was 4-3 Yankees, and my father thought I was going to lose my mind. I would have been willing to trade it to see the Yankees beat the Mutts in the Flushing Toilet.
Bobby Valentine panicked and pulled Hershiser, replacing him with... Rigo Beltran. I'd forgotten about him. As far as I know, no relation to Carlos Beltran. Or Robert Beltran, Chakotay in
Star Trek: Voyager
. It didn't work: Chad Curtis singled home Bernie and Tino. That made it 6-3, and that was the final.
The winning pitcher for the Yankees? Hideki Irabu. R.I.P.
1. July 30, 1999.
The 3rd in the string of 3 away games in the best summer of my life, the last one before things were ruined by things like stolen elections, 9/11, steroid accusations and the dickery of the so-called "job creators." And this one was the best of all: I walked into the belly of the beast, and we Yankee Fans, as they say in England, took the piss.
I'd seen 3 previous games at Fenway Park, but this was the first Yanks-Sox game I'd seen there. I knew there was a chance I could get hurt, so I tried to keep it as low-key as possible.
I figured it was better to be safe than sorry, although I knew that most Red Sox fans were not English-soccer-style hooligans. At the time, the stereotype of a Red Sox fan was a tweedy guy from the suburbs, maybe a college professor, very literate, given to big pronouncements of how baseball reminds him of life, death, the changing of the seasons, the French Revolution, whatever. And he doesn't drink much at the game. And he keeps score. And he knows the game. Not like what the stereotype became over the next few years: Like the
Saturday Night Live
"Boston Teens" sketch with Jimmy Fallon and Rachel Dratch. (I wasn't surprised to see Jimmy play a Red Sox fan in the U.S. version of
Fever Pitch
. I was very surprised to find out he's a Yankee Fan in real life.)
I hid my cap, walked up to a scalper (figuring it was my only chance to get a ticket, and I was right, as the attendance was a packed house of 33,777), and paid $42 for a $24 obstructed-view seat behind first base. Once the ticket was in my hand, I put my cap on. The scalper didn't seem to mind. Guess he was all about the money.
Irabu started again for the Yankees on that unseasonably cool Friday night. Mark Portugal, once a decent pitcher for the Houston Astros, started for the Sox. As I'm making my way to my seat, Chuck Knoblauch hits Portugal's 2nd pitch of the game over the Green Monster. I'm walking up the steps to my seat, when I turn around, and see Jeter hit Portugal's 5th pitch of the game on a beeline to the TV camera in dead center field. It's 2-0 before I even get to my old, cramped wooden seat, behind a pole that prevents me from seeing the shortstop. (What the hell, the shortstops that night were only Jeter and Nomar Garciaparra.) With his 13th pitch of the game, Portugal literally fell off the mound. (He retired after that season. Probably for the best.)
The Sox tied it 2-2 in the bottom of the 1st, but then the Yankees unloaded the lumber: 4 runs in the 2nd, 3 more in the 3rd, another 4 in the 7th. Amazingly, only 1 more homer, by Jorge Posada. Jeter had 2 hits, Posada 3, and Knobby went 5-for-6 with 4 RBIs. For him, 5 hits and 4 RBIs was usually a week's work.
Yankees 13, Red Sox 3. I don't know what was more amazing: That I ran into a guy who played football at my high school, and was now attending Boston University, in the right-field stands... or that Joe Torre let Irabu go the distance. It might have been the last good game he ever pitched. Shame what happened to him.
Getting back to that night, when the game started, there were 5,000 people chanting, "Let's go Yankees!" and 28,000 chanting, "Yankees suck!" By the 7th inning stretch, there were 5,000 chanting, "Let's go Yankees!" and 5,000 others stunned into silence. The other 23,000 had left. This turned Fenway Park into Yankee Stadium North, much as Camden Yards sometimes turns into Yankee Stadium South.
I figured the hard part was going to be getting out of the ballpark, the neighborhood, the city and New England alive. All were accomplished. This in spite of that fact that, after the game, I rode the Green Line subway from Kenmore to Arlington, and walked down the steps of the Bull & Finch Pub (new owners have since officially turned it into a "Cheers" with the permission of the show's creators), and had a Sam Adams, paid, got out, and got back to my bed & breakfast just off the BU campus... all while still wearing my Yankee cap.
I don't know for sure if the picture below is from that game, but it does show Irabu (and Brosius) at Fenway, so it could be.
Anyway, unless I ever see the Yankees win a clincher, that'll be my favorite live game ever. I tried to see the Yankees clinch once, in Toronto for the 2006 AL East title. They lost, because Torre decided to start the "junior varsity." Sean Henn on the mound for a clincher, honestly... But the Sox also lost that night, so the Yanks clinched anyway. Which I didn't find out until I was on the bus heading back for the border.
Incidentally, the largest crowd I've ever been in at an MLB game was not at Yankee Stadium. A friend of the family knew a guy who'd briefly been an Astros pitcher, Dave Meads, and got members of my family tickets to see the Astros play the Phillies at Veterans Stadium on July 3, 1987. Right behind home plate. Just 60 feet away from me, Mike Schmidt was jacking 'em out in batting practice. Just 120 feet away from me, Nolan Ryan, age 40, was firing 100-MPH pellets. The Phils won, 2-1.
Then there were some postgame fireworks, because the Phils wouldn't be home on the 4th. The game lasted 2 hours and 24 minutes, and because of the huge crowd, and the incompetence of the people running the parking lot, it took us 2 hours and 40 minutes to walk out of the Vet, get to our car (it was parked behind John F. Kennedy Stadium, where the Wells Fargo Center is now), and get out of the parking lot and onto the Walt Whitman Bridge.
The attendance was 56,825, and with the Marlins having moved out of Joe Robbie Stadium, there is now no MLB stadium with a capacity that size -- Dodger Stadium, listed as 56,000 even but with a record crowd of 57,099, is the largest. So my personal best seems safe, although I have seen football and soccer games with larger crowds.