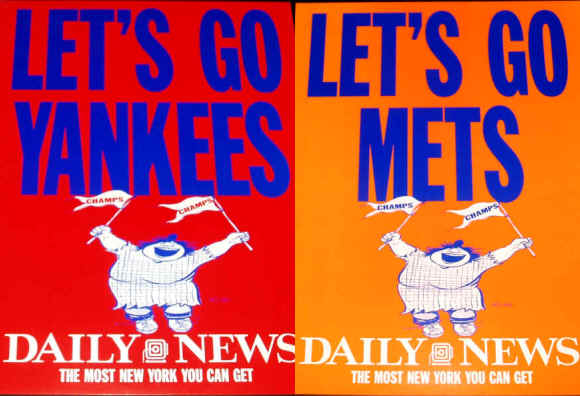 Did you think I forgot about completing my "All-Time Regional Teams" project without doing it for the New York teams?
No, I didn't forget. I just had more important things to take care of.
Here's how I decided whether a player belonged on the Yankees' or Mets' regional team:
Rule 1.
Did the player have a connection – either playing, coaching, managing or front office – to the Yankees? If so, he's theirs. Did he have a connection to the Mets, the old New York Giants, or the old Brooklyn Dodgers? If so, he goes on the Mets' team. This qualification supersedes all the others.
Rule 2.
Did the player ever publicly state that he rooted for a particular team while growing up in the New York sphere of influence? If so, and it was the Yankees, he's theirs; if it was any of the NL teams, then he goes to the Mets' team. Only Rule 1 can supersede this rule.
Rule 3.
Is the player nonwhite? If so, then we get into a tricky area. Spike Lee wrote in his book
Best Seat In the House
– admittedly, more of a basketball memoir – that he was a Met fan until 1977, when Reggie Jackson became New York's 1st black baseball superstar since Willie Mays. Then he, and (he says) a lot of black guys, who previously considered the Yankees a racist organization, switched sides. (That the Mets had been in the process of getting their 1969-73 Pennant winners broken up by greedy general manager M. Donald Grant, had just dumped Tom Seaver, and had crashed to last place may have had something to do with it.)
So, figure up until 1977, any black or Hispanic kid in the Tri-State Area who liked baseball would have been much more likely to root for the Mets (and, before that, either the Dodgers or the Giants) than the Yankees.
Since 1977 – 18 = 1959, any nonwhite player not already qualifying under Rule 1 or Rule 2, that's the demarcation line. If he was born in 1959 or earlier, he goes to the Mets' team. If he was born in 1960 or later, he remains up for grabs.
Now we get into geography. Remember, it's not where a player was
born
that matters, it's where he was
trained to play ball
– i.e., if he played in City youth leagues or for a City high school, he qualifies for the Yanks' or Mets' team even if he was born in, say, the Panama Canal Zone, like Rod Carew. And, of course, for any of these parts of the area, the preceding rules, if available, overrule geography. Let's start with the City:
Bronx: Yankees. Home Borough.
Queens: Mets. Home Borough.
Brooklyn: Dodgers' home Borough, and now home to a Met farm team, so, Mets.
Staten Island: Home to a Yankee farm team, so, Yankees.
Manhattan: Giants' home Borough, but in this case it doesn't make much of a difference. That's a neutral zone, so, up for grabs.
Long Island, both Nassau and Suffolk Counties: Since that's where a lot of the Dodger fans went in the Fifties and Sixties, and their kids were likely to grow up as Met fans, and the newspaper
Newsday
treats the Mets as Long Island's home team, Mets.
Parts of New York State along Interstate 87, from Westchester County all the way up to the Canadian border: Yankees. Westchester, Putnam and Dutchess Counties all have Metro-North access to Yankee Stadium, and the Yankees once had a farm team in Albany.
Central New York: Syracuse used to be a Yankee farm team, so, Yankees.
Southern Tier: Binghamton has a Met farm team, so, Mets.
Western New York, including Buffalo: The Buffalo Bisons, as they were in the Mets' 1st era, are the Mets' Triple-A farm team. So despite Buffalo being closer to Pittsburgh, Cleveland, Philadelphia, and even Toronto, this region, including Rochester, goes to the Mets.
Connecticut: Fairfield, Litchfield and New Haven Counties have Metro-North access to Yankee Stadium, so, Yankees. Since Bobby Valentine of Stamford is covered under Rule 1, there no need to make an exception for him here. Of course, some parts of New Haven County are given over to the Red Sox' regional team.
New Jersey: Here's where it gets tricky. It's not exactly definitive. In the old days, the stereotypical Yankee Fan was either a rich guy from Westchester or a boorish, drunken Italian guy from New Jersey's Bergen County who came over the George Washington Bridge.
The old Newark Bears were a Yankee farm club, and the new Bears were once owned by former Yankee Rick Cerone. But there are a lot of Met fans in the State as well. The Trenton Thunder are a Yankee farm club now, but Trenton is closer to Philadelphia than to New York, making the Princeton-Trenton corridor a sort of neutral zone. So is much of the Shore region, particularly from the Manasquan River (dividing Monmouth and Ocean Counties) on south.
So, let's leave New Jersey up for grabs, unless a player qualifies under Rule 1, 2 or 3.
The teams will be posted in the next few days. This time, the Mets will come first. But that's because, using the Yankees, I'm saving the best for last.
*
Let me also, now, do a best players by Borough or County:
Manhattan: Lou Gehrig
of the High School of Commerce. George Wright of the 1869 Cincinnati Red Stockings also grew up in Manhattan (his brother Harry Wright was a bit older and grew up in England). Whitey Ford, Hank Greenberg and Jim Palmer were also born in Manhattan, but none of them are generally associated with the Borough. Aside from Gehrig, the only Hall-of-Famer who played high school ball in Manhattan was Rod Carew of George Washington H.S. in Washington Heights. Manny Ramirez will also join him as a G.W. grad in the Hall -- if he doesn't get penalized for being a steroid cheat, that is.
Bronx: Hank Greenberg
of James Monroe H.S. Frankie Frisch of Fordham Prep and Fordham University -- hence "the Fordham Flash" -- is also a Hall-of-Famer.
Brooklyn: Sandy Koufax
of Lafayette H.S. Mickey Welch, and Waite Hoyt of Erasmus Hall H.S. were also Brooklyn ballplayers in the Hall of Fame. Phil Rizzuto was born in Brooklyn but grew up in Queens. Joe Torre of St. Francis Prep is not yet in the Hall, but will be.
Queens:
No Hall-of-Famer has ever been born there, but Phil Rizzuto grew up there and went to Richmond Hill H.S. Whitey Ford grew up in Long Island City and Astoria, although, like Gehrig, he attended a vo-tech high school in Manhattan, in his case Manhattan School of Aviation. Whitey is a better choice for "Best Baseball Player From Queens" than Rizzuto.
Staten Island:
No Hall-of-Famers. Born in Scotland, but living in Richmond County since the age of 3, the best ballplayer to grow up there has been Bobby Thomson of Curtis H.S.
Long Island, Nassau County:
No HOFers, so their best is Frank Viola of East Meadow.
Long Island, Suffolk County: Carl Yastrzemski
of Bridgehampton is their only HOFer.
Westchester County:
No HOFers, so their best is... Ralph Branca of Mount Vernon. So the 1951 Pennant was decided by Westchester's best ever against Staten Island's best ever. Thomson swings for Curtis... The Warriors win the Pennant! The Warriors... Yeah, right. But I don't think Branca's Mount Vernon Knights, which also produced Denzel Washington and a slew of great basketball players like Gus Williams and Ben Gordon, would have taunted them with: "Warriors! Come out and play-ay!"
New Jersey, Bergen County: Johnny Vander Meer
of Midland Park, although he was born in Prospect Park in Passaic County. Eric Karros was born in Hackensack, but before he could reach high school the family moved to San Diego.
Essex County: Monte Irvin
of East Orange, a Hall-of-Famer.
Hudson County: Johnny Kucks
of Dickinson H.S. in Jersey City.
Hunterdon County: Jack Cust
of Flemington, although he attended Immaculata H.S. in Somerset County's Somerville.
Mercer County: Al Downing
of Trenton Central H.S. This would ordinarily have put him in the Phillies' region, but he did pitch 9 years for the Yankees, and was their first black pitcher. Of course, years later, he gave up Hank Aaron's 715th career home run. It doesn't bother him: He wanted Hank to break the record, and it had to happen against somebody, and it did insure that Al would be remembered.
Middlesex County: Joe Medwick
of Carteret. A County Park stretching across Carteret and the neighboring Avenel section of Woodbridge is named for the Hall-of-Famer.
Monmouth County: John Montefusco
of Long Branch.
Morris County: Don Newcombe
of Madison Borough, and Jefferson H.S. in Jefferson Township. Although the school is in Morris County, it competes in the Sussex County Interscholastic League, so that it plays schools better matched to its enrollment.
Ocean County: Al Leiter
of Berkeley Township (postal address: Bayville) and the town's Central Regional H.S.
Passaic County: Larry Doby
of Paterson and Eastside H.S. Their arch-rivals are John F. Kennedy H.S., and in case you've ever wondered, up until 1963, they were known as Central H.S.
Somerset County: Joe Lis
of Somerville and Somerville H.S. Easily the best player the County has ever produced, he wasn't a star in the majors, but he was a success as a youth and American Legion coach. He died last month at age 66.
Sussex County: Russ Van Atta
of Augusta. Although his alma mater, Augusta H.S., has since been closed, the town is home to the Sussex Skyhawks of the Can-Am League, and the Sussex County Fair.
Union County: Jeffrey Hammonds
of Scotch Plains and Scotch Plains-Fanwood H.S.
Warren County: Charlie Berry
of Phillipsburg. Hardly as accomplished in his sport as P-burg native and Pro Football Hall-of-Famer Jim Ringo was in his, Berry had the misfortune to arrive at first the Boston Red Sox in 1925, and then the Philadelphia Athletics in 1934, shortly after both teams stopped winning Pennants. But he went on to become an esteemed umpire.