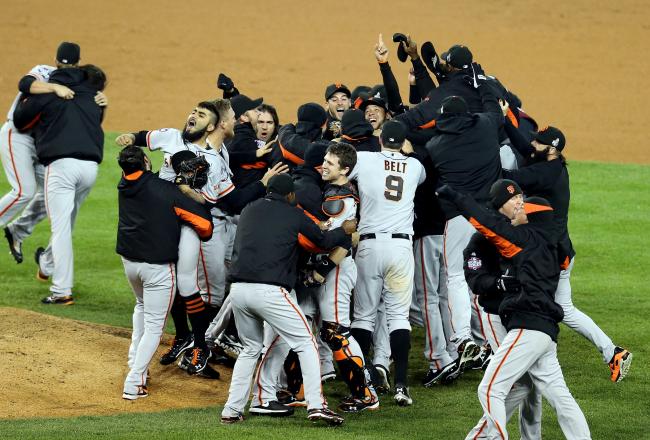 Congratulations to the San Francisco Giants on winning their first World Series in their current hometown.
It's been 53 years, but they have finally reached the plateau reached by their Bay Area brethren:
* The University of California (called "Cal" for sports purposes but "Berkeley" for most others) won the 1st of 5 National Championships (so far) in college football in 1920, and also won one in basketball in 1959.
* Stanford University won the 1st of 2 National Championships in football in 1926, and one in basketball in 1942.
* The University of San Francisco won back-to-back National Championships in basketball in 1955.
* The Oakland Athletics won the 1st of 4 World Series in 1972.
* The Golden State Warriors (in San Francisco 1962-71, Oakland since then) won their 1st and still only NBA Championship in 1975.
* The Oakland Raiders won the 1st of 3 Super Bowls in 1976. (Well, January 1977, but it was for the 1976 season.)
* And the San Francisco 49ers won the 1st of 5 Super Bowls in 1981. (Well, January 1982.)
* The San Jose Sharks have yet to reach the Stanley Cup Finals, let alone win the Cup, but they've got a talented team at the moment, so who knows?
The Giants are deserving champions. May my Dodger-turned-Met fan Grandma from Queens forgive me for saying so. She probably would've told Tim Lincecum to get a haircut and Brian Wilson to shave.
Congratulations to San Francisco for their 1st baseball team to go as far as they were allowed to try since the 1957 San Francisco Seals won the Pennant in their last season in the Pacific Coast League.
So with the Curse of Captain Eddie (Grant) gone, that means every other curse -- except the Cubs' double whammy of Fred Merkle and the Billy Goat -- moves up, including Rocky Colavito's even though that came 12 years after the Indians' last title. Kevin Mitchell, your curse is on the clock.
*
Kristin Lee, wife of Cliff Lee, on October 26, citing fans who, she alleges, were throwing cups of beer, screaming obscenities and even spitting at the Ranger wives: "The fans did not do good things in my heart... When people are staring at you, and saying horrible things, it's hard not to take it personal."
Kristin Lee, sometime since then: "It's so nice living close to home."
The Lees live in Benton, Arkansas. That's 295 miles to downtown Dallas, Texas. Add on the 18 miles from downtown Dallas to Rangers Ballpark in Arlington, and we're talking 313 miles.
Even in Texas, where driving like a lunatic is par for the course, that's gotta be at least a 5-hour drive, even if you manage to get around downtown by taking I-635, the LBJ Freeway.
To put it another way: 313 miles from Yankee Stadium could put you in Biddeford, Maine (if you take I-95 North); Fredericksburg, Virginia (if you take I-95 South); Syracuse, New York (if you take the New York State Thruway); or Berwick, Pennsylvania (if you take I-80 West).
Does that sound like "close to home" to you? Cliff better hope she's not the one negotiating his new contract, 'cause she's not even as good at math (or geography) as her husband was at pitching in this World Series.
Speaking of Cliff Lee: His career record is 102-61. .626. Counting the postseason, he's 109-63, .634.
He's won 102 regular-season games. He's 32. At that same age, Catfish Hunter had won 222 games. Tom Seaver had won 203. Steve Carlton had won 201. Dwight Gooden, who isn't in the Hall of Fame and probably never will be, had, even with his injuries and suspensions, won 179. Nolan Ryan had won 151. Andy Pettitte, who is (at least for the moment) still active and thus not eligible for the Hall of Fame, had won 149. Even Tommy John, who isn't yet in the Hall of Fame and may never be, had won 124 by that age – the age at which he blew out his elbow and required the surgery that now bears his name.
Cliff Lee was 18-5 in 2005, and 22-3 in 2008. Other than that, he's 62-53. .539. In the last 2 seasons, he's 26-22 in the regular season, .542.
Still think he's worth CC Sabathia money? Or even The Great Johan Santana money?
In fact, while we're at it, Sabathia is only 30, and has 157 wins. Santana is a few months younger than Lee, and has 133 wins. Both have a higher career winning percentage, a lower career ERA, and a lower career WHIP than Lee. These stats are true in spite of Sabathia pitching for some Indian teams on which Lee also pitched, and Santana pitching (and sometimes getting hurt) for a management-sabotaged Met team the last 3 seasons.
Still think the Yankees – or anybody else – should open the vault for Cliff Lee? Still think he's one of the great pitchers of our time? Still think the Hall of Fame should get his plaque ready, merely to await the final stats?
Prediction: The Chicago Cubs will win a World Series before Cliff Lee is elected to the Baseball Hall of Fame.
Hey, if the Red Sox, White Sox and Giants can do it, why not the Cubbies?
UPDATE: This prediction came true in 2016. Lee, whose final career record was 143-91, will be eligible for the Hall of Fame in 2020.
*
New Texas Rangers owner Chuck Greenberg – Nolan Ryan is the face of the franchise and the man making the personnel decisions, but it's Greenberg who actually owns the controlling interest – on Yankee Fans yesterday, prior to Game 5 of the World Series:
I think our fans have been great. I think particularly in Game 3 of the World Series they just blew away anything I've seen in any venue during the postseason.
I thought Yankee fans, frankly, were awful. They were either violent or apathetic, neither of which is good. So I thought Yankee fans were by far the worst of any I've seen in the postseason. I thought they were an embarrassment."
Greenberg later in the day, after getting put in his place by Commissioner Bud Selig:
Earlier today, in the course of praising the extraordinary support and enthusiasm of Texas Rangers fans, I unfairly and inaccurately disparaged fans of the New York Yankees. Those remarks were inappropriate. Yankees fans are among the most passionate and supportive in all of baseball.
I have spoken directly to Hal Steinbrenner and Randy Levine to apologize for my intemperate comments. I would like to express again how proud we are of our fans and how remarkably they have supported the Rangers throughout lean times and now during this magical season.
Apology accepted. Just don't do it again.
*
Mike Lupica, this past Sunday in his weekly "Shooting From the Lip" column in the
Daily News
:
The Yankees outspent the Red Sox by $40 million this season, saw the Red Sox lose half their team to injuries, and still didn't put Boston away for good until the second-to-last Sunday of the regular season.
Well, excuse me, Mr. Met Fan, whose team spent $132.7 million this season, and finished 12 games out of the Playoffs: Whose team outspent 25 MLB teams, and finished with a worse record than 16 of those? Whose team has spent more money since Opening Day 1987 than any team except the Yankees, and has no World Championships and 1 measly Pennant to show for it – and that one ending with the Yankees beating them in the World Series and clinching at Shea Stadium?
Come to think of it, the Red Sox spent more money than any team except the Yankees, and they didn't reach the Playoffs. They spent more money than the Pennant-winning Giants ($98 million) and the Pennant-winning Rangers ($55 million) combined.
Come to think of it, would Lupica be using the Red Sox as an example at all if they were not the Yankees' main rivals?