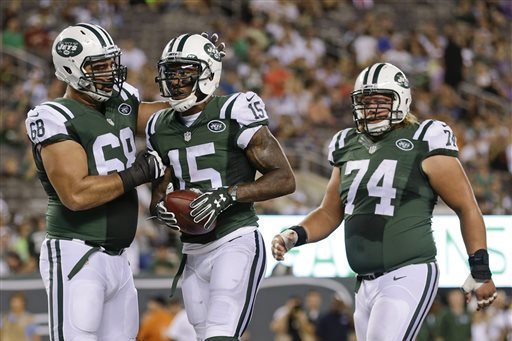 For the 2nd week in a row, the New York Jets needed overtime to beat a weak team, but got it done: Last week, the Detroit Lions; this week, the Cleveland Browns.
At the rate the Jets are going, they might win the Super Bowl, but there won't be anybody at the victory parade: Their fans will all get heart attacks!
That's better than the ulcers that Giant fans got yesterday, losing to the Dallas Cowboys.
So the Cowboys were 1-7 under Wade Phillips, and are now 1-0 under Jason Garrett, who I once saw quarterback Princeton at the old Palmer Stadium.
Clearly, Phillips was the problem. But it could also mean that the Cowboy players quit on their coach, and are only now choosing to play well now that he's gone. (Shades of Tottenham going from Juande Ramos to Harry Redknapp.)
Yesterday, on
Fox NFL Sunday
, Terry Bradshaw -- who, ironically, once faced accusations from the Cowboys that he was "so dumb, he couldn't spell 'cat' if you spotted him the C and the A" -- said that Cowboy owner Jerry Jones isn't going to get anywhere if he doesn't hire a real general manager instead of doing the job himself.
Jerry's a smart guy, but Terry is right here. After all, look how much better the Yankees got when George Steinbrenner was no longer the de facto GM.
Then there's the Brad Childress situation with the Minnesota Vikings. Not to be confused with the Brett Favre situation with the Vikes, and he has got to go: He can't play anymore. (Same with Kerry Collins, who totally screwed the Tennessee Titans yesterday -- but that's a whole other set of issues.)
Look, I don't care how much you hate your coach: You do not quit on him. Whether you like your coach or not, you must respect his authority. The owner does not, and has the right to replace him; but if the players do not, they don't play, and get replaced by someone who does. The NFL Players Association is a far weaker union than its baseball and basketball counterparts, and doesn't have much leverage if a team decides to cut a player, for any reason.
It doesn't matter if your team's head coach is a player's coach or a nasty old martinet: You do your damnedest. Or, as "player's coach" Herman Edwards taught us, "
Hello? You play to win the game!
"
Herm hasn't won anything more than a Division Title (2002 AFC East with the Jets -- after this rant, one of the more successful coaching rants in sports history), and may never be a head coach again. But no player ever quit on him. Whatever his difficulties, he got his players to try.
Herm said he didn't care if you don't have any wins. The Buffalo Bills didn't have any wins going into yesterday, yet they played to win the game, and they did. Granted, it was against the Lions, who are still not a very good team. But the Bills made sure that the Lions' "record record" of 0-16 in 2008 will stand for another season.
Besides, I've been to Buffalo and to Detroit. Buffalo's got its problems, but there's a lot to like about it, even today. Detroit? That city is one step from unsalvagable.
Actually, the highlight of football Sundays for me is watching Terry, Howie and the rest on
Fox NFL Sunday
. What does that say about the quality of the NFL today, when the highlight of the day is the very beginning?
Actually, it may say more about me: That Terry was the best quarterback in the game when I was a kid (before his elbow woes became acute and Joe Montana came in), and that I miss him on the field, and that he represents the good things about football to me.