In
Field of Dreams
, Ray Kinsella (played by Kevin Costner) and Terence Mann (James Earl Jones) discuss whether 5 minutes, even in a sporting event, can change the world.
Larry Kwong proved it can take even less than that.
Eng Kai Geong was born on June 17, 1923 in Vernon, British Columbia, in the Southern Interior of that Province of Canada, about halfway between Vancouver and Calgary. He was 1 of 15 siblings.
His father owned a grocery store, named Kwong Hing Lung, which roughly translates as "Abundant Prosperity." Locals, knowing that Chinese names began with the family name, rather than ending with it as in Western cultures, presumed that the family name must be "Kwong," and called Eng's father "Mr. Kwong." Eventually Eng had his name legally changed to Lawrence Kwong, becoming known as "Larry."
A right wing, he helped his hometown team, the Vernon Hydrophones, to BC's midget championship in 1939, and its juvenile title in 1941. He then played for the Trail Smoke Eaters in Trail, British Columbia. This was a senior hockey team, meaning it was at the highest-ranking amateur level. But, like many such hockey (and basketball) teams of this time, it was really "semi-professional": They'd get you a job, so you would have income. If you were particularly good, the job would be nominal at best, so you'd qualify as a pro at "work" and an amateur at your sport.
But while most of his teammates were working at a local smelter, he wasn't allowed to, because he was Chinese. But because he was Canadian, and World War II was raging, in 1944, he was drafted into the Canadian Army.
He was assigned to a service team, the Red Deer Wheelers of the Central Alberta Garrison Hockey League, which also features goaltender "Sugar Jim" Henry and right wing Matthew "Mac" Colville, who had already played for the NHL's New York Rangers -- as had Colville's brother Neil.
The War over, Kwong returned to the Smoke Eaters, and helped them win the Provincial senior title, the Savage Cup, in 1946, scoring the Final-winning goal. Henry and Colville must have told Rangers boss Lester Patrick about their experience with Kwong on the Wheelers, because he was signed to the Rangers' top farm team, the New York Rovers, who also played at the old Madison Square Garden from 1935 to 1952. In 1947-48, he led the Rovers in scoring.
Just as another New York sports star of that era, Joe DiMaggio, was known as the Yankee Clipper after what was already an old-time sailing ship, Kwong was nicknamed the China Clipper. (To match a famous movie about a big ape, he was also nicknamed King Kwong.) And, just as DiMaggio was an icon for Italian-Americans, and Hank Greenberg (a New Yorker playing in Detroit) was a hero for Jewish Americans, particularly New Yorkers, people in Lower Manhattan's Chinatown found a hero in Kwong.
But he wasn't getting called up, to receive his just due from white fans. It wasn't just his Asian heritage that stood in his way: It was also his size, just 5-foot-6 and 150 pounds. With guys like Maurice "the Rocket" Richard and Kenny Reardon of Montreal, Gus Mortson of Toronto, and Black Jack Stewart of Detroit prowling the ice, fast and willing to check hard, the days when a guy could be the size of 1920s Ottawa and 1930s Toronto star Frank "King" Clancy (generously listed as 5-7, 155) and still play in the NHL were over.
It was also the fact that there were only 6 teams in the NHL: New York, Boston, Montreal, Toronto, Detroit and Chicago. That meant just 120 jobs, almost all of them held by white Canadians. Even white Americans found it hard to make it, because, at the time, the idea that an American could be trained at hockey as well as a Canadian could was, to be completely fair, while possible, incredibly unlikely.
Finally, on March 13, 1948, wearing Number 11, he was called upon to take a late shift in one of the last games of the regular season, against the Montreal Canadiens at the Montreal Forum. His shift lasted perhaps a minute, and he registered neither a goal nor an assist. The Canadiens won, 3-2.
That was it. He never appeared in another NHL game. But, 11 months after Jackie Robinson had reintegrated Major League Baseball, a year and a half before 4 players reintegrated pro football, 2 1/2 years before the NBA would be integrated by 3 players, and 10 years before Willie O'Ree became the 1st black player in the NHL, Larry Kwong had become the 1st Asian player, and the 1st person of color, to play in the NHL.
*
Realizing that this was as good as it as going to get in post-World War II America -- he would later say, "You wonder. Who knows?" -- Kwong accepted an offer from the Valleyfield Braves of the Quebec Senior Hockey League. The Rangers let him go without objection.
The Braves were coached by former Canadiens star Hector "Toe" Blake, and he and Kwong led them to the league title in 1951. Kwong was named the league's Most Valuable Player -- ahead of Jean

Béliveau

of the

Québec

Aces.
Blake said, "I would not trade Larry Kwong under any circumstances."
Béliveau said, "Larry made his wingmen look good, because he was a great passer. He was doing what a centerman is supposed to do."
Kwong opened a restaurant in Valleyfield, and remained with the Braves through 1955, at which point the Canadiens kicked coach Dick Irvin Sr. (father of their legendary broadcaster) upstairs, and hired Blake as head coach, where he led them, along with Richard, his brother Henri Richard,

Béliveau,

Jacques Plante and other stars, to 8 Stanley Cups. Kwong played elsewhere in Quebec, and in 1957 moved to England's East Midlands to play for the Nottingham Panthers, one of the most successful British hockey teams.
Translation: Now open! Larry Kwong's Restaurant.
Light and complete meals. Specialty:
Canadian and Chinese dishes. Sweet liquors,
cigars, cigarettes, chocolates, sandwiches, etc.
It was in Nottingham that he met Audrey Craven. They married, and had a daughter named Kristina. In 1958, he was hired by HC (Hockey Club) Ambri-Piotta in Switzerland, making him the 1st person of Chinese ethnicity to coach a professional hockey team, anywhere in the world. He later coached at HC Lugano and HC Lausanne in Switzerland, and also coached tennis.
In 1972, he returned to Canada, and took over his family's supermarket, now named Food-Vale. In 1979, Audrey died. In 1989, he married Janine Boyer, but she died in 1999. He retired from the grocery business, and lived in Calgary.
*
He was not related to Norman Kwong, another Calgary-based sports legend, who was the 1st Asian-ancestry player in the Canadian Football League. He won 4 Grey Cups (1948 with the Calgary Stampeders; 1954, 1955 and 1956 with the Edmonton Eskimos). Like Larry, "Normie" Kwong was nicknamed the China Clipper.
Also born with a family name other than Kwong, he was elected to the Canadian Football Hall of Fame, became a part-owner of the NHL's Calgary Flames, and later served as Lieutenant Governor of Alberta. He died in 2016, shortly before he would have turned 87.
It would be October 11, 1975 before another Asian-North American player, forward Mike Wong of Minneapolis, reached the NHL, playing a little longer with the Detroit Red Wings.
In 1990, Robin Bawa, a right wing from the Vancouver suburbs, became the 1st player descended from India to play in the NHL. He would also play 61 games for Washington, Vancouver, San Jose and Anaheim over the next 4 years, scoring 6 goals.
Only 1 other Indian player has reached the NHL: Emmanuel "Manny" Malhotra, born and raised in Mississauga, outside Toronto, and a center for the Rangers from 1998 to 2002. He later played for Dallas, Columbus, San Jose, Vancouver, Carolina and Montreal, and is now an assistant coach for Vancouver.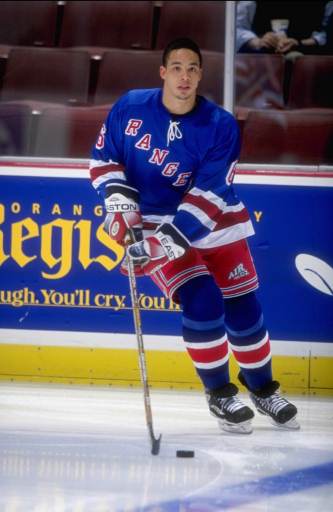 Jim Paek of Korea was the 1st player born in Asia to reach the NHL, growing up in Toronto, and playing as a defenseman for the Pittsburgh Penguins. With them, he won the Stanley Cup in 1991 and 1992, an is the only Asian player to win it.
Paul Kariya, born in Vancouver to Japanese parents, didn't quite win the Cup, losing the 2003 Finals to the New Jersey Devils while with the Anaheim Ducks, but did become the 1st Asian player elected to the Hockey Hall of Fame.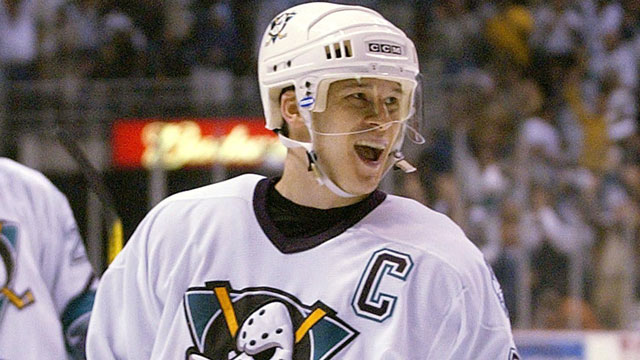 In 2015, the New York Islanders drafted Andong Song, a defenseman born in Beijing, raised in the suburbs of Toronto, and played high school hockey at the prestigious Lawrenceville School in Mercer County, New Jersey. He is now 21 years old, attending Cornell University, and played for the Isles' farm team is Wisconsin, the Madison Capitals. He is the only Chinese-born player ever drafted by an NHL team.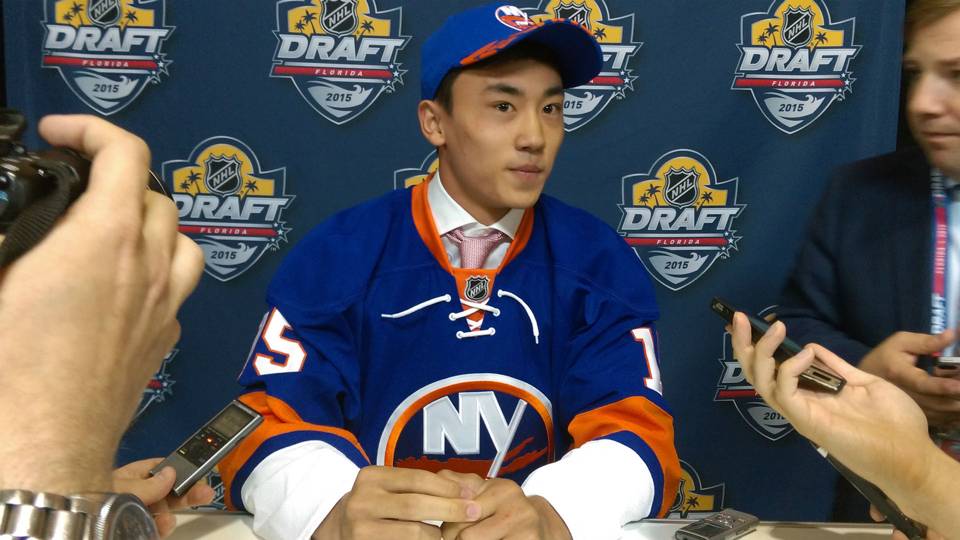 Ivan Wilfred Johnson, an original Ranger in 1926 who remained with the team through 1937, played in the Stanley Cup Finals in 1928 (won), 1929 (lost), 1932 (lost), 1933 (won) and 1937 (lost). Although he was an Irishman from Winnipeg, and received the Russian-themed nickname "Ivan the Terrible," somehow, people got the idea that he looked Chinese, and he became known as "Ching" Johnson.
Frankly, I don't see it. I think he looks more like Bob Hope.
A roughhouse defenseman, he is a member of the Hockey Hall of Fame. The Rangers have retired his Number 3 -- but for a later Hall of Fame defenseman, Harry Howell.
*
In 2009, Larry Kwong's hometown's current team in the British Columbia Hockey League, the Vernon Vipers, honored him in a pregame ceremony. So did the Calgary Flames, in recognition of his service to hockey in the Province of Alberta, of which Calgary is the capital. He was elected to the British Columbia Sports Hall of Fame in 2013 and the Alberta Sports Hall of Fame in 2016.
Larry Kwong died on March 15, 2018, at age 94, in Calgary, 2 days after the 70th Anniversary of his toe-dip into history.
The Rangers have retired Number 11, but for Mark Messier. They have announced that, next season, they were retire it again, completing the honors of the late 1960s, early 1970s "GAG Line" (Goal A Game): 7, Rod Gilbert; 19, the newly-honored Jean Ratelle; and 11, for Vic Hadfield.
Have the Rangers, who play in a city with one of the largest Chinese communities in the world outside of China, ever honored Larry Kwong?