Next Saturday, St. Patrick's Day, the New York Red Bulls visit the suburbs of Salt Lake City, Utah, to take on Real Salt Lake.
Note that they can call themselves "Real" -- in this case, meaning "authentic" but "royal" in Spanish, and pronounced "ree-AL" instead of "REEL" -- all they want, but nobody's going to confuse them with the now 11-time European Cup winners, Real Madrid. On the other hand, RSL have an MLS Cup, while Metro, to their dismay and that of their fans, do not. (Nor, of course, do the considerably newer NYCFC.)
Before You Go.
We think of Utah, we think of the Wild West. Desert. National Monument Valley. We forget that it's also in the Rocky Mountains. I flipped out when I heard that it was chosen as the site of the 2002 Winter Olympics. Winter?
Utah?
But it's got mountains, and it's got snow. For years, the license plates even said, "Ski Utah."
This is Utah in mid-March. The weather could be a factor.
The Salt Lake Tribune
is predicting the high 40s for daylight on Saturday and Sunday, and the low 30s for the evenings. They're also saying there could be snow on Saturday morning, although it doesn't sound like much. Whatever Winter clothing you would be wearing for a home game in Harrison, New Jersey should be sufficient for this game in Sandy, Utah.
Utah is in the Mountain Time Zone, 2 hours behind New York. Adjust your timepieces accordingly.
Tickets.
Real Salt Lake averaged 18,781 fans per home game last season. That's a drop of nearly 1,000 per game from last season, about 93 percent of capacity -- but still in the top half of MLS. Fortunately, as an away fan, you have the advantage of set-aside seats for fans of your team. RSL's are in the north end of the upper deck, Sections 233 and 234. Tickets are $32.
Getting There.
It's 2,174 miles from Midtown Manhattan to downtown Salt Lake City, and 2,169 miles from Red Bull Arena in Harrison to Rio Tinto Stadium in Sandy. In other words, if you're going, you're flying.
Because, driving, you'd have to get onto Interstate 80 West in New Jersey, and – though incredibly long, it's also incredibly simple – you'll stay on I-80 for almost the entire trip, getting off at Exit 306 for downtown Salt Lake.
Not counting rest stops, you should be in New Jersey for an hour and a half, Pennsylvania for 5:15, Ohio for 4 hours, Indiana for 2:30, Illinois for 2:45, Iowa for 5 hours, Nebraska for 7:45, Wyoming for 6:45, and Utah for 1:30. That's about 37 hours, and with rest stops, and city traffic at each end, we're talking 2 full days.
That's still faster than Greyhound and Amtrak. The station serving both, Salt Lake Central Station, is at 300 South 600 West. But the Greyhound trip averages about 49 hours, depending on the run, and will require you to change buses twice, most likely in Pittsburgh and Denver. And you'd have to leave no later than Monday morning at 7:10 to get there by Wednesday gametime. Round-trip fare is $498, but it could drop to $410 on advanced purchase.
In this case, taking the train will be impossible, because Amtrak's
California Zephyr
is sold out for that week. Ordinarily, on Amtrak, you would leave Penn Station on the
Lake Shore Limited
at 3:40 PM on Wednesday, arrive at Union Station in Chicago at 9:45 AM Central Time on Thursday, and switch to the
California Zephyr
at 2:00 PM, arriving at Salt Lake City at 11:05 PM Mountain Time on Friday, about 20 hours before kickoff.
Getting back, the
California Zephyr
leaves Salt Lake City at 3:30 AM on Sunday, arrives in Chicago at 2:50 PM on Friday, and the
Lake Shore Limited
leaves at 9:30 PM and arrives in New York at 6:23 PM on Saturday. So we're talking a Sunday to the next week's Saturday operation by train. Round-trip fare: A whopping $746.
Newark to Salt Lake City is a relatively cheap flight, considering the distance. You can get a round-trip fare for under $700, less than the train. The problem is, you'll have to change planes, probably in Chicago, Dallas or Phoenix -- not, as you might guess, in Denver.
Once In the City.
Founded in 1847 by Mormon leader Brigham Young (who famously found what he thought was the right spot for his followers and said, "This is the place") and named after the Great Salt Lake, Salt Lake City is the smallest anchor city in North American major league sports, except for Green Bay, Wisconsin: 193,000.
But it has a metropolitan area population of about 2.5 million and rising, which makes it larger than NBA markets San Antonio, Indianapolis, Milwaukee, New Orleans, Oklahoma City and Memphis, and MLS markets Kansas City and Columbus -- and not that far behind Vancouver.
The State House, with a statue of Massasoit,
the famous Native chief of Massachusetts.
Many have asked, Why not a chief of the Ute tribe?
Society in the State and the City remains dominated by "The Church of Jesus Christ of Latter-Day Saints," a.k.a. the Mormons. So, in
Star Trek IV
, when James T. Kirk, having traveled back in time with Spock, tells a woman that Spock was in Berkeley, California in the 1960s and "did a little too much LDS," it was a mistake, not a reference to Spock being a Mormon.
Despite it being a Western university, I don't think there were very many Mormons at the University of California, Berkeley in those days. They were much more likely to have attended the University of Utah in Salt Lake City, Utah State University in Logan, or, especially, the school named for their faith's leading figure, Brigham Young University in Provo.
Nevertheless, like Austin in Texas, Little Rock in Arkansas, Atlanta in Georgia and Lincoln in Nebraska (but definitely
not
the suburbs of any of those), Salt Lake City is an increasingly liberal capital city in an otherwise very conservative State.
I put it this way: In Salt Lake City, Mitt Romney, America's most famous living Mormon, is regarded as "severely conservative"; in the rest of Utah, he's "Massachusetts Moderate Mitt." (As Dick Smothers would say, "That was not a compliment." Dick and his brother Tom probably also had a few things to say about Mitt's father, George, Governor of Michigan and a Presidential candidate in the 1960s.)
Salt Lake City has the most confusing street names I've ever seen. In place of numbered streets, such as "West 6th Street," they have "600 West," then divide them along the other access, so it reads as "South 600 West." I suppose that if you've lived there all your life, this would be second nature to you. Or North 200 Nature to you. But it would drive me bananas.
At any rate, Main Street is the east-west divider, with State Street taking the place of 100 East, and West Temple -- not "West Temple Street" or "West Temple Avenue" or anything like that, just "West Temple" -- taking the place of 100 West. There's also a North Temple and a South Temple, but not an East Temple. South Temple is the north-south divider. The exact centerpoint is Temple Square. Interstate 215 forms a partial "beltway."
ZIP Codes for Utah begin with the digits 84. The Area Codes are 801 (overlaid by 385) and 435. Rocky Mountain Power runs Salt Lake City's electricity. Salt Lake City was 91 percent white as recently as 1970, but is now 66 percent white, 22 percent Hispanic, 8 percent Asian, 3 percent black and 1 percent Native American.
The Utah Transit Authority runs buses and TRAX light rail. Routes numbered 001 to 199 run east-to-west, 200 to 299 run north-to-south, 300-399 are express, 400 to 499 are intercounty, 500 to 599 are neighborhood routes, 600 to 699 are Weber/Davis County routes, 800 to 899 are Utah County Routes, and 900 to 999 are Ski Service/Seasonal routes.
A square bounded by Temple on the north, 200 East on the east, 500 South on the south, and 400 West on the west, plus the State Capitol, Salt Lake Central Station and Old Greektown Station, are a Free Fare Zone. Otherwise, within Salt Lake City, a one-way fare is $2.50, and a Day Pass is $6.25.
The "sales and use tax," as it's known in Utah, is 4.7 percent for the State, and rises to 6.85 percent in Salt Lake City.
Going In.
The official address of Rio Tinto Stadium, or "The RioT" (pronouced like "riot"), is 9256 South State Street, and it is 16 miles south of downtown Salt Lake City.
If you're driving in from downtown: Take I-15 South to Exit 295, and follow South 255 West and West 9400 South to the stadium. I've seen one source that says, "The stadium is unbelievable. The parking is just bad." This may be true: The map shows there isn't much parking on-site. However, the Jordan Commons mall, across State Street to the east, and the South Towne Exposition Center, across 9400 South to the south of that, may have more. Parking runs from $6.00 to $10.00.
By public transit: Take the 701 TRAX, heading toward Draper, from City Center Station to Sandy Expo Station. It's a 32-minute ride. Then it's a 10-minute walk, west on 9400 South and north on the access road to the stadium.
The stadium, whose naming rights are owned by a British-based mining company (appropriate for a soccer team in a mining State, even if most of the company's business is in Australia) opened on October 9, 2008, and the Red Bulls were the visiting team, playing RSL to a 1-1 draw. The field has always been natural grass, and is aligned north-to-south.
RSL share the stadium with their development team, Real Monarchs SLC (Salt Lake City) of the 2nd-tier United Soccer League (same league as NYRB II), and, starting this season, the Utah Royals of the National Women's Soccer League, formerly Kansas City FC. (UPDATE: The U.S. women's team played there on June 7, 2018, beating China 1-0.)
The stadium hosted the 2009 MLS All-Star Game and the 2013 U.S. Open Cup Final. It has also hosted 4 U.S. soccer team matches, all victories until a 1-1 draw in a friendly with Venezuela on June 3, 2017. The U.S. women's team still has a perfect 3-0 record there.
Food.
The team comes right out and says it on their website: "Eating is not a spectator sport."
Being an American of Polish descent, I cannot argue with it. Going clockwise around the stadium:
* The north end has Snowie (a snow cone stand), Real Faves (also pronounced "Ree-AL"), Twin Peaks, Chili Verde, Millcreek Pizza and Maverik Bonfire Grill.
* The northeast corner has Moki's Hawaiian and Totally Nuts.
* The east side has Border Burrito, Pass the dog (a hot dog stand), Snowie, Chile Verde, Real Faves, Millcreek Pizza, and another Snowie stand.
* The south end has Maverik Mayhem and Real Faves.
* The west side has Four Corners Smokehouse, flanked by 2 Chili Verdes.
Team History Displays.
RSL began play in 2005, and named themselves after Spanish giants Real Madrid, after rejecting names like the Golden Spikers (which sounds more like a good name for a volleyball team, but certainly has a Utah connection) and Blitzz (which was reminiscent of the the failed Utah Starzz of the WNBA, not to mention the Chicago Blitz, who failed in the USFL in 1983 and 1984). They won the MLS Cup in 2009. But there is no banner honoring this in the fan-viewable areas of the stadium.
Oddly, while they have won a league title, they have never finished 1st in the Western Conference in the regular season, though they have finished 2nd 3 times. I suppose this makes them the Miami Marlins of MLS, except that their stadium isn't a garish airplane hangar, their uniforms aren't stupid, they've got insane heat but not the humidity to match, and their owner isn't a cheap asshole. (As far as I know.)
RSL were runners-up in the CONCACAF Champions League in 2011, and achieved a dubious "double" in 2013, losing the Finals of both the MLS Cup and the U.S. Open Cup.
(D.C. United won the American version of "The Double" in 1996, the Chicago Fire in 1998, and the Los Angels Galaxy in 2005. L.A. won the MLS Cup but lost the MLS Cup Final in 2002. D.C. won the Open Cup but lost the MLS Cup Final in 1997, L.A. did that in 2001, Chicago in 2003, Sporting Kansas City in 2004, the New England Revolution in 2007. But no other team has lost both Finals in the same season.)
RSL don't have a team hall of fame, and did not select an all-time team for their 10th Anniversary in 2015. There's also no viewable display for their only retired number, the 9 of Jason Kreis. That name should sound familiar to you: He was named MLS Most Valuable Player when helping the D.C. Scum to the 1999 title, and was the 1st head coach of New York City FC, before the club's pathetic performance led to him being fired after just 1 season. He now manages Orlando City.
He was acquired as RSL's 1st player, before their 1st season, in 2005, and he scored the 1st goal in club history -- which he also did for FC Dallas (then the Dallas Burn) in 1996. Early in the 2007 season, he retired as a player and was named RSL's manager, a post he held through 2013, when he took over at Man City NYC.
Between this job and the Orlando job, he was an assistant to Jurgen Klinsmann on the national team -- which is ironic, because he played for it only 14 times, and never in a major tournament. (He could have been selected for the World Cup in 1994, 1998, 2002 or 2006; or for the CONCACAF Gold Cup in 1996, 1998, 2000, 2002, 2003 or 2005. But he never was.)
Since RSL's inception in 2005, they and their arch-rivals, the Colorado Rapids, have competed for the Rocky Mountain Cup. Real have won it 9 times, including the last 2, and the Rapids 4 times.
The Rocky Mountain Cup
decorated with Real's colors
Stuff.
The Real Salt Lake Team Store is in the northeast corner of the stadium. The usual team gear can be found there. Perhaps Utah's Western heritage could be invoked with the selling of cowboy hats with the team's logo on it.
Finding media about the team may be difficult. As far as I can tell, there's no books about the team, and the only video I could find was a record of their championship season,
It's For Real - Real Salt Lake MLS Cup 2009 Champions.
During the Game.
RSL's big rivalry is with the Denver-based Colorado Rapids, and it is a nasty one, much more so than the one between the NBA's Utah Jazz and Denver Nuggets.
The Red Bulls and NYCFC are not the Rapids. So, what's the safety factor? I saw once source that said, unless you sit among the home supporters in the south end, you should be able to make friends. But I saw another source that said, "If you are a supporter from another team STAY AWAY. The Real Salt Lake supporters in black shirts were rude and offensive. Security did nothing to prevent them from hassling and cursing away fans."
I don't know what this person meant by "hassling." But if it's anything up to and including what the NYCFC fans tried outside Bello's in Summer 2015, then anyone visiting should know that they won't be on home turf. You will be outnumbered. Best not to escalate anything.
RSL's manager is Mike Petke. That would thrill Red Bull fans. NYCFC fans, not so much.
RSL holds auditions for National Anthem singers, instead of having a regular. Keeping with the "royal" image of Real Salt Lake, their mascot is Leo the Lion, as in "King of the Jungle."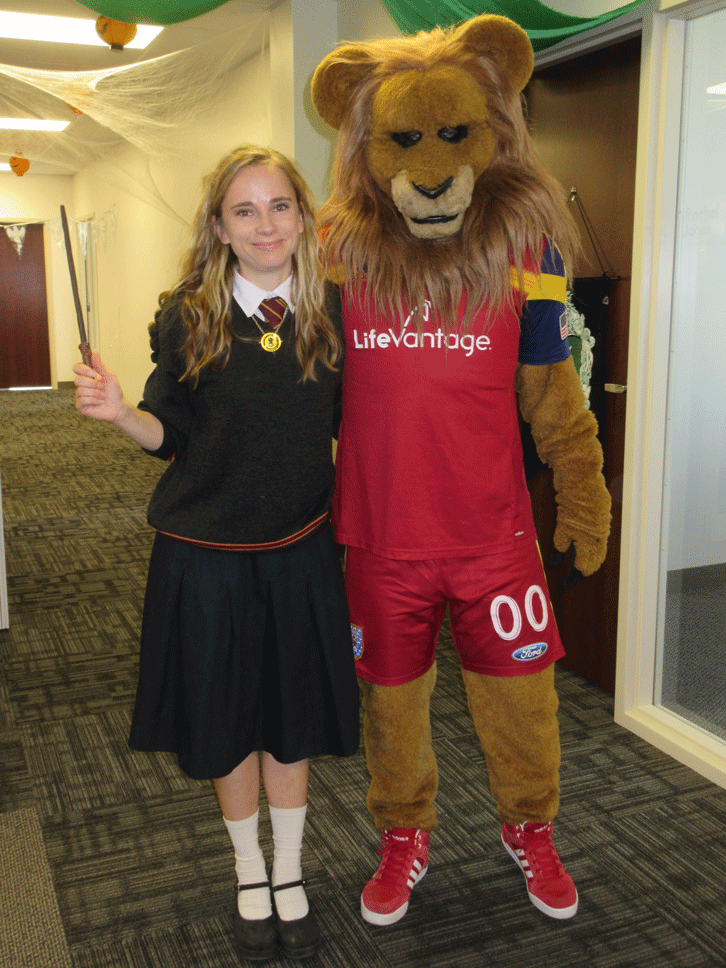 Apparently, he's a Potterhead. Or he's
got a crush on Emma Watson. Or...
Nah, I'm not gonna go there.
In 2011,
Branden Steineckert
, the drummer for the punk band
Rancid
and an RSL fan, wrote the song "Believe" in honor of the club. It
has since been adopted as the team's official anthem, being sung at the beginning of every home game, as well as after all goals scored by RSL.
Real Salt Lake has eight official
supporters groups
: Rogue Cavaliers Brigade (RCB -- "We have been called 'the best fans in the stadium,' our foes have called us 'scary,' 'childish' and 'immature'"), The Loyalists,
Salt City United (SCU), Section 26, La Barra Real, Union de Real, The Royal Pride (TRP),
and The Royal Army.
Except for Section 26 and The Royal Army (which is dispersed throughout the stadium), all supporters groups sit in the south stands.
They call themselves "Salt Lake's Finest," but look at the B:
They can't spell "Brigade."
Their chants are mostly borrowed. Chelsea's tune becomes, "Carefree, wherever we may be, we are the famous SLC!" Like Southampton and Tottenham, they use "When Real Goes Marching In." There's "Salt Lake 'Til I Die," "Can You Hear the (Opponent's Fans) Sing?", "Wings of an Eagle" (instead of "Sparrow"), "Who the Fuck Is Colorado" (instead of "Are Man United"), "Let's Go Fucking Mental," "I Believe That We Will Win," and an oldie but a goodie from American football: "Hit 'em again, hit 'em again, harder, harder!" They use "A rope, a tree, we'll hang the referee," but vary it with, "I'm blind, I'm deaf, I wanna be a ref!"
Like many teams, they've adapted the Beatles' "Yellow Submarine," in their case for a player who dives: "You go down like a Tijuana whore, a Tijuana whore, a Tijuana whore!"
After the Game.
Salt Lake City is one of the safest cities in the country. You should have no trouble getting back to your car or your hotel all right.
If you want to go out for a postgame meal or drinks -- yes, alcohol can be purchased and consumed in Utah -- across South State Street, the Jordan Commons Mall has a Joe's Crab Shack and a Cold Stone Creamery. However, due to the lateness of the hour, getting in might not be possible. A little further down State Street are Crown Burgers and Iceberg Drive Inn.
Back in downtown Salt Lake, Lumpy's, at 145 S. Pierpont Avenue between 100 and 200 West, was recently cited on
Thrillist
's list of the best sports bars in every State as the best one in Utah.
As far as I know, there are no bars or restaurants anywhere near Salt Lake City that are known hangouts for New Yorkers.
If your game in Salt Lake is during the European soccer season (which is now approaching its climax), there's one place that shows up whenever you look up area soccer bars: Fiddler's Elbow, at 1063 East 2100 South, 5 1/2 miles southeast of downtown, in the Sugarhouse area. Bus 209, then a 3-block walk east on 2100.
Sidelights.
Aside from the Jazz, Salt Lake City doesn't have much sports history, but may still be worth a visit beyond the game.
* Vivint Smart Home Arena. The Jazz' arena opened in 1991 as the Delta Center, with the airline having bought naming rights. It became the EnergySolutions Arena in 2006, and the name was changed again in 2015, as the naming rights were bought by a private home security system company. Yet another thing about Salt Lake City that's confusing, along with the street addresses, the combination of desert and snow-capped mountains, and the liberal City in the conservative State.
The building was used for figure skating and short track speed skating at the 2002 Winter Olympics. The WNBA's Utah Starzz played there from 1997 to 2002, when they moved to become the San Antonio Silver Stars.
It was home to a pair of minor-league hockey teams, the Salt Lake Golden Eagles from 1991 to 1994, and the Utah Grizzlies from 1995 to 1997, winning the Turner Cup in 1996 and '97. It's hosted NCAA Tournament games, although the NCAA is now committed to holding them in domed stadiums with at least twice this arena's capacity of 19,911.
The official address of the arena is 301 South Temple. It's downtown, within walking distance of most hotels.
* Salt Palace. There have actually been 3 buildings with this name, but only the 2nd is connected to sports. Opening in 1969, it hosted minor-league hockey's Salt Lake Golden Eagles from 1969 to 1991; the ABA's Utah Stars from 1970 to 1975, including their 1971 ABA Championship; and the Jazz from 1979 to 1991. The Beatles never performed in Utah, but Elvis Presley sang at the Salt Palace on November 16, 1971 and July 2, 1974.
For most of its history, it seated a little over 12,000 people. By the time the Jazz got good in the mid-1980s, among the NBA's 23 teams, only the Milwaukee Bucks had an arena with a smaller capacity. It was time to build a larger arena.
On of the last events there was an AC/DC concert on January 18, 1991, at which fans rushed the stage, and 3 of them were trampled to death. It took 20 minutes for someone to get word to the band about what had happened, and they stopped the concert. Most likely, you didn't hear about this (unless you were a fan of the band or a Utah native) because the Persian Gulf War had started 2 nights before, and that was all that TV news wanted to talk about. (As opposed to a similar incident at a Who concert in Cincinnati in 1979, which even got a
WKRP
episode about it.) A lawsuit was filed against the arena operators and the band, and was eventually settled out of court.
The Salt Palace was demolished in 1994. The Salt Palace Convention Center was built on the site, and includes the Utah Museum of Contemporary Art and a concert hall, Abravanel Hall. 100 South Temple.
* Smith's Ballpark. This 15,411-seat ballpark, one of the largest in the minor leagues, has been the home of the Salt Lake team in the Pacific Coast League since 1994, known first as the Buzz, then as the Stingers starting in 2001, and as the Bees since 2006. They are currently a farm team of the Los Angeles Angels of Anaheim.
It was built on the site of Derks Field, which had been home to area baseball since 1947. The original Salt Lake City baseball team played from 1911 to 1984. As the Bees, they won the Pioneer League (then Class C) Pennant in 1946, 1948 and 1953, and the PCL Pennant in 1959. As the Salt Lake City Angels, they won the PCL Pennant in 1971. As the Salt Lake City Gulls, they won the PCL Pennant in 1979. But the current Bees have never won a Pennant, last making the Playoffs in 2013.
The Salt Lake Trappers won Pioneer League (now a Rookie League) Pennants in 1985, 1986, 1987 and 1991, making a total of 10 Pennants for Salt Lake City teams. En route to the 1987 Pennant, they won 29 straight games, to set a North American professional baseball record. In 1994, the Trappers moved upstate to become the Ogden Raptors. 1365 South West Temple, 2 1/2 miles south of Temple Square. Ballpark station on TRAX light rail.
* Rice-Eccles Stadium. Home to University of Utah football since 1998, this 45,807-seat stadium was the centerpiece of the 2002 Winter Olympics. It was built on the site of the previous Rice Stadium, built in 1927. It was Real Salt Lake's 1st home field, from 2005 to 2008, and the U.S. soccer team beat Costa Rica there on June 4, 2005.
* Jon M. Huntsman Center. Home to University of Utah basketball since 1969, it was renamed for a major university contributor, the founder of Huntsman Chemical Corporation and the father of a former Governor. (Jon Huntsman Sr. died last month, while Jon Huntsman Jr. is still alive.)
Most notably, the arena then known as the Special Events Center hosted the 1979 NCAA Final Four, including the legendary Final, won by Earvin "Magic" Johnson's Michigan State over Larry Bird's Indiana State. It has hosted 81 NCAA Tournament games, 3rd-most of any arena.
Both the stadium, at 451 1400 East, and the Huntsman Center, at 1825 East South Campus Drive, are about 3 miles east of downtown, and can be reached by TRAX light rail at University Campus South station.
Utah State University is in Logan, 83 miles north on U.S. Route 89. It is not easily reachable by public transportation. Brigham Young University (BYU) is in Provo, 45 miles south on I-15. TRAX does extend to Provo Central Station, taking about an hour, and then you can transfer to the 830 or 831 bus to the campus.
* Maverik Center. Originally known as the E Center, this 12,500-seat arena hosted the 2002 Winter Olympic hockey tournament. The East Coast Hockey League's Utah Grizzlies have played there since it opened in 1997. (Yes, I know: Utah is on neither the Pacific Coast nor the East Coast. I didn't name these leagues.) 3200 Decker Lake Drive, in the suburb of West Valley City. TRAX to Decker Lake station.
Don't count on Salt Lake City ever getting a team in a sport other than the NBA and MLS. Its metro area population would rank it 29th in MLB, 26th in the NFL, and 23rd in the NHL. For now, the closest teams in those leagues are in Denver, 523 miles away.
And yet, while the Denver Broncos are Utah's favorite NFL team, and the Colorado Avalanche its favorite NHL team, it doesn't hold true in baseball. According to
an article in the April 23, 2014 edition of The New York Times
, Salt Lake City's vast distance from any major league team means that its favorite teams are the teams it's used to seeing on TV: The Yankees and Red Sox each got 17 percent in a poll, and the next-closest in the poll was the Los Angeles Dodgers, with a mere 7 percent. It's not until you get to Uintah County, 160 miles east of Salt Lake (and 320 miles west of Denver), that you get to definitive Colorado Rockies territory in Utah.
Utah has never produced a President. Mitt Romney, born in Detroit and living most of his life in Boston, but having a home in the Salt Lake suburb of Park City, was nominated for President in 2012, but didn't come all that close to winning. So there's no Presidential Library or Museum nearby. Romney has now launched a campaign for the seat of retiring U.S. Senator Orrin Hatch -- a man celebrating his 71st birthday next week running to succeed a man turning 84 the following week.
The most famous Utahan remains Mormon leader Brigham Young. His home, The Beehive House, is a Salt Lake City landmark. 67 East South Temple Street, downtown. The spot where Young told his followers, "This is the place" is now the This Is The Place Heritage Park, a "living history" park, a "Mormon Williamsburg" if you prefer. 2601 Sunnyside Avenue South. It is part of the University of Utah campus, as is the Natural History Museum at 301 Wakara Way. Both can be reached by Bus 3 from Temple Square.
As I mentioned, the Utah Museum of Contemporary Art is part of the new Salt Palace complex. The Museum for Speed includes exhibits about the speed records set at Utah's Bonneville Salt Flats. 165 East 600 South. Bus 200 from Temple Square.
Golden Spike National Historic Site commemorates the meeting of the Union Pacific and Central Pacific Railroads to form the 1st transcontinental railroad on May 10, 1869. Interestingly, both of the locomotives shown in the famous photo were made within a reasonable drive of us: Rogers Locomotive and Machine Works of Paterson, New Jersey built
Union Pacific No. 119
; and Schenectady Locomotive Works of the Albany area built
Central Pacific Railroad #60
, a.k.a.
Jupiter
.
6200 North 22300th Street West (no, I checked, that address is not a typo), in Corrinne, 86 miles northwest of Salt Lake City and around the Great Salt Lake itself, up I-15 and Utah Route 83. Ironically, it's not reachable by train. Nor by bus: You'd have to rent a car to see it. It's about 32 miles southeast of the actual location, usually referred to as Promontory Point, but actually named Promontory Summit, near Brigham City. ("Promontory Point" is a different place.)
The tallest building in the State of Utah is the Wells Fargo Center in Salt Lake City, 422 feet high. (It should not be confused with the building of the same name that is the new Philadelphia sports arena.) Main Street and 300 South. But the most famous building in the State remains the Salt Lake Temple at Temple Square, the Mormons' "Vatican."
As the home of National Monument Valley, many of the films made in Utah have been Westerns, including
Stagecoach, The Searchers, How the West Was Won, Butch Cassidy and the Sundance Kid
-- which gave its name to Kid portrayer Robert Redford's Sundance Film Festival -- and the Wild West scenes from
Back to the Future III
. The beginning sequence of
Indiana Jones and the Last Crusade
, with 18-year-old River Phoenix playing a 13-year-old Indy, was said by the credits to take place in "Utah, 1912," and was indeed filmed in the State. The spot in
Forrest Gump
where Forrest stops running is on U.S. Route 163 in Monument Valley.
As for Salt Lake City itself, a scene from
Legally Blonde 2
was filmed at the Jazz' arena, and another at the State Capitol. The
High School Musical
movies were filmed at East High School, 3 miles east of downtown. 840 1300 East. Bus 220.
But the most famous movie shot in Salt Lake was set in California's San Fernando Valley in 1962:
The Sandlot
. The houses of Scotty Smalls and Benny "the Jet" Rodriguez are at the corner of Bryan Avenue and 2000 East, 5 miles southeast of downtown. Also Bus 220. The actual sandlot, renovated for the film's 20th Anniversary in 2013, is behind 1386 Glenrose Drive South at Navajo Street, 4 miles southwest of Temple Square. Bus 516. Patrick Renna, who played catcher Hamilton "The Great Hambino" Porter, filmed another movie in SLC,
The Great Unknown
, in 1997.
A recent photo of the Sandlot
TV shows set and/or filmed in Utah include the late 1950s Western
Union Pacific
,
Touched By an Angel
(the angels' car had Utah license plates), its spinoff
Promised Land, Everwood,
and the Mormon-themed drama
Big Love
and reality series
Sister Wives
.
*
Like a lot of cities, Salt Lake City can be a bit of an acquired taste. But it's a good soccer town, and it could be a good roadtrip for a Red Bulls or NYCFC fan.