Spring Training is upon us. The games are underway.
It hasn't always been the case, but, today, most of the Eastern teams in Major League Baseball have their training camps in Florida, and most of the Western teams have theirs in Arizona. Currently, it's an even 15/15 split, and the only teams east of Chicago who train in Arizona are the 2 Ohio teams.
*
Arizona is in the Mountain Time Zone, 2 hours behind New York and New Jersey. The weather, as you would hope for Spring Training, tends to be warm all year round.
It's 2,410 miles from Times Square in Manhattan to downtown Phoenix. Although, if you're going there, it's more likely to be that you're a fan of a West Coast or Midwest team. Downtown Phoenix is 1,753 miles from Chicago's Loop, 373 from Los Angeles and 754 from San Francisco.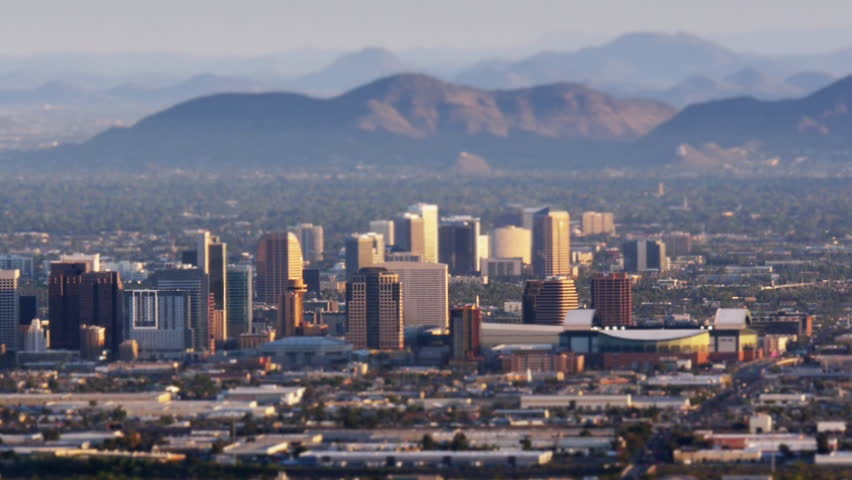 Round-trip nonstop flights from New York/Newark to Sky Harbor International Airport in Phoenix can be had for as little as $668. Amtrak is not good for getting to Phoenix, so let's just skip that. On Greyhound, you'll have to change buses at least once, and it could cost up to $554, and as little as $478 with advanced purchase.
Driving is probably not a good idea.
Even if you get someone to go with you, and you take turns, one drives while the other one sleeps, and you pack 2 days' worth of food, and you use the side of the Interstate as a toilet, and you don't get pulled over for speeding, you'll still need nearly 2 full days to get there. One way.
But, if you really, really want to...

You'll need to get on the New Jersey Turnpike. Take it to Exit 14, to Interstate 78. Follow I-78 west all the way through New Jersey, to Phillipsburg, and across the Delaware River into Easton, Pennsylvania. Continue west on I-78 until reaching Harrisburg. There, you will merge onto I-81. Take Exit 52 to U.S. Route 11, which will soon take you onto I-76. This is the Pennsylvania Turnpike, the nation's first superhighway, opening in 1940.
The Turnpike will eventually be a joint run between I-76 and Interstate 70. Once that happens, you'll stay on I-70, all the way past Pittsburgh, across the little northern panhandle of West Virginia, and then across Ohio, Indiana and Illinois, into Missouri.
At St. Louis, take Exit 40C onto Interstate 44 West, which will take you southwest across Missouri into Oklahoma. Upon reaching Oklahoma City, take Interstate 40 West, through the rest of the State, across the Texas Panhandle and New Mexico, into Arizona. At Flagstaff, take Interstate 17 South, which will take you into Phoenix. Take Interstate 10 West to Exit 133B, which will lead you to State Route 101. Take Exit 6 to the arena/stadium complex
If you do it right, you should spend about an hour and 15 minutes in New Jersey, 5 hours and 30 minutes in Pennsylvania, 15 minutes in West Virginia, 3 hours and 45 minutes in Ohio, 2 hours and 45 minutes in Indiana, another 2 hours and 45 minutes in Illinois, 5 hours in Missouri, 6 hours in Oklahoma, 3 hours in Texas, 6 hours and 15 minutes in New Mexico, and
5 hours and 30 minutes in Arizona.
That's about 42 hours. Counting rest stops, you're probably talking about 55 hours.
The name "Arizona" comes from a Native American word meaning "small spring." Jack Swilling, a Confederate veteran who founded what became the capital city in 1867, accepted the suggestion of a fellow settler, an Englishman named Lord Duppa: Since it was on the site of a previous Indian civilization, it should be n
amed Phoenix, for the mythical bird that rose from its own ashes. The city was incorporated in 1881, making it the youngest city in American major league sports. Most of the cities and towns that are Spring Training sites are in Maricopa County, named for a Native tribe.
Home to just 100,000 people in 1950, Phoenix saw huge growth in the 2nd half of the 20th Century: 440,000 by 1960, 580,000 by 1970, 800,000 by 1980, and it surpassed the 1 million mark in the early 1990s. It's 1.6 million now, with about 4.6 million people in the metropolitan area.
All this made it an expansion target: The NBA's expansion Suns arrived in 1968; the NFL's St. Louis Cardinals in 1988 (after the Philadelphia Eagles had to quash a moving-there rumor earlier in the decade); the NHL's 1st Winnipeg Jets to become the Phoenix Coyotes in 1997, changing their name to the Arizona Coyotes in 2013; and the Arizona Diamondbacks in 1998.
(The Coyotes arrived after the WHA had the Phoenix Roadrunners in the 1970s -- and, yes, I'm well aware of the cartoon connection: Roadrunners replaced by Coyotes).
The sales tax in Arizona is 5.6 percent, but it's 8.3 percent within the City of Phoenix. ZIP Codes for Arizona start with the digits 85 and 86, and the Area Codes are 602 (for Phoenix), 480 and 623 (for the suburbs).
In Phoenix, Central Avenue is the source street for east-west house numbers; oddly, the north-south streets are numbered Streets to the east, and numbered Avenues to the west. Washington Street divides addresses into north and south. State Route 101 forms a partial "beltway."
A single ride on Phoenix buses and Valley Metro Rail is $2.00, with an All-Day Pass a bargain at $4.00. W
ith the ballpark being downtown and thus probably near your hotel, you probably won't need the light-rail system to get there. But in the heat, you may still want to take a cab. If you do take Metro Rail, it's Washington at 3rd Street station going westbound, and Jefferson at 3rd Street station going eastbound.
The tallest building in Phoenix, and in all of Arizona, is the Chase Tower, bounded by Central Avenue and Van Buren, 1st and Monroe Streets.
That it's only 483 feet, and that no taller building has been built in the city since it opened in 1972, says something about this city, but I'm not sure what. But the city seems to be intent on growing outward, not upward.
*
The Detroit Tigers were the 1st team to conduct a Spring Training camp in Arizona, at Riverside Park in Phoenix in 1929. In 1947, Cleveland Indians owner Bill Veeck discovered that the seating in Florida's ballparks was segregated. Knowing that he wanted to follow the Brooklyn Dodgers, and desegregate the American League, he knew he couldn't train in Florida in the years to come. So he moved the team's Spring headquarters to Tucson, Arizona. He talked to New York Giants owner Horace Stoneham, and he moved their Spring HQ to Phoenix. The Cactus League was born.
Chicago Cubs owner Phil Wrigley owned a hotel outside Phoenix, and took the Cubs from their previous camp on Catalina Island (which he also owned) to Scottsdale.
Yankee co-owner Del Webb had some construction interests there, and, in 1951, the Yankees and the Giants swapped camps for a year, with the Giants using St. Petersburg, Florida. When the Giants and the Dodgers moved to the West Coast, and MLB was also established in San Diego and Seattle, it was found to be cheaper to move the teams from the Coast to Arizona for a month and a half and then back, than to do so for Florida.
All of this, and 1960s Cubs catcher Randy Hundley establishing baseball's 1st "fantasy camp" at the Spring camp in Scottsdale in the 1970s, helped to cement Arizona as "Chicago's Florida": The place where you go to retire.
*
Of course, it makes sense that the team that plays its home games in Phoenix would hold Spring Training in Arizona, but it doesn't quite do so within the city limits of Phoenix. All distances and directions given below are from downtown Phoenix, unless otherwise stated:
* Arizona Diamondbacks and...
* Colorado Rockies: Salt River Fields at Talking Stick, 7555 N. Pima Road, Scottsdale, 17 miles northeast. Light Rail to McClintock & Apache, then Bus 81. Opened 2011, and both the D-backs and the Rox have trained there ever since. Seats 11,000. It is not a regular-season home to any professional team.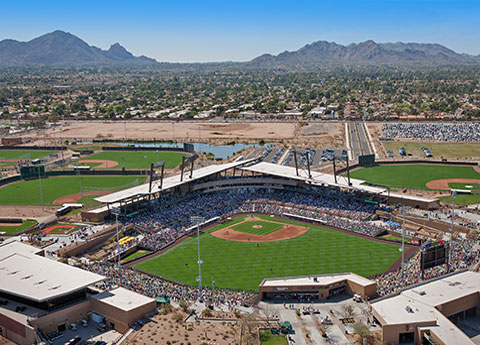 This is the 1st major league ballpark built on Native American land, of the Salt River Pima-Maricopa Indian Community, which also runs Talking Stick Resort, including a casino-hotel. Apparently, Major League Baseball has no problem with this. Pete Rose couldn't be reached for comment.
* Chicago Cubs: Sloan Park, 2330 W. Rio Salado Parkway, Mesa, 12 miles east. Light Rail to Sycamore & Main, then Bus 96 to Dobson & 8th, then a 10-minute walk west on Cubs Way. Opened 2014, and the Cubs have trained there ever since. Seats 15,000. Naming rights owned by the Sloan Valve Company. It is also home to teams in the Arizona Fall League.
* Chicago White Sox and...
* Los Angeles Dodgers: Camelback Ranch, 10712 W. Camelback Road, Glendale, 15 miles northwest. Light Rail to 7th & Camelback, then Bus 50. Opened 2009, and both the Pale Hose and Dem Bums have trained there ever since. Seats 13,000. Named for nearby Camelback Mountain. It is also home to teams in the Arizona Fall League.
* Cincinnati Reds and...
* Cleveland Indians: Goodyear Ballpark, 1933 S. Ballpark Way, Goodyear, 19 miles west. No public transit available. Opened 2009, and the Indians have trained there ever since. The Reds arrived the next year. Seats 10,311. Named for the city, which was named for a major employer in the area, the Goodyear Tire & Rubber Company. It is not a regular-season home to any team.
* Kansas City Royals and...
* Texas Rangers: Surprise Stadium, 15930 N. Bullard Avenue, Surprise, 23 miles northwest. No public transit. Opened 2003, and both the Royals and the Rangers have trained there ever since. Seats 10,714. Named for the city. It is also home to an Arizona Fall League team.
* Los Angeles Angels of Anaheim: Tempe Diablo Stadium, 2200 W. Alameda Drive, Tempe, 9 miles southeast. Bus Zero (yes, such a thing exists there) to Central & Tamarisk, then Bus 52 to 48th & Roeser. Seats 9,558. No team uses it in the regular season.
A dichotomy: It opened in 1969, and this brand-new ballpark was a state-of-the-art home for an expansion team, the Seattle Pilots (as told in pitcher Jim Bouton's book
Ball Four
), who then went north to Sick's Stadium, a relic of the 1930s that was never really suitable for crowds larger than its original 11,000, much less the 25,000 to which it was expanded.
The Pilots became the Milwaukee Brewers in 1970, and remained at Tempe Diablo through 1972. The new Seattle team, the Mariners, used it from their 1977 inception until 1993, the same year the Angels moved in, and they've been there ever since.
* Milwaukee Brewers: Maryvale Baseball Park, 3600 N. 51st Avenue, Phoenix, 7 miles northwest. Light Rail to Indian School/Central, then Bus 41. Opened 1998, and the Brew Crew have trained there ever since. Seats 10,000. Named for its neighborhood. Also used by an Arizona Fall League team.
* Oakland Athletics: Hohokam Stadium, 1235 N. Center Street, Mesa, 15 miles east. Light Rail to Mesa/Main, then Bus 120. Opened 1997, as Spring home for the Cubs, who remained through 2013. The A's moved in for Spring 2015. Seats 10,500. It is not used as a regular-season home by any team.
The original Hohokam Stadium was just to the east, and served the A's in 1977 and 1978, and the Cubs from 1979 to 1996.
* San Diego Padres and...
* Seattle Mariners: Peoria Sports Complex, 16101 N. 83rd Avenue, Peoria, 17 miles northwest. Bus 573 or 575 to Arrowhead Mall, then walk across Bell Road. Opened 1994, and the Padres and the Mariners have both trained there ever since. Seats 12,339. It is also home to Arizona Fall League teams.
Note both teams' cap logos cut into the outfield grass.
* San Francisco Giants: Scottsdale Stadium, 7408 E. Osborn Road, Scottsdale, 11 miles northeast. Light Rail to Veterans/College, then Bus 72. Opened 1992, and the Giants have trained there ever since. Seats 12,000. It is also home to an Arizona Fall League team, and was home to the Phoenix Firebirds of the Pacific Coast League from 1992 until 1997, when the Diamondbacks made Phoenix a major league city.
From 1966 to 1991, the Firebirds, known as the Phoenix Giants through 1985, played at the 8,755-seat Phoenix Municipal Stadium, which still stands. It was Spring home to the Giants in 1964, and the A's from 1984 to 2014. Arizona State University used it as its home baseball field from 1964 to 1973, and have done so again since 2015. 5999 E. Van Buren Street, 7 miles east. Light Rail to Priest/Washington.
To sum up: Going clockwise, starting from due north: Diamondbacks, Rockies and Giants in Scottsdale; Cubs and A's in Mesa; Angels in Tempe; Reds and Indians in Goodyear; White Sox and Dodgers in Glendale; Brewers in Maryvale; Royals and Rangers in Surprise; and Padres and Mariners in Peoria.
Another notable Arizona site for Spring Training was the 9,500-seat Hi Corbett Field, 121 miles to the southeast, in Tucson. It is the granddaddy of Arizona ballparks, opening in 1937, and built in the Spanish Mission style. It was the regular-season home for the minor-league Tucson Cowboys 1937-58, and the Pacific Coast League's Tucson Toros from 1969 to 2010, although they were known as the Tucson Sidewinders from 1998 to 2008.
It was Spring home to the Cleveland Indians 1945-92 (as seen in the film
Major League
), and the Colorado Rockies 1993-2010. The University of Arizona has used it as their home baseball field since 2012. 700 S. Randolph Way.

Pacific Coast League Pennants have been won by the following Arizona teams: The 1958 and 1977 Phoenix Giants, the 1991 and 1993 Tucson Toros, and the 2006 Tucson Sidewinders. Pennants were won in previous leagues by the Tucson Cowboys in 1941 and 1953. And, as we Yankee Fans lament, in 2001, the Arizona Diamondbacks won the 2001 National League Pennant and the World Series.
That still burns me up. But it's a dry heat. Which is as good a place as any to close discussion of Spring Training in Arizona, the Cactus League.