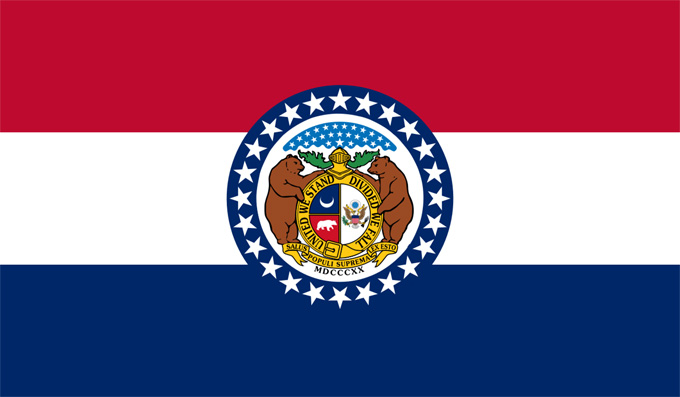 August 10, 1821:
Missouri is admitted to the Union as the 24th State.
Top 10 Athletes From Missouri
Kansas City has a rich history of
having
great athletes, but when it comes to
producing
them, St. Louis dominates this list.
Honorable Mention to the St. Louis Boys of 1950.
Of the 11 players of the U.S. team that upset England at the 1950 World Cup, 5 were from St. Louis: Goalkeeper Frank Borghi, right back Harry Keough, center-half Charlie Colombo, outside right Frank "Pee Wee" Wallace and inside right Gino Pariani.
Left back Joe Maca was born in Belgium, while center forward Joe Gaetjens was born in Haiti, but both grew up in New York. Midfielder Ed McIlvenny was from Scotland, but living in Philadelphia at the time, and was, under the rules in place, allowed to play for the U.S. Left half Walter Bahr, the last survivor, was from Philadelphia. Inside left John Souza and outside left Ed Souza were from Fall River, Massachusetts, although they were not closely related.
Honorable Mention to Becky Sauerbrunn and Lori Chalupny of St. Louis
, both members of the U.S. team that won the 2015 Women's World Cup.
Honorable Mention to James "Cool Papa" Bell of St. Louis.
A good pitcher who was converted into a good center fielder, he was believed to be the fastest player in Negro League history. Cool Papa was
so
fast! (How fast
was
he?) Satchel Paige said he was so fast, he "could get out of bed, turn out the light, and be back under the covers before the room got dark."
He played for some of the iconic teams of the Negro Leagues: The St. Louis Stars, the Kansas City Monarchs, the Pittsburgh Crawfords, the Washington-based Homestead Grays, and the Chicago American Giants. He was named to 8 East-West Games, the Negro Leagues' version of the All-Star Game. He was elected to the Baseball Hall of Fame in 1974 (he lived to see this, living until 1991), and the St. Louis-based Sporting News named him to their 100 Greatest Players in 1999.
And, unlike some of his league's other stars, he was no hellraiser: Ted Page, a teammate in Pittsburgh and a really good player himself, called him, "an even better man off the field than he was on it. He was honest. He was kind. He was a clean liver. In fact, in all of the years I've known him, I've never seen him smoke, take a drink, or even say one cuss word."
So why do I only have him as an Honorable Mention? Because, like the other Negro League stars, he's more myth than man. The statistics that we have suggest that he was a great hitter and a great runner, but they're woefully incomplete. And he was already 43 years old and retired when Jackie Robinson made his major league debut, so he didn't get the chance to show what he could do in the major leagues. Would he have been great at that level? I have no doubt. But I don't have the facts.
Honorable Mention to Elston Howard of St. Louis.
The 1st black player for the Yankees (1955), the 1st black player to win the Babe Ruth Award as World Series most valuable player (1958), the 1st black player to win the American League's Most Valuable Player award (1963), and the 1st black coach in the AL (1969), his Number 32 is retired, and he is honored with a Plaque in Monument Park in Yankee Stadium.
Honorable Mention to the Boyer brothers of Alba.
There were 14 children, 7 of them boys, in this tiny town over a little over 500 people in southwestern Missouri, near Joplin -- far closer in distance and atmosphere to Mickey Mantle's Commerce, Oklahoma than to Kansas City or St. Louis. But 3 of the 7 boys reached the major leagues.
Ken was an 11-time All-Star, a 5-time Gold Glove at 3rd base, and the National League's MVP when he led the St. Louis Cardinals to the 1964 World Championship. To win it, they had to beat the Yankees, whose 3rd baseman was his brother Clete Boyer. In Game 4, Ken's grand slam essentially made the difference in both the game and the Series. Clete also homered, making them the only brothers to both hit home runs in the same World Series, let alone in the same World Series game.
Brooks Robinson was the dominant American League 3rd baseman of the 1960s, and so Clete never won a Gold Glove until he was traded to the National League, but was every bit Robinson's equal with the glove, and had decent power, too. Anchoring the "Leather Curtain" with shortstop Tony Kubek, 2nd baseman Bobby Richardson and 1st baseman Bill "Moose" Skowron, he helped the Yankees win 5 straight Pennants, including the 1961 and 1962 World Series.
Ironically, the last surviving brother was, and is, the oldest, Cloyd, who had a 20-23 record as a major league pitcher, for the Cardinals and the Kansas City Athletics -- making him not only the 1st Missouri native to play for a Kansas City team, but also the 1st player to have played for major league teams in both St. Louis and Kansas City.
Honorable Mention to Jo Jo White of St. Louis. The guard was a 7-time All-Star for the Boston Celtics, winning the 1974 and 1976 NBA Championships, winning the Finals MVP in 1976. His Number 10 has been retired by the Celtics, his Number 15 by the University of Kansas.
Honorable Mention to Ezekiel Elliott of the St. Louis suburb of Ladue.
In 2014, the running back led Ohio State to the National Championship, and won the the James E. Sullivan Award, annually given to the best amateur athlete in America. He has already made 1 Pro Bowl with the Dallas Cowboys.
Honorable Mention to Darrell Porter of Joplin.
The catcher was a 4-time All-Star, and won Pennants with both Missouri teams, 1980 with the Royals and 1982 with the Cardinals, being named World Series MVP in 1982.
Honorable Mention to Brian Boehringer of St. Louis
, a member of the 1996 World Champion Yankees.
Honorable Mention to David Freese of the St. Louis suburb of Wildwood.
The 3rd baseman won the 2011 National League Championship Series MVP World Series MVP with the St. Louis Cardinals, and was a 2012 All-Star. He is now with the Pittsburgh Pirates.
Dishonorable Mention to Bill Mueller of the St. Louis suburb of Maryland Heights.
With his Boston Red Sox teammates, he won the 2004 World Series and was named Sportspeople of the Year by
Sports Illustrated
. He was also one of those guys who was a very ordinary hitter before going to Boston (reaching the .290s but showing very little power with the San Francisco Giants and Chicago Cubs from 1996 to 2002), then showing lots of power in Boston (2003 to 2005), and falling apart due to injury and never playing again after just 1 more year (with the Los Angeles Dodgers in 2006). Very suspicious.
Honorable Mention to Roger Wehrli of King City.
Probably the best football player ever to come out of the University of Missouri, and easily the best ever to come from the Western, Kansas City side of the State. But, because of the Missouri connection, it was the football version of the St. Louis Cardinals who drafted him. He was a cornerback, and tThe Kansas City Chiefs were already loaded with good defensive backs.
He was a 7-time Pro Bowler, and was named to the Pro Football Hall of Fame, the NFL 1970s All-Decade Team, and, after the Cardinals moved to Arizona, their Ring of Honor.
Honorable Mention to Forrest Clare "Phog" Allen of the Kansas City suburb of Independence.
The 2nd-most famous native of Harry Truman's hometown, Missourians may see him as a traitor. After coaching what is now named the University of Central Missouri to 4 Conference Championships in the 1910s, he became the head basketball coach at the University of Kansas, winning 24 Conference Championships and the 1952 National Championship.
His Kansas Jayhawks were later retroactively awarded the 1922 and 1923 National Championships. He learned the game from its inventor, James Naismith, who was then teaching at Kansas. He went on to coach Adolph Rupp and Dean Smith, who would join him as coaches in the Basketball Hall of Fame. The school's arena, Allen Field House, is named for him.
Honorable Mention to Jon Koncak of Kansas City.
A center at Southern Methodist University, he was selected for perhaps the greatest amateur basketball team ever, the U.S. team that won the Gold Medal at the 1984 Olympics in Los Angeles. SMU retired his Number 32, and he played 11 years in the NBA, mostly with the Atlanta Hawks.
St. Louis and environs dominate the Top 10: Only 1 is from Kansas City, and only 2 others are from outside the St. Louis area.
10. Ed Macauley of St. Louis.
A basketball star at St. Louis University, he was named to the 1st 7 NBA All-Star Games, and was named Most Valuable Player of the 1st, in 1951. The Boston Celtics retired his Number 22.
And yet, they traded him in 1956 -- so they could get the rights to Bill Russell. The trade sent him to his hometown team, the St. Louis Hawks. They lost the NBA Finals to the Celtics in 1957, but beat them in 1958, for St. Louis' only championship in any major basketball league.
He retired after the 1959 season, and then coached the Hawks to the Western Conference title in 1960 and '61, losing the Finals to the Celtics both times. At the age of 32, he became the youngest man ever elected to the Basketball Hall of Fame.
9. Helen Stephens of Fulton.
Along with Mildred "Babe" Didrikson, she was the best female athlete of the 1930s. She was an accomplished shot-putter and discus-thrower, but mainly a sprinter. She never lost a race, and won 2 Gold Medals at the 1936 Olympics in Berlin, including dethroning defending champion Stella Walsh in the 100 meters.
From that point onward, the story gets creepy -- twice over. First, Adolf Hitler, already known worldwide as a bigoted tyrant but not yet as a mass murderer and a warmonger, was very much interested in promoting "Aryan supremacy" through Nazi Germany's hosting of the Games, and would be disappointed by many Americans, including Jesse Owens.
Helen Stephens would also disappoint him -- but not in the way that Owens did. Hitler personally congratulated her -- no problem there -- but, as she said, "He gets hold of my fanny, and begins to squeeze and pinch, and hug me up. And he said, 'You're a true Aryan type. You should be running for Germany.' So after he gave me the once-over and a full massage, he asked me if I'd like to spend the weekend in Berchtesgaden." She turned the Fuhrer down, most likely in language far milder than she would have preferred.
As for Stella Walsh: She grew up in Cleveland, but, despite her Irish surname, she was born

Stanisława Walasiewicz

in Poland, and, due to her Polish citizenship, was prohibited from competing for the U.S. under the rules of the time, so she competed for Poland. After Stephens beat her, her coach demanded that Stephens be examined, because he was convinced that no woman could beat Stella, that Stephens must really be a man. Stephens submitted to the examination (by a woman), and was determined to be fully female.
Stephens retired from track, and ran and played for one of the top traveling women's basketball teams, making her (as far as is generally known) the 1st woman to own a professional basketball team (though it was hardly a major league team). She later worked for a forerunner of the Defense Mapping Agency. That didn't prove she was "all woman," but it did prove she was a lot more than "just a jock."
Now, for the kicker: On December 4, 1980, Stella Walsh was shot and killed in a robbery in Cleveland. An autopsy revealed that she had characteristics of both genders, due to a rare condition. It took 44 years, but the world found out why her coach was so sure an opponent had to be a man to beat her: Walsh, herself, was more man than woman. She was briefly married to a man, a pro boxer, but couldn't have had children, and was 69 when she was killed. Stephens never married or had children, and lived until 1994, age 76.
8. David Cone of Kansas City.
He might not make the starting rotation on the all-time team for either the Yankees or the Mets, but he won 81 games for the Mets (including a 20-3 season in 1988 and a 19-strikeout game in 1991), and 64 games for the Yankees (including a 20-7 season in 1998 -- making him the only pitcher to win 20 in a season for both teams -- and a perfect game in 1999), for 145 wins in New York, out of the 194 wins he had in total, against just 126 losses. He had 2,688 strikeouts.
He was a 5-time All-Star, won the American League Cy Young Award in 1994, and reached the postseason with the 1988 Mets (he wasn't there yet in 1986), the 1992 Toronto Blue Jays, and the Yankees in 1995, '96, '97, '98, '99 and 2000, winning 5 World Series rings: 1992, 1996, 1998, 1999 and 2000. He is eligible for the Hall of Fame, and there are certainly lesser pitchers in it, but he's not, yet.
7. Jimmy Conzelman of St. Louis.
Missouri hasn't produced many great football players -- certainly, not a Heisman Trophy winner. Aside from the guy at Number 5 on this list, Conzelman was easily the best -- and neither of them played so much as a down after FDR's 1st term.
Conzelman was an original Chicago Bear, having played as a 2-way back for the 1920 Decatur Staleys in the 1st season of the American Professional Football Association, which changed its name to the NFL 2 years later. Just a year later, he became player-coach of the Rock Island Independents of the Quad Cities -- making him the youngest head coach in NFL history, only 23. I don't think that record will be broken anytime soon.
He served as player-coach for 4 NFL teams that no longer exist: The Independents, the Milwaukee Badgers, the Detroit Panthers and the Providence Steam Roller (no S on the end), winning the NFL Championship with Providence in 1928. He was a 30-year-old title-winning coach. I don't think that NFL record will be broken anytime soon, either.
He returned to his hometown, and coached the ill-fated St. Louis Gunners and Washington University. He spent most of the 1940s coaching the Chicago Cardinals, winning the NFL Championship Game in 1947 (still the franchise's last title) and losing it in 1948 (in each case, against the Philadelphia Eagles). After that '48 Championship Game, he retired at age 50, became an advertising executive, and never worked in sports again.
Ironically -- especially since the city already had a baseball team named the Cardinals -- the Chicago Cardinals moved to his hometown, and when Busch Memorial Stadium opened, they dedicated a plaque in his honor. He was elected to the Pro Football Hall of Fame and the NFL's 1920s All-Decade Team. After the Cardinals moved to Arizona, they acknowledged their tenures in Chicago and St. Louis by establishing a Ring of Honor, and elected Conzelman, even though he had nothing to do with them after Harry Truman's 1st term.
6. Michael Spinks of St. Louis.
Like his brother Leon (Honorable Mention), who briefly held the Heavyweight Championship of the World in 1978 (taking the title from Muhammad Ali and then losing it back to him), he won a Gold Medal in boxing at the 1976 Olympics in Montreal. He won the WBA Light Heavyweight title in 1981, gained the WBC and thus undisputed title in 1983, and gave them up on September 21, 1985 when he became the 1st fighter ever to beat Larry Holmes, and won the IBF Heavyweight title.
He won his 1st 31 fights, against such fighters as Holmes (twice), Eddie Mustapha Muhammad (formerly named Eddie Gregory), Dwight Muhammad Qawi (formerly Dwight Braxton) and Gerry Cooney. Of those 31 fights, 21 were by knockout. Unfortunately for him, he had a 32nd fight, in which he tried to unite the heavyweight titles by beating Mike Tyson. It lasted 91 seconds.
He was about to turn 32, and he never fought again. It was for the best: He's now 61, and still has his health and his money. He stays out of the public eye, but visits schools, with his medal and his belts. He says, "Most of the kids don't have a clue who I am, but they listen when they see all the gold." He's in the International Boxing Hall of Fame, and
The Ring
magazine ranked him the 3rd-greatest light heavyweight boxer of all time.
5. Cal Hubbard of Keytesville.
He is unique: The only man in both the Baseball and the Pro Football Halls of Fame. He's also in the College Football Hall of Fame. That makes it sound like he was a great player in 2 sports.
Actually, he was a great player in only 1: He was elected to Canton as perhaps the greatest tackle of his era (playing on offense and defense), and to Cooperstown as an umpire. At 6-foot-2 and 253 pounds, he was huge for his era of football, and few baseball players dared to argue with him.
He was a 4-time All-Pro, and a member of 4 NFL Champions: The 1927 Giants, and the 1929, '30 and '31 Green Bay Packers. Grantland Rice named him to his All-Time All-America team for how he starred at Centenary College in Louisiana. He was named to the Sports Halls of Fame of both Missouri and Louisiana, to the Packers' team Hall of Fame, and to the NFL's 1920s All-Decade Team and to its 50th and 75th Anniversary Teams.
4. Bill Bradley of the St. Louis suburb of Crystal City.
That's where he grew up, so he qualifies for Missouri. But he is much more identified with New York and New Jersey. The 1st time a school from New Jersey reached the NCAA Final Four, it was Princeton University, with Bill Bradley, in 1964-65. He became the 1st basketball player to win the Sullivan Award. He still holds the Ivy League records for most points and points per game.
The University of Michigan, led by Cazzie Russell, also made the Final Four, and during Christmas week that season, they faced each other in a holiday tournament at the old Madison Square Garden. Michigan won, but Bradley scored 41 points, then a Garden collegiate single-game record -- and he didn't even play the full game, because he fouled out. He was so versatile, he was called "the white Oscar Robertson."
For those of you under the age of 30: Oscar was a better player than LeBron James or Steph Curry. For those of you, like me, under 50: Oscar was a better player than Michael Jordan or Magic Johnson. That was the standard to which Bradley was compared: He was Albert Einstein and Oscar Robertson rolled into one.
Then he became a Rhodes scholar at Oxford University in England. While doing that, he commuted to Italy and led Olimpia Milano to that era's equivalent of the EuroLeague title. Then he served as an officer in the U.S. Air Force Reserve -- while the Vietnam War was going on, so, while he didn't serve in combat, he could have been transferred into a unit that did so at any time. All this before he first dribbled a basketball for money at the age of 24.
He became a Knick because his senior year, 1965, was the last year of the old territorial draft -- and Princeton's old gym was 1 miles closer to the old Madison Square Garden than it was to the Philadelphia Civic Center. In 1970, at the new Garden, he helped the Knicks -- including Willis Reed, Walt Frazier, Dave DeBusschere, and his old opponent Cazzie Russell -- win their 1st NBA title. In 1973, he helped them win another. Cazzie was gone, but Earl Monroe and Jerry Lucas had been brought in.
The Knicks retired his Number 24, and he was elected to the Basketball Hall of Fame. Unlike his teammates Reed, Frazier, DeBusschere, Monroe and Lucas, and the man to whom he was so often compared, Robertson, he was not named to the NBA's 50th Anniversary 50 Greatest Players. He may have been robbed.
He retired after the 1977 season, and, with his intelligence and international background, ran for the U.S. Senate in 1978. He won, and was re-elected in 1984 (despite the Ronald Reagan landslide) and 1990.
He was frequently talked about as a future Presidential candidate, and when he announced he wasn't running for re-election in 1996, people thought that was finally it, that he might challenge President Bill Clinton in the Democratic primaries. He didn't -- but he did challenge Vice President Al Gore in 2000. Remember how Michael Jordan was such an icon in the 1990s? Jordan endorsed Bradley, and Bradley won no Primaries, only 14 percent of the popular vote, and 522 delegates to Gore's 3,007. To be fair, that's 522 delegates more than most of us will ever win.
He remains active in liberal causes.

Oxford awarded Bradley an honorary Doctor of Civil Law (DCL) in 2003, with a citation that described him in part as "an outstandingly distinguished athlete, a weighty pillar of the Senate, and still a powerful advocate of the weak."
3. Archie Moore of St. Louis.
"The Mongoose" was the Satchel Paige of boxing, right down to the fact that his birthdate was in dispute. He fought professionally from 1935 to 1963 -- at which point, if you believed him, he was 46; if you believed his mother, he was 49; and if you believed some boxing observers, he was even older.
He was the longest-reigning Light Heavyweight Champion of the World, from December 17, 1952 to May 12, 1962 -- 9 1/2 years. He won the title -- a day after his claimed 36th birthday -- by beating Joey Maxim. He beat Maxim twice more, and also knocked out former Middleweight Champion Carl "Bobo" Olson.
But his efforts to win the Heavyweight Championship were denied, as he lost to Ezzard Charles 3 times, got knocked out by Rocky Marciano (but gave Marciano such a hard time that he retired), and got knocked out by Floyd Patterson.
His last 2 pro fights were a bad knockout delivered by Cassius Clay -- Moore, born Archibald Lee Wright, was allegedly nearly 46, while Clay, later Muhammad Ali, was 20 -- and a knockout win over Iron Mike DiBiase, adoptive father of pro wrestling figure Ted DiBiase, "The Million Dollar Man." (How quaint that nickname now seems.) Moore later helped train George Foreman, and was one of his cornermen when he was beaten by Ali in the 1974 "Rumble in the Jungle.")
2. Henry Armstrong of St. Louis.
Like his contemporary, baseball star Hank Greenberg, and a later baseball star, Henry Aaron, he was known as Hammerin' Hank. He was also Hurricane Hank and Homicide Hank. Today, with safety concerns, it takes fighters years to have 22 professional fights. Armstrong won 22 straight fights in 1937 alone, 21 of them by knockout, and won his 1st title in the process. He was named Fighter of the Year by
The Ring
magazine that year.
And his greatest achievements were yet to come. He was Featherweight Champion of the World from October 29, 1937 to September 12, 1938. He was Welterweight Champion of the World from May 31, 1938 to October 4, 1940. And he was Lightweight Champion of the World from August 17, 1938 to August 22, 1939.
If you've paid attention, you've noticed that he held all 3 of those titles from August 17 to September 12, 1938. That's right: For 26 days, at a time when there were only 8 weight classes in professional boxing and no divided titles, Henry Armstrong was the undisputed World Champion in 3 of them.
He retired from boxing shortly after World War II, was ordained as a minister, worked with troubled kids in Harlem, and was elected to the International Boxing Hall of Fame.
1. Lawrence Peter "Yogi" Berra of St. Louis.
He came from "The Hill" on the North Side, not far from Sportsman's Park, former home of the Cardinals and Browns -- or, as that neighborhood was known at the time, when it was mostly-Italian and we were less sensitive as a society, "Dago Hill."
He grew up across the street from Joe Garagiola, and a few houses away from Bobby Hoffman and Jack Maguire (who gave him the nickname, because the way he sat at a dugout-less, bench-less ballfield reminded him of a Yogi the players had seen in a movie about India). So that's 4 major league ballplayers growing up together in the same neighborhood -- as did some of those 1950 World Cup players I mentioned earlier.
He sure didn't look like a great athlete. He didn't "look like a Yankee." He didn't look like Joe DiMaggio. But DiMaggio loved him. And so did Casey Stengel -- and Joe and Casey agreed on little else. That shows you how good Yogi was.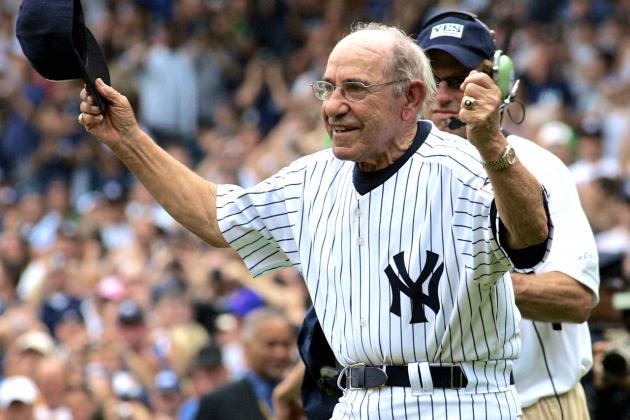 So do these. 18 All-Star Teams. 3 American League Most Valuable Player awards. 358 home runs, more than any player his height (5-foot-8) or shorter. The all-time leader in World Series appearances (14), wins (10), games, at-bats and hits.
The Yankees retired his Number 8 and honored him with a Plaque in Monument Park. He was named to the Baseball Hall of Fame,
The Sporting News
' 100 Greatest Baseball Players, and the Major League Baseball All-Century Team. Also, because of his many unusual pronouncements and TV commercials (often artificially linked), a cultural icon.
And here's the all-time topper. Something you will almost certainly never see again: Yogi is the only man ever to manager both the Yankees and the Mets to Pennants. He got the Yankees into the World Series in 1964, clinching the Pennant in a tough race that went to the last day of the season and the Mets into it in 1973, clinching the National League Eastern Division the day
after
the scheduled last day of the regular season, because of rainouts, and then upsetting the defending Pennant winners to take the Pennant.
He managed Mickey Mantle, Whitey Ford, Roger Maris, Willie Mays, Tom Seaver, Dave Winfield, Don Mattingly and Rickey Henderson. Perhaps more importantly, he showed M. Donald Grant and George Steinbrenner that they couldn't win popularity contests with him.
He was also the only man to be a veteran of both the D-Day invasion and Major League Baseball. In recognition of this, shortly after his death in 2015, Barack Obama posthumously awarded him the nation's highest civilian honor, the Presidential Medal of Freedom. Yogi Berra was a baseball hero, but Lawrence Peter Berra was an American hero.