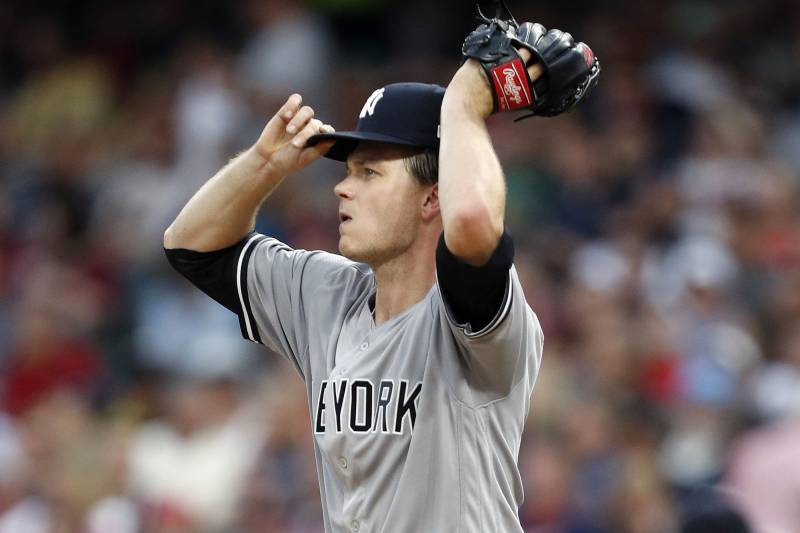 Last night, Sonny Douglas Gray -- yes, "Sonny" is the name he was born with -- made his Yankee debut, taking the mound at Progressive Field in Cleveland, wearing Number 55.
#YankeesTwitter used the "Sonny Day" theme. It turned into a Gray Day instead.
First, Bradley Zimmer led off the game for the Cleveland Indians, and reached on an error by Chase Headley, who, for reasons known only to Joe Girardi, was playing 1st base. Francisco Lindor grounded to 2nd, but that got Zimmer to 2nd. Then Michael Brantley hit a grounder to Tyler Wade, who, for reasons known only to Girardi, was playing 2nd base. Another error.
Then Jose Ramirez singled to right field, scoring Zimmer. Brantley made it to 3rd. Clint Frazier fielded the ball in right field, and then Can't Miss Clint missed 3rd base with his throw, allowing Brantley to score.
Sonny Gray had faced 4 batters, and had gotten only 1 out, and the runner had advanced on the play anyway. He was down 2-0 before he even got a 2nd out, and none of it was his fault.
I was reminded of another Sonny, Santino Corleone, the heir to the organized crime empire in
The Godfather
, played by James Caan, who
got whacked in his car with a baseball game on the radio
. His father, Don Vito, played by Marlon Brando, sees his bullet-riddled son in the funeral parlor, and says, "
Look how they massacred my boy!
"
Except, in
The Godfather
, while there were traitors in the Corleone family's midst, it wasn't their own people who rubbed Sonny out. In this game, while having the best of intentions, it was the Yankee fielders who doomed Sonny Gray.
Gray settled down, and cruised into the 6th, then allowed 2 more runs, and the game was essentially over. Chasen Shreve pitched the 7th and the 8th, allowing another run, but it was pointless.
It was pointless because Corey Kluber pitched a complete game for the Indians. Because his manager is Terry Francona, who trusts his starting pitchers, not Joe Girardi, who trusts his damn binder.
In spite of his error, Can't Miss Clint got a hit, a double. Gary Sanchez and Ronald Torreyes each hit singles. And Jacoby Ellsbury drew a walk. That was all that the Yankees got: 4 baserunners.
Indians 5, Yankees 1. WP: Kluber (9-3). No save. LP: Gray (6-6).
The Yankees are now 2 games behind the Boston Red Sox in the American League Eastern Division, 1 game behind them in the loss column.
The series continues tonight. Hopefully, Jaime Garcia's Yankee debut won't be ruined by bad fielding as Gray's was. He starts tonight, and Trevor Bauer goes for the Indians.