August 1, 1876:
Colorado is admitted to the Union as the 38th State. Because 1876 was the 100th Anniversary of American Independence, Colorado is known as the Centennial State.
Top 10 Athletes From Colorado
Oddly, considering the distance between Colorado and Michigan, there are 4 former Detroit Lions on this list. One of whom was better known for playing a different sport, and another of whom became better known for something other than sports.
Hale Irwin is from Boulder, but golf is not a sport. The brothers Al and Bobby Unser are from Colorado Springs, but auto racing is not a sport, either.
And the U.S. Olympic Training Center is in Colorado Springs, so many great athletes have gone to Colorado -- but that doesn't make them "athletes from Colorado," any more than it does California's John Elway, North Carolina's David Thompson, or British Columbia, Canada's Larry Walker and Joe Sakic.
Honorable Mention to Pat Day of Eagle.
He won the 1992 Kentucky Derby on Lil E. Tee. He won 5 Preakness States, 3 Belmont Stakes, and 4 Breeders' Cup Classics. All told, he's won 8,803 races.
Honorable Mention to Roy Halladay of Denver.
He won 203 games as a major league pitcher, against only 105 losses, 2,117 strikeouts, 8 All-Star berths, and the Cy Young Award in both Leagues: 2003 with the American League's Toronto Blue Jays, and 2010 with the National League's Philadelphia Phillies.
In 2010, he became the 1st pitcher to have a no-hitter in both the regular season and the postseason, and only the 2nd pitcher ever to have a postseason no-hitter, in Game 1 of the NL Division Series against the Cincinnati Reds.
His only postseason appearances were with the 2010 and '11 Phillies, and he threw his last pitch at age 36. The injury that cut his career short may end up preventing him from reaching the Baseball Hall of Fame. He becomes eligible in 2019.
UPDATE: Three months after I posted this, on November 7, 2017, Halladay was killed in a plane crash off the coast of Florida. He had taken drugs, and piloted the plane himself.
Honorable Mention to Joe Kleine of Colorado Springs.
A star center at the University of Arkansas, he was a member of perhaps the greatest amateur basketball team ever assembled, the U.S. team that won the Gold Medal at the 1984 Olympics in Los Angeles. He played 15 NBA seasons, winning a Championship with the 1998 Chicago Bulls.
Honorable Mention to April Heinrichs of Denver.
She was a member of the U.S. team that won the 1st Women's World Cup in 1991.
Honorable Mention to Mikaela Shiffrin of Vail.
Not only is she the current overall women's champion in skiing's World Cup, but she won a Gold Medal in the slalom at the 2014 Winter Olympics in Sochi, Russia. Only 22, she should (barring injury) be considered a favorite at the 2018 Winter Olympics in Pyeongchang, Korea. In other words, she could rise well up this list.
10. Chauncey Billups of Denver.
He was named Colorado's high school "Mr. Basketball" 3 times. The University of Colorado retired his Number 4. He was a 5-time NBA All-Star, leading the Detroit Pistons to the 2004 NBA Championship, winning the Finals' Most Valuable Player. The Pistons have retired his Number 1.
His brother Rodney Billups is now the head coach at the University of Denver, his alma mater, after playing professionally in Europe. Former Tennessee Titans running back LenDale White is their 1st cousin.
9. Missy Franklin of Centennial.
The University of California swimmer won the Sullivan Award in 2012, and the Honda-Broderick Cup as the nation's top female collegiate athlete in 2014-15. She won 4 Gold Medals at the 2012 Olympics in London, and added a 5th Gold Medal at the 2016 Olympics in Rio de Janeiro.
8. Earl "Dutch" Clark of Pueblo.
A star in baseball, football and basketball at Colorado College (not to be confused with UC or CSU), he was the 1st native of his State to be named an All-American. A 6-time All-Pro, he was an original Detroit Lion in 1934, and helped them win the 1935 NFL Championship. He later served as head coach of the Lions and the University of Detroit.
His Number 7 was the 1st retired by the Lions. He was named to the NFL's 1930s All-Decade Team, and he was a charter inductee into both the College Football Hall of Fame in 1951, and the Pro Football Hall of Fame in 1963.
7. Jack Christiansen of Canon City. (It has since been renamed

Cañon City

). A 5-time Pro Bowler, the
graduate of Colorado State
was one of the earliest players to become a great defensive back, and not also a great running back or receiver, when the NFL went to the 2-platoon system. He helped the Detroit Lions win the NFL Championship in 1952, '53 and '57.
He was named to the NFL's 1950s All-Decade Team and the Pro Football Hall of Fame. In 1999, The Sporting News ranked him Number 86 on their 100 Greatest Football Players. He later served as an assistant coach with several teams, and as head coach of the San Francisco 49ers in the 1960s and Stanford in the 1970s.
6. Glenn Morris of Simla.
A track star at Colorado Agricultural College (it became Colorado A&M in 1935 and Colorado State University in 1957), he broke his own world record by winning the decathlon at the 1936 Olympics in Berlin.
All the time he competed, Adolf Hitler never left his seat, and the Nazi government offered him $50,000 -- about $875,000 in today's money -- to stay in Germany and appear in sports documentaries. He refused. (Documentarian Leni Riefenstahl, there to make the Games' official film, the iconic
Olympia
, claimed in her memoirs that they had an affair, but the available facts suggest that she lied about this. It was, however, Hitler's girlfriend Eva Braun who presented Morris with his Gold Medal.)
He got a ticker-tape parade in New York, and the 1936 Sullivan Award as the top amateur athlete in the U.S. In 1938, he starred in
Tarzan's Revenge
, making him the 4th Olympian to play the Ape Man. He played 4 games as an end with the Detroit Lions in 1940, but injuries cut short his football career. He served in the U.S. Navy in World War II, was wounded, and was treated for what was then called battle fatigue, now PTSD (post-traumatic stress disorder). He never fully recovered, and died in 1974.
5. Rich "Goose" Gossage of Colorado Springs.
He debuted in the major leagues in 1972, a season that began with a brief players' strike. He ended in 1994, a season that was cut off by the longest strike in the sport's history. This means that he was involved in every work stoppage in Major League Baseball history.
That's some distinction, but he was one of the greatest relief pitchers ever, and was perhaps the prototype for the big hulking reliever with the 100-mile-an-hour fastball. (The intimidating mustache, which he developed in 1980, also helped build the image.) A 9-time All-Star, he had 310 saves, and he reached the postseason 5 times: With the 1978, '80 and '81 Yankees, the 1984 San Diego Padres, and the 1992 Oakland Athletics -- just missing with the 1972 Chicago White Sox and the 1977 Pittsburgh Pirates.
In 1978, he did something that had never been done before, and I don't think it's been done since: He got the last outs of a Division title clincher (the American League East Playoff against the Boston Red Sox), a Pennant clincher (Game 4 of the AL Championship Series against the Kansas City Royals), and a World Series clincher (Game 6 against the Los Angeles Dodgers), all in the same season.
He is the only Colorado native in the Baseball Hall of Fame, and will likely remain so unless and until Roy Halladay gets in. The Yankees have honored him with a Plaque in Monument Park. They have not, however, retired his Number 54: Perhaps appropriately, it is now worn by the current closer, Aroldis Chapman.
4. Amy Van Dyken of Englewood.
She was advised to take up swimming to strengthen her lungs against her childhood asthma. In 1996, she won 4 Gold Medals at the Olympics in Atlanta, becoming the 1st American woman to do that at a single Games, Summer or Winter. She won 2 more at Sydney in 2000.
She is a member of the International Swimming Hall of Fame. She married Tom Rouen, the punter on the Denver Broncos' Super Bowl XXII and XXIII winners. A 2014 ATV accident left her paralyzed from the waist down, but she has recovered enough to walk with an exoskeleton, take a few steps without it, and has taken up the Paralympics' version of downhill skiing.
3. Eddie Eagan of Denver.
He is the only person, living or dead, regardless of era, gender, race, religion or nation, ever to win Gold Medals at both the Summer and Winter Olympics. In 1920, in Antwerp, Belgium, he won in boxing. In 1932, in Lake Placid, New York, he was won as part of a bobsled team.
He also had degrees from Oxford, Harvard and Yale, married Margaret "Peggy" Colgate of the founding family of Colgate-Palmolive, sparred with both Jack Dempsey (more on him later) and Gene Tunney, hunted big game in Africa, was a U.S. Army officer in both World Wars, won several decorations and rose to the rank of Colonel in the Army Air Corps during World War II, and served as an Assistant U.S. Attorney and as Chairman of the New York State Athletic Commission and the sports program at the 1964-65 New York World's Fair.
He only lived to be 69, but he lived the lives of several men. He said he was trying to copy Frank Merriwell, the fictional Yale sports hero of the turn of the 20th Century. It now looks more like he was trying to copy Theodore Roosevelt, and damn near succeeded, although he never ran for political office.
And yet, just as his active sports career was wrapping up, there was soon to be a Coloradan scholar-athlete who seemed ready, willing and able to see Eagan's bet, and raise him.
2. Byron White of Wellington.
Colorado has never produced a Heisman Trophy winner. The late Rashaan Salaam, the only one produced by a Colorado school, was from San Diego. In 1937, Byron White came the closest, finishing 2nd to Clint Frank of Yale, and he may well have been robbed.
Like his brother Sam, he was valedictorian of his high school class -- to be fair, it was a small school, with a class of 6 -- but all Colorado valedictorians were then entitled to an academic scholarship at the University of Colorado. He led them to an undefeated regular season before losing to Rice in the 1938 Cotton Bowl, earning the nickname "Whizzer," which embarrassed him for the next 65 years. He also led their basketball team to the Final of the 1st NIT that March, losing to Temple. He also played baseball in college. He also married the University President's daughter.
He had options, perhaps more options than any other great athlete American had yet had. Within days, he was drafted by the NFL's Pittsburgh Pirates (they changed their name to the Steelers in 1940) and named a Rhodes Scholar by Oxford University. (So was Sam, who became a renowned doctor.) Oxford allowed him to delay his entry by a year, and he played in Pittsburgh in 1938, leading the NFL in rushing as a 21-year-old rookie.
"Of all the athletes I have known in my lifetime," Steeler founder-owner Art Rooney said, "I'd have to say Whizzer White came as close to anyone to giving 100 percent of himself when he was in competition."
He left for Oxford in early 1939, but the outbreak of World War II in September caused him to return to America, and, like another 1930s All-American, Gerald Ford, use Yale Law School as a stepping-stone to politics. In 1940, his rights were bought by the Detroit Lions, making him a teammate of Glenn Morris, and he led the NFL in rushing again -- despite having missed a year. Eat your heart out, Adrian Peterson.
He played for the Lions again in 1941, then the U.S. entered The War, and White entered the Navy, serving in Naval Intelligence, rising to the rank of Lieutenant Commander, and earning 2 Bronze Stars. Then he went back to Yale Law, and graduated
magna cum laude
(a Latin phrase meaning "with great honor"). He was still in his 20s, but the guy had achieved more than most men do in a lifetime.
And he was just getting warmed up. He clerked for Fred Vinson, Chief Justice of the U.S. Supreme Court. He became one of the top transactional attorneys in Colorado. In 1960, he went into politics, and chaired the Colorado division of the Presidential campaign of Senator John F. Kennedy, whom he'd met in 1939 when White was at Oxford and JFK was the son of the U.S. Ambassador to Britain. (Although Colorado, and therefore White, was essential to getting JFK the nomination, Richard Nixon won the State in the general election, but JFK won the whole thing.)
JFK rewarded him by naming him Deputy Attorney General under his brother Robert F. Kennedy, and he negotiated with Governor John Patterson of Alabama to protect the Freedom Riders. In 1962, JFK appointed him to the Supreme Court, saying, "He has excelled at everything, and I know that he will excel on the highest court in the land." JFK was right: White served for 31 years, retiring in 1993, and was the last serving member of the Warren Court. He died in 2002.
The University of Colorado retired his Number 24. He was elected to the College Football Hall of Fame and the NFL's 1940s All-Decade Team. I have no doubt that, had he stuck with football, he would be in the Pro Football Hall of Fame as well. As Chief Justice William Rehnquist, with whom he served for 21 years, said, "He came as close as anyone I have known to merited Matthew Arnold's description of Sophocles: 'He saw life steadily, and he saw it whole.'"
His daughter Nancy White was a field hockey star at Stanford University, although the 1980 U.S. boycott cost her the chance to compete in the Olympics.
Byron White may have been the most impressive person ever to come from Colorado. But if we're talking just about athletic performance, there is one person who tops him:
1. Jack Dempsey of Manassa.
His birth name was William Harrison Dempsey, but he took the name of an earlier boxer, born John Edward Kelly but billed as Jack "Nonpareil" Dempsey, Middleweight Champion of the World from 1884 to 1891, but died of tuberculosis at age 32 in 1895, the year this Jack Dempsey was born. "The Nonpareil" is all but forgotten today. "The Manassa Mauler" is remembered.
He learned to fight in saloons in mining towns throughout the American West. He became a contender for the Heavyweight Championship of the World in the World War I years, and, as boxing historian Bert Sugar put it, before he got his title shot, "He won his last 2 fights in 18 and 27 seconds. Not rounds." On July 4, 1919, under a brutal sun in Bayfront Park in Toledo, he faced the Champion, the far larger Jess Willard, and knocked him down 7 times in the 1st round.
He knocked out Light Heavyweight Champion Georges Carpentier before 90,000 people on a temporary wooden stadium in Jersey City, the 1st $1 million gate in boxing history. His fight with South American champion Luis Firpo at the Polo Grounds in 1923 is absolute legend, with no 3-knockdown rule or neutral corner rule in place as there is today: Firpo almost immediately knocked Dempsey down, then Dempsey knocking Firpo down 7 times, then Firpo knocking Dempsey out of the ring, getting back in at the count of 4 -- all within the 1st round! Dempsey knocked Firpo out in the 2nd.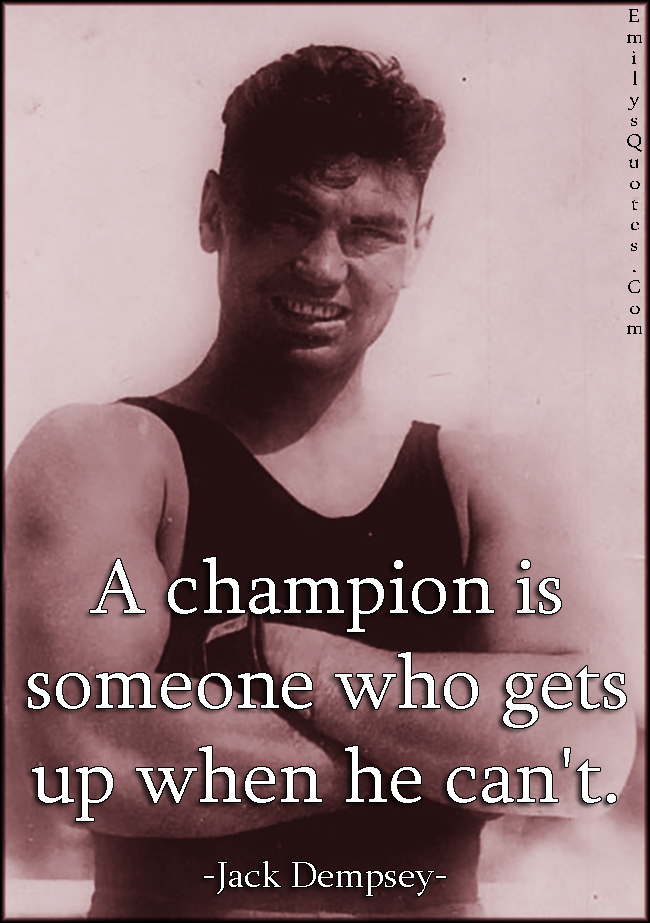 Dempsey became the most popular fighter, and the most popular athlete, who had yet lived, a symbol of "The Roaring Twenties," helping to make it "The Golden Age of Sport." But the Firpo fight was his last successful defense. Indeed, for various reasons (few justifiable), he didn't have another official fight for 3 years, and then he lost the title to Gene Tunney in 1926, and lost to him again in 1927 in the famous "Long Count" Fight.
Many have called Jack Dempsey the greatest heavyweight boxer ever. He was not one of them: After seeing Joe Louis annihilate Max Schmeling in 1938, he said he was glad he never had to face Louis. He lived long enough to see Rocky Marciano, Muhammad Ali and Larry Holmes take the title, but not Mike Tyson, who, having been told lots of old boxing stories by his trainer Cus D'Amato, became fascinated by Dempsey, and copied his style, walking into the ring with no robe on, and wearing black boots but no socks -- and having lots of 1st-round knockouts.
He opened a restaurant at the Brill Building at 1619 Broadway and 49th Street, at the northern end of Times Square and a block east of Madison Square Garden. He was there nearly every night, greeting old friends, and children who could never have known him as anything other than legend, with a big smile, a meaty handshake, and a hearty, "Hiya, pal!" The closing of the old Garden and the opening of the new Garden in 1968 meant doom for Jack Dempsey's Broadway Restaurant, which closed in 1974. The old champ died in 1983.