Who is America's most famous citizen of Armenian descent? Since 2007, it's been Kim Kardashian. For over 40 years before that, it was one of college football's most accomplished coaches.
He lived long enough to see the 50th Anniversary of his greatest triumph - and his greatest controversy. And, compared to so many other college sports coaches, his greatest controversy was a mild one.
Ara Raoul Parseghian was born on May 21, 1923 in Akron, Ohio. His father had fled the Armenian Genocide of 1915, and his mother fled besieged France, as World War I was also going on. Young Ara's character was noted quickly: In the 8th grade, the Akron Board of Education hired him as a safety patrol officer, deterring vandals on school grounds.
His mother was very protective, and let him play baseball and basketball, but not football. In his junior year at South High School, the head coach talked him into disobeying his parents. Under subterfuge, a legend was born.
He enrolled at the University of Akron, but left to enlist in the U.S. Navy during World War II. He was assigned to the Great Lakes Naval Training Station in Chicago, which had a great sports program, including a baseball team managed by Mickey Cochrane and having Bob Feller as its pitcher. The football team was coached by Paul Brown, who had already become well-known for having coached Ohio State University.
Parseghian got hurt, and wasn't able to play. But, like John Madden later would at the side of head coach Buck Shaw and quarterback Norm Van Brocklin of the Philadelphia Eagles, that injury led him to observe one of the great football minds of the time, and he learned how to coach.
After The War, Parseghian enrolled at Miami University in southwestern Ohio, which would eventually become known as "The Cradle of Coaches" for how many football coaches it would produce. At the time, their head coach was Sid Gillman, who would become one of the geniuses of the passing game. Ara quickly figured out that Sid knew his stuff, and paid close attention -- which is rather ironic, considering what both men's reputations became by November 1966.
A decent halfback, Ara was drafted by the Pittsburgh Steelers in the NFL and the Cleveland Browns in the All-America Football Conference. The Browns coach who drafted him was Paul Brown. Ara didn't need an engraved invitation. He was a member of the Browns team that won the 1948 AAFC Championship, going undefeated. But he got hurt early in the 1949 season, and that was the end of his playing career. The Browns would enter the NFL in 1950, but Ara Parseghian never drew a paycheck from the NFL or any of its teams.
*
Because he went directly into coaching. John Brickels, who'd been a Brown assistant was now the athletic director at Miami, and Woody Hayes had succeeded Gillman as head coach. They offered Ara the job of coaching the Miami freshmen. He went 4-0. The following year, Woody was hired as head coach at Ohio State -- taking with him an assistant coach named Glenn "Bo" Schembechler -- and Ara was promoted to the head job for the 1951 season. He was just 28 years old.
He led them to undefeated seasons and Mid-American Conference Championships in 1954 and '55. In 1956, he was lured away by Northwestern University outside Chicago. At 33, he was the youngest head coach in Big Ten history. His staff included Schembechler and future Northwestern coach Alex Agase.
(But not, as I previously believed, future Yankee owner George Steinbrenner: Although also an Ohioan, who had been a track star and varsity football player at Massachusetts' Williams College, George had been a member of the previous year's staff, under Lou Saban, the future Buffalo Bills coach who would later be one of George's Yankee scouts. In 1956 and '57, George was on the staff of a Big Ten school, but it was Purdue, not Northwestern. That said, George and Ara did become friends.)
Northwestern went 0-9 in 1957 -- but Schembechler, who played and coached under Hayes and later built a great coaching legacy at the University of Michigan, called it "the best job of coaching I ever witnessed." Some of the losses were close, and Ara had his Wildcats believing they were a good team. In 1958, they proved it, going 5-4, including wins over Michigan and Ohio State.
In 1959, he had them beat Michigan and Notre Dame, and they rose to be the Number 2 team in the country. But 3 straight losses at the end of the season cost them the Big Ten title. In 1962, he got them to 7-0, beating Ohio State and Notre Dame, and they rose to Number 1, a ranking they had never had before, nor have since. But 2 straight losses at the end cost them the title.
During the 1963 season, Ara was told that, despite his achievements, including beating Notre Dame 4 straight times, his contract would not be renewed for 1964. Notre Dame decided, "If you can't beat him, hire him."
*
And that 1964 season would be a big revival for Notre Dame, who had won the National Championship in 1949 and had gone undefeated as recently as 1953, but had struggled since, going 2-7 in 1963.
Ara recognized, as his predecessor Joe Kuharich (not a very smart man, as his Philadelphia Eagles tenure would prove) did not, that quarterback John Huarte and receiver Jack Snow were gems. In their 1st game together, Huarte threw for more yards than all of Notre Dame's quarterbacks had thrown in the entire previous season, and they upset Wisconsin.
At the final gun, his players picked him up and carried him off the field -- quite a tribute after only the 1st game. A statue depicting this moment now stands outside Notre Dame Stadium.
Notre Dame rose to Number 1 in the country, and needed only to defeat the University of Southern California in the last game of the season -- the Fighting Irish refused bowl bids in those days -- to clinch an undefeated season and the National Championship. But USC won on a last-minute touchdown pass, ending the dream. Huarte still received the Heisman Trophy.
"The talent was there," Ara said. "It was just misplaced."
Notre Dame went 7-2-1 in 1965, and then in 1966, set up what became known as "The Game of the Century": Due to some scheduling quirks, they were undefeated and ranked Number 2; Michigan State were undefeated, ranked Number 1, and the defending National Champions; and they played each other in East Lansing, Michigan in the last game of the regular season.
ABC televised the game nationally, albeit on a tape delay. This was the 1st time a single college football game went coast-to-coast over national television -- and in color, no less -- except for New Year's Day bowl games. This was a time when the words "in color" and "coast-to-coast" still had a special meaning. In 1966, such a thing was still a novelty.
Michigan State had gone to the Rose Bowl the year before. At the time, the Big Ten Conference had 2 unbelievably stupid rules: No team could go to the Rose Bowl in back-to-back years, and only the Conference Champion (or, if disqualified by the preceding stupid rule, the 2nd-place team) could go to any bowl game. This, and Notre Dame's refusal of bowl bids, meant that, regardless of the result of this game, neither team was going to a bowl.
Michigan State took a 10-0 lead in the 2nd quarter. Notre Dame made it 10-7 before the half, and tied it at 10-10 early in the 4th quarter. There was still plenty of time left for either team to win the game, but neither did.
The last series of the game began with 1:10 left on the clock, and Notre Dame had the ball on its own 30-yard line. Gaining 40 yards in 70 seconds would have put them in position for Azzaro to try again to win it with a field goal. But Parseghian chose to run out the clock. Final score, Michigan State 10, Notre Dame 10.
Normally, the national media, so swept up in the myth of the Golden Dome -- Knute Rockne, George Gipp and Rockne's "Win One for the Gipper" speech, the Four Horsemen, Frank Leahy and "Leahy's Lads," and Paul Hornung... and this was well before Rudy Ruettiger and his movie, Joe Montana, and Lou Holtz's tenure -- gives Notre Dame the benefit of the doubt.
Not this time. In
Sports Illustrated
's writeup of the game, Dan Jenkins, then as now perhaps the greatest living writer on the subject of college football, titled his article "Tying One for the Gipper." Jenkins quoted one observer as saying, "Parseghian had no guts."
Was that fair? Here was Ara's explanation: "We'd fought hard to come back and tie it up. After all that, I didn't want to risk giving it to them cheap. They get reckless and it could cost them the game. I wasn't going to do a jackass thing like that at this point."
Both teams ended the season 9-0-1. And the polls? Both the Associated Press (the college football writers) and United Press International (the coaches), still issuing their final polls before the bowl games, ranked Notre Dame Number 1 in their last poll, Michigan State Number 2, and undefeated Alabama Number 3.
Alabama, led by Paul "Bear" Bryant and actually having a bowl game to win, did so, and finished 11-0. They should have thus gotten their 3rd straight National Championship (splitting the 1965 polls with Michigan State). Both Notre Dame and Alabama claim to be 1966 National Champions, but Notre Dame still gets the official recognition. Keith Dunnavant came out with a book about the '66 Crimson Tide squad and how they were screwed by the polls, titling it
The Missing Ring
.
After more than half a century, I think we can let Ara off the hook. Although America already had a "winning is everything" mentality, it would not be until a documentary a year later, in 1967, that the nation heard the great Green Bay Packer coach Vince Lombardi say the words, "Winning isn't everything, but it's the only thing." If Lombardi had publicly said that before the fall of 1966, maybe Ara would have noted that, and gone for the win.
This was also long before Tom Osborne went for the win instead of a tie in the 1984 Orange Bowl, costing Nebraska a National Championship; let alone before Jets coach Herman Edwards' 2002 press conference where he declared, "This is what the greatest thing about sports is: You play to win the game. Hello? You play to win the game! You don't play it to just play it! That's the great thing about sports: You play to win!"
It's also worth noting that Ara had played for Wo
ody Hayes.
I'm not sure if Woody came up with these words himself, but he did like to say, "There are three things that can happen when you throw the football, and two of them are bad." In other words, an incomplete pass and an interception. When Ara had 70 seconds of play remaining, and 70 yards to go for a touchdown, and at least 40 yards to go for a field goal, no doubt he heard Woody's words in his mind. After all, at the time, the man was still, along with Bear Bryant at Alabama, one of the top 2 coaches in college football. (Darrell Royal at Texas and John McKay at USC were still building their legends, and Joe Paterno had just taken the reins at Penn State.)
Recall also: In 1946, Army was undefeated and ranked Number 1, and Notre Dame was undefeated and ranked Number 2, and they finished the regular season against each other, at the original Yankee Stadium, in the 1st college football game to get the "Game of the Century" tag from the national media.
That game did not live up to the hype, ending in a 0-0 tie. As they would say in that other kind of football, soccer, "a turgid nil-nil draw." The word "turgid" so perfectly suits 0-0 draws, regardless of what game you call "football."
Frank Leahy, then the Notre Dame coach, had "tied one for the Gipper" 20 years before Ara. Yet he never got the derision that Ara got. Probably because it wasn't on television: In order to see this game in its entirety, you had to be inside The Stadium. Newsreel highlights in movie theaters wouldn't have shown you all you needed to see. Nobody's ever said, "Leahy had no guts." Essentially, he played for a tie, and got away with it.
Michigan State's head coach Duffy Daugherty didn't exactly go for the win, either. And it really did cost his team the National Championship. But nobody mocked him for it, and nobody, in Michigan or elsewhere, holds it against him now.
Recall also that t
he Odds Were Against the Irish.
Michigan State had the home field. They were the defending National Champions. They were favored to win. And Notre Dame went into the game with a major injury (their top rusher) and got more of them as the game went on (their starting quarterback and center). And still, they held Michigan State to just 10 points at home and avoided a loss. That's a pretty good achievement.
And here's the biggest reason of all why Ara deserves to be exonerated: A win wasn't necessary. The polls proved it, giving Notre Dame the National Championship anyway. Ara knew that a loss would kill their national title dreams, just as they had against USC 2 years earlier. But a tie would still leave them undefeated.
And, as they nearly always do (except where this one game was concerned), the national media gave Notre Dame the benefit of the doubt, and crowned them National Champions, even though Alabama, undefeated and untied in 11 games as opposed to undefeated but tied in 10 games, was a more deserving National Champion.
Sounds like Ara Parseghian had more guts than the media: Not only were they gutless in claiming him to be a coward, but they ended up rolling over for the Irish anyway. If not for Ara himself.
Like Knute Rockne (1920) and Frank Leahy (1943), and later Dan Devine (1977) and Lou Holtz (1988), Ara Parseghian had taken 3 years to build a National Champion in South Bend, Indiana. But he was modest about it: "I don't think I was a miracle man. Neither were Lou Holtz or Frank Leahy. We all found ways to win."
*
In 1969, Notre Dame finally started accepting bowl bids again, and went to the Cotton Bowl, where they lost to Royal's Texas Longhorns, who clinched the National Championship. But the next season, with Royal going for back-to-back titles, Notre Dame upset them, clinching the Number 2 spot in the polls. They reached the Orange Bowl in the 1972 season, but lost to Nebraska.
In 1973, Ara Parseghian won another National Championship at Notre Dame, this time beating Alabama in a Number 1 vs. Number 2 matchup in the Sugar Bowl. After a 10-2 season in 1974, his last game another upset of an undefeated Bear Bryant Alabama team in the 1975 Orange Bowl, 13-11, he retired. His career record was 170 wins, 58 losses and 6 ties, including 95-17-4 at Notre Dame -- an average of 9-2 every season.
He was only 51, but was dealing with a criminal situation involving some of his players (no charges ended up being filed, but the suspension of those players in the interim hurt the team), and his daughter's health difficulties. He had been a head coach for 24 consecutive seasons -- a record some men don't begin until they're age 51 or over -- said he was "physically exhausted and emotionally drained," and said he wanted to take 1975 off before considering pro jobs.
Instead, he never coached again. He didn't need to: Criticism over that 1966 game aside, his legacy was secure. Huarte was his only Heisman Trophy winner. Quarterback Joe Theismann, a native of South River, New Jersey, famously changed the pronunciation of his name from Theeze-man to Thighs-man because it would rhyme with "Heisman," but lost the 1970 Trophy to Jim Plunkett of Stanford anyway.
Nevertheless, in addition to Huarte and Theismann, his players included Jack Snow, Bill Wolski, Nick Eddy, Jim Lynch, Mike Wadsworth, Pete Duranko, George Goeddeke, Terry Hanratty, Rocky Bleier, Tom Schoen, Bob Kuechenberg, Jim Seymour, Mike McCoy, Walt Patulski, Clarence Ellis, Bill Etter, Mike Kadish, Greg Marx, Dave Casper, Tom Clements, Cliff Brown, Mike Townsend, Steve Sylvester, and, while he didn't get into a game until the last game of the 1975 season, the season after Ara left, Daniel "Rudy" Ruettiger.
*
Ara was content to not coach again. He served as a color commentator with Keith Jackson on ABC college football broadcasts from 1975 to 1981, then moved to CBS, calling games through the 1988 season.
He and his wife, the former Kathleen Davis, had a son, Mike; and 2 daughters, Kris Humbert and Karan Parseghian. In 2012, Karan died from multiple sclerosis. Mike had 3 children -- Michael, Cristia and Marcia -- who died, all before age 17, from Niemann-Pick disease Type C. It is a rare genetic disorder, which primarily afflicts children, causing buildup of cholesterol in cells, damaging the nervous system.
In 1994, when the grandchildren were diagnosed, Ara, Kathleen, Mike and Mike's wife founded the Ara Parseghian Medical Research Foundation, which raises awareness of the disease and money for research into treatment, and, hopefully, one day, a cure. So far, it has raised over $45 million.
Ara never took his own health for granted, and remained active in the Notre Dame community. At the 2007 Spring Game, he and Holtz coached the opposing sides. He lived long enough to see Brian Kelly revive the Fighting Irish program, and to see the 50th Anniversaries of his 1964 and 1966 highlights.
His last public appearance, last Summer, was at a 75th birthday party for former Notre Dame basketball coach and ESPN basketball analyst Richard "Digger" Phelps. Upon seeing Ara, Digger was moved to tears.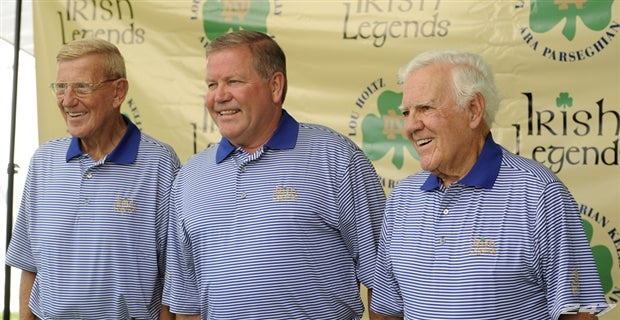 Lou Holtz, current Notre Dame coach Brian Kelly, and Ara Parseghian
Ara Parseghian died overnight, on August 2, 2017, at his home in Granger, Indiana. He was 94 years old.
The Rev. John I. Jenkins, UND President, said in an official statement:
Notre Dame mourns the loss of a legendary football coach, a beloved member of the Notre Dame family and good man, Ara Parseghian.
Among his many accomplishments, we will remember him above all as a teacher, leader and mentor who brought out the very best in his players, on and off the field.
He continued to demonstrate that leadership by raising millions of research dollars seeking a cure for the terrible disease that took the lives of three of his grandchildren. Whenever we asked for Ara's help at Notre Dame, he was there.
My prayers are with Katie, his family and many friends as we mourn his passing and celebrate a life that was so well lived.
"An amazing man," Digger Phelps said. For once, Digger showed a gift for understatement.