Citadel Hill, overlooking downtown Halifax,
including the Scotiabank Centre.
Ah, why not try doing trip guides for all 10 Canadian Provinces, too? Nova Scotia will make 6.
Next Monday night, the biggest sports team in the Province, the Halifax Mooseheads, will play a Quebec Major Junior Hockey League (QMJHL) game against the Moncton Wildcats of New Brunswick.
Before You Go.
Nova Scotia is in Canada, so you will need a passport. And you will need to change your money. At last check, US$1.00 = C$1.31, and C$1.00 = US 76 cents. And I advise you to call your bank and let them know that you will be in a foreign country, so they won't see credit or debit card purchases from a foreign country pop up and think your card has been stolen.
The Maritime Provinces, a.k.a. Atlantic Canada, are 1 hour ahead of the Eastern Time Zone. So a game starting at 7:00 PM their time would by 6:00 our time. Adjust your timepieces accordingly.
Despite being in Canada, and an oceanfront city where wind can be an issue, and with this being winter, the weather is not expected to be all that bad. Temperatures are expected to be in the 30s throughout the day, and no precipitation (either rain or snow) predicted until the 23rd.
Also, remember that they use the metric system. A speed limit of 100 kilometers per hour means 62 miles an hour. And don't be fooled by the seemingly low gas prices: That's per liter, not per gallon, and, in spite of Canada being a major oil-producing nation, you'll actually be paying more for gas up there. So, in order to avoid both confusion and "sticker-shock," get your car filled up before you reach the border.
Tickets.
The Scotiabank Centre seats 10,595, and the Mooseheads rank 2nd in the league in attendance -- but that's only 6,546 per game. Getting tickets shouldn't be hard: You might be able to walk up to the window on the day of the game and get one. Adult tickets are $19 (Canadian), $16 for seniors, $12 for students with a valid ID, and $10 for kids age 12 and under.
Getting There.
It's 862 road miles from Times Square in Manhattan to the Scotiabank Centre in downtown Halifax. It would be about 160 miles less as the crow flies, but you won't be able to do that unless a bridge is ever built connecting Cape Cod and Yarmouth, Nova Scotia. It's 330 miles from downtown Halifax to the closest border crossing, at Calais, Maine. If you can afford to fly, you should.
Air Canada can fly you from Newark to Halifax Stanfield International Airport for under $700 round-trip. (Robert Stanfield was a Premier of Nova Scotia, and Leader of the national Progressive Conservative Party, and thus the Leader of the Opposition from 1967 to 1976, against Prime Ministers Lester Pearson and Pierre Trudeau, who also had airports named for them, in Toronto and Montreal, respectively.) However, your flight probably won't be nonstop: You'd have to change planes in either Montreal or Ottawa, both of which would be a bit out of the way.
But that's better than going there by train:
Penn Station, on Amtrak's
Adirondack
: 8:15 AM Sunday
Gare Centrale, Montreal: 7:11 PM Sunday
Leave Montreal, on VIA Rail's
Ocean
: 7:00 PM Monday
Halifax Railway Station, 1161 Hollis Street, downtown: 5:51 PM Tuesday
Game: 7:00 PM Tuesday
Halifax: 1:00 PM Wednesday
Gare Centrale, Montreal: 10:03 AM Thursday
Leave Montreal: 10:20 AM Thursday
Penn Station: 8:50 PM Thursday
That's about 22 hours just from Montreal to Halifax - and another 22 hours back. Note that this doesn't give you much time to get from the train station to the arena on Tuesday night. New York to Montreal and back is $138. Montreal to Halifax and back is C$276, or US$211. The total is US$349. And using Amtrak and VIA Rail means you'd have to spend almost 24 full hours in Montreal (hardly a bad thing if you can afford a hotel), you would have a shade over an hour to get from the Halifax station to the arena, you'd have to stay overnight in Halifax, and you'd have 17 minutes to change trains in Montreal -- and that's if the train from Halifax is on time! You might as well stay overnight in Montreal again -- which, again, is great if money is no object, but it might be.
How about the bus? Greyhound also serves the Halifax Railway Station. But this schedule is also ridiculous. There's only 1 bus per day leaving Montreal, at 9:30 PM, arriving at Halifax at 6:20 PM the next day, giving you even less time to get to the arena -- and it costs C$344. One way. And you still have to get to Montreal. Forget that.
So it looks like you'll have to drive. Start out as if you're going to Boston: Take Interstate 95 North to New Haven. Take Exit 48, Interstate 91 North to Hartford. Take Exit 30, Interstate 84 East into Massachusetts. You'll merge with Interstate 90 East, the Massachusetts Turnpike, and take that until you reach Interstate 495, Boston's outer beltway.
But instead of continuing on the Mass Pike to Boston, take Exit 11A onto I-495 North, into Boston's northern suburbs, until you reunite with I-95 North at Salisbury, just before reaching the New Hampshire State Line. You'll cross New Hampshire and go into Maine. Take Exit 182A onto U.S. Route 1A, turn left on State Route 46, right on State Route 9, then follow this rural route all the way to Baring, where you'll meet up with U.S. Route 1. Turn left at International Avenue, and you'll reach the Border.
Don't get cute. Show your passport. If they ask for any other ID, show them that. If you have anything that could be considered a weapon, even a pair of nail clippers, it's probably best to mention that. Don't make any wiseass remarks about Canada. When they ask you your purpose for visiting Canada, tell them you' re visiting Halifax as a tourist. (That is the truth.) Presuming you don't do or say anything stupid, you should get across with no trouble.
International Avenue becomes New Brunswick Provincial Route 1. Take this to River Glade, where you'll get on the Trans-Canada Highway. You'll take that around Moncton and into Nova Scotia. At Truro, take Provincial Route 102 South to Fall River, and take Provincial Route 118 South into Dartmouth, and cross the Angus L. Macdonald Bridge into downtown Halifax. (Macdonald was Premier from 1933 to 1940, and again from 1945 to 1954. In between, he served in the wartime cabinet of Prime Minister Mackenzie King.)
If all goes well, you should be in New York State (not counting Manhattan) for half an hour, in Connecticut for 2 hours, in Massachusetts for an hour and 15 minutes, New Hampshire for 15 minutes, Maine for 4 hours and 45 minutes, Customs for 15 minutes or less, New Brunswick for 3 and a half hours, and 2 hours and 15 minutes in Nova Scotia. Given rest stops in Connecticut, at each end of Maine, and around the New Brunswick-Nova Scotia Province Line, it should take about 17 hours.
Once In the City.
"Scotia" was the Latin name for Scotland. Therefore, Nova Scotia is "New Scotland." Halifax, with a population of about 400,000, was named for George Montagu-Dunk, 2nd Earl of Halifax, essentially the founding father of Nova Scotia in 1749. (With a founder's name like "Dunk," maybe the city should be more interested in basketball than in hockey.) Halifax is the capital of the Province, and the capitol building, Province House, is 2 blocks east from the arena, down Carmichael Street.
Province House
Halifax Transit runs buses and the Halifax-Dartmouth Ferry Service, but there's no subway or above-ground light rail service. A single adult fare is $2.50. The Province has a 15 percent harmonized sales tax (HST). The
Chronicle Herald
is the city's single daily newspaper.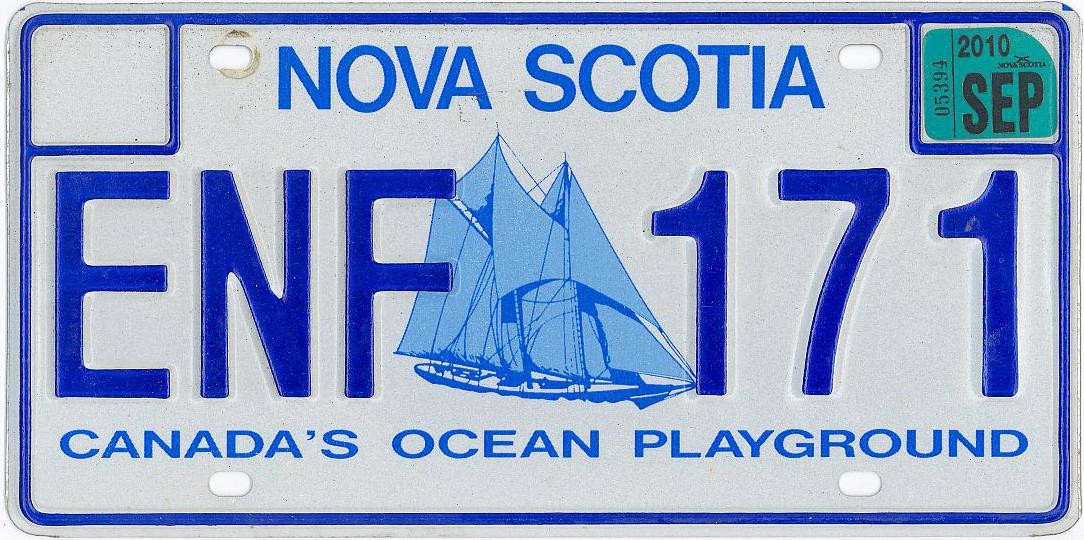 Street addresses increase going north and west. Like Montreal's RESO and Toronto's PATH, Halifax has an "underground city," called Downtown Halifax Link, so people can get around while being protected from the cold. The drinking age in Nova Scotia is 19. Postal Codes in Nova Scotia begin with the letter B. Like Prince Edward Island, Nova Scotia uses Area Codes 902 and 782. The Province has no beltway.

Yes, Canada had a Provincial version
of our State Quarter program.
Going In.
The Halifax Mooseheads play at the Scotiabank Centre, at 1800 Argyle Street. (More of that Scottish connection.) Don't be fooled by its exterior appearance: Most of the arena structure is below ground, due to the hilly nature of Halifax. If you drive in, parking is C$5.00.
Across Brunswick Street, to the west, is the Old Town Clock, and the Halifax Citadel National Historic Site. (More on that in "Sidelights.") Across Duke Street, to the north, is the Scotia Square shopping mall. Just 7 blocks to the east is the Halifax Ferry Terminal, offering boat service to Alderney and Woodside in Dartmouth, a.k.a. "The Darkside," across Halifax Harbour.
The arena opened in 1978. It was known as the Halifax Metro Centre until 2014, when the naming rights were bought by one of Canada's largest banks. It is small by major league standards, but large by minor-league ones, and the largest arena in the Maritime Provinces: It seats 10,595 for hockey, though it can be expanded to up to 13,000 for concerts.
The famous orange seats at the Halifax Metro Centre,
before the renaming and renovation.
The arena has been home to a series of minor-league hockey teams: The Nova Scotia Voyageurs (1978-84), the Nova Scotia Oilers (1984-88), the Halifax Citadels (1988-93), and the Halifax Mooseheads (a.k.a. The Beasts of the East, since 1994). The Mooseheads may catch the attention of longtime Devils fans, since their colors are the Devils' original colors, red and green.
It's also hosted a series of minor-league basketball teams: The Halifax Windjammers (1991-94), the Halifax Rainmen (2007-15), and the Halifax Hurricanes of the National Basketball League of Canada (since 2015).
It hosted the CIS (Canada's version of the NCAA) Men's Basketball Championship every year from 1984 to 2007, again in 2011 and 2012, and will again this year and next.
It hosted the World Figure Skating Championship in 1990; the Memorial Cup, the championship of Canadian junior hockey, in 2000; the CIS University Cup, Canada's college hockey championship, in 2015 and 2016.
The rink runs north-to-south. The Mooseheads attack twice at the south end.
The navy blue seats, after the 2014 renaming and renovation
Due to its concert volume - Ozzy Osbourne sold a 2007 show out in 9 minutes, and Elton John sold 2 2008 shows out in 42 minutes -- and its age (nearly 40 years old), there has been talk of building a new arena to seat least 15,000. So far, though, it's just an idea, and the city seems more interested in building a stadium for a Canadian Football League expansion team.
Food.
Centerplate runs the concessions. No, they don't spell it "Centreplate" up there. Stands are along the sidelines only, not in the concourse behind either goal.
On the east, Argyle Street side, they have Halifax Poutine (yitch) behind Section 4; Halifax Popcorn, Budweiser Bar and Beer Solutions at 5; Taste 902 (named for the city's Area Code, "featuring local products") and Halifax Confectionery (candy and ice cream) at 6; Pizza and Halifax Kettle Corn at 7; another Budweiser Bar, Halifax BBQ and Halifax Coffee at 8; Halifax Grill (including poutine), Halifax Links (sausages) and Halifax Asian at 9; another Halifax Popcorn at 10; and King of Donair (Asian) at 11.
On the west, Brunswick Street side, they have another Budweiser Bar at 19; Halifax BBQ and Halifax Links at 20; another Pizza and another Budweiser Bar at 21; Mill Street Brewery and Halifax Fries at 22; and another Budweiser Bar, another Halifax Grill, and another Halifax Popcorn at 23.
Team History Displays.
Founded in 1994, the Mooseheads don't play in Quebec, but they do play in the Quebec Major Junior Hockey League. They have won divisional titles in 2001, 2003, 2005, 2008, 2013 and 2014. They won the President's Cup, the Playoff championship of the QMJHL, and the Memorial Cup, in 2013.
They have 4 banners for retired numbers:
* 18, left wing Alex Tanguay, 1996-99, a 2001 Stanley Cup winner with the Colorado Avalanche, and currently a free agent.
* 25, left wing Joey Shelley, 1995-97, an original member of the Columbus Blue Jackets in 2000-01, a Ranger in 2009-10, and now working in the Jackets' front office.
* 47, goaltender Jean-Sebastien Giguere, 1995-97, famed for his trips to the Stanley Cup Finals in 2003 (where he won the Conn Smythe Trophy as Playoff MVP even though the Devils won the Cup and Martin Brodeur had 3 shutouts in the Finals) and 2007 (where the Ducks beat the Ottawa Senators), now out of hockey.
* And a banner for Pat Connolly, longtime Halifax-based sportswriter and sportscaster. The retired number banners are flanked by the 2013 title banners.
Other notable former Mooseheads are Boston Bruins Cup-winning left wing Brad Marchand, former Anaheim Ducks Cup-winning defenseman Joe DiPenta, and Colorado Avalanche center Nathan MacKinnon, a Halifax native whose hat trick clinched the 2013 Memorial Cup win.
Stuff.
There is no big team store. At an arena this size, for a minor-league team, it isn't really practical. So smaller souvenir stands will have to do. Don't expect to find any team videos. Two books can be mentioned:
Hockey's Home: Halifax-Darmouth
, published in 2002 by Martin Jones; and
The Mooseheads: The History of Halifax's Favourite Hockey Team
, published in 2005 by Dan Robertson -- both before the Mooseheads' annus mirabilis of 2013.
During the Game.
There is no rivalry between the Mooseheads (a.k.a. The Beasts of the East) and any of the New York Tri-State Area teams, as neither the Devils, nor the Rangers, nor the Islanders have a farm team in the QMJHL. Rather than resisting Americans checking their city and their team out, they may be very welcoming.
This game against Moncton is a promotion, Family Day. There may be a lot of screeching kids in the audience. This, plus the stereotypical politeness of Canadians, means you should watch your language. Speaking of language, while the Maritimes have many French-Canadians, the signs and announcements will all be in English, not French.
Peter Baylis is the team's regular singer of "O, Canada." However, this being the 150th Anniversary of Canadian independence (or "Confederation"), he will be traveling the country this year, singing the National Anthem on 150 public occasions. So he may not be there on Monday.
The team has 2 mascots: A Moose named Mac, and a... thing named Hal, obviously short for "Halifax."
On January 9, 2016, Hal had a little accident.
The fans' main chant is, "Go, Moose, go!" Probably an outgrowth of the Montreal and Toronto chants that they saw on TV a thousand times: "Go, Habs, go!" and "Go, Leafs, go!"
Hal and Mac
After the Game.
It's Canada, they don't hate New York or New Jersey, and you are a visitor, with no reason to root for the visiting team. You're going to be safe going out.
The Scotia Square Mall, across Duke Street to the north, has a food court, but it may be closed by the time the game lets out. Just south of the arena, the Midtown Tavern & Lounge is at 1744 Grafton Street, and The Five Fishermen is at 1740 Argyle Street. A block south, The Wooden Monkey is at 1707 Grafton Street, and Canadian chain The Keg Steakhouse + Bar is at 1712 Market Street.
If you visit Halifax during the European soccer season, on the day of a game (there won't be many on Monday), the leading "footy pub" in Nova Scotia is The Maxwell's Plum, 2 blocks south of the Scotiabank Centre, at 1600 Grafton Street at Sackville Street.
Sidelights.
For a city its size -- the entire Province has only about 925,000 people, so it would easily be the smallest metropolitan area in any of the 5 major league sports -- Halifax has a lot to offer.
Before the Metro/Scotiabank Centre was built, the home of Halifax hockey was the Halifax Forum, built in 1927, seating 5,600 people, and still used for hockey by St. Mary's University and (while they build a new arena) Dalhousie University. 2901 Windsor Street, about a mile and a half northwest of downtown. Bus 1.
There is another QMJHL team in Nova Scotia, the Cape Breton Screaming Eagles. Since 1997, they have played at an arena named Centre 200, because it opened in 1985, on the 200th Anniversary of the founding of its city, Sydney. The Cape Breton Highlanders, a National Basketball League of Canada team named for a famous regiment of the Canadian Army, also play there. 481 George Street, in the Cape Breton region, easternmost Nova Scotia, 250 miles east of downtown Halifax.
For years, the city has been trying to get a stadium built, so it can get an expansion team in the Canadian Football League, and possibly a professional soccer team as well. They almost got a team in 1984, but it failed, because they couldn't get a 30,000-seat stadium ready. The current plan would keep that team's name, the Atlantic Schooners, and let it represent all 4 Maritime Provinces, a.k.a. "Atlantic Canada."
Part of the problem is that they can't agree on a location. One possibility is north of the Forum. (It would be in addition to the old arena, not to be put on the site after tearing it down. The Forum is safe for now.) Another is at the Dartmouth Sportsplex, across the Harbour from downtown.
The likeliest site is at the Wanderers Grounds, longtime home of Halifax rugby, west of the Citadel, and thus technically still downtown. This is also being considered for the site of a minor-league baseball park, which Halifax has never had. 5755 Sackville Street.
UPDATE: On June 20, 2017, the City Council approved the building of a 7,000-seat stadium at the Wanderers Grounds, expected to be ready by Spring 2018. The Canadian Premier League, Canada's attempt at a "top flight" soccer league, is planning to begin play in Spring 2019, and Halifax will be represented by a team named for the grounds HFX Wanderers FC.
Until then, the biggest stadium in town is Huskies Stadium, home of St. Mary's, seating 5,000 but expandable to 11,000, and that's just not enough. 923 Robie Street, in the South End, about a mile south of downtown. Bus 1.
Yes, the running track is blue.
There are 2 other major colleges in Nova Scotia. Acadia University is in Wolfville, 57 miles northwest of downtown Halifax. In 1979 and 1981, they won the Vanier Cup as Canada's national college football champions. St. Francis Xavier University is in Antigonish, 132 miles northeast. They won the 1966 Vanier Cup, and the hockey equivalent in 2004.
Neither Elvis Presley nor The Beatles ever performed in Halifax, or anywhere else in the Maritime Provinces. Elvis sang in Ottawa and Vancouver, The Beatles sang in Montreal, and they both sang in Toronto.
The Old Town Clock is one of the best-known Halifax landmarks. Prince Edward, Duke of Kent and Strathearn, commander-in-chief of all military forces in British North America, son of King George III, and father of the eventual Queen Victoria, wanted it built to resolve the habitual tardiness of the local garrison. It has operated since 1803, at Brunswick & Carmichael Streets, across Brunswick from the Scotiabank Centre.
The Halifax Citadel National Historic Site is a living history museum, dating to 1749 but depicting the Victorian period (Queen Victoria's reign, 1837 to 1901, including 1867, the year of Confederation). It is particularly known for its "Victoria Christmas" pageantry. 5425 Sackville Street, on Citadel Hill, overlooking downtown.
The Maritime Museum of the Atlantic is the oldest maritime museum in the country, and includes the hydrographic surveyor ship CSS
Acadia
. 1675 Lower Water Street, on the Harbour. Not a part of its complex, but adjoining it, is HMCS
Sackville
, a corvette (small warship) that served in World War II and is now a museum ship.
Nova Scotia has produced 3 Prime Ministers of Canada. However, all served long ago, none of them have houses preserved as a historic site, and none of them are buried in the Province. Halifax native Sir John Thompson, a former Premier of Nova Scotia, served as Prime Minister from December 5, 1892 to December 12, 1894. Charles Tupper of Amherst, was the shortest-reigning Prime Minister: 69 days, May 1 to July 8, 1896. Robert Borden of Grand-Pre was Prime Minister from October 10, 1911 to July 10, 1920, including all of World War I. (Earlier in his life, he was a teacher, including a short time in Matawan, New Jersey. He is now on Canada's $100 bill.)
The tallest building in Nova Scotia is in Halifax, but it's not very tall. The Fenwick Tower stands 321 feet, at 5595 Fenwick Street in the South End, just south of downtown.
Most TV shows and films set in Nova Scotia are Canadian shows that most Americans wouldn't recognize. There is one notable exception: The History Channel's nonfiction series
The Curse of Oak Island
, trying to solve a mystery about an island in Mahone Bay, about 50 miles west of Halifax. There is a road bridge to the island. The 1948 film
Johnny Belinda
as set in the Province.
*
Halifax is a small city, but it has quite a bit to see, including natural beauty, history, and a hockey team with a passionate fan base. It's not easy to get to, but it is well worth a visit.