The Brooklyn Nets go to Salt Lake City to play the Utah Jazz next Friday. The New York Knicks will do so on March 22.
Before You Go.
We think of Utah, we think of the Wild West. Desert. National Monument Valley. We forget that it's also in the Rocky Mountains. I flipped out when I heard that it was chosen as the site of the 2002 Winter Olympics. Winter? Utah? But it's got mountains, and it's got snow. For years, the license plates even said, "Ski Utah."
The Salt Lake Tribune
, the State's largest newspaper, is predicting mid-40s for daylight next Friday, and low 30s for the evening. Bring a winter coat.
Utah is in the Mountain Time Zone, 2 hours behind New York. Adjust your timepieces accordingly.
Tickets.
The Jazz are averaging 19,647 fans per game this season, a little under 99 percent of capacity. So getting tickets might be a problem.
In the Lower Level, the single-digit and double-digit sections, seats are $185 between the baskets and $90 behind them. In the Upper Level, the triple-digit sections, seats are a considerably cheaper $41 between the baskets and go as low as $19 behind them. That's really cheap by NBA standards.
Getting There.
It's 2,174 miles from Midtown Manhattan to downtown Salt Lake City. In other words, if you're going, you're flying.
Because, driving, you'd have to get onto Interstate 80 West in New Jersey, and – though incredibly long, it's also incredibly simple – you'll stay on I-80 for almost the entire trip, getting off at Exit 306 for downtown Salt Lake.
Not counting rest stops, you should be in New Jersey for an hour and a half, Pennsylvania for 5:15, Ohio for 4 hours, Indiana for 2:30, Illinois for 2:45, Iowa for 5 hours, Nebraska for 7:45, Wyoming for 6:45, and Utah for 1:15. That's almost 37 hours, and with rest stops, and city traffic at each end, we're talking 2 full days.
That's still faster than Greyhound and Amtrak. The station serving both, Salt Lake Central Station, is at 300 South 600 West, 5 blocks from the arena. But the Greyhound trip averages about 49 hours, depending on the run, and will require you to change buses twice, most likely in Pittsburgh and Denver. Round-trip fare is $366.
On Amtrak, you would leave Penn Station on the
Lake Shore Limited
at 3:40 PM on Tuesday, arrive at Union Station in Chicago at 9:45 AM Central Time on Wednesday, and switch to the
California Zephyr
at 2:00 PM, arriving at Salt Lake City at 11:05 PM Mountain Time on Thursday, about 20 hours before tipoff. Getting back, the
California Zephyr
leaves Salt Lake City at 3:30 AM on Friday, arrives in Chicago at 2:50 PM on Saturday, and the
Lake Shore Limited
leaves at 9:30 PM and arrives in New York at 6:23 PM on Sunday. Round-trip fare: $464.
Newark to Salt Lake City is a relatively cheap flight, considering the distance. You can get a round-trip fare for under $800. The problem is, you'll have to change planes, probably in Chicago, Dallas or Phoenix -- not, as you might guess, in Denver.
Once In the City.
Founded in 1847 by Mormon leader Brigham Young (who famously found what he thought was the right spot for his followers and said, "This is the place") and named after the Great Salt Lake, Salt Lake City is the smallest anchor city in North American major league sports, except for Green Bay, Wisconsin: 193,000.
But it has a metropolitan area population of about 2.5 million and rising, which makes it larger than NBA markets San Antonio, Indianapolis, Milwaukee, New Orleans, Oklahoma City and Memphis, and MLS markets Kansas City and Columbus -- and not that far behind Vancouver.
The State House
Society in the State and the City remain dominated by "The Church of Jesus Christ of Latter-Day Saints," a.k.a. the Mormons. So, in
Star Trek IV
, when Kirk, having traveled back in time with Spock, tells a woman that Spock was in Berkeley, California in the 1960s and "did a little too much LDS," it was a mistake, not a reference to Spock being a Mormon. I don't think there were very many Mormons at the University of California, Berkeley in those days. They were much more likely to have attended the University of Utah in Salt Lake City, Utah State University in Logan, or Brigham Young University in Provo.
Nevertheless, like Austin in Texas, Little Rock in Arkansas, Atlanta in Georgia and Lincoln in Nebraska (but definitely
not
the suburbs of any of those), Salt Lake City is an increasingly liberal capital city in a very conservative State.) I put it this way: In Salt Lake City, Mitt Romney is regarded as "severely conservative"; in the rest of Utah, he's "Massachusetts Moderate Mitt." (As Dick Smothers would say, "That was not a compliment.")
Salt Lake City has the most confusing street names I've ever seen. In place of numbered streets, such as "West 6th Street," they have "600 West," then divide them along the other access, so it reads as "South 600 West." I suppose that if you've lived there all your life, this is second nature to you. Or North 200 Nature to you. But it would drive me bananas.
At any rate, Main Street is the east-west divider, with State Street taking the place of 100 East, and West Temple -- not "West Temple Street" or "West Temple Avenue" or anything like that, just "West Temple" -- taking the place of 100 West. There's also a North Temple and a South Temple, but not an East Temple. South Temple is the north-south divider. The exact centerpoint is Temple Square. ZIP Codes for Utah begin with the digits 84. The Area Codes are 801 (overlaid by 385) and 435.
The Utah Transit Authority runs buses and TRAX light rail. Routes numbered 001 to 199 run east-to-west, 200 to 299 run north-to-south, 300-399 are express, 400 to 499 are intercounty, 500 to 599 are neighborhood routes, 600 to 699 are Weber/Davis County routes, 800 to 899 are Utah County Routes, and 900 to 999 are Ski Service/Seasonal routes.
A TRAX train passing City Hall
A square bounded by Temple on the north, 200 East on the east, 500 South on the south, and 400 West on the west, plus the State Capitol, Salt Lake Central Station and Old Greektown Station, are a Free Fare Zone. Otherwise, within Salt Lake City, a one-way fare is $2.50, and a Day Pass is $6.25.
The "sales and use tax," as it's known in Utah, is 4.7 percent for the State, and rises to 6.85 percent in Salt Lake City.
Going In.
The Jazz' arena opened in 1991 as the Delta Center, with the airline having bought the naming rights. It became the Energy Solutions Arena in 2006, and was changed again last year, to Vivint Smart Home Arena, as the naming rights were bought by the private home security system. Yet another thing about Salt Lake City that's confusing, along with the street addresses, the combination of desert and snow-capped mountains, and the liberal City in the conservative State.
The official address of the arena is 301 South Temple. It's downtown, within walking distance of most hotels. The Gateway Mall, including the old Union Pacific Railroad depot, is across North 400 West. Parking is available all around, including underneath the Salt Palace Convention Center, across 300 West from the arena. I can't find any reference to how much parking costs in these lots, but metered parking is $2.00 for 2 hours, and free after 8:00 PM (in other words, in the middle of the game).
The Larry H. Miller Court, named for the late Jazz owner (whose company still owns the team and the arena), is laid out southwest to northeast. The building was used for figure skating and short track speed skating at the 2002 Winter Olympics. (Because the Olympics prohibit corporate names on venues, it was officially known as the Salt Lake Ice Center for the duration.) The WNBA's Utah Starzz played there from 1997 to 2002, when they moved to become San Antonio Silver Stars.
It was home to a pair of minor-league hockey teams, the Salt Lake Golden Eagles from 1991 to 1994, and the Utah Grizzlies from 1995 to 1997, winning the Turner Cup in 1996 and '97. It's hosted NCAA Tournament games, although the NCAA is now committed to holding them in domed stadiums with at least twice this arena's capacity of 19,911.
In 2008,
Sports Illustrated
took a poll of 240 NBA players, and the building was chosen by 20 percent (hardly a majority, but a plurality) as the most intimidating arena in the NBA. It could be due to the high elevation in this Rocky Mountains city, as much as to the noise of the fans.
Food.
The arena has some new additions to their traditional concessions:
* Chick-fil-A: located on the main level between portals R and S
* Cupbop: located on the main level between portals K and L
* Authentic Korean Tacos: located next to Cupbop between portals K and L
* Swig "Dirty Soda": One location on main level between Portals L and M, another on level 5 between MM and NN
* Frank's Dogs and Sausages: One location on main level between portals B and C and another on the main level between portals X and Y
* Salt City Panini: Located on the main level between portals X and Y (One option for healthier foods like chef salads and fruit dippers)
* Tom's Smokehouse BBQ: Located on the main level between portals X and Y
Unfortunately, they also serve Papa John's Pizza. Which isn't that good even if Papa John Schnatter himself wasn't a right-wing asshole.
The Squatters' Tavern is on the arena's southeast side, and the Coors Light Champion Club in the west corner.
Team History Displays.
The Jazz began as an expansion franchise in 1974, in New Orleans, and moved to Salt Lake City in 1979. "New Orleans Jazz" made sense, but "Utah Jazz" doesn't. Former coach Frank Layden suggested that the team swap names with the Los Angeles Lakers, who started in Minnesota, "the Land of 10,000 Lakes," because Utah has a lake, while L.A. is the West Coast's leading city for jazz. Neither Commissioner Larry O'Brien nor Lakers owner Jerry Buss (both now deceased) went for the idea. Still, the Jazz' note-shaped J logo is pretty sharp. Definitely not flat. It looks completely natural.
Sam Battistone, the team's majority owner at the time of the move, said there wasn't time to get the name officially changed before the 1979-80 season, and that nobody came up with a better name:

"The names that came in, nothing seemed to fit." He sold the team to Larry Miller in 1985, and he didn't change the name, either.
The Jazz won the Midwest Division in 1984, 1989, 1992, 1997, 1998 and 2000. They've won the Northwest Division in 2007 and 2008. They've won the Western Conference in 1997 and 1998. They have banners for each of these achievements, doubling up for '97 and '98. (There is no notation in the arena's rafters for the 1971 ABA Championship won by the Utah Stars, who also reached the ABA Finals in 1974, losing to the New York Nets.)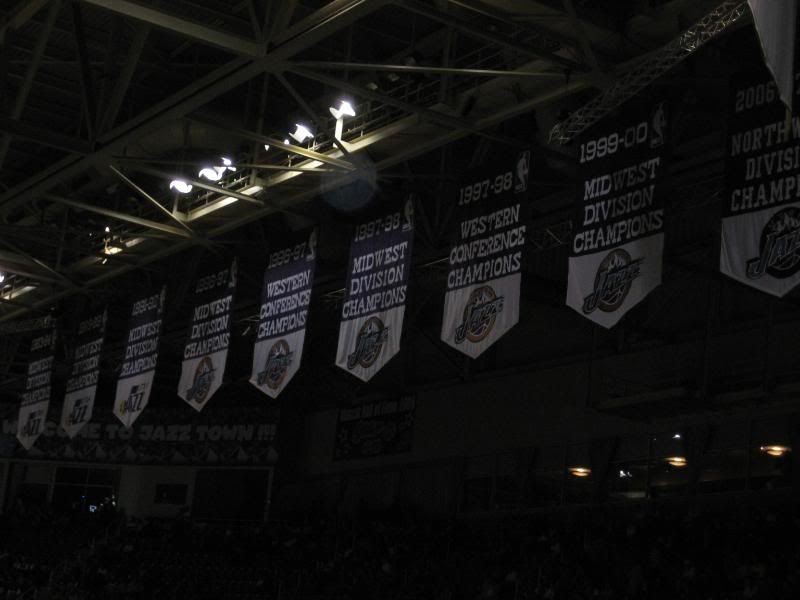 For a franchise so young, and without an NBA title, the Jazz have a very high number of honorees for "retired numbers": 11. Although Pete Maravich only played 17 games for Utah after the move, before being traded to the Boston Celtics, the Jazz retired his Number 7 for what he did for the franchise in New Orleans, even though he wore 44 when he started with them. The New Orleans Hornets/Pelicans also retired 7 for him, even though he never played for them.
From the 1984 Division title, they honored coach Frank Layden with 1, forward Adrian Dantley's 4, guard Darrell Griffiths' 35 and center Mark Eaton's 53. From the 1989 Division title, they honored Dantley, Griffith, Eaton, guard John Stockton's 12 and forward Karl Malone's 32. From the 1992 Division title, they honored Eaton, Stockton and Malone. And from the 1997 and 1998 Conference titles and the 2000 Division title, they honored Stockton, Malone, and guard Jeff Hornacek's 14.
As yet, no one is honored from the 2007 and 2008 Division titles. With as many retired numbers as they have, it seems silly to retire Carlos Boozer's 5, Deron Williams' 8 and Mehmet Okur's 13 when they didn't win a title.
Straddling the eras, they have banners honoring owner Miller, the late broadcaster Rod Hundley, and head coach Jerry Sloan. Hundley, who'd been a star player for the Lakers in the 1960s, is represented by a banner with a picture of a microphone. Miller, for whatever reason, has Number 9, while Sloan's banner has the number of games he won as Jazz head coach, 1223.
Miller made his name as a car salesman and then a dealership owner throughout Utah and Colorado, and built a media empire, even buying Salt Lake City's Channel 14 and renaming it KJZZ for the team. He bought the Jazz and built the arena. He also owned the WNBA's Starzz, the IHL Golden Eagles, and the Pacific Coast League's Salt Lake Bees. Although he never went to college, as a Mormon, he donated heavily to BYU, and they named their baseball complex Larry H. Miller field for him.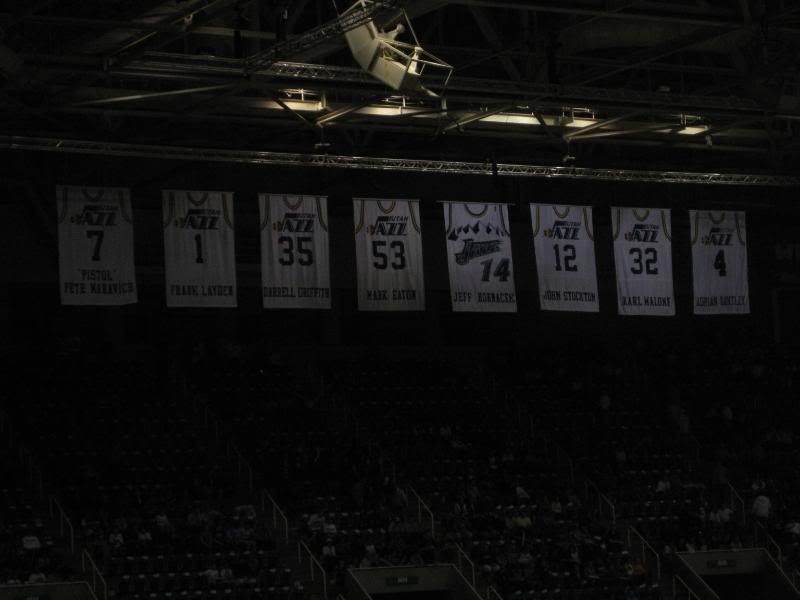 In addition, the Jazz have statues of Stockton and Malone outside one of the longer entrances. The two of them, and Maravich, were named to the NBA's 50th Anniversary 50 Greatest Players. Basketball Hall-of-Famers associated with the Jazz are Maravich, Dantley, Stockton, Malone, Sloan, Gail Goodrich (3 seasons in New Orleans), Walt Bellamy (1 season in New Orleans), Elgin Baylor (ditto, as coach), Spencer Haywood (the last season in New Orleans) and Bernard King (the 1st season in Utah).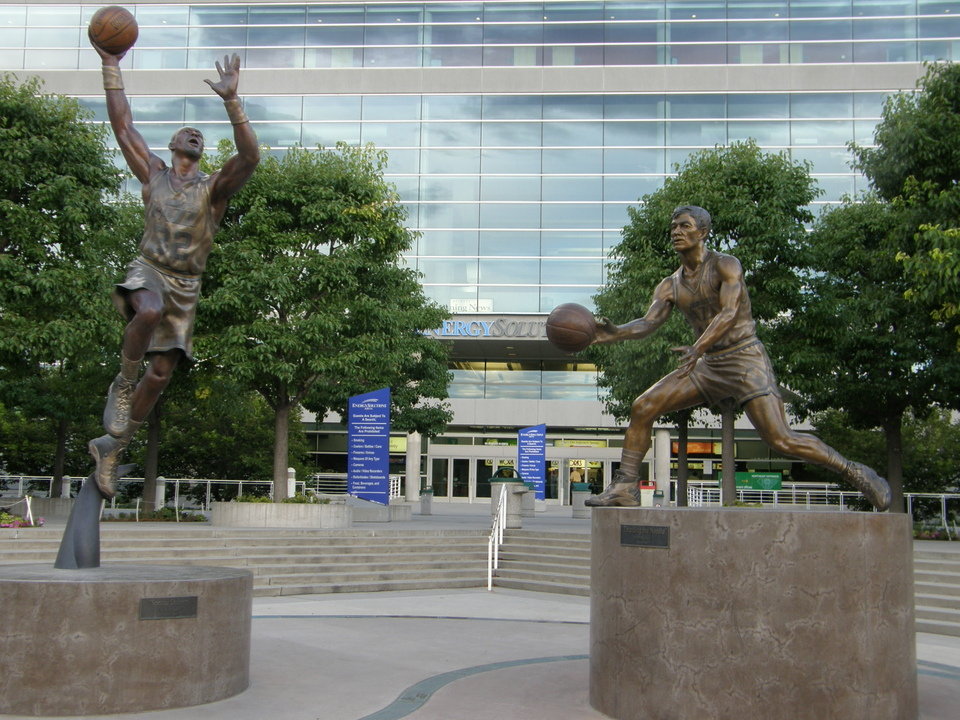 The Malone (left) and Stockton statues
Zelmo Beaty, Ron Boone, Jimmy Jones and Willie Wise of the Stars were named to the ABA All-Time Team. Beaty was elected to the Basketball Hall of Fame in 2016.
Stuff.
The Fanzz Jazz Team Store is on the northwest side of the building.
There aren't many books about the Jazz. Michael Lewis, author of Moneyball and The Blind Side, wrote: To the Brink: Stockton, Malone, and the Utah Jazz's Climb to the Edge of Glory after their 1997 and '98 Finals appearances. Nate LeBoutillier contributed the Jazz' entry in the NBA's A History of Hoops series. Stockton wrote an autobiography, Assisted. Malone, nicknamed The Mailman for his ability to "deliver," was profiled in Clayton Geoffreys' bio Karl Malone: The Remarkable Story of One of Basketball's Greatest Power Forwards.
Don't count on finding any Jazz DVDs, not even a 20th 25th or 30th Anniversary video (1999, 2004 or 2009). The only one available on Amazon.com is of Game 5 of the 1997 NBA Finals, and they lost that one: Michael Jordan's "Flu Game."
During the Game.
A November 13, 2014 article on DailyRotoHelp
ranked the NBA teams' fan bases, and listed the Jazz' fans 9th: "Regardless of a team that hasn't made it to the Playoffs in years, the fan base in Utah are a dedicated and loyal bunch."
The Jazz' biggest rivalries are with the Denver Nuggets, the Houston Rockets and the Los Angeles Lakers. They don't have any special animus for either the Knicks or the Nets. They are not going to bother you.
Then again,
a 2008 Bleacher Report article
called Jazz fans "The Most Disgusting Fans in the NBA." The author has a point. I thought Boston Celtics fans were bad, but they've never been this bad.
The Jazz hold National Anthem auditions every September for the entire season, instead of having a regular singer. A group called the Basketball Rockers has recorded a theme song for them, based on the Mortal Kombat video game series. There are no notable Jazz fan chants.
Dan Roberts has been the team's public address announcer since they arrived in 1979. The team's mascot is Jazz Bear. He rides onto the court on a motorcycle, wearing a Jazz uniform with Number 00, and a headband. He was named NBA Mascot of the Year in 2008. But he looks like a ripoff of Squatch, the mascot of the now-moved Seattle SuperSonics.
Apparently, that's a bear.
After the Game.
Salt Lake City is one of the safest cities in the NBA. You should have no trouble getting back to your car or your hotel all right.
If you want to go out for a postgame meal or drinks, the Squatters' Tavern inside the arena might still be open. The Gateway mall across North 400 West may have some places open. Lumpy's, at 145 S. Pierpont Avenue between 100 and 200 West, was recently cited on
Thrillist
's list of the best sports bars in every State as the best one in Utah.
As far as I know, there are no bars or restaurants anywhere near Salt Lake City that are known hangouts for New Yorkers.
If your game in Salt Lake is during the European soccer season (which this one is), there's one place that shows up whenever you look up area soccer bars: Fiddler's Elbow, at 1063 East 2100 South, 5 1/2 miles southeast of downtown, in the Sugarhouse area. Bus 209, then a 3-block walk east on 2100.
Sidelights.
Aside from the Jazz, Salt Lake City doesn't have much sports history, but may still be worth a visit beyond the game.
* Salt Palace. There have actually been 3 buildings with this name, but only the 2nd is connected to sports. Opening in 1969, it hosted minor-league hockey's Salt Lake Golden Eagles from 1969 to 1991; the ABA's Utah Stars from 1970 to 1975, including their 1971 ABA Championship; and the Jazz from 1979 to 1991. The Beatles never performed in Utah, but Elvis Presley sang at the Salt Palace on November 16, 1971 and July 2, 1974.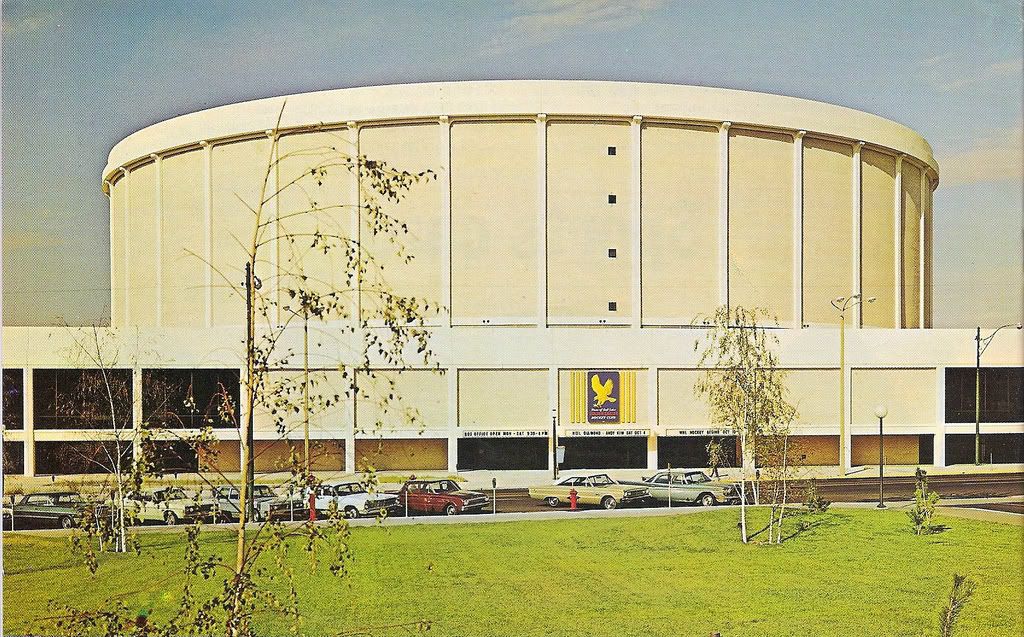 For most of its history, it seated a little over 12,000 people. By the time the Jazz got good in the mid-1980s, among the NBA's 23 teams, only the Milwaukee Bucks had an arena with a smaller capacity. It was time to build a larger arena.
On of the last events there was an AC/DC concert on January 18, 1991, at which fans rushed the stage, and 3 of them were trampled to death. It took 20 minutes for someone to get word to the band about what had happened, and they stopped the concert. Most likely, you didn't hear about this (unless you were a fan of the band or a Utah native) because the Persian Gulf War had started 2 nights before, and that was all that TV news wanted to talk about. A lawsuit was filed against the arena operators and the band, and was eventually settled out of court.
The Salt Palace was demolished in 1994. The Salt Palace Convention Center was built on the site, and includes the Utah Museum of Contemporary Art and a concert hall, Abravanel Hall. 100 South Temple.
* Smith's Ballpark. This 15,411-seat ballpark, one of the largest in the minor leagues, has been the home of the Salt Lake team in the Pacific Coast League since 1994, known first as the Buzz, then as the Stingers starting in 2001, and as the Bees since 2006. They are currently a farm team of the Los Angeles Angels of Anaheim.
It was built on the site of Derks Field, which had been home to area baseball since 1947. The original Salt Lake City baseball team played from 1911 to 1984. As the Bees, they won the Pioneer League (then Class C) Pennant in 1946, 1948 and 1953, and the PCL Pennant in 1959. As the Salt Lake City Angels, they won the PCL Pennant in 1971. As the Salt Lake City Gulls, they won the PCL Pennant in 1979. But the current Bees have never won a Pennant, last making the Playoffs in 2013.
The Salt Lake Trappers won Pioneer League (now a Rookie League) Pennants in 1985, 1986, 1987 and 1991, making a total of 10 Pennants for Salt Lake City teams. En route to the 1987 Pennant, they won 29 straight games, to set a North American professional baseball record. In 1994, the Trappers moved upstate to become the Ogden Raptors. 1365 South West Temple, 2 1/2 miles south of Temple Square. Ballpark station on TRAX light rail.
* Rice-Eccles Stadium. Home to University of Utah football since 1998, this 45,807-seat stadium was the centerpiece of the 2002 Winter Olympics. It was built on the site of the previous Rice Stadium, built in 1927. It hosted Major League Soccer's Real Salt Lake from 2005 to 2008, and a U.S. soccer team win over Costa Rica on June 4, 2005. 451 1400 East.
* Jon M. Huntsman Center. Home to University of Utah basketball since 1969, it was originally named the Special Events Center. It was renamed for a major university contributor, the founder of Huntsman Chemical Corporation and the father of a former Governor. (Both are still alive.)
Most notably, it hosted the 1979 NCAA Final Four, including the legendary Final, won by Earvin "Magic" Johnson's Michigan State over Larry Bird's Indiana State. It has hosted 81 NCAA Tournament games, 2nd only to the University of Dayton Arena's 91.
Both the stadium, at 451 1400 East, and the Huntsman Center, at 1825 East South Campus Drive, are about 3 miles east of downtown, and can be reached by TRAX light rail at University Campus South station.
Utah State is in Logan, 83 miles north on U.S. Route 89. It is not easily reachable by public transportation. BYU is in Provo, 45 miles south on I-15. TRAX does extend to Provo Central Station, taking about an hour, and then you can transfer to the 830 or 831 bus to the campus.
* Rio Tinto Stadium. Home of Real Salt Lake since 2008, including its 2013 MLS Cup season, this 20,213-seat soccer-specific stadium has also hosted 3 U.S. soccer team matches, all victories, most recently a 2013 win over Cuba. (UPDATE: They've since added a 4th, a 2017 draw with Venezuela.) The U.S. women's team also has a perfect 3-0 record there. 9256 State Street in the suburb of Sandy. TRAX to Sandy Expo Station, a 48-minute ride.
* Maverik Center. Originally known as the E Center, this 12,500-seat arena hosted the 2002 Winter Olympic hockey tournament. The East Coast Hockey League's Utah Grizzlies have played there since it opened in 1997. (Yes, I know: Utah is on neither the Pacific Coast nor the East Coast. I didn't name these leagues.) 3200 Decker Lake Drive, in the suburb of West Valley City. TRAX to Decker Lake station.
Don't count on Salt Lake City ever getting a team in a sport other than the NBA and MLS. Its metro area population would rank it 30th in MLB, 27th in the NFL, and 23rd in the NHL. For now, the closest teams in those leagues are in Denver, 523 miles away.
And yet, while the Denver Broncos are Utah's favorite NFL team, and the Colorado Avalanche its favorite NHL team, it doesn't hold true in baseball. According to
an article in the April 23, 2014 edition of The New York Times
, Salt Lake City's vast distance from any major league team means that its favorite teams are the teams it's used to seeing on TV: The Yankees and Red Sox each got 17 percent in a poll, and the next-closest in the poll was the Los Angeles Dodgers, with a mere 7 percent. It's not until you get to Uintah County, 160 miles east of Salt Lake (and 320 miles west of Denver), that you get to definitive Colorado Rockies territory in Utah.
Utah has never produced a President. Mitt Romney, born in Detroit and living most of his life in Boston, but having a home in the Salt Lake suburb of Park City, was nominated for President in 2012, but didn't come all that close to winning. So there's no Presidential Library or Museum nearby.
The most famous Utahan remains Mormon leader Brigham Young, and his home, The Beehive House, is a Salt Lake City landmark. The spot where Young told his followers, "This is the place" is now the This Is The Place Heritage Park, a "living history" park, a "Mormon Williamsburg" if you prefer. 2601 Sunnyside Avenue South. It is part of the University of Utah campus, as is the Natural History Museum at 301 Wakara Way. Like the This Is The Place. Both can be reached by Bus 3 from Temple Square.
As I mentioned, the Utah Museum of Contemporary Art is part of the new Salt Palace complex. The Museum for Speed includes exhibits about the speed records set at Utah's Bonneville Salt Flats. 165 East 600 South. Bus 200 from Temple Square.
Golden Spike National Historic Site commemorates the meeting of the Union Pacific and Central Pacific Railroads to form the first transcontinental railroad on May 10, 1869. 6200 North 22300th Street West, in Brigham City, 86 miles northwest of Salt Lake City and around the Great Salt Lake itself, up I-15 and Utah Route 83. Ironically, it's not reachable by train. Nor by bus: You'd have to rent a car to see it. It's about 32 miles southeast of the actual location, usually referred to as Promontory Point, but actually named Promontory Summit. ("Promontory Point" is a different place.)
The tallest building in the State of Utah is the Wells Fargo Center in Salt Lake City, 422 feet high. (It should not be confused with the building of the same name that is the new Philadelphia sports arena.) Main Street and 300 South. But the most famous building in the State remains the Salt Lake Temple at Temple Square, the Mormons' "Vatican."
As the home of National Monument Valley, many of the films made in Utah have been Westerns, including
Stagecoach, The Searchers, How the West Was Won, Butch Cassidy and the Sundance Kid
-- which gave its name to Kid portrayer Robert Redford's Sundance Film Festival -- and the Wild West scenes from
Back to the Future III
. The beginning sequence of
Indiana Jones and the Last Crusade
, with 18-year-old River Phoenix playing a 13-year-old Indy, was said by the credits to take place in "Utah, 1912," and was indeed filmed in the State. The spot in
Forrest Gump
where Forrest stops running is on U.S. Route 163 in Monument Valley.
As for Salt Lake City itself, a scene from
Legally Blonde 2
was filmed at the Jazz' arena, and another at the State Capitol. The High School Musical movies were filmed at East High School, 3 miles east of downtown. 840 1300 East. Bus 220.
But the most famous movie shot in Salt Lake was, ironically, set in a place we normally associate with filming locations: The Sandlot, set in California's San Fernando Valley in 1962. The houses of Scotty Smalls (played by Tom Guiry) and Benny "the Jet" Rodriguez (Mike Vitar) are at the corner of Bryan Avenue and 2000 East, 5 miles southeast of downtown. Also Bus 220.
The actual sandlot, renovated for the film's 20th Anniversary in 2013, is behind 1386 Glenrose Drive South at Navajo Street, 4 miles southwest of Temple Square. Bus 516. Patrick Renna, who played catcher Hamilton "The Great Hambino" Porter, filmed another movie in SLC,
The Great Unknown, in 1997.
A recent photo of the Sandlot
TV shows set and/or filmed in Utah include the late 1950s Western
Union Pacific
,
Touched By an Angel
(the angels' car went all over the American West but had Utah license plates), its spinoff
Promised Land, Everwood,
and the Mormon-themed drama
Big Love
and reality series
Sister Wives
.
*
Like a lot of cities, Salt Lake City can be a bit of an acquired taste. But it's a good basketball town, and it could be a good roadtrip for a Knicks or Nets fan.