Continuing my bid to do trip guides for all 50 States, it's Maine's turn.
On Friday night, February 24, and Saturday night, February 25, the University of Maine will play hockey against Northeastern University of Boston.
Before You Go.
Maine is in northern New England, and this is winter, so it's going to be cold. But maybe not cold by New York and New Jersey standards on the weekend in question. According to the State's largest newspaper,
The Portland Press Herald
, both Friday and Saturday are projected to be in the mid-30s in daylight. Friday night is forecast as being in the mid-20s, Saturday night in the low 30s. Saturday may have rain and/or snow, so that could be a problem.
Maine is in the Eastern Time Zone, so you won't have to make any timepiece adjustments. The University campus is 100 miles west of the Canadian border, so it doesn't make sense to make a side trip, for which you would have to bring your passport and change your money.
Tickets.
Alfond Arena seats 5,641 people, and this is the most popular sports team in the State of Maine. And Northeastern, like all the Boston schools, has a fan base that travels well. Getting tickets may be difficult.
If you order them through the University website, center-ice seats are $35. All others are $20.
Getting There.
It's 449 miles from Midtown Manhattan to the Maine campus in Orono. It's in that iffy zone: Too close, really, to fly, but too far to go any other way. And considering that you'll never get a nonstop flight from a New York Tri-State Area airport to Bangor International Airport, and that this is the closest airport to the campus, and that it's 12 miles, you're better off going by some other way.
The good news is, Amtrak does go to Maine, with
Downeaster
service. The bad news is, not only will going there from New York's Penn Station mean you'll have to get from South Station to North Station in Boston, but it doesn't go to Orono: nce you get to Portland, you'll have an hour and a half layover to get a bus to Orono. And it won't get there until 6:50 PM. So you will probably miss the opening puck-drop. So, forget Amtrak.
How about Greyhound? No, they too only go to Portland, not Orono. They go to Bangor, which is just 11 miles from Orono, but there's no public transit from Bangor to Orono. You want to take a taxi? In Maine? No?
So it looks like you'll have to drive. Start out as if you're going to Boston: Take Interstate 95 North to New Haven. Take Exit 48, Interstate 91 North to Hartford. Take Exit 30, Interstate 84 East into Massachusetts. You'll merge with Interstate 90 East, the Massachusetts Turnpike, and take that until you reach Interstate 495, Boston's outer beltway.
But instead of continuing on the Mass Pike to Boston, take Exit 11A onto I-495 North, into Boston's northern suburbs, until you reunite with I-95 North at Salisbury, just before reaching the New Hampshire State Line. You'll cross New Hampshire and go into Maine. A big chunk of I-95 in Maine, but not all of it, is the Maine Turnpike.
Exit 193 will take you onto Stillwater Avenue. Cross the Stillwater River, make a right on College Avenue (Alternate U.S. Route 2), and drive a mile south. The University's athletic complex will be on your right.
If all goes well, you should be in New York State (not counting Manhattan) for half an hour, in Connecticut for 2 hours, in Massachusetts for an hour and 15 minutes, New Hampshire for 15 minutes, and Maine for 3 and a half hours. Given rest stops near Hartford and right after crossing into Maine, it should take about 9 hours.
Once In the City.
Maine, home to 1.3 million people, was named for a province in France, and much of it was part of New France, which would later be limited to Quebec, which borders it. It became part of the Massachusetts Bay Colony, though separated from present-day Massachusetts by New Hampshire. In 1820, as part of the Missouri Compromise, was added to the Union as the 23rd State, a free State to balance out the new slave State of Missouri.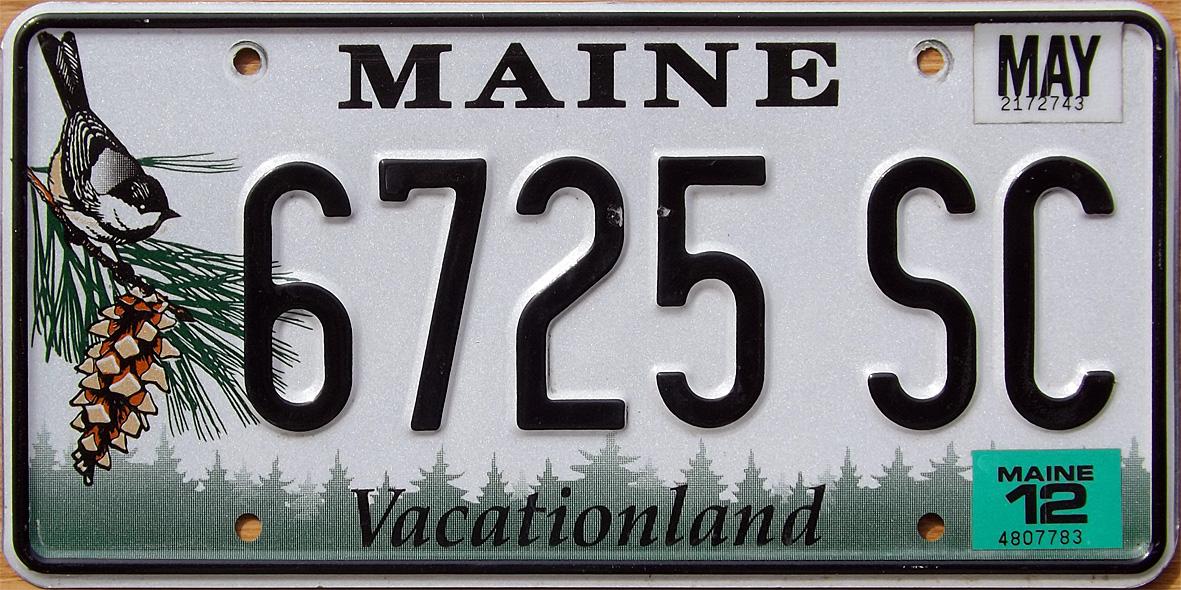 Maine has several thriving seaport towns, including Portland, Boothbay Harbor, Old Orchard Beach, Bar Harbor, and Kennebunkport, known for Walker's Point, ancestral home of the Walker family that included George Herbert "Bert" Walker, one of the founders of Merrill Lynch; his son Herbie Walker, an original part-owner of the Mets; Bert's daughter, Dorothy Walker Bush; Dorothy's son, George Herbert Walker Bush; and the son of the preceding, George Walker Bush.
Despite the 43rd President's protests that he is a Texan through and through, and the 41st having lived most of his adult life in Texas, "Bush 41" was born in the Boston suburb of Milton, grew up in the New York suburb of Greenwich, Connecticut, and has always felt most at home at Walker's Point, with his boat, much as the Boston-based Kennedy family has always felt more at home at Hyannis Port, where Cape Cod begins, with their beach compound and their boats.
Most people who've never been to Maine know it for 2 things: Its seacoast and the lobsters obtained there. They may also know it for being a rural part of New England, where, in the accent, people tell outsiders, "Can't get theah from heah." And, away from the Atlantic Ocean, much of the State remains rural, hilly, forested, and unpopulated.
Indeed, 2 weeks before Charles Lindbergh made the 1st successful crossing from the New York Tri-State Area to Paris, winning a substantial prize, 2 other men tried to win the prize in the opposite direction. Charles Nungesser and Francois Coli, French heroes of World War I, took off from Paris and disappeared. The leading theory is that they crashed over Maine, but the forest is so dense, the remains of the men and their plane have still never been found, 90 years later.
Although the small (19,000 people) city of Augusta is the State capital, its Supreme Court meets in its largest (67,000) city, Portland, for which what became the largest city in Oregon was named.
The State House and surrounding woods in Augusta
ZIP Codes in Maine start with the digits 04. The Area Code is 207.
Maine and Nebraska are the 2 States that apportion their Electoral Votes according to which candidate wins that District. As a result, in 2016, for the 1st time in the State's history, the Electoral Vote was split: The District that includes the population center of the south, including Portland, went for Hillary Clinton; but the rest of the State went for Donald Trump, giving him his 1 and only Electoral Vote in the Northeast. These are the people who elected the psychotic right-wing bigot Paul LePage Governor in 2010 and 2014.
Indeed, Maine and Vermont were the only States that Franklin Roosevelt never won, even going for Alf Landon in 1936; yet Maine has gone Democratic in every election since 1992. For the most part, Maine is tolerant, in ways that LePage isn't.
Portland, Maine
Orono (shown in the photo at the top), the seat of the University of Maine, is in Penobscot County, named for the dominant Native American tribe of Maine. One of their chiefs was Joseph Orono, who, as an old man, sided with the Americans against the English during the Revolution, and was alleged to be 113 years old when he died, and the town was named for him. The town is small, with only 10,000 permanent residents.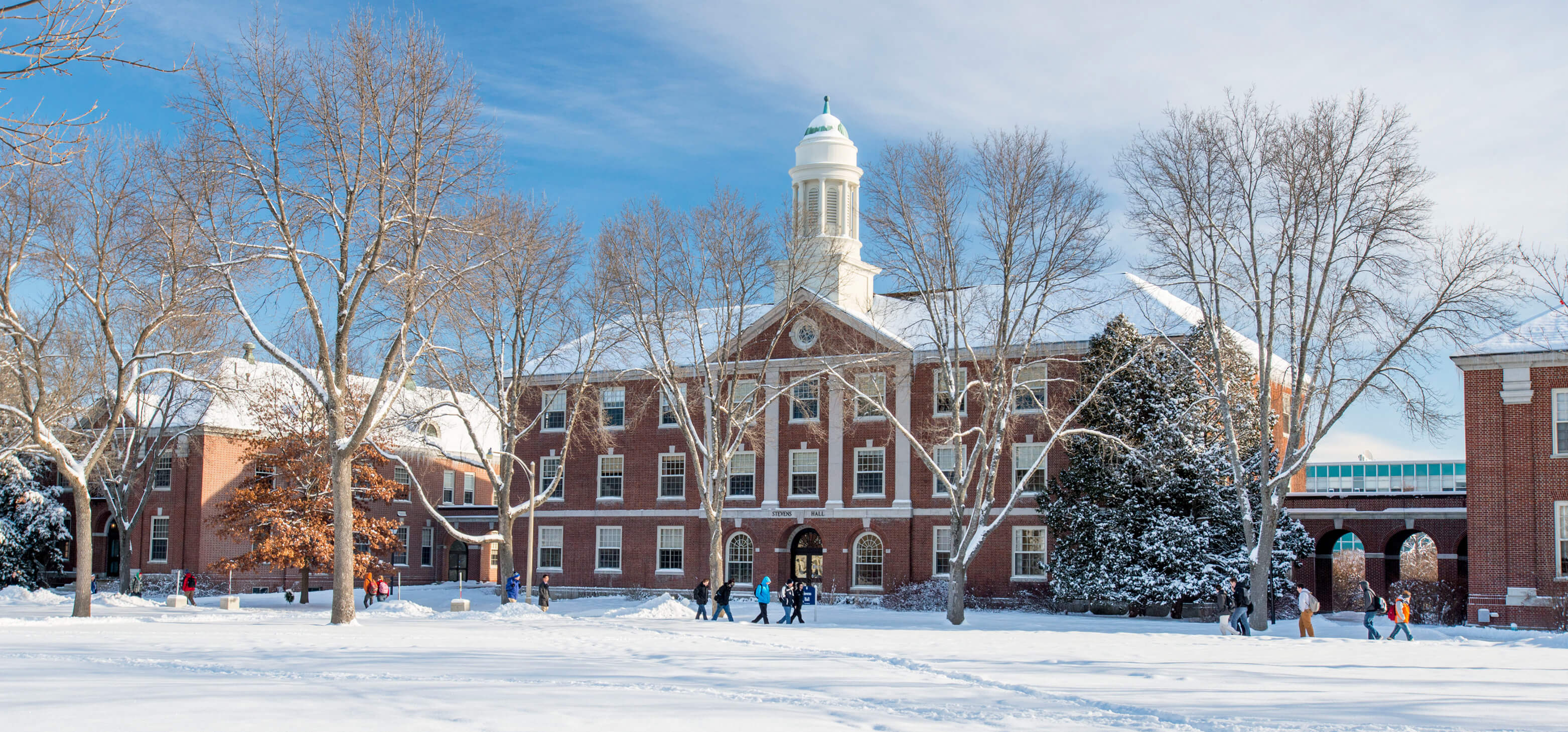 The Maine Folklife Center, the cultural center of the University
Situated on Marsh Island, between the Penobscot and Stillwater Rivers, the University of Maine is America's only "land grant college" on an island. It was founded in 1865.
The State's sales tax is 5 1/2 percent. Public transit is not good. You'd need Greyhound to get from Portland to Augusta or Bangor, and good luck getting anywhere else without a car. In an oddity due to the Interstate Highway System's numbering system, I-95 is Portland's beltway, while I-295 goes through downtown.
Going In.
The Harold Alfond Sports Arena, with its distinctive pointed roof, opened in 1977, at Tunk Road at Long Road. Parking is free. It seats 5,641, and a next-door football stadium seating 10,000 is also named for Harold Alfond.
Alfond founded the Dexter Shoe Company in Dexter, Maine. He also invented the outlet store, donated heavily to the University of Maine, and since 1978 the Alfond family has owned a share of the Boston Red Sox, as the men operating the team for Jean Yawkey wanted investors from all over New England, and Harold Alfond seemed the obvious choice from Maine. (I guess the children of Leon Leonwood "L.L." Bean weren't interested.)
The student section and the band are behind the goal in the upper deck, in Section HH. If you're a New Jersey Devils fan, you might recognize the name of the Black Bears' head coach: Dennis "Red" Gendron, an assistant coach for the 1995 Stanley Cup winners, and the head coach of the Albany River Rats farm team during the Devils' 2000 and 2003 Cup wins.
Food.
It's a college sports arena. It has small concession stands, with generic sports arena food, and that's it. Better to eat before or after the game.
Team History Displays.
The University of Maine hasn't had much success in sports. Its football team has never won a conference title. Neither has its basketball team, nor has it ever been selected for the NCAA Tournament. Their best sport is hockey.
They've won Hockey East in the regular season in 1988, 1993 and 1995; won its tournament in 1989, 1992, 1993, 2000 and 2004; reached the NCAA Frozen Four in 1988, 1989, 1991, 1993, 1995, 1999, 2000, 2002, 2004, 2006 and 2007; and won the National Championship in 1993 and 1999. The 2 National Championship banners are hung at one end of the arena, the other banners at the other.
The 1988 and '89 Frozen Four teams included former New York Islanders head coach Jack Capuano and his brother Dave, and former Devil Eric Weinrich. The 1991 Frozen Four team included former Devil Scott Pellerin. The 1993 National Champions included Anaheim Ducks star Paul Kariya, former Devils backup goalie Mike Dunham, the twins Chris and Peter Ferraro, and former Philadelphia Flyers goalie and now Islanders general manager Garth Snow.
The 1999 National Champions included Paul's brother Steve Kariya. The 2004 Frozen Four team included Los Angeles Kings Stanley Cup winner Dustin Penner. Scott Darling of the 2010 Maine team won the Cup with the 2015 Chicago Blackhawks. And, graduating in 1981, John Tortorella didn't reach any Frozen Fours, but he coached the Tampa Bay Lightning to the 2004 Cup, and then coached the Rangers and now the Columbus Blue Jackets.
Stuff.
The arena is too small for a big team store like a major league team would have, and only has a couple of small souvenir stands. If you'd like memorabilia, your best best is the University Bookstore, at the Memorial Union on Belgrade Road. There are no books about University of Maine hockey, but DVDs of the 1993 and 1999 National Championships are available.
During the Game.
Maine has unique geography: It's the only State in the Union that borders only 1 other State. (Alaska and Hawaii don't border any other States.) As a result, their arch-rivals are the team in that other State, the University of New Hampshire. You're (probably) not from New Hampshire, so they may want to show off their State and their team, and be courteous to you as a visitor. Respond accordingly.
Maine's teams are called the Black Bears, for the beast that roams its vast northern forests. The mascot is named Bananas T. Bear (I'm presuming that the T. stands for "The"). This may seem odd for a school about as far from the tropics as you can get and still be in the continental United States. In 1914, a bear cub was given to a local police chief, who named it Jeff, and loaned it to the University as a football mascot. Jeff was taken into the auditorium for a pep rally, and stood on its head, and the local newspaper account said that the crowd "went bananas." The mascot costume is kept by the Alpha Delta fraternity, and its wearer is always a member.
They're not Chicago, but they are Da Bears.
After the Game.
Safety almost certainly won't be an issue. Where to go for a postgame meal or snack might be. The Orono Farmer's Market is south of the arena and west of the main campus, at 300 College Avenue, and might be all right if you're coming out of an afternoon game. But these will be night games, so it will be closed.
Your best bet is to head back up north on College Avenue, to Stillwater Avenue (Alt Route 2) in Old Town, where you'll a McDonald's, a Tim Hortons, and Governor's Restaurant & Bakery.
Sidelights.
Orono is far from pretty much anything: 60 miles from Bar Harbor, 87 from Augusta, 139 from Portland, 245 from Boston, 296 from Montreal, and 449 from Midtown Manhattan. To get anywhere, you gotta get out.
Maine has 2 professional baseball teams. The only one affiliated with a major league club is the Portland Sea Dogs of the Class AA Eastern League. They started in 1994 as a farm team of the Florida (now Miami) Marlins, but since 2003 have embraced their New England roots by being a part of the Red Sox' farm system. They've won 6 Division titles, most recently in 2014, but only 1 Pennant, in 2006.
The Sea Dogs play at Hadlock Field. Seating 3,768, it opened in 1994, but is designed to look like an old ballpark. In 2003, following the switch to the Boston system, left field was remade to look like Fenway Park's, with a high wall called the Maine Monster, 315 feet from home plate to match the former posting at Fenway (it's now posted as 310), and replicas of the CITGO sign and the light tower Coke bottle.
It is part of a sports complex that includes the Portland Exposition Building (which appears to be trying to take the right side of the infield away), Fitzpatrick Stadium and the William B. Troubh Ice Arena. 271 Park Avenue, about a mile west of downtown.
The Exposition Building is home to the Maine Red Claws, the Boston Celtics' team in the D-League. It opened in 1914, and, behind Boston University's Matthews Arena, is believed to be the 2nd-oldest sports arena in America still in use. Fitzpatrick Stadium seats 6,300, and is mainly used for high school football. Troubh Arena, formerly the Portland Ice Arena, hosts high school hockey.
The Cross Insurance Arena, formerly the Cumberland County Civic Center, was home to the Maine Mariners from 1977 to 1992, and the Portland Pirates from 1993 to 2016. The Pirates have moved to Springfield, Massachusetts, and Portland is trying to get a new team for the arena. 1 Civic Center Square.
As for Maine's other pro baseball team, the independent Empire Professional Baseball League includes the Old Orchard Beach Surge, based at The Ball Park in Old Orchard Beach. A 6,000-seat facility with close foul poles (312 feet to left field and 327 to right), it opened in 1984 as the home of the Maine Guides, the Class AAA International League farm team of first the Cleveland Indians (1984-86), then the Philadelphia Phillies (1987-88).
The Phillies moved their top farm team to the Scranton area, due not to attendance, as Summer vacationers flocked to the place; but traffic and... flies. Never mind the Maine Black Bears: It's the Maine Black Flies that are truly a problem.
From 1990 to 2009, the place lay derelict, and appeared to be doomed. But it was restored, and began hosting high school, Summer collegiate league, and Red Sox alumni charity games. The Old Orchard Beach Raging Tide arrived in 2011, and gave them pro baseball for the 1st time in 22 years, followed by the Surge in 2015.
So far, no Pennants have been won at The Ball Park. But it is still the place where the State of Maine came the closest (1 level below) to having a major league sports team. It's certainly one of the nicer settings in pro baseball, especially when the leaves begin to change. 14 Emerson Cummings Blvd., 17 miles southwest of Portland and 157 miles southwest of Orono.
Arguably, the most significant sports building in Maine is the

Androscoggin Bank Colisée in Lewiston. Not because it was home to the Maine Nordiques, a farm team of the Quebec Nordiques, from 1973 to 1977.

Not because it hosted the Lewiston Maineiacs of the Quebec Major Junior Hockey League from 2003 to 2011, before they moved to Sherbrooke from whence they came.

Not because it hosted the Portland Pirates in the 2013-14 season while the Cross Insurance Arena was being renovated.

Not because it is now home to another junior team, the L/A Fighting Spirit. ("L/A" standing for Lewiston and neighboring Auburn.)
No, it's because, after the Boston Garden balked at holding it due to both men's controversies, the rematch between Heavyweight Champion Muhammad Ali and former champion Sonny Liston as held at this arena, then known as the Central Maine Civic Center, on May 25, 1965. Built in 1958, it is the smallest building to host a Heavyweight Title fight: 3,677 seats. Ali famously knocked Liston out in the 1st round. 190 Birch Street in Lewiston, about 36 miles north of Portland, and 116 miles southwest of Orono.
The highest-ranking soccer team in Maine is the Portland Phoenix, who play in the Premier Development League, the 4th division of American soccer. They play at the 5,200-seat Memorial Stadium, at Ludlow & Leland Streets in Portland, 4 blocks from at Deering High School, who use it as their stadium.
If you visit Maine during the European soccer season, the leading soccer bar in the State is an outlet of the Ri Ra chain at 72 Commercial Street, on the Portland waterfront.
The Beatles never played in Maine. Elvis Presley did, on his last tour, on May 24, 1977, at the 6,777-seat Augusta Civic Center. 76 Community Drive.
Maine is a terrific museum State. On the University of Maine campus, the Page Farm Home & Museum focuses on rural Maine life in the 19th Century, while the Hudson Museum contains many Native American artifacts. In nearby Old Town, at 12 Down Street, is the Penobscot Nation Museum. The University of Maine Museum of Art isn't actually on the campus; instead, it's at 10 Harlow Stret in downtown Bangor, 10 miles to the southwest.
In Portland, the Portland Science Center is at 68 Commercial Street, 2 doors down from Ri Ra. The Maine Historical Society Museum is at 489 Congress Street, and includes the Wadsworth-Longfellow House, home of poet Henry Wadsworth Longfellow. The Portland Museum of Art is downtown, at 7 Congress Square, at Free & High Streets, across from the historic State Theatre. Next-door is the Children's Museum of Maine, with a mailing address of 142 Free Street.
The Maine Maritime Museum oversees a historic shipyard at 243 Washington Street in Bath, 35 miles northeast of Portland. The Maine State Aquarium is at 194 McKown Point Road in Boothbay Harbor, 60 miles east of Portland.
The Kennebunkport History Center is at 125 North Street, 27 miles southwest of Portland. The Bush family compound is about 4 miles south, but as it is still a private residence, you probably won't be allowed to get very close. Unless you want to count Franklin Pierce (a cousin of Barbara Pierce Bush, Number 41's wife and Number 43's mother, and also a cousin of Longfellow) having attended Bowdoin College in Brunswick (as did Longfellow and their friend, novelist Nathaniel Hawthorne), the Bushes are the only Presidents with legitimate connections to Maine.
However, Roosevelt Campobello International Park, in Welshpool, New Brunswick, across a bridge from Lubec, Maine, was a Summer home for Franklin Delano Roosevelt, and it's where he was diagnosed with polio.
Also in Lubec, 6 miles from the bridge, is West Quoddy Head Lighthouse, at Quoddy Head State Park, the easternmost point in the continental United States. (If that sounds strange, like West Ham United being the soccer team of London's East End, I've looked it up: There is no "East Quoddy Head," Not even in the adjoining Canadian Province of New Brunswick.) 3 Lubec Road, 124 miles east of Orono, 234 miles northeast of Portland, 352 miles northeast of Boston, and 556 miles northeast of Times Square. As my Grandma would have said, "That's a fur piece."
The tallest building in Maine is Franklin Towers, a 175-foot, 16-story apartment complex built in Portland in 1969. 211 Cumberland Avenue.
Maine has a TV influence far beyond what its relatively small population of 1.3 million would suggest, and that's not even taking into account that its most famous fictional character, Dr. Benjamin Franklin "Hawkeye" Pierce, played by Alan Alda on
M*A*S*H
, was never shown as being in Maine. (Other characters had home movies showing their houses sent to the Army hospital in Korea. Dr. Richard Hornberger, who, under the name "Richard Hooker," wrote the novel on which the 1970 film and the 1972-83 TV series were based, was born and raised in Trenton, but went to Bowdoin and lived the rest of his civilian life in Maine.)
The 1966-71 vampire series
Dark Shadows
was set in Collinsport, which, like Hawkeye's hometown of Crabapple Cove, was a seaside community made up for its show. It was said to be 50 miles southeast of Bangor. (Hornberger lived in Pittsfield, with an hour's drive west of Orono and Bangor, and not a seaside community.)
Also fictional, and definitely on the sea, is Cabot Cove, home to mystery writer and amateur sleuth Jessica Fletcher, played by Angela Lansbury on
Murder, She Wrote
. Although Cabot Cove was said to be near Kennebunkport, its scenes were filmed in Mendocino, California. Storybrooke, the town in
Once Upon a Time
, is also a fictional seaside community.
Movies set in Maine, but not necessarily filmed there, include
The Man Without a Face, Jumanji
,
Casper
(about the Friendly Ghost, set in fictional Friendship),
In the Bedroom,
The Cider House Rules
,
Welcome to Mooseport,
Empire Falls
(filmed in Waterville), and the animated films
Pete's Dragon
and
The Iron Giant
. While the 1957 version of
Peyton Place
was set in New Hampshire, it was filmed in Camden, Maine.
The most famous real-life Mainer -- or, dare I say it, Maineiac -- is Stephen King. The horror writer was born in Portland and lives in Bangor, and has set much of his fiction in Maine, including
Carrie, Salem's Lot, Graveyard Shift, Dreamcatcher
and, of course,
The Shawshank Redemption
.
*
Maine can be a nice place, and it can be a weird place. In real life, Paul LePage is much crazier than Stephen King. And the Portland Sea Dogs and the Maine Black Bears hockey team are worth a visit.