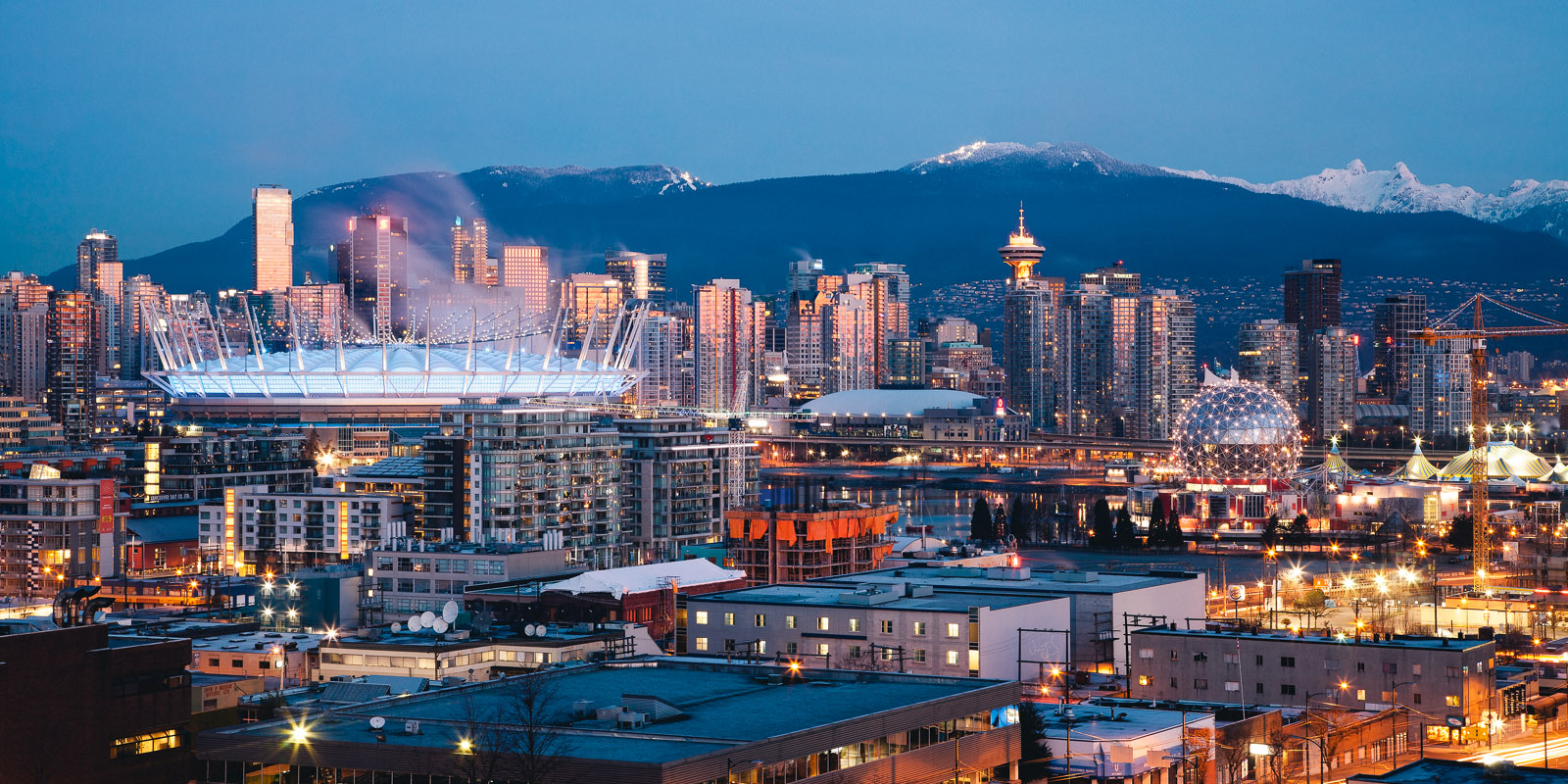 Next Thursday night, the New York Red Bulls will visit the Vancouver Whitecaps, at BC Place in Vancouver, British Columbia. It will be the 2nd leg of the CONCACAF Champions League Quarterfinal.
The 1st leg was played last night, at Red Bull Arena. The Whitecaps led 1-0 with a big away goal, but, just after the hour, Metro equalized.
If either team wins the 2nd leg, they advance. If it's a 0-0 tie, the 'Caps advance on away goals. If it's a tie of 2-2 or higher, the Red Bulls advance on away goals. If it's 1-1, it goes to
Before You Go.
At 49 degrees, 16 minutes North latitude, BC Place is further north than any U.S. major league sports venue. (Seattle's CenturyLink Field is the northernmost in the U.S., at 47 degrees, 35 minutes.) This will be early March, still Winter, It will be Canada. And, like the American Northwest cities of Seattle and Portland, it rains in Vancouver. A lot. The city has been nicknamed "Raincouver."
The
Vancouver Sun
is predicting rain on Tuesday (the day before) and Thursday (the day after), but not on Wednesday (matches). The temperatures should be in the high 40s by day and the mid-30s by night. Your time outdoors should be fine, as long as you wear a Winter jacket. And the game will be "outdoors," as the retractable roof is kept open for soccer games unless there's actual inclement weather.
This is Canada, so you will need your passport. You will need to change your money. At this writing, C$1.00 = US 76 cents, and US$1.00 = C$1.31. And I advise you to call your bank and let them know that you will be in a foreign country, so they won't see credit or debit card purchases from a foreign country pop up and think your card has been stolen.
Also, remember that they use the metric system. A speed limit of 100 kilometers per hour means 62 miles an hour. And don't be fooled by the seemingly low gas prices: That's per liter, not per gallon, and, in spite of Canada being a major oil-producing nation, you'll actually be paying more for gas up there. So, in order to avoid both confusion and "sticker-shock," get your car filled up before you reach the border.
Vancouver is in the Pacific Time Zone, so they are 3 hours behind New York and New Jersey. Adjust your timepieces accordingly.
Tickets.
The Whitecaps averaged 22,330 fans per home game last season, a sellout. Getting tickets will be tough. However, this being soccer, seats are always set aside for visiting fans.
The
Whitecaps supporters' club website
recommends that away supporters contact a club intern at sales@whitecapsfc.com, in order to get tickets in the designated away supporters' sections, 218 and 219, in the northeast corner. They specifically say to avoid Sections 201-207 and 248-254, in the north end, as those are reserved for official 'Caps supporters clubs. Tickets for 228 and 229 are C$34.75 -- that's about US$26.41.
Getting There.
It's 2,969 miles from Times Square in Manhattan to downtown Vancouver, and 2,957 miles from Red Bull Arena to BC Place. It's 31 miles from downtown Vancouver to the closest border crossing, the Peace Arch in Blaine, Washington. This is the longest roadtrip the Red Bulls have. If you can afford to fly, you should.
Air Canada has 11 flights between New York and Vancouver International Airport every day, but only the one leaving Newark at 7:00 PM Eastern Time, landing at 9:40 PM AM Pacific Time (5 hours and 40 minutes), is nonstop. Otherwise, to get from either Newark or LaGuardia to Vancouver, you'll have to change planes in Toronto or Ottawa. A round-trip flight can be had for a shade over $450.
The other options aren't too good, because they're a lot longer. For example, here's your schedule if you take Amtrak and the connecting bus service:
Leave New York: 3:40 PM Monday
Arrive Chicago: 9:45 AM Tuesday
Leave Chicago: 2:15 PM Tuesday
Arrive Seattle: 10:25 AM Thursday
Leave Seattle: 1:45 PM Thursday
Arrive Vancouver: 5:15 PM Thursday
Kickoff: 7:00 PM Thursday
Game ends: Around 9:00 PM Thursday, and you'll need a hotel
Leave Vancouver: 6:30 AM Friday
Arrive Seattle: 10:55 AM Friday
Leave Seattle: 4:40 PM Friday
Arrive Chicago: 3:55 PM Saturday
Leave Chicago: 9:30 PM Saturday
Arrive New York: 6:23 PM Sunday
And that's $692 round-trip.
Is taking the bus any better? Not really: You'd have to leave Port Authority at 8:00 AM on Sunday, changing buses 3 times -- in Pittsburgh, Denver and Portland -- and arrive in Vancouver at 7:15 PM on Wednesday, nearly 24 hours before kickoff. It's $473 round-trip.
The VIA station, Pacific Central Station, is at 1100 Station Street at National Avenue, while the Greyhound station is at 1150 Station Street, not quite next-door, but close. Main Street-Science World Station to Stadium-Chinatown Station in 6 minutes.
Could driving be any worse? E
ven
if you get someone to go with you, and you take turns, one drives while the other one sleeps, and you pack 2 days' worth of food, and you use the side of the Interstate as a toilet, and you don't get pulled over for speeding, you'll still need over 2 full days to get there. One way.
But, if you really, really think driving is a better alternative... Get onto Interstate 80 West in New Jersey, and stay on that until it merges with Interstate 90 west of Cleveland, then stay on 90 through Ohio, Indiana, and Illinois, into Wisconsin, where it merges with Interstate 94. Although you could take I-90 almost all the way, I-94 is actually going to be faster. Stay on I-94 through Minnesota and North Dakota before re-merging with I-90 in Montana, taking it through Idaho and into Washington, getting off I-94 at Exit 2B to get on Interstate 5.
You'll take I-5 up to the border, past Exit 276. You'll present your passport, and you'll answer whatever questions the Customs agent has. Presuming you have everything in order and you don't do anything stupid to make him (or her) keep you out of Canada, I-5 becomes BC Highway 99, the Sea to Sky Highway. Once you cross the Lions Gate Bridge, you're in downtown Vancouver.
Not counting rest stops, you should be in New Jersey for an hour and a half, Pennsylvania for 5:15, Ohio for 4 hours, Indiana for 2:30, Illinois for 2 hours, Wisconsin for 3:15, Minnesota for 4:30, North Dakota for 6 hours, Montana for a whopping 13 hours (or 3 times the time it takes to get from New York to Boston), Idaho for 1:15, 8:45 in Washington, and half an hour
in British Columbia.
That's 52 and a half hours, so, with rest stops, you're talking 3 full days.
O

n October 14, 2016, President Obama finally ended the ban on bringing Cuban cigars into America. This also applies to rum, for which Cuba is also renowned. It is still considerably easier to buy these items in Canada than in America, but, now, you can bring them back over the border.
Once In the City.
Originally named Gastown, in honor of its founder, mill baron John "Gassy Jack" Deighton, Vancouver was a product of the 1859 Western gold rush that also founded Denver. Europeans first settled in the area in 1862. Gassy Jack founded a tavern on July 1, 1867, Canada's Confederation Day (effectively, its independence from Britain although it was still part of the Empire and remains part of the Commonwealth).
It was renamed for George Vancouver, an officer of Britain's Royal Navy, who explored and charted North America's Pacific Northwest in the early 1790s. Despite having a name that could be French (VAHN-koo-VAIR, instead of Van-KOO-ver as we say today), and the city being in a country with French as a 2nd official language, he was English through and through. The city of Vancouver, Washington, across the Columbia River from Portland, Oregon, is also named for him, as are places in Australia and New Zealand, which he also explored.
Vancouver was made possible by its selection in 1884 by the Canadian Pacific Railway as its terminus. It was incorporated as a city in 1886, and, shortly thereafter, was consumed in a Great Fire, much as Chicago had been in 1871 and Boston in 1872. Like those cities, Vancouver rebuilt quickly, and the Klondike Gold Rush of 1897-98 was exactly what the doctor ordered.
Like New York, Vancouver is a city of islands. Unlike New York, for whom the Catskills count as "mountains," Vancouver has real mountains. On a clear day, it is one of the most beautiful cities in the Western Hemisphere. On ground level, however, it is as plagued by problems -- especially poverty, homelessness and crime -- as any city. At least it's cleaner than most American cities.
Home to a little over 630,000 people, including the largest percentage of Asian residents of any city in North America, Vancouver is Canada's 8th-largest city, behind Toronto, Montreal, Calgary, Ottawa, Edmonton, Toronto's neighbor Mississauga and Winnipeg. (Neighboring Surrey is 12th, with 470,000, and nearby Burnaby and Richmond are in the top 25.) But with 2.4 million, "Greater Vancouver" is Canada's 3rd-largest metropolitan area, behind Toronto and Montreal.
Main Street south of Vancouver Harbour, and Lonsdale Avenue north of it, divide city addresses into east and west. There is no divider into north and south, although north of the Harbour are the separate cities of North Vancouver and West Vancouver. Burnaby, New Westminster and Coquitlam are to the east, Surrey to the southeast, Richmond to the south, and the Pacific Ocean to the west. Vancouver has no highway "beltway."
TransLink runs the B-Line bus service, the SkyTrain rapid rail service, the West Coast Express commuter rail, and the SeaBus ferry service. A 1 Zone fare is $2.75, 2 Zone $4.00, and 3 Zone $5.50. After 6:30 PM on weekdays and all day on weekends and holidays, discount fares apply, and buying a $2.75 1 Zone ticket will allow you to travel through all zones. And remember, that's C$2.75, making it about US$2.09, making Vancouver's SkyTrain and buses cheaper than New York's Subway and buses. A DayPass costs $9.75.
Passing by the Harbour Centre tower
The drinking age in British Columbia is 19. Postal Codes in the Province, appropriately enough, begin with the letter V. The Area Codes are 604 and 250, with 236 and 778 as overlays.
Going In. The official address of BC Place -- that is the official name, not "British Columbia Place" -- is 777 Pacific Blvd. It is downtown, across Georgia Street from Rogers Arena, home of the NHL's Vancouver Canucks. Stadium-Chinatown station on SkyTrain. If you drive in, there's lots of parking near the stadium, but the price varies wildly.
It opened in 1983 as the home of the CFL's B.C. Lions and the original version of the Vancouver Whitecaps of the North American Soccer League, for whom the current team was named. (No other name was considered, even that of the interim team, the Vancouver 86ers.) It was hoped that it could bring in a Major League Baseball team. That's never happened. But it did stand as the centerpiece of the 1986 World's Fair (Expo 86), and the main stadium for the 2010 Winter Olympics.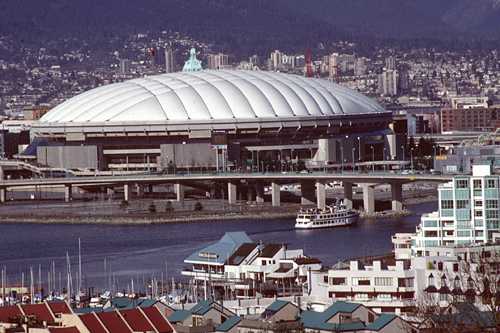 Before the renovation
It originally had the same kind of air-supported white fabric dome that covered the Metrodome in Minneapolis and the Hoosier Dome in Indianapolis, but its renovation after the Olympics replaced it with a cable-supported retractable roof that looks a lot better, and is opened for all soccer games.
Roof open. Note Rogers Arena across the street.
The Whitecaps are 1 of 6 MLS teams currently groundsharing with a professional football team. BC Place has hosted the Grey Cup, the championship game of the Canadian Football League, how many times, Ed Rooney? "Nine times!" Most recently in 2014. This includes 1994 and 2011, when the Lions won it on home turf. They've also won it with BC Place as their home field in 1985, 2000 and 2006, and in 1964 when they were playing at Empire Stadium, for a total of 6 Grey Cups.
BC Place also hosted the 2011 Vanier Cup, the National Championship of Canadian college football, won by Hamilton's McMaster University over Quebec City's

Université Laval

; the 2014 NHL Heritage Classic, with the Senators losing to the Ottawa Senators; and games of the 2015 Women's World Cup.
Food.
Vancouver is Canada's premier western port. Which means, like San Francisco and Seattle, it is a great food city. BC Place reflects this.
Starting from behind the north goal, and working around: Dawson's Dogs (hot dogs) are behind Sections 201, 215, 226, 233, 241 and 248; Lionsgate Grill (burgers) at 206, 215, 228, 242 and 253; Breyer's ice cream at 211 and 215; Lemonheaven lemonade at 211, 224 and 239; The Poutinerie (serving poutine, that foul concoction of fries, gravy and cheese curd) at 212 and 239; Gastown Grill (burgers) at 218 and 237; Montreal smoked meat (deli sandwiches) at 218; Vij's (Indian food) at 221 and 245; Commercial Drive Pizza at 222; Cafe Fresh (salads) at 238; Steveston's Fish & Chips at 244; and Asian Steamed Buns at 250. (If your buns are steamed, that's a good sign that you've had too much to eat.)
Team History Displays.
The current version of the 'Caps has only been playing since 2011, and their only major trophy -- if you can call it "major" -- is the Canadian Championship, effectively Canada's version of England's FA Cup. They won it in 2015, but lost the Final in 2011, '12, '13 and '16.
This gets even more pathetic when you realize that this tournament has only been held since 2008, and that there's only 5 teams participating: MLS clubs the 'Caps, Toronto FC and the Montreal Impact; and, from the new version of the North American Soccer League, FC Edmonton and the Ottawa Fury. (Toronto's won it 5 times, Montreal 3, and Edmonton and Ottawa, not surprisingly, have never even reached the Final.)
In the original NASL, the original Whitecaps won the title in 1979. They won their Division in 1978, 1979, 1981 and 1983. They were coached by Leeds United legend Johnny Giles, and had some seriously pedigreed players: Alan Ball of Everton, Arsenal, and the 1966 England World Cup team; Kevin Hector of the Derby County team that won the League in 1972 and 1975; Phil Parkes of the Wolverhampton Wanderers that reached the Final of the 1972 UEFA Cup and won the 1974 League Cup; Dutch stars Ruud Krol of Ajax and Frans Thijssen of Nijmegen; and Vancouver native Bob Lenarduzzi, a longtime defender who played for Canada in its only World Cup (so far) in 1986, managed the Vancouver 86ers and the national team, is now the Whitecaps' president, and was elected to both the U.S. and Canadian Soccer Halls of Fame. (Basketball Hall-of-Famer Steve Nash, who grew up in Victoria, British Columbia, is also a part-owner of the 'Caps.)
As for the current 'Caps, their greatest player has probably been their former captain, Jay DeMerit, former defender for the U.S. national team. None of the preceding players and honors has a display in the fan-viewable areas of BC Place. There is, as yet, no team hall of fame. Nor are there any retired numbers.
The Whitecaps, the Seattle Sounders and the Portland Timbers -- all named for teams that played in the NASL -- have competed for the Cascadia Cup since 2004. The Whitecaps won it in 2004, 2005, 2008, 2013, 2014 and 2016 (despite the Sounders winning the MLS Cup).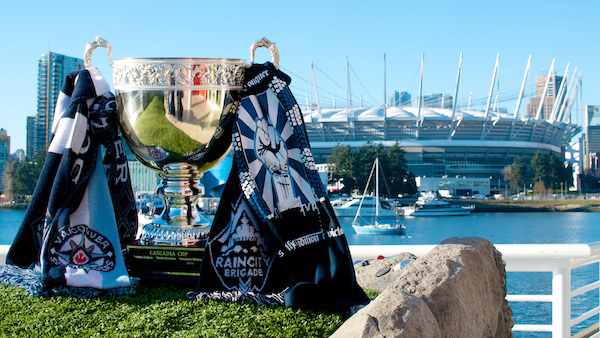 The Cascadia Cup, with BC Place in the background
The Vancouver 86ers won the Canadian Soccer League title in 1988, 1989, 1990 and 1991.
Stuff.
There are 4 retail locations situated within Level 2 of the concourse inside the stadium. However, as they are inside the stadium, they are only open on matchdays.
As a relatively new and unsuccessful team in a relatively new league in a sport with, at least in North America, a
spotty history, there are no books or videos about the Whitecaps.
During the Game.
Whitecaps fans don't much like MLS' other Canadian teams, Toronto and Montreal. Nor do they care for the U.S.' West Coast teams, the Seattle Sounders, the Portland Timbers, the San Jose Earthquakes or the Los Angeles Galaxy. (This is likely to also be true when Los Angeles FC begin play.) But despite a minor rivalry between the original versions of the 'Caps and the New York Cosmos in the late Seventies and early Eighties, they have no particular problem with Red Bulls fans. If you behave yourselves, they'll behave themselves.
Hui are ya?
Marie Hui, a Burnaby native who is emblematic of Vancouver's status as the most Asian city outside Asia, has been the Whitecaps' regular singer of the National Anthems since they debuted in 2011. Their mascot is Spike, a belted kingfisher, a bird common to the Vancouver area. He wears Number 74, indicative of the original Whitecaps' foundation in 1974.
The main supporters' group for the 'Caps is the Vancouver Southsiders, who sit in Sections 248 to 254. The Rain City Brigade sit in 201. La Doce -- a way of saying, "The 12th Man" -- was a Hispanic supporters' group that has since been folded into the Curva Collective, who sit in 203 and 204.
At the start of each half, the Southsiders sing "Boundary Road," to the tune of John Denver's "Take Me Home, Country Roads," a tribute to the current Whitecaps' origins at Swangard Stadium in Burnaby. On opposing goal kicks, instead of the "You suck, asshole!" formerly heard around the league, including at Red Bull Arena, they yell, "You fat bastard!"
Like the Red Bulls and many others, they sing the variation on Little Peggy March's "I Will Follow Him": "We love ya, we love ya, we love ya, and where you go we'll follow, we'll follow, we'll follow, 'cause we support the Whitecaps, the Whitecaps, the Whitecaps, and that's the way we like it, we like it, we like it, oh whoa oh ohhhh... " They adapted Chelsea's song: "Carefree, wherever you may be, we're from Vancouver, B.C.! And we don't give a toss, wherever you may be! We're from Vancouver, B.C.!"
To the old standby, "Vamos (Team Name)," they sing, "Come on, come on Vancouver, we're together, supporting you tonight!" They sing Depeche Mode's "Just Can't Get Enough." To "Hava Nagila," they sing, "Whitecaps, Vancouver Whitecaps, Vancouver Whitecaps, Vancouver, hey hey hey!" To "Anarchy in the UK," they sing, "I Am a Vancouverite!" They sing "The Blue and White Forever," to the tune of the Canadian patriotic song "The Maple Leaf Forever."
Remember the Stonecutters episode of The Simpsons? They do a variation on that:
Who makes the (other team) turn white?
Who keeps their sisters warm at night?
We do! We do!
Who berates the referees?
Who does what the hell they please?
We do! We do!
Who drinks all of your fav'rite beer?
Who gets more drunker each year?
We do! We do!
Who makes your goalkeeper cry?
Who thinks divers ought to die?
We do! We do!
Who stands up through thick and thin?
Who cheers the Caps on lose or win?
We do! We do!
When the 'Caps score, they do "Seven Nation Army" by the White Stripes: "Oh, whoa-oh a ohhhh, ohhhh!" When the opposing team scores, they sing a variation on the Doris Day classic, inspired by a former coach's remark about the substandard Swangard pitch:
Que sera, sera!
Whatever will be, will be!
It's not bloody Wemberly!
Que sera, sera!
In other words, don't celebrate too hard, visiting fans. In the 86th minute, as a tribute to their roots, they sing, to the tune of the Beatles' "Hey Jude," "Na, na na, na na na na... na na na na... Eight-six!"
After the Game.
Canadians generally don't believe in fighting with opposing fans, they have a healthy attitude toward guns (they don't need them to feel safe), and they certainly have nothing (or next to nothing) against New York and New Jersey. Don't go out of your way to antagonize anyone, and you'll be fine.
The stadium is in downtown Vancouver, so there will be places to go after the game. I don't know of any place that is a known hangout for visiting or expatriate New Yorkers. The International Village Mall is 2 blocks north of the arena, at Abbott Street and Keefer Place. However, since the game starts at 7:00 Pacific Time, and should end at around 9:00, the mall will soon be closing.
One place you might want to think very carefully about visiting is Doolin's Irish Pub, at 654 Nelson Street. It's the official pub partner of the Vancouver Southsiders. However, their website says, "If you are travelling in smaller number (less than 20) and without idiots, we welcome you to join us... We do ask that you email events@vancouversouthsiders.ca before though, so you're expected." Around the corner from Doolin's, at 932 Granville Street, is another partnered place, The Roxy.
If your visit to Vancouver (for a Whitecaps game, a Canucks game, a Lions game, or anything else) is during the European soccer season (as we are once again in), the following bars host supporters' clubs for certain teams. All are downtown unless otherwise stated:
* Arsenal and Celtic: Library Square Public House, 300 W. Georgia Street, 4 blocks west of the stadium. If your team is not listed here, this is probably your best bet, unless you really, really don't like Gooners or Bhoys.
* Manchester United: Lamplighter Public House, 92 Water Street, about a 15-minute walk north of the stadium.
* Manchester City: Blackbird Oyster Bar, 905 Dunsmuir Street, about a 20-minute walk north of the stadium, or SkyTrain to Burrard.
* Liverpool: The Butcher and Bullock, 911 W. Pender Street, also about a 20-minute walk north of the stadium, or SkyTrain to Burrard.
* Chelsea: The New Oxford, 1144 Homer Street, about a 12-minute walk south of the stadium. Bus 6 to Davie & Mainland.
* Tottenham Hotspur: The Bimini, 2014 W. 4th Avenue, over the Lions Gate Bridge from downtown. Bus 4, 10 or 14.
* Rangers: Dover Arms Pub, 961 Denman Street, and the western end of the island. Bus 19.
* Italian clubs: Abruzzo Cafe, 1321 Commercial Drive, in the Strathcona section of town. Bus 20 or 22.
* Real Madrid: The Manchester Public House, 1941 W. Broadway, over the Lions Gate Bridge from downtown. Bus 4, 10 or 14.
* Bayern Munich: Red Card Sports Bar & Eatery, 560 Smithe Street.
There are local supporters' clubs for Barcelona and Paris Saint-Germain, but I can find no listings for matchday viewings.
Sidelights.
Vancouver has been a big sports city since Canada's dawn, and these are some of the other places you should see, to get a feel for it:
* Rogers Arena: Across Georgia Street from BC Place, the official address is 800 Griffiths Way. It was named for Frank Griffiths, the media mogul who owned the team from 1974 until his death in 1994 and funded the Arena. The actual streets around it are Expo Blvd. to the west and north (separate by the elevated Dunsmuir Viaduct), Abbott Street to the east and Georgia Street to the south. Like BC Place, the Arena can be reached by SkyTrain at Stadium-Chinatown station.
It was named General Motors Place from its 1995 opening until 2010, when it was temporarily renamed Canada Hockey Place, since Olympic rules forbid corporate names on venues. (Yes, I know: Hypocritical IOC is hypocritical.) Like the Rogers Centre in Toronto and the soon-to-open Rogers Place in Edmonton, it's named for Canadian network Rogers Sportsnet.
The NBA's expansion Vancouver Grizzlies played there from 1995 to 2001, but never caught on, and moved to Memphis. As the NBA's only remaining Canadian team, the Toronto Raptors play a preseason game there every year. The Arena is Vancouver's main concert venue, as was the Canucks' previous home, the Pacific Coliseum. Neither Elvis Presley nor the Beatles ever performed in Vancouver.
With the Grizzlies and the Seattle SuperSonics both gone, the closest NBA team to Vancouver is the Portland Trail Blazers, 314 miles away. But according to
an article in the May 12, 2014 New York Times
, the most popular NBA team in Vancouver is easily the Los Angeles Lakers, well ahead of runners-up the Miami Heat and the Chicago Bulls.
* Pacific National Exhibition. This was the home of Vancouver sports from the 1950s to the 1990s. The building here that is best known to Americans, because of their NHL viewing, is the Pacific Coliseum. Opening in 1968, it was the last home of the Western Hockey League's Canucks (1968-70), the 1st home of the NHL Canucks (1970-95), and the home of the World Hockey Association's Vancouver Blazers (1973-75).
Miracle, about the 1980 U.S. hockey team. The real-life Soviet team made an appearance there in 1972, as it hosted Game 4 of the Summit Series. It was also the venue for figure skating and short-track speed skating for the 2010 Winter Olympics. It is currently home to the Vancouver Giants, a minor-league hockey team.

The PNE grounds are also home to the Vancouver Forum, a 1931-built arena that was home to the minor-league Canucks from 1938 to 1968. It has remained a concert hall, although in 2007, fans at a Smashing Pumpkins concert took the band's name too literally, and a fan died in the mosh pit.



The Hastings Racecourse, a thoroughbred horse venue, and Playland Amusement Park are also on the grounds. 100 N. Renfrew Street at Miller Drive, on the grounds of the Pacific National Exhibition. Number 4 bus.

* Swangard Stadium. Vancouver Sun sportswriter Erwin Swangard wanted a stadium for the suburb of Burnaby. William Andrew Cecil Bennett -- a.k.a. Cecil, CeCe, W.A.C. or "Wacky," the longest-serving Premier (think "Governor") of the Province of British Columbia, made it happen, and dedicated the 5,288-seat facility in 1969, naming it for Swangard.


From 1987 to 2010, it was home to the team that became today's Whitecaps, known as the Vancouver 86ers until 2000. Much of the current Whitecap fan culture began there, before their 2011 promotion to MLS. 3883 Imperial Street in Burnaby. Bus 996 or 999.

UPDATE: The Canadian Premier League, an attempt at a top-flight soccer league for the country, was founded in mid-2017, with the hopes of beginning play in Spring 2018. There is now a plan for a stadium in nearby Surrey, but that team probably won't take many fans away from the Whitecaps.

ADDITIONAL UPDATE: The league moved its starting date back to Spring 2019. Vancouver Island FC will play at Westhills Stadium in Victoria, which will be expanded to 8,000 seats. 1089 Langford Parkway, 9 miles west of downtown Victoria (Bus 50), and 76 miles southwest of downtown Vancouver.
* Thunderbird Stadium. Opened in 1967, this is the home field for the University of British Columbia. Founded as the Western Canada extension of Montreal's McGill University, UBC's main campus is at the western edge of Vancouver Island, about 6 1/2 miles west of downtown. They and the aforementioned Simon Fraser University (SFU) are local arch-rivals.
It only seats 3,411 people, but "festival seating" can raise it by 5,000. The playing surface is named for Vancouver businessman and former UBC football star David Sidoo, who financed improvements to the stadium. It is also home to the Whitecaps' developmental squad, Vancouver Whitecaps FC 2.
UBC has won the Vanier Cup in 1982, 1986, 1997 and 2015. Their hockey team, however, has won no major trophies. 6288 Stadium Road. Bus 14.
* Denman Arena site. Built by the Patrick brothers in 1911, this 10,500-seat arena was the largest in Canada at the time. The Pacific Coast Hockey Association's Vancouver Millionaires played here until 1926, winning the 1915 Stanley Cup. When the PCHA folded, the Vancouver Lions of the Northwest Hockey League took over in 1928, and played here until 1936. It was also home to a women's hockey team, the Vancouver Amazons.
That was when, mere hours after hosting a fight by former Heavyweight Champion Max Baer, the arena, brick-faced and supposedly fireproof, fell victim to a nearby fire. Sounds suspicious. Devonian Harbour Park is now on the site. 561 Denman Street at Georgia Street. Bus 240 from downtown.
* Scotiabank Field at Nat Bailey Stadium. Home to Vancouver baseball since 1951, and originally known as Capilano Stadium, in 1978 it was renamed for Bailey, a local restaurateur and civic booster. Scotiabank bought naming rights in 2010. It seats only 6,013, so it's small even by Triple-A standards. But it has the old-time look, complete with support poles holding up an overhanging roof.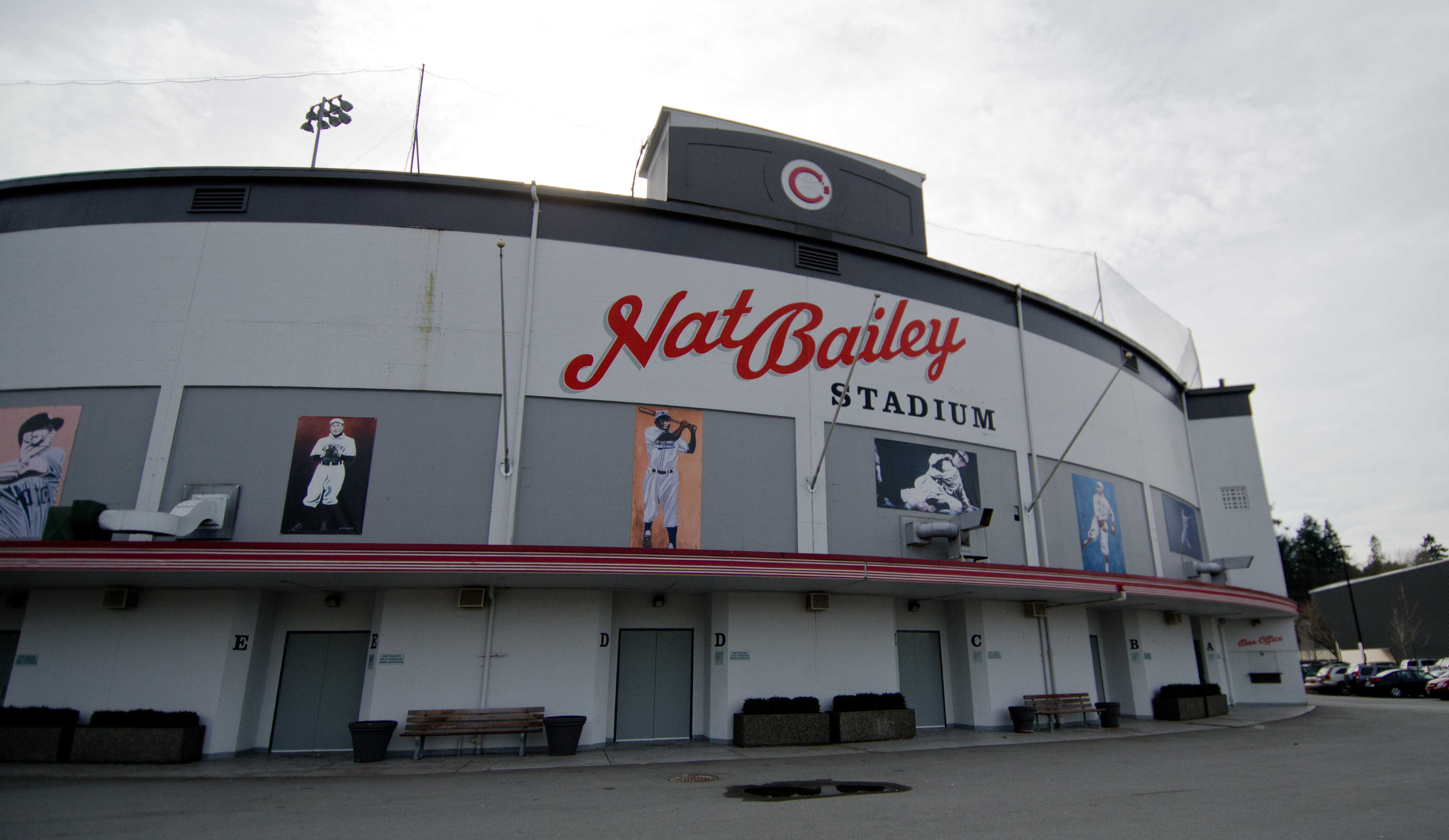 The stadium was built by Emil Sick, who also built the ballpark of the Pacific Coast League's Seattle Rainiers, which would later be home to the ill-fated Seattle Pilots of the American League. The Vancouver Mounties would play PCL ball there from 1956 to 1969, and would finish as they began, as a Seattle farm club.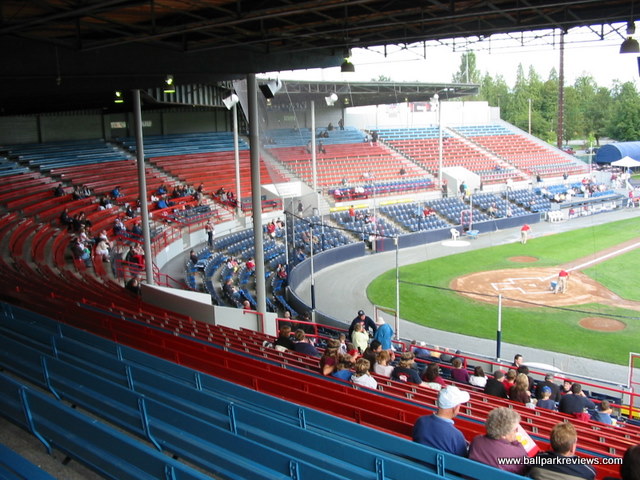 The city would be without professional baseball until 1978, when the Vancouver Canadians joined the PCL. They won Pennants in 1985, 1989 and 1999. But in 2000, right after winning the Pennant, they were moved to Sacramento, and were replaced by a new Canadians team, in the Northwest League, a short-season Class A league like the New York-Penn League that includes the Staten Island Yankees and the Brooklyn Cyclones.
By 2011, they were the only affiliated minor-league baseball team in Canada (all the others are now in independent leagues), and became, perhaps appropriately, a farm club of the country's only remaining major league team, the Toronto Blue Jays. They won Pennants in 2011, 2012 and 2013. In 2015, they had a pitcher named Tyler Burden --
not
Tyler Durden. 4601 Ontario Street at 30th Avenue, in Queen Elizabeth Park. Number 3 bus.
The closest MLB team to Vancouver is the Seattle Mariners, 144 miles away. In spite of this, national pride is still the determining factor: According to
a Vancouver Sun poll on April 2, 2015
-- before the Jays made the Playoffs for the 1st time in 22 years -- the Jays are easily the area's favorite baseball team, with a 56 percent share of the market, to the Mariners' 13.
If Vancouver were to pursue teams in the sports they do not currently have at the major league level, they would rank 28th in population in MLB, ahead of only Kansas City, Cincinnati and Milwaukee; and 24th in the NBA.
* Museum of Vancouver and Vancouver Maritime Museum. Montreal has
Pointe-à-Callière
, Toronto has Fort York, and Vancouver has the MOV and the VMM. The MOV is the largest civic museum in Canada, and shares facilities with the H.R. MacMillan Space Centre. And while it was founded as a Gold Rush town and a railroad terminus, the VMM shows that there's no escaping that Vancouver is a port city. 1100 Chestnut Street at McNicoll Avenue, in Vanier Park. Number 2 bus.
* Science World at TELUS World of Science. This is the glass sphere seen in so many photos of Vancouver. 1455 Quebec Street at Terminal Avenue. Main Street-Science World station on SkyTrain.
There's also the
Forbidden Vancouver Tour
, which takes visitors to naughty sites in Gastown, and places that sent booze to America during Prohibition (and took in Americans looking for a drink, as the border is 31 miles from downtown Vancouver, further than Windsor but closer than Montreal or Toronto). Cathedral Square, Dunsmuir and Richards Streets. Granville station on SkyTrain.
The only one of Canada's 23 Prime Ministers to have come from British Columbia is Vancouver native Kim Campbell, the 1st female head of government in North American history -- unless you want to go back to, and count, Queen Anne in the early 18th Century, before either the U.S. or Canada gained independence from Britain. Campbell served for just 4 months in 1993, after the resignation of Brian Mulroney and before the ensuing election, for which he let her take the fall. She is still alive, so there is no historic site in her honor.
* Victoria. The capital of the Province of British Columbia, and the home of the 1925 Victoria Cougars, the last team from outside the NHL to win the Stanley Cup, and the last B.C. team to win it, is 72 miles southwest of Vancouver, 106 miles northwest of Seattle, and 25 miles from the closest border crossing, the ferry from Port Angeles, Washington. From both Vancouver and Seattle, it can be reached without a car, but, in each case, you'd need to take a bus and a ferry, since, like Vancouver, it's on an island.
The British Columbia Parliament Building in Vancouver
It's not a very big city, home to around 80,000 people, which is why it's never had an NHL team. But, like Edmonton over Calgary, it is Victoria, not Vancouver, that is the Provincial capital. It is the hometown of basketball star Steve Nash (grew up there after immigrating with his family from South Africa) and singer Nelly Furtado (who, in her song "Promiscuous," asked collaborator Timbaland, "Is your game MVP like Steve Nash?").
If you're just that much of a hockey history fan, and want to see where this legendary team played -- Game 2 of the 1925 Finals against the Montreal Canadiens was played at Denman in Vancouver, but Games 1, 3 and 4 were played in Victoria -- the Patrick Arena, also built by the Patrick brothers in 1911 (and, suspiciously, also destroyed by fire, in 1929), was at what's now 2100 Cadboro Bay Road, at the corner of Epworth Street, about 2 miles east of downtown.
A replacement, the Victoria Memorial Arena, a.k.a. The Barn on Blanshard, was built in 1949, hosted 2 new teams called the Victoria Cougars, and a Victoria Maple Leafs in between and (I swear, I'm not making this up) the Victoria Salsa afterward.
This time, it was legally demolished, because it was cheaper to build a new arena on the site from scratch than to maintain the old one. The new one is named the Save-On-Foods Memorial Centre, seats 7,000, and hosts the Victoria Salmon Kings of the ECHL (whose official name is now just those letters, "ECHL," because it would be stupid to call yourself the East Coast Hockey League and have a team on the West Coast of Canada). 1925 Blanshard Street, corner of Caledonia Street downtown.
The Barn on Blanshard, and its replacement on the same site
The tallest building in Vancouver, and in the Province of British Columbia, is an apartment tower called Living Shangri-La, 659 feet tall. 1128 West Georgia Street at Thurlow Street. Burrard station on SkyTrain.
Nearby, at 355 Burrard Street, is the Marine Building, which stood in for the
Daily Planet
Building on
Smallville
, the recent re-imagining of the Superman story. Due to Canada's tax breaks for film studios, Vancouver has become the country's Hollywood. Other TV shows filmed there include
Airwolf, MacGyver, 21 Jump Street, The Commish, The X-Files
, the
Stargate
series,
Dark Angel, Seven Days, Highlander, The L Word, The 4400, Eureka, Fringe, Psych, Arrow
and
Once Upon a Time
.
Movies filmed in Vancouver include
First Blood
(the 1st
Rambo
film),
The Accused, Legends of the Fall, Intersection, Jumanji
, the
Air Bud
films, the
Blade
films, the
Scary Movie
films, the
Final Destination
films, the previous round of
Fantastic Four
films, the
Night at the Museum
films, the
Percy Jackson
films,
Timecop, Titanic, Van Wilder, Juno, 2012, Hot Tub Time Machine, Watchmen
, the execrable
Twilight
films, and the Superman reboots
Man of Steel
and
Batman v. Superman: Dawn of Justice
. (Those did not use the Marine Building to stand in for the
Daily Planet
.)
*
Vancouver is Western Canada's leading city, and a West Coast gem fully able to stand alongside Seattle, Portland, San Francisco, Los Angeles and San Diego. And it has a strong sports heritage, including the Vancouver Whitecaps. The city still hasn't won a major soccer championship in 37 years. But then, as a traveling Red Bulls fan, that works in your favour (as it would be "spelt") there. Good luck.