The Kraut Line: Bobby Bauer, Milt Schmidt and Woody Dumart
After 2016 was an outright massacre of legends of music, film and sports, 2017 has gotten off to a roaring start, with the death of the oldest living National Hockey League player. And he wasn't just a guy "up for a cup of coffee," as they'd say in baseball. He was an absolute legend.
Milton Conrad Schmidt was born on March 5, 1918 in Kitchener, Ontario. It was a city loaded with German immigrants, and so it was originally named Berlin. But during World War I, anti-German feeling led to its being renamed for the most famous British martyr of the war, Field Marshal Horatio Herbert Kitchener, a.k.a. Lord Kitchener of Khatroum, Secretary of State for War in 1916 when a ship he was on was sunk by a German mine. (He was also the face of the British armed forces recruiting poster, copied by America with the figure of Uncle Sam in his place.)
Milt dropped out of school at age 14 to work in a shoe factory to support his family, as his father had become too ill to work. He played on a youth team with Woodrow Wilson Clarence Dumart (known as Woody or Porky) and Robert Theodore (Bobby) Bauer, childhood friends of his.
In 1935, all 3 would be signed by the Boston Bruins. Milt debuted in the NHL early in the 1936-37 season, and by the start of 1937-38, all 3 were up, and playing on a forward line together. It became known as the Kraut Line, reflecting their German heritage. They even roomed together in suburban Brookline, taking what's now the Green Line subway to the Boston Garden.
In 1938-39, they helped the Bruins win the Stanley Cup. In 1939-40, they finished 1st, 2nd and 3rd in the NHL in scoring. In 1940-41, they won the Cup again.
Canada entered World War II as part of the British Empire on September 3, 1939, but the linemates were still able to play. With America dragged into The War on December 7, 1941, there was no turning back. All 3 enlisted in the Royal Canadian Air Force. On February 11, 1942, they played their last game together before they were due to report for duty, and led the Bruins to an 8-1 victory over the Montreal Canadiens. There were a total of 22 points available (goal, assist, assist-to-the-assist), and the Kraut Line got 11 of them -- half.
A contest was held to rename the line, so fans wouldn't be reminded of the Germans. Their hometown won out: "The Kitchener Line." But it is as the Kraut Line that they are remembered. They returned for the 1945-46 season, and played 1946-47 before Bauer retired.
Dumart continued playing until 1954, and Schmidt until 1955, having scored 229 goals and 346 assists, for 575 points, 4th all-time at that point. He played in the 1st official NHL All-Star Game in 1947, and also in 1948, '51 and '52. In 1951, the year he was named Captain, he was awarded the Hart Trophy as NHL Most Valuable Player.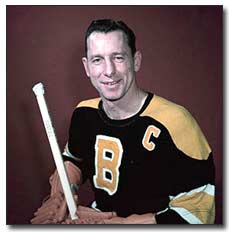 MCS, BBC, NHL MVP
He married a woman named Marie Petersen, and they had a son named Conrad and a daughter named Nancy. Milt lived to see 4 grandchildren and 5 great-grandchildren.
He was named head coach of the Bruins in his last season as a player, 1954-55. He coached them into the Stanley Cup Finals in 1957 and '58, but lost to the Canadiens both times, and was named general manager in 1967. He helped build the Bruin team that won the Cup in 1970 and 1972 -- meaning that the Bruins went from 1929 until 2011 without winning the Cup without Milt Schmidt being actively involved.
Included in this was one of the great steals in hockey history, the 1967 trade sending Pit Martin, Gilles Marotte and Jack Norris to the Chicago Blackhawks for Phil Esposito, Ken Hodge and Fred Stanfield. Bobby Orr, along with Esposito the catalyst of those great "Big Bad Bruins," has also cited Schmidt as a strong influence in his early years in the game.
During the Bruins' 2011 Cup run, Schmidt said, "There have been other awards, but winning the Cup, to me, was the most outstanding moment of my life. You have so many players today who are great, but have never been on a Stanley Cup-winning team. That's what you dream about."
In 1974, Schmidt left the Bruins to become the 1st general manager of the expansion Washington Capitals. It was a disaster, one of the worst seasons in NHL history. He took over as head coach with 8 games to go, winning only 2, including the only away game the team won all season. He coached the 1st half of the next season, and ownership fired him from both posts.
He returned to Boston, and ran a restaurant at the Garden, the Boards and Blades Club. In 1980, his Number 15 was retired. In 1995, he was an honored guest as the Garden was closed down, and the team moved next-door to the building now known as the TD Garden. In 1996, USA Hockey honored him with the Lester Patrick Trophy for contributions to hockey in America. In 1998, as part of their 50th anniversary celebration, The Hockey News named their 100 Greatest Hockey Players. Despite not having played a shift in 43 years, at a time when hockey was not frequently shown on American television, he was ranked Number 27.
Schmidt was elected to the Hockey Hall of Fame in 1961, Dumart in 1992, Bauer in 1996. Dumart lived until 2001, age 84, so, like Schmidt, he did live to see his induction. Bauer wasn't so lucky: He died of a heart attack while playing golf in 1964, only 49.
Orr and Schmidt
On January 1, 2010, he attended the NHL Winter Classic at Fenway Park, in which the Bruins beat the Philadelphia Flyers in overtime, 2-1. At the start of the following season, the Bruins held Milt Schmidt Night, honoring his 75th Anniversary with the organization. He also took part in the club's 90th Anniversary celebrations in 2014.
This past October 20, at the Bruins' home opener, the 98-year-old Schmidt was wheeled out to center ice, and he dropped the ceremonial puck. The Bruins beat the New Jersey Devils, 2-1. He returned to his retirement facility in suburban Needham, Massachusetts, and died there yesterday, of a stroke.
Bruins owner Jeremy Jacobs said, "Milt's impact in Boston, as both a player and a coach, will forever be felt amongst hockey fans. He was a legendary personality in the Bruins' organization, and goes down in history as the ultimate Bruin." Indeed, he -- not Orr, not Esposito, not 1970 and '72 Cup Captain Johnny Bucyk, not 1980s and '90s legend Ray Bourque, not 2011 Cup Captain Zdeno Chara -- is known as Mr. Bruin.
"We should all be envious of the longevity and meaningfulness of his life," Jacobs added.
Bucyk: "He was like a big brother to me in his coaching days and his GM days, and ever since after that, we were very close friends. He just loved the Bruins, to this day."
Orr: "I didn't see Milty play. I've seen a little video, heard a lot about him. He wasn't very big, but he had a big heart on the ice. That's how he played. He was a great player. He's a wonderful individual. He's a great man, and a great friend to all of us."
Chara: "I will always cherish the times we had together, listening to him reminisce about old-time hockey, as well as our conversations on today's style of the game, the game that he just loved so much."
Patrice Bergeron, whom Schmidt called his favorite current player: "When you think about the Bruins, you think about Milt Schmidt. It has been amazing for me to tosee the impact that he has had, and continued to have on the organization. The last time I saw him, he was on the ice with Bobby (Orr) earlier this year. He shook my hand, and said, 'Go get 'em.' He was always rooting for the Bruins, and in our corner. He lived an amazing life, and I am very proud to have known him."
Schmidt was both the last active and the last living NHL player who had played in the 1930s. With his death, the book is closed on the Depression decade in the NHL. Now, the oldest living former NHL player is John "Chick" Webster, a 96-year-old Toronto native who played 14 games without scoring for the Rangers in the 1949-50 season, when they reached the Stanley Cup Finals. (He did not play in the Playoffs.) The earliest living former Stanley Cup winner is Gerry Plamondon, of the 1946 Montreal Canadiens. Today is his 92nd birthday.
*
Also passing away this week, on Monday, January 2, was Viktor Tsaryov. Born on June 2, 1931 in Moscow, he was a centreback for Dinamo Moscow, the soccer team (football club) of the KGB. They, and all the other teams named Dinamo or Dynamo (Kyiv, Minsk, Tblisi, Sofia, and, most notoriously, Berlin), have been disassociated from their countries' secret police.
Viktor Grigoryevich Tsaryov played for Dinamo from 1954 to 1966. He helped them win the Soviet Top League in 1955, 1957, 1959 and 1963, and remains the player who has captained them in the most games, 189.
He earned 12 caps for the Soviet Union's national team, and played in the 1958 World Cup. He also played in the 1960 European Nations Cup, the inaugural edition of the tournament we now call "The Euros," although he did not play in the Final. The Soviets won, and it remains the only major tournament won by them, or by any former Soviet "republic." (The USSR also reached the Euro Final in 1964 and 1988, and the Semifinal of the 1966 World Cup.)
He later managed Dinamo Moscow, and served as chairman of their board of directors. He was 85 when he died this week.
*
Also passing away this week, yesterday, was Ezio Pascutti, another European soccer legend. Born on June 1, 1937 in Mortegliano, outside Udine, the forward played 14 seasons at Bologna, 1955 to 1969. He helped them win the Mitropa Cup (a sort of precursor to the European Cup/Champions League, before the latter's 1955 founding rendered it a percursor to the UEFA Cup/Europa League) in 1961, and Serie A, the Italian league title, in 1964. (It was their 7th, in a span of 40 years, which is rather strong, but they haven't won it since.)
He also played for Italy in the 1962 and 1966 World Cups, and managed Sassuolo in the 1986-87 season. He was 79 at his death.
*
Days
until The Arsenal play again: 2, Saturday afternoon at 12:30 (5:30, their time), away to Lancashire club Preston North End, in the 3rd Round of the FA Cup.
Days until the New Jersey Devils next play a local rival: 9
, a week from this Saturday night, against the Philadelphia Flyers at the Wells Fargo Center in Philly.
By a quirk in the schedule, the New York Islanders, a team they usually play several times a season, don't show up on the slate until Saturday night, February 18, 2017, at the Prudential Center. The next game against the Rangers is on Saturday, February 25, at the Prudential Center.
Days until darkness descends over our nation: 15, at noon on Friday, January 20. #NotMyPresident
Days until the U.S. national soccer team plays again: 24, on Sunday,
January 29, at 4:00 PM Eastern Time (1:00 local), at Qualcomm Stadium in San Diego, a friendly against Serbia, designed to warm each team up for their respective continental World Cup Qualifiers.
It will be the team's 1st match in the 2nd run as manager for Bruce Arena, now that Jurgen Klinsmann has finally been fired.
We next play
on Friday, March 24, 2017, home to Honduras, at a venue and time TBA,
in a CONCACAF Qualifying Match for the 2018 World Cup.
Days until the New York Red Bulls play again: 48
,
on February 22, 2017, in the 1st leg of the CONCACAF Champions League Quarterfinal, home to the Vancouver Whitecaps. The 2nd leg will be on March 2. The winner will face the winner of the Quarterfinal between 2 Mexican teams: Mexico City-based Pumas de la UNAM, and
Monterrey-area team Tigres UANL.
Days until the Red Bulls next play a "derby": Unknown. We may not see the full 2017 MLS schedule for over a month, so we don't know when we'll next play
New York City FC, the Philadelphia Union, D.C. United or the New England Revolution. The 1st MLS game of the season will be on Sunday, March 5, 2017, 59
days from now (2 months), away to expansion club Atlanta United (their 1st competitive match ever).
Days until the Yankees' 2017 season opener:
87
,
on Sunday, April 2, at 8:00 PM, away to the Tampa Bay Rays. A little under 3 months.
Days until the Yankees' 2017 home opener: 95, on Monday, April 10, at 1:00 PM, home to the Rays.
Days until the next Yankees-Red Sox series:
110,
on Tuesday, April 25, 2017, at 7:00 PM, at Fenway Park.
Days until the next North London Derby:
114,
on Saturday, April 29, 2017, at White Hart Lane. A little under 4 months. It could be moved to the next day, Sunday, April 30, to accommodate the TV networks. It is also possible that Arsenal could face Tottenham again sooner than that, through an FA Cup pairing.
Days until Rutgers University plays football again:
240
, on Saturday, September 2, 2017, home to the University of Washington. A little under 8 months.
Days

until East Brunswick High School plays football again: Unknown, as the 2017 schedule hasn't been released yet. If history is any guide, it will be on Friday night, September 15, which would be 257 days from now.
Days until the next election for Governor of New Jersey:
306, on Tuesday, November 7, 2017. Just 10 months.
Days until the next Rutgers-Penn State football game: 310, on Saturday, November 11, 2017, at Beaver Stadium in State College, Pennsylvania.
Days until the next East Brunswick-Old Bridge Thanksgiving game:
322
, on Thursday morning, November 23, 2017, at 10:00. Under 11 months,
and thank God it's at home at Jay Doyle's grove, rather than a
t the purple shit pit on Route 9.
Days until the next World Cup kicks off in Russia: 525
, on June 14, 2018. Under a year and a half, or a little over 17 months. Now that Klinsmann has been fired, our chances have improved, but did he already ruin them?
Days until the next Congressional election: 670, on November 6, 2018. Under 2 years, or 22 months.
Days until the Baseball Hall of Fame vote is announced, electing Mariano Rivera: 746
, on
January 9, 2019. A little over 2 years, or 24 months.
Days until the Baseball Hall of Fame vote is announced,
electing Derek Jeter:
1,098, on
January 8, 2020. A little over 3 years, or 36 months.
Days until the next Summer Olympics begins in Tokyo, Japan: 1,296, on July 24, 2020. A little over 3 1/2 years, or just 43 months.
Days until the next Presidential election: 1,429, on November 3, 2020. Under 4 years, or a little under 46 months.
Days until Liberation Day:
1,507, at noon on January 20, 2021. A little over 4 years, or a little over 48 months.