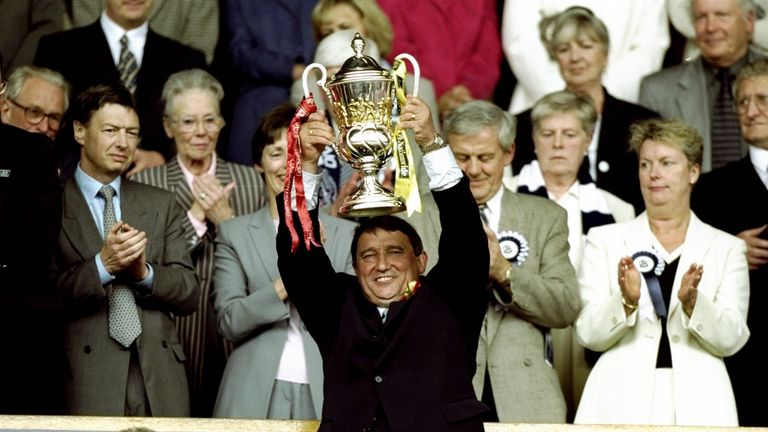 So much of sports is about respect. You either have it, or you don't. Maybe you had it once, and are trying to get it back.
Graham Taylor took a team nobody outside its home region knew, and made it respected around the world. That's a great tribute.
I wish it would be the thing for which he is best known, but it isn't. In the end, though, he turned out to be more respected than those who put him in that position -- figuratively and literally.
Graham Taylor (no middle name) was born on September 15, 1944 in Worksop, Nottinghamshire, in the East Midlands of England. In 1947, his family moved to Scunthorpe, North Lincolnshire, where he met his eventual wife Rita Cowling (they would have 2 daughters), and apprenticed as a fullback with Scunthorpe United. He played 6 years with with Grimsby Town and 4 with Lincoln City, both Lincolnshire clubs, before a hip injury ended his playing career in 1972.
Lincoln City immediately named him manager, and, at 28, he was the youngest manager in the entire Football League. (The League's Division One became the Premier League in 1992.) In 1976, he managed them to the Division Four title, and thus promotion to Division Three.
In June 1977, singer Elton John, having bought his hometown club of Watford, needed a new manager to get the Hertfordshire side out of Division Four. On the advice of Don Revie, the Leeds United legend who was then managing England, he signed Taylor. It worked faster than anyone could have imagined. Watford won Division Four in 1978. In 1979, he got them promoted out of Division Three, missing the title by 1 point.
The Hornets (so nicknamed because of their yellow shirts with black trim, although their badge features a stag, reflecting the "hart" of Hertfordshire) were nearly relegated from Division Two back to Division Three in 1980.
But Elton put some money into the club. In addition to the already-present goalkeeper Steve Sherwood and striker Luther Blissett (or, in proper Watfordese, The Great Luther Blissett), Taylor brought in former Arsenal Captain Pat Rice as right back, right winger Nigel Callaghan, midfielders Kenny Jackett and Les Taylor (whom his manager, no relation, called "a sniffer and a ratter"), and, best of all, left winger John Barnes. In 1980-81, Watford moved up to 9th place in Division Two. In 1981-82, they finished 2nd, and were promoted to Division One for the 1st time in the club's history.
In 1982-83, they stunned the soccer world. They began the season beating Everton (the blue team in Liverpool) at home at Vicarage Road, and Southampton away. They went top of the League by beating West Bromwich Albion on September 11, wrecked Sunderland 8-0 on September 25, shocked FA Cup holders Tottenham Hotspur in North London on November 6, and went back to North London and beat Arsenal on November 27.
Unfortunately, on December 27, they lost to their arch-rivals from neighboring Bedfordshire, Luton Town. They closed the calendar year with a win over West Ham United that kept them 2nd, just 2 points behind mighty Liverpool. They tailed off in January as Liverpool surged, a 5-2 revenge over Luton not helping much, and finished 11 points ahead of Watford. But the Hornets did finish 2nd, as Blissett led the League with 27 goals.
After the season, AC Milan paid

£1 million to bring Blissett to Italy. Taylor replaced him with Mo Johnston from Patrick Thistle in Scotland -- later to go back to Glasgow to play for Celtic, to France with Nantes, and then back to Glasgow as the 1st Catholic ever to play for Rangers, the club of militant Protestants and Unionists. (He played well, but was so despised by the Hun fans that he had to be sold after just 2 years.)
Watford fell to 11th place in 1983-84, but their 2nd place finish the season before led them into their 1st European tournament, the UEFA Cup. A 3-0 home win allowed them to beat Germany's Kaiserlautern 4-3 on aggregate, and an extra-time win in Bulgaria pushed them past Levski Sofia, before they got knocked out in the 3rd Round by Sparta Prague.
They also roared to their 1st-ever FA Cup Final. In the 3rd Round, they were drawn away to hated Luton, but came away with a 2-2 draw, and then won a thrilling replay at Vicarage Road, 4-3. 'Orns (as the London accent might pronounce it) fans could be excused for calling that their favorite (or, rather, "favourite") game of all time. They went to Southeast London to play Charlton Athletic in the 4th Round, and won 2-0. They hosted Brighton & Hove Albion in the 5th Round, and won 3-1. They won 3-1 away to Birmingham City in the Quarterfinal, then beat another apparent "team of destiny," Plymouth Argyle, 1-0 at Aston Villa's Villa Park in Birmingham in the Semifinal.
The Final was played in front of 100,000 fans at the original Wembley Stadium in West London. Everton hadn't won a major trophy in 14 years. Watford had been playing 103 years, and had never won a major trophy. Something had to give.
It nearly did, and Watford's way, in the 3rd minute, but Barnes just missed on a shot. Les Taylor (twice) and Johnston also had good chances to put the Hornets 1-0 up. It began to look like "the great god Graham Taylor," as Watford fans of the time called him, might pull off a miracle.
No such luck: Graeme Sharp scored off the post and in for Everton in the 38th minute, and in the 51st, Andy Gray crashed into Sherwood, and the ball went into the net, and the goal was given. We'll never know what would have happened if the goal had been correctly waved off, and the scored remained 1-0, but it was 2-0 Everton, and that was that. Watford fans are still bitter about that 2nd goal, and have despised Gray, now a commentator, ever since.
Graham Taylor got Watford back to the FA Cup Semifinals in 1986. In just 10 seasons, he had gotten them from the 4th Division to 2nd place in the 1st Division, to the 3rd Round of the UEFA Cup, and to 2 FA Cup Semifinals and a Final.
At the end of the 1986-87 season, Aston Villa were relegated. Management offered Taylor more money than he was making at Watford to get back up, and he took the job. A win on the final day of the season got Villa promoted back to Division One -- and it was Watford that ended up relegated. From 1988-89 to 2014-15, they would spent only 2 seasons in the top flight: 1999-2000 and 2006-07. They got back up in 2015, and are now in their 2nd straight season in the Premier League.
In 1990, Taylor matched his Watford achievement by taking Villa to 2nd in Division One -- again, behind Liverpool, the difference being that John Barnes now played for Liverpool, after they'd bought him from Watford in 1987. His stock had never been higher.
*
Then he was offered the England national team, following the retirement of Bobby Robson. And he made a terrible mistake. He took the job.
England lost only once in his 1st 23 games in charge, although that 1 loss was to arch-rival Germany at Wembley. But they struggled to qualify for Euro 92, and were a disaster there, with scoreless draws to eventual winners Denmark and France, and a 2-1 loss to host Sweden.
It got worse. Substituting Gary Lineker late in the Sweden match proved unpopular, and
The Sun
, the worst newspaper in the English language, started calling him "Turnip Taylor."
Cutting Edge
, a series on the British network Channel 4, did a documentary on him, titled
An Impossible Job
. It was a fair title: Since 1966 World Cup-winning coach Alf Ramsey was sacked in 1974, the job had gone to Revie, West Ham Cup-winner Ron Greenwood, and Robson, and neither had gotten closer to either the World Cup or the Euro title than Robson's 1990 World Cup Semifinal.
A 1-1 draw away to Poland had the cameras catching Taylor saying, "Do I not like that" between a defensive lapse and Poland's subsequent goal; and, later in the game, asking, "Can we not knock it?" A 2-0 loss away to Norway led to the headlines "NORSE MANURE" and "OSLO RANS."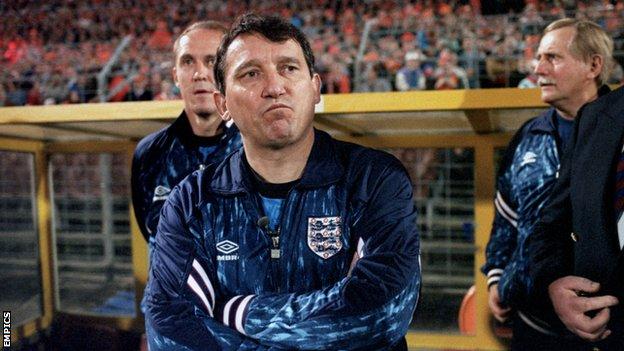 The most familiar photograph, a still from An Impossible Job
The key game was away to the Netherlands. Taylor, no stranger to the use of profanity, heard an English fan yell a racial slur at Barnes, and he walked over and yelled back, "You're talking about another human being, so just watch your language!" Perhaps that would have earned him praise had England won the game. They didn't, losing 2-0. On November 23, 1993, with qualification for the 1994 World Cup denied -- the only one England hasn't qualified for since 1978 -- Taylor resigned, with
The Sun
giving the headline "THERE'S YER ALLOTMENT," and again depicting Taylor as a turnip on the front page.
An impossible job? Since Taylor, England managers have included Terry Venables (Semifinal of Euro 96), Glenn Hoddle (Quarterfinal of 1998 World Cup), Kevin Keegan (bad Euro 2000), Sven-Goran Eriksson (best performance, Quarterfinal of 2006 World Cup), Steve McClaren, Fabio Capello (flop at the 2010 World Cup), Roy Hodgson (disaster at the 2014 World Cup and Euro 2016) and Sam Allardyce (forced to resign after 1 game last year due to corruption). Gareth Southgate now has the job going into the 2018 World Cup. Good luck, Gareth: You're gonna need it.
*
In March 1994, Taylor was hired to manage Birmingham-area club Wolverhampton Wanderers, a.k.a. Wolves. He got them to the 2nd division Playoff and the Quarterfinal of the FA Cup. But the 1994-95 season didn't work out, and he resigned early the next season.
Elton John had sold Watford, but had bought them back, and gave Taylor a second act at the club as well. He got them promoted from the 3rd division to the 2nd in 1998, and back to the Premier League in 1999 -- for the aforementioned 1999-2000 season. So in 1977, Taylor was a nobody; in 1982, he was a genius; in 1990, he was an even bigger genius; in 1993, he was an idiot; and in 1999, he was a genius again.
Captain Fantastic and his First Officer
But it didn't last, and after just 1 season in the Premier League, Watford were left in the dust by the world's best soccer players, and were relegated. Taylor retired halfway through the 2000-01 season. He came back for a 2nd run with Villa, but finished only 16th in 2003, and resigned.
For the next season, he came full circle, being named vice president of his hometown club, Scunthorpe United. He saved them from relegation, and got them promoted from the 4th to the 2nd division. In 2009, Watford brought him back as chairman, serving until 2012.
He remained an honorary life president at Watford. He was a commentator on BT Sport (British Telecom), and a supporter of charities for veterans and the handicapped.
Graham Taylor died yesterday, in Lincoln, apparently of a heart attack. He was 72 years old. His former players and managing opponents stepped up to testify to his effect on the game:
Current England manager Gareth Southgate, who played on that troubled 1993 England team: "

Graham was a fantastic football person.

I know from my time at Aston Villa how he was revered there at the club for a fantastic spell as manager. He cared about football, he had a passion for England."

Former Tottenham star Paul Gascoigne, who also played on the 1993 England team: "

I'm deeply sorry to hear about Graham Taylor. He will be a miss, and his enthusiasm for life and football was incredible."
Former Manchester United manager Alex Ferguson: "

Graham was one of the old school managers.

I have very fond memories. He was approachable, open and honest.

If he could help you in any way, he always would.

"
Arsenal manager Arsene Wenger: "H
e had big passion, and he was competent and absolutely focused on the game.
It was a very sad day for English football. He was an honest, educated man. Pat Rice had him as a manager, and spoke to me about how passionate and interesting it was to work under him at Watford."
Former Manchester United and Ireland national team star
Paul McGrath, who played for Taylor at Villa, on Twitter: "Devastated to hear of Graham's sad passing, what a gentleman. In my darkest days himself and Rita were always there for me #RipGrahamAHero"
Former Manchester United star Steve Bruce, now the manager at Aston Villa:
"I am, like everybody else, in total shock. I have two close members of my staff who played for him for a number of years in Tony Coton and Tommy Mooney. Of course there are people on the staff who worked with him for years.
The one thing that shines out above anything is what a very, very good human being he was and a delight to work for."
Bournemouth manager Eddie Howe:
"My first team that I watched was Watford. I lived in Chesham and was born in Amersham, so very close to Watford.
He was probably the first manager who inspired me, without really knowing it. That would have been in the early 1980s that I would go there, not necessarily regularly, but to see the fantastic team that he produced in the
First Division at the time.
"
Current Watford star Troy Deeney: "I don't think I have enough words to express the gratitude and respect everyone at Watford Football Club has for him."
The new Wembley Stadium, lit up in tribute

Graham Taylor inspired teams, and he inspired tributes. Would he like that.