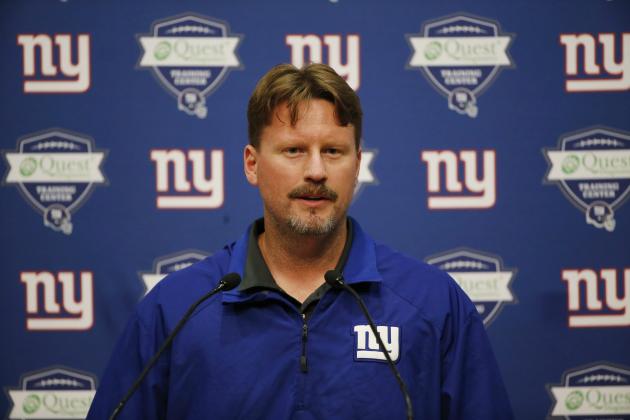 Ben McAdoo has been named the 18th head coach in the 92-season history of the New York Giants football team. (The season beginning in September 2016 will be their 92nd season.)
Who is he, and is he the right hire for the team?
Benjamin Lee McAdoo was born on July 9, 1977 -- meaning that he was born after Giants Stadium opened, after the Chris Chambliss home run, after Tom Seaver was traded, and after the Reggie Jackson-Billy Martin shouting match in the Fenway Park dugout. When "The Miracle of the Meadowlands" happened, he was 16 months old. When Bill Parcells coached his 1st game in charge of the Giants, he was 6. When the Giants won their 1st Super Bowl, he was 9.
He's only 38, yet he's already got a gray goatee. Actually, with that hair, and that face, if he shaved the mustache and the goatee, he'd look like
Castle
star Nathan Fillion.
The head coach of the Giants is 7 1/2 years younger than I am. Holy cow, I am old.
He was born in Homer City, Pennsylvania, a town 50 miles east of Pittsburgh, with a population (according to the 2010 Census of 1,707. That's coal country, and it's football country. He graduated from Homer Center High School in 1995 -- wow, the head coach of the Giants graduated from high school in Bill Clinton's 1st term, that is staggering -- and went to nearby Indiana University of Pennsylvania, in Indiana, Pennsylvania, Jimmy Stewart's hometown (although he went to Princeton).
While still attending "IUP," he became an assistant football coach at Homer Center, and then at Indiana Area High School. He became a graduate assistant at Michigan State University in 2001, offensive line and tight ends coach at Fairfield University in Connecticut in 2002, and a graduate assistant at the University of Pittsburgh in 2003.
He moved on to the pros: Offensive quality control coordinator (whatever that means) for the New Orleans Saints in 2004, offensive line coach and offensive quality control coordinator for the San Francisco 49ers in 2005, and then his 1st long-term job, as tight ends coach with the Green Bay Packers in 2006. In this role, he earned a Super Bowl ring following Super Bowl XLV in 2011. In 2012, the Packers made him quarterbacks coach.
In 2014, the Giants hired him as offensive coordinator, where he worked closely with the line, the receivers, the running backs, and, of course, quarterback Eli Manning. With Tom Coughlin "retiring" (yeah, surrrre, he retired, just like Casey Stengel retired from he Yankees in 1960), McAdoo was promoted in his place (Ralph Houk to Coughlin's Stengel).
Pros: He's young -- and the big argument against Coughlin the last few years was that he was old and out of touch. He's been a winner: He has a ring. He already knows the Giants' setup. The players trust him.
Cons: This is his first head coaching job. And while he's coached in the New York Tri-State Area for 2 years, this will be the first time he's had real pressure, the first time he'll be in the fishbowl. Don't tell me a first-year coach will be immune to criticism: That was proven incorrect by Ray Handley with the 1991 Giants and Rich Kotite with the 1995 Jets.
Almost certainly, this guy's first head coaching job should have been somewhere else first, someplace without a massive media presence. In other words, not New York, not Philadelphia, not Boston, not Washington, not Chicago, not San Francisco, not Los Angeles. (Well, L.A. doesn't have an NFL team... for the moment.) Nor a city that's smaller, but where the football team means everything: Not Pittsburgh, not Cleveland, not Denver... Maybe Green Bay, since his ring and most of his Playoff experience is with them.
He could be the next Jim Fassel or Tom Coughlin. But he could also be the next Ray Handley -- or, if you're old enough to remember, the next Joe Walton.
Cue the Star Wars line: "I've got a bad feeling about this."