This coming Thursday night, the New Jersey Devils visit Denver to play the Colorado Avalanche.
Before You Go.
The
Denver Post
is predicting mid-40s for Thursday afternoon, and low 20s for the evening. Although the mountain air leads to a lot of snow, no precipitation of any kind is forecast for this week. Still, keep the thin air in mind, and don't exert yourself too much.
Denver is in the Mountain Time Zone, so you'll be 2 hours behind New York time. And there's a reason it's called the Mile High City: The elevation means the air will be thinner. Although the Rocky Mountain region is renowned for outdoor recreation, if you're not used to it, try not to exert yourself too much. Cheering at a sporting event shouldn't bother you too much, but even if the weather is good, don't go rock-climbing or any other such activity unless you've done it before and know what you're doing.
Tickets.
When the Avs arrived in 1995, and immediately won the Stanley Cup, the Rocky Mountain region went nuts, having never before won a World Championship in any sport. They stayed good for 10 years, and attendance remained great. Then they fell apart, and people saw how well Colorado fans supported a non-winner. They've made the Playoffs just once in the last 5 seasons, and average home attendance this season is down to 16,341 per game -- not terrible, but a little under 91 percent of capacity. So tickets will almost certainly be available.
Tickets in the lower level are $163 between the goals and $97 behind them. In the upper level, they're $57 between and just $23 behind.
Getting There.
It's 1,779 miles from Times Square in New York to the Denver plaza that contains the State House and the City-County complex, and 1,767 miles from Prudential Center to the Pepsi Center. You're probably thinking that you should be flying.
The good news: Flying to Denver, considering how far it is, is relatively cheap. You can get a round-trip flight for Thursday morning, and buy it today, for a little over $600, depending on what time you want to fly. More likely, it'll be around $800, but that's still a decent price per mile.
The bad news: It won't be nonstop. While Stapleton International Airport (named for 1923-47 Mayor Benjamin F. Stapleton) was a major change-planes-here spot for going to the West Coast and Las Vegas, the new Denver International Airport isn't. You want to fly there, you'll have to change planes, most likely in either Chicago or Dallas.
Amtrak's
Lake Shore Limited
leaves Penn Station at 3:40 PM Tuesday, arrives at Union Station in Chicago at 9:45 AM Wednesday (that's Central Time). The
California Zephyr
leaves Chicago at 2:00 PM Wednesday and arrives at Denver's Union Station at 7:15 AM (Mountain Time) Thursday. The return trip would leave Denver at 7:10 PM Friday, arrive in Chicago at 2:50 PM Monday, leave Chicago at 9:30 PM Monday, and get back to New York at 6:35 PM Tuesday. The round-trip fare is $496.
Conveniently, Union Station is at 1700 Wynkoop Street at 17th Street, just 3 blocks from Coors Field. The front of the building is topped by a clock, framed by an old sign saying UNION STATION on top and TRAVEL by TRAIN on the bottom.
Greyhound allows you to leave Port Authority Bus Terminal at 4:00 PM Tuesday, and arrive at Denver at 10:50 AM on Thursday, a trip of just under 45 hours, without having to change buses. That 44:50 does, however, include layovers of 40 minutes in Philadelphia, an hour and a half in Pittsburgh, an hour in Columbus, an hour in Indianapolis, 2 hours in St. Louis, and half an hour in Salina, Kansas; plus half-hour meal stops in Pennsylvania, Illinois and Kansas. Round-trip fare is $406, but you can get it for $338 on advanced-purchase. You can get a bus back at 7:10 PM Sunday and be back in New York at 3:50 PM Tuesday. The Denver Bus Center is at 1055 19th Street.
If you actually think it's worth it to drive, get someone to go with you, so you'll have someone to talk to, and one of you can drive while the other sleeps. You'll be taking Interstate 80 most of the way, through New Jersey, Pennsylvania, Ohio, Indiana, Illinois, Iowa and Nebraska, before taking Interstate 76 from Nebraska to Colorado, and then Interstate 25 into Denver. (An alternate route: Take the New Jersey and Pennsylvania Turnpikes to Interstate 70 and then I-70 through Pennsylvania, Ohio, Indiana, Illinois, Missouri, Kansas and Colorado into downtown Denver. It won't save you an appreciable amount of time over the I-80 route, though.)
If you do it right, you should spend about an hour and a half in New Jersey, 5 hours and 15 minutes in Pennsylvania, 4 hours in Ohio, 2 hours and 30 minutes in Indiana, 2 hours and 45 minutes in Illinois, 5 hours and 15 minutes in Iowa, 6 hours in Nebraska, and 3 hours and 15 minutes in Colorado. Including rest stops, and accounting for traffic (you'll be bypassing Cleveland and Chicago, unless that's where you want to make rest stops), we're talking about a 40-hour trip.
Even if you're only going for one game, no matter how you got there, get a hotel and spend a night. You'll be exhausted otherwise. Trust me, I know: Trains and buses are not good ways to get sleep.
Once In the City.
Founded in 1858 as a gold rush city, and named for James W. Denver, then Governor of the Kansas Territory, from which Colorado was separated, Denver is a State capital and city of 630,000 people, in a metro area of 3.2 million -- roughly the population of Brooklyn and Staten Island combined. It's easily the biggest city in, and thus the unofficial cultural capital of, the Rocky Mountain region.
The State House
Broadway is the main north-south drag, separating East addresses from West. But the northwestern quadrant of the street grid is at roughly a 45-degree angle from the rest of the city, and this area includes the central business district, Union Station and the ballpark.
The sales tax in the State of Colorado is 2.9 percent, however, the City of Denver adds a 3.62 percent sales tax, for a total of 6.52 percent. The
Denver Post
is a good paper, but don't bother looking for the
Rocky Mountain News
: It went out of business in 2009. Bus and light rail service in Denver is run by the Regional Transportation District (RTD), and goes for $2.25 for a single ride, and $6.75 for a DayPass.
Don't worry, the weather isn't forecast to look like this during your visit.
Going In.
The Pepsi Center -- the arena has always had that name since it opened -- is across Cherry Creek from downtown, about 2 miles northwest of City Hall. The intersection is 11th Street & Auraria Parkway, but the mailing address is 1000 Chopper Circle, in honor of Robert "Chopper" Travaglini, the beloved former trainer (and amateur sports psychologist) of the NBA's Nuggets, who share the arena. It is 1 of 10 current arenas that is home to both an NBA team and an NHL team.
Chopper was actually a Jersey Boy, albeit from Woodbury on the Philly side. He died in 1999, age 77, right before the new arena opened. Chopper Circle is an extension of Wewatta Street.
Pepsi Center/Elitch Gardens station on the RTD light rail. If you're coming in that way, you'll probably enter from the west gate, the Grand Atrium. If you're driving, parking starts at just $5.00. The rink is laid out east-to-west, and the Avs attack twice toward the east end.
In addition to hosting the Avs and the Nugs, the Pepsi Center has also hosted NCAA Tournament basketball games, the NCAA's hockey "Frozen Four," and the 2008 Democratic National Convention.
Food.
Being a "Wild West" city, you might expect Denver to have Western-themed stands with "real American food" at its arena. Being in a State with a Spanish name, in a land that used to belong to Mexico, you might also expect to have Mexican food. And you would be right on both counts.
Unfortunately, the team and arena websites don't include charts showing where the concession stands are. The arena website does mention specialty restaurants:
The Shock Top Lodge is a restaurant that seats 325 guests, 250 in the restaurant and 75 at the bar, and is open to all ticketholders.
The Land Rover Denver Club has seating for 125 and can accommodate over 300 in a lounge-like environment. Guests can enjoy a Colorado craft beer or specialty drink coupled with a chef-inspired dish without missing any of the action in the arena while watching on one of the 20 HD TVs positioned throughout the space.
The Peak Pub House s
eats 236 patrons, and is available to suite holders, KeyBank Club Level ticket holders, the first row of rinkside, all courtside seat holders, and all patrons with 5 minutes remaining in the game.
Team History Displays.
The Nuggets' banners are at the east end of the arena, and the Avalanche's banners at the west end. There are also banners for the Arena Football League's Colorado Mammoths -- which, like the Avs, the Nugs, MLS' Colorado Rapids, the NFL's St. Louis (for the moment) Rams, and English soccer's Arsenal Football Club, is owned by Walton of Walmart infamy in-law Stan Kroenke.
Despite the Avs' brief history, they have plenty of banners: 9 for Division titles in 1996, 1997, 1998, 1999, 2000, 2001, 2002, 2003 and 2014; 2 for President's Trophies in 1997 and 2001; 2 for Western Conference Championships in 1996 and 2001; and 2 for Stanley Cups in 1996 and 2001. There is no notation for what the franchise won as the Quebec Nordiques, and, since the original, hockey version of the Colorado Rockies made the Playoffs just once in 6 seasons before moving to become the Devils, there is nothing to hang for them anyway.
They've also retired 5 uniform numbers. From the 1996 Stanley Cup winners, they've retired 19 for center Joe Sakic, 21 for center Peter Forsberg, 33 for goaltender Patrick Roy (now the team's head coach) and 52 for defenseman Adam Foote.
All of these players were still there for the 2001 Stanley Cup win (although Forsberg was injured for the Playoffs). And, in case the 2,001 times that Gary Thorne and ABC Sports mentioned it wasn't enough to jam it into your memory for all time, the Avs had added Number 77, defenseman Ray Bourque. (Interestingly enough, both times the Avs won the Cup, the Devils won it the season before. But this pattern did not hold in 2003-04.)
Prior to the team's move to become the Avalanche, the Quebec Nordiques had retired 3 for defenseman Jean-Claude Tremblay, 8 for left wing Marc Tardif, 16 for left wing Michel Goulet, and 26 for center Peter Stastny (who, of course, also played for the Devils). Each of these numbers was returned to circulation, and Peter's son Paul Stastny, now with the St. Louis Blues, wore his father's Number 26 with the Avs.
This is the Avs' 20th Anniversary season, and they've named a 20th Anniversary Team. From the 1996 Cup team, they chose Roy, Sakic, Forsberg, Foote, defenseman Sandis Ozolinsh, left wing Valeri Kamensky, right wings Adam Deadmarsh and our old friend Claude Lemieux, and center Stephane Yelle.
From the 2001 Cup team, they chose Roy, Sakic, Forsberg, Foote, Bourque, Yelle, defenseman Rob Blake, left wing Alex Tanguay, right wing Milan Hejduk, and centers Stephen Reinprecht and Chris Drury.
From after, but not including, 2001, they've chosen goalie Semyon Varlamov, defensemen John-Michael Liles and Erik Johnson, left wing Gabriel Landeskog, and centers Paul Stastny and Matt Duchene.
Yay, Claudie!
Foote, Forsberg, Roy, Sakic, and former team president and general manager Pierre Lacroix have been elected to the Colorado Sports Hall of Fame, which is located at the new Broncos' stadium. Bourque and Claudie have not.
Sakic, Roy and Bourque -- the latter, still with the Boston Bruins at the time -- were named to
The Hockey News
' 100 Greatest Players in 1998. From the Nordiques, Tremblay, Tardif, Goulet, Christian Bordeleau, Rich LeDuc, Serge Bernie, and Richard Brodeur (no relation to Marty) were named to the WHA All-Time Team. Bill Baker and Steve Janaszak of the 1980 U.S. Olympic team played for the Rockies before they became the Devils.
Stuff.
Altitude Athletics is located in the Grand Atrium at the arena's west end. It sells Avs, Nugs, Rapids and Mammoths merchandise -- but not the Rams or The Arsenal, as these teams are located nowhere near Denver. They may sell cowboy hats with team logos on them, to tie in with the State's Western heritage.
There are books available about the team, but, being Devils fans, you won't want to be reminded of how they plowed into the Meadowlands, off Exit 16W (as in 16 wins to get through the Playoffs), and took the Cup away from us. That story is told in the
Denver Post
's official retrospective,
Mission 16W: Colorado Avalanche: 2000-'01 Stanley Cup Champions
. Of course, Bourque is in the center of the cover, holding up the Cup, flanked by photos of Sakic and Roy.
From Claude Lemieux's unacceptable hit on Kris Draper in Game 6 of the 1996 Western Conference Finals, Detroit Red Wings fans have hated the Avs in general and Claudie in particular. They met in 5 Playoff series in 7 seasons from 1996 to 2002, and mixed in there was a regular-season nasty brawl in Detroit on March 26, 1997, in which Claudie was targeted by the Wings. Denver Post hockey writer Adrian Dater and then-Wings coach Scotty Bowman have collaborated on Blood Feud: Detroit Red Wings v. Colorado Avalanche: The Inside Story of Pro Sports' Nastiest and Best Rivalry.
Of course, the Wings' real arch-rivals are the Chicago Blackhawks, as the Hawks' 2010s renaissance has reminded everyone. Wings-Avs was like Mets-Braves, Knicks-Heat and 49ers-Cowboys, in that it was only a rivalry for a brief time, and no longer really matters, especially now that the Wings have been moved to the Eastern Conference. It's also worth noting that Claudie had a nasty reputation even before 1996. Indeed, when he was introduced before Game 1 of the 1995 Stanley Cup Finals in Detroit, no Devils player was booed harder.
The Avs haven't yet released a 20th Anniversary DVD, but highlight packages for the 1996 and 2001 Cup wins are be available. The '96 version is titled
The Colorado Avalanche Landslide
; the '01,
Mission Accomplished
(again, playing on the theme of Bourque's 22-year quest for the Cup, failing 20 times with the Boston Bruins and once for the Avs before finally doing it).
During the Game.
A November 19, 2014 article on The Hockey News' website
ranked the NHL teams' fan bases, and listed the Avalanche's fans 27th, ahead of only Columbus, Dallas and Arizona: "Long way from 1990s heyday. Avs 3rd in standings, 23rd in attendance last year." Meaning the 2013-14 season. But in 2015-16, they were 19th, with their arena averaging 97 percent full. Maybe they should rethink their "metrics" for deciding these things.
Coloradans love their sports, but they're not known as antagonistic. Although the Jets came within a half of derailing a Bronco Super Bowl in 1999 (1998 season), and the Devils came within a game of short-circuiting their Stanley Cup run in 2001, the people of the Centennial State don't have an ingrained hatred of New Yorkers. As long as you don't wear Kansas City Chiefs or Oakland Raiders gear, you'll probably be completely safe. (But, as always, watch out for obnoxious drunks, who know no State Lines.)
Jake Schroeder is the Avs' regular National Anthem singer. The Avs take the ice to "Scalped," an old surf-rock instrumental by Dick Dale. (Shouldn't the L.A. Kings use a surf-rock song? I guess nobody ever thought to invent "ski-rock.") Their goal song is "Born to Rage" by the Swedish DJ duo Dada Life. (From ABBA to Ace of Base to Dada Life, Sweden has never learned how to make good music.) If the Avs win, they'll play "Takin' Care of Business" by Bachman-Turner Overdrive.
Sometimes, the Avs will wear jerseys with "COLORADO" in descending diagonal block letters, much like the hated Rangers. This is an attempt to show how they might have dressed had they existed in the old days, not a "throwback" uniform, but a "fauxback."
Despite sometimes featuring a shoulder patch of a Sasquatch/Bigfoot footprint, the Avs' mascot is Bernie the St. Bernard, emblematic of rescuing people trapped in alpine avalanches. He even has a keg around his neck, although from a distance, Avs fans, trained on Broncomania, could easily mistake it for a football. His theme song is "Atomic Dog," by Plainfield, New Jersey native George Clinton and his "P-Funk Empire."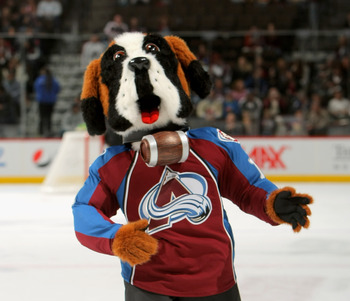 After the Game.
Denver has had crime issues, and just 3 blocks from Coors Field is Larimer Street, immortalized as a dingy, bohemian-tinged, hobo-strewn street in Jack Kerouac's novel
On the Road
. But that scene was written in 1947. The Pepsi Center is, essentially, an island in a sea of parking. LoDo (Lower Downtown) has become, with the building of Coors Field and the revitalization of Union Station, a sort of mountain Wrigleyville, and thus the go-to area for Denver nightlife. So you'll probably be safe.
Across Chopper Circle from the arena is Brooklyn's at the Pepsi Center, a typical sports bar. If you want something a little more substantial, a Panda Express is on the other side of the arena, across Elitch Circle.
LoDo is loaded with bars that will be open after the game, including Scruffy Murphy's at Larimer & 20th, and an outlet of the Fado Irish Pub chain at Wynkoop & 19th. But the only baseball-named place I can find anywhere near Coors is Sandlot Brewery, at 22nd & Blake, outside the park's right-field corner. Behind home plate, at 1930 Blake Street, is The Sports Column, hailed by a recent
Thrillist
article as the best sports bar in the State of Colorado.
Perhaps the most famous sports-themed restaurant near Denver is Elway's Cherry Creek, a steakhouse at 2500 E. 1st Avenue in the southern suburb of Cherry Creek. Bus 83L. It's owned by the same guy who owns John Elway Chevrolet in another southern suburb, Englewood.
About a mile southeast of Coors Field, at 538 E. 17th Avenue in the Uptown neighborhood (not sure why a southern, rather than northern, neighborhood is called "Uptown"), is The Tavern, home of the local New York Giants fan club. Jet fans gather at Chopper's Sports Grill, possibly named for Chopper Travaglini, at 80 S. Madison Street at Bayaud Avenue, 3 miles southeast of downtown, in the Pulaski Park neighborhood. Bus 83, then a mile's walk.
If your visit to Denver is during the European soccer season (which is now winding down), your best bet for watching your favorite club is at The Three Lions (named for the crest on the jerseys of the England national team), 2239 E. Colfax Avenue, about 2 miles east of downtown. Number 15 bus.
Sidelights.
Sports Authority Field at Mile High, formerly Invesco Field at Mile High, has been the home of the NFL's Denver Broncos since 2001. Everyone just gives it the same name as the old facility: "Mile High Stadium." It includes the Colorado Sports Hall of Fame, and the Broncos' Ring of Fame.
It was built on the site of the McNichols Sports Arena, home to the NBA's Denver Nuggets from 1975 to 1999, the NHL's Colorado Avalanche from 1995 to 1999, and the first major league team called the Colorado Rockies, the NHL team that became the Devils, from 1976 to 1982. It hosted the NCAA Final Four in 1990, with UNLV (the University of Nevada at Las Vegas) clobbering Duke. (The University of Colorado, in Boulder, made the Final Four in 1942 and 1955, although it wasn't yet called the Final Four. No other Colorado-based school has made it, and none has won a National Championship -- not in basketball, anyway.)
The Rockies they're wishing good luck are the baseball team,
not the hockey team that used to play there and became the Devils.
When the time came to play the final concert at McNichols, the act that played the first concert there was brought back: ZZ Top. This fact was mentioned on a
Monday Night Football
broadcast, leading Dan Dierdorf to note the alphabetic distinction of the long red-bearded men, and say, "The first one should have been ABBA." Which would have been possible, as they were nearly big in the U.S. at the time. However, the fact that the arena only lasted 24 years, making it not that hard for the act that played the first concert there to also play the last, says something about America's disposable culture.
The old stadium was just to the north of the new stadium/old arena. The current address is Mile High Stadium Circle, but the old intersection was W. 20th Avenue & Bryant St. (2755 W. 17th Avenue was the mailing address.) It was built in 1948 as Bears Stadium, an 18,000-seat ballpark.
When the American Football League was founded in 1960, it was expanded to 34,000 seats with the addition of outfield seating. The name was changed to Mile High Stadium in 1966, and by 1968 much of the stadium was triple-decked and seated 51,706. In 1977 – just in time for the Broncos to make their first Super Bowl run and start "Broncomania" – the former baseball park was transformed into a 76,273-seat horseshoe, whose east stands could be moved in to conform to the shape of a football field, or out to allow enough room for a regulation baseball field. The old-time ballpark had become, by the standards of the time, a modern football stadium.
The biggest complaint when the Rockies arrived in 1993 wasn't the thin air, or the condition of the stadium (despite its age, it was not falling apart), but the positioning of the lights: Great for football fans, but terrible for outfielders tracking fly balls. But it was only meant to be a temporary ballpark for the Rockies, as a condition for Denver getting a team was a baseball-only stadium. What really led to the replacement of Mile High Stadium, and its demolition in 2002, was greed: The Broncos' desire for luxury-box revenue.
At Bears/Mile High Stadium, the Broncos won AFC Championships in 1977, 1986, 1987, 1989, 1997 and 1998, winning the Super Bowl in the last 2 years after losing the first 4 in blowouts. (They've now won an AFC title at the new stadium, but not a Super Bowl.) The Denver Bears won Pennants while playing there in 1957 (as a Yankee farm team), 1971, 1976, 1977, 1981, 1983 and 1991 (winning the last one under the Denver Zephyrs name).
The U.S. national soccer team played a pair of games at Mile High Stadium in the 1990s, and beat Mexico at the new stadium in 2002 (the only game they've played there so far). While the 2008 Democratic Convention was held at the Pepsi Center, Senator Barack Obama gave his nomination acceptance speech outdoors in front of 80,000 people at New Mile High Stadium.
The Red Lion Hotel Denver and the Skybox Grill & Sports Bar are now on the site of the old stadium. At McNichols, the Nuggets reached the ABA Finals in 1976, and the Avalanche won the 1996 Stanley Cup (albeit clinching in Miami). The Denver Dynamite won the 1st ArenaBowl in 1987. and again in 1989, 1990 and 1991, before finances forced them to fold anyway.
The new stadium, and the site of the old stadium and arena, are at Mile High Station on the light rail C-Line and E-Line.
Coors Field has been home to the Rockies since it opened in 1995. This past February, it hosted 2 hockey games. The University of Denver beat arch-rival Colorado College 4-1 in a game billed as the Battle On Blake. And as part of the NHL Stadium Series, the Colorado Avalanche hosted the Detroit Red Wings, perhaps perversely celebrating the 20th Anniversary of the birth of their brief but nasty rivalry. The Wings won 5-3.
2001 Blake Street (hence the team's nickname, the Blake Street Bombers) at 20th Street, 3 blocks from Union Station, accessible by light rail.
The Nuggets, known as the Denver Rockets until 1974, played at the Denver Auditorium Arena, at 13th & Champa Streets, from their 1967 inception until McNichols opened in 1975. It was also the home of the original Nuggets, who played in various leagues from 1935 to 1948, and then in the NBA until 1950.
It opened in 1908, and its seating capacity of 12,500 made it the 2nd-largest in the country at the time, behind the version of Madison Square Garden then standing. It almost immediately hosted the Democratic National Convention that nominated William Jennings Bryan for President for the 3rd time – although it's probably just a coincidence that the Democrats waited exactly 100 years (give or take a few weeks) to go back (it's not like Obama didn't want to get it right the 1st time, as opposed 0-for-3 Bryan).
The Auditorium Arena hosted Led Zeppelin's 1st American concert on December 26, 1968. It was demolished in 1990 to make way for the Denver Performing Arts Complex, a.k.a. the Denver Center. Theatre District/Convention Center Station on the light rail's D-Line, F-Line and H-Line.
The Denver area's Major League Soccer team, the Colorado Rapids, plays at Dick's Sporting Goods Park in Commerce City. The U.S. national team has played there twice, winning both times. 6000 Victory Way. Number 48 bus to 60th Avenue & Dahlia Street, then Number 88 bus to 60th & Monaco. Then they make you walk 10 blocks on 60th to get to the stadium.
The Beatles played Red Rocks Amphitheatre in suburban Morrison on August 26, 1964. It is still in business, and a Colorado Music Hall of Fame is a short walk away. 18300 W. Alameda Parkway, 10 miles west of downtown. Sorry, no public transportation.
Elvis played 2 shows at the Denver Coliseum on April 8, 1956, and 1 each on November 17, 1970 and April 30, 1973. Built in 1951, it still stands, seating 10,500, and is best known for concerts and the National Western Stock Rodeo. 4600 Humbolt Street at E. 46th Avenue, off Interstate 70, 3 miles northeast of downtown. Apparently, no public transportation to there, either.
Denver has some renowned museums, including the Denver Museum of Nature & Science (their version of the Museum of Natural History) at 2001 Colorado Blvd. at Montview Blvd. (in City Park, Number 20 bus), and the Denver Art Museum (their version of the Metropolitan Museum of Natural History), at 100 W. 14th Avenue Parkway at Colfax Avenue (across I-25 from Mile High Stadium, Auraria West station on the C-Line and E-Line).
Denver's history only goes back to a gold rush in 1859 – not to be confused with the 1849 one that turned San Francisco from a Spanish Catholic mission into the first modern city in the American West. The city isn't exactly loaded with history.
There's no Presidential Library – although Mamie Doud, the eventual Mrs. Dwight D. Eisenhower, grew up there, and her house is now a historic site. Mamie and "Ike" were married there, their son John (a future General, Ambassador and military historian) was born there, and the Eisenhowers were staying there when Ike had his heart attack in 1955. The house is still in private ownership, and is not open to the public. However, if you're a history buff, or if you just like Ike, and want to see it, it's at 750 Lafayette Street, at 8th Avenue. The Number 6 bus will get you to 6th & Lafayette.
After his heart attack, Ike was treated at Fitzsimmons Army Medical Center in nearby Aurora, 12 years after Senator John Kerry, nearly elected President in 2004 and now Secretary of State, was born there. It's not a Presidential Birthplace, because Kerry narrowly lost. It is now the University of Colorado Hospital. The Fitzsimmons Golf Course is across Montview Boulevard – it figures that Ike would be hospitalized next to a golf course! 16th Avenue & Quentin Street. Number 20 bus from downtown.
The University of Denver's Newman Center for the Performing Arts hosted a 2012 Presidential Debate between Barack Obama and Mitt Romney. 2344 East Iliff Avenue, about 5 miles south of downtown. H Line light rail to University of Denver Station.
Denver doesn't have as many tall buildings as the nation's bigger cities, nor are they as interesting, architecturally. The tallest building in the State of Colorado is Republic Plaza, 714 feet high, at 17th Street & Tremont Place downtown.
The University of Colorado is in Boulder, 30 miles to the northwest. At Market Street Station, 16th & Market, take the BV Bus to the Boulder Transit Center, which is on campus. The ride should take about an hour and 20 minutes. Colorado State University is in Fort Collins, 65 miles up Interstate 25 north, and forget about reaching it by public transportation. The U.S. Air Force Academy is outside Colorado Springs, 60 miles down I-25. As with Fort Collins, you'd need Greyhound. Unlike CSU, you might not be able to just go there: Some of the area is restricted. It is, after all, a military base.
A few TV shows have been set in Denver, but you won't find their filming locations there. The old-time Western
Whispering Smith
and the more recent one
Dr. Quinn, Medicine Woman
were set in old Colorado, but filmed in Southern California.
Probably the most famous show set in Colorado is
South Park
, and that's a cartoon, so forget seeing anything from that. Not quite as cartoonish was
Mork & Mindy
, set in Boulder. The McConnell house actually is in Boulder, at 1619 Pine Street. But don't try to copy the opening-sequence scene with Robin Williams and Pam Dawber on the goalposts at the University of Colorado's Folsom Field. You could fall, and end up saying, "Shazbot!"
The most famous show
ever
set in Colorado was
Dynasty
, ABC's Excessive Eighties counterpart to CBS'
Dallas
, starring John Forsythe as Blake Carrington, an oilman and a thinly-veiled version of Marvin Davis, who nearly bought the Oakland Athletics from Charlie Finley in 1978 with the idea of moving them to Mile High Stadium, but the deal fell through. Right, you don't care about Blake, all you care about is the catfights between the 2nd and 1st Mrs. Carrington's: Krystle (Linda Evans) and Alexis (Joan Collins). The Carrington mansion seen in the opening credits is in Beverly Hills, but the building that stood in for the headquarters of Denver Carrington is at 621 17th Street, while the one that stood in for Colbyco is at 1801 California Street.
Movies set in Denver or its suburbs include
The Unsinkable Molly Brown
, the original
Red Dawn
, and, of course,
Things to Do In Denver When You're Dead
. Films involving skiing often take place in Colorado towns such as Aspen or Vail.
City Slickers
, a film with loads of baseball references, has a cattle drive that ends in Colorado, but there's no indication of how close it is to Denver.
Flashback
takes place on the Pacific Coast, but Denver's Union Station stands in for a train station in San Francisco.
*
The Colorado Avalanche arrived in Denver 20 seasons ago, ready to challenge for the Stanley Cup, and, with a couple of roster tweaks, won it. They stayed strong, won another Cup, fell, and have risen again. Their history isn't long, but it's already deep. Not unlike the Devils.