As I type this, the NFC Championship Game is being played in Charlotte, between the Carolina Panthers and the Arizona Cardinals.
The AFC Championship Game was won by the Denver Broncos over the New England Patriots. This time, the cheating didn't work. The Broncos will face the Panthers-Cards winner in Super Bowl 50 in 2 weeks, at Levi's Stadium outside San Jose.
Neither the Giants nor the Jets played away to Carolina this season, but this is as good a time as any to do this trip guide.
Before You Go.
Being in the South, it's going to be warmer in Charlotte than in New York. If the game is in September it could be very hot. October, probably not. November or December, prepare as you would for an October football game at the Meadowlands. Check the website of the
The Charlotte Observer
, the Carolinas' largest newspaper, after you order your tickets.
Charlotte is in the Eastern Time Zone, so you won't have to fiddle with your timepieces. It is in North Carolina, a former Confederate State, but you won't need your passport or to change your money.
Tickets.
The Panthers averaged 74,056 fans per game last season. That's close to a sellout, so your chances of getting a ticket improve the earlier you order.
To make matters worse, most of the seats were bought up when the stadium opened in 1996, and have been renewed every year, through personal seat licenses (or, as they call them, Permanent Seat Licenses, still abbreviated to PSL). According to their website:
A limited number of single-game tickets to each of the Carolina Panthers home games for the 2016 season will go on sale later this summer. You can guarantee your seats for each home game without the hassle of buying single-game tickets each year through the purchase of a Permanent Seat License (PSL).
They recommend ordering their the NFL Ticket Exchange, powered by Ticketmaster, the official resale marketplace of the NFL.
Getting There.
It's 634 miles from Times Square in New York to downtown Charlotte. It's in that tricky range: A bit too close to fly, a bit too far to go any other way.
If you're going to drive, take the New Jersey Turnpike/I-95 all the way from New Jersey to Petersburg, Virginia. Exit 51 will put you on I-85 South, and that will take you right into Charlotte.
You'll be in New Jersey for about an hour and a half, Delaware for 20 minutes, Maryland for 2 hours, inside the Capital Beltway (Maryland, District of Columbia and Virginia) for half an hour if you're lucky (and don't make a rest stop anywhere near D.C.), Virginia for 3 hours, and North Carolina for 4 hours. Throw in traffic at each end, rest stops, preferably in Delaware, near Richmond and near Raleigh, and it'll be close to 14 hours.
Greyhound has 7 buses a day leaving from Port Authority to Charlotte, but only 2 of them are no-changeover routes. It costs as much as $130 round-trip (though it can be as low as $53 on advanced purchase). The station is at 601 W. Trade Street, 9 blocks west of the arena.
Amtrak's New York-to-New Orleans train, the Crescent, leaves Penn Station at 2:15 PM and arrives in Charlotte at 2:20 the next morning. And their other option, the Carolinian, leaves New York at 7:05 AM and arrives at 8:12 PM. The Carolinian leaves the next morning at 7:00 and arrives at 8:47 PM, while the Crescent leaves at 1:46 AM and arrives at 1:46 PM. Round-trip fare is $257. The station is at 1914 N. Tryon Street, a mile and a half north of downtown. Take the Number 11 bus in.
Perhaps the best way to get from New York to Charlotte is by plane. After all, lots of routes change planes at Charlotte Douglas International Airport (named for Ben E. Douglas Sr., the 1st directly-elected Mayor). And a round-trip fare can be had for just $255. That's right, flying is cheaper than Amtrak. The airport is 8 miles west of downtown, and the Number 5 bus can get you downtown in about 25 minutes.
Once In the City.
Although both North Carolina and South Carolina were named for the King of England at the time of their initial settlements, King Charles I, Charlotte was named for a Queen, the wife of King George III. For this reason, the city is known as the Queen City of the Southeast. (Cincinnati is the Queen City of the Midwest, and Seattle the Queen City of the Northwest.)
Founded in 1755, Charlotte is one of the fastest-growing metropolitan areas in the country, with a city population of about 840,000, making it the largest city in the Carolinas and the 5th-largest city in the South (the 2nd-largest behind Jacksonville if you don't count Texas), and a metropolitan area population of about 2.5 million, ranking it 24th among the 32 NFL markets.
The street grid isn't north-south-east-west, at least not geographically. Rather, it's on a diagonal. However, Trade Street separates street addresses from north and south, and Tryon Street separates them from east and west. Their centerpoint intersection is sometimes known as "Trade & Tryon," "Independence Square" or just "The Square." Interstate 485 serves as a beltway.
The Charlotte Area Transportation System (CATS) runs buses, the LYNX Blue Line light rail system, and the CityLYNX Gold Line streetcar service. The fare is $2.20.
LYNX Blue Line
The sales tax in North Carolina is 4.75 percent, but it rises to 7.25 percent in Charlotte. ZIP Codes for Charlotte start with the digits 280, 281 and 282. The Area Code is 704, overlaid with 980.
Going In.
The official address of Bank of America Stadium is 800 S. Mint Street, at Graham Street. The nearest stop on LYNX is Stonewall, 4 blocks away. Most likely, you'll be going in through the arena's north or east gates.
If you drive in, parking can be had for as little as $5.00. This being the South, tailgating is encouraged,
with some suggestions
. Many fans set up tents like at college games, which is what the Carolinas had to go on until 1995: UNC, Duke, N.C. State and Wake Forest in the North; USC (only Carolinians use those initials for anything other than the Los Angeles school) and Clemson in the South. If you want to tailgate, reserve a spot online in advance.
The stadium opened in 1996, and was named Carolinas Stadium in the planning stage and Ericsson Stadium until 2004. The Panthers and the stadium have been owned since their inception by Jerry Richardson, a wide receiver on the Baltimore Colts' 1959 (but not 1958) NFL Championship team. He is thus only the 2nd former NFL player to be the controlling owner of an NFL team, the 1st being league and Chicago Bears founder George Halas. He turns 80 this year, and both of his sons stepped away from their roles in the team (and one has since died), so it's been reported that he wants the team sold to a buyer who will keep the team in Charlotte.
The field is natural grass, and is aligned east-to-west -- or, more precisely from a literal geographic standpoint, northwest-to-southeast.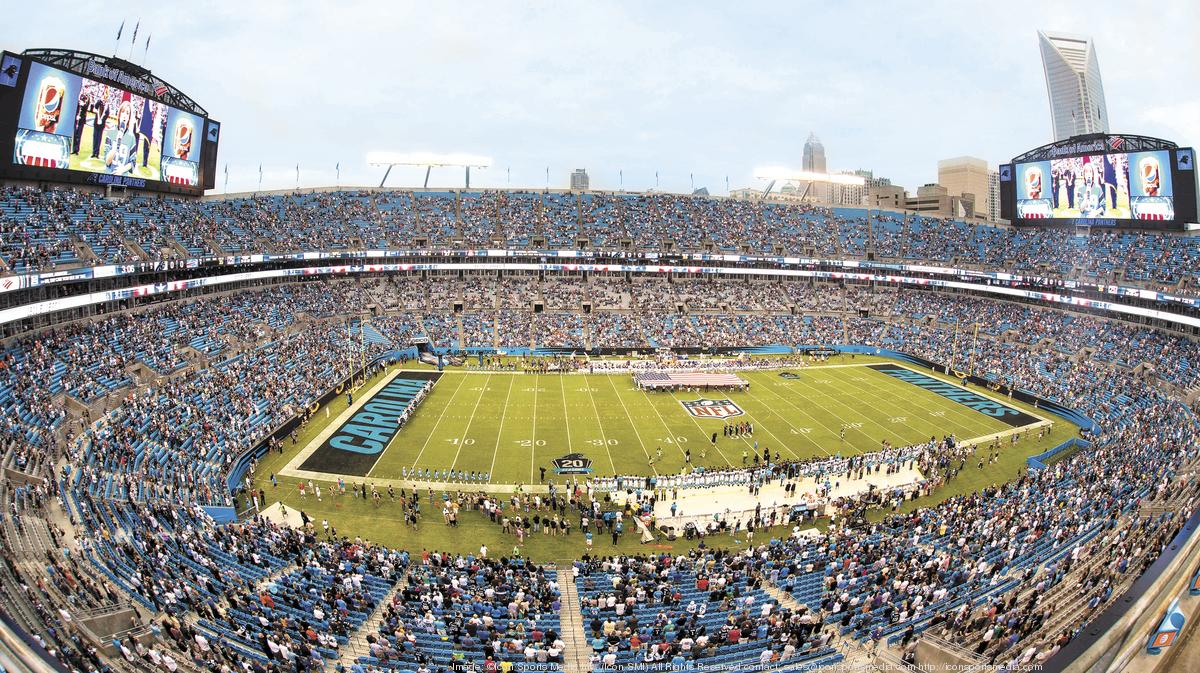 The stadium has hosted the Atlantic Coast Conference Championship Game since 2010, understandable given Charlotte's size and centralized location within the league. The city usually also hosts the ACC's basketball tournament. Since 2002, it has hosted the Belk Bowl. Five times, East Carolina University has played home games there. The North Carolina-North Carolina State game was played there in 1998 and 1999, and North Carolina and South Carolina opened their 2015 seasons there.
When the Democratic Convention was held in Charlotte in 2012, the Party was considering moving the acceptance speeches of President Obama and Vice President Biden outdoors to the stadium, as had been done in Denver in 2008, but a rainy forecast put the kibosh on that, and so they stayed indoors at the Time Warner Cable Arena.
The amenities and convenience at BoA are top-notch. HD video boards, ribbon boards, a brain-jostling sound system make the field a real show, while escalator bays, tons of Carolina barbecue, fantastic sight lines, and sturdy Wi-Fi make a day there plain ol' pleasant. You can see the action from anywhere in the stadium, with an open-air view further heightened by a skyline backdrop that lights up to coincide with the scoreboard. It's a refreshing reminder that you're still in the city center, with post-game options galore for 75,000 sore-throated fans. Just plan to arrive early if tailgating is on your schedule; the address puts parking lots at a premium.
Food.
This is the South, tailgate party country, and North Carolina is among the places in this country particularly known for good barbecue. And while the NBA's Hornets are a little vague on details of their concessions, the Panthers have apparently figured out that football fans care about food, and they've gone to the other extreme: Very, very detailed. So much so that I decided to just post
the link
. Enjoy. (Yes, lots of barbecue.)
Team History Displays.
The Panthers haven't yet won a Super Bowl (though, at this writing, they're 2 wins away), but they came very close in 2004 (and the New England Patriots may have had to cheat to beat them).
They've got a decent record in their relatively brief history, having made the Playoffs 7 times in their 21 seasons (1 out of every 3). They won the NFC Western Division in 1996, only their 2nd season of operation, and got to the NFC Championship Game. Since realignment, they've won the NFC South in 2003, 2008, 2013, 2014 and 2015. They reached Super Bowl XXXVIII (the longest Roman numeral in Super Bowl history) in the 2003-04 season, and another NFC Championship Game in 2005-06. Now, they're in it for a 4th time -- 1 out of every 7 seasons, not bad at all. In spite of this, there are no notations for these achievements at the stadium. Maybe if they win Super Bowl 50, they'll put up a display.
Nor do they have any officially retired numbers, although the 51 of the late Sam Mills, who played and coached for them (and graduated from New Jersey's Long Branch High School and Montclair State University), is not currently being worn. He and former team executive Mike McCormack are the only men yet inducted into the Carolina Panthers Hal of Honor, and they are honored with life-sized bronze statues outside the stadium.
The McCormack and Mills statues
The only Panthers personnel yet elected to the Pro Football Hall of Fame have been McCormack; Reggie White, who played his final season with the team; and Bill Polian, the team's 1st general manager. However, all were elected mainly for what they did with other teams: McCormack for playing as an offensive tackle with the 1950s Cleveland Browns; White, as a defensive end for the 1980s Philadelphia Eagles and the 1990s Green Bay Packers; and Polian as the GM for the 1990s Buffalo Bills and the 2000s Indianapolis Colts.
Stuff.
The Carolina Panthers Team Store is on the ground floor of the stadium, at the east corner at Mint & Graham Streets. It has the usual team-related doodads available.
As 1 of the NFL's 4 newest teams, and without a Super Bowl win, the Panthers don't have many books written about them. In 1996, Joe Menzer and Bob Condor wrote The Carolina Panthers: The First Season of the Most Successful Expansion Team in NFL History. (Jet fans may remember that the Panthers got their 1st-ever win thanks to some horrible playing by then-Jet quarterback Bubby Brister.) In the leadup to this year's Playoffs, the quickie book Fifteen and 1: An Unofficial and Unfiltered History of Professional Football in Carolina was published by Phil Blattenberger and Brad Mills (no relation to the baseball player and manager of the same name, or to Sam Mills), but if the Panthers do finish the job, they'll need a rewrite.
The DVD Panther Nation: The New Cats of the Carolinas came out in 2010. If the Panthers do win the Super Bowl, there will surely be a commemorative DVD of that before long, and possibly for the entire season.
During the Game.
Unless you're going to a basketball game between Duke University and the University of North Carolina -- especially at Duke -- North Carolina fans, in any sport, don't have a rough reputation. The built-in geographical rivalry between Carolina and the Atlanta Falcons has never really developed. Nor has one developed between the Panthers and the other NFC South teams, the New Orleans Saints and the Tampa Bay Buccaneers. Nor between them and the team that, not that long ago, had a hammerlock on North Carolina's fans, the Washington Redskins. (The Falcons pretty much had South Carolina's.) Your safety is unlikely to be an issue.
UPDATE:
From September 1 to 7, 2017, during the NFL National Anthem protest controversy,
FiveThirtyEight.com
polled fans of the 32 NFL teams, to see where they leaned politically. Despite the natural conservative of the South, including both Carolinas, Panther fans were founded to be 1.2 percent more liberal than conservative, although this still placed them in the top 1/3rd most conservative of fan bases.
The Panthers hold auditions for singing the National Anthem, rather than having a regular singer.
They have cheerleaders, named the Carolina Top Cats. Their mascot is a black panther named Sir Purr, who wears a paw print on the front of his jersey and the Number 00 on the back. The team doesn't have a band, but they do have a drumline called PurrCussion that performs outside the stadium before games and inside during them.
Sirr Purr and some Carolina Top Cats
Just before the 2003 season, Mills, then the team's linebackers' coach, was diagnosed with cancer. He stayed with the team, and before their 1st Playoff game, against the Dallas Cowboys, he gave them a pregame speech:
When I found out I had cancer, there are two things I could have done. Quit and died or keep pounding. I'm a fighter. I kept pounding. You're all fighters too. So keep pounding! Keep pounding on offense! Keep pounding on defense! Keep pounding on special teams! Keep pounding on every single play!
The Panthers won, and, ever since, "Keep Pounding!" has been the team's motto and their fans' main
chant. Mills lived for another year.
In 2012, the Panthers introduced the Keep Pounding Drum. Prior to each home game, an honorary drummer hits the 6-foot tall drum 4 times. According to the team, the drummers "come from a variety of backgrounds and occupations, but all have overcome a great trial or adversity that has not only made them strong but also them to make others around them stronger." Drummers have included current and former Panthers players, military veterans,
Make-A-Wish
children, and athletes from other sports, including Stephen Curry of the defending NBA Champion Golden State Warriors, who was born in Charlotte while his father, Dell Curry, played for the Hornets.
Like Atlanta, Miami, Dallas and Phoenix, Charlotte has a lot of transplants. As a result, there often seems to be a strong visiting team presence in the stands. And

Pat Yasinskas of

ESPN.com

observed that there is "a bit of a wine-and-cheese atmosphere at Panthers games." Don't let that fool you: The Panthers are easily the most popular professional sports team in the Carolinas region, well ahead of the Hornets, the Hurricanes or any of the minor-league baseball teams.
North Carolina may be basketball country, but the South is football country, and especially with the South Carolina influence (Jerry Richardson's restaurant empire is based in Spartanburg and the team played its 1st season, 1995, at Clemson University while waiting for the Charlotte stadium to be built), there is a lot of energy at Panthers games.
"Stand and Cheer" was a fight song written at the team's inception. Unfortunately, they also tend to play Neil Diamond's song "Sweet Caroline," which, since many of you will be Yankee Fans and consider it ruined by the Boston Red Sox, may not like. Hey, Panthers organization: It's "Caroline," guys, not "Sweet Carolina." Then again, "Carolina In My Mind" by James Taylor isn't exactly a rousing tune.
After the Game.
Charlotte is not notorious for having a crime problem. It's still a city, so you should be aware of the possibility. But, most likely, you will be safe, and if you drove in, so will your car.
There are several restaurants within a short walk of the stadium, but finding one with an obvious sports connection in the name might be hard. Draught is a bar at 601 S. Cedar Street, accessible by a pedestrian overpass over the railroad on the stadium's northwest side. A Mellow Mushroom is at 255 W. Martin Luther King Jr. Blvd., 4 blocks from the stadium, closer to the new minor-league ballpark. Lebowski's Neighborhood Grill was rated by Yelpers as Charlotte's best sports bar, but it's at 1524 East Blvd., over 2 miles from the stadium, and not reachable by the LYNX system. And I can't find a reference to any bar in the Charlotte area that is home to a local fan club for any New York team.
If your visit to Charlotte is during the European soccer season, as we are now in, your best bet to watch your club play is at Ri Ra, 208 N. Tryon Street, downtown. Another possibility is the Valhalla Pub & Eatery, at 317 S. Church St., 4 blocks from the Panthers' stadium and 6 blocks from the Hornets' arena. However, it's a Liverpool bar, so it's a question of how you feel about Scousers, real and pretended.
Sidelights.
Charlotte's sports history, at least as far as the major league level is concerned, is not very long, having only gotten their 1st team that could remotely be considered major league.
UPDATE:
On February 3, 2017, Thrillist made a list ranking the 30 NFL cities
(New York and Los Angeles each having 2 teams), and Charlotte finished 28th, 3rd from the bottom.
* Time Warner Cable Arena. Built in 2005 as the home of the expansion Charlotte Bobcats, who have now reclaimed the Hornets name from the team that moved to New Orleans in 2002, this arena is 11 blocks from the stadium, at 333 E. Trade Street, at Brevard Street. CTC/Arena stop on LYNX.
UPDATE: Later in 2016, Time Warner sold Time Warner Cable, and the new company renamed it Spectrum, and renamed the Charlotte arena the Spectrum Center. Not to be confused with the former Philadelphia arena, The Spectrum.
* American Legion Memorial Stadium. It doesn't look like much, just a concrete horseshoe seating 21,000 people. But this relic is the city's leading high school football stadium, and, in 1974 and '75, it was the home of the city's 1st pro football team, the World Football League version of the Charlotte Hornets.
Despite its age (it opened in 1936), it still hosts high school sports, and the Charlotte Hounds of Major League Lacrosse. 310 N. Kings Drive at Armory Drive. Number 27 bus from downtown.
* Bojangles' Coliseum. Previously known as the original Charlotte Coliseum, the Independence Arena and the Cricket Arena, this arena went up in 1955, and is now named after the Charlotte-based fast-food fried chicken franchise. When it opened, it had the world's largest dome, but it didn't hold that title for long.
This Coliseum was the home base of the Carolinas' 1st team that could have been called "major league": The Carolina Cougars of the American Basketball Association, from 1969 to 1974. At the time, none of the Carolinas' cities were large enough to support a team by itself so, management used several home courts, including this one, Reynolds Coliseum in Raleigh, and the Winston-Salem Memorial Coliseum. This path would be followed by the ABA's Virginia Squires (Norfolk, Hampton, Richmond and Roanoke) and Texas Chaparrals (the forerunners of the San Antonio Spurs played in Dallas, Fort Worth and Lubbock).
In 1973, with Larry Brown in his 1st season as a head coach anywhere, the Cougars, led by Billy Cunningham, Joe Caldwell, Gene Littles, Roger Brown and Steve "Snapper" Jones, lost the ABA Finals to the Indiana Pacers. Despite some success on the court and at the box office -- both rare for ABA teams -- it was thought that a "regional franchise" could not succeed in the NBA, with whom merger talks were ongoing, so the team was moved to what was then a larger market, St. Louis. On occasion, the Hornets will wearing Cougars "throwback" uniforms.
The Charlotte Checkers brought minor-league hockey there in 1956, left in 1977, returned in 1993, left for the larger new Bobcats (Time Warner Cable) Arena in 2005, and this fall they returned, and are now the major tenant in the Carolinas' 1st major sports building. Elvis Presley sang there on June 26, 1956, April 13, 1972, March 9, 1974, March 20, 1976, and February 20 and 21, 1977. (The Beatles never performed in the Carolinas.)
2700 E. Independence Blvd. Number 27 bus to Chipley Avenue, then walk 3 blocks up Chipley.
* Site of Charlotte Coliseum. When "The Hive" (a nickname now transferred to the new arena) opened in 1988, it seated just under 23,000, making it the largest arena in the NBA. (The Detroit Pistons played many years at the Silverdome and the Seattle SuperSonics many home games at the Kingdome, but neither was meant to be a regular basketball facility.) And the Hornets filled it, getting 364 consecutive home sellouts -- just under 9 full seasons.
Founding owner George Shinn -- whose son Chris Shinn is lead singer of the rock band Live -- moved the team to New Orleans in 2002, because he thought he could no longer live in the Carolinas due to the local anger over his sex scandals, as fans stopped going to games, just to spite him. He ended up selling the team in 2010, and it shouldn't surprise anyone that the Hornets name wasn't given to the replacement team until after that. He also owned the Charlotte Knights baseball team, and the Raleigh-Durham Skyhawks of the short-lived World League of American Football. (Playing at N.C. State's stadium, they've been called the worst team in pro football history.) He also tried and failed to get an NHL expansion team for the Norfolk area in 1997.
The NCAA Final Four was held there in 1994, with Arkansas overcoming Duke's "home-court advantage." (The only other Final Four to be held in the Carolinas was in 1974, at the Greensboro Coliseum, and visiting Marquette wasn't so lucky, losing to North Carolina State.) The WNBA's Charlotte Sting played home games there, and it was used for the basketball-themed films
Eddie, He Got Game
and
Juwanna Mann
.
A new arena, downtown (as the Coliseum and the Coliseum before it most definitely were not) with better luxury boxes, was seen as a prerequisite for getting a replacement franchise, and so the Bobcats only played their 1st season there, 2004-05. Ironically, considering where the old Hornets ended up, the Coliseum's last major use was as a refugee center for people made homeless by Hurricane Katrina's near-destruction of New Orleans in 2005.
It was demolished in 2007 -- after only 19 years, a disgraceful waste, but Camden Yards really did change the game in 1992 when it came to stadium and arena construction -- and mixed-use development is currently under construction on the site.
100 Paul Buck Blvd. Number 501 bus to Tyvola Station, then transfer to Number 60 bus to N. Falls Drive, then walk up Tyvola Parkway and Yorkmont Road. The street leading to the arena site is still named Hive Drive.
* Charlotte ballparks. The original Charlotte Hornets were a minor-league baseball team, on and off from 1892 to 1973. Prior to the building of their most familiar ballpark, they won Pennants in their various leagues in 1902, 1916, 1923, 1931 and 1938.
From 1937 to 1972, they were owned by the Griffith family as a farm team of the Washington Senators/Minnesota Twins franchise. In 1940, they opened a new ballpark, named Griffith Park after team owner Clark Griffith. When he died in 1955, his nephew Calvin Griffith inherited the franchise. He wasn't willing to stick his own name on the Senators' D.C. ballpark, but renamed the Charlotte facility Calvin Griffith Park. At this stadium, they won Tri-State League Pennants in 1946, 1947 and 1952; the South Atlantic League Pennant in 1957; and the Southern League Pennant in 1969 and 1971.
Founded in 1976 as a Class AA team, the Charlotte Knights have been a Class AAA team since 1993, and a Chicago White Sox farm team since 1990. They played at Griffith Park, renamed Jim Crockett Sr. Park, after the new owner, and won SL Pennants in 1980 and 1984, before the park burned down in 1985 -- due to arson, although not an insurance scam. George Shinn bought the team in 1987, and moved them after the 1989 season.
400 Magnolia Avenue, in the Dilworth section of the city, about 2 miles south of downtown. Number 10 bus to East Blvd., then a half-mile walk down South Blvd. and Magnolia.
Shinn built Knights Castle, later renamed Knights Stadium across the State Line, 16 miles south of downtown Charlotte. A stadium seating 10,002, it was intended to showcase the Charlotte area as a future site for a Major League Baseball team, either expansion or moved. And the Knights did do well there, getting as many as 15,427 fans for a 2007 game with the Durham Bulls. They won International League Pennants there in 1993 and 1999, and a Division title as recently as 2012.
In 1990, MLB chose Charlotte as 1 of the 10 Semifinalists for the 2 new teams they wanted for the 1993 season. But, in spite of a decent ballpark by Triple-A standards and a growing fanbase, MLB did not choose Charlotte as 1 of the 6 finalists, also eliminating Nashville, Phoenix and Sacramento. In mid-1991, they rejected Buffalo, Orlando, Tampa Bay and Washington, and chose Denver and Miami. Charlotte did not even submit an application in 1994 for the 1998 expansion that went to Phoenix and Tampa Bay.
Knights Stadium closed after the 2013 season, and will soon be demolished. 2280 Deerfield Drive, Fort Mill, South Carolina. Not reachable by public transportation, unless you want to take a train to a bus and then walk 4 miles from the closest bus stop.
BB&T Ballpark (named for a bank) opened in 2014. It seats 10,200, slightly more than Knights Stadium, and has a nice view of downtown Charlotte, which is actually called Uptown. However, there is no room to expand it to 35,000 or more seats, as a major league ballpark would need, so, despite the inabilities of the Tampa Bay Rays and Oakland Athletics to get new ballparks thus far, the new Uptown Charlotte ballpark pretty much eliminates the Carolinas from future contention, unless MLB expands again in the next few years. 324 South Mint Street at W. Martin Luther King Jr. Blvd., 2 blocks north of the Panthers' stadium.
According to
an April 23, 2014 article in The New York Times
, the Yankees are actually the most popular MLB team in Charlotte, a little bit ahead of the Atlanta Braves, the closest team at 246 miles away. (The Washington Nationals are the next-closest, 402 miles.) The closest NHL team is the Carolina Hurricanes, 160 miles away.
Due to population as much as to the size of the ballpark, I wouldn't count on Charlotte getting an ML team anytime soon: It would rank 28th among MLB markets. And, unless the 'Canes want to become a "regional team," as was experimented with in pro basketball in the 1970s and '80s (most recently with the Boston Celtics in Hartford in 1995), Charlotte won't get an NHL team either, as they'd rank 22nd -- 3 places ahead of where Raleigh is now. Combining the 2 markets would jump it to 15th, but the logistics of alternating between Charlotte and Raleigh would make the move too risky.
The U.S. national soccer team has never played a game in Charlotte. There have been 6 such games played in North Carolina: 3 in High Point, and 1 each in Greensboro, Cary and Davidson. The Charlotte Independence play in the United Soccer League, the 3rd tier of American soccer. Their home field is a 4,300-seat stadium at Ramblewood Soccer Complex. 10200 Nations Ford Road, about 10 miles south of downtown, near the Carolina State Line. Public transportation is probably not worth it.
Until Atlanta United begins play (243 miles away) in the Spring of 2017, the closest Major League Soccer team will remain D.C. United, 404 miles away in Washington.
UPDATE: In 2017, the Western New York Flash of the National Women's Soccer League moved, and became the North Carolina Courage. WakeMed Soccer Park, 201 Soccer Park Drive in Cary, 8 miles west of downtown Raleigh. Bus 300.
Auto racing is
not
a sport. But, if you think it is, the NASCAR Hall of Fame is at Brevard & Stonewall Streets. Stonewall station on LYNX.
Charlotte has the University of North Carolina at Charlotte as a "mid-major" college basketball team, but in terms of college football, here's the distances to the closest Football Bowl Subdivision (formerly "Division I-A") teams: Wake Forest 82 miles, South Carolina 99, Clemson 139, University of North Carolina 140, Duke 141, North Carolina State 160, Virginia Tech 173, University of Tennessee 231, and East Carolina 247. (Wake Forest's Wait Chapel hosted Presidential Debates in 1988, between George H.W. Bush and Michael Dukakis, and in 2000, between George W. Bush and Al Gore.)
In addition to the old Charlotte Coliseum in 1956, Elvis Presley sang in Charlotte earlier in the year, doing (believe it) 4 shows at the Carolina Theater on February 10, 1956: 2:30, 4:30, 7:00 and 9:00. 224 N. Tryon Street, downtown.
In addition to Charlotte -- Raleigh, which I've covered in my guide for the Hurricanes -- Elvis sang at the following North Carolina locations: In New Bern, at the Shrine Auditorium in New Bern on May 14 and September 13, 1955; in Asheville, at the City Auditorium on May 17 and September 16, 1955, and at the Asheville Civic Center on July 22, 23 and 24, 1975; in Thomasville at the High School Auditorium on September 17, 1955; in Wilson at Fleming Stadium on September 14, 1955, and 3 shows at the Charles L. Coon Auditorium on February 14, 1956; in Greensboro, 4 shows in 1 day at the National Theater on February 6, 1956, and at the Greensboro Coliseum on April 14, 1972; March 13, 1974; July 21, 1975; June 30, 1976; and April 21, 1977; in High Point, 4 shows in 1 day at the Convention Center on February 7, 1956; in Williams, at the High School Auditorium on February 15, 1956; in Winston-Salem, 3 shows in 1 day at the Carolina Theater on February 16, 1956; in Lexington, at the YMCA Gym on March 21, 1956; and in Fayetteville, at the Cumberland County Memorial Arena in Fayetteville on August 3, 4 and 5, 1976.
If you're paying attention, you saw that he did 4 shows in 1 day on February 6, 7, 8 and 10, 1956. That's 16 shows in a span of 5 days. He was 21. It was easier to do that than to do 2 in 1 day when he was packing on the pounds in his early 40s in 1975, '76 and '77.
Charlotte features some downtown museums. The Levine Museum of the New South is about Southern life since the American Civil War, and it doesn't shy away from racial issues. 200 E. 7th Street at College Street. Discovery Place, a child-oriented science museum, is 2 blocks away at 301 N. Tryon Street at 6th Street.
Bechtler Museum of Modern Art is at 420 S. Tryon Street at 1st Street. The Mint Museum Uptown is not, as its name might suggest, a museum dedicated to money. Rather, it's a former mint converted into an art museum. 500 S. Tryon Street, across 1st Street from the Bechtler Museum.
Bank of America Corporate Center, at 871 feet, is not only the tallest building in town and the tallest in the Carolinas, but the tallest building between Philadelphia and Atlanta. 100 N. Tryon Street at 5th Street.
Charlotte has never produced a President. The Carolinas have produced 3. No one is precisely sure where Andrew Jackson was born -- not even whether it happened in North or South Carolina, only that it was in the Waxhaw region along the State Line. He was the 1st President born in a log cabin, but that cabin is long-gone. Andrew Jackson State Park, at 196 Andrew Jackson Park Road in Lancaster, South Carolina, is considered the likeliest place. It's about 33 miles south of Charlotte, and not reachable by public transportation.
James K. Polk State Historical Site is in Pineville, which, like Charlotte, is in Mecklenburg County, North Carolina. It's about 12 miles south, at 12031 Lancaster Highway. It's easier to reach without a car: The Number 20 bus can get you to within half a mile.
Andrew Johnson was born in the State capital of Raleigh, 167 miles to the northeast. His birthplace was a log cabin (which didn't help him as much as it helped Jackson, or Johnson's immediate predecessor, Abraham Lincoln) on the grounds of Casso's Inn, where his father worked, at Morgan Street and Fayetteville Street, across from the State House. It was moved to Mordecai Historic Park at 1 Mimosa Street, a mile north of downtown. Number 1 Bus.
All 3 Carolina-born Presidents have their main historical sites in Tennessee: Polk is buried on the State House grounds in Nashville; Jackson's home, The Hermitage, is in the Nashville suburbs; and Johnson's Museum is in Greeneville.
Yankee Legend Jim "Catfish" Hunter was from Hertford, North Carolina, 315 miles east of Charlotte, in the coastal Inner Banks region, and is buried in Cedarwood Cemetery there, on Hyde Park Road. Another major baseball legend, though not a New York one, Willie Stargell, is buried at Oleander Memorial Gardens, at 306 Bradley Drive, in Wilmington, 206 miles east of Charlotte. (Wilmington is also the hometown of Michael Jordan and TV journalist David Brinkley.) And, considerably closer to Charlotte, about 25 miles north, football legend Reggie White is buried at Glenwood Memorial Park in Mooresville.
A few TV shows have been filmed in North Carolina, most notably
Dawson's Creek
in Wilmington.
The Andy Griffith Show
, of course, was set in the fictional North Carolina town of Mayberry and based on Griffith's hometown of Mount Airy, but was filmed in Southern California.
Shows set in Charlotte are few and far between. Currently,
The Carmichael Show
, based on the standup comedy of Jerrod Carmichael, is airing on NBC.
Homeland
has had scenes shot in Charlotte. Scenes from the
Hunger Games
films, whose "District 12" includes the Carolinas, have been shot in Charlotte.
*
Charlotte had no major league sports teams as recently as the Summer of 1988. By the Fall of 1996, it had the NBA and the NFL, and MLB in the future is not yet out of the question.
It's true that North Carolina prefers college basketball over all sports. But a Giants vs. Panthers or Jets vs. Panthers game could be a fun experience -- especially if there's added energy from having won Super Bowl 50 (and, as I type this, it looks like they're going to at least get into it).