Why would you want to go to Arizona? Well, if you're a New Jersey Devils fan, they're playing the Arizona Coyotes (formerly the Phoenix Coyotes, and before that the original Winnipeg Jets) this coming Saturday afternoon.
You may not have many more chances to see the Coyotes in their current form, at their current home. With the Islanders now ensconced in Brooklyn, and the Atlanta Thrashers having become the new Winnipeg Jets, the 'Yotes are now the NHL most likely to move. How likely? They've been in danger of it since at least 2009, and their arena lease got legally terminated last year. A new agreement keeps them in place at least through next season, but they could well be playing elsewhere when the 2017-18 season begins.
I also just realized something while writing this post: The current Phoenix hockey team is called the Coyotes, and the old one, playing there in the World Hockey Association from 1974 to 1977, was called the Roadrunners. Coyote and Roadrunner. "Meep meep!"
Before You Go.
AZcentral.com, the website for Phoenix's largest newspaper, the Arizona Republic, is predicting mid-60s for Saturday afternoon, and mid-40s for the evening. So the legendary Arizona "dry heat" won't be an issue. Still, once you get on the plane, you'll want to ditch your winter coat.
Arizona's infamous Daylight Savings Time issue has been settled: The State is on Mountain Time when New York is on Daylight Savings Time, and on Pacific Time when we're on Standard Time. This isn't the DST time of year. So you'll be on Mountain Time, 2 hours behind New Jersey and New York City. Adjust your timepieces accordingly.
If you're thinking of making a side trip into Mexico, you should know that it's a 4-hour drive at the least. No public transportation. You'll need a passport, and you'll also need Mexican driving insurance, which you might be able to get at the Mexican consulate in Phoenix. In other words, it's not really worth the trip.
Tickets.
The Coyotes are averaging 13,421 fans per home game this season, an increase of less than 100 over the season before. Only the Islanders and the Carolina Hurricanes are averaging less. And, at 78 percent of their arena's seating capacity, only the 'Canes are averaging less. For comparison's sake, the Devils, much maligned for their attendance issues, are averaging 14,414, 82 percent. Now who's "a Mickey Mouse operation on the ice," former Coyotes owner Wayne Gretzky?
Getting tickets will not be hard: You could probably show up at the arena box office 5 minutes before puck-drop, and get any ticket you can afford.
With the law of supply and demand, Coyotes tickets are among the cheapest in the NHL. Seats in the lower level, the 100 sections, are $290 behind the benches, $63 between the goals, and $58 behind them. In the upper level, the 200 sections, seats are $37 behind the benches, $26 between the goals and $21 behind them.
Getting There.
It's 2,458 miles from Times Square downtown Phoenix, and 2,444 miles from the Prudential Center in Newark to the Gila River Arena in Glendale. In other words, if you're going, you're flying.
You think I'm kidding? Even if you get someone to go with you, and you take turns, one drives while the other one sleeps, and you pack 2 days' worth of food, and you use the side of the Interstate as a toilet, and you don't get pulled over for speeding, you'll still need nearly 2 full days to get there. One way.
But, if you really, really want to...

You'll need to get on the New Jersey Turnpike. Take it to Exit 14, to Interstate 78. Follow I-78 west all the way through New Jersey, to Phillipsburg, and across the Delaware River into Easton, Pennsylvania. Continue west on I-78 until reaching Harrisburg. There, you will merge onto I-81. Take Exit 52 to U.S. Route 11, which will soon take you onto I-76. This is the Pennsylvania Turnpike, the nation's first superhighway, opening in 1940.
The Turnpike will eventually be a joint run between I-76 and Interstate 70. Once that happens, you'll stay on I-70, all the way past Pittsburgh, across the little northern panhandle of West Virginia, and then across Ohio, Indiana and Illinois, into Missouri.
At St. Louis, take Exit 40C onto Interstate 44 West, which will take you southwest across Missouri into Oklahoma. Upon reaching Oklahoma City, take Interstate 40 West, through the rest of the State, across the Texas Panhandle and New Mexico, into Arizona. At Flagstaff, take Interstate 17 South, which will take you into Phoenix. Take Interstate 10 West to Exit 133B, which will lead you to State Route 101. Take Exit 6 to the arena/stadium complex
If you do it right, you should spend about an hour and 15 minutes in New Jersey, 5 hours and 30 minutes in Pennsylvania, 15 minutes in West Virginia, 3 hours and 45 minutes in Ohio, 2 hours and 45 minutes in Indiana, another 2 hours and 45 minutes in Illinois, 5 hours in Missouri, 6 hours in Oklahoma, 3 hours in Texas, 6 hours and 15 minutes in New Mexico, and
5 hours and 30 minutes in Arizona.
That's about 42 hours. Counting rest stops, you're probably talking about 55 hours.
That's still faster than Greyhound, averaging around 68 hours, including a 1:45 bus-change in Richmond, a 1:15 stopover in Charlotte, an hour's bus-change in Atlanta, an hour's stopover in Birmingham, a 45-minute stopover in Jackson, Mississippi, an hour's stopover in Shreveport, a 1:30 bus-change in Dallas (that's right, changing buses 3 times each way), and a 1:15 stopover in El Paso.
It's $478 round-trip ($398 with advanced purchase), and to get to Phoenix by Saturday morning, you'll have to leave today, by 5:15 PM.
The station is at 2115 East Buckeye Road, adjacent to Sky Harbor International Airport.
Number 13 bus to downtown.
Th
e way Amtrak has it set up now, it's so convoluted that I can't even recommend looking it up.
F
lights, usually changing in Charlotte, Chicago or Dallas, are actually among the cheapest to any big-league city, and, if ordered ahead of time, can be had for about $920.
Once In the City
. While the Coyotes (as do MLB's Diamondbacks and the NFL's Cardinals, but not the NBA's Suns) have the State name as their geographic identifier -- apparently from a Native American word meaning "small spring" -- they play in Arizona's State capital, Phoenix.
Jack Swilling, a Confederate veteran who founded the place in 1867, accepted the suggestion of a fellow settler, an Englishman named Lord Duppa: Since it was on the site of a previous Indian civilization, it should be n
amed Phoenix, for the mythical bird that rose from its own ashes. The city was incorporated in 1881, making it the youngest city in American major league sports.
The State House in Phoenix
Home to just 100,000 people in 1950, Phoenix saw huge growth in the 2nd half of the 20th Century, thanks in large part to the growth of the air-conditioning industry: 440,000 by 1960, 580,000 by 1970, 800,000 by 1980, and it surpassed the 1 million mark in the early 1990s.
All this made it an expansion target: The Suns arrived in 1968, the NFL's St. Louis Cardinals in 1988 (after the Philadelphia Eagles had to quash a moving-there rumor earlier in the decade), and the first Winnipeg Jets in 1997 (after the WHA had the Phoenix Roadrunners in the 1970s).
T
oday, Phoenix is home to 1.5 million people, with 4.4 million in its metropolitan area.
The sales tax in Arizona is 5.6 percent, but it's 8.3 percent within the City of Phoenix.
Central Avenue is the source street for east-west house numbers; oddly, the north-south streets are numbered Streets to the east, and numbered Avenues to the west. Washington Street divides addresses into north and south.
A single ride on Phoenix buses and Valley Metro Rail is $2.00, with an All-Day Pass a bargain at $4.00.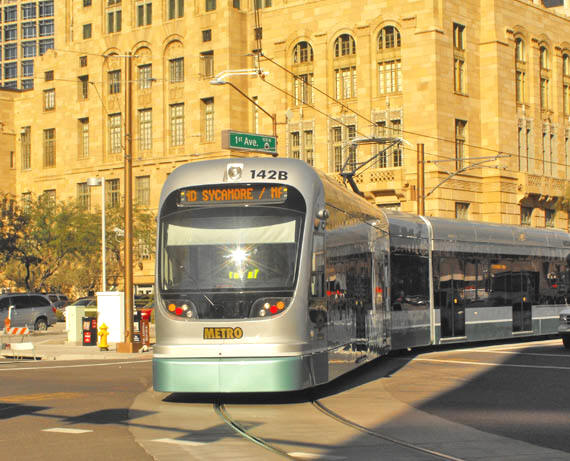 A Valley Metro Rail train
Going In.
The
Glendale Sports & Entertainment District, in the Phoenix suburb of Glendale, consists of The University of Phoenix Stadium,
home to the Arizona Cardinals since 2006; and the Gila River Arena, home to the Coyotes since 2003.
The complex is about 17 miles northwest of downtown Phoenix.
T
he official address of the stadium is 1 Cardinals Drive, and that of the arena is 9400 W. Maryland Avenue. Number 8 bus from downtown to 7th & Glendale Avenues, then transfer to Number 70 bus, to Glendale and 95th Avenue, then walk down 95th. If you drive in, parking starts at $10.
New York Tri-State Area sports fans know the stadium as the place where the Giants derailed the New England Patriots' bid for the NFL's first 19-0 season. The Cardinals defeated the Philadelphia Eagles there in January 2009 to advance to Super Bowl XLIII. The stadium is also home to the Fiesta Bowl.
(There is an actual University of Phoenix, on the ground, not just on the Internet. But that's not here.) It's hosted 3 matches of the U.S. soccer team.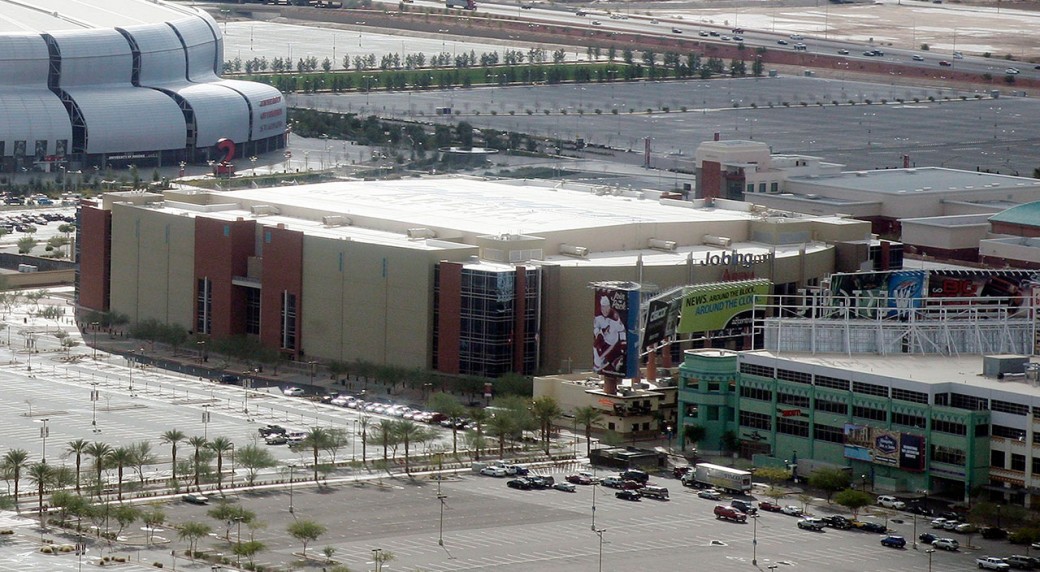 Gila River Arena, under its former name Jobing.com Arena,
between University of Phoenix Stadium and the Westgate Mall
The rink is laid out north-to-south. The Coyotes attack twice toward the south end.
Since the Suns' arena is downtown, the Coyotes' arena doesn't get many concert tours. It averages 14 non-hockey events a year -- so, not counting any Playoff games the Coyotes host, that's 55 dates a year, out of 365 days (366 in leap years such as 2016). Not good. The stadium may be a moneymaker, but the arena is not.
The reason the Coyotes left the downtown arena in the first place is because its retrofit meant losing about 2,000 seats for hockey, resulting in poor revenue, but they don't control this arena, either, and aren't making much money off it. Hence, they may still have to move. If they do, t
he Glendale Entertainment District might as well just move the arena's concert operations to the stadium and tear the arena down.
Food.
As a Southwestern city, you might expect Phoenix to have Mexican, Spanish, Western and Southwestern food themes. Which is the case.
Tortilla Flats stands are on the
Plaza Concourse outside of sections 102 and 230.
Chuckwagon Grill, specializing in burgers, has l
ocations on the Plaza Concourse outside of sections 109 and 212.
Koko Pollo (chicken) is on the
Plaza Concourse outside of section 204.
They also have Papa John's Pizza outside sections 115 and 219; the Yotes Head Pub at 103; Big City Reds Center Ice (hot dogs and chili) at 111, 122, 202 and 2014; Boars Head Deli at 110 and 120; Vienna Beef (hot dogs) at 114 and 217; AZ Cheesesteaks and Sausages at 119 and 227; Taste of Belgium (drinks including Stella Artois beer) at 122; End Cap Bars at 102, 110, 114 and 120; Dreyers Ice Cream (not Breyers) at 111 and 122; and Dippin Dots at 102, 110, 204 and 219.
Team History Displays.
As one of the newer teams (due to their move), the Coyotes don't have a lot of history, and they don't hang banners for what they won as the original Winnipeg Jets. Their only championship banner is for their 2012 Pacific Division Championship, when they were still known as the Phoenix Coyotes, the name they used from 1996 to 2014.
Yup, that's all they got.
This is the only division title the Jets/Coyotes franchise has won in the NHL. Their last one before that was in 1979, when they won the last World Hockey Association Championship. The 2011-12 season is also the only time they've reached the last 4 of the Stanley Cup Playoffs. (The Jets won 3 WHA titles in 4 trips to the Finals.)
The Coyotes don't have retired numbers, except for the Number 99 retired through the entire NHL for Wayne Gretzky, who was the team's main owner . Instead, they have Honored Numbers, which they display on the Coyotes Ring of Honor.
Center Keith Tkacuk, Number 7, and defenseman Tepp Numminen, Number 27, spanned both Winnipeg and Phoenix. Center Jeremy Roenick, Number 97, is the only one featured who played for the franchise only in Phoenix, never in Winnipeg. Left wing Bobby Hull, Number 9; center Dale Hawerchuk, Number 10; and right wing Thomas Steen, Number 25, all played for them only in Winnipeg, never in Phoenix.
Hull and Steen had their numbers retired in Winnipeg, but they were unretired in Phoenix. Still, those numbers have remained unworn, with 1 brief exception: Bobby's son, Brett Hull, briefly played for the Coyotes and wore 9.
Only 2 members of the Hockey Hall of Fame have ever played for the Coyotes since their move to Arizona: Mike Gartner, for 2 seasons, 1996-98; and Brett Hull, briefly, in 2005. (No, Roenick has not yet been elected.)
Bobby Hull was named to The Hockey News' 100 Greatest Players in 1998. He was one of several of the old Winnipeg Jets to be named to the WHA All-Time Team: The others were Ulf and Kent Nilsson, Anders Hedberg, Joe Daley, Lars-Erik Sjoberg, Ernie Wakely, Ted Green and Terry Ruskowski. Robbie Ftorek, who played for the Phoenix Roadrunners, was also named to the WHA All-Time Team.
Dave Silk and Dave Christian from the 1980 U.S. Olympic team played for the old Jets.
Stuff.
The Coyotes' Den is located in the northwest corner of the arena, by Gate 3. You can find the usual team-themed stuff there. Perhaps, due to Arizona's Western heritage, you can find cowboy hats with the team's logo on them.
With hardly any history, there's no team highlight DVDs, and the only book I could find about the team was Laura Winters' entry for them in the NHL's Inside the NHL series, published last year.
During the Game.
A November 19, 2014 article on The Hockey News' website
ranked the NHL teams' fan bases, and listed the Coyotes' fans 30th in the League -- dead last: "In seats and on Twitter, Dogs' fan base is microscopic despite respectable play."
In other words, they're not nasty fans, or stupid fans; they simply don't have enough fans. Gee, maybe that could be explained by having an arena far from the center of the metropolitan area. Or by the metro area being, you know, in Arizona, a hot-weather city which never should have had an NHL team in the first place!
Wearing Devils gear in Ariona will not endanger your safety. As a franchise only in their 20th season, the Coyotes don't really have a rivalry yet; and if they did, it wouldn't be with the Devils. For the most part, Arizona fans are okay, not making trouble for fans of teams playing the NFL Cardinals, NBA Suns or MLB's Diamondbacks, either. In fact, their biggest rivalry is intrastate: The University of Arizona vs. Arizona State University. It's a heated rivalry... but it's a dry heat.
The Coyotes hold auditions for National Anthem singers, instead of having a regular singer. The goal song is "Howlin' for You" by the Black Keys.
The mascot is Howler the Coyote. He wears uniform Number 96, in honor of the team's 1996 arrival. He seems to think the Coyotes do have a rivalry, with the Anaheim Ducks. And he does kind of look like Wile E. Coyote, albeit not nearly as thin and with shorter ears.
Arizona fans have their own Southwestern spin on the Detroit tradition of throwing an octopus onto the ice: They throw rubber snakes. At least, I hope they're rubber, and not real.
After the Game.
Be advised that outgoing traffic from this game may run into incoming traffic for the NFL Playoff game in which the Cardinals will host the Green Bay Packers.
Phoenix does have crime issues, but you should be safe as long as you stay downtown. What's more, the arena is in the suburbs. It's incredibly unlikely that Coyote fans will bother you, and the fact that the Devils aren't rivals to them helps.
This is a matinee, so the Westgate Mall, to the north across Coyotes Blvd., will be open after the game if you want to do some postgame dining or shopping. A McFadden's is outside the arena at the northwest corner, and a Saddle Ranch Chophouse at the northeast corner.
As for anything New York-friendly, the closest I can come at this time is a place called Tim Finnegan's, the local Jets fan hangout, but that's 11 miles north of downtown, at 9201 North 29th Avenue. It appears that the local football Giants fan club meets at the Blue Moose, at 7373 East Scottsdale Mall, 13 miles northeast of downtown. I've also heard that
Loco Patron, at 1327 E. Chandler Blvd., is a Giants fan hangout, but that's 21 miles south.
I've read that a Yankee Fan hangout is at LagerFields Sports Grill, at 12601 N. Paradise Village Pkwy. W., 14 miles northeast of downtown. Alas, I can find nothing Mets-specific in the area.
If you visit Phoenix during the European soccer season, as we are now in, the best "football pub" in Arizona is the George & Dragon Pub, which opens at 7:00 AM on matchdays. 4240 N. Central Avenue, about 3 miles north of downtown. Bus 13 to Buckeye Road & Central Avenue, then transfer to Bus ZERO to Farrington Lane.
Sidelights.
Phoenix's sports history is relatively brief, and not very successful. But there are some notable locations.
* Chase Field and Talking Stick Resort Arena. The capital of Arizona sports is 2 buildings separated by 2 blocks and the Jefferson Street Garage, which provides parking for both.
The Arizona Diamondbacks have played since their 1998 inception at Chase Field, a
retractable-roof stadium, originally named Bank One Ballpark, and having that name during what remains the Diamondbacks' only World Series thus far, 2001. It looks like a big airplane hangar, without much atmosphere. True, there is that pool in the right-center-field corner... but what's a pool doing at a ballpark?
The Talking Stick Resort Arena, previously known as the US Airways Center and the AmericaWest Arena for a previous airline, it
is 2 blocks west of Chase Field, at 2nd & Jefferson. The Suns have played here since 1992, and the WNBA's Phoenix Mercury since 1997. The Coyotes played here from 1996 to 2003.
The arena's address is 201 E. Jefferson Street, and the ballpark's is 401 E. Jefferson Street. Both buildings can be reached on Metro Light Rail via the Jefferson Street & 3rd Street station.
* Arizona Veterans Memorial Coliseum. The Grand Canyon State's 1st home to big-league sports, opening in 1965, was home to the Suns from their 1968 arrival until 1992, and to the World Hockey Association's Phoenix Roadrunners from 1974 to 1977.
Elvis Presley sang at the Coliseum on September 9, 1970, and again on April 22, 1973. Early in his career, on June 9, 1956, he sang at a grandstand at the adjoining Arizona State Fairgrounds. The next day, he sang at the Rodeo Grounds in Tucson. He also sang at the Tucson Community Center on November 9, 1972 and June 1, 1976. (While individual ex-Beatles have performed in Arizona, the band as a whole did not do so on any of their 3 North American tours.)
T
he Coliseum still stands, and

is part of the State Fairgrounds. 1826 W. McDowell Road. Northwest of downtown. Number 15 bus to 15th & McDowell, then 3 blocks west.
* Phoenix Municipal Stadium. This ballpark was home to the Phoenix Giants/Firebirds from its opening in 1964 until 1991, and is the current spring training home of the Oakland Athletics, the Diamondbacks' Rookie League team, and Arizona's State high school baseball championship. 5999 E. Van Buren Street. East of downtown, take the Light Rail to Priest Drive/Washington station, then a short walk up Priest.
* Scottsdale Stadium. This stadium was home to the Firebirds in their last years, 1992 to 1997. Its seating capacity of 12,000, 4,000 more than Phoenix Municipal, was meant to showcase the Phoenix area as a potential major league market. It's the San Francisco Giants' spring training site, and replaced a previous stadium on the site that dated to 1956, used as a spring training home for the Giants, A's, Red Sox, Orioles and Cubs -- sometimes all at the same time.
Because it was the Cubs' spring training home, thus leading to Phoenix becoming "Chicago's Miami," where retirees from the city tend to go (paging Michael Wilbon of the Washington Post & ESPN's Pardon the Interruption & NBA coverage), it was where former Cub catcher Randy Hundley hosted the very first baseball fantasy camp.
As Met fans, you might remember Randy's furious reaction to Tommie Agee scoring on a controversial umpiring call at home plate at Shea in September 1969. You might also remember Randy's son, former Met catcher Todd Hundley.
7408 E. Osborn Road, at Drinkwater Boulevard. Northeast of downtown. Light Rail to Veterans Way/College station, then transfer to Number 72 bus to Osborn, then walk 2 blocks east.
* Arizona State University. The University of Arizona is 114 miles
away in Tuscon, but ASU is just a 24-minute Light Rail ride from downtown. The station is at 5th Street & Veterans Way, and is 2 blocks away from Sun Devil Stadium and the Wells Fargo Arena, home to their football and basketball teams, respectively.
Sun Devil Stadium was built in 1958, and ASU still plays there rather than move to the larger, more modern (but well off-campus) University of Phoenix Stadium.
The Cardinals played there from 1988 to 2005, and the Fiesta Bowl was held there from 1971 to 2006. The Dallas Cowboys treated it as a second home field when they played the Cardinals (mainly because there always seemed to be more Cowboy fans there), and won Super Bowl XXX there, when the world learned A) it was possible for the Pittsburgh Steelers to lose a Super Bowl, and B) Terry Bradshaw was smart compared to Neil O'Donnell. It also hosted 2 U.S. soccer team matches in the 1990s.
The Wells Fargo Arena was previously known as the ASU Activity Center.
Elvis sang there on March 23, 1977.
Packard Stadium, opened in 1974, is home to the ASU baseball program, one of the most successful college baseball teams, east of the stadium and arena, at Rural Road and Rio Salado Parkway. The Sun Devils have won 5 National Championships, most recently in 1981. Their legends include Reggie Jackson, Barry Bonds, and current stars Dustin Pedroia and Andre Ethier. Notable ASU and Met alumni include Gary Gentry, Duffy Dyer, Lenny Randle, Craig Swan, Hubie Brooks, Paul Lo Duca and Ike Davis.
ASU's Gammage Auditorium, at the other end of the campus, hosted one of the 2004 Presidential Debates between George W. Bush and John Kerry. 1200 S. Forest Avenue.
The US Airways Center, Wells Fargo Arena, University of Phoenix Stadium, and the University of Arizona's McKale Center have all hosted NCAA basketball tournament games, but, as yet, the State of Arizona has never hosted a Final Four -- although the University of Phoenix Stadium certainly could. UA has been in the Final Four in 1988, 1994, 1997 and 2001, winning it all in 1997; but ASU has never gotten any closer than the Sweet 16, in 1995.
* Arizona Science Center. Phoenix is not a big museum center. And while there have been Native Americans living in Phoenix for thousands of years, and Spaniards/Mexicans for hundreds, its Anglo history is rather short. No Arizonan has ever become President (although Senators Barry Goldwater and John McCain got nominated), so there's no Presidential Library or Museum. And it doesn't help history buffs that the city only goes back to 1867, and Statehood was gained only in 1912.
But the Science Center is at 4th & Washington, just a block from the ballpark. And Arizona State has a renowned Art Museum.
The tallest building in Phoenix, and in all of Arizona, is the Chase Tower, bounded by Central Avenue and Van Buren, 1st and Monroe Streets.
That it's only 483 feet, and that no taller building has been built in the city since it opened in 1972, says something about this city, but I'm not sure what. But the city seems to be intent on growing outward, not upward.
Television shows set in Phoenix, or anywhere in Arizona, are few and far between. The High Chaparral, another Western created by Bonanza creator David Dortort, ran on NBC from 1967 to 1971, and is fondly remembered by some.
But the best-remembered show is Alice, starring Linda Lavin as one of several waitresses at fictional Mel's Diner, running on CBS from 1976 to 1985. Although the show was taped in Hollywood (Burbank, actually),
that once-famous "14-ounce coffee cup" sign is still used outside a real working diner in Phoenix. It was Lester's, until
the owner agreed to change the name to "Mel's Diner" for the publicity. Today, it's Pat's Family Diner, at 1747 NW Grand Avenue, 2 miles northwest of downtown.
Number 15 bus to 15th Avenue & Pierce Street, and then walk one block east to Grand, Pierce, and 12th.
There are also still-in-business diners in Ohio and Florida that use the same sign design. "Pickup!"
Movies set in modern-day Arizona usually show the Grand Canyon or the Hoover Dam. Notable on this list is
Thelma & Louise
, in which Geena Davis and Susan Sarandon drive a 1966 Ford Thunderbird into the Canyon rather than be captured by the FBI, enacting a distaff version of
Butch Cassidy & the Sundance Kid
.
National Lampoon's Vacation
and
Natural Born Killers
also used Arizona as a backdrop.
The vast majority of movies set in Arizona have been Westerns, including the 1957 and 2007 versions of
3:10 to Yuma
, the 1950 film
Broken Arrow
(not the later John Travolta film of the same title),
Fort Apache
(not the later Paul Newman film set in The Bronx), Paul Newman's
Hombre
,
Johnny Guitar
, A Million Ways to Die In the West, No Name On the Bullet, and all the films based on the 1881 Earps vs. Clantons gunfight, including
My Darling Clementine
in 1946,
Gunfight at the O.K. Corral
in 1957,
Tombstone
in 1993 and
Wyatt Earp
in 1994.
If you're a Western buff, and you want to see the site of the legendary gunfight, the official address is 326 East Allen Street, Tombstone, AZ 85638. Reenactments are held daily. Be advised, though, that it's 184 miles southeast of downtown Phoenix, a 3-hour drive, and ain't no Greyhound or Amtrak service, stranger. It's also just 50 miles from the Mexican border.
*
If you go to Phoenix to see the Devils play the Coyotes, you won't be subjected to Arizona's usual intense heat, and you can probably see a hockey game relatively cheap. Have fun!