Even though neither the Giants nor the Jets made the NFL Playoffs, I'm going to do Trip Guides for the teams that did, but for whom I haven't yet done them. One of them is the Denver Broncos, who are playing the Pittsburgh Steelers as I type this.
Before You Go.
Check the website of the
Denver Post
for the weather. Denver weather is unpredictable, as it sits with the Rocky Mountains to the north, south and west, and the open prairie to the east. They can get snow early. I once saw a Monday Night Football game on TV in which the Broncos hosted the Green Bay Packers: It was October and there was a blizzard. The Packers and their fans probably thought they were getting away from winter weather by leaving Green Bay!
Denver is in the Mountain Time Zone, so you'll be 2 hours behind New York time. And there's a reason it's called the Mile High City: The elevation means the air will be thinner. Although the Rocky Mountain region is renowned for outdoor recreation, if you're not used to it, try not to exert yourself too much. Cheering at a sporting event shouldn't bother you too much, but even if the weather is good, don't go rock-climbing or any other such activity unless you've done it before and know what you're doing.
Tickets.
Contrary to popular belief, Broncomania did not begin with their run to the AFC Championship in 1977. Indeed, they haven't played to an unsold seat since the AFL-NFL merger in 1970 -- 45 straight seasons. They averaged 76,922 fans per game this season, a sellout. Tickets will be hard to come by.
On the Field Level, the 100 sections, tickets are $155 on the sidelines and $95 in the end zones. The Plaza Level, the 300 sections, is bought out by club seats on the sidelines, and it's also $95 in the end zones. On the Upper Level, the 500 sections, it's $77 on the sidelines, $65 in the corners and $50 in the north end zone, with the south end zone being open and having no seats at that level.
Getting There.
It's 1,779 miles from Times Square in New York to the Denver plaza that contains the State House and the City-County complex, and 1,772 miles from MetLife Stadium to Sports Authority Field. You're probably thinking that you should be flying.
The good news: Flying to Denver, considering how far it is, is relatively cheap. You can get a round-trip flight for a Saturday, going in for a Sunday game, and returning on Monday, for a little over $600, depending on what time you want to fly. More likely, it'll be around $800, but that's still a decent price per mile.
The bad news: It won't be nonstop. While Stapleton International Airport (named for 1923-47 Mayor Benjamin F. Stapleton) was a major change-planes-here spot for going to the West Coast and Las Vegas, the new Denver International Airport isn't. You want to fly there, you'll have to change planes, most likely in either Chicago or Dallas.
Amtrak's
Lake Shore Limited
leaves Penn Station at 3:40 PM Friday, arrives at Union Station in Chicago at 9:45 AM Saturday (that's Central Time). The
California Zephyr
leaves Chicago at 2:00 PM Saturday and arrives at Denver's Union Station at 7:15 AM (Mountain Time) Sunday. The return trip would leave Denver at 7:10 PM Sunday (so this would only work for a Sunday afternoon game, not a Sunday, Monday or Thursday night game), arrive in Chicago at 2:50 PM Monday, leave Chicago at 9:30 PM Monday, and get back to New York at 6:35 PM Tuesday. The round-trip fare is $496.
Conveniently, Union Station is at 1700 Wynkoop Street at 17th Street, just 3 blocks from Coors Field. The front of the building is topped by a clock, framed by an old sign saying UNION STATION on top and TRAVEL by TRAIN on the bottom.
Greyhound allows you to leave Port Authority Bus Terminal at 4:00 PM Friday, and arrive at Denver at 10:50 AM on Sunday, a trip of just under 45 hours, without having to change buses. That 44:50 does, however, include layovers of 40 minutes in Philadelphia, an hour and a half in Pittsburgh, an hour in Columbus, an hour in Indianapolis, 2 hours in St. Louis, and half an hour in Salina, Kansas; plus half-hour meal stops in Pennsylvania, Illinois and Kansas. Round-trip fare is $406, but you can get it for $338 on advanced-purchase. You can get a bus back at 7:10 PM Sunday and be back in New York at 3:50 PM Tuesday. The Denver Bus Center is at 1055 19th Street.
If you actually think it's worth it to drive, get someone to go with you, so you'll have someone to talk to, and one of you can drive while the other sleeps. You'll be taking Interstate 80 most of the way, through New Jersey, Pennsylvania, Ohio, Indiana, Illinois, Iowa and Nebraska, before taking Interstate 76 from Nebraska to Colorado, and then Interstate 25 into Denver. (An alternate route: Take the New Jersey and Pennsylvania Turnpikes to Interstate 70 and then I-70 through Pennsylvania, Ohio, Indiana, Illinois, Missouri, Kansas and Colorado into downtown Denver. It won't save you an appreciable amount of time over the I-80 route, though.)
If you do it right, you should spend about an hour and a half in New Jersey, 5 hours and 15 minutes in Pennsylvania, 4 hours in Ohio, 2 hours and 30 minutes in Indiana, 2 hours and 45 minutes in Illinois, 5 hours and 15 minutes in Iowa, 6 hours in Nebraska, and 3 hours and 15 minutes in Colorado. Including rest stops, and accounting for traffic (you'll be bypassing Cleveland and Chicago, unless that's where you want to make rest stops), we're talking about a 40-hour trip.
Even if you're only going for one game, no matter how you got there, get a hotel and spend a night. You'll be exhausted otherwise. Trust me, I know: Trains and buses are not good ways to get sleep.
Once In the City.
Founded in 1858 as a gold rush city, and named for James W. Denver, then Governor of the Kansas Territory, from which Colorado was separated, Denver is a State capital and city of 700,000 people, in a metro area of 3.4 million -- roughly the population of Brooklyn and Staten Island combined. It's easily the biggest city in, and thus the unofficial cultural capital of, the Rocky Mountain region.
The State House
Broadway is the main north-south drag, separating East addresses from West. But the northwestern quadrant of the street grid is at roughly a 45-degree angle from the rest of the city, and this area includes the central business district, Union Station and the ballpark.
The sales tax in the State of Colorado is 2.9 percent, however, the City of Denver adds a 3.62 percent sales tax, for a total of 6.52 percent. ZIP Codes in Colorado start with the digits 80 and 81, with the Denver area running from 800 to 810. The Area Code for Denver is 303, with 720 overlaid.
The
Denver Post
is a good paper, but don't bother looking for the
Rocky Mountain News
: It went out of business in 2009. Bus and light rail service in Denver is run by the Regional Transportation District (RTD), and goes for $2.25 for a single ride, and $6.75 for a DayPass. Denver switched from tokens to farecards in 2013.
Don't worry, the weather isn't forecast to look like this during your visit.
Going In.
Although it's the Jets who are the Broncos' fellow original AFL team, it is the Giants that have a connection with the Broncos' new stadium. The Giants were the opposing team when the Broncos opened it on
Monday Night Football
, with John Elway carrying the game ball onto the field, with several other Bronco greats escorting him. The Broncos won. The date was September 10, 2001. Less than 9 hours after the game ended, New York and the world changed forever.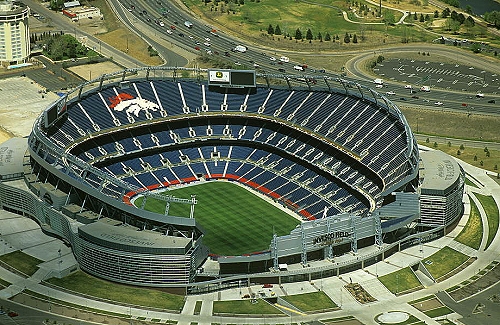 Originally named Invesco Field at Mile High, for an Atlanta-based investment management firm, it was renamed Sports Authority Field at Mile High in 2011, for the sporting goods chain based in the Denver suburb of Englewood. (Not to be confused with the Bergen County, New Jersey town of the same name.) Most people usually just call it "Mile High Stadium," which the old one was named from 1966 until it closed in 2000. Before that, it was Bears Stadium, named for the old minor-league baseball team that played there from its opening in 1948 until 1992.
The new stadium, and the site of the old stadium and arena, are at Mile High Station on the light rail C-Line and E-Line. The official address is 1701 Mile High Stadium Circle, and it is 2 miles west of downtown Denver. If you're driving in, parking is $15 or $20. Tailgating is encouraged.
Like its predecessor, Mile High Stadium, Sports Authority Field is a horseshoe with the south end as the open end, and the natural grass field is laid out north-to-south.
In addition to the Broncos, the new stadium hosted the final day of the 2008 Democratic National Convention, including the acceptance speech that helped launch Senator Barack Obama to the Presidency.
It was built on the site of the McNichols Sports Arena, home of the Nuggets from 1975 to 1999, the NHL version of the Colorado Rockies from 1976 to 1982 (when they moved to become the New Jersey Devils), and the Avalanche from 1995 to 1999, which was built across from the south end zone of the old Mile High Stadium.
McNichols It hosted the NCAA Final Four in 1990, with UNLV (the University of Nevada at Las Vegas) clobbering Duke. (The University of Colorado made the Final Four in 1942 and 1955, although it wasn't yet called the Final Four. No other Colorado-based school has made it, and none has won a National Championship -- not in basketball, anyway.)
At McNichols, the Nuggets reached the ABA Finals in 1976, and the Avalanche won the 1996 Stanley Cup (albeit clinching in Miami). The Denver Dynamite won the 1st ArenaBowl in 1987. and again in 1989, 1990 and 1991, before finances forced them to fold anyway.
Elvis Presley sang at McNichols on April 23, 1976. When the time came to play the final concert at McNichols, the act that played the first concert there was brought back: ZZ Top. This fact was mentioned on a
Monday Night Football
broadcast, leading Dan Dierdorf to note the alphabetic distinction of the long red-bearded men, and say, "The first one should have been ABBA." Which would have been possible, as they were nearly big in the U.S. at the time.
However, the fact that the arena only lasted 24 years, making it not that hard for the act that played the first concert there to also play the last, says something about America's disposable culture.
2755 W. 17th Avenue was the mailing address of Mile High Stadium. It was built in 1948 as Bears Stadium, an 18,000-seat ballpark. When the American Football League was founded in 1960, it was expanded to 34,000 seats with the addition of outfield seating. The name was changed to Mile High Stadium in 1966, and by 1968 much of the stadium was triple-decked and seated 51,706.
In 1977 – just in time for the Broncos to make their first Super Bowl run and start "Broncomania" – the former baseball park was transformed into a 76,273-seat horseshoe, whose east stands could be moved in to conform to the shape of a football field, or out to allow enough room for a regulation baseball field. The old-time ballpark had become, by the standards of the time, a modern football stadium.
The biggest complaint when the baseball version of the Colorado Rockies debuted in 1993 wasn't the thin air, or the condition of the stadium (despite its age, it was not falling apart), but the positioning of the lights: Great for football fans, but terrible for outfielders tracking fly balls. But it was only meant to be a temporary ballpark for the Rockies, as a condition for Denver getting a team was a baseball-only stadium. What really led to the replacement of Mile High Stadium, and its demolition in 2002, was greed: The Broncos' desire for luxury-box revenue.
At Bears/Mile High Stadium, the Broncos won AFC Championships in 1977, 1986, 1987, 1989, 1997 and 1998, winning the Super Bowl in the last 2 years after losing the first 4 in blowouts. (They've now won an AFC title at the new stadium, but not a Super Bowl.) The Denver Bears won Pennants while playing there in 1957 (as a Yankee farm team), 1971, 1976, 1977, 1981, 1983 and 1991 (winning the last one under the Denver Zephyrs name).
MLS' Colorado Rapids played home games at the old stadium from 1996 to 2001, and actually played the last event there. They played at the new stadium from 2002 to 2006, when their new soccer-specific stadium opened in the suburbs.
The U.S. national soccer team played a pair of games at Mile High Stadium in the 1990s, and beat Mexico at the new stadium in 2002 (the only game they've played there so far). While the 2008 Democratic Convention was held at the Pepsi Center, Senator Barack Obama gave his nomination acceptance speech outdoors in front of 80,000 people at New Mile High Stadium.
The Red Lion Hotel Denver and the Skybox Grill & Sports Bar are now on the site of the old stadium.
Food.
Being a "Wild West" city, you might expect Denver to have Western-themed stands with "real American food" at its arena. Being in a State with a Spanish name, in a land that used to belong to Mexico, you might also expect to have Mexican food. And you would be right on both counts. Here are some of the options available:
Bud-N-Brats: Locally sourced from Denver's own Rome's and Continental sausage companies, these half-pound sausages will be available at new portable locations throughout general hospitality areas. Options include: Southwestern Buffalo, Elk and Cheddar, Jalapeno Beer Brats and the fan favorite Bronco Brat. All sausages will be grilled to order and served with a choice of toppings, including Budweiser Sauerkraut and Amber Bock onions and peppers.
Bud-N-Burgers: Locally sourced beef from Aspen Ridge Meats, these 1/3-pound all-natural burgers will be available at new portable locations.
Italian Nacho Supreme: Lightly fried pasta topped with sliced pepperonis, green onions, Alfredo and marinara sauce, black olives, banana peppers and shredded mozzarella cheese.
Fried Chicken Cones: Breaded boneless chicken served with sweet chili hot sauce, green onions and fried rice sticks or classic fried chicken, mashed potatoes, chicken gravy and green onions. Both options are served in a savory bread cone.
Jalapeno Cheddar Brat Burger: Another new twist on a stadium classic takes the Bratwurst that everyone knows and loves and morphs it into a jaw-dropping burger. It features a locally-made sausage patty from Rome's Sausage Company of Denver, stacks them two high on a soft artisan pretzel bun and tops with Budweiser Sauerkraut and mustard aioli.
Hot Ham & Cheese Pretzel Bun: Thin slices of hot Smithfield Ham piled high on a soft artisan pretzel bun and topped with savory Swiss cheese sauce, this item will be served exclusively at the Cover 2 Carvery, which will now be expanding to the fifth stadium level.
Spicy Chicken Sandwich: For those who like things a little spicy, Centerplate is introducing a perfectly breaded spicy chicken breast with sliced cheddar cheese and spicy Sriracha Aioli for an extra kick.
Team History Displays.
The Broncos have won the AFC Western Division 15 times, including the last 5 season: 1977, '78, '84, '86, 87, '89, '91, '96, '98, 2005, '11, '12, '13, '14 and '15. They have won the AFC Championship 7 times: 1977, '86, '87, '89, '97, '98 and 2013. And they won Super Bowls XXXII and XXXIII, in the 1997-98 and 1998-99 seasons. Displays for these titles are in the south end zone.
The Broncos have retired 3 uniform numbers: 7 for John Elway, 18 for Frank Tripucka, and 44 for Floyd Little. But there is no display for these. Rather, the Broncos have a Ring of Fame on display at the stadium, honoring 28 men:
* From the 1960s: Owner Gerald Phipps, quarterback Frank Tripucka, running back and kicker Gene Mingo, receiver Lionel Taylor, defensive end Rich "Tombstone" Jackson and safety Goose Gonsoulin.
* From the 1970s, but before the Broncomania season: Quarterback Charley Johnson and running back Floyd Little.
* From the 1977 AFC Championship season that began Broncomania and the Orange Crush nickname: Phipps, quarterback Craig Morton, receivers Haven Moses and Rick Upchurch, defensive end Paul Smith, linebackers Randy Gradishar and Tom Jackson, safety Billy Thompson, and kicker Jim Turner.
* From the 1986, 1987 and 1989 AFC Championships: Tom Jackson, Wright (both holdovers into 1986 only), owner Pat Bowlen, head coach Dan Reeves, quarterback John Elway, linebacker Karl Mecklenburg, and safeties Dennis Smith and Steve Atwater (who arrived in 1989).
* From the 1997 and 1998 World Champions: Bowlen, Elway, Atwater, running back Terrell Davis, receiver Rod Smith, tight end Shannon Sharpe, center Tom Nalen and offensive tackle Gary Zimmerman (left after 1997). As yet, they have not had the guts to induct dirty linebacker Bill Romanowski -- or any other defensive player from those teams, save Atwater.
Bowlen is still the owner, and Elway is now the general manager, having built the 5-time defending AFC West Champions.
The stadium also includes the Colorado Sports Hall of Fame, which has inducted the following Broncos: The aforementioned Bowlen, Davis, Elway Gonsoulin, Gradishar, Rich and Tom Jackson (no relation), Little, Mecklenburg, Morton, Moses, Phipps, Reeves, Sharpe, Taylor, Thompson, Upchurch and Wright; plus the following individuals not yet in the Ring of Fame: Team founder Bob Howsam, original quarterback Frank Tripucka, 1977 head coach Red Miller, 1977 running back Otis Armstrong, 1997-98 kicker Jason Elam, and 1997-98 linebacker Alfred Williams.
Gonsoulin, Brown, Rich Jackson (not the much-later Tom Jackson) and Bob Scarpitto were named to the AFL's All-Time Team. Brown and Elway were named to
The Sporting News
' 100 Greatest Football Players in 1999. They and Peyton Manning were named to the NFL Network's 100 Greatest Players in 2010.
UPDATE: On September 18, 2016, the Broncos unveiled a new display for the retired numbers, at the sound end of the stadium, to the east of the Jumbotron. They also added Manning's name to Tripucka's Number 18. In 2016, they added 1980s defensive end Jason Fletcher, 1990s kicker Jason Elam and 2000s safety John Lynch to the Ring of Fame. In 2017, they added 1977 coach Robert "Red" Miller.
Stuff.
The Denver Bronco Stadium Store is on the ground floor at the stadium's open south end. They may sell cowboy hats with team logos on them, to tie in with the State's Western heritage.
Elway and former Bronco executive Jim Saccomano -- not to be confused with the never-seen but oft-mentioned Seinfeld character Bob Saccomano -- collaborated on Denver Broncos: The Complete Illustrated History, published in

2013, before Peyton Manning took them to Super Bowl XLVIII at the Meadowlands. Mike Klis published

Mile High Magic - The 25 Greatest Moments in Denver Broncos History this past fall. And the NFL produced the DVD Denver Broncos: The Complete History in 2006. (Obviously, it is no longer complete.)
During the Game.
A recent
Thrillist
article on "
The Most Obnoxious Fans In the NFL
" ranked Broncos fans 17th, right in the middle. Coloradans love their sports, but they're not known as antagonistic. Although the Jets came within a half of derailing a Bronco Super Bowl in 1999 (1998 season), and the Devils came within a game of short-circuiting their Stanley Cup run in 2001, the people of the Centennial State don't have an ingrained hatred of New Yorkers. As long as you don't wear Kansas City Chiefs or Oakland Raiders gear, you'll probably be completely safe. (But, as always, watch out for obnoxious drunks, who know no State Lines.)
The Broncos hold auditions for singing the National Anthem, instead of having a regular singer. They still use their original 1960 fight song, "The Mighty Broncos March," which calls them "The Pride of the West."
Sometimes, the Broncos will wear purple jerseys at home, as they usually have since the 1997 season. Sometimes, they'll wear orange, as they did before that. Rarely will they wear white, as the Giants and Jets sometimes do, and other teams sometimes choose (including Philadelphia, Washington and Dallas).
A home game tradition is the "Incomplete Chant." When the opposing team throws an incomplete pass, the stadium announcer will state, "Pass thrown by (the opposing quarterback), intended for (the intended receiver) is..." at which time the fans complete the chant by saying "IN-COM-PLETE!!" This is followed by the "sad trombone" sound effect.
Another tradition carried over from Mile High Stadium is during halftime or towards the end of the game, the stadium's public-address announcer will announce the actual attendance for the game as well as how many people didn't show up for the game, and if that number is generally over a thousand, Broncos fans chant a loud "boo" towards those empty seats.
E
specially in the upper two decks, the usually cold fans create their own "Mile High Thunder" (and warm themselves up) by stamping their feet on the stadium's floors. The old Mile High Stadium was built with bare metal, and the "Thunder" reverberated readily. The new stadium also took steps via the addition of steel floors to preserve this unique acoustic.
The Broncos' man-in-a-costume mascot is Miles, a white horse wearing a Bronco jersey, Number 00. Obviously, he was named for the Mile High City. They also have a live mascot, Thunder, ridden onto the field before every game by Ann Judge-Wegener, leading the team on behind them.
Ann and Thunder, with Miles behind them
The most famous Bronco fan of them all was Tim McKernan, a United Airlines mechanic who attended every Bronco game, home and away, regular season and Playoff (including the Super Bowls) from 1967 to 2007. At home games, he would wear a cowboy hat, cowboy boots, and a barrel painted in Bronco colors, held up by suspenders, like a rodeo clown. You'll notice I didn't say that he wore anything under the barrel -- because he didn't.
"Barrel Man" became one of the most famous NFL fans of all, until health issues forced him to give it up. He did in 2009, at age 69. No new Barrel Man has taken his place, although his son Todd honored him by "suiting up" at the Broncos' 1st home game after his death, and the nearby University of Colorado now has a Barrel Man as well.
Okay, he also wore a stadium pass given to him by the organization,
and sometimes also sunglasses.
After the Game.
Denver has had crime issues, and just 3 blocks from Coors Field is Larimer Street, immortalized as a dingy, bohemian-tinged, hobo-strewn street in Jack Kerouac's novel
On the Road
. But that scene was written in 1947. The Pepsi Center is, essentially, an island in a sea of parking. LoDo (Lower Downtown) has become, with the building of Coors Field and the revitalization of Union Station, a sort of mountain Wrigleyville, and thus the go-to area for Denver nightlife. So you'll probably be safe.
To the west of the stadium, between Mile High Stadium Circle and Federal Blvd., there's a Burger King, a Kentucky Fried Chicken, a Pizza Hut, a Denny's, and Atmosphere Ultra Lounge.
LoDo is loaded with bars that will be open after the game, including Scruffy Murphy's at Larimer & 20th, and an outlet of the Fado Irish Pub chain at Wynkoop & 19th. But the only baseball-named place I can find anywhere near Coors is Sandlot Brewery, at 22nd & Blake, outside the park's right-field corner. Behind home plate, at 1930 Blake Street, is The Sports Column, hailed by a recent
Thrillist
article as the best sports bar in the State of Colorado.
Perhaps the most famous sports-themed restaurant near Denver is Elway's Cherry Creek, a steakhouse at 2500 E. 1st Avenue in the southern suburb of Cherry Creek. Bus 83L. It's owned by the same guy who owns John Elway Chevrolet in another southern suburb, Englewood.
About a mile southeast of Coors Field, at 538 E. 17th Avenue in the Uptown neighborhood (not sure why a southern, rather than northern, neighborhood is called "Uptown"), is The Tavern, home of the local New York Giants fan club. Jet fans gather at Chopper's Sports Grill, possibly named for Chopper Travaglini, at 80 S. Madison Street at Bayaud Avenue, 3 miles southeast of downtown, in the Pulaski Park neighborhood. Bus 83, then a mile's walk.
If your visit to Denver is during the European soccer season (which is now winding down), your best bet for watching your favorite club is at The Three Lions (named for the crest on the jerseys of the England national team), 2239 E. Colfax Avenue, about 2 miles east of downtown. Number 15 bus.
Sidelights.
Denver is a fantastic city, and a good sports city, with much to look for.
Ah, Denver! Breathe in that fresh mountain air with just a hint of cannabis and green chile. Drink in the hoppy splendor of a craft beer scene that was bustling back when everyone still called them "microbreweries." Tolerate the alarmingly in-shape bro who stuck around after four years at Boulder to work as a part-time ski instructor and won't stop talking to you about fourteeners. Denver often gets championed for all the fantastic stuff to do right outside the city, what with the skiing and the hiking and the Red Rocks, but that does a disservice to all the good times to be had in Denver proper. The fact that said times can be had with herbal enhancement with nary a legal concern is just a bonus.
The Pepsi Center -- the arena has always had that name since it opened -- is across Cherry Creek from downtown, about 2 miles northwest of City Hall. The intersection is 11th Street & Auraria Parkway, but the mailing address is 1000 Chopper Circle, in honor of Robert "Chopper" Travaglini, the beloved former trainer (and amateur sports psychologist) of the NBA's Nuggets, who share the arena. Chopper Circle is an extension of Wewatta Street.
In 2008, the Pepsi Center hosted both the NCAA hockey "Frozen Four" and the Democratic National Convention. Pepsi Center/Elitch Gardens station on the RTD light rail.
Coors Field has been home to the Rockies since it opened in 1995. This past February, Coors Field hosted 2 hockey games. The University of Denver beat arch-rival Colorado College 4-1 in a game billed as the Battle On Blake. And as part of the NHL Stadium Series, the Colorado Avalanche hosted the Detroit Red Wings, perhaps perversely celebrating the 20th Anniversary of the birth of their brief but nasty rivalry. The Wings won 5-3.
2001 Blake Street (hence the team's nickname, the Blake Street Bombers) at 20th Street, 3 blocks from Union Station, accessible by light rail.
The Nuggets, known as the Denver Rockets until 1974, played at the Denver Auditorium Arena, at 13th & Champa Streets, from their 1967 inception until McNichols opened in 1975. It was also the home of the original Nuggets, who played in various leagues from 1935 to 1948, and then in the NBA until 1950.
It opened in 1908, and its seating capacity of 12,500 made it the 2nd-largest in the country at the time, behind the version of Madison Square Garden then standing. It almost immediately hosted the Democratic National Convention that nominated William Jennings Bryan for President for the 3rd time – although it's probably just a coincidence that the Democrats waited exactly 100 years (give or take a few weeks) to go back (it's not like Obama didn't want to get it right the 1st time, as opposed 0-for-3 Bryan).
The Auditorium Arena hosted Led Zeppelin's 1st American concert on December 26, 1968. It was demolished in 1990 to make way for the Denver Performing Arts Complex, a.k.a. the Denver Center. Theatre District/Convention Center Station on the light rail's D-Line, F-Line and H-Line.
The Denver area's Major League Soccer team, the Colorado Rapids, plays at Dick's Sporting Goods Park in Commerce City, about 8 miles northeast of downtown. They'e won the MLS Cup since moving there, in 2010.
The U.S. national team has played there twice: A 2-0 win over Guatemala in a World Cup Qualifier on November 19, 2008; and a 1-0 win over Costa Rica in a World Cup Qualifier on March 22, 2013 (the famous Snow Classico). (UPDATE: They've since added a 2-0 win over Trinidad & Tobago in a World Cup Qualifier on June 8, 2017.) The women's team has played there twice: A 2008 win over Brazil, and a 2012 win over Australia. It's also hosted football, rugby, lacrosse and concerts.
6000 Victory Way. If you're going in by public transportation from downtown Denver, Number 48 bus to 60th Avenue & Dahlia Street, then Number 88 bus to 60th & Monaco. Then they make you walk 10 blocks on 60th to get to the stadium.
The Beatles played Red Rocks Amphitheatre in suburban Morrison on August 26, 1964. It is still in business, and a Colorado Music Hall of Fame is a short walk away. 18300 W. Alameda Parkway, 10 miles west of downtown. Sorry, no public transportation.
Elvis played 2 shows at the Denver Coliseum on April 8, 1956, and 1 each on November 17, 1970 and April 30, 1973. Built in 1951, it still stands, seating 10,500, and is best known for concerts and the National Western Stock Rodeo. 4600 Humbolt Street at E. 46th Avenue, off Interstate 70, 3 miles northeast of downtown. Apparently, no public transportation to there, either.
Denver has some renowned museums, including the Denver Museum of Nature & Science (their version of the Museum of Natural History) at 2001 Colorado Blvd. at Montview Blvd. (in City Park, Number 20 bus), and the Denver Art Museum (their version of the Metropolitan Museum of Natural History), at 100 W. 14th Avenue Parkway at Colfax Avenue (across I-25 from Mile High Stadium, Auraria West station on the C-Line and E-Line).
Denver's history only goes back to a gold rush in 1859 – not to be confused with the 1849 one that turned San Francisco from a Spanish Catholic mission into the first modern city in the American West. The city isn't exactly loaded with history.
There's no Presidential Library – although Mamie Doud, the eventual Mrs. Dwight D. Eisenhower, grew up there, and her house is now a historic site. Mamie and "Ike" were married there, their son John (a future General, Ambassador and military historian) was born there, and the Eisenhowers were staying there when Ike had his heart attack in 1955. The house is still in private ownership, and is not open to the public. However, if you're a history buff, or if you just like Ike, and want to see it, it's at 750 Lafayette Street, at 8th Avenue. The Number 6 bus will get you to 6th & Lafayette.
After his heart attack, Ike was treated at Fitzsimmons Army Medical Center in nearby Aurora, 12 years after Senator John Kerry, nearly elected President in 2004 and now Secretary of State, was born there. It's not a Presidential Birthplace, because Kerry narrowly lost. It is now the University of Colorado Hospital. The Fitzsimmons Golf Course is across Montview Boulevard – it figures that Ike would be hospitalized next to a golf course! 16th Avenue & Quentin Street. Number 20 bus from downtown.
The University of Denver's Newman Center for the Performing Arts hosted a 2012 Presidential Debate between Barack Obama and Mitt Romney. 2344 East Iliff Avenue, about 5 miles south of downtown. The University's Magness Arena hosted the Frozen Four in 1961, 1964 and 1976. 2250 E. Jewell Avenue. Both can be reached via H Line light rail to University of Denver Station.

Byron "Whizzer" White was a star football and basketball player at the University of Colorado in the late 1930s, a Rhodes scholar, a running back for the Pittsburgh Steelers and the Detroit Lions, a Bronze Star-winning Navy officer in World War II, one of Colorado's finest lawyers, the chairman of John F. Kennedy's Presidential campaign in the State, and one of the longest-serving Justices on the U.S. Supreme Court. He is buried at the Cathedral of St. John in the Wilderness, 1350 N. Washington Street at 14th Avenue. Bus 6.


Denver doesn't have as many tall buildings as the nation's bigger cities, nor are they as interesting, architecturally. The tallest building in the State of Colorado is Republic Plaza, 714 feet high, at 17th Street & Tremont Place downtown.
The University of Colorado is in Boulder, 30 miles to the northwest. At Market Street Station, 16th & Market, take the BV Bus to the Boulder Transit Center, which is on campus. The ride should take about an hour and 20 minutes. Colorado State University is in Fort Collins, 65 miles up Interstate 25 north, and forget about reaching it by public transportation.
The U.S. Air Force Academy is outside Colorado Springs, 60 miles down I-25. As with Fort Collins, you'd need Greyhound. Unlike CSU, you might not be able to just go there: Some of the area is restricted. It is, after all, a military base.
Colorado Springs was also home to the Broadmoor Ice Palace, which hosted what's now called the Frozen Four every year from its inception in 1948 until 1957, and again in 1969. The 3,000-seat arena at The Broadmoor Resort & Spa was home ice to Colorado College from 1938 to 1994. 1 Lake Avenue, across Cheyenne Lake from the main hotel. Its 7,750-seat 1998 replacement, the Broadmoor World Arena, is 4 miles to the east, at 3185 Venetucci Blvd.
A few TV shows have been set in Denver, but you won't find their filming locations there. The old-time Western
Whispering Smith
and the more recent one
Dr. Quinn, Medicine Woman
were set in old Colorado, but filmed in Southern California.
Probably the most famous show set in Colorado is
South Park
, and that's a cartoon, so forget seeing anything from that. Not quite as cartoonish was
Mork & Mindy
, set in Boulder. The McConnell house actually is in Boulder, at 1619 Pine Street. But don't try to copy the opening-sequence scene with Robin Williams and Pam Dawber on the goalposts at the University of Colorado's Folsom Field. You could fall, and end up saying, "Shazbot!"
The most famous show
ever
set in Colorado was
Dynasty
, ABC's Excessive Eighties counterpart to CBS'
Dallas
, starring John Forsythe as Blake Carrington, an oilman and a thinly-veiled version of Marvin Davis, who nearly bought the Oakland Athletics from Charlie Finley in 1978 with the idea of moving them to Mile High Stadium, but the deal fell through. Right, you don't care about Blake, all you care about is the catfights between the 2nd and 1st Mrs. Carrington's: Krystle (Linda Evans) and Alexis (Joan Collins). The Carrington mansion seen in the opening credits is in Beverly Hills, but the building that stood in for the headquarters of Denver Carrington is at 621 17th Street, while the one that stood in for Colbyco is at 1801 California Street.
Movies set in Denver or its suburbs include
The Unsinkable Molly Brown
, the original
Red Dawn
, and, of course,
Things to Do In Denver When You're Dead
. Films involving skiing often take place in Colorado towns such as Aspen or Vail.
City Slickers
, a film with loads of baseball references, has a cattle drive that ends in Colorado, but there's no indication of how close it is to Denver.
Flashback
takes place on the Pacific Coast, but Denver's Union Station stands in for a train station in San Francisco.
*
Denver sports has been defined by the Broncos, their 1st major league sports team, for over half a century. The Broncos have been an iconic sports franchise in America from the Autumn of '77 onward. They're usually at least good, sometimes great. Now -- the game I cited at the beginning of this piece having ended -- they are 1 win away from their 8th Super Bowl.
A Bronco game can be a very loud, very exciting experience. Hopefully, the 2016 NFL season will feature either the Giants or the Jets going to Denver. Who knows, maybe the Jets will play a Playoff game out there. This guide should have you ready for any of these events.