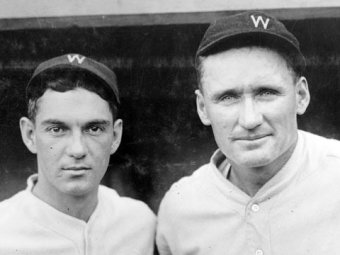 The Washington Nationals lost the National League Division Series to the San Francisco Giants, just as they did to the St. Louis Cardinals in 2012.
It's too soon to say that they're chokers or cursed, despite their 2012 Game 5 9th inning collapse, which could have been avoided if they'd just let Stephen Strasburg pitch in the postseason.
But the franchise, which was the Montreal Expos from 1969 to 2004, has never won a Pennant. Aside from the Strike year of 1981, it's never been in a League Championship Series. No Washington baseball team has won a Pennant since the Senators did it in 1933. And no Washington baseball team has won a World Series since...
October 10, 1924, 90 years ago today:
Game 7 of the World Series at Griffith Stadium. The New York Giants led the Senators 3-1 in the bottom of the 8th, when Bucky Harris, the Senators' 2nd baseman and not-quite-28-year-old "boy manager" hit a grounder that struck a pebble in the infield dirt, and sailed over the head of Fred Lindstrom, the Giants' 18-year-old rookie 3rd baseman, who is still the youngest player ever to appear in a World Series game.
The hit tied the game, and Harris brought the great Walter Johnson in to pitch, having, to that point, pitched 18 seasons, won an American League record 377 games, tossed a record 104 shutouts, and struck out a record 3,281 batters. (He'd go on to win 417, pitch 113 shutouts, and fan 3,508. The strikeout record is no longer his, the others still are.) Johnson went 23-7 that season, at age 37, and had started and lost Games 1 and 5, with the whole country behind him.
In the bottom of the 12th inning, Giants catcher Hank Gowdy -- a star of Boston's 1914 "Miracle Braves" and the 1st ballplayer to enlist in World War I -- stepped on his own discarded mask while trying to catch a foul pop-up hit by the Senators' catcher, Muddy Ruel, and dropped the ball for an error. Given a 2nd chance in the at-bat, Ruel doubled. Johnson reached 1st on another error. (In the photo above, that's Ruel on the left, Johnson on the right.)
The batter was Earl McNeely, and smacked a grounder that may have hit the same pebble as Harris' earlier hit. It sailed over the head of the hard-luck Lindstrom -- who did go on to have a Hall of Fame career -- and Ruel, a notoriously slow runner, had just enough gas in his tank to score the title-winning run.
For the 1st time, a team from the Nation's Capital had won a World Championship of baseball. The whole country celebrated -- except for Giant fans. You can bet that Brooklyn Dodger fans celebrated, and that Yankee Fans, though they had finished just 2 games behind, also did.
It was the 1st time, but there has never been a 2nd. The Senators would make it back-to-back Pennants in 1925, but lost Game 7 of the Series to the Pittsburgh Pirates. They won another Pennant in 1933, but lost to the Giants. They never won another: The "old Senators" moved to become the Minnesota Twins in 1961, and a "new Senators" expansion franchise was established, only to move to become the Texas Rangers in 1972. The Expos became the Nationals in 2005, but haven't reached the NLCS.
Outfielder George "Showboat" Fisher was the last survivor of the '24 Senators, living until 1994, age 95.
A title for Washington has been long in coming, and it won't come this year.
October 10, 1924. Ninety years. How long has that been?
*
The Senators played in Griffith Stadium, a 27,000-seat ballpark named for their owner, Clark Griffith, who had been a Hall of Fame pitcher in his own right. The new Senators would move to District of Columbia Stadium in 1961, and see its name changed to Robert F. Kennedy Memorial Stadium in 1969. The Nationals played at RFK until 2007, and the next season Nationals Park opened.
Monuments to Griffith and Johnson were placed outside Griffith Stadium. When it was torn down, and replaced with the Howard University Hospital, the Johnson monument was moved to a high school named for him nearby Rockville, Maryland, where he lived and was buried; while the Griffith monument, and one to Washington Redskins founder-owner George Preston Marshall, were placed outside RFK.
A statue to Johnson now stands outside Nationals Park, alongside statues for Josh Gibson, who played home games at Griffith Stadium for the Negro Leagues' Homestead Grays, and Frank Howard, the slugger for the new Senators who hit the last home run for the team, and (along with then-President George W. Bush) threw out the ceremonial first ball before the 1st Nationals game.
There were 16 major league teams in 10 cities: 3 in New York; 2 each in Boston, Chicago, Philadelphia and St. Louis; and 1 each in Cincinnati, Cleveland, Detroit, Pittsburgh and Washington. There were no teams further west than St. Louis, and no teams further south than St. Louis, Cincinnati and Washington.
Fenway Park in Boston and Wrigley Field in Chicago were the only major league ballparks in use then that are still in use now, and were not considered all that special then. The Philadelphia Phillies were playing in Baker Bowl, which had opened in 1895.
There were a few white Hispanics playing in the major leagues, but no black players, Anglo or Latin, and no Asian players. There were no stadiums with lights, no electric scoreboards, no artificial turf, no domes, retractable or otherwise. It was still illegal to play sports in Pennsylvania on Sundays.
The NFL existed, but it was hardly a "major league" at this point. The only teams then in existence that survive are the Green Bay Packers, the Chicago Bears, and the Chicago Cardinals (now in Arizona). The New York Giants were a year away from being established. The NHL was about to debut its 1st American team, the Boston Bruins; the other teams were the Montreal Canadiens and Maroons, the Toronto St. Patricks (forerunners of the Maple Leafs), the Ottawa Senators (not the current team with the name), and the Hamilton Tigers. Professional basketball existed, but "major league" basketball did not.
Early baseball legends George Wright and Joe Start were still alive. So was Gentleman Jim Corbett, the 1st heavyweight boxing champion to use gloves. The defining players of my childhood weren't born yet. Nor were Mickey Mantle, Willie Mays, Hank Aaron, Frank Robinson, Sandy Koufax or Roberto Clemente. Dizzy Dean was 14 years old, Hank Greenberg was 13, Joe DiMaggio was about to turn 10, Ted Williams and Bob Feller were 6, Jackie Robinson 5, Stan Musial about to turn 4, Warren Spahn was 3.
The Senators took the title away from the Yankees, who were in their 2nd season at the original Yankee Stadium. The NFL Championship was won by the Cleveland Bulldogs, their 3rd straight, although they were the Canton Bulldogs for the 1st 2. The Canadiens had won the Stanley Cup earlier in the year. The Heavyweight Champion of the World was Jack Dempsey.
The Olympics had just been held in Paris, and the 1st Winter Olympics had also been held in France, in Chamonix. Since then, the Olympics have been held in America 7 times, Canada 3, Germany 3, Japan 3; twice each in Britain, Australia, France, Spain, Italy, Austria, Russia, Switzerland and Norway; and once each in the Netherlands, Finland, Greece, Bosnia, Mexico, Korea and China.
The World Cup soccer tournament had not yet been held for the 1st time. It has since been held in Italy twice, France twice, Brazil twice, Germany twice, Mexico twice, England, Spain, Uruguay, Sweden, Argentina, Japan, Korea, South Africa, and even once in America.
There were 48 States in the Union. Arizona, New Mexico and Oklahoma had been added in the last 17 years; Utah, Wyoming, Idaho, Washington, Montana, South Dakota and North Dakota within the last 33. There were 19 Amendments to the Constitution of the United States. There was no Federal Deposit Insurance Corporation, no Civil Rights Acts, no Social Security, no Medicare, no Medicaid, no Environmental Protection Agency. Abortion? Gay Marriage? Hell, producing, possessing, transporting, selling, buying and consuming alcoholic beverages wasn't even legal.
The President of the United States was Calvin Coolidge. Oddly, for a New Englander, he didn't like baseball. But his wife Grace did. (My grandmother, also named Grace, was born that year, and she loved baseball.) The First Lady convinced the President that the man of the office should be at World Series games played in the Nation's Capital, even as he was running for a full term of his own. (He had been Vice President when President Warren Harding had died a year earlier. Coolidge would win easily in November.)
William Howard Taft, his wife, and the widows of Harding, Woodrow Wilson, Theodore Roosevelt and Grover Cleveland were still alive. Mrs. Harding would follow her husband into the tomb in a few days. Richard Norton Smith, a conservative historian who has run the Presidential Libraries of Presidents Hoover, Eisenhower, Ford and Reagan, has nonetheless called the conservative Republican Harding's Administration "the creepiest in the nation's history" for reasons I won't get into here, but I will say that he has a point.
The Governor of New York was Alfred E. Smith, currently smarting from having been denied the Democratic nomination for President due to the anti-Catholic influence of the Ku Klux Klan, which would never be so powerful again. (Good news for not just blacks, but also Catholics and Jews.) Smith then concentrated on his bid for re-election, and defeated Theodore Roosevelt Jr., in spite of the Coolidge landslide.
The Mayor of New York was John F. Hylan (for whom Staten Island's Hylan Blvd. is named). The Governor of New Jersey was George S. Silzer. Washington, D.C., the city in question, did not have an elected Mayor at that time; instead, it was run by a Congressionally-chosen Board of Commissioners, whose president was Cuno Hugo Rudolph.
There were still living veterans of the Mexican-American War of 1846-48, the European Revolutions of 1848, and the Crimean War of 1854-57, including the storied Charge of the Light Brigade. There are those who believe that Butch Cassidy, the Sundance Kid, and Billy the Kid survived their alleged Wild West deaths, but Wyatt Earp was definitely still alive.
The Nobel Peace Prize was not awarded in 1924, or in 1923, so the current holder was still the 1922 winner, Fridtjof Nansen, a Norwegian scientist, a champion skier and skater, and an activist for refugees and hunger relief, still an issue after World War I and the Russian Civil War. The Pope was Pius XI. Popes Francis and Benedict XVI weren't born yet. Pope John Paul II was 4 years old,
The Prime Minister of Canada was William Lyon Mackenzie King, and of Great Britain James Ramsay MacDonald, although his Liberal Party was about to be turned out of power by the voters, in favor (or, as it would be "spelt" there, "favour") of the Conservative Party, led by Stanley Baldwin. The monarch of both nations was King George V, and his granddaughter, current Queen Elizabeth II, hadn't been born yet. There have since been 15 Presidents of the United States, 4 British Monarchs, and 8 Popes.
Huddersfield Town, of Yorkshire, and managed by Herbert Chapman, won the Football League, while the FA Cup was won by Newcastle United.
Major novels of 1924 included
The Land That Time Forgot
by Edgar Rice Burroughs,
A Passage to India
by E.M. Forster,
The Magic Mountain
by Thomas Mann, and
Beau Geste
by P.C. Wren. Maxwell Anderson and Laurence Stallings premiered their World War I play,
What Price Glory
? C.S. Lewis had just become a philosophy tutor at Oxford University. J.R.R. Tolkien was teaching at the University of Leeds. The following year, Tolkein would return to Oxford, and meet Lewis the year after that.
Television? In 1924? Forget it, it was still in the experimental stage. Even radio broadcasting, as we would come to know it, wasn't yet in full force. Computers? You've got to be kidding. Alan Turing was 12 years old. Less than half of all American homes had telephones. There were no credit cards or automatic teller machines.
Artificial organs were not yet possible. Transplantation of organs was not possible. The distribution of antibiotics was not possible: If you got any kind of infection, you could easily die. There was no polio vaccine.
In spite of the fiction of Jules Verne and H.G. Wells, no one had yet launched a rocket toward space.
Movies were silent. Charlie Chaplin and Douglas Fairbanks Sr. were still major stars, the former taking nearly the entire year (unusual for any film in those days) to film The Gold Rush, the latter in The Thief of Baghdad. Rudolph Valentino was the heartthrob of the age. Erich Von Stroheim premiered his 4-hour epic Greed, the 1st film to be released by the newly-conglomerated Metro-Goldwyn-Mayer (MGM).
There were pulp novels and comic strips, but not comic books, or the heroes thereof, super or otherwise, as we know them today. No one had yet heard of Charlie Chan, the Hardy Boys and Nancy Drew, Miss Marple (although Hercule Poirot had been introduced), Buck Rogers or Flash Gordon, Ellery Queen, Simon Templar, Sam Spade, The Shadow, Dick Tracy, the Lone Ranger, Doc Savage, Perry Mason, Nero Wolfe, the Green Hornet, the Phantom, or Philip Marlowe.
Nor had anyone yet heard of Mickey Mouse, Popeye, Betty Boop, Bugs Bunny or Casper the Friendly Ghost. Nor had anyone yet heard of Laurel & Hardy, Burns & Allen, the Marx Brothers, the Three Stooges or Abbott & Costello. There was no James Bond: Ian Fleming was at Eton College. There was no
Star Trek
: Gene Roddenberry was 3 years old.
It was a good year for music, although this was not fully realized at the time. George Gershwin debuted "Rhapsody in Blue" and "Fascinating Rhythm," Al Jolson "California, Here I Come," Ma Rainey "See See Rider," and Billy Rose "Does Your Spearmint Lose Its Flavor On the Bedpost Overnight?" (Lonnie Donegan would turn it into "Does Your Chewing Gum... " in 1961.)
Harry Frazee -- nearly 5 years after the legend incorrectly says he sold Babe Ruth from the Red Sox to the Yankees in order to finance it -- premiered his Broadway musical
No, No, Nanette
, featuring the song "Tea for Two." Louis Armstrong split from King Oliver's band and formed his Hot Five. Bing Crosby was on the baseball team at Gonzaga University in his native Spokane, Washington, and was singing with a local group called The Three Harmony Aces.
Elvis Presley wasn't born yet. Nor was Johnny Cash. Nor was Bob Dylan. Nor were any of the Beatles. Frank Sinatra was about to turn 9. Earl Scruggs, Slim Whitman, Sarah Vaughan, Doris Day, Henry Mancini, Chet Atkins, Jim Reeves, Dinah Washington, Roger Williams and Allan Sherman (the Weird Al Yankovic of the 1960s) were born that year. Of these, only Doris Day is still alive in October 2014.
Inflation was such that what $1.00 bought then, $13.80 would buy now. A U.S. postage stamp cost 2 cents, and a New York Subway ride 5 cents. The average price of a gallon of gas was 11 cents, a cup of coffee was 10 cents, so was a hamburger, a movie ticket was 25 cents, a new car $265, and a new house $7,720. The Dow Jones Industrial Average closed that day at 101.38.

In the Autumn of 1924, Josef Stalin was consolidating his power in the Soviet Union, following the death early in the year of Vladimir Lenin. Adolf Hitler was about to be released from Landsberg Prison, where he served 8 months for his activities in the Beer Hall Putsch. France ended its postwar occupation of Germany. The Kohat Riots broke out in India.
U.S. Army pilots John Harding and Erik Nelson completed the 1st aerial circumnavigation, taking 175 days and making 74 stops, starting and ending their around-the-world flight in Seattle. And Nellie Tayloe Ross was elected Governor of Wyoming, the 1st woman elected Governor of any State. (Fitting, because Wyoming was the 1st State to grant women the right to vote.)
Giacomo Puccini, and Henry Cabot Lodge Sr., and Baseball Hall-of-Famer Frank Chance died. Jimmy Carter, and Truman Capote, and Lauren Bacall were born. So were future Yankee stars Jerry Coleman and Dr. Bobby Brown. The same day that the Senators won the World Series, notorious film director Ed Wood was born.
October 10, 1924. The Washington Senators win their one and only World Series. The franchise would not win another for 63 years, until 1987, as the Minnesota Twins. No Washington baseball team has ever won another.
Will it happen in the next few years? The Nationals have plenty of young talent. Can they hang onto it? Or will we see Bryce Harper of the Yankees batting against Stephen Strasburg of the Dodgers in, say, the 2019 World Series? Stay tuned.
UPDATE: Through the 2017 season, the Nats still have not won a Pennant. Harper and Strasburg are still there. With the Yankees having signed Giancarlo Stanton for 2018, it looks like they won't be going for Harper.