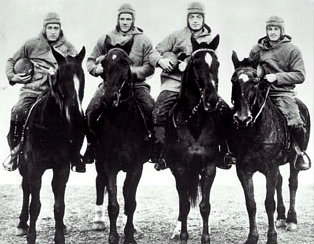 October 18, 1924, 90 years ago:
Two of the most iconic games in the history of college football are played.
At the Polo Grounds in New York, the South Bend, Indiana-based University of Notre Dame beats Army -- the U.S. Military Academy at West Point, New York -- 13-7, led by their 4-man backfield: Quarterback Harry Stuhldreher, left halfback Jim Crowley, right halfback Don Miller and fullback Elmer Layden. Layden scored a touchdown in the 2nd quarter, Crowley in the 3rd.
Army was favored to win, but there was precedent: Notre Dame had shocked them in 1913, with quarterback Gus Dorais and end Knute Rockne, for all intents and purposes, introducing the passing game to a wide audience, and making Notre Dame more than just what we would now call a "mid-major" Catholic school in the Midwest like DePaul or Marquette. Now, with Rockne as head coach, the Fighting Irish -- although Miller was of English descent, and Stuhldreher, German -- pulled off a much less surprising upset.
George Strickler, a Notre Dame student, was what we now call a publicity director. At halftime, he mentioned Rudolph Valentino's 1921 silent film epic
The Four Horsemen of the Apocalypse
, (although that term comes from the Bible's
Book of Revelation
), in the press box. The great syndicated sports columnist Grantland Rice, based out of the
New York Herald Tribune
, ran with it, and wrote this opening paragraph, the most famous piece of sportswriting ever:
Outlined against a blue-gray October sky, the Four Horsemen rode again. In dramatic lore their names are Death, Destruction, Pestilence, and Famine. But those are aliases. Their real names are: Stuhldreher, Crowley, Miller and Layden. They formed the crest of the South Bend cyclone before which another fighting Army team was swept over the precipice at the Polo Grounds this afternoon as 55,000 spectators peered down upon the bewildering panorama spread out upon the green plain below.
They don't write 'em like that anymore: Not only was the 1920s, as Rice himself later billed it, the Golden Age of Sports, it was the golden age of sportswriting, with Rice joined by such men as Ring Lardner, Paul Gallico, Jimmy Cannon and Damon Runyon.
To further plant the idea of the Four Horsemen in people's minds, the 4 of them were posted on horseback, wearing full uniforms and holding footballs. (But nobody ever asked Red Grange to pose as a ghost, or on a galloping horse.) From left to right: Miller, Layden, Crowley, Stuhldreher. A set of statues representing that photo is now at Notre Dame's Guglielmo Athletic Complex.
Over their 3 seasons -- freshmen were not eligible to play varsity football at the time -- Notre Dame won 27 games and lost only 2, both away to Nebraska, plus a tie in an earlier game with Army. They won the 1924 National Championship, defeating Ernie Nevers' Stanford squad in the 1925 Rose Bowl, with Layden returning 2 interceptions for touchdowns. (Notre Dame would then refuse all bowl invitations until 1970 -- having been shamed into it because they refused to take on Texas for the National Championship in the previous year's Cotton Bowl.)
None of the 4 was over 6 feet tall, and none weighed more than 162 pounds. But this was typical of football players of the Roaring Twenties. And no one today can question their toughness: In their 30 games together, they played in primitive protective equipment, played offense and defense, excelling on both sides, and played all 60 minutes with no substitutions. The line that protected them was nicknamed the "Seven Mules," to emphasize their crucial but less glamorous function.
*
How did the Four Horsemen do in the pros? Not especially well. Pro football was then still frowned upon, as a backwater game at best, and as outright dishonorable at worst. The 4 of them only played 1 professional game together, at the end of the 1925 season, for the Waterbury Blues against a team from Adams, Massachusetts, at Hartford, Connecticut (about halfway between), and won 34-0. (Imagine Peyton Manning passing to Larry Fitzgerald, with Adrian Peterson and Marshawn Lynch in his backfield, and the other 7 players on his own team and the 11 on the other side being college players, and you'll get the idea of what it was like.) The Horsemen were paid $5,000 apiece -- about $68,000 in today's money, for a little over 2 hours' performance. Then as now, nice work if you can get it.
Stuhldreher, from the football-crazy town of Massillon, Ohio (also hometown of Yankee Legend Tommy Henrich), and Layden, from Davenport, Iowa (part of the "Quad Cities" that were then represented in the NFL by Illinois' Rock Island Independents), had a team built around them and named for them, the Brooklyn Horsemen. They played in the original American Football League in 1926. When that league folded, they were absorbed into the NFL (which still needed the publicity), and played 3 games in that league's '26 season. Stuhldreher ended his playing career after that season, and was named head coach at Villanova and the University of Wisconsin, managing a decent record but no conference titles in 24 years. He then worked for U.S. Steel and wrote a couple of books about football. He died in 1965, only 63 years old.
Layden went on to be the head coach at Pittsburgh's Duquesne University, getting them into the 1934
Festival of Palms Bowl, the forerunner of Miami's Orange Bowl. He then became head coach at Notre Dame, and in 1941 was offered the post of Commissioner of the NFL, serving 5 seasons and guiding them through the difficulties caused by the manpower shortage from the World War II draft. He then went into business in Chicago, and died in 1973, age 70.
Miller, from Defiance, Ohio, about halfway between Toledo and Fort Wayne (and the only 1 of the 4 from anywhere near South Bend), coached at Georgia Tech and then practiced law. He was appointed a U.S. Attorney for the Cleveland area by President Franklin D. Roosevelt, and died in 1979, age 77.
Crowley, from the football-crazy town of Green Bay, Wisconsin, became an assistant coach at Georgia, and head coach at Michigan State and Fordham. At Fordham, in The Bronx, he coached a team that challenged for the National Championship in 1937 and '38, with a line known as the Seven Blocks of Granite, including 2 future Pro Football Hall-of-Famers. Alex Wojciechowicz starred for the Philadelphia Eagles and the Detroit Lions. The other never played a down of pro ball, and is in the Hall as a coach: Vince Lombardi. (Longtime Giants owner Wellington Mara didn't play, but was also a student at Fordham at this time.)
Crowley enlisted in the Navy in World War II, and coached the Navy's renowned North Carolina Pre-Flight School team, before coaching the Chicago Rockets of the All-America Football Conference, including receiving legend Elroy "Crazy Legs" Hirsch. He later became chairman of the Pennsylvania State Athletic Commission, and was the last survivor of the Four Horsemen, living until 1986, at the age of 83.
*
On the same day that Rice wrote his famous prose, Red Grange led the defending National Champions, the University of Illinois, onto the field at brand-new Memorial Stadium in Champaign for its dedication game against the University of Michigan.
Harold Edward Grange was born on June 13, 1903, in Forksville, in the mining country of Northeastern Pennsylvania -- 5 days before Lou Gehrig was born 200 miles to the southeast in East Harlem, Manhattan. His father was foreman on a lumber camp, and eventually moved the family to Wheaton, Illinois, about 30 miles west of Chicago, where 4 of his brothers lived, and he became chief of police. His son, nicknamed Red because of his hair, got a job delivering ice, a hard job because ice is heavy. (A gallon of water weighs over 8 pounds. Now imagine it hard as a rock.) It made him strong, and he was fast, too. He was nicknamed "The Wheaton Iceman" well before "The Galloping Ghost." He made $37.50 a week ($447 in today's money).
Red lettered in football, baseball, basketball and track at Wheaton High School, all 4 years, 16 varsity letters. He was a State Champion in the high jump, the long jump and the 100-yard dash. The school is now known as Wheaton Warrenville South High School, and also counts astronomer Edwin Hubble, journalist Bob Woodward, and the comedian brothers John and Jim Belushi among its alumni. The colors are orange and black -- not quite the same colors as Red would wear for the Illini and the Bears, but close. The school's stadium is named Red Grange Field.
In his 1st game at Illinois, Grange scored 3 touchdowns against Nebraska, a very strong team at the time. The Helms Athletic Foundation awarded Illinois the National Championship. This notoriety allowed Illinois to raise the money to build a new stadium, as a memorial to the school's alumni who had fallen in World War I a few years earlier.
In the dedication game of October 18, 1924, Grange led the Fighting Illini, and a player now largely forgotten outside Michigan, Bennie Oosterbaan, led the Wolverines, who were favored to win the National Championship. (Michigan and Notre Dame did not play that season -- they have not always played, occasionally feuding, and this was during one of the feuds.)
Grange returned the opening kickoff 95 yards for a touchdown. He ran 67 yards for a touchdown. He ran 56 yards for a touchdown. He ran 44 yards for a touchdown.
All this was accomplished in the 1st 12 minutes of the ballgame.
He later passed for another touchdown, and returned a kick for another. He accounted for 6 touchdowns in Illinois' 39-14 victory.
Keep in mind: Michigan was already the most honored college football program west of the Ivy League. In spite of the achievements of Rockne and George Gipp, Notre Dame was not yet
Notre Dame
. It was the Four Horsemen, and Rockne's subsequent publicity campaigns through the beginnings of mass media in the 1920s, that made the school iconic. (Even Gipp wasn't as famous in life as the 1928 Notre Dame-Army game, in which Rockne made up the "Win one for the Gipper" story, and the later film
Knute Rockne, All-American
, with Pat O'Brien as Rockne and young Ronald Reagan as Gipp, would make him in death.)
But Michigan, under the guidance of legendary coach Fielding Yost, was already
Michigan
, which, though struggling now in 2014, remains the defining football school of the league that became the Big Ten.
Having made legends out of the Four Horsemen, Grantland Rice took pen in hand (or, more likely, tapped out on his typewriter), and wrote this about Grange:
A streak of fire, a breath of flame
Eluding all who reach and clutch;
A gray ghost thrown into the game
That rival hands may never touch;
A rubber bounding, blasting soul
Whose destination is the goal
Red Grange of Illinois!
Although Rice had called Grange "a gray ghost" (and he certainly appears as such in the few surviving film clips of him playing, all black and white, of course), Warren Brown, writing for the
Chicago American
, gave him the nickname "the Galloping Ghost."
Illinois coach Bob Zuppke would later say, "An All-American consists of a fast back, weak opposition and a poet in the press box." But he also said, "I will never have another Grange, but neither will anyone else. They can argue all they like about the greatest football player who ever lived, but I was satisfied I had him when I had Red Grange." A statue of Grange now stands outside Memorial Stadium -- essentially, the house than Zuppke and Grange built.
Grange's 77 became the 1st celebrated uniform number in American sports -- especially since Major League Baseball wouldn't have uniform numbers until 1929, and the National Hockey League until 1926. When asked how he got the famous double-digit, he said, "The guy in front of me got 76, and the guy behind me got 78." It wasn't a choice, and it's not like Wheaton had uniform numbers at the time. (In case you're wondering about the Four Horsemen, I looked it up: Layden wore 5, Miller 16, Crowley 18 and Stuhldreher 32.)
Late in the 1925 season, Illinois went to Philadelphia, and stunned the University of Pennsylvania 24-2 at Franklin Field. Grange ran for 237 yards and 2 touchdowns on a mud-soaked field. In his last collegiate game, the next week, Illinois beat Ohio State 14-9.
*
On November 26, 1925, just 5 days after his last game at Illinois -- that was legal at the time, as there was no NFL Draft, nor NFL restrictions on signing players -- Grange put on Number 77 for the Chicago Bears, for a salary of $3,000 a game. It was easy enough for them to sign him, as their founder, owner, coach, and end (both offensive and defensive), George Halas, was also a University of Illinois man. (So would be later Bear stars such as Dick Butkus. And when Soldier Field was torn down and rebuilt, the Bears played their 2002 home games at UI's Memorial Stadium, which still stands.) Halas almost certainly patterned the Bears' navy blue and orange uniforms after the Illini's. (With UI, it's obviously blue, but, for the Bears, as with the color of the Yankee Pinstripes, it's so dark that it usually appears as black.)
Zuppke, who despised the idea of playing football for money, didn't speak to Grange for many years after that, although they patched things up before Zuppke's death in 1957. University of Chicago coach Amos Alonzo Stagg, one of the first great football players and the creator of so many football innovations, also publicly deplored professional football. "I'd have been more popular with the colleges if I had joined Capone's mob in Chicago rather than the Bears," Grange said.
Zuppke had no one to blame but himself: In 1918, he asked his players, "Why is it that, just when you're learning how to play this game, you have to stop?" One of his seniors was Halas, and, with Coach Zup's thought in mind, he and a few friends founded what became the NFL 2 years later.
Grange's 1st pro game was the annual Thanksgiving Day tussle between the Chicago arch-rivals, the Bears and the Cardinals, at Cubs Park on the North Side, which was renamed Wrigley Field the next year. (The Cardinals played home games at Comiskey Park on the South Side.) Before a full house of 39,000 fans, the biggest crowd in Chicago football history to that point, the game ended in a scoreless tie, and the Cardinals went on to win the NFL Championship. (In a tremendous controversy -- but that's a story for another time.) The Bears finished 9-5-3.
On December 6, the Bears came into the Polo Grounds to play the Giants. In their 1st season, the Giants were in serious trouble. They need a lot of money in a hurry, or they would fail, just as an earlier NFL team with the name New York Giants already had.
With Grange as the draw, the Giants got their money. A crowd of 70,000, the largest in the 6-season history of the NFL, came to see Grange. The Bears won, 19-7, but few Giant fans left the Harlem Horseshoe unhappy: They had seen the greatest football player in the world: Grange, who also excelled on defense, returned an interception 73 yards for a touchdown, 1 of 3 he scored in the Bears' last 5 games of 1925. The Giants finished the season, and 2 years later were NFL Champions, the 1st of 8 titles the franchise has won, 3rd in the NFL behind Green Bay and Chicago, and 2nd in the New York Tri-State Area behind the Yankees.
The Bears played a game against an all-star team in Washington, D.C., and got to go to the White House and meet President Calvin Coolidge. They were introduced to Silent Cal as "George Halas and Red Grange, with the Chicago Bears." Coolidge was not at all interested in sports (especially since his son John had recently died due to an infection sustained while playing tennis barefoot), but his wife Grace was very interested, and dragged him to the Washington Senators' home games in the 1924 and '25 World Series. According to Grange, Coolidge said to him, "Young man, I'm very pleased to meet you. I've always liked animal acts."
What was not widely known at the time is that Grange hurt his knee in the game against the Giants. But Halas and Grange's agent, a wisenheimer named C.C. Pyle (a.k.a. Cash & Carry Pyle), put together a postseason barnstorming tour. It began on Christmas Day against an all-star collegiate team on the University of Miami campus. It continued on New Year's Day in Tampa against a team led by Jim Thorpe. The Bears played the very next day (Can you imagine such a thing being tried today?) in Jacksonville. A week later, New Orleans; a week later, games on back-to-back days at the Los Angeles Coliseum and Balboa Park in San Diego; a week later, at Kezar Stadium in San Francisco; a week after that, back-to-back days in Portland and Seattle, closing against a team led by the closest thing the American West had to Grange (aside from the aforementioned Ernie Nevers), the University of Washington's George "Wildcat" Wilson.
Despite the hectic schedule, the Bears won 8 of the 9 games in 38 days, losing only to San Francisco (and that, only 14-9). Most of the games were not especially well-attended: Aside from the L.A. game attracting 70,000, the biggest crowd was 23,000 in San Francisco. The problem was, Grange's knee was bothering him, and he missed 2 of the games.
Pyle also got him several endorsement deals, and saw to it that he was the first football player to make the cover of
Time
magazine (founded in 1923). When Grange returned to Illinois, it was in a $5,500 Lincoln car and wearing a $500 raccoon coat. Pyle wanted to strike while the iron was hot, but Grange was in no condition to play so much on top of all the traveling.
*
It got worse. Pyle's greed knew no bounds, and while the Bears were in California, he had Grange film a silent movie,
One Minute to Play
. (Another film,
Racing Romeo
, would be made with Grange in 1927, and a serial called
The Galloping Ghost
was made in 1931.) And Pyle found a way to maneuver around the contract Grange had signed with Halas, and formed a new league, the aforementioned 1st version of the American Football League, and put Grange on its flagship franchise, the New York Yankees, at Yankee Stadium. (So Grange shared a home ground with Babe Ruth and Lou Gehrig. And can you imagine using the legal system to outflank an NFL team? It's wasn't like today, where team owners can afford the sneakiest lawyers on the planet, and toss aside contracts as if they were meaningless pieces of paper and ruin players' careers.)
The Yankees did not win the AFL title in 1926 -- the Philadelphia Quakers did. The Frankford Yellow Jackets won the NFL title, so, in the year before Ruth's 60 homers and the Jack Dempsey-Gene Tunney "Long Count" fight, Philadelphia owned football, Indeed, that year, Tunney took the title from Dempsey at Sesquicentennial Stadium (later renamed Municipal Stadium and John F. Kennedy Stadium), so, in 1926, Philadelphia was the capital of American sports.
But the Quakers and Grange's Yankees were the only AFL teams that played to significant crowds. The Quakers challenged the Jackets to a postseason game for "the championship of the world" -- which would have been, in a manner of speaking, the 1st Super Bowl. Had the Jackets accepted, and the Quakers won, it would have been a huge shot in the arm for the entire League. But the Jackets refused the challenge. The Giants stepped in, and, while only having finished 7th in the NFL, they kicked the crap out of the Quakers, 31-0, and the 1st AFL's credibility was shattered.
Grange's -- or, should I say, Pyle's -- Yankees were the only AFL team absorbed into the NFL. Indeed, 1926 was a year of glut for pro football: Of the 31 teams that began the season in the 2 leagues combined, only 12 kicked off the 1927 season. And only 4 of those were still in existence by opening week 1932, and are still in business today: The Bears, the Cardinals, the Packers and the Giants. (The Cardinals have, of course, moved twice: From Chicago to St. Louis in 1968, and to Arizona in 1988.)
On October 16, 1927 -- 16 days after Ruth hit his 60th, and 10 days after the premiere of the 1st sound film, Al Jolson's
The Jazz Singer
, Halas' Bears played Grange's Yankees at Wrigley Field. Grange reinjured his knee, and missed the rest of the '27 season, and sat out all of '28 as well. (The Bears won the game, 12-0.)
With the Yankees having folded, and lost his rights, Grange was free to sign with any team, whenever he wanted to return. He smoothed things over with Halas, and rejoined the Bears for the 1929 season. But his great speed was gone: "I was just another straight-ahead runner," he said, "and the world is full of straight-ahead runners."
But, like such later athletes as Michael Jordan and Steve Yzerman, while the offensive side of his game slipped, his defense came into greater focus. Although the nickname "the Monsters of the Midway" didn't get applied to the Bears until their title season of 1940, the Bears became a great team again in 1932, with Grange now joined in the backfield by Bronislau "Bronko" Nagurski.
Having starred at the University of Minnesota, Nagurski was 6-foot-2 and 230 pounds, and frightened people. Today, he would be considered of average size for a running back; at the time, he was huge, making him the prototype for today's big fullback. Before there was Jerome Bettis, Craig "Ironhead" Heyward, Earl Campbell, Jim Brown, Tank Younger and Marion Motley, there was Bronko Nagurski. (Who, in those early days of pro football, made a lot more money as a professional wrestler, and was Heavyweight Champion for a time.) Grange, meanwhile, was the prototype for later Bear runners like Willie Galimore, Gale Sayers and Walter Payton. It's strange, therefore, that the scatback Grange had the big man's number of 77, while the hulking Nagurski had a little man's number of 3.
The Bears won the NFL Championship in 1932, beating the Portsmouth Spartans (an Ohio-based team that became the Detroit Lions in 1934) in a playoff, with Nagurski (not usually a passer) throwing an option pass that Grange hauled in for a touchdown. In 1933, the NFL was split into Eastern and Western Divisions, and the 1st true NFL Championship Game was played at Wrigley Field between the Bears and the Giants. The Bears took a 23-21 lead late, and Grange made a game-saving tackle that Halas later called "the greatest defensive play I ever saw." In 1934, they played each other for the title again, but this time the Giants won in frigid conditions in the Polo Grounds.
It was Grange's last game, as he retired at age 31. In spite of all his fame, he played just 96 NFL games -- under today's 16-game-season format, enough to add up to just 6 full seasons. But, by the standards of his time, he was one of the greatest, scoring 32 touchdowns and passing for 10 more. Between his offense, his defense, and his injuries, he was like the Mickey Mantle of football, or the Bill Walton of football, or the Bobby Orr of football -- before any of those man were born.
*
After his retirement, he made money in the insurance business. Later, he became an analyst on Bears games and college games.
Grange married his wife Margaret, nicknamed Muggs, in 1941, and they were together for nearly 50 years. She was a stewardess -- okay, a "flight attendant" -- and they met on a plane. The couple had no children. However, he had a daughter, Rosemary Morrissey, born in 1928 from a previous relationship with Helen Flozak. (She filed a paternity suit against him, and they settled out of court. Rosemary is still alive as of this writing, but, unlike the children of Thorpe and Nagurski, has never been interviewed about her famous father.) A charter member of both the College Football Hall of Fame and Pro Football Hall of Fame, he retired to Lake Wales, Florida, about 50 miles south of Orlando and 50 miles east of Tampa.
To commemorate college football's 100th anniversary in 1969, the Football Writers Association of America chose an all-time All-America team. Grange was the only unanimous choice -- not Thorpe, not Sammy Baugh, not Doc Blanchard, not Glenn Davis, not Doak Walker, nor Ernie Davis, not Roger Staubach, not the recently crowned Heisman Trophy winner O.J. Simpson, not any of the Four Horsemen or any other Notre Dame player. (There was no Heisman Trophy until 1936, but had there been one, Grange certainly would have won it in 1924, and probably in 1925, too.)
In 1976, he sat for an interview with NFL Films producer Steve Sabol, which was used in a documentary titled
Old Leather
, about the early days of the NFL, and in many later NFL Films productions, including their 1994 anniversary film
75 Seasons: The Story of the National Football League
. (No doubt, with the 100th Anniversary coming up in 2020 -- or maybe they'll use it for the 100th season in 2019 -- it will be used in another commemoration.) In 1978, he was invited to toss the coin before Super Bowl XII in New Orleans, the 1st non-referee to receive the honor. (Now, it usually goes to either a newly-elected Hall-of-Famer or an established HOFer for either the host city or one of the participating teams.)
Red Grange, suffering from Parkinson's disease and pneumonia, died on January 28, 1991. He was 87 years old. In 1999, he was ranked number 80 on
The Sporting News
' end-of-century list of the 100 Greatest Football Players. In 2008, Grange was also ranked #1 on ESPN's Top 25 Players In College Football History list. In 2011, the Big Ten Network named Grange the league's greatest icon -- 86 years after he played his last game for Illinois. Today, 80 years after he played his last game of any kind, he remains a legend, a touchstone, one of the founding fathers of professional football.
And yet, about his success as a football player, Grange once said, "They built my accomplishments way out of proportion. I never got the idea that I was a tremendous big shot. I could carry a football well, but there are a lot of doctors and teachers and engineers who could do their thing better than I."
I'm not so sure. The fact that so little film remains of his playing, and even less of guys like the Four Horsemen, Thorpe, Nevers, Johnny "Blood" McNally and other Roaring Twenties stars, means we can't see for ourselves just how good they were.
These men are legends. It would be nice to be able to learn the truth for ourselves.