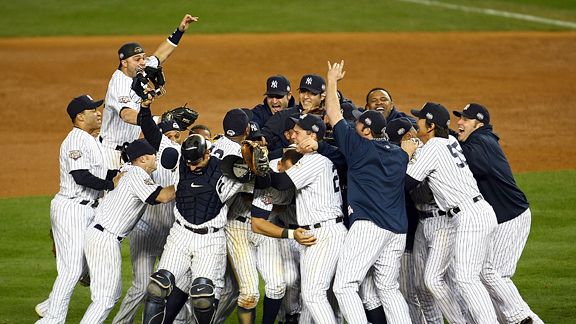 October 25, 2009:
With a 5-2 victory over the Angels at the new Yankee Stadium, the Yankees win their 40th American League Pennant. The Bronx Bombers, after a 6-year absence from the Fall Classic and 2 previous Playoff defeats against the Anaheim club, will play the Phillies in quest of their 27th World Championship.
Has it really been 5 years since the Yankees won a Pennant? With the retirement of Derek Jeter, here is every player on the Yankees' 2009 postseason roster who is, officially, still on the 40-man roster going into the 2014-15 off-season: Brett Gardner, Mark Teixeira, David Robertson, CC Sabathia, Francisco Cervelli... and, technically, Alex Rodriguez.
That's it. Six guys. And 2 of them, A-Rod and Cervelli, are pretty much useless; while Teix and CC dealt with injuries most of this season, and who knows if they'll ever be back to full strength.
*
October 25, 1867: Local clubs the Uniques and the Monitors

meet in a contest for the "championship of colored clubs" at the Satellite Grounds, at Broadway & Rutledge Street in the Williamsburg section of Brooklyn -- where the NYPD's 90th Precinct house is today. The Monitors defeat the defending champion Uniques, and it isn't even close: 49-17.
October 25, 1884, 130 years ago:
Charlie "Old Hoss" Radbourn of the National League Champion Providence Grays wins his 3rd straight over the American Association Champion New York Metropolitans – the 1st team to be known as the New York Mets, predating the Amazin's by 80 years – concluding the 3-game series and making the Grays the World Champions of baseball, which they had also become in 1879 by winning the NL Pennant.
Only 500 diehard fans show up in the cold' since Providence had already clinched by winning the first two games.
October 25? Cold weather? And they were still playing baseball at that time of year in the 1880s? Hey, Bud Selig's moronic scheduling was just trying to get baseball back to its roots!
On this same day, Lafayette College defeats Lehigh University in football, 56-0. The Lehigh Valley rivals, separated by 17 miles along U.S. Route 22 (the Lafayette Leopards in Easton, the Lehigh Engineers in Bethlehem), will go on to produce the most-played rivalry in college football. Their next meeting will be their 149th, due to having played twice and even, during World War II with travel restrictions, 3 times in some seasons. Lafayette leads the rivalry, 76-67-5.
October 25, 1888:
The Giants clinch New York's 1st true World Championship in any professional sport, 6 games to 2 by trouncing the St. Louis Browns (forerunners of the Cardinals),11-3. Tim Keefe gets his 4th win of the series.
Of course, this doesn't count amateur championships won from 1845 to 1870 by teams like the Knickerbockers, the New York Club, the Mutuals, and Brooklyn teams like the Atlantics, the Excelsiors and the Eckfords.
October 25, 1889, 125 years ago:
Howard Ellsworth Wood is born in Kansas City, and grows up in Ouray, Colorado. Because of his blazing fastball, his Boston Red Sox teammates nicknamed him Smoky Joe. In 1911, he pitched a no-hitter. In 1912, he went 34-5 for the Red Sox, including 16 straight wins. Since 1912, there have been 2 seasons of 31 wins, 1 of 30, 1 of 28 and 2 of 27, but 34 is not going to happen again unless rules or ballpark conditions are radically changed.
Shortly before a heavily hyped game against the Washington Senators on September 6, 1912, between Wood and the man generally agreed to be the best pitcher of the day, Walter Johnson, Johnson said, "Can I throw harder than Joe Wood? Listen, my friend: There's no man alive can throw harder than Smoky Joe Wood!" Reminded of Johnson's assessment 60 years later, Wood said, "Oh, I don't think there was ever anybody faster than Walter." Wood and the Sox won, 1-0. He went on to help them win the World Series by coming in to relieve the clinching Game 8. Counting the Series, he was 37-6 on the year.
Unfortunately, Wood injured his thumb in spring training in 1913, and he was never the same pitcher. The Red Sox traded him to the Cleveland Indians, where he was reunited with his former Boston teammate Tris Speaker and converted into an outfielder. He still pitched well enough to go 15-5 and lead the AL in ERA with 1.49 in 1915, giving him a career record of 117-56 at age 25. But he never won another game. Still, his hitting and fielding helped the Indians win the 1920 World Series, and he finished his career with a lifetime batting average of .283 and an OPS+ of 110. No other pitcher with at least 95 wins can top that. (Babe Ruth won 94.)
In 1965, Lawrence S. Ritter interviewed Wood for his book
The Glory of Their Times
. In 1981, Ritter and Donald Honig included him in their book
The 100 Greatest Baseball Players of All Time
. They explained what they called "the Smoky Joe Wood Syndrome," where a player of truly exceptional talent but a career curtailed by injury should still, in spite of not having had career statistics that would quantitatively rank him with the all-time greats, be included on their list of the 100 greatest players.
In addition to Wood himself, the players they included in this category were Dizzy Dean, Pete Reiser (see the 1981 entry) and Herb Score. But not Tony Conigliaro. Nor Mark Fidrych. Nor Lyman Bostock. And, of course, they could not yet have known about Dwight Gooden or Kerry Wood.
Wood later became the baseball coach at Yale University, and died in 1985, age 95, the last survivor of the 1912 World Series, and the next-to-last survivor of the 1920 World Series (with Bill Wambsganss outliving him by 4 months). His son, actually named Joe Wood, pitched 3 games for the Red Sox in 1944, due to wartime-stretched rosters, but never really made it even at the Triple-A level, and retired at age 31 in 1947. At least, like his dad, he lived to a ripe old age, making it to 86 in 2002.
*
October 25, 1911:
Game 5 of the World Series at the Polo Grounds. Giants 2nd baseman Larry Doyle scores on a sacrifice fly to give the New York Giants a 4-3 victory over the Philadelphia Athletics. According to home plate umpire Bill Klem, commenting after the game, Doyle, in his jubilation about scoring the winning run, really never touched home plate. But the A's failed to notice the gaffe, and did not appeal.
Nobody seemed to remember this, even though it evoked the mistake Doyle's teammate, 1st baseman Fred Merkle, made 3 years earlier in a game that effectively cost the Giants the Pennant. But then, it wasn't caught on film or television, and it ended up not mattering, because the A's ended up winning the World Series the next day anyway.
October 25, 1917:
Leland Stanford MacPhail Jr. is born in Nashville. The son of pioneering baseball executive Larry McPhail, Lee MacPhail was general manager of the Yankees and the Baltimore Orioles, and from 1974 to 1983 was President of the American League.
Unfortunately, Yankee Fans remember him best for overruling the correct ruling of the umpires in the Pine Tar Game of July 24, 1983, and giving George Brett a home run and the Kansas City Royals a win they did not deserve.
Larry and Lee are the only father-son combination in the Baseball Hall of Fame. Lee was the oldest living Hall-of-Famer when he died in 1912, at age 95. The Most Valuable Player award for the AL Championship Series is named for him.
His son Andy was general manager of the Minnesota Twins, and later president of the Chicago Cubs and the Baltimore Orioles. Another son, Lee MacPhail III, was working in the Philadelphia Phillies' minor-league system when he was killed in a car crash in 1969. His son, Lee MacPhail IV, works in the front office of the Seattle Mariners.
October 25, 1923:
Robert Brown Thomson is born in Glasgow, Scotland, and grows up in Staten Island, New York. If you don't know what Bobby Thomson is famous for, you either have a lot to learn, or you've never seen ESPN Classic. Hint: His name came up a few times when Travis Ishikawa hit a home run that meant, as in 1951, "The Giants win the Pennant!"
October 25, 1924, 90 years ago: Arsenal defeat their North London arch-rivals Tottenham Hotspur 1-0. Jimmy
Brain makes his Arsenal first-team debut, and scores the only goal. He would score 125 goals in 7 seasons for Arsenal, helping them to win their 1st FA Cup in 1930, and their 1st Football League title in 1931.
Early in the 1931-32 season, Arsenal sold him -- to Tottenham, of all teams! But, at that point, he was 31 years old. Especially in those days, that was considered old for a forward. (When Dennis Bergkamp, a later Arsenal legend, retired shortly before turning 37, it was considered a rare thing to be playing at such a high level. Defenders frequently last that long, but forwards usually don't. Arsenal legend Thierry Henry is still playing for the New York Red Bulls at 37, but he hasn't played in a top European league since he was 33.)
Brain played 3 seasons for Tottenham, and, amazingly -- or, perhaps not so amazingly, considering that the 1930s was the decade of the Great Depression -- kept playing until he was 40. He later managed a couple of clubs, and died in 1971, admired on both sides of the North London Derby.
*
October 25, 1940:
Robert Montgomery Knight is born in Massillon, Ohio. He was the 6th man on the Ohio State basketball team that won the 1960 National Championship, led by Jerry Lucas and John Havlicek. Like Vince Lombardi and Bill Parcells, he was an assistant coach at the U.S. Military Academy at West Point. Unlike them, Bobby Knight became head coach at "Army." He moved on to Indiana University, and led them to National Championships in 1976 (still the last undefeated season in men's college basketball history), 1981 and 1987.
But controversy has followed him, ranging from assaulting a police officer at a preseason tournament in Puerto Rico, to sexist comments, to profanity-laden press conferences, to the infamous chair toss to protest the officiating in a 1985 loss to arch-rival Purdue, to assaulting his own players, including his own son, Pat Knight. IU finally had no choice but to fire him in 2000, but he resurfaced at Texas Tech, and brought them more NCAA Tournament success than they'd ever had before.
With 902 wins, he was the winningest coach in men's college basketball history, although he has been surpassed by his former assistant at West Point, Duke University coach Mike Krzyzewski.
October 25, 1944, 70 years ago:
James Carville is born in... Carville, Louisiana. The town was named for his grandfather, who'd been a postmaster nearby. The political campaign genius played football at Louisiana State University, and remains a big fan of LSU and the New Orleans Saints.
October 25, 1947:
Baseball Commissioner Happy Chandler suspends the Chicago White Sox from the American League in a dust-up that started when the Sox inked 17-year-old star pitcher George Zoeterman in violation of the ban against signing high school players.
Sox general manager Leslie O'Connor argued that Zoeterman was a private school student (at Chicago Christian High School, now defunct), and therefore not covered' a position that earned him a $500 fine. O'Connor refused to pay, resulting in the suspension. Ironically, O'Connor had been the chief assistant to the previous Commissioner, Kenesaw Mountain Landis, and was even Acting Commissioner between Landis' November 1944 death and Chandler's April 1945 appointment.
On November 4' owner Lou Comiskey paid the fine, and the AL was once again comprised of 8 teams. What would have happened if Comiskey had backed his GM up? It could have meant a lawsuit. Chances are, before that case could reach court, the owners would have fired Chandler, and replaced him with a Commissioner more amenable to the Pale Hose's case. It's highly unlikely that the AL would have played the 1948 season with a different ownership group getting the rights to play in Chicago (they'd have had to share Wrigley Field with the Cubs, as the Sox surely wouldn't have let them use Comiskey Park), very unlikely that a different team would have been invited to replace the White Sox (an early promotion to the AL for Baltimore or Kansas City, perhaps?), and even less likely that they would have gone with just 7 teams.
And what, you might ask, happened to the principals? O'Connor left the White Sox after the 1948 season, and later served 8 years as the president of the Pacific Coast League, including the tumultuous 1957-58 off-season in which the Dodgers and Giants came to California, and he had to replace the original Los Angeles Angels (with, as it turned out, the Spokane Indians), the Hollywood Stars (the Salt Lake Bees) and the San Francisco Seals (the Phoenix Giants). He died in 1966, at age 76.
Zoeterman? A year later, he was signed -- by the crosstown Cubs. But he never got past Triple-A ball, and was released after the 1951 season, washed-up at 21. He died in 2001, age 71, and I can find no record of what he did in the last 50 years of his life.
October 25, 1948:
A good day for an NBA center to be born. David William Cowens is born in Newport, Kentucky. Despite having the universities of Kentucky and Louisville in his home State, he went to Florida State. He succeeded Bill Russell as the center for the Boston Celtics, and led them to NBA Championships in 1974 and 1976.
Cowens was one of the best centers of the 1970s, competing against guys like Wilt Chamberlain, Willis Reed and Nate Thrumond at the start of the decade, Bill Walton at the end, and Kareem Abdul-Jabbar all the way through it. His Number 18 was retired, and he was elected to the Basketball Hall of Fame and the NBA's 50th Anniversary 50 Greatest Players.
But it did bother me that, after years of not exactly packing the Boston Garden when the title-winning center was the outspoken black man Bill Russell, when the white Cowens came in, suddenly, Bostonians started packing the place and putting his poster up on their walls. Well into the 1980s, there was a giant mural of Cowens on the side of a building near the Garden. It wasn't until recently that Russell finally got the statue he had long deserved.
Also on this day, Daniel Paul Issel is born in Batavia, Illinois. Unlike Kentucky native Cowens, he did play at the University of Kentucky. He led the Louisville-based Kentucky Colonels to the 1975 ABA Championship, and starred for the Denver Nuggets after the NBA-ABA merger in 1976. At his retirement, he was the NBA's 4th-leading all-time point-scorer, trailing only Kareem Abdul-Jabbar, Wilt Chamberlain and Julius Erving.
UK and the Nugs both retired his Number 44 (surely, if the Colonels had been taken into the NBA, they would have done so as well), and he is a member of the Hall of Fame. He wasn't named to the 50 Greatest Players, but perhaps he should have been.
Also on this day, Dan Gable is born in Waterloo, Iowa. He is the greatest wrestler in American history, and I ain't talking about that crap that C.M. Punk does. Through high school and college, at Iowa State University, he lost only 1 match, his last, at the 1972 NCAA Championships. He won a Gold Medal at the 1972 Olympics, not allowing a single point against the best wrestlers in the world at his weight class (150 pounds).
He began coaching Iowa State's biggest rival, the University of Iowa, in 1976, and from 1978 to 1986 they won 9 straight National Championships, eventually winning 15 National Championships and the Big 10 Championship all 21 years he was at Iowa, making him arguably, as hard as it would have been to believe in 1972, a greater success as a coach than as a performer in his sport.
As a player, he was his sport's Lew Alcindor/Kareem Abdul-Jabbar; as a coach, he was his sport's John Wooden. He coached the U.S. Olympic wrestling team in 1980 (not competing due to the Soviet boycott), 1984 and 2000. He is now an assistant athletic director at Iowa.
*
October 25, 1954, 60 years ago:
Mike Eruzione is born in Winthrop, Massachusetts, just outside Boston. He starred for the storied hockey team at Boston University, and was named Captain of the U.S. team at the 1980 Winter Olympics. It was his goal that gave the U.S. the 4-3 lead and ultimately the victory over the Soviet Union. Two days later, they beat Finland for the Gold Medal.
As the Captain, it was Eruzione who stood on the medal stand to receive the flag-raising and the National Anthem. Afterward, he invited all his teammates onto the stand with him, and they all raised their fingers in the "We're Number 1" salute.
Despite offers, Eruzione decided not to play pro hockey, becoming a broadcaster. He now works for Boston University and tours the nation as a motivational speaker. Wouldn't you be motivated by the guy who captained the team that beat the Russians?
At the 2002 Winter Olympics, Eruzione and his 1980 teammates were invited to be the torchbearers for the lighting of the Olympic Flame. Wearing their 1980 jerseys (or perhaps replicas of them), they recreated the We're Number 1 pose, 22 years later.
In the 1981 made-for-TV movie
Miracle on Ice
, Eruzione was portrayed by Andrew Stevens. In the 2004 Disney film
Miracle
, he was portrayed by Patrick O'Brien Demsey, who had also played collegiate hockey in Massachusetts, at Fitchburg State College -- and is not to be confused with Patrick "Dr. McDreamy" Dempsey.
October 25, 1957:
Albert Anastasia, the founder of what became New York's Gambino crime family, is whacked. He entered the barbershop of the Park Sheraton Hotel (in whose ballroom Jackie Gleason staged and filmed
The Honeymooners
, and it's now the Park Central Hotel), on 56th Street & 7th Avenue in New York. His bodyguard parked the car in an underground garage and then, most conveniently, decided to take a little stroll.
As Anastasia relaxed in the barber chair, 2 men – scarves covering their faces – rushed in, shoved the barber out of the way, and fired at Anastasia. After the 1st volley of bullets, Anastasia allegedly lunged at his killers. However, the stunned Anastasia had actually attacked the gunmen's reflections in the wall mirror of the barber shop. The gunmen resumed firing and Anastasia finally fell to the floor, dead. He was 55 years old.
His murder remains officially unsolved. It is widely believed that the contract was given to Joe Profaci, who passed it on to "Crazy Joe" Gallo from Brooklyn, who then performed the hit with one of his brothers. Gallo was the subject of Bob Dylan's song "Joey."
Anastasia was one of the most powerful mob bosses ever, but, today, he is best known for the way he died, which was fictionally portrayed near the end of the film
The Godfather
. In an episode of
M*A*S*H
, temporarily blinded, a blindfolded Hawkeye Pierce feels around an empty chair by the door and jokingly says, "Ah, Albert Anastasia's bodyguard." This is an anachronistic error, as the Korean War ended in 1953, 4 years before the Anastasia murder. (A moment later, finding an empty bed, Hawkeye cites the actor who starred in
The Invisible Man
: "Ah, Claude Rains." This is a different kind of mistake, as the Invisible Man could not be seen, but could be felt.)
In an episode of
The West Wing
, the question of when Anastasia was killed comes up, and White House Communications Director Toby Ziegler asks his visiting father, former Murder, Incorporated officer Julius (a.k.a. Julie), when it happened. Julie says, "October, 1957." He later tells Toby he should know things like that, and Toby tells him he
does
know, that he knows all about Julie's Mob activities back then. Julie's attempt to admonish is ironic, since he gave the year and the month, but not the day.
In an episode of
The Sopranos
, Uncle Junior says that he wishes the Mob were like they were in the Fifties, "when it was peaceful." Tony says he remembers seeing the picture of Anastasia in a pool of blood on the barbershop floor. I guess even nostalgia ain't what it used to be.
Also on this day, Donna Lauria is born in Queens. But she, too, will be murdered in New York City. On July 29, 1976, she becomes the first victim of the Son of Sam.
October 25, 1958:
Kornelia Ender is born in Plauen, Saxony, Germany. She won 4 Gold Medals in swimming for East Germany at the 1976 Olympics, all in world-record times. She had help, as did many of East Germany's Olympic athletes, and it rhymed with "spheroids."
*
October 25, 1965:
The Cubs end their "It seemed like a good idea at the time" College of Coaches experiment with the hiring of Leo Durocher. Having coached with the Dodgers since their 1957-58 move to Los Angeles, and not having managed since the 1955 Giants, he signs a 3-year deal, and is given complete authority on the field.
Leo the Lip takes over a team that finished 8th in the 10-team NL, and says, "Chicago is not an eighth-place ball club." He was right: In 1966, they finished 10th. But in 1967, he will turn them around, leading them to a winning season. In 1969, they will be in 1st place in the newly-created NL Eastern Division in early September. And then...
He was be fired by the Cubs in 1972, and was quickly picked up by the Houston Astros, but was fired only a year later, ending a 48-year run as a player and a manager in the major leagues. He won 2,009 games as a manager, 2nd in NL play only to John McGraw. He died in 1991, and was elected to the Hall of Fame in 1994.
October 25, 1966:
Wendel Clark is born in Kelvington, Saskatchewan. The All-Star left wing played for several teams, but is best known for his three tenures with the Toronto Maple Leafs. He scored 330 goals in his 15-year career.
The Leafs do not retire numbers (with 2 exceptions, Bill Barilko's 5 and Ace Bailey's 6), but made Clark's 17 one of their "Honoured Numbers." He is now a club ambassador. He is a cousin of former NHL player Joey Kocur and ESPN commentator and former NHL coach Barry Melrose.
October 25, 1970:
Joshua Ade Adande is born in Los Angeles. The ESPN commentator, whose former work writing sports columns for the
Los Angeles Times
got him a Pulitzer Prize, is a mainstay on ESPN's
Around the Horn
. When he wins, and he's won nearly 300 times in the show's 12 years, he takes viewers to "The J.A. Adande Lounge," where some celebrities, sports and otherwise, are present, and delivers his "30 seconds of face time." He's just as good funny as he is serious.
October 25, 1971:
Pedro Martinez emerges from Emperor Palpatine's laboratory, deep within the Dominican Republic, ready to do the Emperor's bidding and cause great mayhem throughout the galaxy's baseball parks.
October 25, 1972
-- maybe, I've also seen 1971, 1975 and 1977 cited: Persia White is born in Miami. She played Lynn Searcy on
Girlfriends
, and worked her real-life activism for veganism and animal rights, and her unconventional spiritual and sexual beliefs, into the character. All by herself, she was the biggest difference between that show and the earlier sitcom
Living Single
.
She has released 2 albums, first with the industrial rock band XEO3 and now solo, and appears as Abby Bennett on
The Vampire Diaries
. She recently married co-star Joseph Morgan.
October 25, 1973:
Abebe Bikila dies. The 1st black African to win a Gold Medal in the Olympics, the Ethiopian won the marathon in 1960 and 1964 – running the '60 marathon barefoot. But a car accident in 1969 left him a paraplegic, and he never recovered from his injuries. He was only 41 when he died.
Also on this day, the Chicago Cubs trade 6-time 20-game winner Ferguson Jenkins to the Texas Rangers for third baseman Bill Madlock and utility man Vic Harris. Fergie has led the Cubs in wins in each of the past seven seasons' the only pitcher ever to do so for a club and then be traded.
Although Madlock will win 2 batting titles with the Cubs, they will be out of contention while he is with them. By contrast, Jenkins will pitch the Rangers to second-place finishes in 1974 and '78, their best-ever finishes until 1994. He will, however, return to the Cubs and help them win the 1984 Division Title.
Meanwhile' the San Francisco Giants trade 3-time home run champion Willie McCovey' a Giant since 1959' together with a minor leaguer' to the San Diego Padres for pitcher Mike Caldwell. This was a bad trade, as Caldwell did nothing for the Giants, but developed one of the best curveballs in the game in helping the Milwaukee Brewers mature into a Pennant winner. As Jenkins did with the Cubs, McCovey rejoins the Giants, a second act that would include his 500th career home run.
October 25, 1978:
Gaylord Perry of the San Diego Padres becomes the first pitcher to win the Cy Young Award in each league. Perry copped the NL honors with a 21-6 record and a 2.72 ERA. He also won it with the AL's Cleveland Indians in 1972. This also makes him, at 39, the oldest man to win the Award. This is the 13th straight season that Perry has won 15 or more games' second only to Cy Young's 15 straight 15+ seasons.
Perry's achievement of Cy Youngs in both Leagues has been matched by Roger Clemens and Pedro Martinez, but he remains the oldest winner, slightly outpacing Clemens' last award.
*
October 25, 1981:
Shaun Wright-Phillips is born in the Greenwich section of London. He is a midfielder for West London's Queens Park Rangers Football Club, having previously won 2 Premier League titles with the far bigger West London club Chelsea.
He is the adopted son of Arsenal legend and TV soccer pundit Ian Wright (and has often worn his father's Number 8), and the half-brother and former Man City teammate of Bradley Wright-Phillips, who now plays for the New York Red Bulls.
Also on this day, the Los Angeles Dodgers win Game 5 of the World Series, as back-to-back homers by Pedro Guerrero and Steve Yeager off Yankee ace Ron Guidry give the Dodgers their 3rd consecutive win, 2-1.
Afterwards' Yankee owner George Steinbrenner scuffles with 2 (he says) fans in a hotel elevator and emerges with a fat lip and a broken hand.
Also on this day, Pete Reiser dies at the age of 62. His relatively early death may have been hastened by the various injuries, including head injuries, he sustained as an outfielder for the Brooklyn Dodgers. Like Lenny Dykstra in the 1980s and '90s, he was a center fielder who frequently crashed into the outfield wall trying to make catches. Unlike Dykstra, he played in the 1940s, when outfield walls had no padding.
Branch Rickey, the general manager of the Cardinals, claimed he began scouting Reiser when he was just 12 years old, and while Reiser signed with the Dodgers instead, they were brought together when Rickey was hired as Dodger president in 1942. As a rookie in 1941, he won the NL batting title while the Dodgers took home the Pennant. (There was no Rookie of the Year award in those days; if there was, that year's awards would surely have gone to Reiser in the NL and Phil Rizzuto of the Yankees in the American League.)
The following year, he was hitting .380 until he ran into a concrete outfield wall while running at full speed. That incident robbed him of any more effective play that year, and led to Brooklyn's painful drop in the NL standings. He led the NL in stolen bases in 1942 and '46, but a broken ankle in '47 robbed him of his great speed and hastened the end of his career. The Dodgers traded him after the '48 season, and he was done after '52, just 33 years old.
My Grandma used to tell the story of listening to the Dodgers on the radio in the Forties, and hearing that a player had crashed into the wall. She could never remember which player it was, but, considering his tendencies, it has to have been Reiser. As Reiser was being carried off the field on a stretcher, the public-address annoucer at Ebbets Field, Tex Rickards (nicknamed after Tex Rickard, the boxing promoter who built the old Madison Square Garden and the old Boston Garden), asked why Reiser was being taken out of the game. Some less-than-fully-educated Brooklyn guy must've told him, "He don't feel good." And Grandma could hear the announcement over the radio: "Ladies and gentlemen, Reiser has to leave the game, because he don't feel good!" Grandma said she knew that Dodger broadcaster Red Barber, a Southerner but a cultured gentleman, would have a fit over this poor grammar from the PA announcer. Sure enough, he did.
Reiser's first big-league manager, Leo Durocher, always said that Willie Mays was the greatest player he ever saw, let alone managed, but thought nearly as highly of Reiser: "Willie Mays had everything. Pete Reiser had everything but luck." (An ironic statement, since he was born on March 17, 1919, St. Patrick's Day – although he was of German descent, not Irish.)
Durocher later hired Reiser as one of his coaches, and he was named Minor League Manager of the Year by
The Sporting News
in 1959. But in 1965, while managing the Spokane Indians of the Pacific Coast League, he suffered a heart attack and resigned. His replacement there was the same man who had replaced him as center fielder in Brooklyn in 1947, Duke Snider, a considerably luckier man who made the Hall of Fame and lived until 2011.
*
October 25, 1986:
Dave Henderson steps to the plate at 11:59 PM, and hits a home run off Rick Aguilera, to give the Boston Red Sox a 4-3 lead over the New York Mets in the top of the 10th inning of Game 6 of the World Series.
By the time he crosses the plate, it's 12:00 midnight, October 26. The Red Sox will extend their lead to 5-3 before their half of the inning is over. All they need now is 3 more outs in the bottom of the 10th.
They get the first 2. You know the rest. But do you
really
remember? Red Sox pitcher Calvin Schiraldi, an ex-Met, allows a single to Gary Carter. Then he allows a single to Kevin Mitchell. Carter to 2nd. Then he allows a single to Ray Knight. Carter scores, Mitchell to 2nd, 5-4 Red Sox. Then Sox manager John McNamara pulls Schiraldi, and calls on Bob Stanley, once a very good reliever, but by this point in his career a lost cause.
Stanley faces William Hayward "Mookie" Wilson, and gets to 2 strikes. There were
13 separate pitches
that could have ended this game in victory and a 1st World Championship in 68 years for the Red Sox. The 13th almost hit Mookie. He jumps out of the way, and it rolls to the backstop. Wild pitch. Mitchell scores, Knight to 2nd, 5-5 tie.
The Red Sox had blown it. According Dan Shaughnessy, the
Boston Globe
columnist, in his book
The Curse of the Bambino
, somebody later calculated that the odds of the Red Sox blowing a 2-run, 2-out, 2-strike lead at that point were 320-1.
Think about that for a moment: A baseball regular season lasts 162 games. So if you had those conditions every single game -- 2 outs, 2 strikes on the batter, and you're up by 2 runs -- the odds are that you would win every single game in a season, and nearly every single game in a second season, up to Game 158 of that second season, before you would lose one.
Some teams have meltdowns that last 2 months, like the 1978 Red Sox, the 1969 Cubs, and the 1995 California Angels. Some teams have meltdowns that last 1 month, like the 2011 Red Sox, the 2007 Mets and the 1951 Dodgers. Some teams have meltdowns that last 2 weeks, like the 1964 Philadelphia Phillies. Some teams have meltdowns that last 1 week, like the 1987 Toronto Blue Jays. Some teams have meltdowns that last less than a week, like the 2004 and 2012 Yankees. The 1986 Red Sox had a meltdown that lasted 10 minutes.
You'll notice that there's a name I haven't mentioned yet: That of Red Sox 1st baseman Bill Buckner. The Red Sox had already blown a lead that is the closest any team, in any of the 4 major league sports, has ever been to winning a World Championship without actually getting it. Even the 1999 Bayern Munich soccer team that allowed goals in the 91st minute to Teddy Sheringham and in the 93rd to Ole Gunnar Solskjaer to blow the UEFA Champions League Final didn't come that close. The Sox had blown what should have been an insurmountable lead, and
Bill Buckner had absolutely nothing to do with it
.
Then Stanley threw Mookie another pitch. It was, as Los Angeles Dodger broadcaster Vin Scully, leading the broadcast team for NBC, described, a "little roller up along first":
It remains the most famous defensive miscue in the history of sports, over Fred Snodgrass' 1912 "$30,000 Muff," over Mickey Owen's 1941 passed ball, over any missed tackle in football, over any goalie's mistake in hockey or soccer, over any hockey or soccer player's own goal.
Buckner had injuries on both legs, and, as Yogi Berra might have said, even when he
could
run, he couldn't run. He was not going to beat Mookie to the bag, and Stanley hadn't run over to 1st to cover the base and take a throw. Mookie would have made it to 1st, and the bases would have been loaded. Granted, the next batter was light-hitting shortstop Rafael Santana, but, at that point, no one would have bet against the Mets.
Scully was right: "If one picture is worth a thousand words, we have seen about a million words tonight!"
There will be time to tease the Mets about their 28 years of failure since October 1986. This is about how the Red Sox are cursed. So cursed they needed to cheat to interrupt the curse. And, as we now know, the curse still lives. It's been 96 years since they won a World Series fair and square.
In spite of how much many Yankee Fans already hated them, it would take the Nomar/Pedro/Papi Era, 1998 to the present, for the Red Sox to truly become The Scum. But, retroactively, they deserved The Buckner Game.
In 1975, the Red Sox won a World Series Game 6 that was a game for the ages. But for 25 years, you could have said the words "Game Six" in New England, or to a New Englander wherever he might be, and, instead of bringing a smile to his face, you would bring him to say, "Which one?"
*
October 25, 1987:
The Minnesota Twins defeat the St. Louis Cardinals, 4-2 at the Metrodome in Minneapolis, in Game 7, and win the World Series. It is the 1st-ever World Championship for a Minnesota baseball team, the first for the franchise since they were the Washington Senators in 1924 (63 years), and the first for any Minnesota team since the Lakers won the 1954 NBA Championship (33 years). Game 7 starter Frank Viola is named Series MVP.
The Twins won Games 1, 2, 6 and 7 at the Metrodome. The Cards won Games 3, 4 and 5 at Busch Memorial Stadium in St. Louis. This is the 1st time every game of a World Series has been won by the home team. It has happened since in 1991 (again the Twins, over the Braves) and 2001 (Diamondbacks over Yankees).
October 25, 1995:
August Anheuser Busch III, a.k.a. Augie Busch, announces that he's selling the Cardinals, whom his father, August Anheuser Bush Jr., a.k.a. Gussie Busch, had bought 42 years earlier, not because he liked baseball, but because he wanted to use it as a vehicle to sell Budweiser. Mission accomplished: Bud was not especially popular in 1953, but by the time Busch Memorial Stadium opened in 1966, it was the most popular beer in the country. And, oh yeah, on the Busch family's watch, the Cards had won 6 Pennants and 3 World Series.
Bill DeWitt Jr., whose father had been an executive with the St. Louis Browns, is the eventual buyer, and still owns the team.
On this same day, Bobby Riggs dies at age 77. He really was a great tennis player once, winning both Wimbledon and the U.S. Open. But that was all the way back in 1939. By 1973, he was a 55-year-old hustler, countering the era's trend of "women's liberation" by being a proud male chauvinist pig. He challenged one of the era's top women's tennis players, Margaret Smith Court, and he beat her. Next, he challenged the top woman in the game at the time, Billie Jean King.
On September 20, 1973, "the Battle of the Sexes" was held at the Astrodome in Houston. Billie Jean, who had already done so much to advance the causes of both tennis and women's sports, took no chances and showed no mercy: She beat Riggs 6-3, 6-2, 6-2, a genuine wipeout. While Riggs was unrepentant in his chauvinism, he admitted that Billie Jean was better, and he never challenged another high-profile female player.
A few weeks later, the 2 of them guest-starred on
The Odd Couple
, lampooning Riggs' hustler image (he bet Felix that "Bobby Riggs" would kiss him and he'd like it, sending a gorgeous woman named Roberta Riggs to do it) and their match (Billie Jean beat Riggs at table tennis).
In 2000, ABC, which had televised that episode and the original "Battle," aired the TV-movie
When Billie Beat Bobby
, with Holly Hunter as King and Ron Silver, in a rare mustache-less role for him, as Riggs.
*
October 25, 1999:
Golfer Payne Stewart and 5 friends die in the crash of a Learjet. The plane was flying from Orlando to Dallas, and suffered a loss of cabin pressure, meaning that everyone on board was dead well before the plane finally ran out of gas and went down, far off course, in Mina, South Dakota.
Best known for wearing old-time golf clothing, including ivy caps and plus-fours for pants, Stewart had recently participated in the U.S.' win in the Ryder Cup, and had also won the year's U.S. Open. He previously won it in 1991 and won the PGA Championship in 1989.
Stewart was 42. The section of Interstate 44 that goes through his hometown of Springfield, Missouri has been named the Payne Stewart Memorial Highway.
October 25, 2000:
Game 4 of the World Series at Shea Stadium. The Mets won Game 3 last night, to close within 2 games to 1.
Now, Bobby Jones is the Game 4 starter, and he's not especially good. However, the Yankees will have to choose between an aging and struggling David Cone, a struggling Denny Neagle, and Andy Pettitte on 3 days rest. This bodes well for the Mets, and if they win this one, then the Series is tied and they've really got momentum. In Game 5, also at Shea, Al Leiter can outpitch Pettitte as he did in Game 1, and maybe this time the bullpen won't blow it; after all, after blowing the save in Game 1, Armando Benitez got it in Game 3. Then the Mets only have to win 1 of 2 at Yankee Stadium to win the Subway Series, and reclaim New York from the Yankees. The Yanks will start Roger Clemens in Game 6, and after the bat-throwing incident in Game 2, the Mets will be loaded for bear, and Mike Hampton can't possibly have as bad a start in Game 6 as he had in Game 2, right? And if it still goes to Game 7, it'll be Rick Reed against Orlando Hernandez again, and Reed showed in Game 3 he could outpitch "El Duque."
So, at this point, if you're a Met fan, you don't have a lot of reason to be confident of ultimate victory; but your position is quite defensible, your team is hardly in deep trouble following the Game 3 win, and as the one man who has ever managed both these teams to Pennants, Yogi Berra, has said, "It ain't over 'til it's over." This World Series is far from over, and if you are a Met fan, at this point, you do have some reason to be optimistic.
Game 4 begins, and that reason lasts all of one pitch. The 1st pitch of the game is from Jones to Derek Jeter, who knocks it over the left-field fence for a home run.
Neagle struggles in the 5th, and manager Joe Torre plays a huge hunch, bringing Cone, once a superb Met starter, out of the bullpen to face the dangerous Mike Piazza with the bases loaded. I have to admit, I was sure he was going to either walk home a run, or serve up a gopher ball for a grand slam. Instead, Cone gets Piazza to pop up, ending the threat. Cone never throws another postseason pitch, but he got the job done.
The Yankees hang on to win the game, 3-2, and take a 3 games to 1 lead in the Series. They can wrap it up tomorrow night. Met fans, who began the day feeling like it was still possible, are no longer using Tug McGraw's old rallying cry of "Ya Gotta Believe!" Now, they're using another familiar rallying cry, that of "Yankees Suck!"
But all is not good news in Yankeeland. Darryl Strawberry, who was introduced to stardom and drug as a Met, and has been one of George Steinbrenner's reclamation projects, is arrested and jailed, after leaving a treatment center following a weekend drug binge.
*
October 25, 2003: The Florida Marlins win their 2nd World Championship as World Series MVP Josh Beckett hurls a 5-hit shutout in defeating the Yankees' 2-0' in Game 6. Luis Castillo's 5th-inning single brings home Florida's 1st run' the only one Beckett needs as he outduels Andy Pettitte. Thus the Marlins conclude their 2nd winning season in the past 11 years in the same manner they concluded their 1st winning season.

This was a particularly frustrating loss for this Yankee Fan, as we were just 1 run away from being up 3 games to 1, until Jeff Fucking Weaver gave up a walkoff home run to "the other Alex Gonzalez." And we go out meekly on our field, to this crummy squad that still looks like an expansion team (and now appears to be a fraud, as catcher Ivan Rodriguez is a suspected steroid user). And the last play of the game was a pathetic one, Jorge Posada hitting a meek grounder back to Beckett.

At this point, I didn't like Beckett, solely for what he did to the Yankees in this Series. After 2 more seasons in the Miami suburbs, he would be traded to the Red Sox, and I would dislike him just for belonging to that team. But after observing him a few times in a Boston uniform, I realized there was a perfectly legitimate reason to hate his guts: His personality.

This turns out to be the 99th and last World Series game played at the original Yankee Stadium. The
Yankees went 63-36 in these games.
Thankfully, we now have the ABC TV series Castle, with a much better Beckett, a Detective loyal to New York, and played by the magnificent Stana Katic. A character who, while not explicitly a Yankee Fan, did get a thrill in one episode from meeting, as she called him, "Joe Freakin' Torre."
*
October 25, 2005:
Game 3 of the World Series at Minute Maid Park in Houston. This is the 1st World Series game ever played in the State of Texas. Geoff Blum's 14th inning homer off Ezequiel Astacio leads the Chicago White Sox to a 7-5 victory over the Astros.
Houston led' 4-0' before Chicago scored 5 runs in the 5th inning off Roy Oswalt to take the lead. Joe Crede also homers for the Sox' while Jason Lane connects for the Astros. Damaso Marte gets the win in relief.
At 5 hours, 41 minutes' the contest is the longest in Series history in terms of time. It also ties the mark for longest game in terms of innings played.
Also on this day, Wellington Mara dies. He had been involved with the New York Giants since their founding in 1925 by his father, Tim Mara, who made his son the bellboy. The NFL's TV-revenue-sharing plan was his idea, bringing the irony of the biggest market in the League, New York, saving the smallest market, Green Bay.
His son John Mara now runs the Giants, another son Chris is the Giants' chief scout, and Chris' daughters Kate Mara and Rooney Mara are actresses. Chris' wife and Kate's mother is Katherine Rooney, daughter of Pittsburgh Steelers owner Dan Rooney and granddaughter of Steelers founder Art Rooney, which makes Kate the great-granddaughter of the founders of 2 of the NFL's greatest franchises. At the Giants' first home game after his grandfather's death – the first one the franchise ever played without Wellington Mara being on hand, after 80 years – Kate sang the National Anthem.
October 25, 2007:
Hideki Okajima becomes the 1st Japanese-born player to pitch in the World Series. The former Nippon Ham Fighters hurler comes out of the bullpen in relief of Curt Schilling and retires 7 straight Colorado Rockies, including Kazuo Matsui, making it the 1st time Japanese natives have faced one another in the Fall Classic. The Red Sox hang on to win, 2-1, and lead the Series 2 games to none.