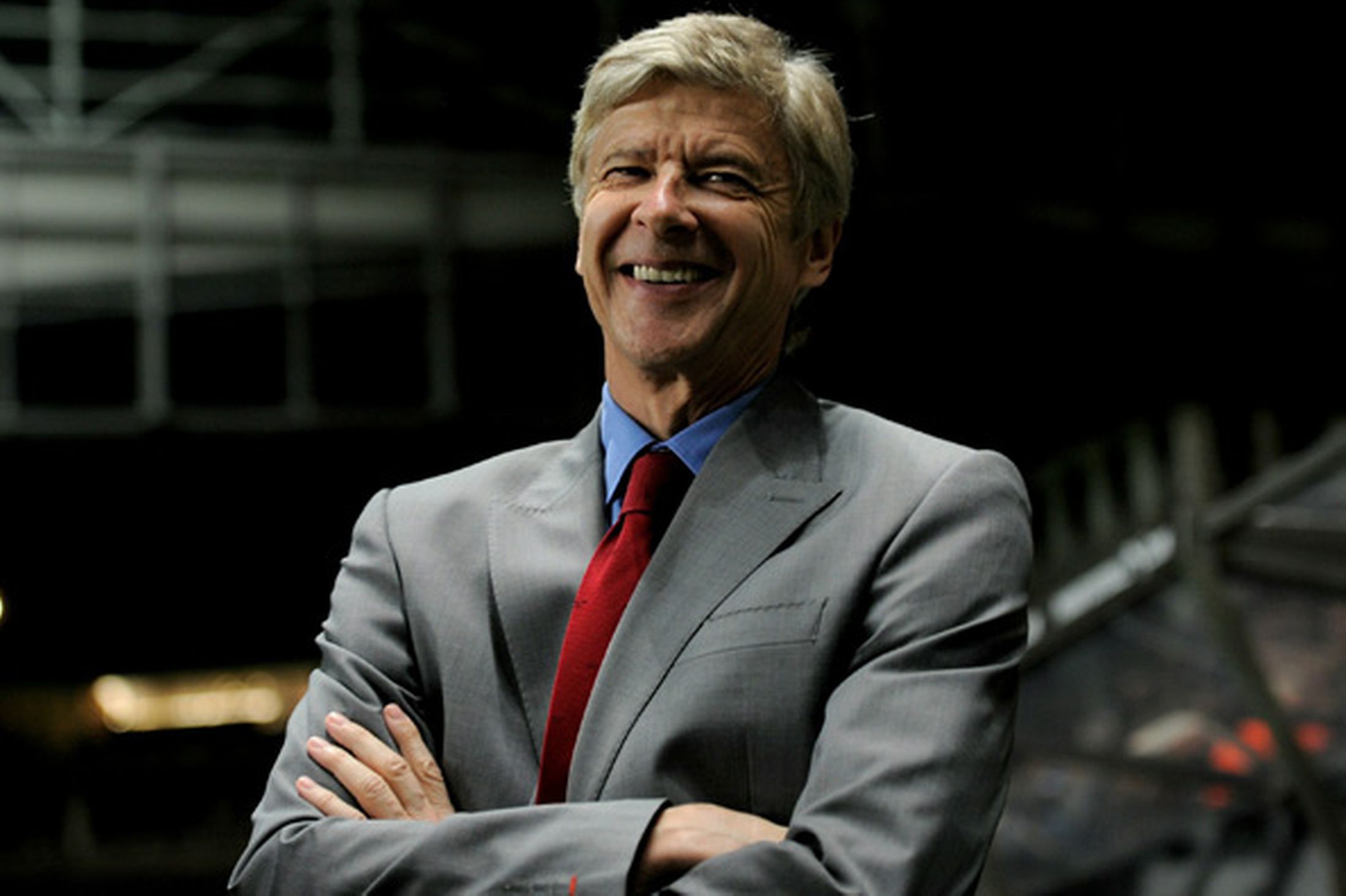 Scary: Mere hours after I posted my travel guide for Devils fans who might be going to Ottawa this weekend to see them play the Senators, at least 2 men, possibly more, shot up Parliament Hill in Ottawa -- their "Capitol Hill."
At last check, a soldier guarding Canada's Tomb of the Unknown Soldier and one of the shooters were dead.
Sad for everyone. Freaky for me.
*
October 22, 1949, 65 years ago: Arsène Wenger is born, in Strasbourg, in Alsace, a region that France and Germany spent the better part of 1870 to 1945 fighting over. He grew up in neighboring Duttlenheim, where his German father and French mother

ran a bistro name La Croix d'Or (The Cross of Gold), where he would spend hours studying the behavior of the football-loving customers.
He would later say, "
There is no better psychological education than growing up in a pub, because, when you are five or six years old, you meet all different people, and hear how cruel they can be to each other. From an early age, you get a practical, psychological education to get into the minds of people. It is not often that a boy of five or six is always living with adults in a little village. I learned about tactics and selection from the people talking about football in the pub – who plays on the left wing and who should be in the team."
He got an economics degree at the University of Strasbourg, and played as a sweeper with FC Strasbourg, winning the Ligue 1 title in 1979 -- but that club has since been liquidated and reformed, its successor club RC Strasbourg Alsace playing in the 5th tier of the French football system, roughly equivalent to baseball's "A-ball."
As a manager, he led AS Monaco – keep in mind that Monaco is a separate, though very small, nation but their soccer team is in the French league – to the 1988 Ligue 1 title and the 1991 Coupe de France, and Nagoya Grampus Eight to Japan's Emperor's Cup in 1996. That's when he was signed to manage the Arsenal Football Club of London.
Known as "Le Boss" for being French and "The Professor" for his scholarly demeanor, Wenger led "the Gunners" (whose fans are called "Gooners") to the Premier League title in 1998, 2002 and 2004, and to the FA Cup, England's national tournament, in 1998, 2002, 2003, 2005 and 2014 – taking both titles, a.k.a. "The Double," in 1998 and 2002.
The 2004 Arsenal team is known as "The Invincibles," as they went through an entire league season undefeated: 26 wins, 12 draws, 0 losses. It is the only undefeated season in the Football League since its very first, 1889, when Preston North End did it in far fewer games.
Their undefeated streak eventually reached 49, breaking the former record of 42 set by the Nottingham Forest team of Brian Clough in 1978-79. In a couple of weird twists of fate, Arsenal tied the record of 42 against Middlesbrough, Clough's hometown and his first professional club, and Clough died shortly before the streak was finally broken by Manchester United, thanks to a penalty won by a dive by Wayne Rooney. (Same United, always cheating.)
Arsenal infamously went 9 seasons without a trophy until last season's FA Cup. But Wenger did lead Arsenal to that Cup this past May. In the last 2 seasons, he has bought international superstars Mesut Ozil and Alexis Sanchez, and an actual English striker in Danny Welbeck.
But for many Arsenal fans -- forgetting how the club was not nearly as successful before Le Boss arrived -- it's never enough. Some even brought a "WENGER OUT" banner to tonight's away game in the Champions League, against Anderlecht in Belgium. That's some serious disrespect to show a man who just won you a trophy (2, if you count the preseason Community Shield) on top of everything else he's won for you, and on his birthday, no less.
Tonight, Arsenal trailed 1-0 late, and the Goonersphere on Twitter was apoplectic. Then goals by Kieran Gibbs and Lukas Podolski pulled the Gunners' fat out of the fire, and they won, 2-1.
True Arsenal fans support the team, and thus they support the manager. Wenger isn't going anywhere, so the people who want him gone should be the ones to go. "Arsène Knows."
Joyeux Anniversaire, mon chef.
*
October 22, 1746:
The College of New Jersey receives its royal charter from King George II of Britain. The college will be located in Elizabeth, New Jersey. It moves to Newark in 1747, and to Princeton in 1756.
In 1896, while its president is Class of 1878 graduate Woodrow Wilson, it will be renamed Princeton University. (He was the 2nd President to be one of its graduates. The 1st was James Madison.) In 1996, Trenton State College in nearby Ewing will change its name to The College of New Jersey.
October 22, 1845:
The
New York Morning News
– not to be confused with the New York
Daily News
, which begins publication in 1919 – reports that in yesterday's "friendly match of the time honored game of Baseball" the New York Club beat Brooklyn 24-4. A box score of the game is included in the account.
Henry Chadwick, the
New York Clipper
writer who did much to popularize the game, is often credited with inventing the box score, but this appears not to be the case, as he would not first write about baseball until 1857.
Two oddities: First, this account lists the name of the sport as 1 word, "baseball," not 2 words, "base ball," as was common even at the end of the 19th Century.
Second, we have been told that "the first baseball game" – usually defined as the first game under codified rules, as written by Alexander Cartwright and the Knickerbocker Club in September 1845, was played on June 19, 1846, between the Knickerbocker Club and the New York Club, and that this club, often referred to as "the New York Nine," beat the Knickerbockers 23-1 in 4 innings – 21 runs constituting a win under the rules of that time – despite rule-writer Cartwright serving as umpire for a contest involving the club of which he was a member.
Hello? Conflict of interest! But
somebody
had to be the ump; who better to enforce the rules of the game than the man who literally wrote them? (Even if he wasn't the originator of all of them, though he probably was the originator of some of them, particularly the 90-feet-apart rule for the bases.)
I've often wondered how the Knickerbocker Club, the people who are the closest thing we have to the definitive inventors of the game, could get their heads handed to them, so soon after they wrote the rules. Were the members of the New York Club quick studies? Were the Knickerbockers truly bad at the game they "invented"?
Now I know: While this game may not have been under the Cartwright rules, those rules were based in part on the way the game had already been played for a while, and, clearly, the NY9 was already quite good at that version of the game, and it appears they did not need to do much adapting to the Cartwright rules.
October 22, 1857:
The Atlantic Club defeats the Eckford Club' both of Brooklyn' to take the best-of-3-games match and claim the championship for 1857. The baseball custom, by this point, has become that the championship can only be won by a team beating the current title holder 2 out of 3 games.
And, of course, at this point, baseball is still all-amateur. Nobody is getting paid to play. At least, as far as anybody is willing to say publicly. There is, as yet, no surviving evidence that anyone in the pre-Civil War period had been paid to play for any team.
*
October 22, 1872:
The Boston Red Stockings win the National Association championship' winning their 39th game by defeating the Brooklyn Eckfords 4-3. When the season ends on the 31st (only 17 matches will be played this month) Baltimore and Mutual (of New York) will be the closest teams finishing behind Boston' with 34 wins.
The Boston Red Stockings were direct descendants of the first openly all-professional team, the 1869 Cincinnati Red Stockings. Harry Wright was the owner, the manager, and the left fielder. His younger brother George Wright was the shortstop, and, at this point, the best player in the game. Cal McVey was the catcher, Charlie Gould played 1st base, and Andy Leonard was in right field. That's 5 out of the 10 Boys of '69.
Their 2nd baseman was Roscoe "Ross" Barnes, who would move on to the Chicago White Stockings, forerunners of the Cubs, when the National League was founded in 1876, and not only win the 1st batting championship of what's now considered a "major league," but hit the 1st home run in NL competition.
The Red Stockings' leading pitcher was 21-year-old Albert Goodwill Spalding, who will go to Chicago with Barnes and form the White Stockings, and later found the sporting goods empire that still bears his name and will go on to dominate the sport, and thus make him the closest thing baseball had to a commissioner in those days.
By winning the 1872 Pennant, the Red Stockings resume the dominance they had enjoyed as the Cincinnati club from April 1869 to June 1870, until their legendary defeat by the Brooklyn Atlantics. This is the 1st of 4 straight NA Pennants that they will win, and upon entering the NL in 1876, they will win Pennants in 1877, '78 and '83.
By the time of that 1883 Pennant, they will be known by another name, indicative of their city: The Boston Beaneaters. They will win Pennants in 1891, '92, '93, '97 and '98, before a change in management damages them and ends their dominance. From 1899 to 1956, they will win just 2 Pennants in 58 seasons; from 1899 to 1990, only 4 Pennants in 92 seasons. By 1912, they will be known as the Boston Braves; in 1953, they move to Milwaukee; in 1966, to Atlanta.
Thus they, not the franchise founded in 1882 and known these last 132 seasons as the Cincinnati Reds, are the descendants of the first professional baseball team, and thus the oldest continuously-operating professional sports franchise in North America. But as the Atlanta Braves, they cannot legitimately claim the 1869 Cincinnati "world championship," or the 14 Pennants and the 1914 World Series won in Boston, or the 1957 World Series and 1958 Pennant won in Milwaukee.
October 22, 1873:
The Boston Red Stockings clinch the NA Pennant by defeating the Washington Nationals' 11-8' in Washington. George Wright leads the attack with a triple and 2 singles. Note that there are teams today named the Boston Red Sox and the Washington Nationals, but neither is connected to these 19th Century teams.
October 22, 1878:
According to sources I have found, the first rugby match under floodlights takes place at the Yew Street Ground in Salford, outside Manchester, England, between host Broughton and visiting Swinton.
How was this done, almost exactly 1 year to the day before Thomas Edison invented the light bulb?
Earlier that year, in the English city of Newcastle, Joseph Wilson Swan demonstrated an electric lamp using a carbon-paper filament. The year before that, Charles Francis Brush used a similar set of lamps to light up Public Square in Cleveland. But their filaments burned out quickly -- perhaps lasting long enough for an hour-and-a-half rugby match to be played under their lights. Edison's 1879 experiments led to a filament that would last for 40 hours; soon, he could make it last 1,500 hours -- over 2 months. So while Edison didn't "invent the light bulb," he did make the 1st practical one.
As for the match, Broughton won, scoring "two goals, three tries, three touchdowns," while Swinton was held scoreless. A contemporary account suggests that there were 8-10,000 people on hand.
October 22, 1885:
John Montgomery Ward, a licensed attorney as well as "a clever base ballist" (as someone called him at the time, a phrase used as the title of a 21st Century biography of him), and several teammates secretly form the Brotherhood of Professional Base Ball Players, the 1st players' union in any American sport. The Brotherhood' strengthened by fights against salary restrictions and abuses of the reserve clause' will become a force to be reckoned with by the end of the decade.
*
October 22, 1907:
James Emory Foxx is born in Sudlersville, on the Eastern Shore of Maryland. The 1st baseman known as "Jimmie," "Double X" and "The Beast" was said by Yankee pitcher Lefty Gomez to be so strong, "even his hair has muscles." Gomez also said, "He wasn't scouted, he was trapped."
In 1937, Foxx became the first player to hit a home run into the upper deck in left field at Yankee Stadium, which was much harder to left than to right because of the angle of the seats. He hit it off Gomez, who was asked how far he thought it went: "I don't know, but I do know it took somebody 45 minutes to go up there and get it." After the Apollo 11 mission in 1969, it was said that the astronauts on the Moon found an object there that they couldn't explain. Gomez said, "I know exactly what it was: It was the home run that Jimmie Foxx hit off me in 1937!"
Foxx helped the Philadelphia Athletics win the World Series in 1929 and '30 and the Pennant in '31. He hit 58 home runs in 1932, second only to Ruth's 60 in 1927. He won the Triple Crown in '33, and won the 2nd of back-to-back MVP awards that year.
After the 1936 season, Boston Red Sox owner Tom Yawkey opened the vault and paid A's owner Connie Mack $150,000 for Foxx's contract -- $2.56 million in 2014 money. This time, Foxx did break a record of Ruth's, the $125,000 purchase of 1920 ($1.72 million).
Foxx even looked a lot like Ruth, and both were from the State of Maryland. Foxx hit 50 homers for Boston in 1938, making him the first man to hit 50 homers in a season for 2 different teams. (He has since been joined by only Mark McGwire.)
At his retirement, he had a .325 lifetime batting average and 534 home runs, which remained 2nd all-time to Ruth and 1st among righthanded hitters, until surpassed by Willie Mays in 1966. Until Alex Rodriguez, he was the youngest player ever to reach 500, doing so shortly before his 33rd birthday. He was elected to the Hall of Fame in his 1st year of eligibility.
His life was a sad one, though, as he was plagued with alcoholism, was perennially broke, and choked to death before he turned 60. Jimmy Dugan, the Tom Hanks character in
A League of Their Own
was based on him. (A banner was made to hang in the Hall of Fame, showing that Dugan had hit 58 homers in 1936.)
In an additional sad note, because Foxx played so long ago, died before the rise of baseball nostalgia films and books, did not give a televised interview, and did his best work for a team that technically no longer exists (the Philadelphia A's), he has been largely forgotten today.
It doesn't help that the A's don't retire numbers from their Philadelphia days, and the Red Sox haven't retired his number, either: He usually wore Number 3. But
The Sporting News
didn't forget: In 1999, publishing their list of the 100 Greatest Baseball Players, Foxx, who hadn't played a game in 54 years, and with most of his teammates, like himself, dead and unable to speak on his behalf, came in at Number 15.
*
October 22, 1918:
Louis Frank Klein is born in New Orleans. Lou Klein was the starting second baseman for the St. Louis Cardinals when they won the NL Pennant in 1943, then served in World War II, and, when he and previous starter Red Schoendienst returned from the war, Klein accepted an opportunity to "jump" to the Mexican League. He was immediately suspended indefinitely by Commissioner Happy Chandler.
He and the other "Mexican Jumping Beans" were reinstated in 1949. He soon became a coach with the Chicago Cubs, and is now best known for being a part of the Cubs' ridiculous "College of Coaches" experiment in 1961-62. He died in 1976, only 57.
October 22, 1927:
New York Giants outfielder Ross Youngs' one of manager John McGraw's favorite players' dies of the kidney ailment Bright's disease at age 30' cutting short a 10-year career in which he batted .322. Youngs had been accompanied by a specialist as early as 1924' and after the illness had been identified' the Giants hired a nurse to travel with him. He was bedridden in 1927' after appearing in just 95 games in 1926.
For years, McGraw had no pictures of former players in his office. Two years earlier, when Christy Mathewson died, he became the 1st player so honored by McGraw. Youngs would become the 2nd.
Like Mathewson, World War I hero Eddie Grant, and eventually McGraw himself, Youngs would be honored with a plaque on the wall of the center field clubhouse at the Polo Grounds. (There would later be 3 other plaques: For New York Giants football players Al Blozis and Jack Lummus, both of whom died in combat in World War II, and former Mayor Jimmy Walker, who left office in scandal but was a great friend of the sports establishment in the City.)
Decades after his death, Youngs will be elected to the Baseball Hall of Fame. Since he died before uniform numbers were worn, there is no number to retire for him.
October 22, 1929:
Lev Ivanovich Yashin is born in Moscow. He was a goaltender for both the soccer and ice hockey teams at Dynamo Moscow, the team sponsored by the Soviet Union's secret police -- first the NKVD, then the KGB.
With their soccer team, he won 5 Soviet league championships and 3 Soviet Cups, and led the USSR to the 1956 Olympic Gold Medal and the 1960 European Championship -- the only major "professional" tournament won by the Soviets or any of their post-1989 breakaway nations, including Russia. In 1963, he was named European Footballer of the Year, and he remains the only goalkeeper ever to receive this award.
He had jet-black hair and a dark complexion, and his warmup tracksuit was black. These factors, and his dexterity which made it seem like he had 8 arms and legs, won him the nickname The Black Spider. And, like
Eusébio
, the Mozambican who played for Portgual (and who called him "the peerless goalkeeper of the century"), he was known as The Black Panther.
He played for the Soviets at the 1958, 1962, 1966 and 1970 World Cups, reaching the Semifinals in the latter 2, and winning the admiration of the entire world, even among those who despised Communism and the KGB. (He wasn't actually a KGB agent; indeed, he'd been purchased by Dynamo from a team sponsored by a factory.)
In 1967, while still an active player, he was awarded the Order of Lenin. His testimonial match brought over 100,000 fans to the Lenin Stadium (now the Luzhniki Stadium), and
Pelé
,
Eusébio
and
Franz Beckenbauer
attended.
He died of cancer in 1990. In 2000, FIFA named him the goalie on their World Team of the 20th Century. In 2003, in celebration of its 50th Anniversary, UEFA named a "Golden Player" for each member nation, designating them as that country's best-ever footballer, and Yashin was posthumously so awarded for Russia. A statue of him was erected outside Dynamo Stadium in Moscow, the leading stadium of the Soviet Union from 1928 until the Luzhniki opened in 1957. Dynamo Stadium was demolished, and a new stadium is being built on the site, to open in 2018, complete with Yashin's statue.
Also on this day, Philadelphia Phillies catcher Walt Lerian is hit by a truck and killed in his native Baltimore. He was only 26.
*
October 22, 1936:
Robert George Seale is born in Dallas, and grows up in Oakland, California. Bobby Seale, the Black Panther Party co-founder (with Huey Newton) who was ordered bound and gagged for his outbursts during the Chicago Eight trial, went the opposite way of the A's: He left Oakland for Philadelphia, where he taught at Temple University.
He has written a barbecue cookbook and founded a youth-outreach organization, and has moved back to Oakland, and remains involved in youth outreach programs. I suppose he's been trying to show that the Black Panthers were about more than just brandishing firearms and threatening the white power structure of the 1960s.
October 22, 1938:
Derek George Jacobi is born in Leytonstone, East London. He starred in the title roles in the miniseries
I, Claudius
and the mystery series
Cadfael
, and, despite being British, was one of the voiceover readers for Ken Burns'
Baseball
.
Also born on this day, in Stamford, Connecticut, is Christopher Allen Lloyd, who watched the World Series with Jack Nicholson in
One Flew Over the Cuckoo's Nest
, played "Reverend" Jim Ignatowski on
Taxi
, played a Klingon ship commander who ordered the killing of James T. Kirk's son in
Star Trek III
, played a cartoon character masquerading as a hardline judge in
Who Framed Roger Rabbit?,
and invented a time machine in
Back to the Future
, expressing in the 1st BTTF film how nice it would be to know who's going to win the next 25 World Series -- and then, in the 2nd film, warning how dangerous it might be to know things about the future and bring that information back to the past, and being proven right.
October 22, 1939, 75 years ago:
For the 1st time, a professional football game is televised, on experimental New York station W2XBS, the forerunner of WNBC-Channel 4. The Brooklyn Dodgers -- yes, there was an NFL team with that name -- play the Philadelphia Eagles at Ebbets Field in Brooklyn. The Dodgers win, 23-14. There's no record of how many people paid to watch it in person, but there were apparently less than 300 TV sets capable of receiving the signal.
Also on this day, George Reginald Cohen is born in Kensington, in Central London. He was the right back on the England team that won soccer's World Cup on home soil in 1966. He played all 13 seasons of his career for West London club Fulham, winning no trophies. He retired at age 29 due to injury, and could still have been playing in 1975 when Fulham reached their one and only FA Cup Final (which they lost to East Londoners West Ham United). But, when you've got a World Cup winner's medal, you're a national icon and a world hero of the sport. (Unless you got it dishonestly, like Diego Maradona.)
A recent poll named him the greatest right back in the history of English football, ahead of, to use 3 more recent examples, Phil Neal of Liverpool, Lee Dixon of Arsenal and Gary Neville of Manchester United. He still attends Fulham home matches. His nephew Ben Cohen also won the World Cup for England, but in rugby, in 2003. He played most of his club rugby for Northampton.
October 22, 1942:
Robert Gaston Fuller is born in Baytown, Texas, a suburb of Houston. In 1966, with his band, the Bobby Fuller Four (including his brother Randy), he had a huge, iconic hit record with "I Fought the Law."
But within a few weeks, he was murdered. It has never been solved. He could have become one of the giants of rock and roll. Instead, we have only his one real hit and a few other tracks.
October 22, 1943:

Catherine Fabienne Dorléac

is born in Paris. "Share the fantasy," the French actress better known as Catherine Denueve said in her Chanel No. 5 perfume commercials. She has been the object of many a fantasy.
She and director Roger Vadim had a son, Christian Vadim; she and actor Marcello Mastroianni had a daughter, Chiara Mastroianni.
Both children, now grown, are also actors.
*
October 22, 1960:
The New Yorker
magazine publishes "
Hub Fans Bid Kid Adieu
," an article by 28-year-old John Updike, which chronicles Ted Williams' last game in the major leagues. The future Pulitzer Prize-winning author, among the 10,454 fans to watch the game at Fenway Park in Boston, includes the words, "Gods do not answer letters," as an explanation of why the 41-year old superstar did not acknowledge the Fenway faithful after homering in his final major league at-bat.
Even if you don't like the Red Sox (and I sure as hell don't), you really should read it. It is one of the best pieces of sportswriting ever -- and it's by someone whose writing training was not in sports at all (even if his most famous character, Harry "Rabbit" Angstrom, had been a high school basketball star).
October 22, 1963:
Brian Boitano is born in Mountain View, Califorina, in the San Francisco Bay Area. He won the Gold Medal in men's figure skating at the 1988 Winter Olympics. Before losing his hair, he bore a striking resemblance to Bronson Pinchot, a.k.a. Balki Bartokomous on the ABC sitcom
Perfect Strangers
.
Also on this day, Roy Hamey resigns as Yankee general manager. Field manager Ralph Houk is promoted to replace him. He had managed 3 seasons, and won the Pennant all 3 times, including winning 2 World Series.
Soon, Houk will ask the man to whom he was backup catcher, Yogi Berra, "How would you like to manage?" Yogi says, "Manage who?" Houk says, "The Yankees!" Yogi says, "Sure."
October 22, 1964, 50 years ago:
Drazen Petrovic is born in

Šibenik, in what was then the Croatia province of Yugoslavia

. He starred for his national team – first the united Yugoslavia, then Croatia – medaling in 3 Olympics, and was an All-Star for the New Jersey Nets, before a car crash in Germany killed him in 1993. The Nets retired his Number 3, and he was posthumously elected to the Basketball Hall of Fame.
October 22, 1966:
Valeria Golino is born in Naples, Italy. The actress has nothing do to with sports, unless you want to count her equestrian scenes in
Hot Shots!
So why do I mention her? Why do you think I mention her? Google her or YouTube her, and you'll find out why I mention her!
*
October 22, 1972:
The Oakland A's win their first World Championship in 42 years, since the 1930 Philadelphia team, with a 3-2 victory over the Cincinnati Reds in Game 7 at Riverfront Stadium. Gene Tenace has 2 RBI in the game. Tenace' who had only 5 homers in the regular season, had 4 in the Series' and is named MVP.
The Reds go on to win 2 World Series in the 1970s, and will win more games in the decade than the A's. They win 4 Pennants and 6 Division Titles in the decade to the A's' 3 Pennants and 5 Division Titles. For these reasons, their surviving players are convinced that they, not the A's, were the team of the decade.
However, the A's won 3 World Series in a row, and, what's more, in the one head-to-head matchup between the A's and the Reds, the A's won, winning 3 of the 4 games in Cincinnati, including the clincher, and doing so without their best player, Reggie Jackson. So there can be no doubt that the A's were the Team of the Seventies.
Besides, neither team was the one that won the most games in the decade: It was the Baltimore Orioles who did that, while winning 5 Division Titles and 3 Pennants, but only 1 World Series.
It would take until 1990 for the Reds to get revenge on the A's.
October 22, 1973:
Ichiro Suzuki is born in Kasugai, Aichi Prefecture, outside Nagoya, Japan. The first Japanese batter to really make it in the North American major leagues, he may become the first player to make it to the Baseball Hall of Fame based on both his Japanese and his North American achievements.
He has won 10 Gold Gloves, and his 1,278 hits for the Orix Blue Wave and his 2,844 hits with the Seattle Mariners and the Yankees gives him 4,121. This includes 262 hits in 2004, which broke the 84-year-old major league record of 257 by George Sisler.
Granted, those 1,278 Japanese hits weren't all against pitchers good enough to make it in MLB, but if the Japanese leagues are accepted as "major league," then his 4,121 hits would rank him 3rd all-time, trailing only Pete Rose and Ty Cobb, and 1st in the Divisional Play Era, ahead of, yes, even Derek Jeter.
October 22, 1974:
The Giants and Yankees swap popular star outfielders: Bobby Bonds goes to New York, and Bobby Murcer heads to San Francisco. Bonds will hit 32 homers and steal 32 bases in 1975' becoming the Yankees' 1st-ever member of "the 30-30 Club."
But leg injuries prevented him from doing more that season. He never quite adapted to New York, and after just the 1 season, he is traded to the California Angels for outfielder Mickey Rivers and pitcher Ed Figueroa. They turn out to be 2 major figures in the Yankees' revival, so Bonds' greatest value to the Yankees was as trade bait.
Today, Bonds is known 3rd for his amazing combination of power and speed, 2nd for being traded so many times, and 1st for being the father of Barry Bonds. That really isn't fair, as Bobby was a fantastic player, one of the best of the 1970s.
As for Murcer, he loved the city of San Francisco, but hated playing in cold, windy Candlestick Park, both as a batter and as an outfielder. He would be traded to the Chicago Cubs in 1977, and he enjoyed Wrigley Field a lot more. (Sure, Wrigley also has wind issues, but it is also much more of a hitter's park.)
Still, Murcer was heartbroken to be traded by the Yankees, to whom he had given as much as anybody could in those dark years between 1964 and 1976, and swore he would never forgive them for trading him. But in 1979, George Steinbrenner traded to get him back, and Bobby jumped at the chance, and he remained a part of the Yankee family, as a player until 1983, and then as a broadcaster until his death in 2008.
Also on this day, Pat Pieper dies at age 88. He had been the Cubs' public address announcer since 1916 -- 49 years. "Attention... Attention, please!... Have your pencil... and scorecards ready... and I'll give you... the correct lineup... for today's ball game." Those words became as familiar to Chicagoans as the "Your attention please... ladies and gentlemen... " of Bob Sheppard, the Yankee PA announcer who now holds the record for the majors' longest-serving (57 years) and oldest (97) PA announcer.
He was there when the Cubs' James "Hippo" Vaughn and the Reds' Fred Toney both pitched no-hitters in 1917, Toney keeping his for 10 innings as the Reds reached Vaughn for a hit and the winning run. He was there when Babe Ruth called his shot against the Cubs in the 1932 World Series -- and, unlike most Cub fans, was willing to admit that the Babe did it. He was there when Gabby Hartnett hit his "Homer in the Gloamin'" that won a key Pennant race game for the Cubs in 1938. He was there when the Cubs won their last Pennant in 1945, when Ernie Banks integrated the team in 1953, and when they had their thrilling but heartbreaking season of 1969.
In nearly half a century, he missed only 16 home games, none after 1924, until he fell ill late in the 1974 season. The Cubs inducted him into their Walk of Fame when it was established in 1996.
Also on this day,
Miroslav Šatan is born in Jacovce, in what's now Slovakia. He scored 363 goals in 15 NHL seasons. Despite having a name that sounds like the English name for the Devil (but pronounced "Sha-TANN" in his language), he never played for the New Jersey Devils. Indeed, he seemed to play particularly well against them, no matter what team he was on.
He recently retired from the game, and, remembering his good times with the New York Islanders, has settled in Jericho, Long Island, New York.
October 22, 1975: Just 20 hours after Carlton Fisk's home run finished what some still call the
greatest baseball game ever played, the Cincinnati Reds and Boston Red Sox have to play Game 7 of the World Series at Fenway Park, to decide the championship of the baseball world.
Before the game, Reds manager Sparky Anderson says of his starter, Don Gullett, "No matter what happens in this game, my starter's going to the Hall of Fame." Told by the reporters that Anderson had said that, Red Sox starter Bill Lee says, "No matter what happens in this game, I'm going to the Eliot Lounge."
The Eliot was a popular Boston watering hole, at the convenient intersection of Massachusetts and Commonwealth Avenues, known for local athletes dining and drinking there. Essentially, it was Boston's answer to Toots Shor's in New York or The Pump Room in Chicago. But since its closing in 1996, people who knew it well have argued that it was not a "sports bar," as if that term diminishes what the Eliot meant to the sports fans of Boston.
The Sox take a 3-0 lead in the 3rd, just as they had in Game 6. And, just as they had in Game 6, as they would say in English soccer, "Three-nil, and you fucked it up." Lee decided to try a blooper pitch against All-Star 1st baseman Tony Perez, and the man known as Big Doggie crushes it, sending it well over the Green Monster. That makes it 3-2 Boston.
Lee allows another run – some sources say he'd developed a blister, or maybe I'm confusing this with Roger Clemens in 1986 – and the game is tied.
Jim Willoughby finishes up the 7th for Boston, and also pitches the 8th. But in the 9th, Sox manager Darrell Johnson pinch-hits Cecil Cooper for Willoughby. Johnson brings in Jim Burton to pitch, and Burton allows 2 runners, and Joe Morgan singles up the middle to bring home Ken Griffey Sr. to make it 4-3 Cincinnati. Will McEnaney stares down Carl Yastrzemski with 1 out to go, and Yaz flies out to center fielder Cesar Geronimo to end it.
The Reds thus win their 3rd World Series, but their 1st in 35 years. The Red Sox have now gone 57 years without winning one, and New England will have to wait.
Many Sox fans wonder what could have been: If Johnson hadn't brought in Dick Drago and blown Lee's 2-1 lead in the 9th in Game 2; if Ed Armbrister hadn't interfered with Carlton Fisk in Game 3; if umpire Larry Barnett had called interference on that play; if the Sox hadn't blown a 1-0 lead in the 4th in Game 5; if Lee hadn't thrown the blooper to Perez; if Johnson hadn't pinch-hit for Willoughby; if Johnson had relieved Willoughby with someone other than Burton; and if rookie outfielder Jim Rice hadn't been injured late in the regular season, rendering him unavailable for the Series...
This Series has been regarded as one of the best ever, maybe
the
best. For the Red Sox, Yastrzemski, Fisk and Rice have been elected to the Hall of Fame, and some people think Luis Tiant should also be elected. For the Reds, Anderson, Morgan, Perez and Johnny Bench have been elected, and Pete Rose, named MVP of this Series, would have been elected to the Hall if he hadn't been caught betting on baseball.
However, despite Anderson's prediction, his Game 7 starter, Don Gullett, developed a shoulder problem, and a promising career was cut short, and he did not achieve election to the Hall. He did, however, help the Reds win the Series again the next year, and then signed with the Yankees as a free agent, and won another, before his shoulder injury ended his career in 1978.
*
October 22, 1982:
Robinson Jose Cano is born in San Pedro de Macoris, in the Dominican Republic. The Yankees' 2nd baseman was named after Jackie Robinson, and wears Number 24 as it is Robinson's 42 reversed. He has really come into his own in regular-season play, although his postseason hitting leaves much to be desired.
That the Yankees made a mistake in letting him go, instead of throwing a huge salary and a long-term contract at him, was conventional wisdom this season. Let's see who was right when he gets to the same point in his Seattle contract that Alex Rodriguez, Mark Teixeira or CC Sabathia is at now.
Also born on this day is Earl Heath Miller Jr., in Richlands, Virginia. The tight end for the Pittsburgh Steelers, Heath Miller is the winner of 2 Super Bowl rings thus far.
October 22, 1986:
Game 4 of the World Series at Fenway Park. Gary Carter hits 2 home runs, and the Mets beat the Red Sox, 6-2. The Series is tied, and those trash-talking Met fans get their confidence back.
October 22, 1991:
For the 1st time, a World Series game is played in a place that used to be part of the Confederate States of America. Game 3 is held at Atlanta-Fulton County Stadium, and Mark Lemke's 2-out single in the bottom of the 12th gives the Braves a 5-4 win over the Minnesota Twins.
October 22, 1992:
Walter Lanier Barber, the Voice of Baseball, dies from complications from surgery. The Old Redhead was 84. Since then, he has watched games from the real "catbird seat."
October 22, 1994, 20 years ago:
Had there been a 1994 World Series, it would have begun on this date, in the home park of the National League's Pennant-winner.
October 22, 1996:
The Yankees get a desperately-needed win in Game 3 of the World Series in Atlanta, 5-2 over the Braves, behind the gutsy pitching of David Cone. John Wetteland gets the save as Bernie Williams drives in 3 runs.
October 22, 1997:
With the Jacobs Field game-time temperature hovering at 35 degrees, the coldest start on record for any postseason game, the Cleveland Indians' bats come out smoking in Game 4 of the World Series, scoring 3 runs in the 1st and another 3 in the 3rd.
Highlights of their 10-3 rout of the Florida Marlins include Tribe 3rd baseman Matt Williams reaching base 6 times, and the matchup of 2 rookie starters on the mound: 21-year-old right-hander Jaret Wright for Cleveland and 23-year-old southpaw Tony Saunders for Florida. This is only the 6th time that freshman hurlers have opposed one another in the history of the Fall Classic.
*
October 22, 2000:
Game 2 of the Subway Series, at the original Yankee Stadium, is one of the most bizarre contests in baseball history. In the top of the 1st, with 2 out and a man on, Mike Piazza bats for the Mets against Roger Clemens of the Yankees. Piazza had hit some long home runs off Clemens, and in July, in an Interleague game also at Yankee Stadium, Clemens had nailed Piazza on the helmet with a fastball, giving him a concussion.
This time, Piazza hits a foul ball, and breaks his bat. The barrel of the bat comes back to Clemens, and... he throws the jagged-edged bat barrel across the first-base foul line. Right in Piazza's path, and Piazza almost steps into it.
We may never know what was going on in the head of the Rocket, but what's going on in the head of Piazza is rage. He thinks Clemens was throwing the sharp object at him. Piazza moves toward Clemens and both benches empty. Piazza is furious. For one of the few times in his career, there's an on-field controversy and Clemens is
not
the most insane man involved.
The umpires restore order, and Clemens finishes the at-bat by striking Piazza out. He pitches 8 strong innings, and the Yankees pound Mike Hampton, and take a 6-0 lead into the 9th.
But the bullpen can't hold it, and the Mets come to within 6-5, including home runs by Piazza (the 1st-ever World Series homer for the alleged "greatest-hitting catcher ever") and Jay Payton, before Joe Torre has enough and brings in the Hammer of God, Mariano Rivera, to slam the door and keep it 6-5. The Yankees take a 2-games-to-0 lead in the Series, which now heads across town to Shea.
Clemens will be fined $50,000 for his what-the-hell moment. But Met fans have never gotten this into their thick skulls: Clemens was
not
throwing the bat
at
Piazza. If there's one thing that Roger Clemens made perfectly clear many times in his playing career, it's this: If he wants to throw something at someone with the intention of hitting him,
that person will get hit
. If he
wanted
to throw the bat
at
Piazza, that bat
would
have hit Piazza.
And now, the question needs to be asked: Which of these men was on steroids, warping their perceptions of what was happening? Was it Clemens? Was it Piazza? Was it both? Until either man, or both men, decide to change their stories, we may never know for sure.
As it turned out, both men played their last game in 2007, meaning that both became eligible for the Baseball Hall of Fame in the election of January 2013 -- and neither man made it last year, nor this year. I suppose this avoids the most awkward induction ceremony in the Hall's history.
Almost lost in the craziness of this game is that fact that, a few hours earlier, Corey Dillon of the Cincinnati Bengals rushed for 278 yards against the Denver Broncos, breaking Walter Payton's single-game record of 275, set in 1977. The Bengals had been 0-6, but win this one, 31-21. They win the next week, too, beating their arch-rivals, the Cleveland Browns. But they fall apart, finishing 4-12.
Dillon, who has since been arrested for hitting his wife, has seen his record surpassed by Jamal Lewis and Adrian Peterson -- a cocaine addict and a child abuser. Walter Payton, one of the most decent men in sports history, went to his grave with his record intact. I don't think he would have minded seeing his record broken, but it would have upset him to see the character of the men who have done it.
October 22, 2002:
Renel Brooks-Moon becomes the 1st woman to be the public address announcer at a finals game in any major league sport, in Game 3 of the World Series at Pacific Bell Park (now AT&T Park) in San Francisco. Her predecessor with the Giants, Sherry Davis, had been the 1st female P.A. announcer in Major League Baseball. Brooks-Moon was not the 1st female, nor the 1st black, P.A. announcer in the major leagues, but she was one of the earliest of each.
She can't be happy with the result of this game, as the host Giants are pounded 10-4 by the Anaheim Angels. This was the first World Series game played in San Francisco since the earthquake-interrupted Series of 1989 ended in Game 4 at Candlestick Park. (Although the A's had played 2 Series games in Oakland in 1990.)
Born across the Bay in Oakland, Brooks-Moon remains the Giants' P.A. announcer, and has long been a disc jockey at San Francisco radio station 98.1 KISS-FM and and the entertainment reporter for KPIX, Channel 5, the CBS affiliate in the Bay Area. She has now announced 2 World Championship wins for the Giants, in 2010 and 2012, and the Giants are now 3 wins away from winning a 3rd title with her at their microphone.
*
October 22, 2003
: The Jeff Weaver Game. As Phil Rizzuto would have said, I get agita just thinking about it.
It's Game 4 of the World Series at the Dolphins/Marlins Stadium. I've seen the location listed as "Miami," "Miami Gardens," "Miami Lakes," "Carol City" and "Opa-Locka." Just as the stadium itself has gone through several names: Joe Robbie Stadium, Pro Player Stadium, Dolphin Stadium, Land Shark Stadium, and, currently, Sun Life Stadium.
The Florida Marlins lead the Yankees 3-1 after 7 innings, but as he strikes out Luis Castillo (a name that will feature in the Yankees-Mets rivalry in 2009) to end the 7th, Roger Clemens walks off the mound, and a crowd of 65,934 gives him a standing ovation, thinking that the 41-year-old legendary fireballer is walking off the field as an active player for the last time. (Within weeks, this will prove to have been greatly exaggerated.) Marlins starter Carl Pavano holds the Yankees to 1 run through 8 strong innings. Like Clemens' retirement, Pavano's frustration of Yankee Fans is happening for the first time, but by no means for the last.
The Yankees rally in the 9th against reliever Ugueth Urbina, whose own post-baseball career will be incredibly troubled. Bernie Williams singles with one out, Hideki Matsui walks and Jorge Posada grounds into a force play. Pinch-hitter Rubén Sierra fouls off two full-count pitches before tripling into the right-field corner to tie the ball game. This is Sierra's 2nd tenure with the Yanks, having made up with manager Joe Torre after Torre had him traded for Cecil Fielder in '96 due to disciplinary issues; this is the biggest hit Sierra ever got for the Yankees – or for anyone else, for that matter. But he is stranded on 3rd.
No matter, as the momentum seems to have shifted to the Yankees, and if they can win the game in extra innings, they will take a 3-games-to-1 lead and can clinch their 27th World Championship tomorrow night over a Marlins team that really was unworthy of being there. (This unworthiness is almost certain now that nearly everybody suspects Ivan Rodriguez of steroid use.)
The Yankees threaten to score in the top of the 11th when they load the bases with one out off Chad Fox. Braden Looper relieves and strikes out Aaron Boone, and replacement catcher John Flaherty pops out to third. (Yes, the same John Flaherty who has since parlayed one big regular-season hit, against the Red Sox in 2004, into a career as a mediocre broadcaster. At least he had one big hit, which is more than the similar Fran Healy ever got.) Still, the Yankees have the chance to win this game.
But in the bottom of the 11th, Torre makes a mistake every bit as critical as the stranding of Sierra on 3rd in the 9th. He had already used Jeff Nelson, and Jose Contreras, originally a starter, had already pitched 2 innings. Torre could have left Contreras in. He could have brought in his closer, Mariano Rivera. He could also have brought in Chris Hammond.
Instead, he brings in Jeff Weaver, who gets through the 11th with no trouble, but Alex Gonzalez leads of the bottom of the 12th. This is not the now-retired Alex Gonzalez, ironically from Miami, whose error at shortstop made the Cubs' collapse in the Steve Bartman Game possible a week earlier. This is the Venezuelan shortstop, who has a .245 lifetime batting average (although he did hit 18 home runs that season), and is now playing out the string for the Tigers.
Weaver throws him a hanging curveball, and Gonzalez hits it down the left-field line, and it creeps over the fence for a game-winning home run. Marlins 4, Yankees 3.
Not since Bill Mazeroski, 43 years earlier, had the Yankees given up a walkoff home run in a Series game. By bringing in Weaver – or, as Red Sox fans would say if this happened to them, Jeff
Fucking
Weaver – Torre turned the Yankees from a team that was 1 run away from being up 3 games to 1 to a team that ends up losing the World Series to a team that was lucky to even get the NL's Wild Card and then needed both steroids
and
the Bartman-connected collapse.
The Yankees don't win another World Series game until October 29, 2009.
This loss really, really pissed me off. I was not heartbroken. I was enraged. And that was
before
I knew the Marlins' emotional leader, Ivan "Pudge" Rodriguez, was a steroid cheat. And before I knew that Josh Beckett, who shut the Yankees out in Game 6 to clinch it, was going to become a typical classless Red Sock.
I was enraged. I remain enraged. This loss angers me more 11 years later than it did at the time.
On July 5, 2002, the Yankees traded Ted Lilly to the A's. Lilly was a much-hyped prospect, but had been horrible for the Yankees. When I heard he'd been traded, I used the old line: "Great trade. Who did we get?"
It was a 3-team deal, also involving the Tigers. The only player worth mentioning that the A's got was Lilly, who turned out to be a good pitcher -- when he wasn't wearing Pinstripes. The Tigers got Carlos Pena, who's had a pretty good career, and Jeremy Bonderman, who gave them some good pitching.
The only player the Yankees got as part of the deal was Weaver, who, to that point, was an average pitcher at best. He would be less than that with the Yankees. He pitched poorly in the 2002 Playoffs, had nearly a 6 ERA in the 2003 regular season, and gave up
that
home run to "the other Alex Gonzalez."
Joe Torre didn't trust Weaver enough to put him on the Division Series or League Championship Series roster. But he put him on the World Series roster.
In that Game 4, Torre used Clemens into the 8th, Nelson to get out of the 8th, Contreras in the 9th and 10th, and Weaver in the 11th -- aside from facing Gonzalez to lead off the 12th, that was the only inning Weaver pitched in the entire postseason. Those 4 games against the Minnesota Twins, and those 7 games against the Red Sox, including the epic Game 7? No sign of Weaver. And the Yankees won both series. As former UCLA quarterback Mark Harmon would say on
NCIS
, a TV series that began airing on CBS the previous month, would say in character as Special Agent Leroy Jethro Gibbs, "There is no such thing as coincidence."
Contreras was a starter. He could have pitched long relief. Torre could also have used Hammond, one of the best middle-relievers of that period, in his only season with the Yankees. He could also have used a pretty good relief pitcher by the name of Mariano Rivera. But Torre had this mental block about using Mo in non-save situations -- Game 7 of the ALCS being the most notable exception.
In Game 5 the next night, David Wells lasted only an inning, and Torre threw Contreras out there with no notice and about 20 hours' rest. He had nothing, and the Marlins won. In Game 6, the last World Series game ever played at the old Yankee Stadium, Beckett shut out a lifeless bunch of Yankees, and the Marlins were World Champions for the 2nd time -- both times as a Wild Card. They've been in 6 postseason series in their history, and won them all. Between 1996 and 2003, 8 seasons, the Yankees or the Marlins won 6 World Series.
Torre trusted Weaver, and the World Series turned on that one pitch.
On December 13, 2003, the Yankees traded Weaver and 2 guys you don't need to know about to the Los Angeles Dodgers, for a better pitcher. Or so we thought.
On April 29, 2004, I went to Shea Stadium to see the Mets play the Los Angeles Dodgers. The Mets beat the Dodgers, 6-1. The losing pitcher was Jeff Weaver. I went to that game for the sole purpose of booing Weaver. Cheering for the Mets? That felt lame. But booing Jeff Fucking Weaver? Damn, that felt good.
On June 18 of that year, the Yankees went out to L.A. to play the Dodgers in an Interleague series. I did not go to any games of that series. The Dodgers won that day, 6-3. The winning pitcher was Jeff Fucking Weaver. Damn, that felt lousy.
But Weaver wasn't done screwing the Yanks over. You know that pitcher the Yanks got for him? Well, he also gave up a major postseason homer for the Yanks. It was Game 7 of the 2004 ALCS. The batter was David Ortiz. The pitcher was... Kevin Brown.
In 2006, the St. Louis Cardinals won the World Series. On their Series roster was... Jeff Weaver.
Jeff FUCKING Weaver has a World Series ring. You know who doesn't have a World Series ring? Ty Cobb, Nap Lajoie, George Sisler, Ted Williams, Early Wynn, Ralph Kiner, Robin Roberts, Ernie Banks, Luis Aparicio, Harmon Killebrew, Willie McCovey, Juan Marichal, Carl Yastrzemski, Gaylord Perry, Phil Niekro, Ferguson Jenkins, Bobby Murcer, Don Sutton, Rod Carew, Carlton Fisk, Robin Yount, Andre Dawson, Dale Murphy, Ryne Sandberg, Tony Gwynn, Don Mattingly, Ken Griffey Jr., Jeff Bagwell, Craig Biggio, Mike Piazza, and Trevor Hoffman. And, so far, the still-active Ichiro Suzuki, Curtis Granderson, David Wright, Evan Longoria, Clayton Kershaw and Mike Trout.
You know who else doesn't have a World Series ring so far? Jered Weaver, the younger and considerably better brother of Jeff Fucking. Since reaching the majors with the Los Angeles Angels of Anaheim in 2006 -- he has spent his entire career with them -- he has won 131 games against only 69 losses, and an ERA+ of 124, making him 24 percent better at preventing earned runs since 2006 than the average pitcher over those 9 years.
Jeff, whose career ended in 2010, when he was only 34 years old, had a record of 104-119, and an ERA+ of 93 -- meaning he was 7 percent
less
effective at preventing earned runs from 1999 to 2010 than the average pitcher was over that stretch.
But Jeff Fucking Weaver has a World Series ring.
I would hate Jeff Weaver's guts -- if he had any guts to hate.
*
October 22, 2005:
For the 1st time in 46 years, a World Series game is played in the City of Chicago. The White Sox take Game 1 with a 5-3 victory over the Astros at U.S. Cellular Field. Yankee castoff Jose Contreras gets the win for Chicago' despite hitting 3 batters in the game, to tie a Series record set by Bruce Kison of the Pirates in 1971. Joe Crede homers and makes a pair of great defensive plays in the field. Jermaine Dye also homers for Chicago, while Mike Lamb connects for Houston.
October 22, 2006:
The Tigers even the Series with a 3-1 win over the Cardinals, behind the rather mysteriously rejuvenated Kenny Rogers. Craig Monroe homers for Detroit, and Carlos Guillen gets 3 hits. This remains, for the moment, the only World Series game won by the Tigers in the last 30 years.
It is also the 1st time that a father-and-son combination have appeared in a World Series game as a player for the same franchise. Scott Speizio, the Cardinals' current 2nd baseman, and his father, Ed, a 3rd baseman for the club in the 1967 and '68, both played (and won) in the Fall Classic with the Cards. Scott had already won a ring with the '02 Angels, thanks in part to his home run that sparked their big Game 6 comeback. And Ed had hit the first home run in San Diego Padres history in 1969.
October 22, 2008:
For only the 3rd time in World Series history, and the 1st since 1970, both starting pitchers in Game 1 are under the age of 25. Cole Hamels, a 24-year old lefthander, gets the victory when the Phillies beat the Rays and their 24-year old southpaw Scott Kazmir at Tropicana Field, 3-2.
October 22, 2010:
The Texas Rangers win their first Pennant. Unfortunately, they beat the Yankees to do it, winning Game 6 of the American League Championship Series.
October 22, 2011:
Game 3 of the World Series. Albert Pujols hits 3 home runs, matching the feat of Babe Ruth in 1926 and 1928, and of Reggie Jackson in 1977. He gets 5 hits and 6 RBIs, which also tie Series records, on his way to a new Series record of 14 total bases. The Cardinals beat the Texas Rangers 16-7, tying for the 2nd-most runs in a Series game. (The Yankees got 18 in the clinching Game 6 in 1936.)