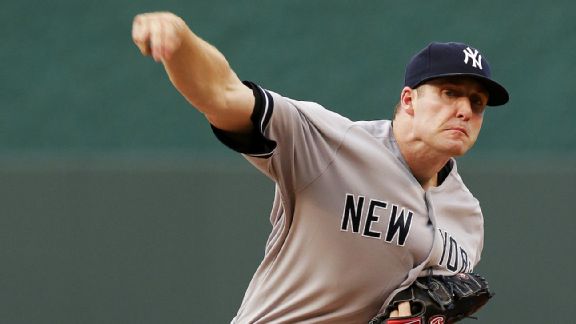 With Masahiro Tanaka and Chase Whitley starting games, the Yankees are now 16-3. Everybody else, 18-28.
11-2 of that is Tanaka. 5-1 of it is Whitley. This kid could be a keeper.
Last night, the Yankees were attempting a sweep away to the Seattle Mariners, to whom they lost their best player, Robinson Cano.
They got off to a good start. With 1 out in the top of the 1st Derek Jeter (you might have heard of him) got a hit, and Jacoby Ellsbury hit a home run. 2-0 Yankees.
The Mariners pulled a run back in the bottom of the 2nd, but in the very next inning, Jeter led off with a single, Ellsbury walked, Mark Teixeira flew out, and Alfonso Soriano nearly hit one out, Jeter and Ellsbury scoring on the double. 4-1 Yankees.
Brian Roberts led off the 4th with a walk, followed by a single by J.R. Murphy, a sacrifice bunt by Brett Gardner, and a single by Jeter, scoring both runners. 6-1 Yankees.
The Mariners scored again in the bottom of the 5th, but that was it off Whitley: 7 2/3 innings, 2 runs, 5 hits, no walks. Matt Thornton got the last out in the 8th. Shawn Kelley returned from the Disable List and started the 9th, but was shaky and allowed a run, before David Robertson slammed the door.
Yankees 6, Mariners 3. WP: Whitley (2-0). SV: Robertson (16). LP: Roenis Elias (5-5).
The sweep completed, the Yankees headed down to the Pacific Coast today, to begin a 3-game series against the Oakland Athletics, who still have the best record in the American League.
The Yankees, however, have closed to within 3 1/2 games of the 1st-place Toronto Blue Jays -- just 2 in the all-important loss column. For all their troubles, they are very much in the Playoff hunt.
Here are the matchups for this series with the A's, about to begin:
Tonight, 10:05 PM Eastern (7:05 Pacific/local): David Phelps vs. Sonny Gray. Phelps? Ulp. Remember that stat I showed you at the beginning, showing the Yankees with Tanaka and Whitley, as compared to what they'd done with all other starters? Well, check this out: With Phelps starting, they're 1-6; with anybody else, 33-25, not bad at all.
Tomorrow, 10:05 PM Eastern: Hiroki Kuroda vs. Scott Kazmir.
Sunday, 4:05 PM Eastern: Vidal Nuno vs. Jesse Chavez.
When the series concludes, the Yankees will have a travel day on Monday, and then begin a 6-game homestand against the Jays, and then the Baltimore Orioles. The Yanks are tied with the O's, and the Jays are the only team in the AL East ahead of them.
Big series coming up.