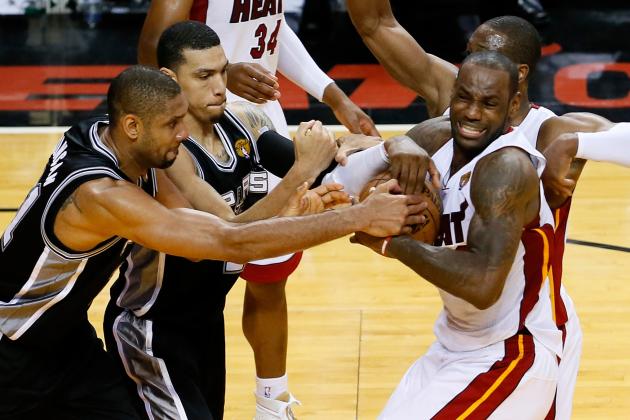 With the San Antonio Spurs having won Game 6 of the NBA Eastern Conference Finals over the Oklahoma City Thunder last night, it sets up a rematch of the preceding season's NBA Finals between the Spurs and the Miami Heat.
The following finals matchups in the 4 major North American sports have happened in back-to-back seasons:
Major League Baseball: The World Series
1907-08 Chicago Cubs beat Detroit Tigers both times
1921-23 New York Giants beat New York Yankees twice, then Yankees won 3rd
1930-31 Philadelphia Athletics beat St. Louis Cardinals, then Cards beat A's
1936-37 Yankees beat Giants both times
1942-43 Cardinals beat Yankees, then Yanks beat Cards
1952-53 Yankees beat Brooklyn Dodgers both times
1955-56 Dodgers beat Yankees, then Yanks beat Dodgers
1957-58 Milwaukee Braves beat Yankees, then Yanks beat Braves
1977-78 Yankees beat Los Angeles Dodgers both times
How many times, Ed Rooney? "Nine times!" But it hasn't happened since 1977-78. 1921-23 is the only time it's happened 3 seasons in a row.
National Football League: NFL Championship Game (1932-66), Super Bowl (1967-2014)
1933-34 Chicago Bears beat New York Giants, then Giants beat Bears
1938-39 Giants beat Green Bay Packers, then Packers beat Giants
1942-43 Washington Redskins beat Bears, then Bears beat 'Skins
1947-48 Chicago Cardinals beat Philadelphia Eagles, then Eagles beat Cards
1950-51 Cleveland Browns beat Los Angeles Rams, then Rams beat Browns
1952-54 Detroit Lions beat Browns twice, then Browns beat Lions
1958-59 Baltimore Colts beat Giants both times
1961-62 Packers beat Giants twice
1992-93 (calendar years 1993-94) Dallas Cowboys beat Buffalo Bills twice
Again: "Nine times!" 1952-54 is the only time it's happened 3 seasons in a row. Yes, kids, the Browns and the Lions both reached the title decider in the 1950s. The Browns even did so as recently as 1964. That's the last title for any Cleveland team. The Lions last won the title in 1957. That 1947 title is the last one won by the team now known as the Arizona Cardinals -- Super Bowl -XX, if you prefer.
If you count the American Football League, the Houston Oilers beat the Los Angeles Chargers in 1960, and beat the San Diego Chargers in 1961; while the Buffalo Bills beat the Chargers in 1964 and 1965.
National Basketball Association: NBA Finals
1952-53 Minneapolis Lakers beat New York Knicks both times.
1957-58 Boston Celtics beat St. Louis Hawks, then Hawks beat Celtics
1960-61 Celtics beat Hawks both times
1962-63 Celtics beat Los Angeles Lakers both times
1965-66 Celtics beat Lakers both times
1968-69 Celtics beat Lakers both times
1972-73 Lakers beat Knicks, then Knicks beat Lakers
1978-79 Washington Bullets beat Seattle SuperSonics, then Sonics beat Bullets
1982-83 Lakers beat Philadelphia 76ers, then Sixers beat Lakers
1984-85 Celtics beat Lakers, then Lakers beat Celtics
1988-89 Lakers beat Detroit Pistons, then Pistons beat Lakers
1997-98 Chicago Bulls beat Utah Jazz
2013-14 Miami Heat beat San Antonio Spurs, now a rematch
The Finals starting this week will be the 13th repeat matchup, and the first in 16 years. (Yes, kids, it's been 16 years since Michael Jordan took the court for the Bulls.)
It's never happened 3 seasons in a row. A repeat matchup never happened in the American Basketball Association: While the Indiana Pacers were the only team to win back-to-back ABA titles (1972-73), they beat a different team each time.
National Hockey League: Stanley Cup Finals (1912, when it ceased to become a "challenge trophy," to 2014)
1932-33 Toronto Maple Leafs beat New York Rangers, then Rangers beat Leafs
1954-56 Detroit Red Wings beat Montreal Canadiens twice, then Habs beat Wings
1957-58 Canadiens beat Boston Bruins twice
1959-60 Canadiens beat Leafs twice
1963-64 Leafs beat Wings twice
1968-69 Canadiens beat St. Louis Blues twice
1977-78 Canadiens beat Bruins
1983-84 New York Islanders beat Edmonton Oilers, then Oilers beat Isles
It's happened 8 times, but not at all in the last 30 years. 1954-56 is the only time it's happened 3 seasons in a row. It never happened in the World Hockey Association: While back-to-back WHA titles were won by the Houston Aeros in 1974-75 and the Winnipeg Jets in 1978-79, they faced different teams each time.
So Heat vs. Thunder will be the 30th time it's happened in North American sports.
It's happened in the MLS Cup Final twice, each time involving the Houston Dynamo: In 2006-07, they beat the New England Revolution both times; in 2011-12, they lost to the Los Angeles Galaxy both times.
In the long and glorious history of England's FA Cup Final, it's only happened once, all the way back in 1884-85, when professionalism was still sneered at by "proper gentlemen": Blackburn Rovers beat Queens Park both times. (Not to be confused with London's Queens Park Rangers, this is the only Scottish team that ever reached the Final, and unless a change is made it will remain that way.)
It's never happened in the Final of the UEFA Champions League or its predecessor, the European Champions' Cup.