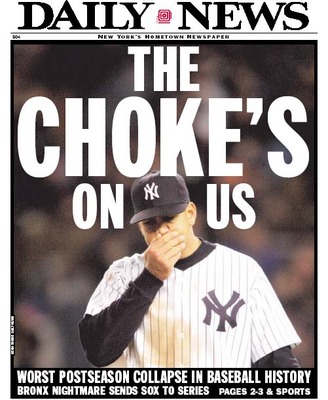 With the 2012 ALCS in the books -- not sure if this "book" was written by Stephen King (a big Red Sox fan, which explains why he writes horror) or some Hollywood "screwball comedy" writer -- I'm doing this.
I'm using 1976 as the cutoff date, because it was the 1st season that the Yankees reached the postseason in the Divisional Play era -- and also the 1st time they did so in my lifetime. Regardless of what I would have thought about losing the World Series in 1926, 1942, 1955, 1957, 1960, 1963 or 1964 had I been around then, I wasn't. If you're old enough to have had your heart broken by Bill Mazeroski's walkoff home run in 1960, well, you're also old enough to have memories of the wins of 1961 and 1962, which I am not.
I rate these losses by 4 categories:
1. Performance. Did the Yankees put up a good fight in defeat? Or did they roll over?
2. Opponent. Was the loss to a team I could respect? Dislike but respect? Or just plain hate, making the loss unacceptable no matter what kind of effort the Yankees put up?
3. Personal. Did I have a personal reason to hate this one?
4. Mitigating Circumstances. Was there something that made the loss not as bad to take? Example: The winning team hadn't won in a long time. Or: There was an injured Yankee whose presence could have made the difference. It also works the other way: Was the winning team unworthy? Granted, that also falls into the categories of "Opponent" and "Personal," but you get the idea.
So here I go, in ascending order of hurt:
15. 1995 ALDS: Seattle Mariners in 5.
After the high of Don Mattingly finally reaching the postseason after 14 years, and the thrilling 15-winning win in Game 2, when Jim Leyritz hit the walkoff homer in the rain at 1:22 AM, the Yankees got pounded by the M's.
Edgar Martinez and the unrelated Tino Martinez stole the show. Buck Showalter stayed with David Cone too long in Game 5, because he didn't realize -- not that anyone else did, yet, either -- that the Panamanian kid he had in the bullpen was going to become Mariano Rivera. And the Yankees blew a 5-4 lead in the 11th. I can't really fault their performance, but it just wasn't enough. Mattingly would forever be Donnie Regular Season Baseball.
The big mitigating circumstances: If the Yankees had won, the Mariners' new ballpark wouldn't have been approved by voters, and they would have moved; and the Yankees probably wouldn't have gotten Tino (and Jeff Nelson) in a trade with the M's. So while this loss bothers the Cult of St. Donald Arthur of Evansville, I've long since gotten over it. No doubt, many of you will have this one much further down.
14. 2002 ALDS: Anaheim Angels in 4.
The Yankees won 103 games in the regular season, but stopped hitting. It was awful, although they were the M&M Boys compared to 2012. The Angels had never won so much as a postseason series before, so they did kind of deserve their World Championship -- even if they are a Los Angeles area team.
13. 1976 World Series: Cincinnati Reds in 4 straight.
The Yankees were physically and emotionally exhausted after beating the Royals in the ALCS, and the Reds were defending World Champions and rested after sweeping the Philadelphia Phillies in 4 straight.
Losing this one in 7 or 6 wouldn't have been as bad. It's the sweep that makes it hard to take. Except I was still too young to watch baseball on TV, especially late at night. I have no memory of this one. Whereas I do have some memory of the World Championship season of 1977, and I remember nearly everything about that of 1978.
12. 2011 ALDS: Detroit Tigers in 5.
The Yankees won Game 1, but fell short in Game 2, got beat late in Game 3, and had A.J. Burnett stave off elimination in Game 4 (and, no, you did not see that coming, either).
But Ivan Nova got hurt early in Game 5, and while Phil
Hughes, Boone Logan, CC Sabathia, Rafael Soriano, David Robertson and Rivera combined to pitch very well after that, the Yankees left 10 men on base, including the bases loaded in the 4th and the 7th.
11. 1997 ALDS: Cleveland Indians in 5.
The Indians came within 2 outs of winning the whole thing, and they really were a good team. A decent one, too: Aside from Jaret Wright and (though we didn't know it at the time) Manny Ramirez, they didn't have any rotten apples. We all remember Sandy Alomar Jr. taking Mariano deep, but, having just won the Series the year before, this one wasn't so hard to take.
10. 2010 ALCS: Texas Rangers in 6.
I hate Texas And how do you lose the Pennant to a team that, until a week earlier, had been in existence for 50 years (39 if you only count what it's done in its current city), and had never won a postseason series?
Here's how: Awful hitting and worse pitching. ERAs? Logan 27.00, Robertson 20.25, Hughes 11.42, Sergio Mitre 10.13, Burnett 7.50, Sabathia (our supposed ace) 6.30. Hitting? Nick Swisher was a pathetic 2-for-22, Marcus Thames 2-for-16, Alex Rodriguez 4-for-21 (maybe 2009 was a fluke), Brett Gardner 3-for-17, Derek Jeter 6-for-26, and, in his last games, Jorge Posada 5-for-19, not good but decent compared to those others.
The fact that the Yankees did win the World Series the year before makes this one easier to take.
9. 2006 ALDS: Detroit Tigers in 4.
The 2012 ALCS was basically a sequel to this one. The entire team stopped hitting, and A-Rod was dropped to 8th in the order -- but at least Joe Torre let him hit, whereas this year, Joe Girardi had to get his arm twisted to let A-Rod pinch-hit in the 9th inning of a lost cause.
But blaming any one man for this defeat is unfair: In addition to A-Rod's 1-for-14, Gary Sheffield went 1-for-12 (and was gone in the off-season), Jason Giambi 1-for-8, Robinson Cano 2-for-15, Johnny Damon 4-for-17, Hideki Matsui 4-for-16. Bernie Williams, in his final game in the major leagues, went 0-for-3.
And, as in 2005, Randy Johnson botched Game 3. All 4 Yankee starters were weak, even Chien-Ming Wang wasn't all that strong in the Game 1 win. If this had been to the Red Sox, it might be Number 1. Aesthetically, it was the worst Yankee postseason performance between 1963 and 2012. Of course, these Tigers also had steroid cheat Ivan Rodriguez, but, let's face it, the Yankees weren't going to beat them anyway.
8. 2005 ALDS: Los Angeles Angels of Anaheim in 5.
No mitigating circumstances this time: Years since last World Series won were now Yankees 5, Angels 3. Randy Johnson was obtained because the Yankees didn't have a lefthanded starting pitcher the year before -- the 1st of Andy Pettitte's sojourn in Houston. But he spit the bit in Game 3. Somehow, the Yankees pushed this one to a Game 5, but I wasn't kidding myself. This one was a poor performance for the Yankees, all around.
7. 2007 ALDS: Cleveland Indians in 4.
Bugs! Billy Martin would have told Bruce Froemming, working his last series after 37 years of horrible umpiring, "You suspend this game until the bugs leave the field, or I'm taking my team off, and filing a protest with the Commissioner's office!" Joe Torre did nothing.
Had that Game 2 ended differently -- remember, until the Lake Erie Midges covered him, Joba Chamberlain was unhittable and not injury-prone, and was holding a 1-0 lead in the 8th -- the Yankees would have come home tied, with Roger Clemens and Wang scheduled to start the next 2 games.
The Yankees won Game 3 in spite of Clemens, but Game 4 was a washout, and A-Rod homering in the 7th to turn 6-2 Indians into 6-3 Indians was a slap (choice of words intended) in the face. The Joe Torre era, and postseason baseball at the original Yankee Stadium, came to an ignominious conclusion: Until that homer, A-Rod was 3-for-14 in the series, Posada went 2-for-15, Matsui 2-for-11, Melky Cabrera 3-for-16, even Jeter was only 3-for-17, and the Yankees' ERA for the series was a whopping 5.89.
6. 2012 ALCS: Detroit Tigers in 4 straight.
Pettitte was fine in starting Game 1, and so was Hiroki Kuroda in Game 2, and after Hughes' injury in Game 3, the bullpen pitched heroically. But aside from coming back from 4-0 down in the 9th to tie Game 1, on home runs by Ichiro Suzuki and Raul Ibanez -- and then blowing it in the 12th inning -- there were no redeeming features to the Yankee offense in this series. Take away that 9th inning, and the Yankees scored 2 runs on 19 hits in the entire 38-inning series.
True, we didn't have Rivera available, and after mid-Game 1 we didn't have Jeter, either. But the 2 future Hall-of-Famers wouldn't have made enough of a difference to pull this sucker out. And, with the rainout, it feels like we lost this series 5 games to none.
5. 2001 WS: Arizona Diamondbacks in 7.
At the time, I thought, "Well, Randy Johnson, Curt Schilling, Matt Williams, Mark Grace and Luis Gonzalez have been doing this a long time, and haven't won until now, they deserve it." Turned out, the Big Unit was a jackass, Schilling even more so, and Williams and Gonzalez were steroid cheats. Only Grace escaped that scot-free.
So, with hindsight, what was only a numb feeling after blowing a 2-1 9th inning lead, and by Mariano no less, after all the emotion of 9/11 and the Yankee commemorations, and the deficit against Oakland and the Jeter Flip, and the proving of the 116-win Mariners to be overrated, and the last-gasp pullouts in Games 4 and 5... I have come to hate this one.
But, being older, I still can't take it as hard as '80 or '81, or the Division title losses of '85, '86 and '88 (which aren't included here, as they're not postseason defeats).
4. 2003 WS: Florida Marlins in 6.
Ooooooooh, this one burns me up. After the Aaron Boone Game to beat The Scum and clinch the Pennant, I knew the Yankees were going to be flat in Game 1. But I figured they could take 4 of the last 6, and they did take Games 2 and 3.
But Torre screwed up the bullpen in Game 4. How the hell can you put Jeff Weaver on the mound in a postseason game? Especially extra innings of a World Series game?
The truth is, the Yankees just didn't hit in this Series. One more run in Game 4 would have put them up 3 games to 1, they could have clinched in Game 5, and, today, Weaver would be nothing more to me than Jered's lesser brother -- instead of "Jeff Fucking Weaver," the way Red Sox fans refer to an old Yankee shortstop as "Bucky Fucking Dent." Except JFW was on my own team.
And those Marlins were a Miami team, and I was still angry at Florida for fucking up the 2000 Presidential election. And they had steroid cheat Ivan Rodriguez. And they had Josh Beckett, soon to be the Red Sox' Super Punk. At first, I hated him only because he pitched a shutout to knock the Yankees out -- not knowing it would be the last World Series game ever played at the old Yankee Stadium. Then he got to Boston, and I hated him because he was Scum. Then I found a more rational reason to hate him: His personality.
3. 1980 ALCS: Kansas City Royals in 3 straight.
Middle America loved the Royals and hated the Yankees, not just because they were winners but because they were New York. The K.C. Royals of 1976 to 1985 were one of the few institutions of the Ford, Carter and Reagan years where white rednecks could look at black men and cheer for them.
In addition, the Royals were dirty. I don't mean "aggressive," and I don't mean "unclean." I mean
dirty
. If they were an English soccer team, they'd be Bolton Wanderers, or Blackburn Rovers, or Wolverhampton Wanderers, or Sunderland, or Leeds United: As the saying goes, "Dirty Northern Bastards."
The Yankees beat them in 3 straight ALCS, 1976, '77, and '78. But in '80 the Royals got their revenge, partly due to 3rd base coach Mike Ferraro making the bad choice to send Willie Randolph home late in Game 2.
George Steinbrenner went to his grave angry at George Brett, Hal McRae and the rest. I suppose I will go to mine angry at them, too, because I was about to turn 11, and everyone at my school -- mostly Met fans who couldn't find Kansas City on a map, and couldn't find their own team unless they turned the NL East standings upside down -- gave me hell for it. The schmucks. So, yeah, this one scores high in the "Personal" category.
2. 1981 WS: Los Angeles Dodgers in 6.
The Yankees took the 1st 2, and it looked like a 3rd title over the Bums in 5 years. Then the Yankees fell apart, and lost the next 4. Manager Bob Lemon didn't let Reggie Jackson pinch-hit, let alone start, in Game 6. This was a capitulation, and to that fat slob Tommy Lasorda, and that hypocritical Mr. Not-So-Clean Steve Garvey and the rest.
Besides, it was L.A.: After the O'Malley Treason of 1957, New York teams were not allowed to lose to L.A. In any sport. (Which means, had I been around for 1963, that one would rank pretty high on this list.) I hated this one. It still sticks in my craw, 31 years later.
1. 2004 ALCS: Boston Red Sox in 7.
No need to rehash this one. It was the Red Sox. The Scum. The team we always beat. Until this time.
They were headhunters. They were steroid cheats. They were slobs. Unless you live east of the Quinnipiac River, there was nothing lovable about these bastards. They were like the '86 Mets -- except those Mets didn't cheat. (Unless you count Keith Hernandez' 1st base positioning.) They were like the '93 Phillies -- except those Phils had better manners. And better personal habits.
Of course, none of it would have mattered if the Yankees had simply scored 1 more run in Game 4. Or in Game 5. At least the Yankees had the courtesy to let it get away from us early in Game 7: It was a long, drawn-out process, where we knew from the 1st inning on that we were being humiliated. But the ending, unlike what we did to them the year before, would be no shock. Still, Kevin Brown to start Game 7? Even Javier Vazquez (who came in to relieve Brown) would have been a better choice.
Sure, there were millions of Red Sox fans who had waited soooo longggg... but those weren't the ones who rubbed it in. The ones who did were the ones whose sole frame of reference of losing a big game was Aaron Boone. They hadn't sat through Bill Buckner's error, or Bucky Dent's homer, or Jim Burton blowing it, or Tony Conigliaro's beaning and subsequent unavailability down the stretch, or Joe McCarthy's curious lineup moves, or Johnny Pesky holding the ball (which he didn't really do). People who went through any, and especially those who went through all, of that, they deserved the 2004 title. The Chowdaheads did not.
Certainly, the players didn't. Like Richard Nixon, they told us, "I am not a crook!" Like Nixon, they were, and they lied about it. Schilling says he'll have to sell the bloody sock to pay his business debts? Whoever buys it better have the blood on it tested for steroids.
There's only one postseason loss that could have been worse. That would have been to lose to the Mets in the 2000 World Series. We did not.
Small comfort now. After all, this year, Met fans, the Flushing Heathen would have given a tooth to have had their team humiliate them, and themselves, in the Playoffs -- because that would have meant they were
in
the Playoffs.