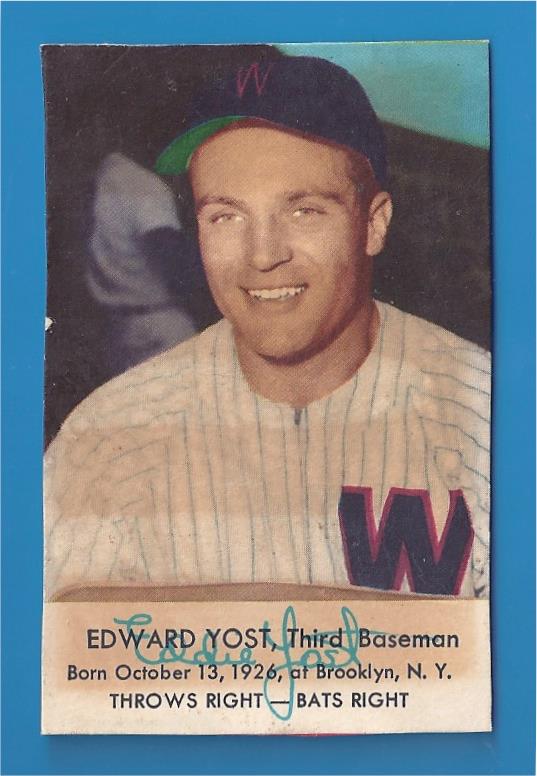 Rest in peace, Eddie Yost. He was a major league 3rd baseman from 1944 to 1962, mostly with the "old Washington Senators," before wrapping up his career with the expansion Los Angeles Angels. His lifetime batting average was only .254, but his on-base percentage was .394. This is because "The Walking Man" drew 1,614 bases on balls -- 11th all-time.
Of the guys in front of him, Rickey Henderson, Babe Ruth, Ted Williams, Joe Morgan, Carl Yastrzemski, Mickey Mantle and Mel Ott are in the Hall of Fame; Jim Thome and Frank Thomas almost certainly will be; and the all-time leader is Barry Bonds.
Edward Frederick Yost was born October 13, 1926 in Brooklyn, and graduated from John Adams High School in Queens -- which means he could have known my Grandma, although she never mentioned him, except maybe while he was a coach with the Mets when I was a kid. He managed the "new Washington Senators" for one game in 1963. He died last week, at the age of 86.
October 24, 1857: Sheffield Football Club, the world's first football club, is founded in Sheffield, South Yorkshire, England. Today, they are in the Northern Premier League Division One South, which is the 8th level of English soccer, 7 levels below the Premier League. Sheffield Wednesday is in "The Championship," the 2nd division; Sheffield United, in League One, the 3rd division. In a weird quirk, Sheffield FC wears red jerseys at home and blue on the road; United wears red and white stripes as its basic uniform, while Wednesday wear blue and white stripes.
Also on this day, Edward Nagle Williamson is born in Philadelphia. Ned Williamson was a 3rd baseman for the Chicago White Stockings, forerunners of the Cubs. In 1884, he set a major league record with 27 home runs – mainly because the White Stockings' home ground, Lakeshore Park, had the shortest right-field fence in the history of the game: 184 feet. The White Stockings had long led the National League in doubles, because any drive over that short fence was ruled a double instead of a home run.
But in 1884, the rule was changed and it was a home run. Williamson hit 25 homers at home, only 2 on the road. Apparently, somebody had enough, because the City of Chicago took over the ground, and the White Stockings had to move. In 1885 they built West Side Park, built another with that name nearby in 1893, and moved to what's now called Wrigley Field in 1916.
A knee injury hampered Williamson's career in 1889, and he died of tuberculosis in 1894, aged only 36. His single-season home run record lasted until 1919, when Babe Ruth hit 29.
October 24, 1875: Boston Red Stockings pitcher Al Spalding and Chicago White Stockings owner William Hulbert meet in Chicago. Hulbert stresses to Spalding that his roots are in Illinois, and that he should play for the Chicago club. He also stresses to Spalding that the current National Association is going to result in all teams going broke without tighter control, that teams must stick to their schedules and not leave opponents in the lurch, and that gambling must be driven out of the game. Spalding agrees, and signs with the White Stockings for the 1876 season.
On the same day, also in Chicago, the Chicago Tribune calls for the formation of an organization of major professional teams: Chicago' Cincinnati' Louisville' Philadelphia' New York' Boston' and Hartford. "Unless the present Professional Association leadership adopts rules to limit the number of teams allowed to participate in the Championship season' all clubs will go broke."
While a New York meeting on February 2, 1876 is, essentially, the birthdate of the National League, October 24, 1875 is its conception. Whether that makes Spalding or Hulbert "the mother," I don't know.
October 24, 1884: The Mets lose the World Series. Well, not exactly. The Providence Grays, Champions of the National League, defeat the New York Metropolitans -- and, yes, this early franchise was called the Mets for short -- 3-1, behind the pitching of future Hall-of-Famer Charlie "Old Hoss" Radbourne, at the Polo Grounds in New York. This gives the Grays the first-ever postseason series between champions of two major professional baseball leagues, a series that was officially called the "World's Series."
A Game 3 was played, for charity, and the Grays won that, too. The Grays had won the NL Pennant in 1879, too, but would go out of business after the 1885 season. Aside from teams known as the the Providence Steam Rollers in the NFL (1920-1931, 1928 Champions) and the NBA (only the inaugural 1946-47 season), the State of Rhode Island has never had another major league sports team -- the New England Patriots, who play 25 miles from downtown Providence in Foxboro, Massachusetts, don't count.
October 24, 1885: The St. Louis Browns, Champions of the American Association, defeat the Chicago White Stockings, Champions of the National League,13-4 in the 7th and last game in their series. The Browns claim the Game 2 forfeit didn't count, and therefore claim the championship. Each club receives $500. The two teams would meet again the next season, forging the NL rivalry that still exists between the teams, by 1901 known as the St. Louis Cardinals and the Chicago Cubs.
October 24, 1892, 120 years ago: Goodison Park, the world's first stadium built specifically for association football, is opened in Liverpool. Home to Everton Football Club, it is across Stanley Park from Anfield, home ground of Liverpool Football Club, which was built in 1884 as Everton's home before they moved across the park, and Liverpool FC was founded to take their place at Anfield.
This makes the two Merseyside teams in the Premiership the closest major rivals of any major sport on the planet. Imagine that, instead of being in their actual locations, the Yankees' home field was where the Metropolitan Museum of Art is, at 82nd Street and 5th Avenue on one side of Central Park, and the Mets played where the American Museum of Natural History is, on the other side of the Park at 79th Street and Central Park West. Now imagine that the Yankees and the Mets play each other as often as the Yankees and the Red Sox (or the Mets and the Phillies) do, and you'd have an idea.
Goodison Park hosted some of the 1966 World Cup matches, and even hosted a post-World War I tour by two U.S. baseball teams, the New York Giants and Chicago White Sox. Everton would like to expand the stadium, but there's no room, so, like Liverpool, they are looking to build a new stadium; but, also like their Red rivals, the Blues haven't gotten it past the planning stage.
October 24, 1908: "Take Me Out to the Ballgame" is sung publicly for the first time, by a singer named Billy Murray. No relation to the comic legend of the 1970s onward, this Billy Murray (1877-1954) was a vaudeville legend whose style did not survive the switch to electronic recording in the 1920s.
"Take Me Out to the Ballgame" was not his first hit recording with a baseball connection: In 1903, he had a hit with "Tessie," which became the theme song of the Boston Red Sox' fan club, the Royal Rooters.
October 24, 1926: Yelberton Abraham Tittle is born in Marshall, Texas. Y.A. Tittle was a sensational quarterback at Louisiana State University, where one of his receivers was future big-league baseball player and manager Alvin Dark.
He starred for the San Francisco 49ers, joining with running backs Hugh McElhenny, Joe "the Jet" Perry and John Henry Johnson to form "the Million Dollar Backfield" in 1954 – the only season in which one team had an entire backfield that went on to reach the Pro Football Hall of Fame. Tittle has joked about the nickname, though: "They should have called us the Hundred Dollar Backfield, because that's about what they paid us."
Despite all that talent, which also included Hall-of-Famers Bob St. Clair at offensive tackle and defensive end Leo Nomellini, the 49ers only reached the Playoffs once during Tittle's tenure, tying with the Detroit Lions for the 1957 Western Division title, and losing a Playoff for the right to face the Cleveland Browns for the NFL Championship. (The Lions won that one, too – and haven't won an NFL Championship since.)
In 1961, the New York Giants traded for Tittle, despite his being 35 years old. He helped them win 3 straight Eastern Division titles, but they lost all 3 NFL Championship Games, all in miserably cold weather: 1961 to the Green Bay Packers on a snowy New Year's Eve at Lambeau Field, 1962 to the Packers on a frozen field at Yankee Stadium, and 1963 to the Chicago Bears on an equally-rock-hard gridiron at Wrigley Field, with the Bears winning 14-10 with the clock winding down, but an already-injured Tittle leading the Giants on a desperate drive that ended with an interception.
In 1964, hit hard in a game in Pittsburgh, his helmet knocked off, his bald head dripping blood as he knelt on the field, a photograph of this scene won a Pulitzer Prize. Tittle retired after the season. Despite never winning a title, he is a member of the Pro Football Hall of Fame, and the Giants have retired his Number 14.
October 24, 1929: The New York Stock Exchange is hit with "Black Thursday," a crash that will last until the following "Black Tuesday." Calendars aside, Black Thursday is the effective end of the Roaring Twenties; Black Tuesday is the beginning of the Great Depression and the Dirty Thirties. It will be 25 years, until 1954, before the Dow Jones Industrial Average tops its September 3, 1929 peak.
October 24, 1950: Rawlins Jackson Eastwick is born in Camden, New Jersey. "Rawly" was a relief pitcher who helped the Cincinnati Reds win the 1975 and 1976 World Series, but after being acquired by the Yankees in 1978, he was injured and hardly played again after that.
October 24, 1962, 50 years ago: Jay McKinley Novacek is born in Martin, South Dakota. The All-Pro tight end from the University of Wyoming (whose teams are also called the Cowboys) helped the Dallas Cowboys win 3 Super Bowls. He was elected to the College Football Hall of Fame last year, but as yet has not been elected to the Pro Football Hall.
October 24, 1966: Roman Arkadyevich Abramovich is born in Saratov, Russia. He turned an investment into the Russian black market into oil and aluminum empires, and developed a close relationship with then-President Boris Yeltsin, and has worked with Yeltsin's successors, Vladimir Putin and Dmitri Medvedev. He has been indicted on numerous corruption charges, but has never been convicted. It's good to have friends in high places. His fortune has gone up and down, but is now believed by Forbes magazine to be over $13 billion. Two divorce settlements and his sports investments have not helped in this regard, as you'll see below.
In 2003, he bought Chelsea Football Club of West London, leading to its new nickname of "Chelski" (or "Chavski," as the club's popularity with London's tracksuit-wearing, baggy-pantsed, jewelry-flashing, cap-turned-backwards, foul-mouthed juvenile delinquents (we don't really have a single name for such in the U.S.) has led to them being called "The Chavs").
In 2004, he hired manager Jose Mourinho away from the Portugese club F.C. Porto, and together they built a team that won the Premier League title in 2005 and again in 2006 – this after winning just 1 title in the team's first 99 seasons, in 1955 (and that with a former Arsenal player as their manager, Ted Drake). Mourinho has since left for Internazionale in Milan, Italy, and that for Real Madrid in Spain.
Despite winning the FA Cup in 2007 and 2009, both the Premier League and the FA Cup (a.k.a. "winning The Double") in 2010, and the Champions League this past year, Chelsea is believed to be heavily in debt under his ownership, due to the high sums paid in wages, transfer fees, and upkeep of the aging home ground, Stamford Bridge. He is believed to have sunk nearly 1 billion pounds – about $1.6 billion – into the club in his 8 years of ownership.
In 1999, he was elected to the Russian Parliament, the Duma, from the Chukotka Autonomous Okrug, the oil-rich easternmost "state" of Russia, and from 2000 to 2008 served as its Governor, making him a "neighbor" of 2007-09 Governor Sarah Palin of Alaska, as this is the part of Russia that she claimed could be seen from her home State. (But she never actually said, "I can see Russia from my house" – that was Tina Fey doing the impersonation.)
Twice divorced, the 45-year-old "Mad Russian" is the domestic partner of Daria "Dasha" Zhukova, a 30-year-old fashion designer known on ESPN's Pardon the Interruption as "Marat Safin's Girlfriend" – while she was dating the Russian tennis star, the show's co-host Tony Kornheiser slobbered over her so much it made my feelings for Catherine Zeta-Jones look mature by comparison. They are parents of a son, Alexander, Zhukova's first child, Abramovich's sixth.
October 24, 1972, 40 years ago: Jackie Robinson dies. The first black player in modern baseball had been suffering from diabetes, which had robbed him of most his eyesight, caused such poor circulation in his legs that amputation was being considered, and damaged his heart to the point where it killed him at age 53.
Just 10 days earlier, he had flown from his home in Stamford, Connecticut (his wife Rachel, now 90, now lives near their old house), and was a special guest at Game 2 of the World Series between the A's and Reds in Cincinnati. It had been 25 years since the great experiment that he and Brooklyn Dodger president Branch Rickey (who died in 1965) had reached its successful conclusion with the Dodgers winning the Pennant and Jackie making it through the season, not just surviving but excelling. His former teammate, Pee Wee Reese, was on hand, and former Dodger broadcaster Red Barber introduced him. Jackie said, "I'm extremely pleased to be here, but I must confess, I'm going to be even more pleased when I see a black face managing in baseball."
Jackie's eulogy was delivered by the Rev. Jesse Jackson, and his funeral was attended by most of his surviving teammates. Roy Campanella was there in his wheelchair. Among his pallbearers were former Dodger pitcher Don Newcombe and basketball legend Bill Russell.
Earlier in the year, in Los Angeles, Jackie's hometown (if not the team's), the Dodgers retired uniform numbers for the first time, packing away Jackie's Number 42, Campy's Number 39 and Sandy Koufax's Number 32. Jackie was the first black player in the Hall of Fame, Campy the second, and Koufax had been newly elected at the time of the ceremony.
It would be two more years, on October 3, 1974, before Frank Robinson, no relation, was hired as Major League Baseball's first black manager, with the Cleveland Indians, the team that had been the first in the American League to add black players with Larry Doby and Satchel Paige.
Ironically, while black Hispanics are now the leading presence in the game, very few black Americans are in the major leagues. Jackie would probably be disturbed by that, but not puzzled, as he would surely factor in the rise of pro football and basketball as sports preferred by African-Americans. Of the 30 current MLB franchises, only 8 have never had an African-American or Hispanic manager -- and one of those, the Seattle Mariners, have had an Asian-American manager. Ironically, one of the teams that has never had a nonwhite manager is the Dodgers. The Oakland Athletics, so notable for the racial mix of their players even in their Kansas City days, are another. The others are all teams that, historically, have been criticized for their racial policies: The Yankees, Boston Red Sox, Philadelphia Phillies, St. Louis Cardinals and Minnesota Twins.
Currently, the only nonwhite are Ron Washington of the Texas Rangers, Dusty Baker of the Cincinnati Reds, Bo Porter of the Houston Astros, and Fredi Gonzalez of the Atlanta Braves. That means only 4 out of 29 teams -- the Toronto Blue Jays' job currently being vacant -- have a nonwhite manager. Jackie would not be pleased about that.
In 1997, on the 50th Anniversary of Jackie's arrival, Baseball Commissioner Bud Selig announced that Jackie's Number 42 would be retired for all of baseball, as yet a unique honor. All players then wearing it would be allowed to continue to do so for the remainder of their careers, but no new players could wear it, and no current players could switch to it. The last remaining Number 42 in baseball is Mariano Rivera of the Yankees; the Yankees appeared to have been waiting for Mariano to retire before retiring the number for both him and Jackie, but in 2007, on the 60th Anniversary of Jackie's arrival, they retired it for Jackie, and presumably will do so again for Mariano when he hangs 'em up, just as they retired Number 8 for both Bill Dickey and Yogi Berra.
October 24, 1973: Jackie McNamara is born in Glasgow, Scotland. He won 4 Scottish Premier League titles and 3 Scottish Cups with Glasgow's Celtic Football Club, serving as their Captain in 2005. He now manages a much smaller Glasgow club, but with no less passionate a fan base, Patrick Thistle.
October 24, 1974: Corey James Dillon is born in Seattle. He set single-season rushing yardage records for the University of Washington, the Cincinnati Bengals and the New England Patriots. On October 23, 2000, he rushed for 278 yards against the Denver Broncos, breaking Walter Payton's 1977 record of 275. Dillon's record has been surpassed by Jamal Lewis and Adrian Peterson. In the 2004 season, he was a member of the Patriot team that won Super Bowl XXXIX. (By cheating?)
Also on this day, Wilton Alvaro Guerrero is born in Don Gregorio, Dominican Republic. The older brother and former Montreal Expo teammate of Vladimir Guerrero, he is best known for a 1997 incident with the Los Angeles Dodgers, where he was found to have a corked bat. He is now a scout with the Dodgers.
Also on this day, Jamal David Mayers is born. One of 26 black players currently in the NHL, the right wing was an Alternate Captain for his hometown team, the Toronto Maple Leafs. A dream come true... or, considering the Leafs' ineptitude the last few years, a nightmare? He's now with the Chicago Blackhawks.
October 24, 1975: Juan Pablo Angel is born in Medellin, Colombia. He now plays for the Los Angeles club Chivas USA, after starring for the New York Red Bulls. He previously played for River Plante in Buenos Aires, Argentina and Aston Villa in Birmingham, England.
October 24, 1981: The Dodgers tie the World Series up at 2 games apiece, 8-7, thanks to some poor Yankee fielding.
October 24, 1985: Wayne Mark Rooney is born in Liverpool. Perhaps the most celebrated active soccer player in England, he grew up as an Everton fan – even sharing his birthday with the club's home ground, Goodison Park. After reaching Everton's first team when not yet 17 (and the England national team at 19), he publicly said he was "Everton 'til I die," but, citing the club's inability to qualify for European competition, demanded a transfer (soccertalk for "trade"), and Manchester United paid 25.6 million pounds for him (about $42 million). If there's one thing Liverpool and Everton fans agree on, it's that they hate Manchester United with a flaming red (or blue) passion.
He has become the face of Man United – unfortunately, since his squinty eyes, uneven teeth, sticky-out ears, oddly-shaped head and heavier-than-recommended weight have gotten him nicknamed "Shrek." He is also frequently called a "chav" due to his, shall we say, lack of refinement; this is not aided by a tattoo on his arm, with the words "Just Enough Education To Perform."
One of his first acts for Man U, in October 2004, was a dive that was not called, leading to a penalty shot that ended Arsenal's English-record 49-game unbeaten streak. (His first League goal, for Everton in 2002, ended a 30-game unbeaten streak for Arsenal, but this time he cheated, and he and every ManUre fan on the planet know he did.)
He dives so often he's been named an honorary Spaniard. But he gets away with this shit, because he plays for Manchester United and because he plays for England. He did not, however, get away with his actions in the 2006 World Cup quarterfinal with Portugal, in which he stomped on the foot of Ricardo Carvalho (whose club team is Chelsea) and was sent off, rendering him ineligible for the penalty kicks that the game went to, won by Portugal. And when England got embarrassed at the 2010 World Cup, he cursed into the camera at the England fans. He has never scored at a World Cup,, seeing as how he is not protected at that tournament by remiership referees, intimidated as they are by Man U manager Sir Alex Ferguson and the mystique of Man U's historic stadium, Old Trafford, a.k.a. the Theatre of Dreams.
Rooney was lampooned as one of the puppets on the program I'm On Setanta Sports, later renamed Special 1 TV, with his teeth, ears, head and Scouse accent all greatly exaggerated (or, as the puppet would say, "ggrrayyyytly eckkkk-zajerrrratiduh!"), and his portrayal being that of an idiot savant.
Rooney and his wife, TV presenter and magazine columnist Colleen Rooney, have a son named Kai, nearly 2 years old. Sadly, the boy looks like him.
October 24, 1990: The Boston Red Sox announce they will not renew the contract of former All-Star Dwight Evans, a.k.a. Dewey. Evans signs a one-year contract with the Baltimore Orioles, plays the 1991 season for them, and retires with 385 home runs and a reputation as one of the best-fielding right fielders ever.
In that 1991 season, I visited Boston for the first time, and watched the Red Sox without Evans beat the Orioles with him at Fenway Park. Coming out of South Station, one of the city's two major rail terminals, I saw that the street area around it was called Dewey Square. Not yet knowing about Admiral George Dewey, naval hero of the Spanish-American War, I thought, "Wow, this city is so crazy about its Red Sox, they named a square after Dwight Evans!"
October 24, 1992, 20 years ago: For the first time, a World Series is won by a team from outside the United States of America. The Toronto Blue Jays clinch their 1st World Championship with a 4-3 win over the Atlanta Braves in Game 6. Dave Winfield's 2-out' 2-run double in the top of the 11th gives Toronto a 4-2 lead. The Braves score 1 run in the bottom half of the inning and have the tying run on 3rd when the final out is made. Jimmy Key wins the game in relief' and Candy Maldonado homers for the Blue Jays.
Toronto catcher Pat Borders' with a .450 BA' is named Series MVP. Winfield, derided as "Mister May" by Yankee owner George Steinbrenner for his poor performances in the 1981 World Series and subsequent Pennant races, finally has his ring, in his 20th season in the majors.
October 24, 1996: Game 5 of the World Series. Andy Pettitte, in just his second season in the majors, opposes seasoned World Series veteran John Smoltz. The Yankees take a 1-0 lead in the bottom of the 4th, thanks to an error by Marquis Grissom and a double by Cecil Fielder.
In the bottom of the 6th, the Braves put two runners on with nobody out. A bunt is attempted by Mark Lemke, but Pettitte snares it, and throws lefthanded to Scott Brosius at third base, nailing the lead runner. The next batter, Chipper Jones, hits a comebacker to Pettitte, who throws to Derek Jeter covering second for one, over to Fielder on first, inning-ending double play. That's the Braves' last threat until the last out, when John Wetteland comes on to face once and future Yankee Luis Polonia, who lines a shot into the gap, which an injured Paul O'Neill somehow catches, to save the 5-hit shutout.
The Yankees have taken all 3 games in Atlanta, and take a 3 games to 2 lead back to Yankee Stadium, just as former Brave, now Yankee, manager Joe Torre predicted to owner George Steinbrenner. This is the last game ever played at Atlanta-Fulton County Stadium, as the Braves move into Turner Field for the next season.
October 24, 1999: The Yankees beat the Braves, 7-2 at Turner Field in Atlanta, behind the pitching of David Cone and 3 hits from Bernie Williams, and take a 2 games to 0 lead in the World Series. Before the game, the winners in the fan balloting for the Major League Baseball All-Century Team are introduced. All the winners then living were in attendance:
Pitchers: Cy Young, Christy Mathewson, Walter Johnson, Lefty Grove, Warren Spahn, Sandy Koufax, Bob Gibson, Nolan Ryan and Roger Clemens. (Spahn, the former Milwaukee Braves pitcher who threw out the first ball before Game 1 of this Series, has since died; Koufax, Gibson, Ryan and Clemens are still alive. Clemens was still active, and was scheduled to start Game 4 of this Series, however, steroid allegations have put his worthiness for this honor into question.)
Catchers: Yogi Berra and Johnny Bench. (Both still alive.)
First Basemen: Lou Gehrig and Mark McGwire. (McGwire is still alive, although his presence on this team is tainted by his confession of steroid use.)
Second Basemen: Rogers Hornsby and Jackie Robinson. (Both dead; Joe Morgan, one of the finalists, was part of the NBC broadcasting crew for this Series, and said that if he were one of the second basemen chosen, and Robinson was not, he would forfeit his place to Robinson. Morgan finished 3rd in the 2B voting, so it wasn't necessary.)
Shortstops: Honus Wagner, Ernie Banks and Cal Ripken. (Banks and Ripken are still alive, and Ripken was then still active.)
Third Basemen: Brooks Robinson and Mike Schmidt. (Both still alive.)
Outfielders: Ty Cobb, Babe Ruth, Joe DiMaggio, Ted Williams, Stan Musial, Mickey Mantle, Willie Mays, Hank Aaron, Pete Rose, Ken Griffey Jr. (DiMaggio had died earlier in the year. Williams was already ill, but attended, and it turned out to be his last appearance in a big-league ballpark, following his emotional appearance at that season's All-Star Game at Fenway Park in Boston, his former home field. As he did on that occasion, he tipped his cap to the fans. Musial, Mays, Aaron, Rose and Griffey were still alive, and Griffey was still active and just 29 years old, making his election, at that point in his career, the result of popularity more than achievement. Aaron, who starred for the Braves in both Milwaukee and Atlanta, threw out the ceremonial first ball. Rose's election to the team was controversial, as he had been banned from baseball for betting on the game.)
With the steroid accusations against Clemens and McGwire, the ban on Rose, and the "kid vote" for Griffey in mind, the next-highest vote getters at the positions in question were Greg Maddux for Clemens' spot, Jimmie Foxx for McGwire's, and Roberto Clemente and Shoeless Joe Jackson for Griffey's and, ironically Rose's; so if Jackson, also banned permanently for gambling-related offenses, is also removed, the next-highest outfielder was Reggie Jackson.
October 24, 2000: Game 3 of the World Series at Shea Stadium. The Mets defeat the Yankees' 4-2' behind the pitching of Rick Reed and their bullpen. Benny Agbayani's 8th inning double is the key hit for the Mets as they cut the Yankees Series lead to 2-games-to-1. Orlando "El Duque" Hernandez strikes out 12, a Series record for a Yankee pitcher, but loses a postseason game for the first time after 8 wins.
The loss ends the Yankees record streak of 14 consecutive wins in World Series action. This remains the only World Series game the Mets have won in the last 25 years.
October 24, 2004:
The Boston Red Sox take a 2-games-to-0 lead in the World Series with a 6-2 win over the St. Louis Cardinals at Fenway Park. Curt Schilling, again wearing the Bloody Sock, gets the win. Orlando Cabrera' Mark Bellhorn' and Jason Varitek each drive in a pair of runs.
October 24, 2012: Babe Ruth, Babe Ruth again, Reggie Jackson, Albert Pujols… Pablo Sandoval? Also of note was Gerry Davis becoming the umpire with the most postseason games worked: He would finish the Series with 115.