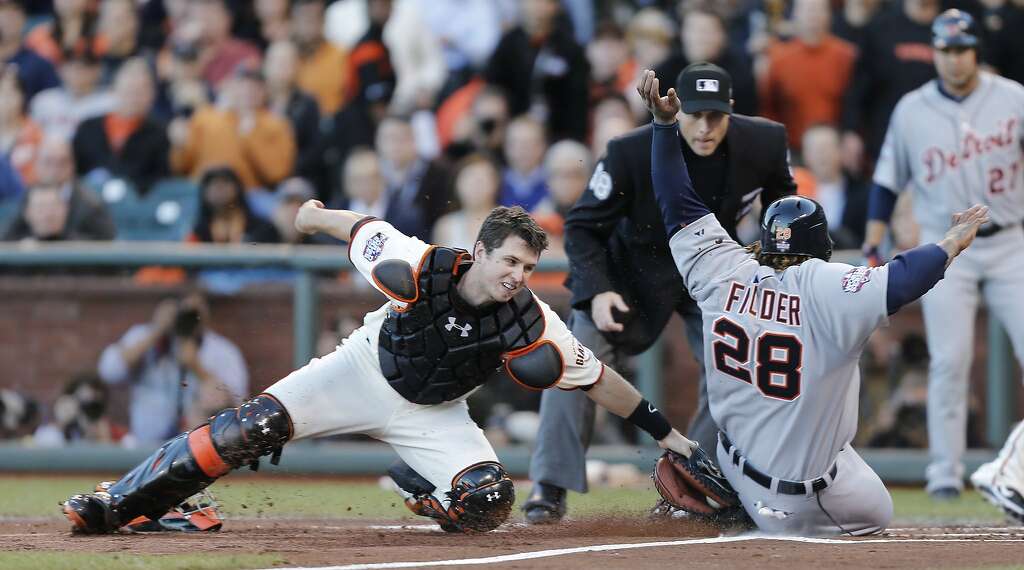 The San Francisco Giants wear black and orange. The Detroit Tigers wear navy blue and orange.
The Giants broke a scoreless duel with a run in the bottom of the 7th and another in the bottom of the 8th, and won Game 2 of the World Series, 2-0 -- and went ahead in the Series by the same margin.
The Tigers, in these 2 games, have looked as punchless and as hopeless as the Yankees looked against them -- and against the Baltimore Orioles, who also wear black and orange.
Knock, knock.
(Who's there?)
Orange.
(Orange who?)
Orange you glad it's not us?
Getting humiliated in the League Championship Series is one thing. Getting humiliated in the World Series is another.
The Tigers have now lost 6 of their last 7 Series games. That is a record of futility unmatched since the Atlanta Braves dropped the last 4 in 1996 and all 4 in 1999.
The last time before that... the Yankees dropped 2 of the last 3 in 1964 and all 4 in 1976, before winning 4 games to 2 in 1977. Oh well.
*
October 26, 1863: The Football Association is formed in London. Although there were football clubs (soccer teams) in England already (and a few of these are still in operation, though most on an amateur level), the rules of the game across the country were not uniform. So this is considered the "birthday" of English football.
October 26, 1868:
A crowd of 10'000 are at the Union Grounds in Brooklyn to see the Mutual Club of New York capture the national amateur baseball championship of the year by defeating the Atlantics of Brooklyn for the 2nd time' 28-17. This is the first time a New York City club has won a postseason series designed to crown the national champions of baseball – or, if you prefer, the "World Champions."
October 26, 1877: What we would later call "Major League Baseball" suffers its first scandal. Charles Chase, vice president of the club known as the Louisville Eclipse, confronts George Hall' the National League home run leader in 1876 with 5' and pitcher Jim Devlin with charges that they threw road games in August and September of this past season.
Both admit to throwing non-league games -- an exhibition game in Lowell' Massachusetts on August 30 and another in Pittsburgh on September 3 -- and implicate teammates Al Nichols and Bill Craver. Hall implicates Devlin, saying that the 2 helped in losses to the NL's Cincinnati Reds (no connection to the current team of that name) on September 6, and to the minor league Indianapolis Blues on September 24' but he argues that since the Reds were about to be suspended and the games nullified' it amounted to an exhibition game. The accused players will end up being permanently banned from baseball.
October 26, 1881: The Gunfight at the O.K. Corral.
October 26, 1899: William Julius Johnson is born in Snow Hill, on Maryland's Eastern Shore, and grows up in Wilmington, Delaware. Without question, "Judy" Johnson is the greatest player ever to come from the State of Delaware.
So why are some of you saying, "I've never heard of him"? Because he played long ago, and in the Negro Leagues. Even those of you who have heard of him may be asking, "Why was he called Judy?" Because he resembled an earlier Negro League player, Judy Gans of the Chicago American Giants. I don't know why he was called "Judy." I thought perhaps his real name was Jude, but it was Robert.
Judy Johnson starred in the 1920s for the closest Negro League team to Wilmington, the Philadelphia Hilldales. He was considered the best-fielding 3rd baseman in Negro League history, and 4 times hit .390 or higher, once hitting .401. Connie Mack, owner and manager of the Philadelphia Athletics, once told Johnson, "If you were a white boy, you could name your own price."
In 1930, as a player-coach for the Homestead Grays, Johnson discovered the legendary slugger/catcher Josh Gibson. Johnson and Gibson, as well as Satchel Paige and Cool Papa Bell, played for the powerful Pittsburgh Crawfords of the mid-1930s. Johnson's play, and his proximity to the Pittsburgh Pirates, led to easy comparisons to their .300-hitting, slick-fielding hot-corner man, then considered the best one in the majors: Just as Gibson was called "the Black Babe Ruth," Judy Johnson was called "the black Pie Traynor."
Once the color barrier was broken in the majors by Branch Rickey and Jackie Robinson, Mack signed Johnson as the first black person in the front office of any major league team, later making him the first black coach in the majors. (I previously thought that Buck O'Neil, with the 1960s Cubs, was the first, and Elston Howard, with the Yankees from 1969 to 1979, was the first in the American League. Jim Gilliam of the Los Angeles Dodgers has also been credited as the first black coach in the majors. But Judy Johnson preceded them all.)
He moved to Kansas City with the A's, but the Phillies allowed him to "come home" as one of their scouts, and for them he discovered the man then known as Richie Allen. Dick Allen may have been as talented as Johnson's other great find, Josh Gibson, but he was also a parallel for Gibson in the personal difficulties department, thankfully managing to overcome these as Gibson did not and live, thus far, to the age of 70.
Johnson was elected to the Baseball Hall of Fame, and was the first person elected to the Delaware Sports Hall of Fame, whose display is located at the home field of the State's only professional sports team, the Wilmington Blue Rocks of the Class A Carolina League. The ballpark is named Judy Johnson Field at Daniel S. Frawley Stadium. (Frawley was the Mayor who brought the team in and got the ballpark built.) Johnson did not live to see this honor, dying in 1989 at the age of 89. His daughter married Billy Bruton, an All-Star outfielder for the Milwaukee Braves, and another player that Johnson discovered.
October 26, 1902, 110 years ago today: Joseph Paul Zukauskas is born in Binghamton, New York, and moved to Boston after serving in the U.S. Navy, having tried to enlist to fight in World War I but being turned down due to his age, finally being let in after the war. It was in the Navy that he learned how to box.
Although a Lithuanian-American, he tapped into his adopted hometown's Irish fan base by changing his name to the more Hibernian-sounding Jack Sharkey. He was the last fighter beaten by Jack Dempsey, in the first heavyweight fight at Yankee Stadium, in 1927, in between Dempsey's two title fight defeats to Gene Tunney.
In 1930, Sharkey came back to Yankee Stadium to fight Max Schmeling, the winner to receive the title vacated by Tunney's retirement. But in the 4th round, Sharkey hit Schmeling with a low blow, and was disqualified; for the first and only time, a major boxing title changed hands as the result of a disqualification. In 1932, Schmeling and Sharkey fought again, this time at the Madison Square Garden Bowl in Long Island City, Queens, and Sharkey won a controversial split decision to take the title. And he never successfully defended the title, as just one year later, he fought for the first time as sitting champion, and lost (see the 1906 entry).
Like many of boxing's former champions, he later opened a restaurant in his hometown. He also became a boxing and wrestling referee and an accomplished fly fisherman, and occasionally fished with another Boston sports legend, Ted Williams. When asked if he liked fishing better than boxing, he said, "It doesn't pay as much, but then, the fish don't hit back." He died in 1994, age 91.
October 26, 1906: Primo Carnera is born in Sequals, Udine, Italy. The only citizen of Italy ever to win the heavyweight title, he won it by knocking Sharkey out at MSG Bowl in 1933. He remains the tallest and heaviest man ever to win an undisputed boxing world championship, although there have recently been bigger men, Russians, who have won the divided, quite disputed heavyweight title.
But Carnera, too, defended the title only once, also at MSG Bowl, and was knocked out by Max Baer in 1934, leading someone to say about the Bowl, "The place is jinxed!" Baer, too, would wait almost exactly one year to defend his title, and do it at the Bowl, and lost in one of boxing's great upsets to Jim Braddock. "Cinderella Man" Braddock was smarter: He waited a whole 2 years, and then defended his title in Chicago's Comiskey Park instead of Long Island City, but it didn't work, as he got clobbered by Joe Louis.
Carnera got to the top by a lot of boxers "taking dives," encouraged to do so by the Mob, who wanted an Italian heavyweight champ, as Carnera was not very bright and easily manipulated. The first time there was an Italian-

American

heavyweight champ, Rocky Marciano, he didn't need no help from the wiseguys. In fact, they idolized him, because he was what they wanted to be: The toughest guy in the world. Carnera moved to Los Angeles, and became yet another boxer to open a restaurant, but ended up dying young, age 60, not because the Mob became unhappy with him, but because of diabetes and drinking.
October 26, 1910: The

Washington Post

headlines a rumored trade that would have been the biggest in baseball history in terms of the one-for-one names involved, with Walter Johnson of the Washington Senators going to the Detroit Tigers for Ty Cobb. Detroit president Frank Navin scoffs at the story' saying he would never trade Cobb' but praising Johnson "as the best pitcher in the country." Cobb was about to turn 24 and had just finished his 5th full season of baseball; Johnson was 23 and had just finished his 4th season. This would have been like trading Miguel Cabrera for Stephen Strasburg today.
October 26, 1911: The Philadelphia Athletics win their 2nd straight World Series. Chippewa pitcher Albert "Chief" Bender cruises to his second victory' a 4-hit 13-2 breeze. The A's cap the win with a 7-run 7th' battering three tired Giant hurlers' Red Ames' Hooks Wiltse' and Rube Marquard. Overall' the Giants manage just 13 runs and a .175 BA off Bender' Jack Coombs and Eddie Plank, gaining revenge for the Christy Mathewson-dominated Series of 1905 when the Giants embarrassed the A's.
Because of the NL's extended playing season' and a record 6-day rain delay, this is the latest ending ever for a World Series' and would remain so until the strike-delayed 1981 Series.
Also on this day, Sid Gillman is born in Minneapolis. With the Los Angeles Rams, he used the passing game of Norm Van Brocklin to Elroy "Crazy Legs" Hirsch and Tom Fears to win an NFL Championship as an assistant coach in 1951 and a Western Division title as head coach in 1955. He became the first head coach of the San Diego Chargers in 1960 (they played their first season in Los Angeles before moving down the Coast), coaching quarterbacks like Jack Kemp, Tobin Rote and John Hadl, and receiver Lance Alworth, and reached 5 of the first 6 AFL Championship Games, in 1960, '61, '63, '64 and '65, winning in 1963 – still the only time in major league sports that a San Diego team has gone as far as their league allowed them to go. (They did not play the NFL Champion Chicago Bears, and if they had, it might have been the AFL's best chance to make a statement until Joe Namath and the Jets beat the Colts 5 years later.)
It was Gillman's wide-open passing game that helped to give the AFL its first positive reviews and its reputation as a League where anything could happen at any time, contrasting with the NFL, then comparatively very conservative despite having such quarterbacks as Johnny Unitas, Sonny Jurgensen and Bart Starr.
Gillman later served as an assistant with the Philadelphia Eagles, helping head coach Dick Vermeil develop Ron Jaworski, and with the Los Angeles Express of the USFL, where he helped to develop Steve Young.
Coaches who played or coached under him include Vermeil, George Allen, Al Davis, Chuck Noll and Chuck Knox. Coaches who played or coached under those men include: With Davis' Oakland Raiders, John Madden, Tom Flores, Art Shell, Bill Walsh and Jon Gruden; with Allen's Redskins, Jack Pardee, Richie Petitbon and Joe Bugel; with Noll's Steelers, Bud Carson and Tony Dungy; with Vermeil's Eagles, Herman Edwards. Walsh's "coaching children," and thus Gillman's "grandchildren," include Mike Holmgren, Jim Fassel, Sam Wyche, George Seifert and Dennis Green; through them, Gillman's "great-grandchildren" include Andy Reid, John Fox, Mike Shanahan, Jeff Fisher, Brian Billick, Lovie Smith and Mike Tomlin. Gillman was elected to the Pro Football Hall of Fame, one of the first primarily-AFL figures to be so honored.
Also on this day, Mahalia Jackson is born in New Orleans. She is often regarded as the greatest singer of gospel music ever, of any race, of any gender, of any era. She sang at the March On Washington in 1963, and, supposedly, saw Dr. Martin Luther King Jr. was wrapping up his speech, and she remembered a previous speech of his, and said to him, "Martin, tell them about the dream." He did so, and a strong call for social justice became something larger than even all the people on that stage, which also included A. Philip Randolph, Bayard Rustin, John Lewis, Marlon Brando, Bob Dylan and Joan Baez. If the story is true, then Mahalia performed a greater service to the human race than most people ever do to the God who created it.
October 26, 1917: Miller Huggins' a former "good-field, no-hit" second baseman for the Cincinnati Reds who managed the St. Louis Cardinals to a 3rd-place finish this season' is signed to run the Yankees by owner Jacob Ruppert.
Co-owner Til Huston' who favored Brooklyn Dodger boss Wilbert Robinson for the job' has a falling out with partner Ruppert, and will sell his half interest to Ruppert in 1923. Huston had tried throughout the three men's common tenure to get rid of Huggins, to the point that, when Ruppert finally bought Huston out and announced it to the press, the next words out of his mouth were "Miller Huggins is my manager." And Huggins remained Yankee manager until his death in 1929, along the way leading the club to its first 6 Pennants and its first 3 World Championships.
October 26, 1931: Charles Comiskey dies at age 72. One of the great players of the 1880s with the St. Louis Browns (forerunners of the Cardinals), he practically invented the way first base was played, and he was a major figure in the Players' League revolt of 1890. But when offered the chance to start, own and run a team in the new American League in 1901, which became the Chicago White Sox, he betrayed the players who followed him by pinching pennies, much as later hockey greats Wayne Gretzky and Mario Lemieux would do.
Known as "the Old Roman" despite being of Irish descent, he built the ballpark that would bear his name, Comiskey Park, and built a franchise that would win 4 Pennants and 2 World Series in his lifetime, but also indirectly caused, and made much worse, the greatest scandal in sports history, the Black Sox Scandal of 1919-21. His reputation as a great player and a smart, canny executive has been wiped out, replaced by one as a cheap, nasty old bastard.
October 26, 1934: Washington Senators shortstop and manager Joe Cronin is sold to the Boston Red Sox for $225'000 and Lyn Lary. Recently married to Mildred Robertson' Clark Griffith's niece and adopted daughter' Cronin is signed to a 5-year contract.
This trade not only helps return the Red Sox to contention for the first time since Harry Frazee sold off several stars to the Yankees from 1919 to 1923, but it also helps wreck the Senators franchise, which had won the Pennant just one year earlier: For 77 years, from 1934 to 2011, only once, in 1945, has a Washington baseball team been in a major league Pennant race, only twice had they finished as high as 2nd, only 3 times as high as 3rd, and only 5 times had they had winning seasons. This includes the "old Senators" from 1935 to 1960 (when they moved to become the Minnesota Twins), the "new Senators" from 1961 to 1971 (when they moved to become the Texas Rangers), the Washington Nationals who had been terrible with flashes of fun since arriving in 2005, and the 1972-2004 interregnum when D.C.-area fans either had to go up to Baltimore, go to only the occasional exhibition game at RFK stadium, check out minor-league teams (the Maryland cities of Salisbury, Frederick and Hagerstown, or Virginia teams like nearby Prince William), or stick to TV and go without live major league ball. And, since the Nats blew it this season by shelving Stephen Strasburg, D.C. still hasn't had a Pennant since 1933.
October 26, 1938: For the first time, an ice hockey match is televised. Oddly, this does not occur in Canada, or in America. It is in England, on the BBC, between Harringay Racers of North London and Streatham Redskins of South London. Neither team exists in their 1938 form any longer. In 1940, New York station W2XBS (forerunner of WNBC-Channel 4) would become the first station to broadcast an NHL game, a 6-2 New York Rangers win over the Montreal Canadiens at (the old) Madison Square Garden; 3 days after that, they would broadcast the first televised basketball game. That station had already broadcast the first baseball, college football and NFL games on television, all in New York in 1939.
October 26, 1940:
Detroit Tigers outfielder Hank Greenberg is named the Most Valuable Player in the American League. Greenberg won the MVP honors in 1935 as a 1st baseman, but this season has played mostly left field, as another big slugger, Rudy York, is being tried at 1st.
Greenberg will soon become the first big-name player to enlist in the U.S. armed forces in anticipation of World War II, and when he returns in 1945, York is gone to Boston, and he plays the rest of his career at his former position of 1st base. Nevertheless, he is the first player to win MVP awards while playing at 2 different positions. He has since been joined only by Robin Yount (shortstop and center field) and Alex Rodriguez (shortstop and 3rd base).
October 26, 1946: Columnist Westbrook Pegler, writing for the Hearst Corporation's papers including the New York Journal American, writes a critical piece about the off-field relationship between Dodger manager Leo Durocher' actor George Raft and well-known gamblers. This is the first of a number of articles that will lead up to the suspension of Durocher for the 1947 season.
Pegler was an alcoholic and a lunatic, who had already called for the assassination of President Franklin D. Roosevelt, and one of his last public acts would be to do the same for Robert Kennedy, which happened. Eventually, he couldn't be hired by anyone except the John Birch Society, and finally even they fired him for being too extreme. But, in the case of Durocher, and in a few others, Pegler turned out to be right.
October 26, 1948: Colbert Dale Harrah is born in Sissonville, West Virginia. An All-Star 3rd baseman for the Texas Rangers and the Cleveland Indians, Toby Harrah was the last active player who had been a member of the Washington Senators, the team that moved to become the Rangers in 1972. Next-to-last was his former Ranger teammate Jeff Burroughs, and together, with players like Mike Hargrove and Ferguson Jenkins, managed by Billy Martin, they finished 2nd in 1974, the best finish the Senators/Rangers franchise had yet had in 14 years of existence. They would finish 2nd again with Harrah in 1977 and 1978, but wouldn't win the AL West until 1994 – ironically, after Harrah's brief tenure as Rangers manager had ended.
In 1976, despite playing both games at shortstop, he went through an entire doubleheader without a single fielding chance. Despite this, he was generally regarded as a good defensive player, who also managed to hit 195 home runs despite playing his entire career in pitchers' parks: Arlington Stadium, Cleveland Municipal Stadium (the Rangers had traded him to the Indians for 3rd baseman Buddy Bell, a trade which worked out well for both teams, though neither is known for making good trades) and, for one season, in the old Yankee Stadium with its "Death Valley" in left and center making it hard on a righthanded hitter.
October 26, 1949: Stephen Douglas Rogers is born in Jefferson City, Missouri. No, not Captain America. This Steve Rogers plied his trade in Canada, as an All-Star pitcher for the Montreal Expos, and remains the all-time leader in several pitching categories for the franchise now known as the Washington Nationals. Unfortunately, the furthest that franchise has ever gotten was a tie game in the 9th inning of the 5th and deciding Game of the 1981 NLCS, when Rogers, who had won Game 3 but was now pitching in relief on just 2 days rest, gave up a Pennant-winning home run to the Dodgers' Rick Monday.
He deserves to be remembered for more than that, as he, not Randy Johnson or Pedro Martinez (neither of whom stayed in Montreal for very long) was the greatest pitcher in that franchise's history, and even if Stephen Strasburg does more for them than Rogers did in an Expo uniform, Rogers will still be the greatest pitcher the city of Montreal has ever had. (Former Dodgers manager and Montreal Royals lefty Tommy Lasorda may dispute that, but the Royals were the minors, the Expos – no matter how inept they sometimes were on the field and in the front office – were the majors.) He was a 5-time All-Star, won 158 games in the major leagues, had a 3.17 ERA, and now leaves not far from me, in West Windsor, New Jersey, employed by the players' union, the Major League Baseball Players Association.
October 26, 1950: Branch Rickey resigns as president of the Brooklyn Dodgers, and Walter O'Malley succeeds him. Rickey sells his 25 percent interest in the club for a reported $1.05 million. O'Malley had tried to push Rickey out, and got his chance when another partner died and his heirs wanted to sell his shares. O'Malley, in this as in everything else a money-grubbing bastard who didn't care who he hurt in the process, tried to lowball Rickey, offering him only his original investment in the club, the $350,000 he had paid in 1942.
But Rickey and O'Malley, despite some stark differences, were more alike than either cared to admit. One way in which they were alike is that both were lawyers who knew all the tricks. Rickey knew that an agreement in the Dodger partnership said that if any of the partners got an offer for their shares, and another partner wanted to buy, he had to match the offer. Rickey found someone willing to pony up a million, and so O'Malley had to pay through the nose: The $350,000 of '42 was worth $548,000 in inflation-adjusted dollars, while the $350,000 of '50 was worth just $223,000, so O'Malley was really offering Rickey a 57 percent loss. Instead, O'Malley had to pay Rickey a 92 percent profit.
Today, Rickey's original '42 investment is worth $4.8 million, O'Malley's '50 offer $3.1 million, and Rickey's $1.05 million becomes $9.2 million. In 1969, O'Malley admitted his holdings in the Dodgers were worth $24 million, which is $142 million in 2012 dollars; at his death in 1979, at which point son Peter became owner, they were said to be worth $50 million, or today's $148 million; when Peter sold the Dodgers in 1997, it was for $311 million, or today's $420 million. When Magic Johnson bought the Dodger franchise, including Dodger Stadium, earlier this year, the price was rumored to be about $2 billion.
October 26, 1951:
Desperate for money to pay a mounting tax bill, Joe Louis, who stood as heavyweight champion of the world longer than anyone (12 years, 1937-49) and defended the title more than anyone (25 times), climbs into the ring at the old Madison Square Garden for a purse of $300,000 – about $2.5 million in today's money. He fights Rocky Marciano, then a rising contender who idolized Louis. Rocky says, "This is the last guy I want to fight."
It is a mismatch: Marciano is 28, is in superb shape, and has a sledgehammer for a right hand; Louis is 37, struggles with his weight, and his arms and legs, once the fastest in the fight game despite his being a heavyweight, have terribly slowed. Marciano actually knocks Louis out of the ring in the 8th round. Marciano goes back to his dressing room and cries over what he has done to his greatest hero, and even goes over to see him and says, "I'm sorry, Joe." Sugar Ray Robinson, then middleweight champion, was in Louis' dressing room to console him, and was also crying.
Eleven months later, Marciano will knock out Jersey Joe Walcott to become champion. Louis, still needing money, will humiliate himself as a professional wrestler, and not a very good one. Both men's lives will end badly: Marciano's in a plane crash in 1969, Louis' in a wheelchair, unable to pay his medical bills, with Frank Sinatra hosting a benefit concert for him in Las Vegas in 1978, which keeps Louis afloat until he finally passes away in 1981. As a Sergeant in the Army in World War II, he is laid to rest at Arlington National Cemetery, on the order of President Ronald Reagan, and with Sinatra delivering the eulogy.
October 26, 1957: Robert Perry Golic is born in Cleveland. A State Champion wrestler at St. Joseph's High School, Bob Golic played defensive tackle for his hometown Browns, and was a member of the team that lost back-to-back AFC Championship Games to the Denver Broncos. He and his brother Mike Golic, also a former NFL player, are both hosts of sports-talk shows on radio (although not together), and while Mike does NurtiSystem commercials that show him losing 50 pounds, Bob, using a different diet, has lost 140 and is back to his high-school weight of 245 pounds.
October 26, 1963: Natalie Anne Merchant is born in Jamestown, New York. She was the lead singer of 10,000 Maniacs -- not to be confused with a capoultra, who leads "Ultra" groups in European soccer.
October 26, 1966:
Jeanne Zelasko is born in Cincinnati. She was the host of Fox's baseball pregame shows from 2001 until its cancellation in 2008, twice taking time off to have children. She now works for MLB network. She is also a survivor of thyroid cancer.
A lot of baseball fans don't like her, but I do. She knows the game and is a very good interviewer. But at the 2005 All-Star Game in Detroit, she wore an orange dress, to match the host Tigers' colors. She was pregnant at the time, and orange is not a good color for a maternity dress. But she still did her job well that night, and it certainly wasn't as poor a choice as the night Hannah Storm, working the 1997 NBA Finals for NBC, did an interview with Dennis Rodman, exposing her unborn child to his weirdness. (As far as I know, both of the children in question are okay.)
October 26, 1967: Keith Lionel Urban is born in Whangerei, New Zealand. At age 6, he moved with his family to Australia and is an Australian citizen. Eventually, he moved to America and became a country singer. He is married to fellow Australian-American Nicole Kidman, which makes him not just a member but an officer of the Lucky Bastards Club.
A lot of people were very upset at country singer Garth Brooks for his "side project," The Legend of Chris Gaines, in which Brooks "played" Gaines, including doing concerts and TV appearances in character. I liked the idea -- but then, I wasn't find of Brooks' regular persona. I am now convinced that the Gaines character is based on Urban: Gaines, too, was born in 1967 (making him 5 years younger than his portrayer), was born in Australia but grew up in Los Angeles, and dealt with substance abuse at the height of his fame.
October 26, 1973: The Boston Red Sox trade pitcher Ken Tatum and outfielder Reggie Smith to the Cardinals for pitcher Rick Wise and outfielder Bernie Carbo. This could have been one of those rare trades that worked out for both teams: Wise was the leading winner on the Sox rotation that won the 1975 AL Pennant, and Carbo hit a key home run in that year's World Series; while Smith hit 314 career home runs – 2nd all-time among switch-hitters behind Mickey Mantle at the time of his retirement – and helped his team win 3 Pennants and a World Series.
The problem was that, just as the Cards gave up on Steve Carlton too soon, trading him to the Phillies for Wise, and gave up on Jerry Reuss too soon, sending him to the Dodgers, and now give up on Wise too soon, they will later give up on Smith too soon, trading him to the Dodgers where he and Reuss will team up on the team that dominates the NL West from 1977 to 1988.
October 26, 1976:
Miikka Sakari Kiprusoff is born in Turku, Finland. He is the goaltender for the Calgary Flames, and with him making some amazing saves in the Playoffs, they nearly won the 2004 Stanley Cup. His brother Marko has also played in the NHL and now plays in their native Finland.
October 26, 1983:
Francisco Liriano is born in San Cristobal, Dominican Republic. The Minnesota Twins' lefthander reached the All-Star team in 2006 aged just 22, but an elbow injury has hampered his career ever since. He now pitches for the Chicago White Sox.
October 26, 1984: Alexandra Pauline Cohen is born in Los Angeles. Of Russian-Jewish descent, "Sasha" Cohen won a Silver Medal in figure skating at the 2006 Winter Olympics, and has since become an actress. She is definitely not to be confused with the also-Jewish British actor Sacha Baron Cohen, a.k.a. Ali G, Borat, Bruno, and Admiral General Hafez Aladeen. Unlike Sacha Baron Cohen, Sasha Cohen
has class.
October 26, 1985:
Time travel is first demonstrated at the Twin Pines Mall (or is that the Lone Pine Mall?) in Hill Valley, California -- or, rather, is dramatized in the film
Back to the Future
.
The demonstration by Dr. Emmett Brown (Christopher Lloyd) and Marty McFly (Michael J. Fox) was actually filmed at the Puente Hills Mall in Industry, California. Most of the trilogy's scenes were filmed in Los Angeles County, although the Courthouse Square area was a movie set that, for whatever reason, has frequently been struck, not by lightning, but by fire.
Just before the terrorist attack that forces Marty to get in the DeLorean and accidentally get sent back to 1955, Doc Brown tells Marty that he's going 25 years into the future: "I'll get to see who wins the next 25 World Series! Wouldn't that be a nice gift to have for my old age!"
But in the 2nd film, partially set 30 years in the future -- 2015, just 3 years from now -- Marty sees that the Chicago Cubs have won the World Series, beating a Miami-based team whose logo is an alligator (impossible, unless MLB realigns to put the Cubs and Marlins in different leagues/conferences, to say nothing of the Cubs still being cursed), and buys a sports almanac that he can take back to 1985, so he can know the results beforehand and bet on them: "I can't lose!"
Doc warns Marty about how dangerous that can be, and the film's antagonist, Biff Tannen (Thomas F. Wilson), steals the DeLorean, and demonstrates that the Doc was right: Old Biff creates an alternate reality where Hill Valley is a mini-Las Vegas, and Biff is a cross between Fat Elvis and Tony Soprano, and, apparently having gotten connections to Richard Nixon, has even gotten the 22nd Amendment repealed so that Nixon is running for a 5th term as President and, according to a newspaper, "Vows to end Vietnam War by 1985." This is remedied at the end of the 2nd film.
Perhaps Marty should have warned the St. Louis Cardinals about what was going to happen in Game 6 of the 1985 World Series, starting at Royals Stadium (now Kauffman Stadium) in Kansas City, about 19 hours after his trip back into time. The Cards lead the cross-State Royals 1-0, and need just 3 more outs to win the World Series.
Jorge Orta is thrown out at first base. The instant replay confirms this. Except umpire Don Denkinger blows the call, and calls Orta safe. The next batter, Steve Balboni, pops up, and first baseman Jack Clark can't handle it, and Balboni singles on his next swing. A passed ball by ex-Royal postseason hero Darrell Porter makes it men on 2nd and 3rd, and Hal McRae is intentionally walked. Dane Iorg steps up, and singles home Orta and Balboni, and the Royals have a 2-1 walkoff win to force a Game 7 at home. The Cardinals are furious. So are their fans. They all think Denkinger stole the World Series from them. They still think so, 26 years later.
There's just one problem with this theory: There was still one game to go. If the Cardinals had won Game 7, Denkinger's blown call would have been just a footnote. So Cardinal manager Whitey Herzog should have taken his team into the clubhouse and said, "Men, we got screwed tonight, but there's nothing we can do about it now. So let's win this thing tomorrow, and what happened tonight won't matter." Instead, the White Rat whined about the call to the media, and let it get into his head, and into his team's heads.
The shock isn't that the Cards lost Game 7 11-0. The shock is that the Royals won it by only 11 runs. It is the biggest blowout in Game 7 history, previously reached only by, oddly enough, the 1934 Cardinals when they beat the Detroit Tigers. So, "Cardinal Nation": Instead of blaming Denkinger for costing you the World Series, how about blaming your manager for not getting your team to shake it off? Or how about blaming your lineup for not hitting a lick? The umpire didn't cost your team a World Championship: Your team did.
Also on this day, Monta Ellis is born in Jackson, Mississippi. A guard for the Golden State Warriors, "the Mississippi Missile" was named the NBA's Most Improved Player in 2007. He now plays for the Milwaukee Bucks.
October 26, 1991:
Game 6 of the World Series. The Minnesota Twins even the Series at 3 games each with a 4-3 win over the Atlanta Braves, thanks to Kirby Puckett's great catch and his dramatic home run in the bottom half of the 11th inning. What has been shaping up as one of the best World Series ever will go to a Game 7 that will be worthy of it.
October 26, 1993: Shaquille O'Neal releases his first recording, the rap album Shaq Diesel. The album sells over a million copies, and the single "(I Know I Got) Skillz" reaches Number 35 on the Billboard magazine Hot 100. However, Shaq was wise to not quit his day job.
October 26, 1996:
Has it really been 16 years? Yes. Yankees 3, Braves 2, clinching the 23rd World Championship, first in 18 years, at Yankee Stadium. The Yanks scored all 3 runs in the bottom of the 3rd, including a triple off Greg Maddux by catcher Joe Girardi.
Now that Girardi is the Yankee manager, it's easy to forget what kind of a player he was. He was a good defensive catcher, but hitting a triple off Maddux in a World Series game was really unexpected. It wasn't quite the U.S. college kids beating the "amateur" hockey players in their 30s put up by the Soviet Union in the 1980 Olympics, nor was it quite Buster Douglas knocking out Mike Tyson in 1990. But it was a shock. A beautiful shock – which may be the first time Joe Girardi has ever been associated with the word "beautiful." (Let's face it, from Casey Stengel's wrinkles to Billy Martin's nose, from Joe Torre to Girardi, successful Yankee managers have rarely been good-looking men.)
When Mariano Rivera, then the "bridge" reliever, was on the mound in the 8th, Fox announcer Tim McCarver said, "There's not a lot of secret as to what you're gonna get from Mariano Rivera: A lot of high gas." It would be the next year, when Mo succeeded John Wetteland as the closer, that he developed the cut fastball that made him the greatest relief pitcher of all time.
When Mo got a strikeout to end the 8th, McCarver and Joe Buck wisely didn't say a word, and let the roar of the crowd be what took them to commercial. Those cheers seemed to contain not a word, but they spoke volumes. Some who were there said that the old Yankee Stadium actually shook at that moment.
An inning later, Wetteland, who became the first reliever ever to save all 4 of his team's wins in a World Series (and remains the only one) and was named MVP, got Mark Lemke to pop up to third base, and Charlie Hayes caught it. As John Sterling said on WABC (the Yankees' radio station at the time), "Ballgame over! Yankees win! Theeeeeeee Yankees win!" (He didn't start adding "(name of series) over!" until 1998.)
Never mind how I felt about the Braves, though like many fans I was already sick of them. This was about the Yankees winning the World Series for the first time since 1978 – and since my parents made me go to bed early in 1977 and '78, this was the first time I had ever seen the Yankees win a World Series as it happened. And when you live in a town full of Met fans, and see Met fans every day on the local news, and hear all the time about 1969 and 1986, then 18 years really does feel as long as 86 years ended up feeling to Red Sox fans.
Add the fact that a lot of Met fans switched sides, either temporarily (like Joan Hodges, Gil's wife, and son Gil Jr.) or permanently (like Spike Lee), and the fact that the Yankees' ticker-tape parade attracted 4 million people, more than attended either of the Mets' parades, and more than attended the Rangers' parade in 1994 (have I ever mentioned that the Rangers SUCK?), and this was the most satisfying sports championship I had ever experienced. Even more than the Devils' first Stanley Cup the year before. More than the various sports titles won by East Brunswick High. Even the football State Championship won, at long last, by E.B. in 2004 cannot top this. The '98 and '99 Yanks? Great victories, but '96 would always been the sweetest sports win of my life.
Or so I thought. More on that in a moment.
Sterling was interviewed on WABC-Channel 7's Eyewitness News the next day. He was not yet known as the hyper-partisan, victory-yammering "Pa Pinstripe" that he later became; we did not yet think of him as "the Voice of the Yankees" like we did Phil Rizzuto, and generations before thought of Mel Allen. And he knew that this team had won just 92 games in the regular season, faced a tough challenge from the Baltimore Orioles to win the AL East, lost Game 1 of the ALDS to the Texas Rangers and were losing in Game 2 before they came back to win that, Game 3 and Game 4; and then had the Jeffrey Maier incident in Game 1 of the ALCS and lost Game 2 before sweeping 3 in Baltimore, and finally coming back from 2 games to 0 to take the next 4 of the World Series against the Braves.
This Yankee team's greatness was not in their numbers or in their star power – remember, Derek Jeter was a rookie, so was Jorge Posada (and he wasn't even the starting catcher yet), and Rivera and Andy Pettitte were both in Year 2 – but in their performance, their courage and their resilience. As George Steinbrenner said afterwards, "They're battlers, and New York is a city of battlers. You battle for everything in this town: For cabs, for a seat in a restaurant, everything."
And Sterling summed the '96 Yankees up: "They're not a great team, but they're a team that plays great together."
Beautiful. Then in 1998, the Yankees became the greatest single-season team of all time.
October 26, 1997:
Game 7 of the World Series at whatever the combined Marlins-Dolphins stadium in the Miami suburbs was called at the time. The Cleveland Indians jump out to a 2-0 lead over Florida' and are just 2 outs away from winning their first World Series in 49 years. But Jose Mesa, not for the first time nor for the last, blows the save, and the Marlins claw their way back and tie the score in the bottom of the 9th on a sacrifice fly by Craig Counsell. In the last half of the 11th' Edgar Renteria gets his 3rd hit of the game' driving home Counsell with the winning run' as Florida wins Game 7 by a score of 3-2.
This was, after 1962, only the 2nd World Series where neither team won back-to-back games: The Marlins won Games 1, 3, 5 and 7; the Indians won Games 2, 4 and 6. This was also the Series with the greatest extremes of weather: The 4 games in South Florida were the 4 warmest on record for Series games, while the 3 in Cleveland were 3 of the 4 coldest (the previous coldest, in New York in 1976, remains 3rd), and Game 4 is the only Series game to be played in a snowfall except for one in Chicago in 1906.
The Marlins, in just their 4th season of existence (as opposed to the Indians, in their 97th), thus become the fastest team in baseball history to win a World Series title' 3 years quicker than the 1969 Mets. Livan Hernandez, the pitcher who fled Cuba (and would soon be followed by his brother Orland "El Duque" Hernandez) is named Most Valuable Player of the Series.
This Series is sweet vindication for manager Jim Leyland, who lost 3 straight NLCS while managing the Pittsburgh Pirates; for Bobby Bonilla, who played for Leyland on those Pirates, bad-attituded his way out of his native New York with the Mets, and flopped the year before with the Baltimore Orioles; for Alex Fernandez, who pitched for the talented Chicago White Sox team that fell just short in 1990, lost the ALCS in '93 and was screwed over by the strike in '94, and was injured and unable to pitch in the postseason but his teammates put his Number 32 on their caps; and for Gary Sheffield, who was already gaining a reputation as a bad apple that nobody wanted to keep around for very long despite his obvious talent for power hitting, and this remains his only World Series win.
For the Indians, who hadn't won a Series since 1948, went from 1954 to 1995 without winning a Pennant, went from 1959 to 1994 without even being in a Pennant race, stood to be the AL's Wild Card if the standings at the time of the Strike of '94 had held to the end of the season, lost the '95 Series despite winning 100 of 144 games in the regular season, lost the '96 ALDS to an inferior Oriole team, and won just 86 games in this regular season but had defeated the favored Yankees and the Seattle Mariners before this crushing defeat, it is not just a crushing defeat, where they came closer to winning the World Series without doing so than any team ever has except the '86 Red Sox; but, like the Red Sox, they now have a reputation of being a choking team. They have never shaken it, despite return trips to the postseason in 1998, '99, 2001 and '07 – blowing a 2-1 lead in the '98 ALCS and a 3-1 lead in the '07 ALCS.
October 26, 1999:
Game 3 of the World Series. Andy Pettitte did not have his good stuff, but Tino Martinez, Chad Curtis and Chuck Knoblauch helped the Yankees come from 5-1 down to send the game to extra innings. Curtis led off the bottom of the 10th, and knocked one out for a 6-5 win.
The Yanks wrapped up the sweep, the 25th World Championship, the title of Team of the Decade (it ain't about Division Titles, Braves fans), and the title, as NBC's Bob Costas said that next night, of "Most Successful Franchise of the Century."
October 26, 2000:
Game 5 of the World Series at Shea Stadium. Jeter and Bernie Williams homered off Al Leiter. Pettitte and Leiter gave it their all. The game was tied 2-2 in the top of the 9th.
Two outs. Posada on second, Scott Brosius on first. Not great speed on the basepaths. Luis Sojo, playing second base because Knoblauch's fielding difficulties limited him to DH status, was coming up to bat. Leiter had thrown 141 pitches. A number that would not have caused Catfish Hunter and Tom Seaver to flinch, but by the standards of the 1990s and 2000s, a lot.
Met Manager Bobby Valentine's choices were not good: A, stick with an exhausted Leiter, who would be pitching on brains, courage and fumes, and pray that he gets the out that sends it to the bottom of the 9th still tied; B, put in Armando Benitez, who led the National League in saves that year and saved Game 3, but also blew Game 1 for Leiter and also blew a Division Series game against the Giants (which the Mets ended up winning anyway), and had previously messed up 2 ALCS games against the Yankees for the Orioles (including the Jeffrey Maier Game); or C, put in John Franco, who was the winning pitcher in Game 3 and also pitched well in Game 4, but would be pitching for the 3rd day in a row, and was 39, and there was a reason Valentine had taken the closer's job from Franco and given it to Benitez.
Valentine decided a tired Leiter was better than an aging, potentially tired Franco and an inconsistent, unreliable Benitez. Although I frequently accused Valentine of overmanaging, and sometimes outright stupidity, I can't fault him for this choice; if he had put in the very popular New York native Franco and lost anyway, he might have gotten away with it; but if he had put in the already suspicious Benitez and he blew yet another, Valentine would have been run out of Flushing on the Long Island Railroad.
Leiter threw his 142nd pitch to Sojo. He knocked it up the middle. A Met fan once told me that Rey Ordonez would have stopped this grounder. This Met fan was a fool: Ordonez would

not

have gotten it. Mike Bordick was the shortstop that night, and he couldn't quite get it. Base hit for Sojo. Posada came around third. Center fielder Jay Payton's throw... never made it to Mike Piazza at the plate. It hit Posada in the back. Posada scored the tiebreaking run. The ball bounced off him and toward the backstop. This enabled Brosius to score. It was Yankees 4, Mets 2.
Bottom of the 9th. Two out. The Mets get a man on. Piazza comes up to the plate. If you're a Met fan, this is the man you want up: The best offensive player the Mets have ever had (cough-steroids-cough), one of the best fastball hitters of his time, power hitter against power pitcher, Mariano Rivera. But if you're a Yankee Fan, there's no one you'd rather have on the mound, and there's no one you'd rather get as the final out. It was similar to the final matchup of the 1978 Boston Tie Party, with Carl Yastrzemski, one of the greatest fastball hitters ever, and the most beloved player in his franchise's history (remember, Sox fans didn't always love Ted Williams), coming up to try to save his club against one of the fastest and most fearsome pitchers ever, Rich "Goose" Gossage.
Yaz popped up to end that game in victory for the Yankees; 22 years later, Piazza got considerably better wood on his pitch, and hit one deep to straightaway center field. For a moment, many of us, myself included, thought, "Uh-oh, no!" Translation: "Tie game, Mets will go on to win it, and take the next 2 in The Bronx, and the Yanks will have choked it away." Because we had grown up with the Mets as the team that won and the Yanks as the team that fell short. We had the arrogance of Yankee Fans of old, but deep down, in places we don't like to talk about at parties, we had the fears that came so easily to fans of the Cubs, the Indians, the pre-2004 Red Sox, the pre-2007 Phillies -- and the post-2006 Mets.
But Piazza had juuuust gotten under it. The ball had too much height and not enough distance. Bernie stood on the warning track, it was an easy catch, and it was over.
Jeter became the first player ever to be named Most Valuable Player of the All-Star Game and the World Series in the same season. Still, he has never been named MVP of a regular season.
For the first time, the Mets had the chance -- their first, their best, maybe their last -- to beat the Yankees in a Subway Series, and to irrevocably "take over New York." And while they had their chances and fought hard, in the end, the better team won.
The Yankees have beaten the Mets in a World Series – the other way around has never happened. And it never will. Never, never, never. Or, in the words of Flushing's own Fran Drescher, "It begins with an N and ends with an A: Nev-a." As a Yankee Fan said then, "The Yankees have scoreboard over the Mets for all time."
This was the 26th World Championship. And for those of us who grew up as Yankee Fans during the Mets' "glory" years of 1984 to 1990, the Dynasty That Never Was, and had to deal with the unearned arrogance of the Flushing Heathen, the filthy bastards, delusional that their 2 titles outweighed our 22 (until 1996; now 27), damn fools to believe that the 1986 Mets could have beaten the Yankees of 1927, 1938, 1941, 1953, 1961 and 1978, and eventually even the 1998 juggernaut... for us, this was the greatest, sweetest moment of them all.
We beat the Mets. And it wasn't close: All 5 games were close, but winning in 5 games is domination. And we clinched at their place, on their field, at the William A. Shea International Airport, at the Flushing Toilet.
This was the 13th World Series game played at Shea. An unlucky 13th. It was also the last, which no one (not even a wiseass Yankee Fan like me) could have predicted at the time.
There were 25,000 people at Shea chanting "Let's Go Yankees!" and "We're Number 1!" Eventually, the owner came out to talk to the press, and he and the announcers couldn't talk, because the Yankee Fans were so loud, chanting "Thank you, George!" Imagine that, thousands of people saluting George Steinbrenner at Shea Stadium.
I loved it. October 26, 2000 – actually, the final out came just before midnight, so it was really October 27 that we celebrated – remains my favorite moment as a sports fan.
To the Flushing Heathen: I'd tell you to go to hell, but you're already Met fans. So, instead, you and your 2 long-ago rings can kiss my Pinstriped ass. Or you can kiss my 27 rings, 7 of which came since your '69 title and 5 of which came after you got lucky in '86. Yes, you got lucky that the Red Sox had their choke of chokes against you in Game 6.
Sure, the Yankees have had luck. But they have earned all their victories. That's why every Yankee Fan can, on occasion, say the words of Yankee legend Lou Gehrig: "Today, I consider myself the luckiest man on the face of the Earth."
After all, we could have had worse luck, and it would have been all our own fault.
We could have chosen to be Met fans. We chose Yankees. We chose greatness.
October 26, 2002:
Game 6 of the World Series, at what was then known as Edison International Field of Anaheim – the former "Big A" briefly nicknamed "the Big Ed." The San Francisco Giants lead the Series 3 games to 2, and lead 5-0 after 6½ innings, thankst to home runs by Shawon Dunston and Barry Bonds. The Anaheim Angels score 3 runs in the 7th to make it 5-3, but the Giants are still just 9 outs away from their first World Championship since moving to San Francisco 45 years earlier, their first in any city since they were in New York 48 years earlier.
But they choke. The Angels, having already scored the 3 runs in the 7th, score 3 more in the 8th on a home run by Scott Spiezio, and win, 6-5. The Series will go to a Game 7 in Anaheim tomorrow night.
October 26, 2004: The Red Sox win Game 3 of the World Series with a 4-1 win over the St. Louis Cardinals at Busch Memorial Stadium. Finally making his first World Series start, Pedro Martinez hurls 7 shutout innings to put the Sox up 3-games-to-0. Manny Ramirez homers and drives in a pair of runs for the Sox' while Larry Walker hits one out for the Cards. The Sox can achieve their 86-year-old dream tomorrow night.
Also on this day, Bobby Avila dies at age 79. A three-time All-Star, the second baseman was not the first major league player born in Mexico – that was Red Sox outfielder Mel Almada in 1933, an outfielder who batted .284 over 7 seasons in the bigs – but he may have been the best, at least until Fernando Valenzuela came along, and the best hitter until Vinny Castilla arrived.
In 1954, despite a broken thumb, he won the AL batting title with a .341 average, and helped the Indians win the Pennant. But it was the NL's batting champion, Willie Mays, who was the star of the World Series as the Giants swept the heavily-favored Tribe.
October 26, 2005: The Chicago White Sox shut out the Astros' 1-0 at Minute Maid Park in Houston' to sweep the World Series and win their first World Championship since 1917, the first for either Chicago team in that time. Freddy Garcia gets credit for the win' as Jermaine Dye drives home the game's only run. Dye is named the Series MVP.
Ozzie Guillen, a native of Venezuela, becomes the first foreign-born manager to win a World Series. The Astros, in the Series for the first time in their 44-season history, are still, through 2012, winless in World Series games.
October 26, 2008:

In a 10-2 rout of the Rays in Game 4 of the World Series, right-hander Joe Blanton hits a home run, the first pitcher to do so in a Series game in 34 years. Ken Holtzman of the A's was the last hurler to accomplish the feat when he went deep off Andy Messersmith of the Dodgers in 1974.