Sundown today marks the beginning of Yom Kippur, the Jewish Day of Atonement. Jews are not to do any work from sundown today to sundown tomorrow, nor are they to spend any of that time in the pursuit of happiness. Rather, they are to spend the day in prayer and reflection, and to seek forgiveness for whatever harm they have done in the past year, as all of us have done some harm.
Yankee broadcaster Suzyn Waldman, being Jewish, has not made the trip to Baltimore to broadcast this 3-game series with John Sterling. I was previously under the impression that Sterling was Jewish as well, and that "John Sterling" was a
nom de broadcast
, but this is not the case.
Baseball Hall-of-Famers Hank Greenberg and Sandy Koufax had to face the decision of whether to play on Yom Kippur, Greenberg during a tight Pennant race in 1934 and Koufax on the day of Game 1 of the 1965 World Series. Both chose not to play, and became bigger heroes than ever, to Jews and Gentiles alike.
Here's a link to an ESPN story on the history of Jewish players and how they handled the issue
.
That story mentions Al Rosen. But it doesn't mention this: In 1978, Rosen was the general manager of the Yankees, and flew to Boston to attend the Playoff for the American League Eastern Division title. It was played on Rosh Hashanah, the Jewish New Year. The Yankees, of course, won, 5-4, largely thanks to a home run by that mensch Bucky Dent.
The next day, back in New York, Rosen got a phone call from a woman saying that Rosen had disappointed her and many other Jews by being at the game.
"Ma'am," Rosen asked, "how did you know I was at the game?"
"I saw it on television," he said.
"Why were you watching television on Rosh Hashanah?"
How do you say, "Gotcha!" in Yiddish?
Top 10 Sports Atonements
Before I begin this list -- which, oddly enough, has no Jewish people on it -- let me say that one name that will not be on it is Kobe Bryant. I don't care what he's won since, or how he's kept his nose clean since: He should have gone to prison for taking advantage of that girl in Colorado, and he hasn't atoned for squat.
10. Alex Rodriguez.
As the 2009 season began, he had much to atone for, both personally and professionally. While I am in no position to say that his personal life is settled, in baseball terms he answered every question, becoming a major force in the Yankees going through the regular season and eventually winning the World Series.
Granted, I'm a bit miffed at the way he ended the Yankees' last game on Wednesday night, but he's proven that he can atone for such things, and I wouldn't put it past him to, uh, repeat.
9. Earnest Byner.
To be fair, his fumble late in the 1987 AFC Championship Game did not, by itself, cost the Cleveland Browns a trip to Super Bowl XXII. After all, they were losing, and a touchdown and extra point only have tied the game.
He did later star for the Washington Redskins in winning Super Bowl XXVI, including scoring a touchdown in the game. For all the good that does people in Northern Ohio: They still have to deal with memories of "The Fumble." Byner does not: He atoned.
8. Maurice Richard.
"The Rocket" had led the Montreal Canadiens to Stanley Cup wins in 1944, 1946 and 1953. On March 13, 1955, he got into a fight, and when a referee tried to break it up, he hit the ref, too. The NHL suspended him for the rest of the season: One regular-season game that would determine the top seed for the Stanley Cup Playoffs, and the entirety of the Playoffs themselves.
Angry Canadiens fans rioted in the streets of Montreal. The next day, Richard went on radio and TV, and, in French and English, asked the fans to stop. He said they shouldn't be doing this on his account, that he would take his punishment, and that he hoped the Canadiens could win the Cup without him.
They didn't, but Richard came back the next season, and they won the next 5 straight Stanley Cups. Richard then retired as an 8-time World Champion. In 2000, the two most popular people in the history of the Province of Quebec died, Maurice Richard in May and former Prime Minister Pierre Trudeau in October. Richard had more people lining the streets for his funeral procession than the greatest political leader Canada has ever had.
7. Eddie Shore.
If what Richard did on March 13, 1955 was bad, and it was, what Shore did on December 12, 1933 was far worse. The Boston Bruins defenseman, who had already helped them win the 1929 Stanley Cup, was hit from behind by Toronto Maple Leafs' defenseman Frank "King" Clancy and crashed into the boards.
A little woozy, he went after Clancy, but his still-blurry vision led him to the wrong man, left wing Irvine Wallace "Ace" Bailey. Shore high-sticked Bailey to the ground, and Bailey hit his head and was knocked out. He nearly died, and although he recovered, it became clear he would never play again, after being part of a team that re-established the Leafs as a hockey power, winning the 1932 Stanley Cup.
Bailey accepted Shore's apology, and Shore was suspended for 16 games -- at the time, 1/3rd of a regular season.
On February 14, 1934, a benefit game for the Bailey family was held at Maple Leaf Gardens. Although not officially counted as such, this is generally treated as the first NHL All-Star Game, with the Leafs taking on a team made up of players from every other team in the League at that time, including New York Rangers Bill Cook and Ivan "Ching" Johnson, and New York Americans Red Dutton and Normie Himes. (Rangers coach-general manager Lester Patrick was their head coach.)
Before the puck was dropped, Shore skated over to Bailey, who was dressed in a suit and sitting on the Leafs' bench. They smiled and shook hands, and a tremendous ovation went up. The Leafs beat the NHL All-Stars, 7-3.
Shore helped the Bruins win another Cup in 1939, before buying the nearby Springfield Indians and beginning a long career as a minor-league executive and coach, with the Bruins eventually retiring his Number 2. Bailey remained in the Leafs' organization until his death in 1992, and his Number 6 was the first number they retired. Despite Shore's actions and the comparative brevity of Bailey's career, both men are in the Hall of Fame.
6. Tony Adams.
The centreback was named Captain of London soccer club Arsenal when he was just 21 years old, and led them to the championship of England's Football League in 1989 at 22. On May 6, 1990, he crashed his car and pled guilty to drunken driving. Contrary to what I had previously believed, this wasn't why he was not included on the England roster for the 1990 World Cup. It might have, but he had already been excluded from selection by manager Bobby Robson, who had previously selected him for Euro 88.
Adams spent December 19, 1990 to February 15, 1991 in prison, and was released in time to lead Arsenal to another League title. It took until 1996 for him to finally quit drinking, and he published a harrowing memoir titled
Addicted
. In 1997-98, clean for the first time in his adult life, he led Arsenal to win the Premier League (successor to the Football League) and the FA Cup -- "winning The Double." Arsenal accomplished this again in 2002, his final season.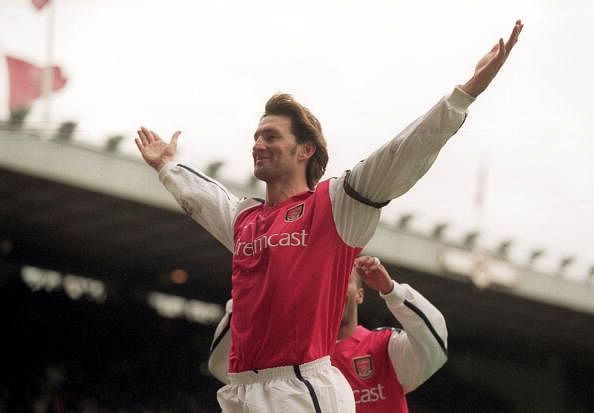 "Mr. Arsenal" has gone on to manage Wycombe Wanderers and Portsmouth, and now manages Gabala FC in Azerbaijan, and runs Sporting Chance Clincic, an alcohol and drug rehabilitation clinic in his native London.
5. Ralph Terry.
In Game 7 of the 1960 World Series, Terry, pitching for the New York Yankees, gave up a game-winning, World Championship-winning, home run to Bill Mazeroski of the Pittsburgh Pirates. This remains the only home run ever to win a World Series Game 7.
Two years later, Terry pitched a 3-hit shutout in Game 7 of the 1962 World Series against the San Francisco Giants. He'd also started and won Game 5. No, he didn't pitch Game 7 on 2 days' rest, although this would later be done by Bob Gibson in 1964 (he won), the aforementioned Sandy Koufax in 1965 (he won), Jim Lonborg in 1967 (he lost) and Mickey Lolich in 1968 (he won). A rain delay allowed a rejiggering of the rotations and for Terry, who'd also pitched for the Yanks' in the 1961 World Series victory, to get full redemption.
4. Roberto Durán.
He might have been the greatest lightweight boxing champion ever, and was a hero in Latin America, in particular treated nearly as a god in his native Panama. In 1980, in front of 60,000 people at the Olympic Stadium in Montreal, he defeated Sugar Ray Leonard to win the welterweight championship.
But a few months later, a rematch was held in front of 70,000 people in the Superdome in New Orleans. This time, Leonard fought better, and was taunting

Durán

. At the end of the 8th round, Duran, trailing on all cards, turned to the referee, also a Latin American, and said to him in Spanish, "I don't want to fight with this clown," and he went back to his corner and quit.
Broadcasting the fight for ABC, Howard Cosell said -- erroneously, as it turned out -- that what

Durán

had told the ref was,

"No más" --

"No more." Leonard was declared the winner by technical knockout, and regained the title. To make matters worse, the official excuse for Duran quitting was "stomach cramps." If he had them before the fight, it should have been postponed.
The man known as Hands of Stone was viewed to have feet of clay. Back in Panama, both his house and his mother's were vandalized. Graffiti appeared in Panama City calling him a coward, a traitor, and even "maricon" -- "homosexual." (This was the word Benny "the Kid" Paret had used at Emile Griffith during the weigh-in for their 1962 Welterweight Championship and trilogy-decider fight, that led Griffith to pound away at him so hard during the fight that Paret died.)
In 1983,

Durán

fought Super Welterweight Champion Davey Moore in front of a mostly-Latino crowd at Madison Square Garden, hoping to see the return of a former hero to heroic status. It was no contest:

Durán

slaughtered Moore, whose cornermen threw in the towel -- appropriately enough, in the 8th round, the same round that did

Durán

in 3 years earlier.

Durán

regained not only a title (if not the same one), but also his strong, masculine image, his pride, his reputation, and his fans.
Interesting that
SI
correctly put an accent mark on the A in "No
más,"
but, incorrectly, not on the one in "
Durán."
3. George Steinbrenner.
From bullying his shipbuilding company's employees into helping him make illegal contributions to President Nixon's 1972 re-election campaign to hiring a compulsive gambler to dig up dirt on Dave Winfield, to all those firings and otherwise unfairly treating employees, "The Boss" became the most hated man in baseball since Walter O'Malley moved the Dodgers out of Brooklyn.
Forced in 1990 to step aside and let "my baseball people" run the show, they did, and rebuilt the Yankee Dynasty. And, from 1996 until his death earlier this year, at ballparks and ticker-tape parades, Yankee Fans chanted, "Thank you, George!" And, to his credit, he understood and appreciated how far he had come to receive that.
2. Muhammad Ali and George Foreman.
I make this a dual entry because the two men are forever linked, and Ali's atonement made Foreman's necessary.
Ali was stripped of the heavyweight boxing title in 1967, when he refused to accept being drafted into the U.S. Army during the Vietnam War. In 1968, Foreman won an Olympic Gold Medal (as Ali, then still named Cassius Clay, had done in 1960 and their later opponent Joe Frazier had done in 1964). Foreman, saying he did it as a gesture of pride rather than to position himself as an "anti-Ali," celebrated by holding up a small American flag in the ring. Foreman became a hero to those who hated Ali, and not since Jack Johnson, the first black champion (1908 to 1915), had an American athlete been so widely hated.
In 1974, with Foreman now champion and as yet undefeated as a professional, he and Ali stepped into the ring in Kinshasa, Zaire (now the Democratic Republic of the Congo), and Ali pulled off a stunning victory. In just 7 years -- 7 years that showed just how wrong both the Vietnam hawks and the Ali-haters, usually one and the same, were -- Ali went from being nearly universally reviled by whites and frequently so by many blacks, to being the biggest sports hero on the planet for his amazing comeback.
But Foreman was never the same fighter, and he struggled for 3 years until retiring. He became an ordained minister, and in 1987 returned to fighting after 10 years to raise money for his Houston church. In 1991, 42 years old, he fought then-champion Evander Holyfield to a near-standstill. Holyfield won by decision, but everyone seemed to think that Big George, who had turned himself from a near-monster to a big, cuddly man of God, had proven his point.
Everyone, that is, except George. He continued to fight, and in 1994, age 45, wearing the exact same trunks he wore against Ali 20 years earlier, knocked out then-champion Michael Moorer, to become the oldest man ever to hold the title. It lasted only a year (I won't get into that story here), but what a story.
1. Ralph Branca.
Of course, we all know that Branca gave up the home run to the late Bobby Thomson that sent the 1951 National League Pennant from Branca's Brooklyn Dodgers to Thomson's New York Giants, the Dodgers' arch-rivals.
What most of us may not know is that Branca is one of the founders and directors of the Baseball Assistance Team (BAT). The assistance provided takes many forms. Health care, financial grants, rehabilitative counseling or whatever form is required to attain some type of comfort and dignity for former players and their families with demonstrated needs.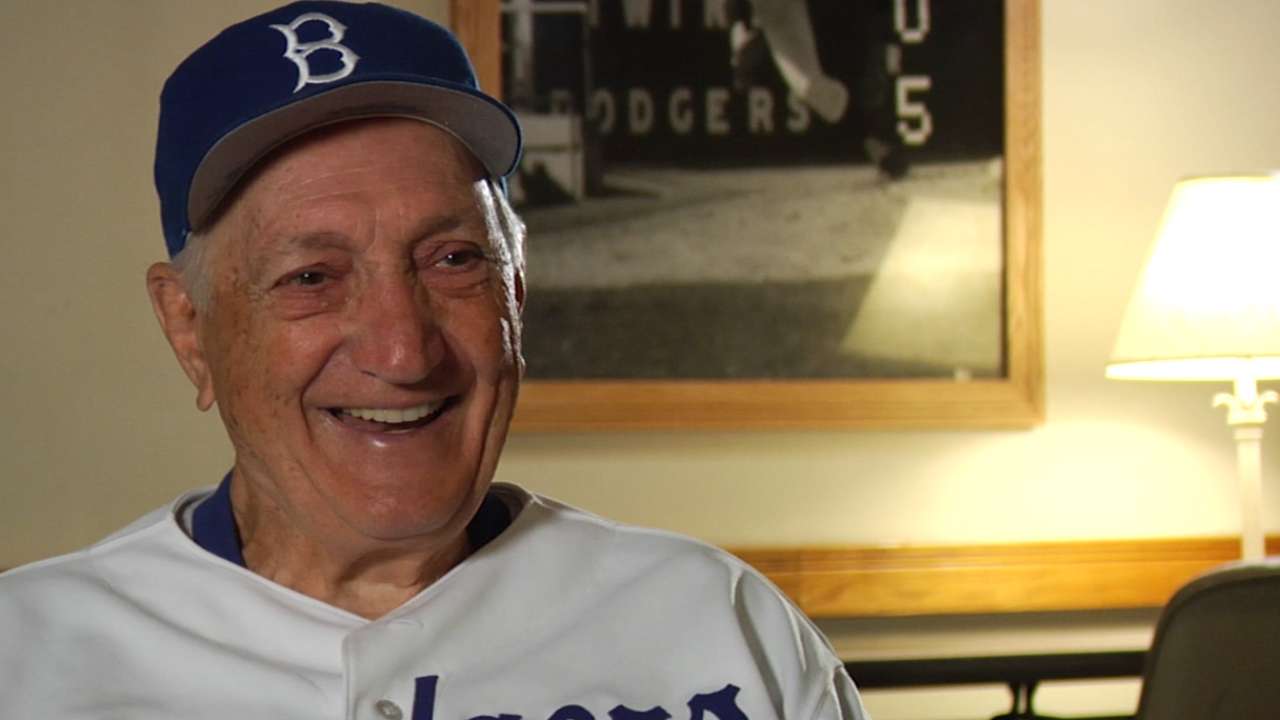 Gives a whole new meaning to the words "relief pitcher."