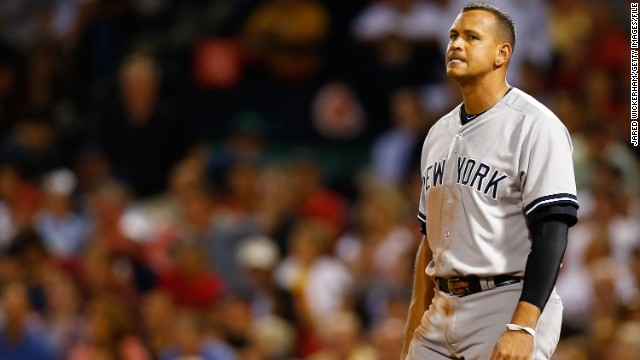 Rays 4, Yankees 3. Now out of first place, half a game behind the upstarts, having lost 2 of 3 in their stupid dome.
The Yanks had men on 1st and 2nd with 2 out in the 9th, and Alex Rodriguez at the plate. Naturally, the $275 Million Bum struck out to end the game. Bastard.
Yeah, I know, he won us a ring last year. Well, you don't lose to the Tampa Bay Rays. He could have won it with a homer, won it with a double, tied it with a hit, or at least kept it going with a walk. Instead, he struck out, and until he does something to help us beat these bastards, he's a bum again.
As for Derek Jeter "cheating," would it be "cheating" if a Boston Red Sock -- say, Jacoby Ellsbury or Dustin Pedroia -- had done it? Not in the eyes of the Yankee-hating national media. Cunts.
If A-Rod had tried it, they'd really rip him. But I wouldn't, because that would mean he got on base when we needed him to! What the hell are we paying him all that money for, if not to produce runs and give us a chance to win games?
Face it, last night, Derek Jeter was Jake Taylor, and Alex Rodriguez was Roger Dorn.
It's a travel day today, and the start of a 3-game series with the Baltimore Orioles at Camden Yards. We need to sweep Buck Showalter's revitalized Birds.
16 games left: 3 in Baltimore, 4 at home against Tampa, 3 at home against Boston, 3 in Toronto, 3 in Boston.
The Rays have 3 at home against Anaheim, 4 in New York against us, 3 at home against Seattle, 3 at home against Baltimore, and 4 in Kansas City.
The Angels are tough, the O's (as I said) are revitalized, but the Mariners and Royals are crap. Chances are, the Rays will be able to take 8 or 9 of the 13 that are not against us.
Therefore, we need to take 3 of 4 against them in the remaining home series, and 9 of the other 12, to make it 12 of the 16 to win the Division.