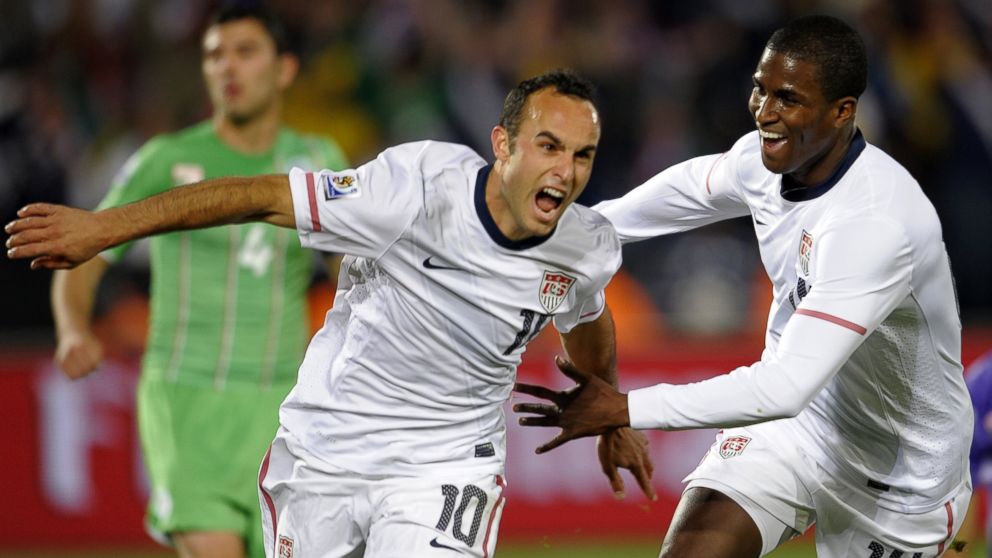 What an excruciating game between the U.S. team and Algeria today. Yet another goal waved off for no visible reason, and with all the missed chances, we should have kicked the living shit out of them, 5-0. And with England actually having scored a goal and taken a 1-0 lead over Slovenia -- I can't believe it was a Tottenham cunt who did it, Jermain Defoe -- a draw would no longer help the U.S.
It was still 0-0 after 90 minutes. Fortunately, since there is a running clock at all times except for halftime and genuine emergencies (such as a 1980s-style pitch invasion), there is this wonderful, horrible concept called injury time (sometimes known as stoppage time, but
not
"extra time," as the U.S. sportscasters don't seem to get, that's what "football" fans call overtime in knockout round games), and in the 91st minute, Landon Donovan got his Michael Thomas on.
"It's up for grabs now! Donovan! Right at the end!"
For those of you from the U.S., who don't know who Michael Thomas is, well, it took 19 years after it happened for me to find out, and I'm ashamed enough about it for both you and me. There is no reason for you not to know about
this momentous match on the 26th of May 1989
.
Michael Thomas is the Bobby Thomson of England. Although there's no evidence, as with the 1951 Giants, that there was cheating going on, and Bruce Grobbelaar has never received the kind of abuse that Ralph Branca unfairly did.
The U.S., as they did in 1994 and 2002, but not in 1990, 1998 or 2006, advance to the knockout stage. Their next game is this Saturday, at 2:30 PM Eastern Time, against Ghana. Ghana are the only African nation to advance to the knockout stage in this first-ever World Cup staged on that continent, so they can't be taken lightly. But I like America's chances. If we win, we advance to the Quarterfinals, the following Friday, July 2, also at 2:30, against the Korea-Uruguay winner.
That's the real Korea, not Kim Jong Il's slaves. That one might be tougher, but I think we can do it. Then comes the Semifinal, which would be on Tuesday, July 6. I'm not as confident about winning this one, if we get that far. The Final is on Sunday, July 11, also at 2:30, at Soccer City Stadium in Johannesburg.
Right now, if I had to bet on a country to win it, I'd bet on Germany. As an American of partly English and partly Polish descent, I'm not happy about that, but I think they're the team most likely to advance. Not necessarily the best team, but England won't do it because they have too many fools, Argentina won't do it because their fat drug-addicted egomaniac cheater of a coach will fuck it up, Spain won't do it because they always choke, Italy won't do it because they're senile, and the Netherlands won't do it because something always stops them.
UPDATE: Spain didn't choke. They did cheat their way to the title, though.
*
Lawrence Taylor, along with Frank Gifford and Joe Namath 1 of the most heralded football players in New York Tri-State Area history, was indicted for rape, among other charges, in connection with the 16-year-old prostitute he patronized a few weeks ago.
Taylor is a known abuser of women, a (recovering?) drug addict, and even when clean has been a disgusting person, who doesn't seem to grasp the concept of remorse.
Some people call LT the greatest defensive player in the history of American football. I call him a chump.
Oh, what's he gonna do? Actually, he's got nothing to lose by hitting me, since he's probably already going to jail for the rest of his life.
UPDATE:
Taylor pleaded guilty on March 22, 2011, and was sentenced to 6 years probation as part of a plea agreement, in which he pleaded guilty to misdemeanors. He had to register as a low-risk level one sex offender.
*
But right now, Johan Santana is probably thanking God for both Landon Donovan and Lawrence Taylor. Because it was revealed today that the Mets' ace was himself investigated for rape, in the Orlando area in the off-season. No charges were filed because the cops decided they couldn't prove lack of consent, and, unlike LT's hooker, she wasn't underage.
But now we know, at the very least, that The Great Johan Santana cheated on his wife. The halo is gone. He's not as bad as LT, and he may not even be as bad as Kobe Bryant. But the press isn't going to protect him from womanizing revelations the way they did Ty Cobb, Babe Ruth, Ted Williams, Mickey Mantle, and even (as the new biography suggested) Reggie Jackson.
Remember: So many people wanted the Yankees to mortgage their future to get Santana. Including Phil Hughes. The Yankees said no to the seductions of Johan Santana -- that "No" was heeded. (Speaking of which, Joan Laporta and everyone else at Barcelona are a bunch of cunts.)
The Mets made the trade, and Santana has made... absolutely no difference for them. They're still the same joke of a franchise in June 2010 that they were in September 2007, their last month of play without him.
Of course, the Yankees still have Alex Rodriguez. "At least Santana didn't use steroids." We think. But if you're looking for the more moral player, which of these two would you take, as they are right now?
Meanwhile, Kobe Bryant has his 5th title, the Lakers their 11th -- their 16th if (as you really shouldn't) you count their 5 from Minneapolis, and now they're only 1 short of the Celtics' all-time lead.
Maybe I should do a list of the Top 10 New England Sports Chokes. A list the 2010 Celtics would make, although they wouldn't be as high on that list as the 2010 Bruins. Maybe I should do that list. But not tonight.