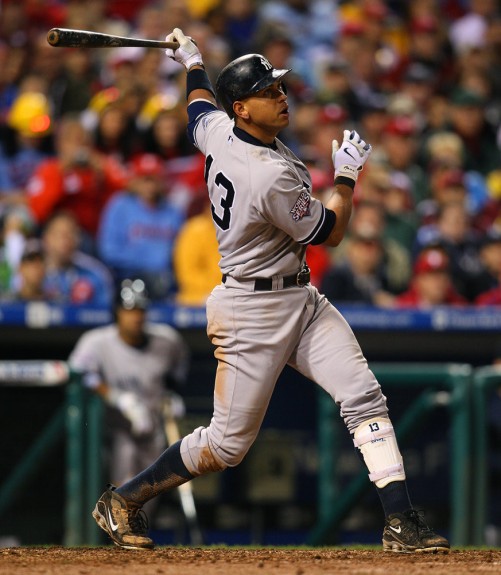 Two wins to go. The Yankees took Game 3 of the World Series, 8-5 over the still-fightin' Phils. I am under no illusions that those last 2 wins will be easy, not even with CC Sabathia going in Game 4 in 19 hours. After all, he'll be on 3 days rest, and it is in the Phils' beautiful but bandbox ballpark.
Our long national nightmare is over: Alex Rodriguez has hit a World Series home run. Even then, it had to be confirmed by the instant replay. But he's done it.
It is somewhat fitting that the 1st possible home run decided by instant replay in MLB history was hit by A-Rod. It is also somewhat fitting that his potential 1st World Series home run was controversial -- but not as controversial as it would have been had there
not
been the instant replay rule.
Ryan Howard, however, remains in a serious funk – and not the good kind of serious funk that was produced by Philly music writers-producers Kenny Gamble and Leon Huff in the Seventies.
Who would've thought that A-Rod would twice be hit by pitches in a game in this Series, and it wouldn't be the game that Pedro Martinez pitched? First Cole Hamels (before the homer), then Chad Durbin (after the homer).
Chad Durbin. Sounds like a character from a soap opera. Then, again, Philadelphia sports
is
a soap opera, isn't it? Search For a Win Tomorrow. As the Stomach Turns. Getting Booed By All My Children. No Life to Live. The Young and the Reckless.
Andy Pettitte broke the pattern, having a pretty good postseason start after a pretty good postseason start. Cole Hamels, however, didn't have much. He was relieved by J.A. Happ. Fixing the Phillies' pitching problems? Tonight, Happ was not the app for that. Happ was hapless.
Pettitte also had an RBI single. As with A-Rod hitting a World Series home run, a Yankee pitcher getting an RBI hit had not happened in my lifetime. The last time was in 1964, Game 6, by Jim Bouton. Bouton did it? As the man himself would say, "Yeah, surrrre!" Believe it.
(UPDATE: On the official World Series highlight film, Derek Jeter told Phils catcher Carlos Ruiz that the Yankees would never hear the end of that hit.)
I heard the "Let's Go Yankees!" chant at "The Bank." I also heard "Hip Hip Jorge!" when Posada batted in the 8th, but the Philly Boo-Birds came out to drown that one out.
This has been a fun Series so far, with all 3 games being close at least into the 8th inning. And, for my money, it's been played at the 2 best ballparks, the best in each league: The new Yankee Stadium (which is starting to feel more and more like "Yankee Stadium") and Citizens Bank Park.