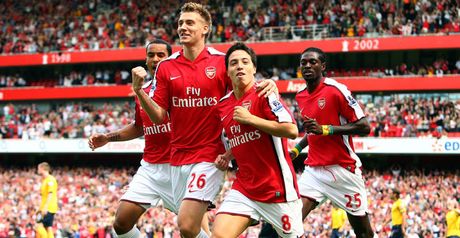 How does that Rod Stewart song go?
You're an essay in glamour
please pardon the grammar
but you're every schoolboy's dream.
You're the Yankees and Arsenal
go on, take it personal
but you're the best team I've ever seen.
Actually, it's, "You're Celtic, United, but baby, I've decided... " But it's hard to root for a team with the same name as one from Boston, even if it's Glasgow soccer; and I won't root for Manchester United unless they're playing the Rangers. The New York Rangers. Or maybe the Mets. Or the Red Sox.
So the question coming into today, the next round of my Great Premiership Experiment, was... who was going to score more, the Yankees or Arsenal?
That the question even has to be asked is not funny in the slightest.
Arsenal played West Bromwich Albion, a team from England's "Black Country" in the West Midlands. The newly-signed French player Samir Nasri scored in the 4th minute, and then Arsenal coasted the rest of the way, winning 1-0.
In the game I watched at their New York Supporters' Club official watering hole, the 11th Street Bar on the Lower East Side, Liverpool was pretty good on defense, but on offense they were terrible. Of course, when it's 11 against 14...
Apparently, being English is no defense against lunkheaded officiating. I kept thinking of the song I read about in one of the books about "football" I've been reading: "Oh, Graham Poll... you're a f---ing ar$ehole... " But he's retired, so we can't blame him. (Note: This was before I began regularly using profanity in this blog.)
This one was the opposite of the Arsenal-West Brom game, where the team I was pulling for struggled most of the game before a late score. Fernando Torres scored in the 82nd minute, and it was "Sunderland 0 - 1 Liverpool." The Reds (though wearing their road grays) walked on through the wind, walked on through the rain, though their dreams were tossed and blown, and beat the North-East club.
Blackburn Rovers 3, Everton 2 -- the winning goal scored in injury time, the 94th minute. Everton had a 2-1 lead at home, and they blew it. "Two-one, and you f---ed it up! Two-one, and you f---ed it up!"
The Liverpool supporters seemed to greatly enjoy seeing that highlight at halftime of their game, seeing their city rivals (whom they call "the bitters" because of their fans' bitterness over LFC's success) embarrass themselves. Unlike their rivals, Everton appears to walk alone. I, however, picked the result of that game wrong.
Middlesbrough 2, Tottenham Hotspur1. Got that one right, but how hard was that? "Sp*rs" -- apparently, Arsenal fans, a.k.a. Gooners, have to type it like that because they consider it a profanity -- were on the road, against a good team (another North-East club), and, we'll, they're, you know,
Tottenham
. If Arsenal is the Yankees of London "football," and Chelsea having bought 2 titles after decades of none is the Red Sox, then Sp*rs are the M*ts.
(UPDATE: In 2013, I did
a post about how the Mets are not "the Tottenham of New York,"
the Rangers are. And, since then, the Red Sox' owners have bought Liverpool FC. But the Red Sox are still more like Chelsea in how they behave.)
Bolton Wanderers 3, Stoke City 1. Got that one right. Hull City 2, Fulham 1. Picked a road win there, and got it wrong. West Ham United 2, Wigan Athletic 1. I didn't even pick that game, so I have to score it a tie. One point for me, instead of three for a win.
Overall, for my first-ever attempt at picking Premiership games, 4 wins, 2 losses, 1 tie, a percentage of .643 (counting a tie as a half-win) -- 4-2, .667 in the games I actually tried.
*
Back in New York, there was a great story about how the local supporters' clubs of Liverpool and Glasgow's Rangers got together for a charity "friendly" and raised $5,000 for local youth soccer. Here's the story:
http://www.lfcny.org/
That's another one where I would've had to root for Liverpool. A team in red, against a team in blue called "Rangers"? Yeah, that's a hard choice. Even if the only team in the Premiership with a "Devilish" nickname is the Red Devils of Manchester United -- Boooooooo!
But pretending it's hockey makes it a
lot
easier to watch, as there are a lot of similarities, particularly when the team you're rooting for seems to have forgotten how to pass the damn rock!
*
And in a game actually played in New York, the Yankees blew opportunity after opportunity... and beat the Kansas City Royals 3-2 in the bottom of the 13th inning. Brett Gardner, called up when Melky Cabrera got sent down because he wasn't hitting squat, got the winning hit. A message.
Am I relieved? Yes. Am I encouraged? Not yet, although we gained back a game on Tampa.
The Met bullpen nearly blew it for Pedro Martinez, but they were playing the Pittsburgh Pirates, who haven't had a winning season, much less made the postseason, since the fall of 1992, when the elder George Bush was President and lost to Bill Clinton (or, if you prefer, since John Major won his one and only general election and the "First Division" became the "Premier League"). The Mets hung on to beat the Bucs.
The New York media, as you might guess, slobbered over Brett Favre's first game as a Jet, saying how great he was. First of all, it was an exhibition game. Second of all, they lost, to the Washington Redskins, a mediocre team these last few years.
*
Yes, it's Superman. Strange visitor from another planet who came to Earth with powers and abilities far beyond those of mortal men. Superman! Who can swim the course of mighty rivers, break world records in his bare hands, and who, disguised as Michael Phelps, mild-mannered swimmer for the U.S. national team, fights a never-ending battle for truth! justice! and the American way!
You got a better explanation of how Phelps went 8-for-8, setting world records in each event, topping by one the 1972 achievement of Mark Spitz, and raising his career total to 14 Gold Medals, an Olympic record that may never be matched?
*
The Yankees have to make their move. Yesterday has to be the beginning.