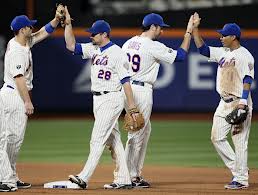 I've often called the Mets "the Tottenham of New York." And I've called Tottenham Hotspur Football Club (a.k.a. "Spurs") "the Mets of London."
This is unfair.
To the Mets. Since 1961, the Mets have won their League 4 times. Tottenham? Zippo.
Why do I make the comparison? Simple: Like Tottenham, in comparison to Arsenal in North London, the Mets are a distant second to a far superior local team. Yet their fans seem to think that, somehow, their team is superior, both competitively and morally. And they treat every win over their neighbors as winning the Champions League/World Series.
*
Like last night. Phil Hughes, who has a ring, and Johan Santana doesn't (nor does any other Met player *), pitched superbly. He went 7 innings, allowing 1 run on 4 hits and no walks.
But Jonathan Niese was equal to the task for the team from aptly-named Flushing: 7 innings, 1 run on 8 hits and 1 walk.
The Yankee run came in the top of the 6th: Brett Gardner led off with a blooper on which Lucas Duda tried to make a great catch and failed, and it went for a triple, and Jayson Nix singled him home. But Robinson Cano grounded into a double play, and that pretty much ended the threat.
The Met run came in the bottom of the 7th, when David Wright led off with a home run. Sure, it's easy to hit home runs when you have no rings to pull your batting gloves over.
The Yankees had the bases loaded with 1 out in the top of the 2nd, but Chris Stewart grounded into a double play. They had 1st and 2nd with 1 out in the top of the 7th, and then 2nd and 3rd with 2 outs, but couldn't get either of those runners home.
Since it was the bottom of the 8th, Joe Girardi looked in his Binder, and it said, "Bring in David Robertson. The score does not matter." Sometimes, I wonder if he'd make better decisions if he consulted Mitt Romney's "binders full of women."
Robertson got Ike Davis on a called 3rd strike, or, as some people are saying with Davis' monumental slump, a strIKEout. But Mike Baxter drove one down the left-field line, and it bounced into the stands for a ground-rule double.
Then D-Rob walked Jordany Valdespin. Yes, you read that right: David Robertson walked Jordany Valdespin. Jordany Bloody Valdespin.
To make matters worse, Stewart mishandled a Robertson pitch for a passed ball. There's a big difference between 1st and 2nd with 1 out, and 2nd and 3rd with 2 out.
The Yankees nearly got out of it, as Ruben Tejada grounded to 2nd, and Cano threw Baxter out at the plate. But Valdespin got to 3rd on the play, with Tejada on 1st.
And Daniel Murphy -- there's a parallel with Tottenham, they had a good player named Danny Murphy, who's now with Blackburn Rovers -- singled home Valdespin. 2-1 Mets.
Then Robertson hit Wright with a pitch -- almost certainly accidentally, since it loaded the bases. Incredibly, Boone Logan, whom Girardi brought in to protect a 1-run deficit with the bags juiced, did not pour gasoline on the fire, as he so frequently does, because he struck out the hopeless Duda.
That was the final score, as Bobby Parnell struck out David Adams, walked Ichiro Suzuki, struck out Lyle Overbay and got Travis Hafner to pop up to end the game.
WP: Brandon Lyon (2-2). SV: Parnell (8). LP: Robertson (3-1).
The series continues tonight at Citi Field, with an actual ace, Hiroki Kuroda, starting against a faux ace, Matt Harvey. Then it moves over to Yankee Stadium II for games tomorrow and Thursday.
*
Top 5 Reasons Why the Mets Are Not "The Tottenham of New York"
5. The Mets got a new ballpark built.
Say what you want about the Mets, on the field or in the boardroom, but they got it done. And say what you want about Shea Stadium -- I and many others called it "The Flushing Toilet," just as Arsenal fans call White Hart Lane "The Shithole" -- but Citi Field is a good ballpark, full of modern conveniences, with good sight lines.
In contrast, Tottenham have been trying for years to get a deal to build a new stadium to replace The Lane, which seats just 36,000, just a little less than Arsenal's old home of Highbury but well under the new Emirates Stadium's 60,000, thus giving "the Gunners" the kind of game-day revenue that Spurs can only dream about. And, although there have been modernizations that have esssentially made it a 1990s stadium, it's still one built on an 1890s foundation, and expanding it further is impossible because it's boxed in by the city blocks.
Spurs' attempts to get a new stadium have included trying to get the 2012 Olympic Stadium. But they were beaten out for it by West Ham United -- a team with an even spottier past than Tottenham!
UPDATE: Tottenham finally began construction on a 60,000-seat stadium just to the north of The Lane in 2016.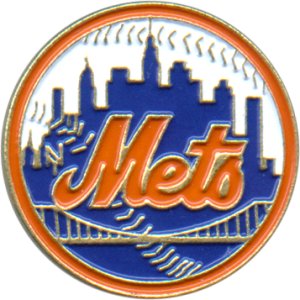 4. Better logo.
The Mets have a stylized skyline inside a baseball. Spurs have a chicken standing on an old-time soccer ball.
Sure, they say it's a "cockerel," or a fighting cock. Well, I once looked up the definition of "cockerel," and the definition I got was "an immature male chicken." Sounds like a Spurs fan to me!
3. The Mets are more successful.
As I pointed out at the beginning. Spurs last won their League on April 17, 1961. (That's the same day that the failed Bay of Pigs invasion began.) At that point, the Mets existed only on paper. Since that time:
Tottenham: 5 FA Cups (which is nothing to sneeze at), 4 League Cups, a European Cup Winners' Cup (making them, as they love to point out to Arsenal fans, the 1st British team to win a European trophy of any kind), and 2 UEFA Cups (the tournament now called the Europa League) -- but no League titles, and only 2 qualifications for the European Cup/Champions League, reaching the Semifinals in 1962 and the Quarterfinals in 2011. Arsenal have since won the League 6 times, the FA Cup 7 times (5 from 1993 onward, as many in 20 years as Tottenham have won in 52 years), 2 European trophies, and 18 qualifications for the European Cup/Champions League, reaching a Final, 1 other Semifinal, and 3 other Quarterfinals. And have finished ahead of Tottenham every year from 1995-96 onward, 18 seasons in a row.
Mets: 2 World Series, 4 National League Pennants, 5 NL Eastern Division titles, 2 Wild Card berths. But no World Championships and just 1 Pennant since 1986. Just since 1996, the Yankees have won 5 World Series and 7 Pennants, and have finished with a better record than the Mets every year but 1 (2006) from 1992 onward, 20 out of 21 seasons.
But the Mets have still done better than Tottenham: 5 1st-place finishes to 0, 4 league championships to 0, 7 postseason appearances to 2 Champions League appearances. (There isn't really a baseball parallel to the FA Cup, or the League Cup.)
And the Met fans usually aren't dicks about their few-and-far-between achievements, either:
2. If the Mets were Tottenham, they would have released a DVD of last night's win already.
While
The Essential Games of Shea Stadium
includes a very non-essential, virtually meaningless win over the Yankees in the Mets' 2006 NL East title season, and highlights of "the Matt Franco Game" in 1999, they haven't released a DVD showing highlights, much less full game broadcasts, of just any old win over the Yankees.
Whereas Tottenham sold one of their 5-1 win by their starters over a bunch of Arsenal reserves in the Semifinal of the 2008 League Cup, which they've called "
The Perfect Game
." Now, baseball fans define a "perfect game" as a pitcher allowing no baserunners, at all. I realize we're talking about a different sport. But how can that 5-1 win be "perfect" if they allowed a goal?
Spurs even sold a DVD of a 4-4 draw with Arsenal at Highbury, one where they did came back from 4-2 down after 88 minutes. That's right:
Tottenham sold a DVD of a tie game
. This has led Arsenal fans to have a
pisstake
or
two
.
1. The real "Tottenham of New York" are the Rangers.
Which, at first, makes no sense, until you realize that Tottenham are an older club than Arsenal (1882 to 1886), and achieved success first (winning a major trophy in 1901, as opposed to 1930), but have had a pretty pathetic history (Tottenham, no League titles in 52 years and just 2 in 131; Rangers, 1 League title in 73 years and 4 in 87).
And, as with Tottenham, Ranger fans went from enjoying stylish, if not always victorious, play by their team to deep bitterness when "noisy neighbours" (as they would say in England) started having more success.
The New York Islanders' Playoff win over the Rangers in 1975 was roughly equivalent to Arsenal winning the League at White Hart Lane in 1971, turning a very passionate fan base rather mean. The Arsene Wenger run of Arsenal success, including the Invincibles season of 2003-04, which in turn included clinching the League title at The Lane again, was roughly equivalent to the Islanders' 4 straight Cups of 1980-83.
Ranger fans now treat that 1994 Stanley Cup the way Tottenham fans do their 1981 and 1991 FA Cup, 1984 UEFA Cup, and 2008 League Cup wins. This, despite the fact that the Rangers and the Islanders have since been surpassed by the Devils. (But, please, don't compare the Devils to Chelsea. They may change head coaches as fast, but they don't spend like Chelsea.)
In addition, the Rangers have the most thuggish fans of any of the Tri-State Area's teams (and that includes the Red Bulls' ultras, who can get nasty with words, but almost never resort to physical violence), while Tottenham fans will celebrate winning a fight even when their team have gotten slaughtered in the game.
Finally, the Rangers have been talking about moving into a new Madison Square Garden for years now, even though the current Garden is still thought of by many people as "the New Garden."
So, no, the Mets are not the Tottenham of New York. The Rangers are.
Which is why I call the Rangers "The Scum," and not the Mets.
Besides, the Yankees' real rivals are the Boston Red Sox -- and they come to town this weekend. Beat The Scum! But, first, beat The Other Team!
...
* Unless you count new acquisition Rick Ankiel with the 2006 St. Louis Cardinals when he was injured the entire season)